Training camps are underway for several NFL teams, which means the preseason and 2022 regular season are right around the corner. It also means that the Madden video game team has been releasing their latest ratings throughout the week.
This year's game will be released on August 19 and feature Hall of Fame coach John Madden on the cover for the first time in more than a decade following his death late last year.
Here's a breakdown of the initial ratings from Madden 23 as well as the overall PFF grade from those players last season.
We have also tried to identify a snub for the top 10 at each position.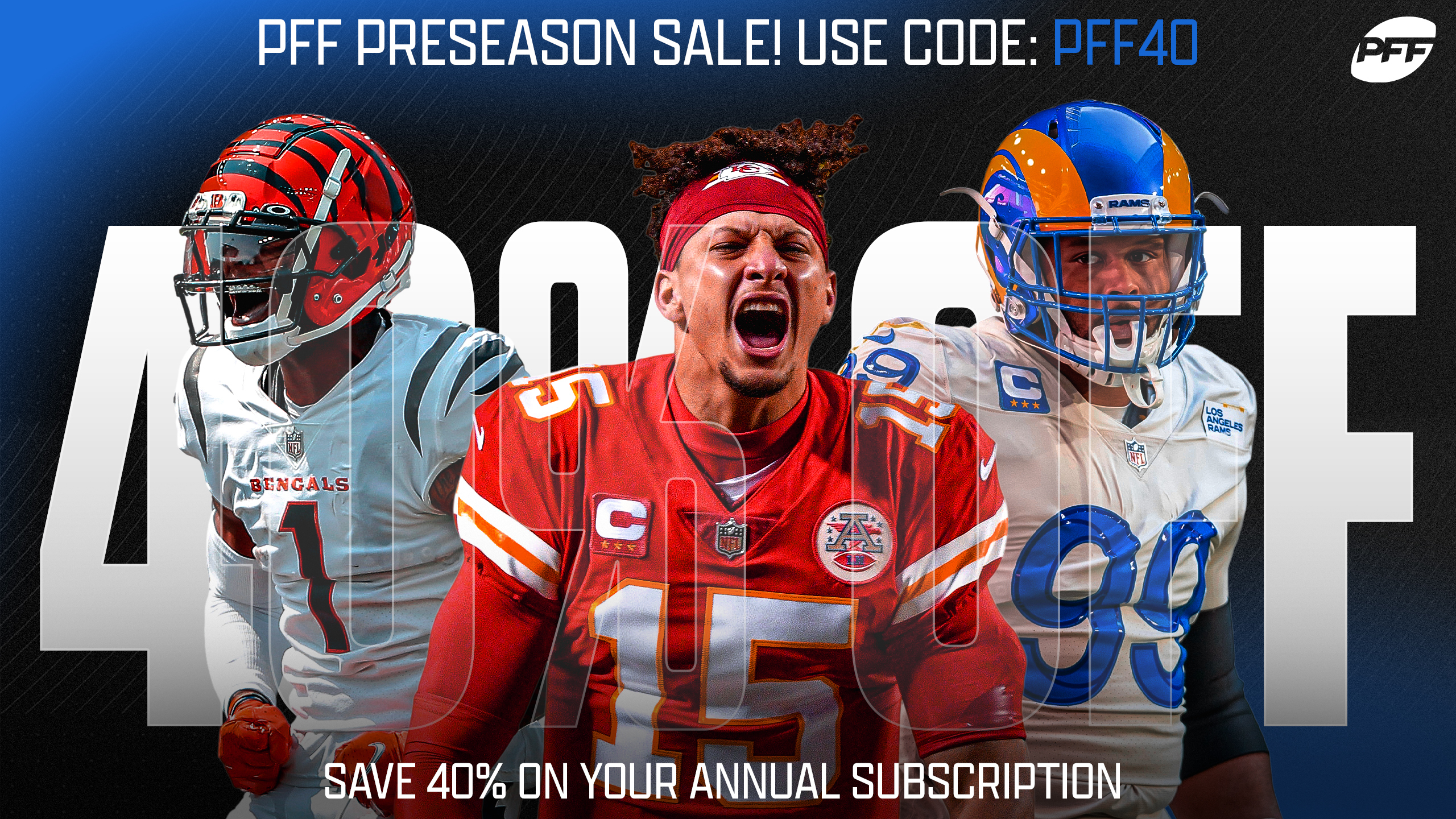 Quarterback
1. Tom Brady, Tampa Bay Buccaneers: 97 (91.7 PFF grade)
2. Aaron Rodgers, Green Bay Packers: 96 (89.4)
3. Patrick Mahomes, Kansas City Chiefs: 95 (80.1)
4. Josh Allen, Buffalo Bills: 92 (90.9)
5. Joe Burrow, Cincinnati Bengals: 90 (91.8)
6. Dak Prescott, Dallas Cowboys: 89 (82.4)
7. Justin Herbert, Los Angeles Chargers: 88 (90.0)
T-8. Lamar Jackson, Baltimore Ravens: 87 (70.2)
T-8. Russell Wilson, Denver Broncos: 87 (73.9)
10. Matthew Stafford, Los Angeles Rams: 85 (86.1)
---
Running backs
1. Derrick Henry, Tennessee Titans: 97 (77.3)
T-2. Nick Chubb, Cleveland Browns: 96 (81.7)
T-2. Christian McCaffrey, Carolina Panthers: 96 (80.6)
4. Jonathan Taylor, Indianapolis Colts: 95 (87.0)
5. Dalvin Cook, Minnesota Vikings: 94 (65.8)
6. Joe Mixon, Cincinnati Bengals: 93 (79.2)
7. Alvin Kamara, New Orleans Saints: 90 (63.2)
8. Aaron Jones, Green Bay Packers: 89 (82.0)
T-9. Austin Ekeler, Los Angeles Chargers: 88 (75.3)
T-9. Ezekiel Elliott, Dallas Cowboys: 88 (69.3)
---
Wide receivers
1. Davante Adams, Las Vegas Raiders: 99 (92.7)
2. Cooper Kupp, Los Angeles Rams 98 (93.0)
3. Tyreek Hill, Miami Dolphins: 97 (86.0)
4. DeAndre Hopkins, Arizona Cardinals: 96 (79.8)
5. Stefon Diggs, Buffalo Bills: 95 (81.0)
6. Justin Jefferson, Minnesota Vikings: 93 (90.1)
7. Mike Evans, Tampa Bay Buccaneers: 92 (75.4)
T-8. Terry McLaurin, Washington Commanders: 91 (78.3)
T-8. Keenan Allen, Los Angeles Chargers: 91 (77.5)
10. Amari Cooper, Cleveland Browns: 90 (73.0)
---
Tight ends
1. Travis Kelce, Kansas City Chiefs: 98 (85.0)
2. George Kittle, San Francisco 49ers: 97 (90.7)
3. Mark Andrews, Baltimore Ravens: 93 (91.5)
4. Darren Waller, Las Vegas Raiders: 91 (69.7)
5. T.J. Hockenson, Detroit Lions: 89 (68.1)
6. Kyle Pitts, Atlanta Falcons: 87 (80.3)
7. Mike Gesicki, Miami Dolphins: 86 (68.7)
8. Dallas Goedert, Philadelphia Eagles: 85 (90.7)
T-9. Zach Ertz, Arizona Cardinals: 84 (65.6)
T-9. Hunter Henry, New England Patriots: 84 (72.0)
---
Offensive line
1. Trent Williams, San Francisco 49ers: 99 (96.6)
2. Zack Martin, Dallas Cowboys: 98 (93.4)
T-3. Tyron Smith, Dallas Cowboys: 95 (90.2)
T-3. Quenton Nelson, Indianapolis Colts: 95 (69.1)
5. David Bakhtiari, Green BayPackers: 94 (75.5)
6. Terron Armstead, Miami Dolphins: 93 (75.9)
7. Lane Johnson, Philadelphia Eagles: 92 (83.3)
T-8. Tristan Wirfs, Tampa Bay Buccaneers: 91 (84.3)
T-8. Corey Linsley, Los Angeles Chargers: 91 (85.7)
10. Ronnie Stanley, Baltimore Ravens: 90 (48.9 on 68 snaps)
---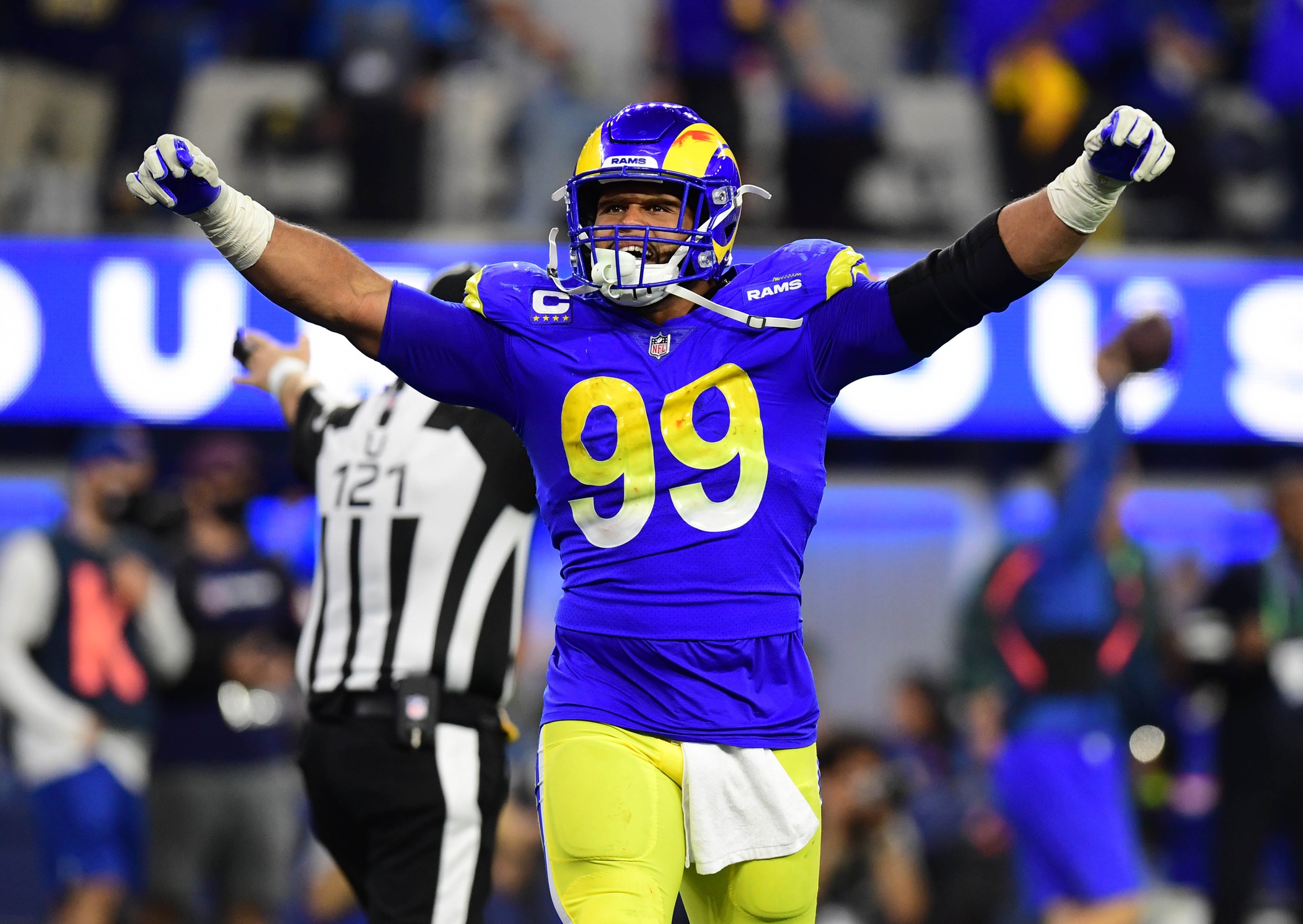 Interior defensive linemen
1. Aaron Donald, Los Angeles Rams: 99 (93.5)
T-2. Cameron Heyward, Pittsburgh Steelers: 93 (90.8)
T-2. Vita Vea, Tampa Bay Buccaneers: 93 (74.4)
4. Jonathan Allen, Washington Commanders: 92 (84.9)
5. Chris Jones, Kansas City Chiefs: 91 (83.4)
6. DeForest Buckner, Indianapolis Colts: 90 (71.9)
7. Kenny Clark, Green Bay Packers: 89 (75.4)
T-8. Jeffery Simmons, Tennessee Titans: 88 (72.0)
T-8. Michael Pierce, Baltimore Ravens: 88 (78.5)
10. Fletcher Cox, Philadelphia Eagles: 88 (68.7)
---
Edge defenders
1. Myles Garrett, Cleveland Browns: 99 (92.0)
2. T.J. Watt, Pittsburgh Steelers: 96 (89.6)
3. Nick Bosa, San Francisco 49ers: 94 (89.4)
T-4. Von Miller, Buffalo Bills: 92 (91.2)
T-4. Khalil Mack, Los Angeles Chargers: 92 (73.0)
T-6. Joey Bosa, Los Angeles Chargers: 91 (85.8)
T-6. Cameron Jordan, New Orleans Saints: 91 (84.3)
T-8. DeMarcus Lawrence, Dallas Cowboys: 90 (90.9)
T-8. Chandler Jones, Las Vegas Raiders: 90 (66.9)
10. Rashan Gary, Green Bay Packers: 89 (89.8)
---
Linebackers
1. Fred Warner, San Francisco 49ers: 94 (80.1)
2. Demario Davis, New Orleans Saints: 93 (77.9)
3. Lavonte David, Tampa Bay Buccaneers: 92 (72.3)
4. Bobby Wagner, Los Angeles Rams: 91 (71.8)
5. Darius Leonard, Indianapolis Colts: 90 (79.0)
6. Roquan Smith, Chicago Bears: 89 (47.1)
T-7. Micah Parsons, Dallas Cowboys: 88 (89.7)
T-7. Eric Kendricks, Minnesota Vikings: 88 (59.9)
9. De'Vondre Campbell, Green Bay Packers: 87 (85.0)
10. Devin White, Tampa Bay Buccaneers: 85 (35.1)
---
Cornerbacks
1. Jalen Ramsey, Los Angeles Rams: 98 (84.4)
2. Jaire Alexander, Green Bay Packers: 94 (73.4)
3. Tre'Davious White, Buffalo Bills: 93 (65.7)
T-4. Darius Slay, Philadelphia Eagles: 92 (81.0)
T-4. Denzel Ward, Cleveland Browns: 92 (76.9)
T-6. Marshon Lattimore, New Orleans Saints: 91 (77.3)
T-6. Stephon Gilmore, Carolina Panthers: 91 (77.1)
T-8. J.C. Jackson, Los Angeles Chargers: 90 (78.9)
T-8. Marlon Humphrey, Baltimore Ravens: 90 (65.9)
10. A.J. Terrell, Atlanta Falcons: 89 (82.6)
---
Safeties
1. Tyrann Mathieu, New Orleans Saints: 94 (67.4)
2. Derwin James Jr., Los Angeles Chargers: 93 (78.1)
T-3. Budda Baker, Arizona Cardinals: 92 (64.6)
T-3. Kevin Byard, Tennessee Titans: 92 (90.4)
T-5. Micah Hyde, Buffalo Bills: 91 (83.8)
T-5. Justin Simmons, Denver Broncos: 91 (74.8)
T-7. Jessie Bates III, Cincinnati Bengals: 90 (67.8)
T-7. Jordan Poyer, Buffalo Bills: 90 (77.7)
T-7. Harrison Smith, Minnesota Vikings: 90 (77.9)
 T-7. Jamal Adams, Seattle Seahawks: 90 (60.1)