The NFL's postseason is finally over, which means it's time for the offseason to commence. There are some quality players hitting free agency this year, so let's try and predict where they will go.
---
Click here for more PFF tools:
Rankings & Projections | WR/CB Matchup Chart | NFL & NCAA Betting Dashboards | NFL Player Props Tool | NFL & NCAA Power Rankings
Best Bets Tool
---
A week ago, PFF presented its top 200 free agents, which included each player's projected contracts, strengths and weaknesses.
Now, we will try to predict where the top-50 players will be playing in 2022. 
Prediction: Green Bay Packers — Four years, $93 million ($65 million guaranteed)
Adams has an easy case to be the best receiver in all of football. Since 2019, he has sported a 94.1 PFF receiving grade — first among all eligible wide receivers. His connection with Aaron Rodgers has helped lead the Packers to three straight playoff appearances and NFC North division titles.
He also ranks first in yards per route run (2.74), first downs caught (210) and target rate per receiving snap (30.2%) over this time frame. He is also top three since 2019 in receiving TDs (34, second), explosive passes (88, second) and yards after catch (1605, third). If he hits the open market, every team should target Adams.
---
Prediction: MIAMI DOLPHINS – Three years, $60 million ($43.75 million guaranteed)
Armstead has been the definition of consistent since joining the Saints, as he has received a grade below 75.0 outside of his rookie campaign and consistently ranks among the league's best in pass-blocking prowess. Unfortunately, given New Orleans's cap situation, Armstead might be too expensive to bring back even when cap wizard Khai Harley works his magic to bring the Saints back under the cap.
The Dolphins had a historically bad offensive line last season. Protecting Tua Tagovailoa should be their No. 1 priority this offseason, and Armstead's presence would certainly help facilitate that. The Dolphins have the most effective cap space in the league entering free agency, so they can get into and win a bidding war if need be.
---
Prediction: Tampa Bay Buccaneers – Four years, $70 million ($36.5 guaranteed)
Godwin suffered a major injury at the worst time, as his stock entering free agency took a bit of a dip when the Bucs receiver tore his ACL. It's hard to envision Tampa being an appealing option to outside quarterbacks without Godwin on the roster, though. Since 2019, Godwin has recorded a 90.6 receiving grade and has routinely been one of the NFL's top slot weapons — as both a receiver and a blocker.
The Bucs' cap situation isn't great, but Tom Brady's retirement should help to free up some cap space. If Godwin is unable to play in 2022 or starts the season late, the Bucs could choose to backload his contract to create a low Year 1 cap hit.
---
Prediction: Los Angeles Rams – Two years, $34 million ($25.25 million guaranteed)
Teams routinely try to justify their trades by signing the player they traded a premium pick for to a long-term deal. Sometimes it works out (Jalen Ramsey), other times it doesn't (Jamal Adams). After getting traded to the Rams, Miller elevated the Rams defense and finished the year with an elite 90.3 PFF grade.
He really turned it on in the playoffs with an impressive showing vs. the Bucs — posting a 92.1 pass-rushing grade to go along with 10 pressures and a sack. Miller will be 34 years old by next season, but he produced at an elite level this year even after getting traded and can definitely keep it up.
---
Prediction: DENVER BRONCOS – Two years, $33.5 million ($24 million guaranteed)
Jones is still a premier pass-rusher at this point in his career, but other facets of his game have dropped off. Though a reunion with the Cardinals could be in the mix, the two sides have failed to terms on an extension or new contract up to this point despite making an effort, which is why the Broncos are a viable landing spot. Denver is also expected to play the Staley 3-4 scheme after hiring Rams secondary coach Ejiro Evero, which fits Jones' skill set.

Chandler recorded an 87.3 pass-rushing grade,  10.5 sacks and 47 pressures in 2021 but also generated a 42.5 run defense grade. His run-defense grade has steadily declined since 2019. The Broncos need a premier pass-rusher opposite of Bradley Chubb following the Von Miller trade, and Jones can be that guy.
---
Prediction: New England Patriots – Four years, $72 million ($56 million guaranteed)
Elite corners are hard to come by in the NFL, but Jackson's meteoric rise from undrafted free agent to top NFL cornerback has been impressive, to say the least. Bill Belichick stuck a second-round tender on him last offseason, which no one was willing to pay, but Jackson took another step forward in 2021. Jackson finished with an 87.9 coverage grade that ranked fourth among all cornerbacks that played at least 150 coverage snaps this past year. Jackson is especially elite in man coverage, as he ended 2021 with a 90.1 coverage grade in man coverage — the best mark among all cornerbacks.

Belichick has a tendency to let players like Jackson test the open market (Kyle Van Noy and Jamie Collins in previous years), but given the need for a lockdown corner in his scheme, I think Belichick pays up for Jackson.
---
Prediction: Los Angeles Chargers – Four years, $68 million ($38 million guaranteed)
Williams had the best year of his career under Joe Lombardi's Saints-inspired scheme. While he kept his downfield role, he also worked underneath routes. This led to a drop in his yards per reception, but it helped him to set new career records in receptions (76) and receiving yards (1,146).
There is a good chance the Chargers franchise tag Williams in an effort to negotiate a long-term deal before the mid-July deadline. They could also let Williams play out his franchise tag to see if he can replicate his 2021 production before shelling out big money.
---
Related content for you:
2022 NFL Free Agent Rankings: Top 200 players expected to enter free agency via PFF.com
---
Prediction: New Orleans Saints – Four years, $64.5 million ($35 million guaranteed)
Williams has been a model of consistency since being drafted in the third round of the 2017 draft. He's posted five straight seasons with a 70-plus PFF grade and has recorded 14 interceptions over the last three years. The Saints' cap situation isn't pretty, but Williams is an important part of the defense. Given that former defensive coordinator Dennis Allen is the new head coach, he likely wants to keep one of the pieces that helped him field a top-10 defense for the last couple of years.
---
Prediction: Kansas City Chiefs – Five years, $105 million ($73.5 million guaranteed)
NFL front offices tend to try and justify trades for players by signing them to extensions they may not be worth, and Brown appeared to be falling into that category to start the year before rattling off eight straight games with a 70.0-plus pass-blocking grade. He allowed a 5.2% pressure rate (37th among tackles) and four sacks (51st) in 2021.
Quality offensive tackles are hard to find in the NFL, so letting Brown walk would be a huge blow to the Chiefs. This was his first year in a true dropback offense, so he could improve and justify his large cap hit.
---
Prediction: Miami Dolphins – Three years, $48 million ($30 million guaranteed)
This wasn't Robinson's best season. He didn't get many reps with Justin Fields during training camp, and their lack of chemistry was evident throughout the year. He posted career lows across the board in receptions (41), receiving yards (434) and receiving touchdowns (one). He probably needs a fresh start elsewhere, plus the Bears don't have a ton of cap space.
The Dolphins have speed (Jaylen Waddle) and a downfield threat (DeVante Parker), but they don't really have a possession receiver such as Robinson. Combine that need with the most cap space in the league, and they could easily make this happen. Robinson could also go wherever Matt Nagy is hired since he brought him to the Windy City in 2018.
---
Prediction: Cincinnati Bengals – Franchise Tag
The Bengals are expected to franchise tag Bates despite efforts to agree to an extension last offseason. Bates' grades took a hit in 2021, as he recorded a 65.7 PFF grade and a 67.4 coverage grade during the regular season. However, since coverage play can be streaky, Bates could certainly return to his 2020 form, when he recorded a 90.1 PFF grade.
---
Prediction: Cincinnati Bengals – Three years, $39 million ($24.5 million guaranteed)
Jensen will be the most sought-after center on the market this free agency period. He has experience playing in multiple schemes (Ravens, Bucs) and has been durable, playing over 1,000 snaps in each of the last five seasons. He's always graded out better as a run-blocker than a pass-blocker in his career, posting three straight campaigns with a 73.0-plus run-blocking grade.
The Bengals need to allocate cap space to the offensive line, and Jensen would be a great start. He'd be an upgrade over Trey Hopkins (51.4 PFF grade in 2021) and would give Joe Burrow a trusted veteran to take snaps from. We've seen this type of move have a positive impact on Justin Herbert (with Corey Linsley) and Kyler Murray (with Rodney Hudson).
---
Prediction: Cleveland Browns – One year, $15 million ($12 million guaranteed)
After two down years, Clowney came back to form and had himself a solid year rushing the passer for the Browns, as he recorded 53 pressures and nine sacks. However, he just hasn't been able to play a full season, missing at least one game in each of the last four seasons.

Whether Baker Mayfield stays on as the starting quarterback remains to be seen, but his contract does give the Browns some cap flexibility to bring back Clowney on a one-year deal.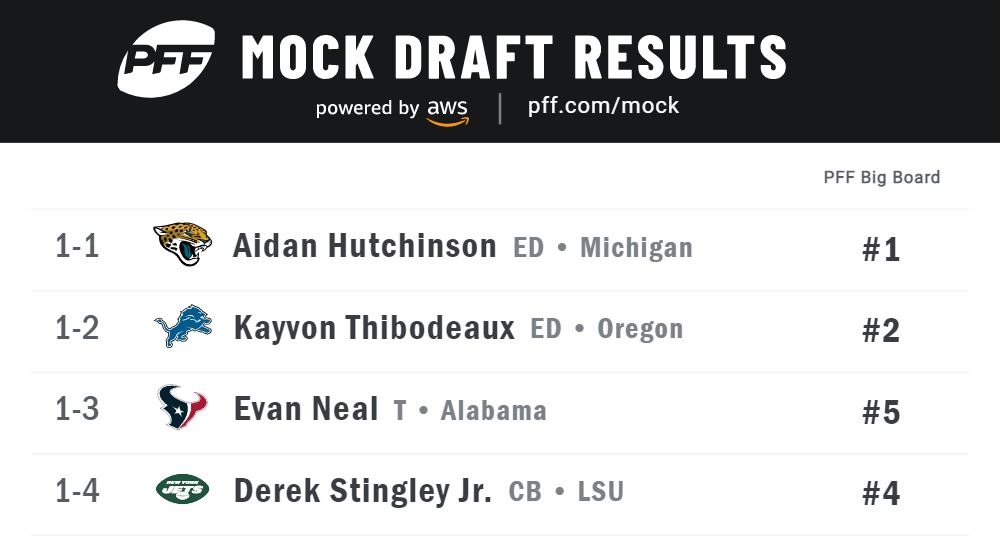 ---
Prediction: INDIANAPOLIS COLTS – Two years, $25 million ($15 million guaranteed)
Gregory was inconsistent in 2021 but flashed elite upside. One such stretch saw him record a 90-plus PFF pass-rushing grade in three straight games (versus the Giants, Patriots and Vikings). His play was crucial to the Cowboys' defensive success, especially after Demarcus Lawrence went out in Week 1.

The Colts recently hired Gus Bradley as their defensive coordinator, and his philosophy is simple: rush four and play Cover 3, which only works an effective pass rush. Kwity Paye appears to be an effective pass-rusher, but adding Gregory opposite of him would enable Bradley's scheme to flourish.
---
Prediction: ARIZONA CARDINALS – Two years, $28 million ($20 million guaranteed)
Gilmore returned from his injury in Week 8 and gave the Panthers some much needed reinforcements at cornerback. He finished the year with a 79.4 coverage grade while allowing an 80.7 passer rating and only two touchdowns (both in one game). Gilmore thrives in a man-heavy scheme where he can press and get his hands on receivers. The Cardinals are a great fit, as Vance Joseph's attacking defense could use a lockdown corner such as Gilmore. Though he could see some regression with age, he's an upgrade over Marco Wilson.
---
Prediction: NEW YORK JETS – One year, $17.29 million (fully guaranteed)
Davis missed some time in 2021, but he turned in another above-average season as the Bucs' outside cornerback. He has finished 28th, 46th and 31st in PFF grade over the last three seasons and would be a welcome addition to Robert Saleh's defense, which desperately needs cornerbacks. Saleh plays mostly Cover 3 or 4, and Davis has graded better in zone coverage despite his reputation as a physical outside corner.
---
Prediction: Baltimore Ravens – Three years, $48.75 million ($30.75 million guaranteed)
All signs have pointed to the Chiefs and Mathieu splitting up, and his playmaking skills would be welcome anywhere. The Ravens' needs are tough to evaluate because their entire secondary was hurt last year, but they were interested in Mathieu when he was a free agent in 2019, so he could be on their radar again given their current situation at safety.

Additionally, their new defensive coordinator Mike MacDonald had a similar versatile safety at Michigan in Daxton Hill, who lined up all over the place. Hill played box safety, slot corner and some dime backer for MacDonald, which is a role Mathieu can emulate.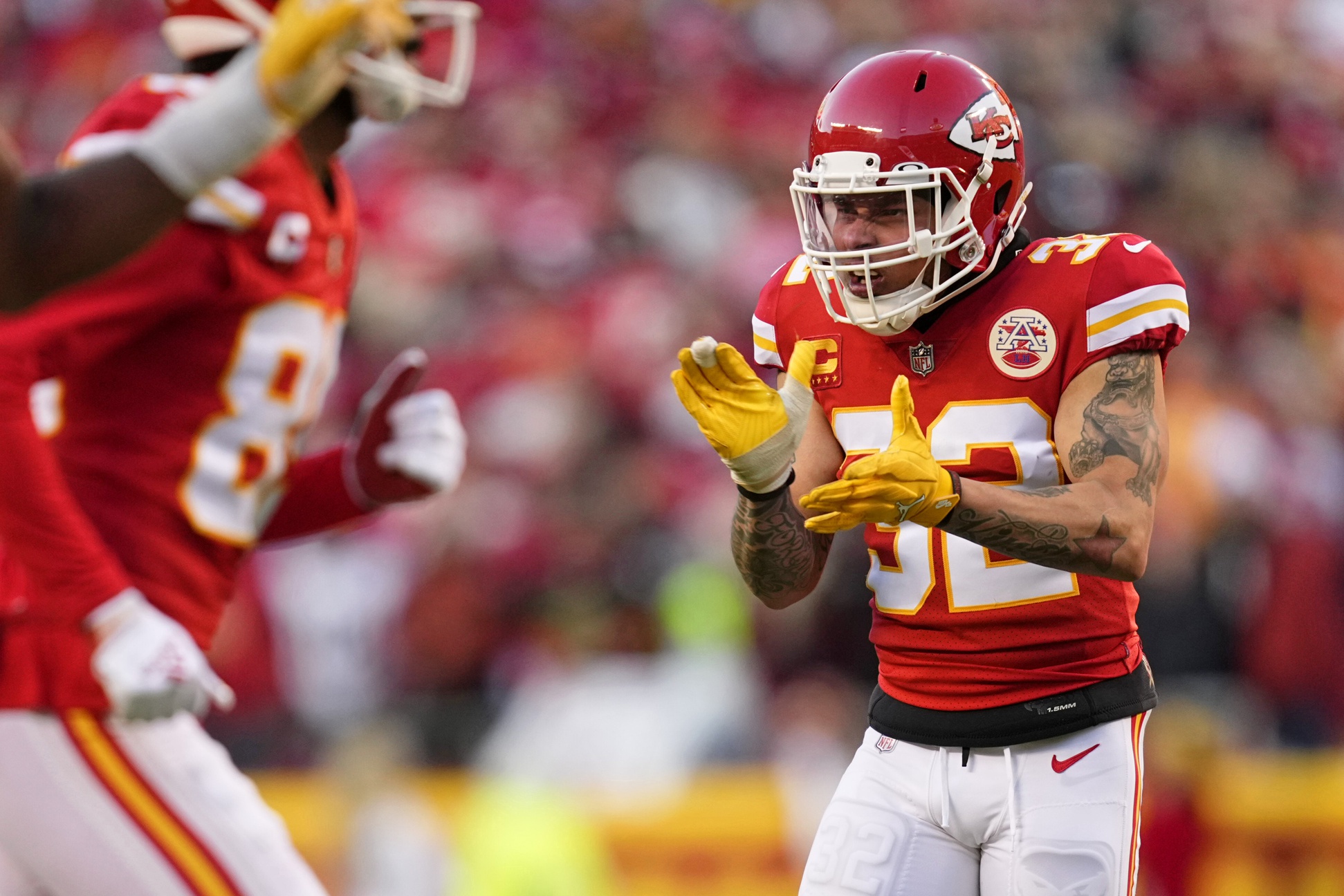 ---
Prediction: New York Jets – Three years, $50 million ($30 million guaranteed)
Scherff is a former All-Pro and has never recorded a season with less than a 72.0 PFF grade. He has been a pillar of consistency for Washington, but the two sides coud never agree to a long-term deal. This year was the first in his career that he didn't allow a sack, and he also only gave up 20 pressures.
If New York is truly serious about building around Zach Wilson, Scherff should be the first call the team makes in free agency. With two rock-solid guards with Scherff and Alijah Vera-Tucker, Wilson would be able to throw from cleaner pockets. Additionally, putting Scherff in Mike LaFleur's zone-blocking scheme will allow him to thrive in space and on the move — something he showcased regularly in Washington.
---
Prediction: Los Angeles Rams – One year, $14 million ($12.5 million guaranteed)
Beckham was on his way to being one of the hottest commodities in free agency before suffering a brutal torn ACL in the Super Bowl. In the playoffs alone, he turned in an 83.5 PFF grade, 21 catches and 288 yards. Unfortunately, his torn ACL puts him in the same boat as Godwin and Michael Gallup. Beckham has stated that he would like to be back with the Rams, and they could make it work financially.
---
Prediction: Miami Dolphins – Four years, $55 million ($30 million guaranteed)
Gesicki is not a traditional tight end by any means, as aligned as a solt receiver for 424 snaps while only lining up as an inline tight end on 98 snaps. Basically, the Dolphins ran a lot of 12 personnel last year, but it really just was 11 personnel with Gesicki acting as a big slot receiver.

Mike McDaniel is considered to be one of the more innovative coaches in the league, and having a weapon such as Gesicki creates all sorts of mismatches on the outside and down the seam. The Dolphins also hired Frank Smith, who was the Raiders' tight ends coach during Darren Waller's rise to stardom, as their offensive coordinator. Given the similarities between the two players, staying in Miami makes sense for both sides.
---
Prediction: JACKSONVILLE JAGUARS – Four years, $52 million ($32.5 million guaranteed)
Schultz had a huge year for the Cowboys and was a reliable weapon in the passing game, especially when Amari Cooper and Gallup missed time. Schultz had the third-best wins above replacement (WAR) at the TE position and the seventh-highest receiving grade amongst TEs (77.0). Going to the Jaguars would be a huge help for Trevor Lawrence, as it would provide him with a reliable safety blanket over the middle, which he lacked in his rookie year.
Prediction: SEATTLE SEAHAWKS – Three years, $46.5 million ($30 million guaranteed)
Ogbah has been a reliable edge defender over the last two seasons in Miami. He had a career year in 2021, racking up career highs in pressures (61) and sacks (11) in a contract year. Seattle's edge defender depth has been lacking for quite some time now, and Ogbah could help give the pass rush a boost.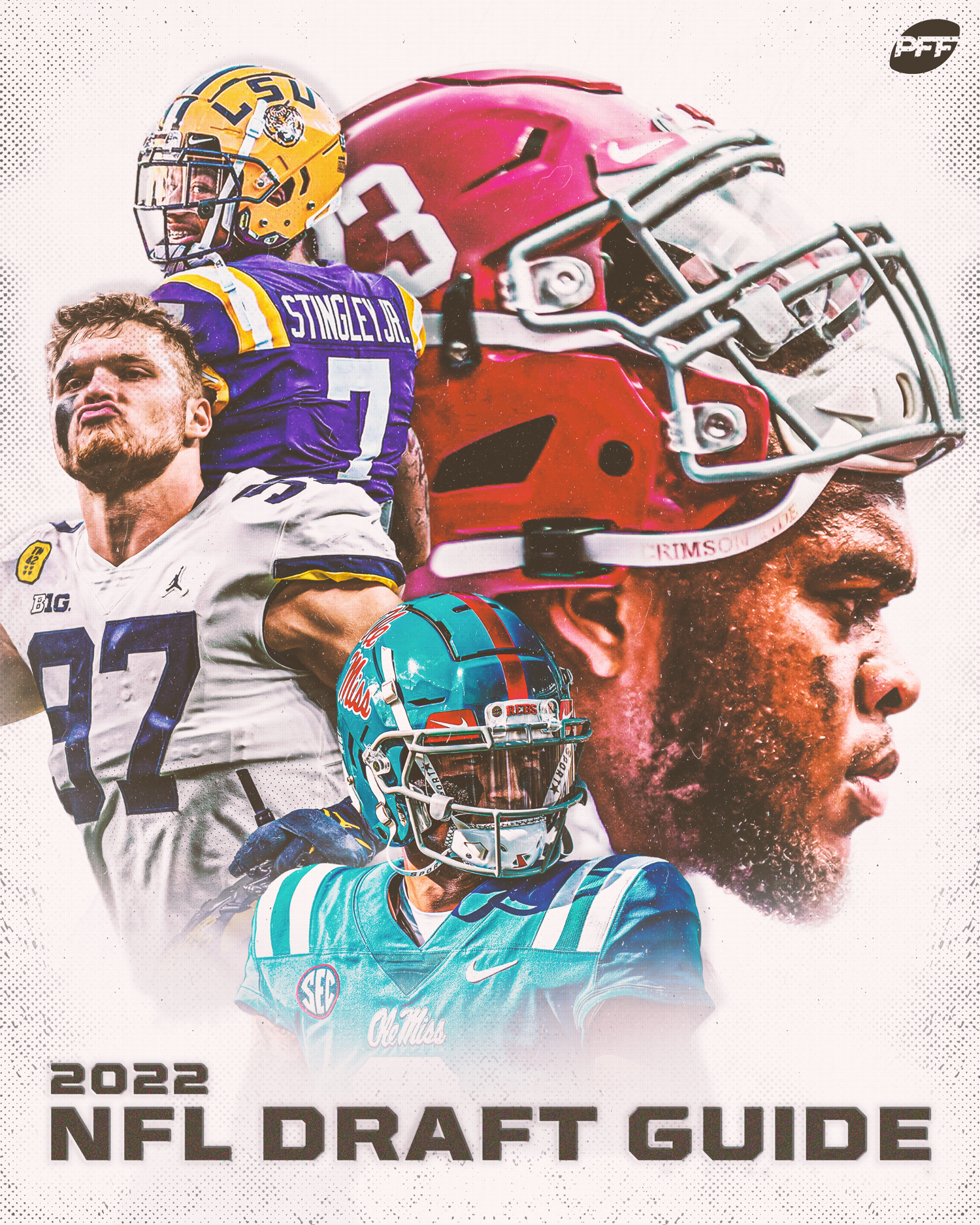 ---
Prediction: Los Angeles Chargers – Two years, $17 million ($12.5 million guaranteed)
Hicks has regressed since his terrific 2018 season. Health has been his biggest issue, as he's missed 20 games over the last three years. While he doesn't possess great volume statistics, he's still effective on a per-play basis. In 2021, he recorded a 10.6% pressure rate, which is on par with the 10.7% he recorded in 2018. He could still be a big asset, but he needs to stay healthy.
Enter the Chargers. Head coach Brandon Staley has familiarity with Hicks dating back to his time as linebackers coach for the Bears in 2017-18. Hicks would help to solve the Chargers' run defense woes while also giving them an interior pass-rusher — something they've lacked for years.
---
Prediction: SAN FRANCISCO 49ERS – One year, $8 million ($6.5 million guaranteed)
Ingram didn't have a good first half of the season with the Pittsburgh Steelers, but everything changed when he was traded to the Chiefs, as he helped turn around a poor pass rush. From Week 9 on, he recorded 33 pressures and an 82.3 PFF grade. Joining the 49ers would be a perfect marriage for Ingram, as he would be on a contender while the 49ers add onto their impressive defensive line.
---
Prediction: INDIANAPOLIS COLTS – One year, $6.5 million (fully guaranteed)
This feels like cheating, but Hayward and Gus Bradley should be on the same team until Hayward retires. Bradley's Cover-3 scheme fits Hayward's skill set perfectly, as it allows him to use his instincts and smarts. The Colts could replace Xavier Rhodes with Hayward on the outside.

However, coverage performance from year to year can be streaky. Hayward recorded a 59.5 PFF grade in 2020 and then a 76.6 in 2021, but he could just as easily revert back to a sub-60 grade in 2022.
---
Prediction: MIAMI DOLPHINS — Three years, $27 million ($16.5 million guaranteed)
After missing Week 1 of the 2017 season, Tomlinson has started every single game since. He's been great for San Fransisco as well. After recording a 64.7 grade in 2019, he bounced back with two straight seasons with 75-plus grades.

McDaniel needs to have the bodies up front to run the ball effectively in Miami, and right now, the Dolphins don't have that. Getting Tomlinson to stabilize the left guard spot would be huge, both for McDaniel and for Tagovailoa's development.
---
Prediction: Denver Broncos — Two years,  $18 million ($11.5 million guaranteed)
Campbell revived his career in Green Bay even though he only signed his contract last June. He recorded an 86.0 PFF grade — a career-high and the second-highest linebacker grade in the NFL this year. He was particularly effective in the run game, notching an 82.0 run defense grade while also missing only two tackles. He'd make sense in Denver, as it still plans to run another version of Fangio's "two-high defense." Since he had his best season in that scheme, it'd make sense to play in that again.
---
Prediction: Detroit Lions — Two years $25 million ($14 million guaranteed)
Gallup joins Godwin and Beckham Jr. as receivers who tore their ACL entering free agency, and it's tough to really evaluate how teams will view him. The Lions make the most sense for Gallup because he can be their WR1 when he returns, but since they most likely won't be competitive in 2022, he won't be pressured to produce like an alpha receiver right away.
---
Prediction: Baltimore Ravens — One year, $4 million (fully guaranteed)
Injuries and off-field drama aside, Brown was on his way to another productive year. Unfortunately, he only played 268 snaps in the regular season, but he still posted an 87.4 PFF grade and was still one of the better receivers in the league. The Ravens have needed a true WR1 for a while, and Brown can step right in and fit that role for them. He has inside-outside flexibility, as 58 of his 202 receiving snaps came from the slot in 2021, and he would give Lamar Jackson a true top receiver to throw to — something he's never had.
---
Prediction: Baltimore Ravens — One year, $8 million (fully guaranteed)
Campbell is another guy who's been steady despite his advanced age. In 2021, he finished with an 80.8 PFF grade — his sixth year with an 80.0-plus grade. His best fit is with a team that lines him up over guards and allows his skill set to flourish. His durability hasn't really been a concern, either, especially since he played every game this past season.
---
2022 NFL Draft position rankings:
Top 10 players at every position
QB | RB | WR | TE | iOL | OT | DI | EDGE | LB | CB | S
---
Prediction: New York Giants — Three years, $35 million ($18 million guaranteed)
Reddick's pass-rushing production predictably took a minor step back in 2021 after his huge breakout year in 2020. Nonetheless, 11.0 sacks and 47 total pressures still rank pretty well compared to the rest of the league. This means Reddick should have a decently sized market this offseason. He is a good fit for Wink Martindale in New York, given his aggressive blitz-heavy scheme that needs athletic edge-rushers that can get after the quarterback when schemed free.
---
Prediction: Seattle Seahawks — Two years, $20 million ($14.5 million guaranteed)
Brown is entering the twilight of his career, but if the Seahawks want to keep Russell Wilson for 2022, the least they could do is bring back his blindside protector who's never graded below a 70.0 PFF grade since joining the team. This season was one of Brown's worst years as a pass protector, as he allowed 37 total pressures, his highest pressure rate since 2010 (6.3%) and a whopping eight sacks. Still, quality tackles are hard to come by, so letting Brown walk in free agency wouldn't be wise.
---
Prediction: Atlanta Falcons — Four years, $60 million ($32 million guaranteed)
In this scenario, Landry reunites with his former defensive coordinator Dean Pees in Atlanta and replaces Dante Fowler Jr.
Landry, by stats alone, had himself quite a year — 68 pressures, 12 sacks and 13 QB hits. It is still important to note that 42 of Landry's pressures were of the cleanup or unblocked variety. Thus, his value may not be as high as the statistics say it should be.
On the flip side, Landry is an ascending player who is only 25 years old. With that age and production, he'll have plenty of suitors in free agency. He's also very durable, playing over 1,000 regular season and postseason snaps in three consecutive years.
---
Prediction: New York Jets — Two years, $12 million ($8.25 million guaranteed)
This past season was Patterson's best statistical year of his career, but it seems unlikely that the Falcons bring him back due to cap constraints.
The Jets truly have no game-changers on offense, but Patterson can provide the juice that the offense needs. Arthur Smith runs a similar offense to Jets offensive coordinator Mike LaFleur, and Patterson could easily thrive in that outside zone scheme running behind Mekhi Becton and Alijah Vera-Tucker. He could be an effective receiving option for Zach Wilson.
---
Prediction: Tampa Bay Buccaneers — One year, $7 million (fully guaranteed)
Gronkowski's career might be over if he chooses to retire with Tom Brady, but for now, going back to Tampa Bay seems like his most logical option. The tight end recorded his highest receiving grade (86.7) since 2017 under Bruce Arians. Staying a part of the scheme will also help whichever quarterback is brought in to start next year.
---
Prediction: Minnesota Vikings — Three years, $40 million ($22.5 million guaranteed)
Williams has had the privilege of playing next to All-Pro Jalen Ramsey for two straight years, which just so happen to also be the two of the best years of his career. The question is whether he can succeed on a team without a dominant top corner.
He's also a bit on the older side, as he will be 29 years old by the time the 2022 season starts. The Vikings hired Ed Donatell, who formerly worked with Vic Fangio in Denver, so adding Williams would give Donatell an experienced veteran with multiple years in Fangio's system.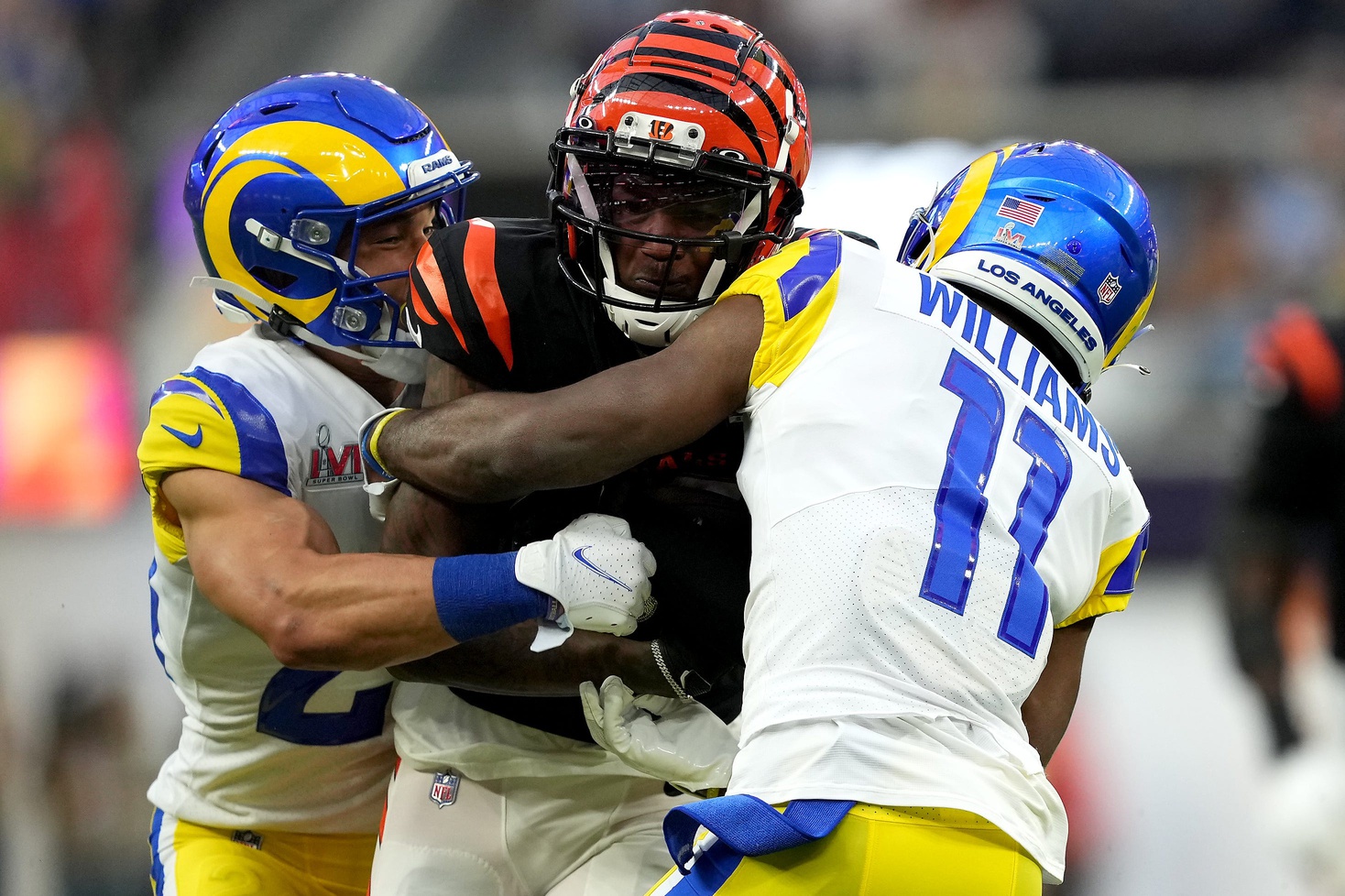 ---
Prediction: Philadelphia Eagles — One year, $7 million (fully guaranteed)
Houston is one of those edge rushers who is better than the public's perception. After sitting out for most of the offseason, he signed a one-year deal with the Ravens and turned in a solid season. Even at 32 years old, he recorded 45 pressures and 4.5 sacks. Given that pressures are more stable from year to year than sacks, we can expect him to produce this same type of performance in 2022 with a little more sack luck heading his way.
The Eagles make a lot of sense for Houston, as they are an analytically-minded team that probably understands the value of pressure numbers. Houston's pressures are usually above average for his position. Houston can provide quality depth as a rotational pass-rusher.
---
Prediction: Arizona Cardinals — Three years, $20 million ($12.5 million guaranteed)
Williams has improved each year he's played for the Cowboys. In 2021, Williams recorded a 75.2 PFF grade — his highest since entering the league — and only allowed 22 pressures, which is a career-low. The Cardinals need help at guard, and Williams can stabilize a unit that looked shaky to end the year, especially with the type of interior rushers in the NFC West.
---
Prediction: Cincinnati Bengals — One year, $6.5 million (fully guaranteed)
Hughes has been amazing for the Bills for quite some time, but it's time for him to depart Buffalo, especially since the Bills drafted Gregory Rousseau and Boogie Basham last year.
The Bengals have a pretty solid pass rush with Trey Hendrickson and Sam Hubbard, but they lack depth behind them. Hughes has recorded 50-plus pressures in nine straight years  and can be a force if used correctly in Cincinnati.
---
Prediction: Chicago Bears — Five years, $50 million ($24 million guaranteed)
Daniels was one of the few bright spots on the Bears' offense last year, especially along the offensive line. He's started all four years for Chicago since he was drafted, and they would be wise to bring him back to keep continuity along the interior offensive line. Daniels has never graded below a 65.0 overall, but he did struggle in pass protection in 2021, allowing 40 pressures and three sacks.
---
Prediction: New Orleans Saints – One year, $7 million (fully guaranteed)
Winston has to be the biggest what-if in the NFL this year. His EPA per play would've finished second behind Aaron Rodgers but suffered a season-ending injury. Nonetheless, he should be able to come back at full strength next season, which makes for an interesting situation.
Ultimately, the Saints should find a way to keep him around, especially since he would probably be the best QB in the NFC South, assuming someone such as Deshaun Watson doesn't get traded to the Bucs or Panthers.
---
Prediction: NEW ENGLAND PATRIOTS – One year, $8 million ($6.25 million guaranteed)
Smith-Schuster turned down a multi-year deal with the Chiefs last offseason then proceeded to get injured early in the 2021 season. Thus, it'll probably be tough for him to get a multi-year deal on the market for the value he wants. He's still only 25 years old and has logged five years in the league, so he will still be an attractive option for WR needy teams.
One of those teams should be the Patriots, who need to get Mac Jones more weapons. Smith-Schuster can serve as a reliable receiver out of the slot for New England.
---
Prediction: Los Angeles Chargers – Three years, $37.5 million, ($25.5 million guaranteed)
Njoku hasn't quite panned out the way the Browns might've wanted him to, but it's tough to deny his upside and improvement over the last couple of years. Standing 6-foot-4 and running a 4.64-second 40-yard dash, Njoku's athleticism will be welcomed by most teams that need a tight end.
One of those teams could be the Chargers. Jared Cook offers a similar athletic-type build, and while Njoku could be a bit pricier, he has more upside and could break out after catching passes from Justin Herbert.
---
Prediction: Dallas Cowboys – One year, $6 million ($4.5 million guaranteed)
Maye has always graded well, but 2021 was a down year for him. Primarily a free safety when Jamal Adams was on the team, Maye transitioned to more of a box safety role once Adams left, though he still played snaps on the back end. After receiving the franchise tag last offseason and underperforming, he may have to agree to a shorter deal, especially given that he will be 28 years old when next season starts.

The Cowboys need a free safety, and Maye can be the centerfielder in Dan Quinn's scheme. Quinn also likes to play single-high-safety concepts (second-most single-high-safety snaps in the regular season), so May would be a great fit.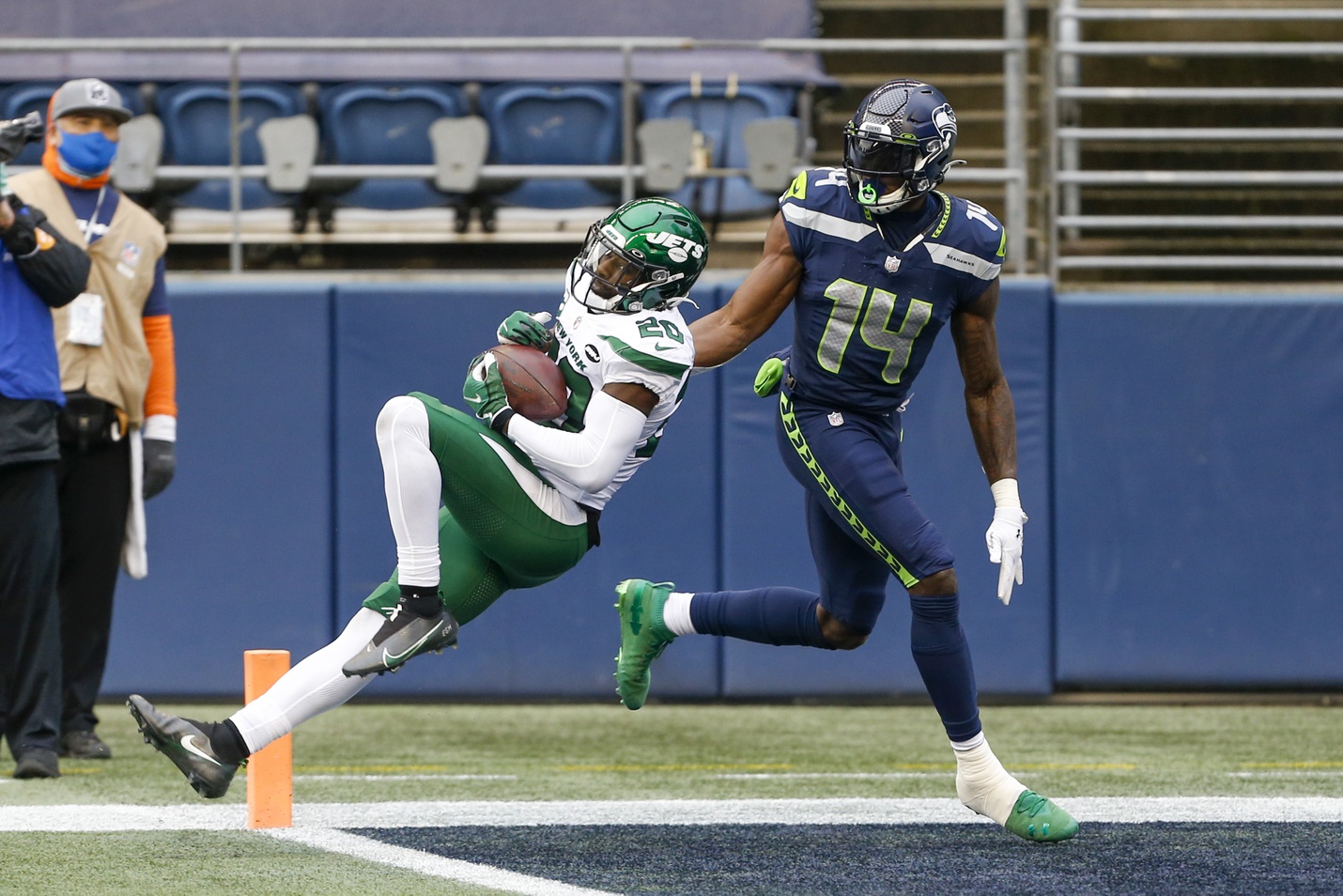 ---
Prediction: ATLANTA FALCONS – Two years, $14 million ($8.5 million guaranteed)
Nelson had a bit of a down year in 2021, as he allowed a 65.2% completion percentage when targeted and four touchdowns. He allowed the highest passer rating when targeted since his rookie season (103.5), and 46.4% of his receptions allowed went for a first down or touchdown. He performed better in the past, and due to the streaky nature of coverage performance, he could easily rebound next season.

The Falcons desperately need to get AJ Terrell some help in the cornerback room, and signing Nelson to play the slot corner role in Dean Pees' Cover-2 scheme would be a good start.
---
Prediction: Tennessee Titans – Three years, $20 million ($12 million guaranteed)
Jones has been a very reliable starting center over the past three years. In fact, he's finished the season ranked fifth in WAR in each of those seasons as well. That kind of consistency is tough to let walk into free agency, so I think the Titans bring Jones back.
---
Prediction: New England Patriots – Three years, $34.5 million ($19.5 million guaranteed)
Ward has been the Chiefs' primary boundary corner for the last three years, and he's played at an average leverage, taking a small step forward this year. His 71.2 PFF grade ranked 21st out of 116 cornerbacks, and he finished with a 69.4 coverage grade as well.
On top of re-signing JC Jackson, the Patriots need additional corners to run Belichick's man coverage system. Ward has done his best work playing man coverage rather than zone, making this a good fit for both parties.
---
Prediction: Philadelphia Eagles – Three years, $24 million ($13.5 million guaranteed)
After getting cut by the 49ers, Reed went to the division-rival Seahawks and immediately flourished. In 2021, Reed finished with a 78.6 PFF grade, sixth-best in the NFL. He's primarily spent time in zone-heavy schemes, which is why the Eagles make a lot of sense as a landing spot. Philadelphia defensive coordinator Jonathan Gannon runs a relatively basic scheme that plays a lot of zone coverage. This can help to mask some of Reed's weaknesses, which includes his lack of height (5-foot-9).
---
Prediction: Tampa Bay Buccaneers, Two years, $25 million ($18 million guaranteed)
There aren't a ton of places Bridgewater can step in and start, but Tampa Bay is a place where he could. Depending on if the Buccaneers choose to draft a rookie quarterback or keep developing Kyle Trask, Bridgewater can effectively serve as a bridge QB to whoever they choose to be their long-term answer. Bridgewater's deal would be fairly cheap compared to the rest of the market, allowing the Bucs to pick and choose which in-house players they want to re-sign for 2022.
---
Prediction: Cleveland Browns – Three years, $35 million ($24 million guaranteed)
The Browns have not been able to find a deep threat for Baker Mayfield. Anthony Schwartz was drafted to be that guy, but he had an underwhelming rookie year, leaving the Browns wide receiver room looking pretty bleak. Kirk can help open the offense up more, and if Mayfield's shoulder is healthy, he can make the over-the-top throws following a play-action. Kirk recorded a 97.0 receiving grade when targeted receiver on deep throws (throws of 20-plus air yards).