Chaos. This past week was absolute chaos. We saw numerous stars flip teams via trades and through free agency and it added up to be one of the most active and memorable opening weeks in quite a while.
Nearly every NFL team made some type of notable transaction — some made several great ones and others made a few risky ones. That being said, let's break down the best and worst moves made by all 32 NFL franchises.
This was perhaps the most shocking move of the entire week, and it's largely because of what the Arizona Cardinals traded to the Houston Texans for one of the NFL's best wide receivers. Arizona sent a 2020 second-round pick, 2021 fourth-round pick and running back David Johnson in exchange for DeAndre Hopkins and a 2020-fourth round pick.
Hopkins has been the NFL's fourth-most valuable wide receiver since 2010, and he didn't even come into the league until 2012. He's produced a top-five PFF grade in each of the past three seasons and owns the highest grade in that stretch going one-on-one in single coverage. Outside of Larry Fitzgerald, the Cardinals' receiving unit was incredibly poor. Granted, they are generally young and unproven as none cracked the 50th percentile in PFF grade. With Hopkins, Arizona's offense, which was already 13th in expected points added per play in 2019, is going to receive a massive boost. Kyler Murray and Kliff Kingsbury got a good one.
Worst move: Placing the transition tag on Kenyan Drake
Considering the transition tag on Kenyan Drake comes with a cost of around $8 million, this wasn't a great move. He was just the 25th most valuable running back of the 2019 season, yet he will be the sixth highest paid. Drake does bring some solid receiving ability to the table, as he recorded a 76.3 receiving grade from Week 9 and on with the Cardinals, which ranked among the 10 best at the position. Still, the juice is not worth the squeeze.
---
With losing Austin Hooper, Atlanta traded away 2020 second- and fifth-round picks to the Ravens for 2018 first-round pick Hayden Hurst and a 2020 fourth-round pick. This is a solid move made on Atlanta's part and honestly might even be an upgrade over Hooper considering what the Browns paid him. One of Hooper's flaws was his ability to win in single coverage, and that's an area where Hurst has thrived in. He owns a two-year receiving grade in single coverage that ranks eighth at his position.
Worst move: Signing Dante Fowler Jr. for three-years, $48 million
There's no question Atlanta needed to beef up its defensive line and add someone who could consistently win in the pass-rush like Grady Jarrett, but paying Dante Fowler Jr. $16 million on average the next three years isn't the route to go. Fowler has been a good pass-rusher, but he is by no means an elite one. His career-high pass-rush grade came this past season at 73.4, and that only tied for 30th. His 15 sacks (we don't award half sacks) may look hot on the stat sheet, but his 14.4% win rate that tied for 40th with Takkarist McKinley is not for the price that was paid.
---
Sending a fifth-round pick for the second-most valuable defensive lineman since 2016 behind only Aaron Donald? Sign me up. In each of the past four seasons, Campbell has produced elite 90.0-plus PFF grades and was great as both a run-defender and a pass-rusher. Baltimore's biggest flaw from last year was its defensive front and, specifically, its ability to generate consistent pressure. The Ravens ranked just 27th as a team in PFF pass-rush grade, but with Campbell, it's a given that'll be improved on in 2020.
Worst move: Placing the franchise tag on Matthew Judon, IF they don't trade him
There's a real chance the Ravens trade Matthew Judon on the tag, but the likeliest scenario at this point seems to be him playing in Baltimore in 2020 on the tag and no long-term deal. Judon had a career year as a pass-rusher last year as he generated the 20th best pass-rush grade. Judon owned a high pressure total, but we must look at how he obtained those pressures in greater detail. Of his 63 pressures, 56.5% came as a cleanup/unblocked pressure, which was over five percentage points higher than any other edge defender. Essentially, he didn't have to win a rep against an offensive lineman to get the pressure.
---
Buffalo traded 2020 first-, fifth- and sixth-round picks as well as a 2021 fourth-round pick for Stefon Diggs and a 2020 seventh-round pick — and it was fully worth it. With the addition of Diggs, the Bills now own three of the 35 most valuable wide receivers from the 2019 season and are the only team in the NFL to be able to say that. One of the more underrated aspects of Diggs' play is how great of a receiver he is against tight coverage — an area Buffalo's receivers badly struggled in this past year, as their wideouts were 28th in receiving grade on contested targets. Since 2017, Diggs is among the 10 best receivers in grade on contested targets. This move puts the Bills another step closer to a Super Bowl-caliber roster.
Worst move: Signing Mario Addison for three years, $30.45 million with $15.25 million guaranteed
Buffalo had to replace Shaq Lawson and Lorenzo Alexander this offseason, and it did so with 32-year-old Mario Addison, the 50th-ranked edge defender in pass-rush grade from 2019. In 2016, Addison cracked the top 20 in pass-rush grade, but he has dropped his grade in each of the past three years. He's not a bad pass-rusher, but he is on the decline, making the $10 million price tag pretty steep.
---
Best move: Re-signing Tre Boston for three years, $18 million with $9.5 million guaranteed
I've hammered this one home in various other articles for months now: Tre Boston is one of, if not, the most undervalued player in the NFL, and the contract he received attests to that. In Boston's first three years in the league with Carolina from 2014 to 2016, he was solid in coverage. In the three years since while playing for three different teams in the Chargers (2017), Cardinals (2018) and Panthers again (2019), Boston has taken his play to elite level. He has combined to produce the highest coverage grade of any safety in those three seasons and has been the NFL's sixth-most valuable safety, too. The Panthers retained one of the league's best safeties and aren't even paying him among the 20 highest at the position.
While Joe Burrow is currently the best prospect PFF has ever seen, Clemson's Trevor Lawrence is looking like he may take that title from him when he enters the 2021 NFL Draft a year from now. He's a prospect worth tanking for. Lawrence is a franchise-altering quarterback and has a skillset we have never really seen before. Carolina was a candidate to tank for him in 2020, given its new regime with Matt Rhule and Joe Brady, but instead, they signed Teddy Bridgewater in free agency. Now, this doesn't entirely eliminate getting Lawrence or even Justin Fields in 2020, but the odds are that Bridgewater will put them just out of reach, and we have our concerns that he might not be the franchise quarterback some may think he was from his five starts in 2019 when filling in for Drew Brees.
In those five starts, Bridgewater made few mistakes. He posted one of the 10 lowest negatively graded throw rates en route to a top-10 PFF grade. But the offense he ran was as conservative as it could be, and we rarely saw Bridgewater make a play with his arm. When under center for New Orleans in 2019, Bridgewater completed only seven passes of 20-plus yards, and all but one was to an open receiver. Just 21% of his passes traveled 10 or more yards downfield, which was the lowest rate in the NFL by four percentage points. Not to mention, nearly half of his completions came on underneath routes. That gives us worry that Bridgewater might just be the ultimate game-manager who thrives with the right scheme, play-caller and supporting cast instead of a franchise quarterback.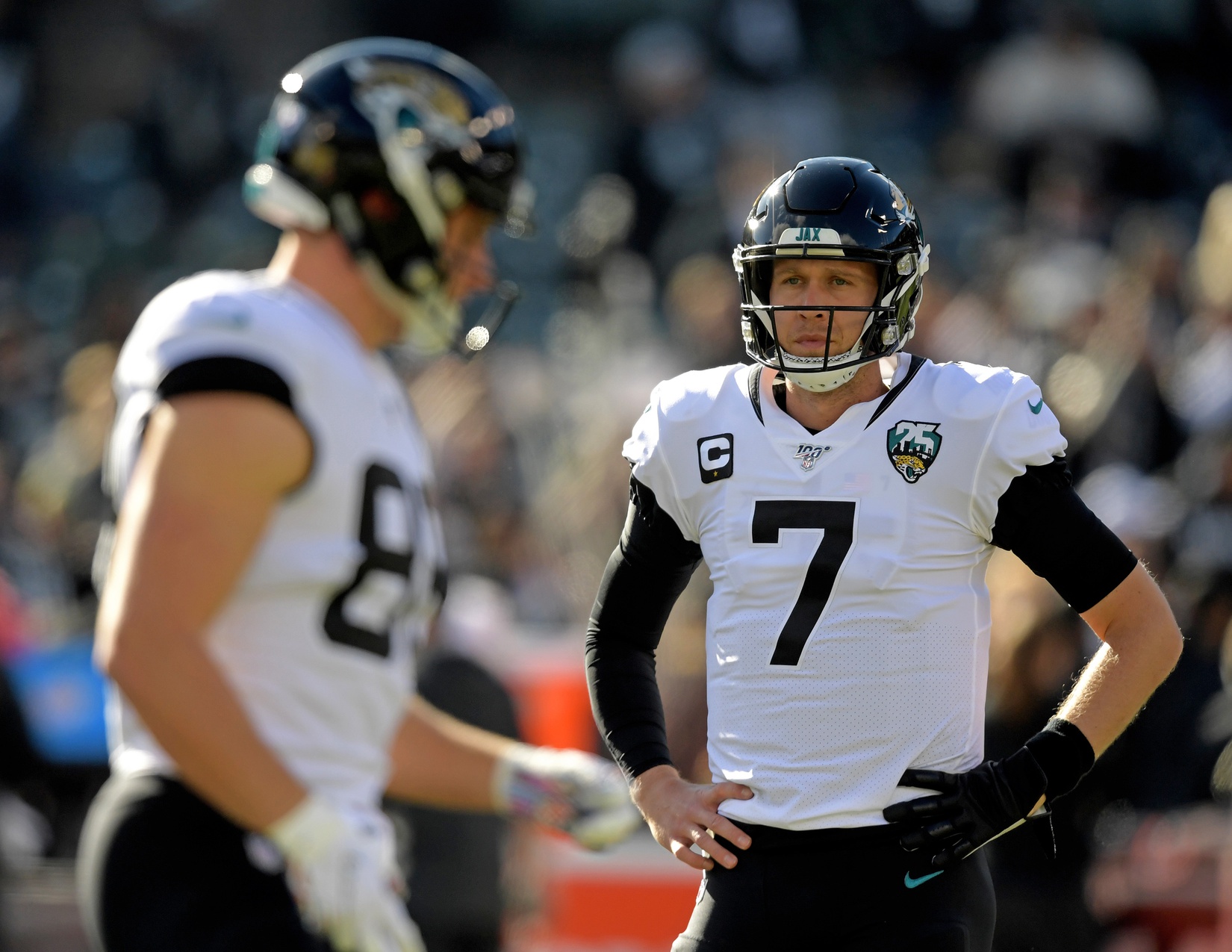 There were rumors prior to free agency about Chicago potentially being interested in a quarterback to compete with Mitchell Trubisky for the starting job in 2020, but no one really knew if this would actually happen. Then, they went out and traded their compensatory fourth-round pick to the Jaguars for Nick Foles, who has vast experience working with multiple people on the Chicago coaching staff (head coach Matt Nagy, offensive coordinator Bill Lazor and quarterbacks coach John DeFilippo).
Trubisky has never cracked the 25th percentile in PFF passing grade in any of his three years in the league. He's been one of the most inaccurate quarterbacks in that span and has had questionable decision-making at times. While Foles is far from perfect, he has proven to be an average, reliable quarterback. We have seen Foles produce a top-10 season back in 2013 when he owned the eighth-best passing grade in the NFL. And more recently, we have seen him produce at an average level by owning passing grade ranks of 15th and 18th in 2017 and 2018, respectively. Again, Foles isn't perfect, but he is the best option Chicago has had at the quarterback position in years.
Worst move: Letting the secondary go from one of the team's strengths to a glaring weakness
Chicago had to make some creative moves to clear up cap space for another quarterback salary on the roster, and one of those moves was cutting starting cornerback Prince Amukamara. In his three seasons with the Bears, Amukamara had been a decent player — his combined coverage grade at outside corner ranked 25th in the NFL in that span and he was the 13th most valuable cornerback overall. Artie Burns, who the Bears signed to a one-year deal, is the likely Amukamara's replacement. Burns showed some promise in 2016 and 2017 but was benched in 2018 after posting a 57.4 coverage grade, allowing 19 catches on 26 targets (four of which were touchdowns) and being called for five penalties on his 202 coverage snaps.
The Bears have one of the league's best safeties in Eddie Jackson, but they had one of the best safety tandems in the league last year with him and the now-departed Ha Ha Clinton-Dix. In his one season with Chicago, Clinton-Dix had one of the best seasons of his career in coverage and was one of the NFL's 20 most valuable safeties. Instead of re-signing him, the Bears let him walk to the Dallas Cowboys for a cheap one-year, $4 million deal.
Excluding quarterback, the three most valuable Chicago Bears in 2019 were Allen Robinson II, Ha Ha Clinton-Dix and Prince Amukamara. Those two losses are bigger than most think.
---
Best move: Placing the franchise tag on A.J. Green
Some say this is a bad move, but we here at PFF agree with Joe Burrow that this was a great one and an absolute must to make. Green has missed 23 of the past 24 games, but he's one of the most dominant wide receivers in the game when he's on the field. He finished six of his past seven seasons played ranking 11th or better in PFF grade at his position and is one of the league's best deep threats when healthy. Green still owns the most deep receiving touchdowns of 20 or more yards since 2011, and he hasn't even stepped foot on the field in a year and a half. Guarding Green in single press-man coverage is near impossible — his grade against single coverage since 2015 is fourth in the NFL behind only Julio Jones, Michael Thomas and DeAndre Hopkins. His health is the concern, but his play on the field outweighs that.
Worst move: Signing Trae Waynes for three-years, $42 million
Cincinnati desperately needed to improve its secondary, and the addition of Mackensie Alexander for next to nothing was a great move. However, paying Trae Waynes $42 million over the next three years is a questionable one. He's never ranked higher than 58th in a single season in PFF coverage grade and has allowed a poor 64% catch rate over the past three seasons on the outside, which ranks 57th of 64 corners. In that same three-year span, Waynes has been a far better man corner (72.4 coverage grade) than when playing in zone (57.1 coverage grade), so hopefully his move away from Minnesota's zone-heavy scheme to Cincinnati — which plays more man — is a turning point in his career and results in a good return on investment for the Bengals.
---
Best move: Signing Jack Conklin for three years, $42 million with $30 million guaranteed
Cleveland landed one of the best tackles on the free-agent market in Jack Conklin, and he just so happens to be one of the best zone-blocking tackles in the NFL — exactly what Kevin Stefanski's scheme calls for. Conklin's zone-blocking grade in 2019 ranked sixth among tackles. Conklin finished the year overall as one of the 10 highest-graded tackles and is a massive upgrade over Chris Hubbard, who started at right tackle for the Browns last year and was the sixth-lowest graded tackle of the season.
Worst move: Signing Austin Hooper for four years, $44 million with $23 million guaranteed
As mentioned in other articles as of late, we here at PFF would be hesitant to call Austin Hooper one of the league's best tight ends as his contract suggests. Hooper has never quite shown he can consistently win in single coverage. Among 40 qualifying tight ends since 2015, he ranks just 32nd in PFF receiving grade when facing single coverage. Most of Hooper's production was schemed, but he was a great receiving tight end on those drag routes underneath. He'll fit great in Kevin Stefanski's system, but the price paid is still a tad much in our eyes.
---
Best move: Re-signing Amari Cooper for five years, $100 million
Amari Cooper has blossomed into the player we all thought he'd become since he was traded to the Cowboys in the midst of the 2018 season. Since joining Dallas, Cooper has been one of the league's 10 best wide receivers in regard to PFF grade and a game-changer for the Cowboys' offense. When Cooper has been on the field for Dallas, they've totaled 122.0 expected points added (907 plays) while only 2.95 (425 plays) without him on the field. His route-running is some of the best we have seen here at PFF and is well worth what he is being paid.
Worst move: Letting Byron Jones walk because they signed Ezekiel Elliott for six-years, $90 million with $50 million guaranteed before the season
Dallas had its three most valuable players over the past two seasons due for a new contract this offseason in Dak Prescott, Amari Cooper and Byron Jones but only had the funds to re-sign two of them. They ended up retaining Prescott and Cooper and had to watch Byron Jones, who is the fourth-highest graded outside corner since 2018, sign a massive long-term deal with the Miami Dolphins. One of the primary reasons why they had to let one of the NFL's best corners leave is because they opted to pay Ezekiel Elliott a record-setting deal prior to the 2019 season. Now, Zeke is a tremendous athlete and finished the season as the fifth highest-grade ball-carrier in the NFL, but he just plays an invaluable and replaceable position. Jones has been worth twice as much to the Cowboys than Zeke has in regard to PFF WAR the past two seasons.
---
Best move: Almost everything
Denver had a near-flawless free agency. We'll dive into what prevented them from having that perfect week in our eyes below. But for now, let's talk over the numerous great decisions they made. They placed the franchise tag on Justin Simmons after he had an incredible breakout year in his first season with Vic Fangio, raising his coverage grade rank from 85th in 2018 to second in 2019 en route to taking home honors of being the league's most valuable safety. Denver also made two great trades in acquiring A.J. Bouye, the third highest-graded outside corner in coverage from 2016 to 2018, and Jurrell Casey, who has ranked among the 25 highest-graded interior defensive linemen in each of the past five years. The Broncos lost Connor McGovern to the New York Jets but signed Graham Glasgow, who has shown he can play anywhere on the interior at a high level.
Worst move: Signing Melvin Gordon to a two-year, $16 million deal with $13.5 million guaranteed
As said above in the Dallas Cowboys' worst move section, the running back position is invaluable and replaceable. Denver actually already had one of the top backs in the league In Phillip Lindsay, and he is on the books for under $1 million for 2020. Instead of rolling with Lindsay and using their remaining cap space on perhaps a wide receiver, they decided to pay Melvin Gordon $8 million per year over the next two seasons. Since Lindsay emerged onto the scene in 2018, he's actually recorded a higher PFF overall grade than Melvin Gordon and has produced the exact same PFF WAR figure. This is no slight to Gordon as an athlete — but again, that's too much money to hand out to a running back who hasn't even outproduced your previous running back.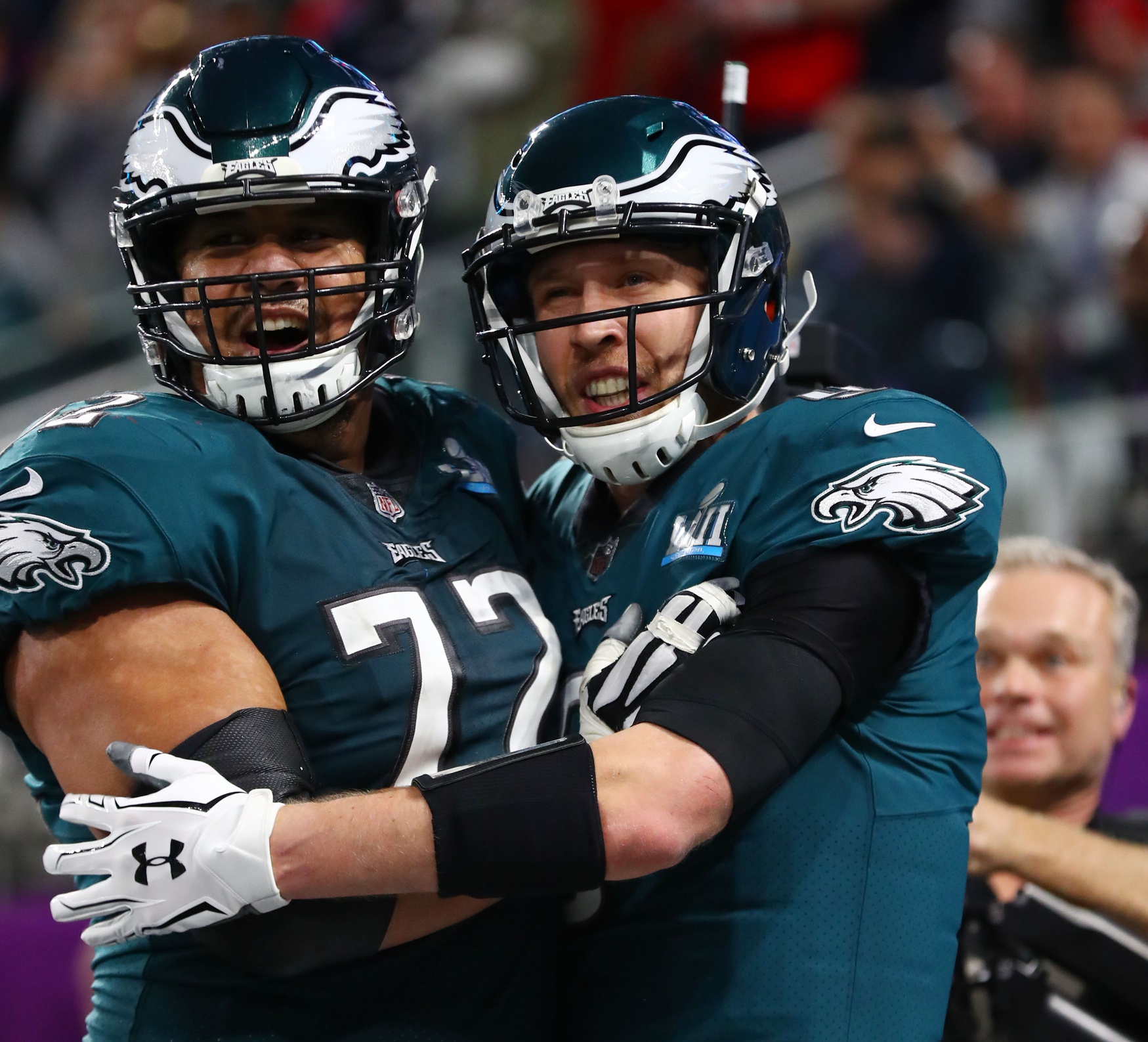 Best move: Signing Desmond Trufant after Atlanta cut him
First off, trading away Darius Slay instead of paying him was a questionable move, but the Lions made a good signing in Desmond Trufant after the Atlanta Falcons cut him. Trufant has been the sixth-most valuable cornerback in the NFL since he entered the league in 2013 and has been among the five highest-graded corners when playing man-to-man since PFF began tracking coverage schemes in 2014. Trufant will fit perfectly within Matt Patricia's defense and adding Jeff Okudah with the third overall pick — a player who is easily the best press-man corner in this draft class — would form a top-tier duo in their secondary.
Worst move: Signing Halapoulivaati Vaitai for five-years, $50 million
Halapoulivaati Vaitai received one of the more shocking deals of free agency, receiving a five-year, $50 million deal after four inconsistent, subpar years in the NFL. When examining offensive lineman performance in pass-protection, it's best to look at how they fared on true pass sets (i.e., standard quarterback dropbacks, with no play-action, screen, quick throw). In Vaitai's career, he ranks just 56th of 61 tackles in PFF pass-block grade on true pass sets and allowed a double-digit pressure rate at 10%.
---
Best move: It's a drop-off from Bryan Bulaga, but signing Rick Wagner for as little as they did was a solid move
It's hard to replace a guy like Bryan Bulaga, who has been one of the league's most consistent and reliable pass-protectors at right tackle, but doing so with Rick Wagner on a cheap deal of two-years, $11 million is a pretty solid move. Wagner had a down year in 2019 by producing just a 59.0 grade, ranking 61st of 81 tackles, but he was consistently above average in nearly every season prior to that. Wagner cracked the 50th percentile in four of his five seasons from 2014 to 2018 in PFF overall grade and had multiple years among the top 25.
Worst move: Signing Christian Kirksey for two-years, $16 million and failing to get Aaron Rodgers any help at receiver
Green Bay was clearly in the market for an off-ball linebacker with Blake Martinez on his way out of town, and they ended up with Christian Kirksey, who hasn't been nearly as good as Martinez when it comes to performance in coverage. In his first two seasons in the NFL in 2014 and 2015, Kirksey looked the part of a great coverage linebacker by posting grades of 68.3 and 80.0 in that facet, but he hasn't been able to match it since then by ranking 64th of 75 off-ball linebackers in PFF coverage grade over the last four years.
The Packers were also rumored to be in on Emmanuel Sanders before he eventually chose the New Orleans Saints but ended up leaving free agency empty-handed with no additional help at receiver for Aaron Rodgers. Davante Adams has been a top-10 receiver over the last two years in PFF grade, but there is no clear-cut, reliable WR2 opposite him. Jake Kumerow, Marquez Valdes-Scantling, Allen Lazard and Geronimo Allison were given the opportunity to become Rodgers' next favorite target in 2019, but they all failed to crack a grade above 70.0. Luckily for them, they'll be in prime position to snag one in this loaded wide receiver class at pick 30 in the first round.
---
Best move: …
Outside of the obvious trade, Houston re-signed cornerback Bradley Roby and brought in wide receiver Randall Cobb on contracts that were larger than many thought. Neither of those moves was really that great considering Roby was the 68th most valuable cornerback in 2019 and Cobb has ranked above 50th at his position in PFF receiving grade just once in the last five years. That said, let's just move onto Houston's most notable and controversial move made from last week:
As said earlier, Hopkins has been one of the best wide receivers PFF has seen in the last decade. Houston traded him for running back David Johnson, a 2020 second-round pick and 2021 fourth-round pick while giving up a 2020 fourth-round pick of their own. In addition to receiving Johnson, they also receive his massive contract that is currently the third-highest at his position. If it weren't for a dead cap hit of over $16 million, there was a real chance the Cardinals would have cut Johnson based on his recent performance. Johnson has ranked 49th of 55 running backs in PFF overall grade over the last three seasons. In that span, Hopkins has been worth over two wins more to his team than Johnson in PFF WAR. The trade market was reportedly low for Hopkins, and this was reportedly the best the Texans could get for him, which is mind-boggling to us considering Hopkins' dominance in his career.
---
Best move: Signing Philip Rivers for one-year, $25 million
Colts fans are divided on the move to sign the 38-year-old Philip Rivers, but this is a huge upgrade over what they had last season with Jacoby Brissett. Rivers was still very much an effective quarterback last year by ranking 17th in passing grade and still delivering accurate passes at an exceptional rate. On throws targeted 10-plus yards downfield, Rivers produced the eighth-highest rate of accurate passes thrown — a statistical category in which Brissett ranked second-to-last. Rivers was also among the NFL's five highest-graded passers in the season prior, too. He's not on the level of Andrew Luck this late in his career, but he's someone the Colts can contend with.
Worst move: Trading the 13th overall pick for DeForest Buckner and signing him to an extension that pays $21 million per year
DeForest Bucker is a solid interior defensive lineman, but trading the 13th overall pick and extending him to a four-year, $84 million deal outweighs his production a bit. Buckner is now the second-highest-paid interior defensive lineman behind only Aaron Donald but has never cracked the top 10 in PFF WAR at his position in any of his four seasons in the league. He's been a great pass-rusher over the last three seasons, ranking eighth in PFF pass-rush grade and ninth in win rate in that stretch, but $21 million is a lot of money for an interior defensive lineman not named Aaron Donald.
---
Best move: Signing Darqueze Dennard for three-years, $13.5 million with $6 million guaranteed
Darqueze Dennard has been an undervalued player playing one of the most valuable positions at slot corner the last few seasons. Among 42 qualifying slot corners since 2017, Dennard ranks 12th in slot coverage grade and has allowed the lowest catch rate on targets of 10 or more yards. Among all cornerbacks in that same period, Dennard has been the 27th most valuable in the league. Jacksonville got an absolute steal by paying him just over $4 million in each of the next three seasons.
Worst move: Trading away A.J. Bouye
The Jaguars have clearly begun the tank by trading away all of their top talents, but jettisoning A.J. Bouye for only a fourth-round pick might have been a bit too far. It's understandable why the Jaguars wanted him off their books considering he's owed $26 million over the next two years — this isn't a terrible move by any means — but if we had to pick a "worst move" made by them, it would be this one. As stated, Bouye was one of the three best outside corners from 2016 to 2018 in PFF coverage grade. He had a down year in 2019, but we must remember coverage performance is volatile and Bouye has proven to be a top-tier cornerback in the NFL.
---
Best move: Placing the franchise tag on Chris Jones
Considering the limited cap space Kansas City has available to them and the fact that reigning Super Bowl MVP Patrick Mahomes is in need of a new contract soon, it's almost a given they'll be trading Chris Jones on the franchise tag. As noted by PFF's Eric Eager weeks ago, this was the likeliest move and really is the smart one to make, as they could fetch a tail-end first-round pick or earlier second-rounder in a trade like they did with Dee Ford. Jones has been one of the league's best interior pass-rushers right behind Aaron Donald. He has ranked in the top 10 in PFF pass-rush grade in all of his four career seasons and has ranked second in each of the last two. He'll be a hot commodity in the coming days on the trade market.
Worst move: Not cutting Sammy Watkins to free up more cap space
There were very few moves made by Kansas City in free agency, as there weren't many holes to fill, nor did they have the cap space available to them if they wanted to. That said, they could have freed up $14 million if they cut Sammy Watkins, but they also would have taken on a $7 million dead cap hit. Watkins ranks just 50th of 103 wide receivers in PFF receiving grade during his time with the Chiefs the past two seasons and will account for the largest cap hit of any wide receiver in 2020. Cutting Watkins could have prevented the Chiefs from losing Kendall Fuller, who was a key piece to their Super Bowl run by filling in at safety, to Washington in free agency.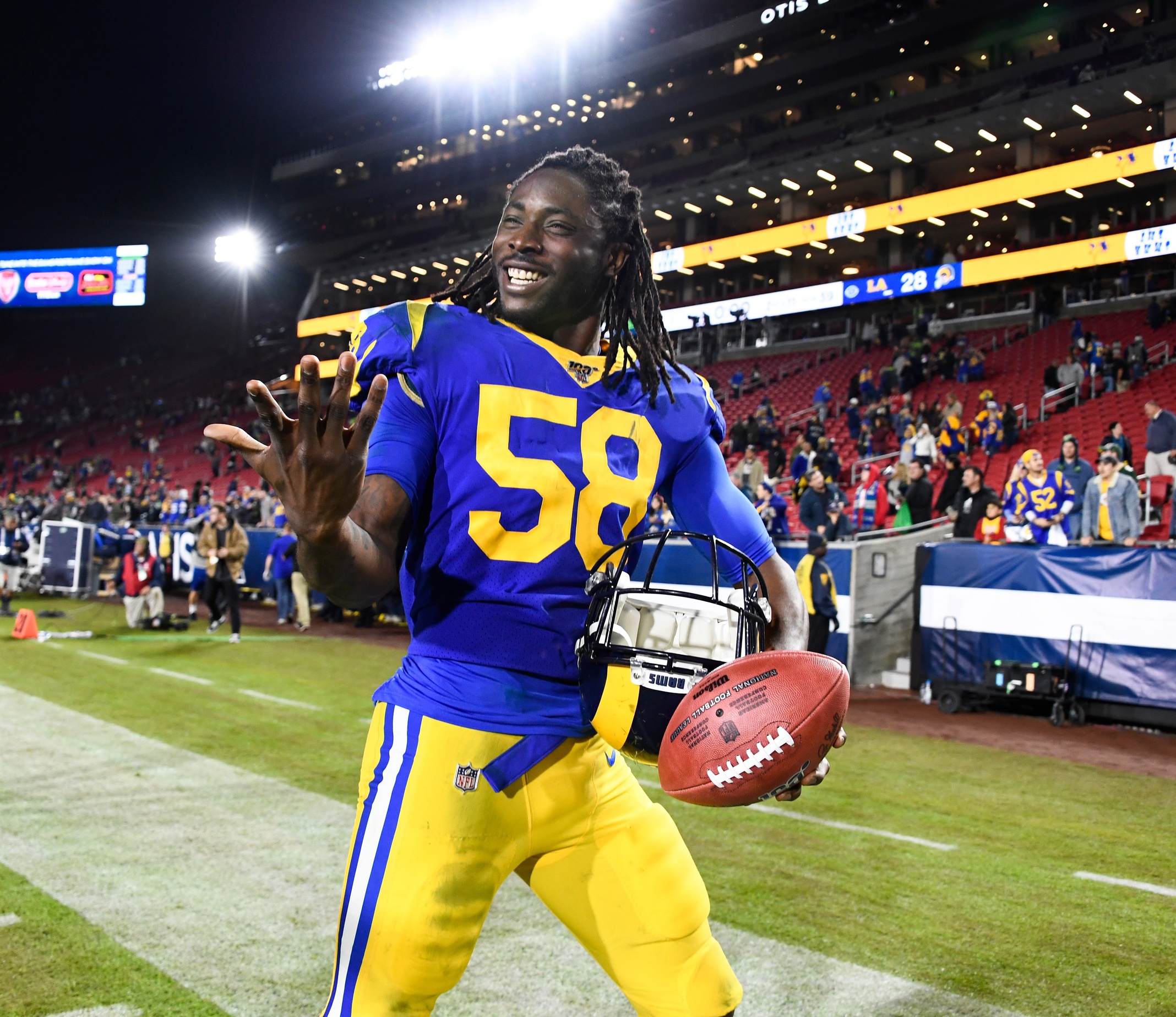 Last year, Raiders off-ball linebackers were 28th of the 32 units in PFF coverage grade. By signing Nick Kwiatkoski and Cory Littleton, they now have arguably the best off-ball linebacker duo in the NFL. Since 2017, Kwiatkoski has produced a PFF grade that ranks among the 15 best at his position, and he's one of six to own a 70.0-plus grade as a run defender, as a pass-rusher and in coverage over that span. As for Littleton, he owns the second-best coverage grade at the position over the last two seasons while combining for 25 plays made on the ball, which is tied for the most. Mike Mayock and Jon Gruden hit it out of the park with these two.
Worst move: Signing Carl Nassib for three-years, $25 million with $17 million guaranteed
While the contract isn't insanely massive like some others, signing Carl Nassib to a three-year, $25 million deal with $17 million guaranteed was a bit much. His best season as a pass-rusher came this past season, and he still only ranked 62nd among 106 edge rushers in pass-rush grade. He has won on just 9.1% of his pass-rush reps combined in his four career seasons, which is the third-worst rate at his position. The Raiders had a great free agency, but this move is a risky one.
---
Chargers tackles last year allowed the highest pressure rate of any tackle unit in the entire league. With Bryan Bulaga now on the team, that's bound to improve in 2020. Bulaga has ranked among the 10 best pass-blocking right tackles in PFF pass-block grade in every season since 2014, and they got him at a reasonable price, too.
The Chargers secondary was already strong, but adding Chris Harris Jr. to man the slot makes it elite — they'll be one of the toughest matchups quarterbacks have to face. Harris moved to outside corner in 2019 and had the worst season of his career in PFF coverage grade, but he still produced a grade that is considered above average. From 2011 to 2018, no one came close to touching Harris in slot coverage grade.
Hunter Henry has battled injuries the last couple of seasons, but we mustn't forget his 2016 and 2017 seasons when he ranked fifth and second in PFF overall grade. He's one of the most athletic tight ends and can win anywhere on the field. Henry has posted one of the five best receiving grades when lined up in the slot or outside over the course of his career.
Worst move: If anything, signing Linval Joseph for two-years, $17 million
Linval Joseph has declined as a pass-rusher these last two seasons, posting two of his four worst pass-rushing grades of his career. His pressure rate generated ranks just 65th of 83 interior defensive linemen in that span, and his pass-rush grade sits right around the 50th percentile. Perhaps a change of scenery will get him back to his elite form we saw from 2015-17, but Joseph isn't getting any younger. That said, this isn't an awful signing by any means, but rather a risky one.
---
Best move: Re-signing Andrew Whitworth for three-years, $30 million with $12.5 million guaranteed
The fact that Andrew Whitworth is performing as well as he is at this age (now 38) is quite remarkable. He earned an 84.7 pass-block grade in 2019, ranking among the 10 best offensive tackles in the league. Outside of Whitworth, the Rams offensive line was pretty poor. The next highest pass-blocker on the roster sat at just 61.6. They were 29th in bass-block grade as a team — losing Whitworth would have made them arguably the worst line in the NFL.
Worst move: Signing Leonard Floyd for one-year, $10 million fully guaranteed
Leonard Floyd never blossomed into the pass-rusher we all thought he'd turn out to be as a top-10 prospect just a few seasons ago. Since he entered the league in 2016, Floyd ranks 67th of 76 qualifying edge defenders in PFF pass-rush grade and owns the fifth-highest percentage of pressures that were either a cleanup or unblocked. As said, the offensive line needs a lot of work, and that money could have gone there as opposed to risking it in Floyd, hoping he just needs a change of scenery.
---
Best move: Signing arguably the best man corner in the league in Byron Jones
After playing safety in his first few seasons, Byron Jones made the move to outside corner in 2018 and became one of the best corners in the NFL. Jones played more coverage snaps in press-man coverage than anyone else and posted the third-best coverage grade on such reps the last two seasons. Among outside cornerbacks to line up in press at least 250 times since 2018, Jones ranks second in yards per coverage snap. The price was incredibly high for Miami to lock up Jones (five-years, $82 million, $54 million guaranteed), but it was certainly worth it considering how valuable of a player Jones is and how perfectly he fits within Brian Flores' defense.
Worst move: Signing Ereck Flowers for three-years, $30 million with $19.5 million guaranteed
Flowers played at left tackle during the first four seasons of his career before kicking over to left guard in 2019. In his four years at tackle, he ranked at or below the 50th percentile in our positional grades every single season and allowed an NFL-high 9.6% pressure rate. And he committed the third-most penalties for a tackle in that span. Sure, Flowers fared much better after his move to guard, but he still didn't display anything to suggest he should take home a contract like this. He ranked only 18th among 39 qualifying left guards in PFF overall grade last season.
---
Of 119 qualifying cornerbacks last year, Xavier Rhodes ranked 112th in PFF coverage grade. At outside corner specifically, Rhodes allowed an 82.4% catch rate (last), 132.2 passer rating (second-to-last) and 43 first downs (five more than anyone else). Reminder, he got a Pro Bowl nod last year as an alternate. Cutting him seemed inevitable and was the right route to go.
Worst move: Signing Michael Pierce to a three-year, $28 million deal with $18 million guaranteed instead of patching up their secondary
After cutting Xavier Rhodes, the Vikings saw Mackensie Alexander and Trae Waynes leave in free agency to join the Cincinnati Bengals, leaving Mike Hughes as the only corner with significant snaps for Minnesota in 2019 on the roster. Hughes only had a 59.6 coverage grade, too, which ranked 72nd. The Vikings tagged safety Anthony Harris, who owns the best grade of any safety over the last two seasons. Reports suggest that they didn't tag Harris to keep him, but rather trade him for assets. The secondary is depleted, and instead of using what little cap space they had to improve it, they used a good chunk to sign run-stuffer Michael Pierce who is coming off a season in which he ranked 45th among interior defensive linemen in PFF grade.
---
Best move: Re-signing Devin McCourty for two years, $23 million with $17 million guaranteed
Devin McCourty is getting ready to turn 33 years old but has shown little to no sign of slowing down. He's been one of the 10 most valuable safeties in each of the last two seasons and owns a two-year coverage grade that ranks among the top five at the position. There's still a lot of work to be done to improve the passing attack, but Bill Belichick still has one of the best secondaries in the NFL.
Worst move: Not making a move for a wide receiver
Whoever the starting signal-caller for New England is in 2020, they'll need more receiving options than they have now. The Patriots finished the 2019 season ranked 23rd in team receiving grade, and only Julian Edelman produced a receiving grade above 70.0. New England can always get a receiver with the 23rd overall pick in the upcoming draft, but they still lack depth at both wide receiver and tight end.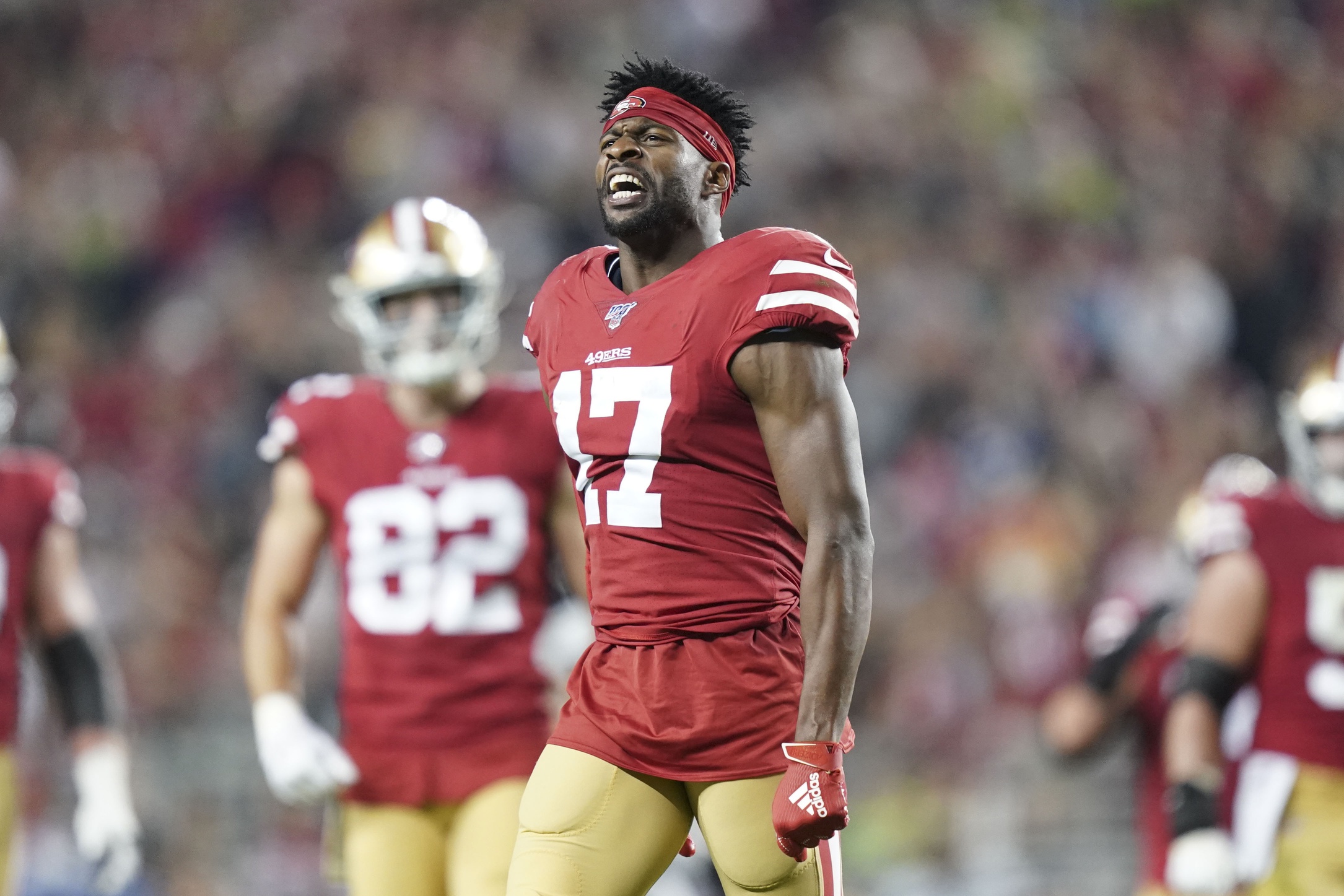 Best move: Getting a reliable WR2 in Emmanuel Sanders
Whether it was through free agency or the draft, New Orleans had to make a move for a legit WR2. Of course, Drew Brees has Michael Thomas, who is coming off a season in which he produced the highest receiving grade at his position, but there was no one to really go to after Thomas. Last year, the next two wide receivers to see any significant targets were Tre'Quan Smith and Ted Ginn Jr., and both recorded receiving grades in the 50s.
To fix that, they brought in veteran pass-catcher, Emmanuel Sanders. Sanders has displayed some surefire hands over the course of his career, and he continued that in 2019 by dropping just 1.5% of his catchable targets — third among wide receivers who saw at least 60 targets. He fits perfectly into Drew Brees' short, quick passing attack, as his receiving grade on targets 1-19 yards downfield that were thrown within 2.5 seconds of the snap ranked behind only Michael Thomas last year.
Worst move: Re-signing Andrus Peat for five years, $57.5 million
Andrus Peat was a relatively average player from 2015-17, splitting time between left tackle and left guard. He then stepped into a full-time left guard role in 2018 and 2019 and saw his play drop off significantly. Peat posted overall grades of 39.8 and 48.5 in those two seasons, respectively, en route to a PFF WAR figure that ranked second to last among guards. If it weren't for this massive deal, New Orleans would have had one of the best free agency weeks in the league.
---
Best move: Nothing
There wasn't much to like with the New York Giants' week of free agency. They entered the week with a considerable amount of cap space and needed to improve a secondary that ranked 30th in team coverage grade just a season ago as well a pass-rush that finished 25th in team pass-rush grade. Instead of decidedly improving both, they rolled the dice.
New York traded a 2020 third-round pick and a 2021 fifth-round pick in exchange for Williams midway through the 2019 season. And by tagging him, that 2021 fifth-round pick becomes a fourth, and they'll also have to pay him like an elite interior defensive lineman. Williams has been durable throughout his career, playing 4,187 snaps since 2015, but he hasn't touched the elite level many thought he would. In fact, He's failed to earn a top-25 PFF grade in each of the last three seasons. Williams is a good player, but he's not necessarily worth what the Giants are paying him.
We pegged James Bradberry as a risky free agent prior to the week, and the Giants went ahead and made him one of the three highest-paid cornerbacks in the NFL. Bradberry has fallen outside of the top 50 corners in coverage grade in each of the last three seasons and surrendered five more explosive plays (53) than any other outside corner in that same period.
---
Best move: Re-signing Brian Poole for one year, $5 million
Brian Poole quietly had one of the league's best turnarounds last year in what was his first season as a Jet. Poole played for Atlanta in his first three seasons in the NFL and at quite an average level, earning coverage grades in the 60s in the process. However, Poole posted an 80.0 coverage grade with the Jets in 2019, eighth at the position. New York got a steal by re-signing Poole for just $5 million in 2020.
Worst move: Signing George Fant for three years, $30 million
After playing only 1,146 snaps in his four-year career, George Fant was given a three-year deal worth $30 million with $13.7 million guaranteed. It'd be different if Fant actually performed well on his limited reps, but he certainly has not. On true pass sets over his career, Fant ranks 86th among 99 qualifying tackles in PFF pass-block grade and he's 96th in pressure rate allowed. Jets fans will argue this deal isn't bad since only the first year and a third of the second year is guaranteed, but Fant hasn't really proved that he is deserving of that.
---
Best move: Beefing up their defensive line by signing Javon Hargrave and finally getting an established corner by trading for Darius Slay
Philadelphia already had a loaded defensive line with Fletcher Cox and Brandon Graham, but the addition of Javon Hargrave makes it one of the best in the league. Javon Hargrave has been a secret superstar playing on the previously stacked Steelers defensive line — he's produced back-to-back seasons of 80.0-plus PFF overall grades, and he took his pass-rushing to new heights in 2019 by ranking 10th in pass-rush grade third in pressure rate through 17 weeks of the regular season.
Look past the 2019 coverage grade for Darius Slay on this one, as Slay has been among the five most valuable corners in the league since 2014. Very rarely will Slay allow separation deep downfield, and he'll routinely win on contested balls. Over the last four years, Slay has forced 39 incompletions on contested targets, the most in the NFL.
Worst move: Re-signing Jalen Mills for one year, $5 million
Jalen Mills has been far from a reliable player in his four-year career. Among the 74 qualifying cornerbacks since 2016, Mills ranks 73rd in PFF coverage grade. He's allowed a whopping 2,651 yards on his 1,920 coverage snaps and has had three of his four seasons end with a coverage grade below 56.0.  Philly still needs help in the secondary, even with Slay now on the roster, but Mills isn't the answer.
---
Best move: Stealing Stefen Wisniewski off the market
Compared to what some teams paid for offensive guards, Pittsburgh got an absolute steal in Stefen Wisniewski, who was one of the league's most reliable pass-blocking centers with the Raiders and Jaguars from 2012-2015 and owned an above-average pass-blocking grade in all four years with multiple seasons in the top 10. He kicked over to left guard with the Eagles in 2016 and posted back-to-back to years in the top-25 among guards before struggling in a limited role in 2018 (61st). Wisniewski joined forces with the Chiefs in 2019 and performed considerably well in his limited-turned-starting role and ended the season ranked 16th among guards in overall grade.
Worst move: Placing the franchise tag on Bud Dupree
After failing to reach the top-60 in pass-rush grade in all four of his NFL seasons prior to 2019, Bud Dupree had a career year in 2019, generating a 76.3 pass-rush grade that ranked 24th among players at his position. Dupree made more impactful pays with a load of sacks and fumbles, but he wasn't consistent on a rep-to-rep basis. After all, pressure rate is far more predictive of future performance than sack totals are, and Dupree ranked only 63rd in that category last year. In other words, this screams, "buyer beware."
---
Best move: Trading DeForest Buckner for the 13th overall pick
With Emmanuel Sanders departing, the Niners are now in the market for a wide receiver, and by trading for Indy's 13th overall pick, they are in a prime location to snag one of the elite receiving prospects in Jerry Jeudy, CeeDee Lamb or Henry Ruggs III. All three are top-10 prospects overall, and all would fit comfortably in Kyle Shanahan's offense with their explosive ability after the catch.
Worst move: Re-signing Arik Armstead for five years, $85 million with $48.5 million guaranteed
Re-signing Arik Armstead for as much as they did was a bit risky considering what we've seen from him so far. Armstead has played under 400 snaps in each of his three seasons, and while he flashed some potential in his rookie campaign by earning a 79.0 overall grade, he saw most of that success come from his run defense and not his pass-rushing. From 2015-18, Armstead's career-high pass-rush grade was just 70.6. In 2019, he greatly improved on that by recording a 75.1 pass-rush grade that ranked 27th. He's a good player, but five years, $85 million with $48.5 million guaranteed is a bit hefty.
---
Best move: Trading a fifth-round pick for Quinton Dunbar
A Day 3 pick for the second-highest-graded cornerback of the 2019 season… that's an absolute steal. Dunbar has quietly strung together a nice three-year stretch now, as he owns the eighth-best coverage grade since 2017. He's been stingy downfield throughout that time, allowing just four catches on 22 deep targets (20-plus yards) with nine total plays made on the ball. Dunbar will be paired up with Shaquill Griffin, who improved his PFF coverage grade rank from 114th in 2018 to 14th last year.
Worst move: Not doing enough to improve their offensive line
Seattle ranked 30th in team pass-block grade last year, and all they did was replace three of their subpar offensive linemen from that 2019 unit — George Fant, Mike Iupati and Germain Ifedi — with B.J. Finney, Brandon Shell, Cedric Ogbuehi and Chance Warmack.
In his three seasons starting at right tackle for the Jets, Brandon Shell has never cracked the top 50 in PFF pass-block grade. Cedric Ogbuehi, on the other hand, has logged only 957 pass-blocking snaps in his five-year career and produced a pass-blocking grade that ranks 83rd of 87 qualifying tackles. As for Chance Warmack, he has played only seven snaps over the last two seasons and recorded a 59.2 overall grade from 2016-17.
B.J. Finney could end up a solid add on the interior of the line, though. He has a very limited sample size as a pass protector (he has recorded just 591 pass-block snaps in his four seasons), but he still owns a pass-blocking grade that would rank among the 15 best interior offensive linemen.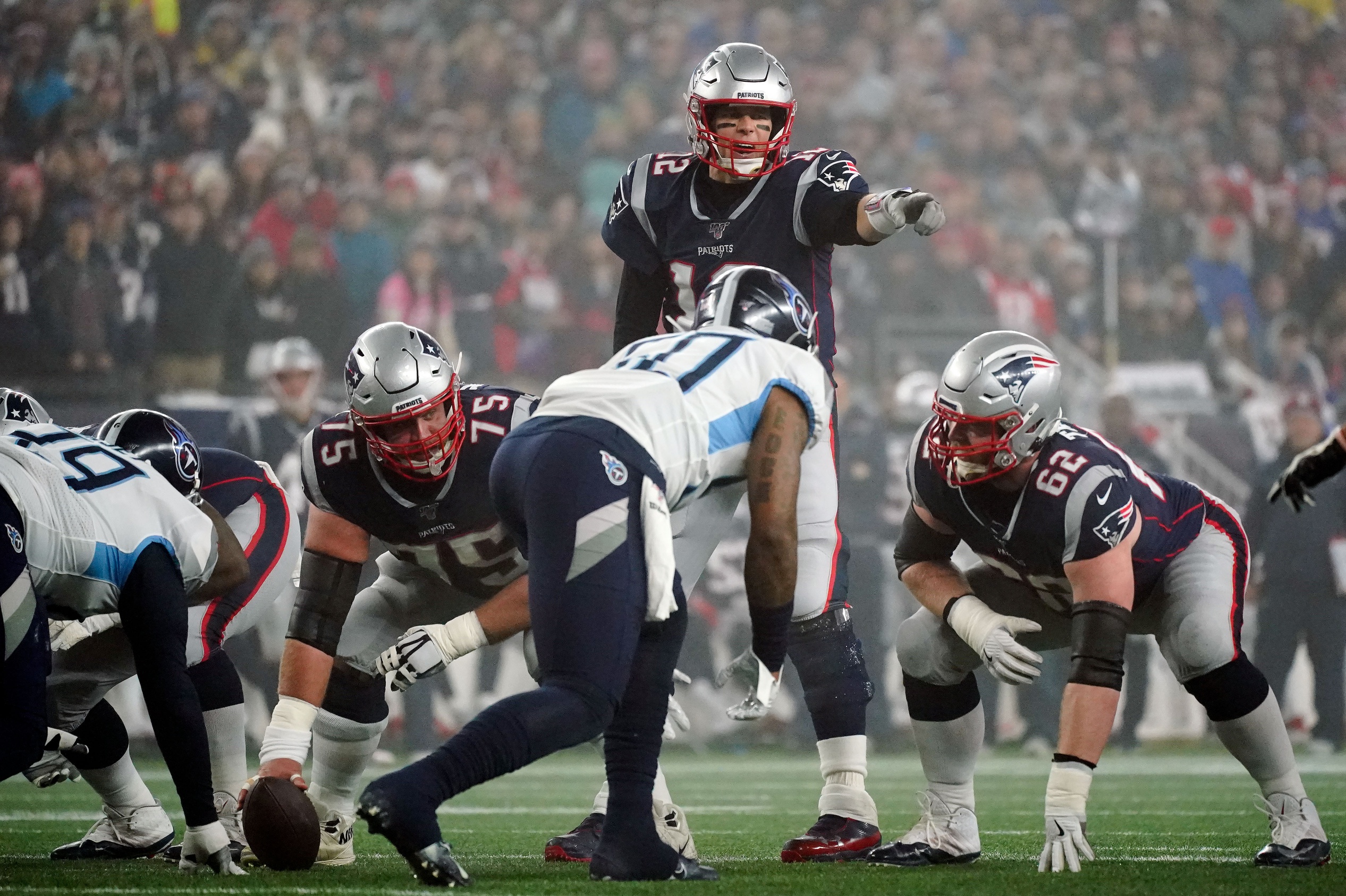 Best move: Of course it's signing Tom Brady
The signing of Tom Brady makes the Tampa Bay Buccaneers a Super Bowl contender, whether you like it or not. Tampa Bay already had one of the most talented rosters outside of the quarterback position in 2019. In fact, taking out quarterback, the Bucs had the fifth most valuable roster in the NFL per PFF WAR. Brady will be armed with one of the best wide receiver duos we have ever seen in Chris Godwin and Mike Evans. The Tampa duo was one of just five tandems that have produce an 85.0-plus receiving grade in the same season since 2006.
The soon-to-be 43-year-old is far from a "washed-up quarterback." Even with one of the worst receiving units of his career, Brady managed to produce the 12th-best PFF grade at his position last season. He proved that he still has sharp decision-making and accuracy, too, as he had a negatively graded throw rate on passes of 10 or more yards that was among the 10 best in the NFL. With Brady leading the charge, the Buccaneers are one of the most dangerous teams in the NFL.
Worst move: Re-signing Jason Pierre-Paul for two years, $27 million
Since joining Tampa in 2018, Jason Pierre-Paul ranks 66th among 98 qualifying edge defenders in PFF pass-rush grade, and he ranks 73rd in pass-rush win rate among that same group of players. Even dating back to his rookie season in 2010, Pierre-Paul has never cracked the top 20 in PFF pass-rush grade. With this contract, Pierre-Paul becomes one of the 20 highest-paid edge defenders in the league. The good news is that this move didn't break their bank account too much and that they still have money left to make another move like perhaps trading for safety Anthony Harris or signing tackle Jason Peters.
---
Best move: Nothing
Yes, this may sound harsh, but there wasn't necessarily a standout move made by Tennessee. We were on board for bringing back Ryan Tannehill for another year, but we would have preferred the franchise tag, not a four-year deal worth $118 million with $62 million guaranteed.
Tannehill, after all, just had the biggest year-over-year improvement PFF has ever seen. He went from posting one of the lowest single-season passing grades to generating the highest regular-season passing grade of the 2019 campaign. Tennessee had just the right scheme, play-caller and supporting cast to bring out the best in Tannehill, as his positively graded play rate (which is dependent on external factors) nearly doubled from 2018 to 2019. Regression is likely for Tannehill, so the one-year tag seemed to be the right play.
He may have won the rushing title, but you should never pay anything more than a few million for a running back. Derrick Henry has been one of the best running backs in recent memory as far as his performance after contact. He averaged 4.16 yards after contact per attempt last year, nearly half a yard more than any other running back with 100 carries. That being said, he didn't bring a lot of value to the most valuable facet of a running backs job: receiving. Henry saw only 28 targets a season ago — he dropped three and ranked just 44th of 48 running backs in PFF receiving grade.
---
Best move: Signing CB Kendall Fuller for four-years, $40 million
Washington bringing back Kendall Fuller after trading him a couple of seasons ago is among the most underrated moves made this last week. Back in 2017, Fuller had a breakout season with Washington at the slot cornerback position, producing a slot coverage grade that was the best among players at the position; he also allowed a league-low passer rating in the slot (55.0) and allowed the second-lowest catch rate (55.6%) on his targets in slot coverage.
In the move to Kansas City in 2018, Fuller's slot performance dipped some, but he rebounded in 2019 in a new type of role. Fuller moved to a hybrid safety role in the latter half of 2019 with the Chiefs and really impressed when playing deep safety, recording the third-highest grade at that position from Week 13 (when his role changed) on. He has proved to be a versatile player and is capable of playing slot corner — one of the most valuable positions on the defensive side of the ball — at an elite level.
Worst move: Trading away Quinton Dunbar for a fifth-round pick
Washington had a near-flawless free agency…then they traded away Quinton Dunbar for a Day 3 pick. Dunbar has been among the NFL's 10 best cornerbacks over the last three years. They now only have Kendall Fuller, Jimmy Moreland and Fabian Moreau left to man the outside corner position, but all have historically struggled to perform on the outside. Out of the three, Moreau has the most experience lining up out wide, but he has posted a career coverage grade at the alignment that ranks 100th among 110 qualifying outside cornerbacks. Washington now has a huge need at outside corner, and we all know it isn't being addressed with the second overall pick.