We've hammered you all with our thoughts and opinions on this 2020 NFL Draft class throughout various articles, 750-page draft guides, television/radio appearances, a brand-new big board, etc.
A lot of us PFF analysts have been asked in the recent weeks where exactly our top three prospects in this class, Joe Burrow, Chase Young and Tua Tagovailoa, would stack up compared to every other NFL prospect we have analyzed and broke down in the PFF College era (since 2014). So much so, we decided to construct a list of the top 32 NFL prospects we have ever seen:
(Note: This has nothing to do with what the players did in the NFL and is solely based on their collegiate play.)
There really isn't anything Joe Burrow didn't do at an elite level in 2019, and he did it while facing seven top 10 teams in LSU's 15-game season. You likely have heard these next two stats before, but I'm going to throw them at you again because they are unfathomable. Burrow finished the 2019 season with a 94.9 PFF overall grade that broke the previous record at his position (94.6) and shattered the SEC record (90.8). PFF debuted a metric called wins above average (WAA) this past year that measures a player's value above an average FBS player and takes the difference in expected wins with said player (college version of WAR). Since PFF College's first season back in 2014, there have been over 60,000 player seasons recorded in the PFF database. Burrow's WAA in 2019 was 2.95, which was over half a win more than any other player we have seen.
The accuracy he displayed was almost hard to believe. PFF charts every single pass thrown in a process that is led by former NFL quarterback Bruce Gradkowski and previously led by current Rams WR coach Zac Robinson. In 2019, Burrow owned the highest rate of accurate passes thrown in the entire FBS. On throws of 20-plus yards, Burrow threw 48% of his passes perfectly, which was over eight percentage points higher than anyone else. As said in previous articles, this sharp accuracy isn't much different than what we saw from him in 2018, as he was still among the five most accurate when throwing 10 or more yards downfield. While he still cracked the 75th percentile in PFF grade in 2018, he was still a mid- to late-round prospect heading into this past season due to poor decision-making and pocket presence. Clearly, he vastly improved in both areas. The skills he showcased routinely in 2019 launched him to the best prospect PFF has ever seen — that's a story for the ages.
The fact that there was even a debate about who should be taken first overall in the 2018 NFL Draft is head-scratching considering Baker Mayfield owns three of the 10 most valuable seasons we have ever seen here at PFF. Mayfield produced an elite 90.0 overall grade in each of his three seasons as Oklahoma's starting quarterback, ranking second in 2015, first in 2016 and first in 2017 (his grade that year was the best ever by a quarterback until Burrow broke it in 2019). I've mentioned in other articles about how accuracy is the most important trait for a quarterback prospect to own, and Mayfield was by far the best in his class:
Highest accurate pass rate among the 2018 draft class (2017 season only)
| | |
| --- | --- |
| Player | Accurate pass rate |
| 1. Baker Mayfield, Oklahoma | 66.0% |
| 2. Sam Darnold, USC | 62.0% |
| 3. Mike White, Western Kentucky | 59.5% |
| 4. Luke Falk, Washington State | 56.6% |
| 5. Josh Rosen, UCLA | 54.2% |
| 6. Logan Woodside, Toledo | 53.6% |
| 7. Mason Rudolph, Oklahoma State | 52.2% |
| 8. Josh Allen, Wyoming | 50.4% |
| 9. Lamar Jackson, Louisville | 49.2% |
What Baker Mayfield did over his three-year stretch was quite remarkable — he owned just a 2.6% turnover-worthy play rate throughout his 1,400-plus dropbacks, a mark that would very few quarterbacks are able to hit in just one season.
The runner-up to Joe Burrow for the best surprise year we have arguably ever seen in the PFF era goes to Kyler Murray's 2018 season. That was Murray's lone season as the Sooners' starter, and prior to the year, he was expected to become an MLB player after being selected as a first-round pick in the draft that summer. He then went on to produce a 94.6 overall grade that, of course,  tied for the best we had seen at the time — catapulting him to the first overall pick. Murray's rate of positively graded throws that year was the second highest we have ever seen in a single season and led him to produce the third-most valuable season in the PFF College era.
4. EDGE Chase Young, Ohio State (2020)
Without question, Chase Young the top defensive prospect we have ever seen here at PFF. He broke the record for the highest overall grade we have ever handed out to a defensive player (96.1) and made opposing offensive tackles want to quit the game as a pass-rusher. Young finished the season owning a 96.5 pass-rush grade and unreal 27.2% win rate on his 300-plus pass-rush reps. Everything about him as a pass-rusher is elite — power, quickness, speed, hands — you name the trait, Young owns it. Heck, he even made the Northwestern offense change their entire offensive scheme when they went up against him, using designed rollouts to the opposite side.
Prior to Young, 2017 first overall pick Myles Garrett took the honors of being the top edge prospect we had seen. Garrett produced elite 90.0-plus pass-rush grades in each of his three years at Texas A&M and owned a career pressure rate of 17.4%. He didn't "wow" you with an impressive sack total against elite offensive lines, but sacks aren't predictive of future performance. How a player fares on a rep-rep basis is predictive, though, and very few could overpower Garrett as he posted a 22.2% win rate his final season with the Aggies and owned the lowest percentage of total pressures coming from a cleanup or as unblocked.
6. EDGE Joey Bosa, Ohio State (2016)
Joey Bosa was a pressure-generating machine in his final two years with the Buckeyes. He combined for 145 pressures in 2014 and 2015, which was the most in the FBS by three and 29 more than third. It's not like he was first because of rushing the passer over 800 times, either, as he owned one of the five highest pressure rates in that span and the highest win rate. There was only one game in 2015 and 2016 in which he didn't produce multiple pressures, and that was because he was limited to only five pass-rush reps — no tackle could contain him.
7. EDGE Nick Bosa, Ohio State (2019)
He may have missed all but three of his games in his final collegiate season, but we had seen enough from Nick Bosa to declare him one of the 10 best prospects in the PFF College era. Combining his limited sample size from 2018 as well as his entire 2017, Bosa posted an unreal 93.7 pass-rush grade and 27.8% win rate. There wasn't a single game in the stretch in which Bosa was held to a win rate below 15%. That's pretty remarkable. In fact, Bosa's 2017 campaign was the most valuable season we have seen from a Power-5 edge defender. He proved he could win on the inside or outside and was easily the safest prospect of his class, just like his older brother Joey.
Up until Chase Young this past year, Quinnen Williams owned the best PFF grade we have ever given out in a single season on the defensive side of the ball with his 2018 campaign that resulted in a 96.0 overall grade. The fact he saw only 151 snaps in his collegiate career prior to that makes it even more impressive. Regardless of the play call, Williams was elite and remained the best at his position by posting a 96.5 run-defense grade and 92.5 pass-rush grade. He was an absolute bully when playing 3-tech or heads-up nose and one of just three players to post elite grades at both alignments. His 0.84 WAA that year is the best we have ever seen at the position (0.60 is second) and it's hard imagining anyone will break that any time soon.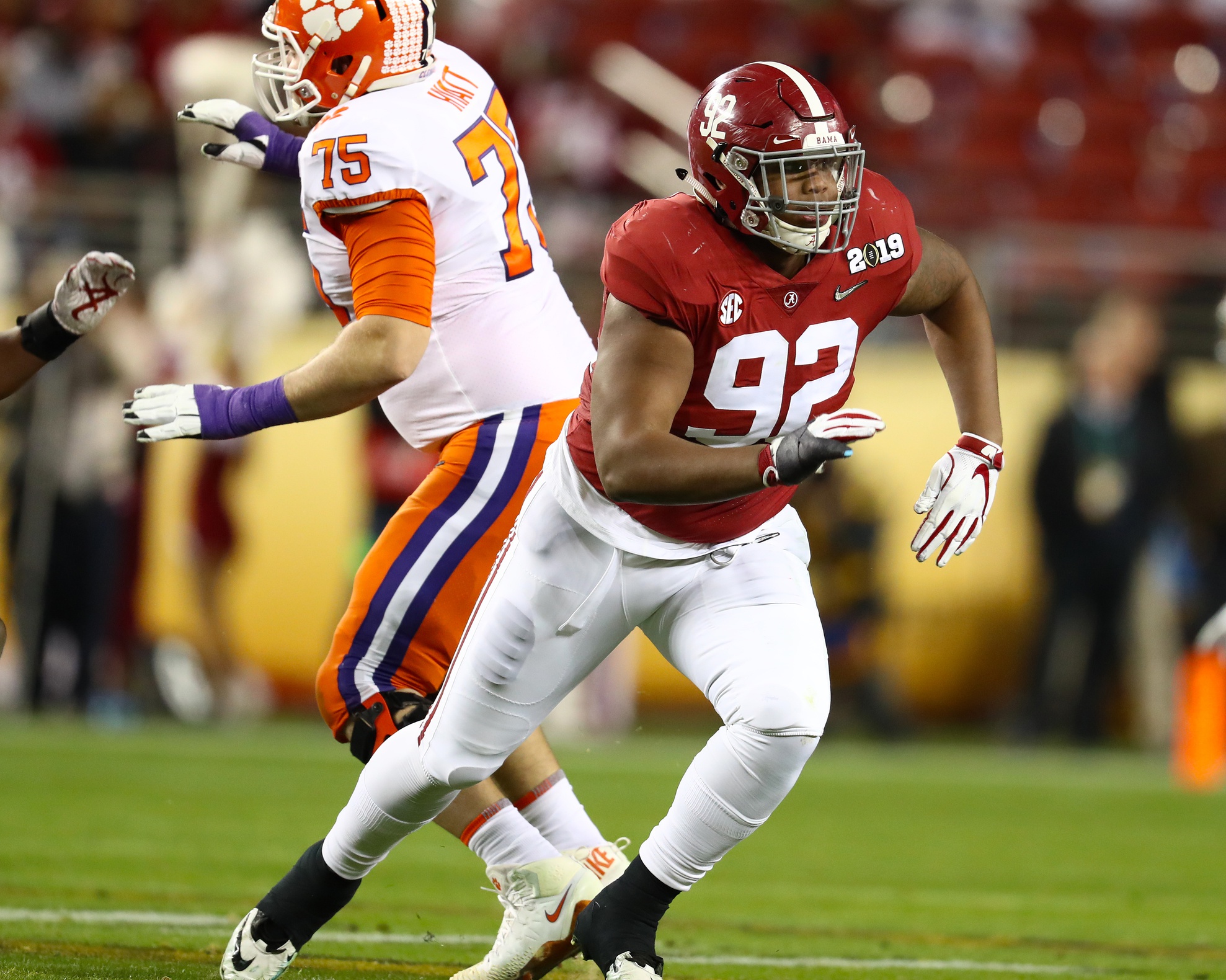 Even with the terrible hip injury, we are confident in saying Tua Tagovailoa is one of the 10 best prospects to ever come across our eyes. There have only been two quarterbacks to post elite overall grades in each of the past two seasons, and Tagovailoa is one of them (Trevor Lawrence being the other). His accuracy, decision making and pocket presence are hands down in the elite category. Sure, some of his production is skewed toward having arguably the best receiving arsenal college football has ever seen, but Tagovailoa is still responsible for a lot of the Crimson Tide's success. He has posted negatively and positively graded play rates that rank among the 15 best in college football in each of the past two seasons. The only other quarterback to do that is Joe Burrow.
10. QB Jameis Winston, Florida State (2015)
While Jameis in his final year at Florida State was like the NFL Jameis (i.e., a roller coaster), there was too much good there to ignore. Among all FBS quarterbacks that year, Winston produced one of the 10 highest positively graded throw rates. While we still have a few games left to grade of his 2013 season (pre-PFF College), Winston was on pace that year to produce one of the three highest positively graded play rates we have ever seen.
Remember when I mentioned Burrow was worth more than half a win more than any other player we have ever seen? The player who came in second was Oregon's own Marcus Mariota in 2014. His 93.0 overall grade that year led all college football quarterbacks. He was clearly the top dual-threat quarterback that year by being the only quarterback to own passing and rushing grades above 80.0.
Still to this day, Amari Cooper's 2014 season is the most valuable we have ever seen from a wide receiver. He posted an unreal 93.3 receiving grade and produced 3.99 yards per route run. Cooper displayed arguably the best route-running from any collegiate receiver in recent memory, and it's remained crisp throughout his time in the NFL. Cooper was used on mostly shallow targets and took advantage of his 4.42 speed to average 7.1 yards after the catch and break a total of 26 tackles.
Jonathan Allen went from a great player to an elite one with his 2016 season when he continuously ruined double-teams. He was one of two players that year who produced an elite 90.0 grade in both run-defense and in the pass-rush, and he also led all interior defensive linemen in pressures (67). The average win rate for a 3-tech is roughly 7%. Going up against elite competition, Jonathan Allen managed to win 23.4% of his reps as a 3-tech. He was the total package as a prospect.
Sam Darnold's ability to make plays outside the structure is one of the best we have seen from a prospect. He produced 10 big-time throws on such plays from 2016 to 2017 and his overall grade ranked among the five best in college football. One of his best attributes we saw when he was at USC was his feel over the middle of the field, as he owned one of the three highest passing grades on such throws in that two-year period. We harbored some doubts about his decision-making, and it seemed to not get much better in the NFL, but, regardless, he was the 14th best prospect PFF has come across.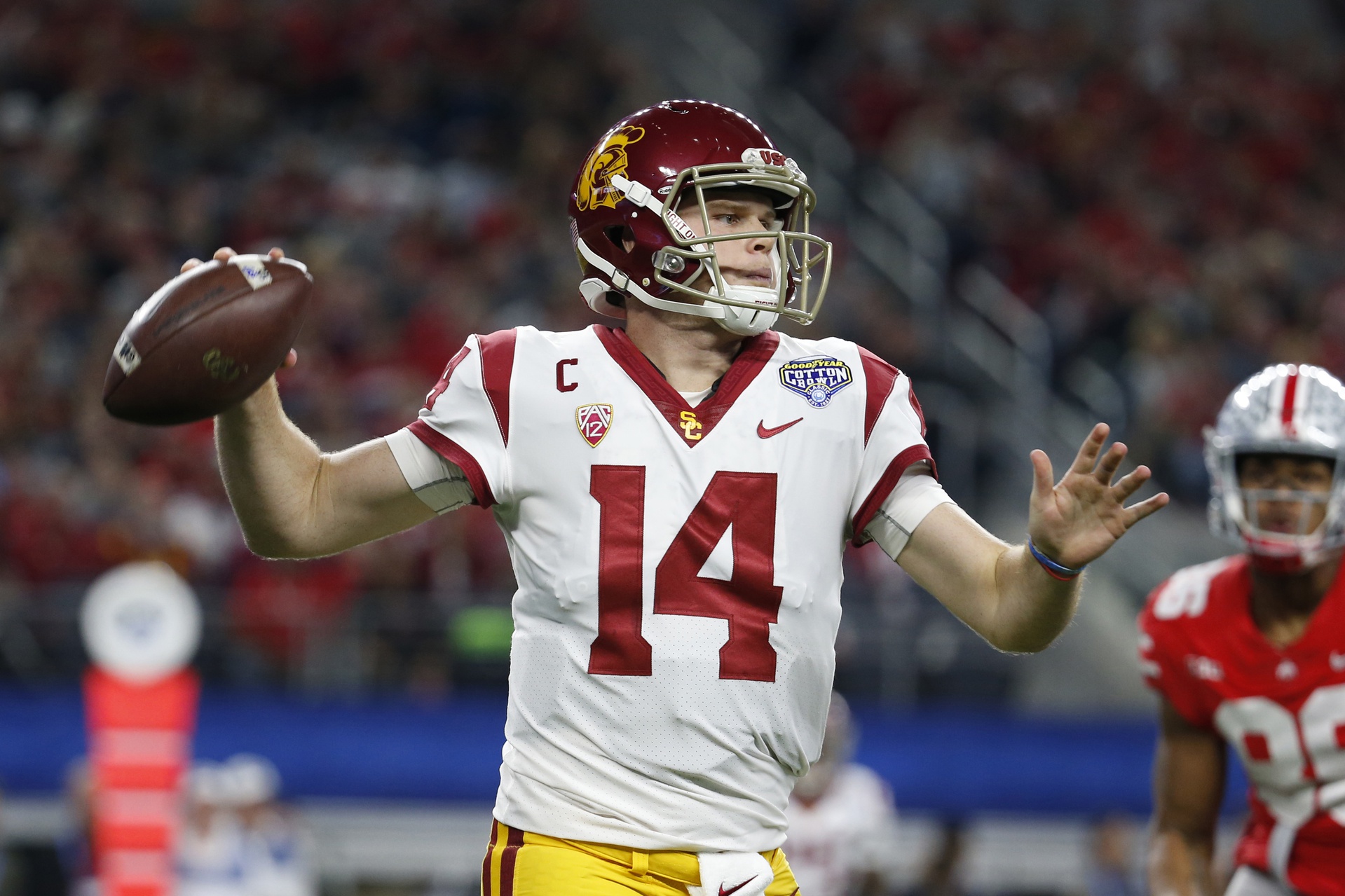 DeForest Buckner was an absolute unit of a man and a wrecking ball to opposing offensive lines in the Pac-12 throughout the 2015 season. That campaign still stands as the most valuable we have seen from his position in the Pac-12. Buckner wreaked havoc when playing 3-technique, posting an FBS-high 20.1% win rate and second-best pass-rush grade (Chris Jones was first, for what it's worth).
16. CB Jalen Ramsey, Florida State (2016)
Ramsey had only one season where he played primarily at outside corner (2015), as he was used in a slot/safety hybrid role in his first few seasons with the Seminoles. During the year he spent outside, though, he verified that he is a once-in-a-few-draft classes elite prospect at that position with his length, speed, physicality at the catch point and press-man skills. In his season outside, Ramsey allowed minimal explosive plays — in fact, just five of his 66 targets resulted in a gain of 15 or more yards.
Maurice Hurst is up there with some of the most refined pass-rushing of any interior defensive line prospect we have seen. He posted PFF pass-rush grades of 89.7, 90.3 and 91.0 in his last three years at Michigan and owned an impressive 16.1% pressure rate over that stretch. For perspective, that's over 1.5 percentage points more than the highest interior defensive linemen pressure rate of the 2019 season. He posted one of the highest grades we have seen at 94.4 in his final season in 2017, which paved the way to the third most valuable interior defensive linemen season in the PFF College era.
Unsurprisingly, Quenton Nelson is the best guard we have ever evaluated, and his 2017 season remains as one of the five most valuable seasons among all offensive linemen in the PFF College era. That year, Nelson posted a 92.2 overall grade and elite grades in both pass-protection and in run-blocking. He went 86 pass-block snaps per pressure allowed that season, too. Nelson didn't produce a grade lower than 85.0 in his other two seasons as a starter, as well. He mauled people consistently at Notre Dame and he currently is doing the same in Indianapolis.
19. QB Jared Goff, California (2016)
After ranking among the 10 highest-graded quarterbacks in 2014, Jared Goff produced college football's best overall grade at his position in 2015 and worked his way to become the first overall pick of the 2016 NFL Draft. Goff owned one of the most polished deep balls in the country during those two years, ranking among the five highest-graded quarterbacks on 20-plus yard throws and completing eight more of those passes than any other player. He was accurate to all levels of the field and knew how to handle pressure.
20. S Derwin James, Florida State (2018)
We still have no idea how Derwin James fell to 17th overall in the 2018 NFL Draft, but we do know a lot of team's regret allowing that to happen. James' 2017 campaign is the fourth-most valuable we have seen here at PFF. The Chargers are using him the same way as he was used at Florida State, and it's understandable why.
Derwin James snaps by position in 2017
| | |
| --- | --- |
| Position | Snaps |
| D-Line | 69 |
| Box | 260 |
| Slot | 188 |
| Free Safety | 292 |
Whether he was defending the run, rushing the passer or dropping into coverage, James produced a PFF grade above 80.0. He racked up 13 pressures on his 43 pass-rushes and combined for 12 pass breakups and interceptions while allowing only 18 catches altogether.
21. EDGE Derek Barnett, Tennessee (2017)
Derek Barnett's pass-rushing was as polished as it possibly could be in his final two seasons with the Volunteers, producing elite 90-plus grades in that facet each season en route to a two-year pass-rush grade that ranked behind only Myles Garrett. And he produced the most pressures in that stretch with 141, which was 14 more than anyone else. Barnett had superb power and hands and didn't need athleticism to win on a rep-to-rep basis.
Marshon Lattimore's numbers in his 2016 season are flat out ridiculous — there's just no other way to put it. He played 311 coverage snaps that year and allowed only 18 catches on 40 targets. Only 10 of those 18 catches resulted in a first down, which was less than the number of plays he made on the ball (12 forced incompletions and four interceptions). Those are lockdown numbers. Not to mention, he didn't miss a single tackle that year on 39 attempts.
23. CB Jeff Okudah, Ohio State (2020)
It's rare to see a cornerback prospect coming out of school be as polished as Jeff Okudah is when in press coverage. Okudah played 184 coverage snaps in press in 2019 and allowed a minimal 0.49 yards per coverage snap, which was the second lowest in college football and over a half yard less than the average. On top of that, he didn't allow a single explosive play on those reps — he was the only corner in the 2020 class to accomplish that feat.
Jeff Okudah in single press-man coverage since 2018 (@PFF)

51 targets
17 catches allowed
25.5% forced incompletion rate
17.6% 1st down rate allowed (2nd)

Put this man @jeffokudah on an island and watch him go to work pic.twitter.com/GvR1p02efB

— Anthony Treash (@PFF_Anthony) March 3, 2020
The Cincinnati Bengals finally have some good fortune headed their way with the number one prospect in the PFF College era Joe Burrow being available to them first overall in April and getting the 24th best prospect, too, for 2020 after he had to miss the entire 2019 season due to injury. Williams held his own in pass-protection against any opponent he faced during his final collegiate season at Alabama in 2018. His 88.6 pass-blocking grade was the seventh best in the FBS that year and was one of just seven tackles to log 400 pass-block snaps and not allow a single sack.
Looking at strictly on-field performance, there's never been a linebacker prospect like Reuben Foster in the PFF College era. Foster produced an elite 92.9 overall grade in his final collegiate season in 2016, which still holds as the best ever recorded by an off-ball linebacker.
Most valuable season in WAA by an off-ball linebacker in the PFF College era
| | |
| --- | --- |
| Player | Wins Above Average |
| 1. Reuben Foster, Alabama (2016) | 0.68 |
| 2. Paul Dawson, TCU (2014) | 0.61 |
| 3. Myles Jack, UCLA (2014) | 0.59 |
His run-defense was on another level, as he owned a 94.9 grade in that facet. There was just as much to like with his coverage ability, too, as he never allowed 50 yards in a single game in 2016 and not a single touchdown while breaking up four passes. Keep in mind, he played in the toughest conference in the country.
Similar to that of Foster, there were very few negatives in Laremy Tunsil's play when he was on the field. In the two years we have data on him (2014 and 2015), Tunsil ranked among the 10 best tackles in all of college football in pass-block grade and pressure rate allowed. In 2015, specifically, his run-blocking went to new heights, as he produced an elite 91.6 grade in that facet on his 172 run-block reps.
27. WR Jerry Jeudy, Alabama (2020)
Jerry Jeudy is one of the top separation-getters we have seen from a draft prospect, and when he does get separation, the defense almost always paid a big price. Over the past two years, Jeudy racked up 53 explosive plays of 15-plus yards with at least a step or more of separation, which was eight more than any other FBS wideout. Jeudy turned defensive backs into a slice of burnt toast when in single coverage over the same span, generating 14 yards per target on such plays — the second-best in that stretch.
28. EDGE Josh Allen, Kentucky (2019)
The best Josh Allen PFF has ever seen was also one of the most versatile edge defenders we have seen in the college ranks. Regardless of whether he was getting after the run, rushing the passer or dropping into coverage, Allen saw great success. In the years leading up to 2018, Allen's run-defense was a little shaky, but he improved his grade in that facet to 83.5 in his final collegiate season. As a pass-rusher, Allen was creeping toward the "great" category but busted off one of the best seasons we have recorded in that area. Allen owned a 94.4 pass-rush grade, 23.5% pressure rate and 29.3% win rate in 2018 — all of which led Power-5 edge defenders. He appeared in 13 games that year and recorded at least three pressures in all but one game. While he took big strides against the run and as a pass-rusher his last season, Allen was a top-notch coverage defender over his last two seasons at Kentucky. He combined for six pass breakups and interceptions while allowing only one touchdown and 222 yards on his 302 coverage snaps in those two campaigns combined.
29. WR CeeDee Lamb, Oklahoma (2020)
No wide receiver has been more valuable than CeeDee Lamb over the past two seasons. He's been a monster after the catch. Similar to Lamb, you cannot let him get separation — otherwise, he is going to explode. Lamb averaged an insane 12.3 yards after catch per reception the past two years when he was deemed open and also broke 32 tackles on his 83 catches and racked up 452 yards after contact (led the FBS).
Isaiah Simmons has no position — he was one of just three players in 2019 to play at least 100 snaps on the line, in the box, in the slot and at free safety. He was also the only one of the three to have success in that role, as he owned an 88.5 overall grade while the other two were below 62.0. He's too good to be confined to one role within a defense, as he was the only off-ball linebacker or safety to produce an 80.0 grade against the run, when rushing the passer, in tackling and when in coverage. He could hang with any wide receiver he faced in coverage, too — something very few players of stature can do.
He wasn't given the green light to rush the passer at LSU like he currently has with the New York Jets, but the versatile Jamal Adams did everything else damn well. In his final season with the Tigers in 2016, Adams played over 200 snaps in the box, slot and at free safety and posted PFF grades above 80.0 at every single alignment. No one came close to accomplishing the same feat. In coverage that year, he allowed less than half a yard per coverage snap and gave u- just 19 catches on 38 total targets. He's a unique, rare breed like Derwin James and Isaiah Simmons.
As shown above in Reuben Foster's section, Myles Jack's 2014 season still holds as one of the three most valuable of all the off-ball linebackers we have come across. A knee injury unfortunately kept him out most of the 2015 season, but he still remained as one of the top 32 prospects we have seen despite that. Combining his limited sample that year with his 2014 season, Jack owned one of the three best coverage grades at his position and allowed only four first downs and touchdowns combined across his 641 coverage snaps and 81 targets.