Reports have periodically surfaced over the past year or so regarding the availability of Minnesota Vikings wideout Stefon Diggs. The receiver himself contributed to the rumors by posting cryptic tweets and showing his displeasure with the Vikings in a variety of other ways. So a divorce between the two wasn't going to come as a complete shock. Yet the football world couldn't help but feel a little blindsided when the Buffalo Bills landed Diggs on the first night of NFL free agency just hours after the DeAndre Hopkins/David Johnson swap (which will go down as one of the biggest trade steals in NFL history).
Per Adam Schefter of ESPN, Minnesota traded Diggs and a 2020 seventh-round pick to Buffalo for 2020 first, fifth and sixth round picks as well as a 2021 fourth-round pick.
The Buffalo Bills made significant strides offensively from 2018 to 2019. Their expected points added (EPA) per play jumped nine spots from their second-to-last ranking in 2018 — the third-largest improvement in the NFL behind only the Arizona Cardinals and Baltimore Ravens.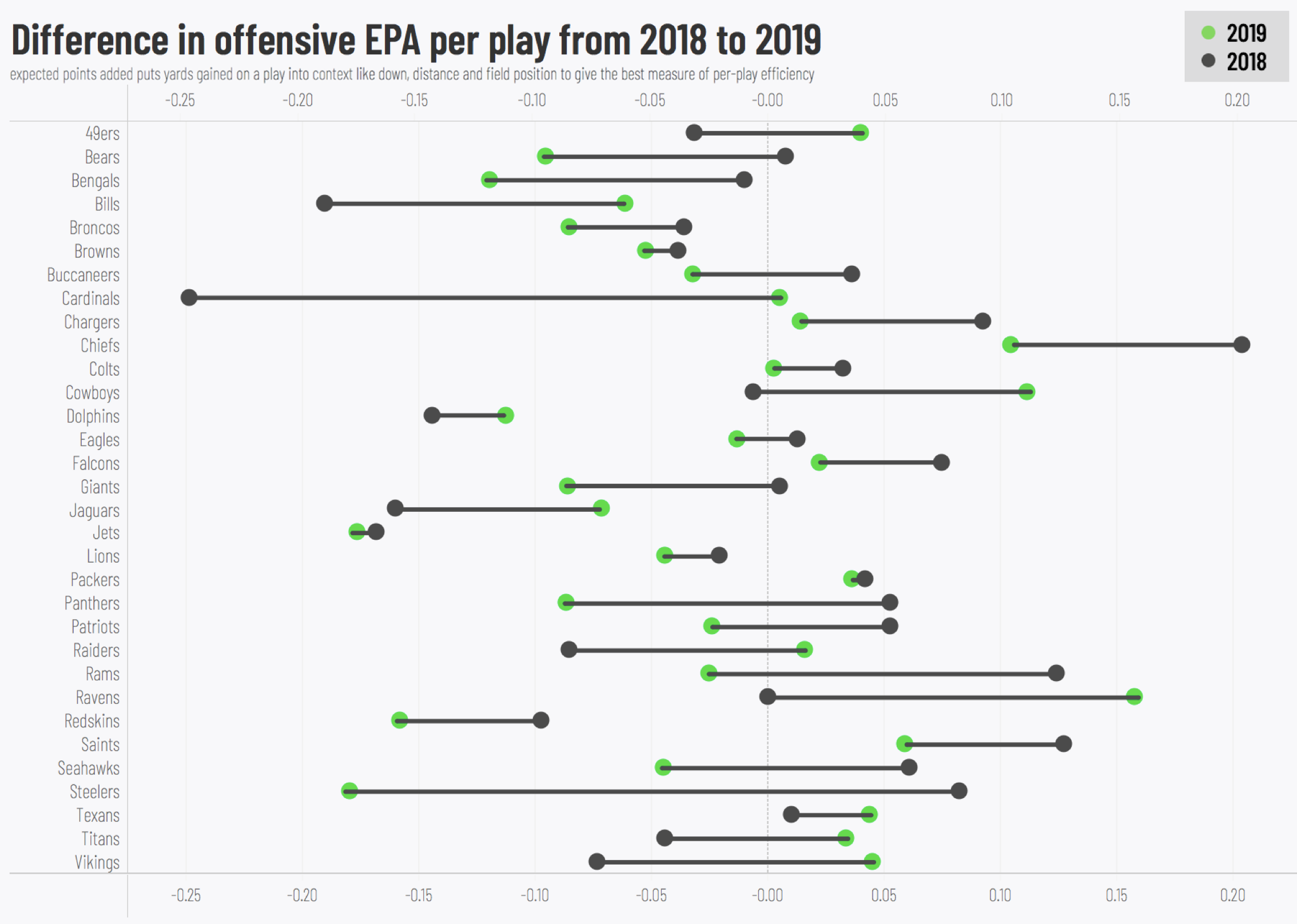 Bills GM Brandon Beane went out last offseason and got himself two solid, undervalued wide receivers in John Brown and Cole Beasley. Not only did the two finish among the top 35 wide receivers in PFF receiving grade, but they were also two of the 35 most valuable wide receivers in the entire NFL, making Buffalo one of eight teams to have multiple receivers among the top 35. With the addition of Diggs, the Bills now own three of the 35 most valuable wide receivers from the 2019 season. The only other team with three was the Tampa Bay Buccaneers, but they might see one, Breshad Perriman, walk in free agency (Mike Evans and Chris Godwin were the other two, of course).
PFF's Kevin Cole in December wrote an excellent piece on how the Buffalo Bills built a winning offense. The bottom line: The Bills' coaching staff did what every great coaching staff should do — play to its players' strengths. Josh Allen has been known for his rocket-launcher of an arm. He just hasn't been able to match that arm strength with pristine accuracy. Over the last two seasons, Allen ranks dead last in percentage of accurate passes thrown on passes of 20 or more yards downfield. So, what did Buffalo do? As Cole states in his article, they went away from the aggressive style of play and leaned toward a shorter passing attack — an area Allen has thrived in.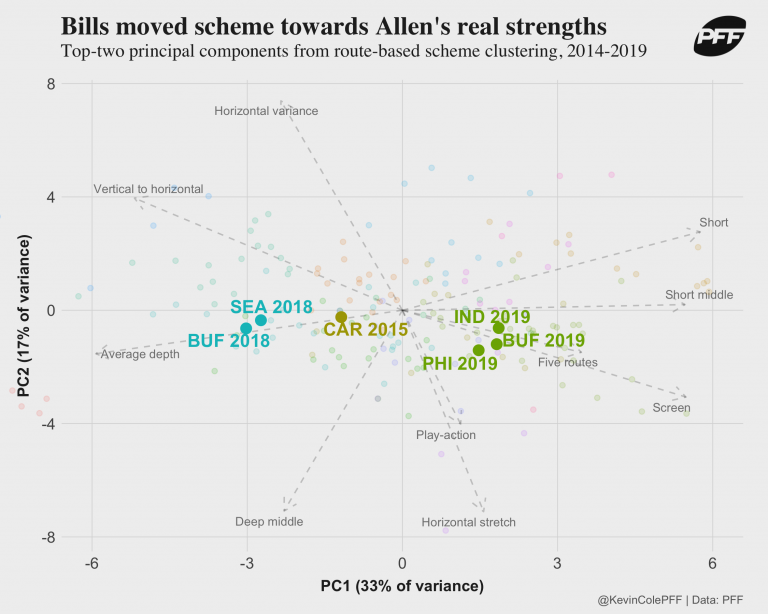 On throws of 19 yards or less in 2019, Allen was the ninth-highest-graded quarterback in the NFL. Looking at solely intermediate throws, Allen jumped to sixth in grade. Buffalo's routes weren't nearly as deep in 2019; we saw a decrease in vertical route usage and an increase in speed outs (double the rate, as a matter of fact). Not to mention, he held onto the ball for a significantly less amount of time. Buffalo's offensive success was really a team effort between the scheme, play-caller, supporting cast and Allen.
BUT ISN'T STEFON DIGGS A DEEP RECEIVER? DOES HE EVEN FIT IN BUFFALO'S OFFENSE?
Diggs owns the 10th-most deep receiving yards since entering the league, as well as the third-best receiving grade on those targets behind only Julio Jones and Tyreek Hill. His success as a deep receiver isn't going to magically change Allen's deep passing ability. It's on Allen to deliver an accurate ball, and as I've said many, many times before, it's rare to see a quarterback magically change his accuracy year-to-year. It's stable and not something coached. But it's not like Buffalo has to completely abandon the idea of utilizing this particular strength of Diggs'.
Diggs is far from just a deep threat. His bread and butter — the most targeted routes of his career — are hitches and crossers, which made have made up over 34% of his career targets. Those two are actually Allen's most targeted routes as well, making up a quarter of his targets from this past season. Since 2015, Diggs has posted the third-best receiving grade in the league on these two routes, behind only Julio Jones and Michael Thomas. His average depth of target on these routes is also the lowest in the NFL at 6.1 yards downfield. Diggs was also top-five in missed tackles after the catch, yards after catch per reception and percentage of catchable targets caught (Brown and Beasley were also in the top five in this category, for what it's worth).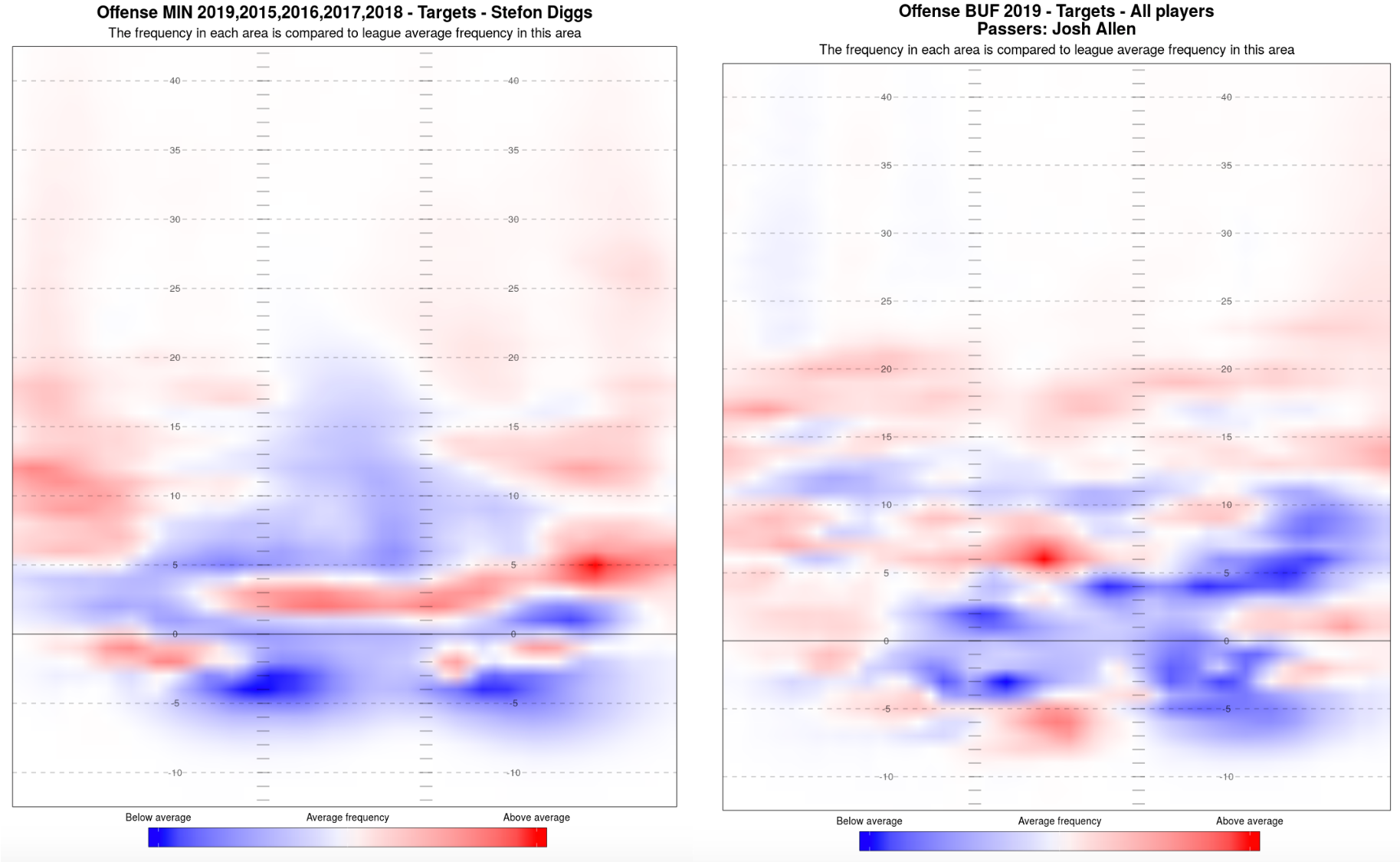 Diggs' target location on shallow throws has been virtually the exact opposite of Allen. However, they still possess similar strengths. 
One of the more underrated aspects of Diggs' play is how great of a receiver he is against tight coverage — an area Buffalo's receivers badly struggled in this past year. Over the last three years, Diggs owns the eighth-highest receiving grade on contested targets. As good as John Brown is, he was among the 10 lowest-graded receivers on these plays. Among all 32 offenses in 2019, Buffalo's wide receivers were 28th in receiving grade on contested targets. As noted, Allen has had his fair share of problems when it comes to accuracy, particularly when throwing deep and when forced into a tight window. Thus, it's vital for a receiver to take advantage of the accurate deep balls and tight window targets Allen does provide — and there aren't many receivers who can do that as well as Diggs.
In the article PFF published yesterday afternoon on the Arizona Cardinals obtaining DeAndre Hopkins from the Houston Texans via trade for a bag of peanuts, I broke down some of the top defensive backs Nuke has faced and how he fared against them. The results were simple: It's pretty damn hard to win against him, and the same case can be made for Stefon Diggs.
Every CB Diggs has been targeted against at least 10 times in his career
TGT
REC
YDS
TD
Opponent's
coverage grade
Kyle Fuller

22

13

130

0

85.3

Darius Slay

20

12

216

0

41.1

Patrick Peterson

14

8

68

0

63.2

Prince Amukamara

13

11

90

1

67.3

Tracy Porter

12

7

67

1

32.9

James Bradberry

11

6

77

0

52.4

Tramon Williams

11

10

84

2

36.3
Kyle Fuller is really the only cornerback who can successfully say, "I shut down Stefon Diggs on a per-route basis." 
I'd be remiss if I didn't mention Buffalo's 2019 defense for playing a huge part in the team's success. The Bills' coverage unit was the fourth-highest graded, and it allowed the third-fewest expected points added per play. Regression seems likely within the secondary, but that doesn't imply it will be trash — Buffalo still returns key guys likes Micah Hyde, Tre'Davious White, Jordan Poyer and Levi Wallace.
The Bills' roster, outside of the quarterback, is that of a playoff team. Even after the move to acquire Diggs, Buffalo has some money left to play with, the advantage of having a quarterback on a rookie deal. The Bills' pass rush was average in 2019, and they lost two of their best edge defenders in Shaq Lawson and Lorenzo Alexander, so there's a chance they go after someone like Yannick Ngakoue via trade after he was tagged by Jacksonville.
Regardless, Stefon Diggs is the perfect complement to the Buffalo offense, and if it weren't for Arizona swindling Houston earlier, it would have been the best move of the day.