The NFL is a matchup-driven league. Offensive coordinators are always looking to scheme their playmakers into one-on-one situations against a defender, while defensive coordinators will attempt to do anything in their power to upset the timing and rhythm of the opposing QB.
Despite the obvious impact defenses have on opposing offenses, fantasy players and fans alike are often left with one-way metrics to describe offenses and defenses that they are then forced to compare against each other in an attempt to identify mismatches.
Click here for more PFF tools:
Rankings & Projections | WR/CB Matchup Chart | NFL & NCAA Betting Dashboards | NFL Player Props tool | NFL & NCAA Power Rankings
Best Bets Tool
---
The goal here is to provide easy-to-decipher charts and notes to define each week's key matchups and advantages on both sides of the ball in:
Explosive Plays

Pace

Pressure

Yards Before Contact

Passing Game

EPA
The following charts display matchup-specific information meant to highlight the largest mismatches in these ever-important facets of football to ultimately gain actionable betting and fantasy takeaways. And, of course, to have fun.
Note: Data is from Week 1-17, 2021.
Explosive Plays
Big plays make the football world go round. Matchups between explosive offenses and leaky defenses are exactly what we're looking for when compiling game stacks in DFS or when betting an over.
Explosive Pass Rate

: The sum of an offense's rate of 20-plus yard completions per pass attempt and the opposing defense's rate of 20-plus yard completions allowed per pass attempt. A higher percentage is better for offenses (blue is good, red is bad).

Explosive Run Rate

: The sum of an offense's rate of 15-plus yard gains per rush attempt and the opposing defense's rate of 15-plus yard runs allowed per rush attempt. A higher percentage is better for offenses (blue is good, red is bad).
Mismatch Manifesto Week 18: combined explosive play rate.

Higher or lower % = large or small combined sum of the pass/rush big-play rate from the matchup's offense and defense (blue = good, red = bad)

Big pass play: 20+ yds
Big run play: 15+

All data from 2021, PFF pic.twitter.com/4anVuoRkal

— Ian Hartitz (@Ihartitz) January 6, 2022
These offenses breed explosive plays: Five offenses average an explosive pass play on at least 10% of their dropbacks: 49ers (10.6%), Bengals (10.2%), Rams (10.2%), Patriots (10%) and Raiders (10%). Credit to the Rams for enabling not one but two higher-end fantasy receivers in recent weeks.
No more parties in L.A: Cooper Kupp's excellence this season speaks for itself; the man is just 171 yards away from hitting 2,000 and is on pace to work as the position's first triple-crown winner since Steve Smith. Overall, he needs just 1.2 more PPR points to surpass 1995 Jerry Rice for the single-highest scoring fantasy season by a wide receiver in NFL history.
However, the presence of Odell Beckham has also helped this offense plenty. He's largely only missed once in six full games since the team's Week 11 bye:
Week 12: 5 receptions-81 yards-1 TD

Week 13: 2-28-1

Week 14: 6-77-1

Week 15: 1-7-0

Week 16: 4-37-1

Week 17: 5-39-1
Note that Beckham's five receiving touchdowns are as many as Donovan Peoples-Jones, Jarvis Landry and Rashard Higgins have all season. Maybe OBJ's dad was onto something.
Obviously, Kupp ($9,700 on DraftKings) is worth jamming into lineups of all shapes and sizes in this must-win matchup for the Rams; just realize OBJ ($5,800) also presents an intriguing stacking partner for those expecting Matthew Stafford and company to ball the hell out. Last week Van Jefferson split snaps with Ben Skowronek, rendering each as non-recommended fantasy plays this week.
Good offense beats good defense in today's NFL: Offenses set up to thrive in their quest to create some explosive pass plays: Packers, Patriots, Rams, Bills and Raiders. It's scary to think what the Bills could do in this spot if forced to keep their foot on the gas for 60 minutes.
I truly love buffalo wings more than any food other than steak: Josh Allen is well on his way to repeating as fantasy's overall QB1, a feat that hasn't been accomplished since Daunte Culpepper in 2003-2004. It's tough to see this Bills passing attack having too much trouble with their AFC East "rival," as the Jets rank among the league's bottom-three defenses in yards per attempt (8.18), explosive pass play rate (18.5%) and QB rating allowed (113.2) this season.
Stefon Diggs ($7,800) peeled off an 8-162-1 performance against this group back in Week 10; building Allen-Diggs tournament stacks is never a bad idea in a quality spot like this. Gabriel Davis ($4,900) would be a viable cash and tournament play if Emmanuel Sanders (knee) remains sidelined, while Cole Beasley isn't a recommended play this week after splitting snaps with Isaiah McKenzie in Week 17.
Offense is easier when the defense sucks: The only six defenses allowing an explosive pass play on at least 9% of their opponent's dropbacks: Jets, Ravens, Bengals, Lions, Cowboys and Jaguars. This Baltimore group is truly in a bad spot at the moment.
Maybe Big Ben can leave in something close to style: Diontae Johnson (covid, IR) won't be assisting the Steelers offense this week, meaning three-WR sets should consist of Chase Claypool, Ray-Ray McCloud and James Washington. The latter two receivers are more than viable tournament punt plays thanks to their sub-$4,000 price tag on DraftKings, while the former looks a lot like a viable cash game play sitting pretty at just $5,100.
The absences of Marcus Peters (ACL, IR) and Marlon Humphrey (pec, IR) led to the Ravens trotting out Jimmy Smith (PFF's 45th-highest graded corner), Tavon Young (104th) and Kevon Seymour (166th) at cornerback last week.
Claypool hasn't eclipsed 100 yards or found the end zone since Week 5, but he gets the sort of fantasy-friendly downfield opportunity to always warrant DFS consideration. The absence of Johnson (33% air yard share, 15th in the NFL) should only lead to more targets for Claypool, who has the sort of size and contested-catch ability to make the most out of limited opportunities when he's on his A-game. Don't be afraid to (somewhat) trust Ben Roethlisberger this week by firing up Claypool in DFS formats of all shapes and sizes.
Not every passing attack is meant to fly: The clear-cut bottom-five offenses in terms of expected failure in creating big plays through the air: Football Team, Giants, Jets, Panthers and Dolphins. What Carolina has done to D.J. Moore is borderline criminal.
Free DJ: Speaking of the Panthers' receiver, Moore is far too good to be subjected to piss-poor quarterback play for another season. Nobody had more incompletions sent his way that were deemed to be the quarterback's fault.
Free D.J. Moore pic.twitter.com/mva0Ily2GZ

— Ian Hartitz (@Ihartitz) January 4, 2022
PFF's bottom-two skill-position players in fantasy points below expectation: Moore and Robby Anderson. Reminder: both Moore (66-1,193-4) and Anderson (95-1,096-3) largely balled out in 2020 despite having to deal with Bridgewater under center.
Tampa Bay allowed four of their five largest passing totals in the first four weeks of the season; the group has come a long way and is hardly a liability. Look for the NFL's No. 1 defense in havoc to cause all sorts of problems at the line of scrimmage for PFF's 31st-ranked offensive line in team pass blocking grade, likely rendering Moore and company obsolete for another week.
Also free Terry: The Football Team is another organization that hasn't done right by their young No. 1 receiver. Overall, Terry McLaurin has caught passes from the following quarterbacks during his short career:
However, this group of mediocre signal-callers has at least helped elevate McLaurin to great heights specifically against the Giants: He's ripped off 7-86-0, 7-74-0, 7-115-1 and most-recently 11-107-1 receiving lines in four career games against Washington's NFC East rival.
McLaurin has the sort of shiftiness and pristine route-running ability to give a plus-sized shadow corner like James Bradberry all sorts of problems. There's a low floor here, but McLaurin is worthy of tournament consideration at $6,200 on DraftKings thanks to his proven boom potential in this specific matchup.
Don't let these run games get hot: The Mount Rushmore of rushing attacks expected to find all sorts of success in creating chunk plays: Bills, Ravens, Browns and Eagles. Also note the Titans, Seahawks, Jets and Patriots are set up pretty well themselves.
Everyone loves a three-down running back: The Bills have finally committed to Devin Singletary as their true featured back in recent weeks, feeding the third-year talent snap rates of at least 68% in five of his last six games. This has gone hand in hand with touch counts of 16, 10, 10, 23, 17 and 23. Obviously this volume has been crucial in Singletary emerging as a consistent fantasy RB2 down the stretch; just realize he's also made a name for himself by ranking highly in both yards after contact and missed tackles forced per carry.
Running back ranks in missed tackles forced per carry and yards after contact per carry (PFF, min. 100 carries)

Best of the best: Nick Chubb, Javonte Williams, Michael Carter, Tony Pollard, Devin Singletary, Aaron Jones and Rhamondre Stevenson. pic.twitter.com/9U6pF4ioX4

— Ian Hartitz (@Ihartitz) January 4, 2022
Singletary remains far too cheap on DraftKings at just $6,000, particularly as a massive home favorite against the Jets' league-worst defense in PPR points per game allowed to the position. He won't be a recommended tournament option if his projected rostership remains so elevated, but you could do worse in cash game lineups than an affordable running back poised to see 15-plus touches in an offense implied for a robust 29 points.
More like Rashaad Dollar amiright: Another running back that has been awfully impressive as of late: Rashaad Penny, who has ripped off finishes as the PPR RB3, RB42, RB9 and RB1 in his past four games. The former first-round pick has done so impressively: Nobody is averaging more yards after contact per carry than Penny (4.2) among all running backs with at least 50 rush attempts this season.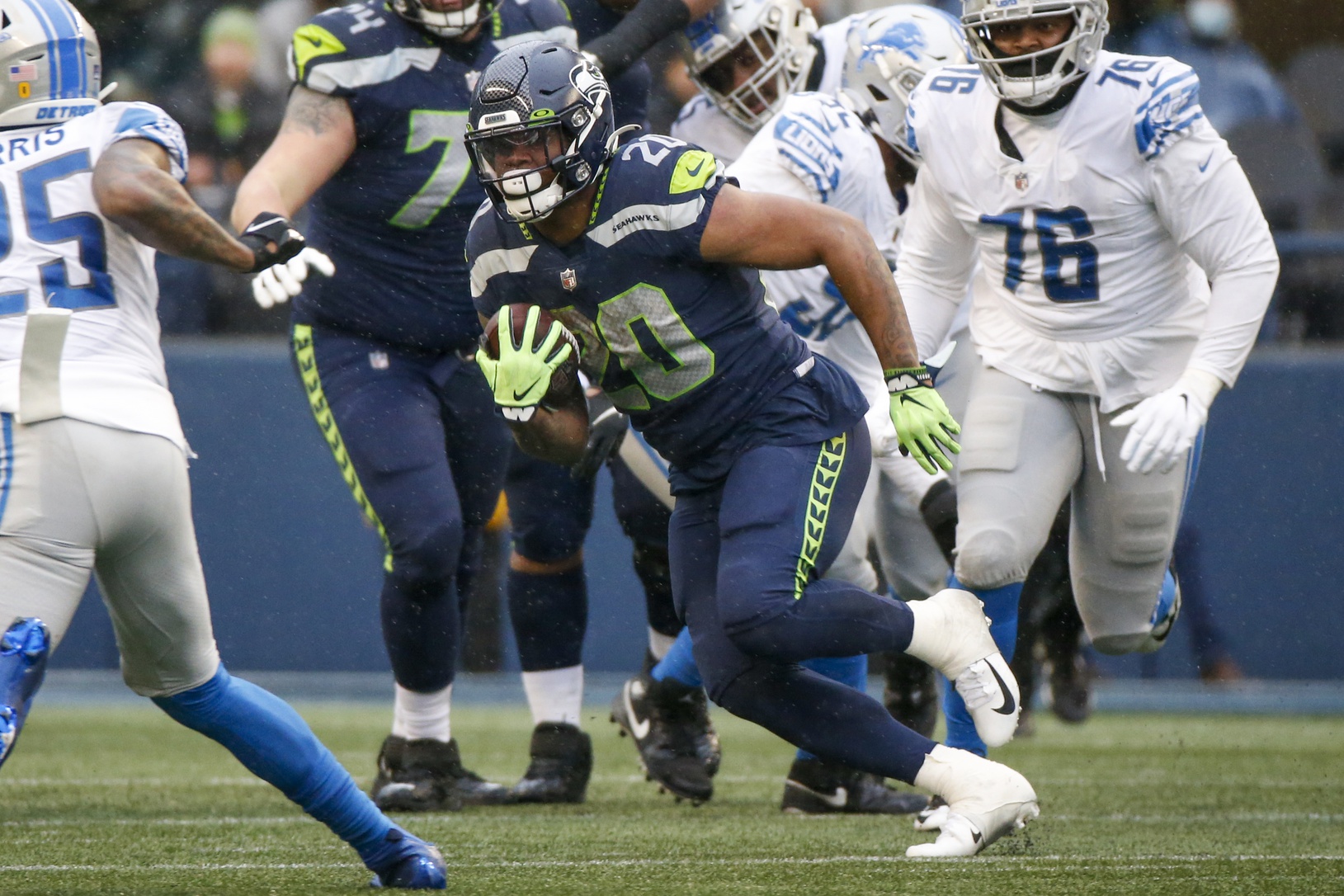 A matchup in Arizona hardly qualifies as a cake walk, but Penny remains plenty affordable on DraftKings at $6,500 as a bell-cow back with the potential to see 20-plus touches during any given week. It'd make sense if David Montgomery ($6,800) draws the majority of rostership in this range; don't be afraid to pivot to Penny in tournaments in the hopes that his hot streak keeps on keeping on.
These offenses might just want to pass the ball: Offenses that look pretty screwed in creating big plays on the ground this week: Football Team, Saints, Giants and the Falcons. Of course, New Orleans isn't so great at the whole passing the ball thing these days.
The Taysom experience: Things haven't exactly been incredible for the Saints this season, but Taysom Hill has largely continued to provide a more than solid rushing floor. Hill has posted the following rushing lines in his eight career starts under center:
Week 11, 2020: 10 carries-49 rush yards-2 TD

Week 12, 2020: 10-44-2

Week 13, 2020: 14-83-0

Week 14, 2020: 5-33-0

Week 13, 2021: 11-101-0

Week 14, 2021: 11-73-2

Week 15, 2021: 11-33-0

Week 17, 2021: 12-45-0
The latter two performances marked the first time that Hill failed to return top-12 production. Expect him to get back into that club against the Falcons' 29th-ranked defense in fantasy points per game allowed to opposing quarterbacks; only the Packers and Football Team have allowed more rushing yards to the position.
Don't get cute here: Hill doesn't possess enough upside as a passer to warrant a stacking partner, and the Falcons' offensive struggles make the idea of a game stack rather nauseating. Still, Hill is certainly in play as a viable cash-game quarterback at the relatively low price of $6,200 on DraftKings, especially with Justin Fields ($5,400) now on the Covid-19 list.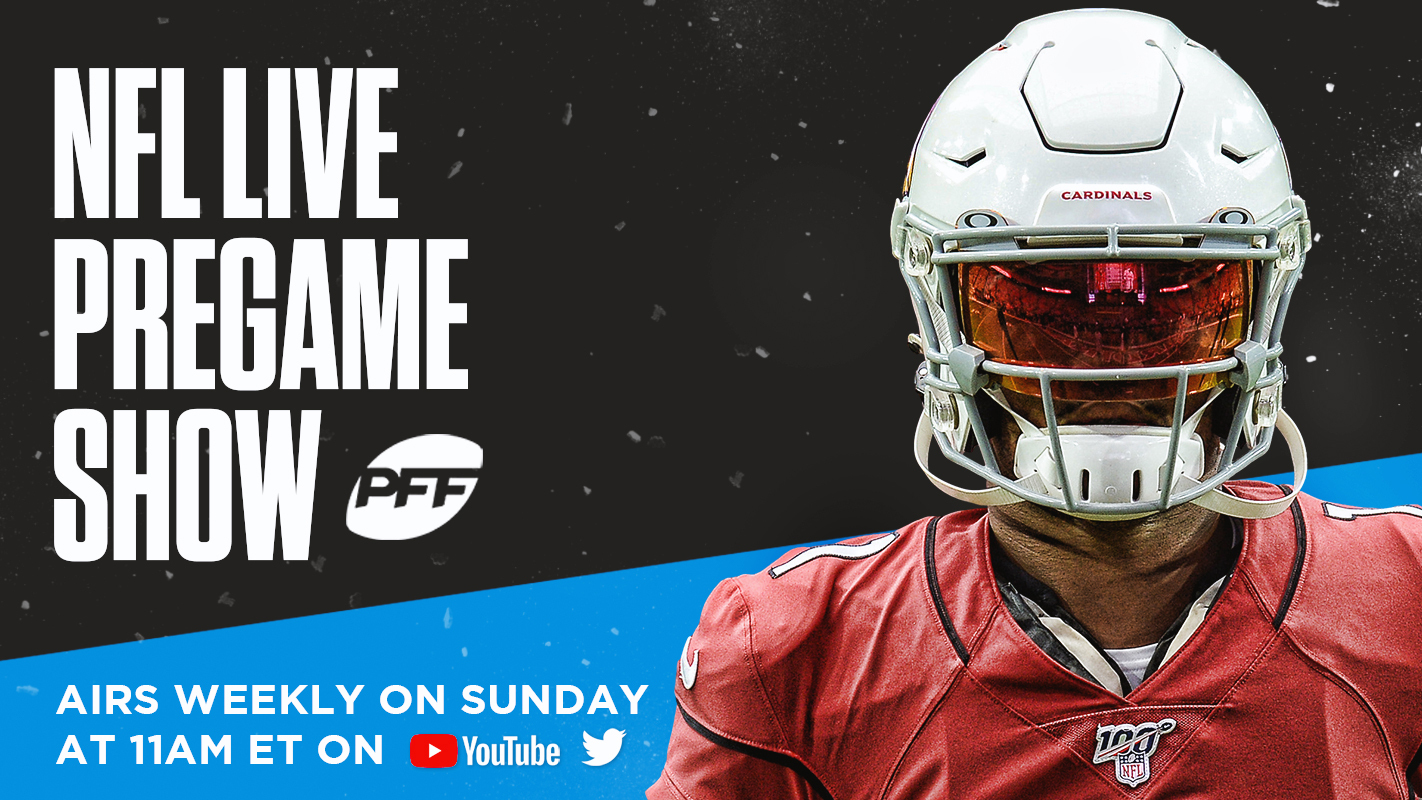 Pace
Fast-paced games lead to more plays, which lead to more points. Every week usually consists of at least a few games that could resemble a track meet based on their combined situation-neutral pace (Football Outsiders).
Combined Situation-Neutral Pace

: Represents the combined situation-neutral pace between each matchup's two offenses. A lower number indicates fewer average seconds per play (blue = fast-paced game), while a higher number indicates more average seconds per play (red = slow-paced game).
Mismatch Manifesto Week 18: combined situation-neutral pace.

Low combined numbers (blue) = two fast-paced offenses
High combined numbers (red) = two slow-paced offenses

Data from 2021, Football Outsiders pic.twitter.com/2BagwHEbMA

— Ian Hartitz (@Ihartitz) January 6, 2022
Get ready to see a track meet: This week's sponsored Ricky Bobby "I want to go fast" highest-projected matchup features the Cowboys (No. 1 in situation neutral pace) at the Eagles (No. 4).
We'll be moving plenty fast elsewhere too: More matchups expected to feature plenty of total plays include Seahawks-Cardinals, Panthers-Buccaneers and Chargers-Raiders. The latter matchup is dependent on the Colts beating the Jaguars. There's a scenario where the Chargers and Raiders would be incentivized to simply kneel the ball on every play otherwise in order to send both squads to the playoffs. What a world.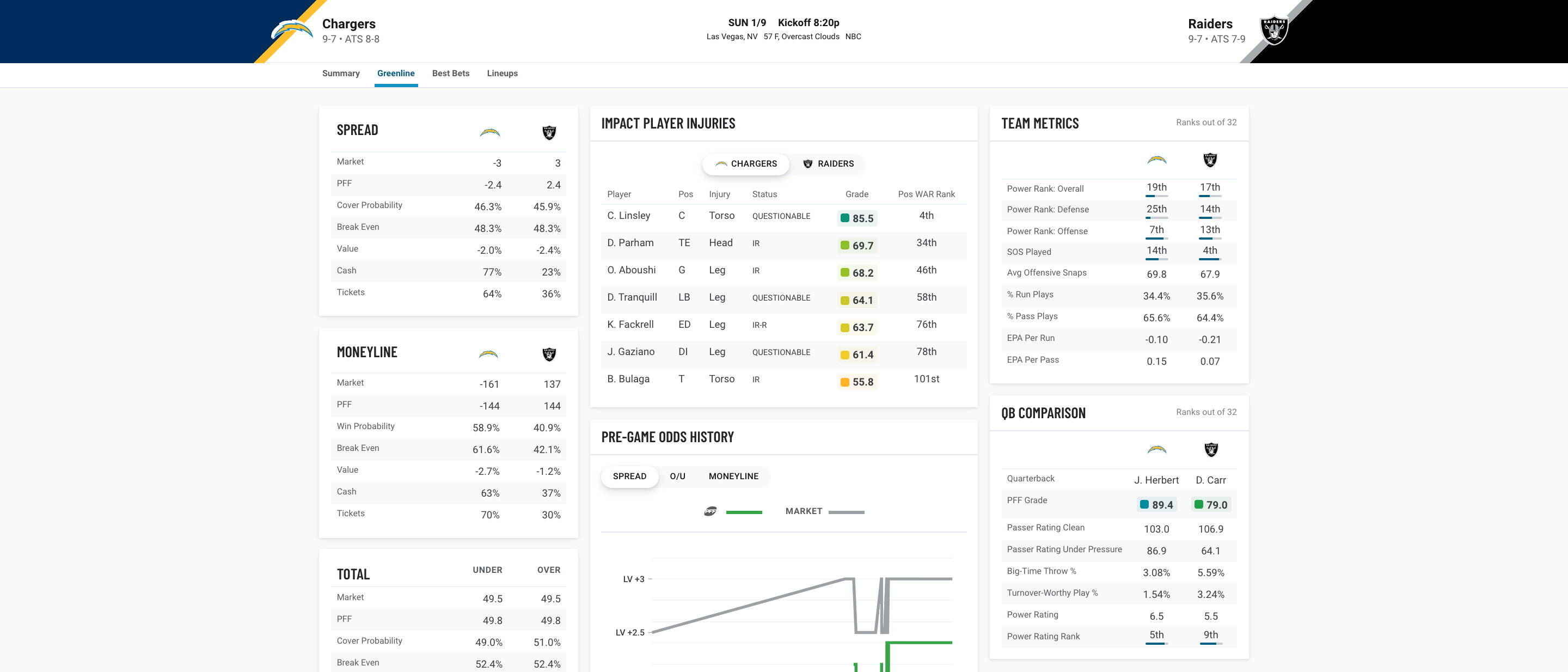 Unfortunately some offenses are slow and lame: The single-slowest matchup of the week pits the Packers (No. 30) at the Lions (No. 31). Green Bay doesn't have much to play for, other than simply being pissed off at certain bums in the media. 
Seriously, what are you waiting for: More matchups that might not supply the sort of volume fantasy managers are hoping for include Bengals-Browns, Colts-Jaguars and Titans-Texans.
Pressure
An overmatched offensive line can result in poor fantasy days for all skill-position players involved. Meanwhile, QBs with all day to throw can help generate points in bunches. We can determine which offensive lines might be especially better (or worse) this week with help from PFF's offensive and defensive pressure statistics.
Combined Pressure Rate

: The sum of the offensive line's rate of pressures allowed per dropback and the opposing defense's total pressures generated per dropback. A higher percentage (red) is better for defenses and indicates that quarterback could be under fire, while a lower percentage (blue) indicates that matchup's quarterback could face reduced pressure.
Mismatch Manifesto Week 18: combined pressure rate

Sum of pressure rates between opposing offenses and defenses.

Higher percentage: that offensive line could be in trouble (red)
Lower percentage: not expecting much pressure on QB (blue)

Data from 2021, PFF pic.twitter.com/4YcrnjYitH

— Ian Hartitz (@Ihartitz) January 6, 2022
Under pressure: good song, bad for fantasy football: Quarterbacks that could feel the heat this week include: Sam Darnold, Tua Tagovailoa, Zach Wilson and Carson Wentz. Probably a good idea to stay away from each of these passing games, with the exception of a certain rookie slot maven
Then he waddled away, waddle waddle: The 2021 NFL Draft's No. 6 overall pick has largely been the heart and soul of the Dolphins offense all season. Overall, Jaylen Waddle's 131 targets are the 10th-highest mark in the league, and he's converted this monstrous workload into a more than solid 99-988-5 receiving line on the season.
Waddle converted four of his five targets into 61 yards and a score against the Patriots during his NFL debut in Week 1; don't discount his ability to pop off as a volume-based WR1 even in a tough spot against the Patriots' third-ranked defense in yards per attempt allowed to slot receivers. The only other wide receiver with a similar floor in the $6,000 range on DraftKings is Amon-Ra St. Brown, who figures to carry significantly higher ownership than the Dolphins' fellow stud rookie.
Some offensive lines and quarterbacks are just more prone to pressure: The Dolphins, Panthers, Titans, Falcons and Colts are the league's only five offenses that have been pressured on at least 35% of their dropbacks this season. It'd thus make sense to target these passing game's underneath options if possible.
Enter: Russell Gage: The Falcons' de facto No. 1 receiver has limped to 4-39-0 and 3-50-0 receiving lines over the past two weeks, but offers weekly double-digit reception upside, particularly if Kyle Pitts (hamstring) is unable to suit up.
The Saints haven't been overly bad against slot receivers this season; just realize Gage is good enough to win against just about anybody with enough volume. Don't believe me? Watch the film.
The government doesn't want you to know Russell Gage has been balling out lately pic.twitter.com/afzfNnYOwp

— Ian Hartitz (@Ihartitz) December 21, 2021
Gage caught seven of eight targets for 64 scoreless yards against this group back in Week 9; he's a better option in the mid-$5,000 range on DraftKings than the likes of Tyler Boyd, K.J. Osborn and A.J. Green.
Sundial joke about having a ton of time to throw: Aaron Rodgers, Kyler Murray, Tom Brady and Ben Roethlisberger are set up the best to work from consistently clean pockets this week. Expect the Cardinals to keep their foot on the gas ahead of their NFC West matchup; check out Episode 407 of The PFF Fantasy Football Podcast for fantasy notes and playoff ramifications on every Week 18 matchup.
There's a new sheriff in the Cardinals' WR room: Murray has fed the following players more than three targets in three games without DeAndre Hopkins (knee, IR):
The two-game absence of James Conner (heel) has helped push Edmonds' pass-game opportunities up, but clearly this passing game is revolving around Ertz and Kirk these days.
The Seahawks do a good job limiting the deep ball, but this comes at a cost. Overall, the Seahawks are one of only five defenses to allow at least 130 receptions to slot receivers this season, and nobody has allowed more catches to running backs.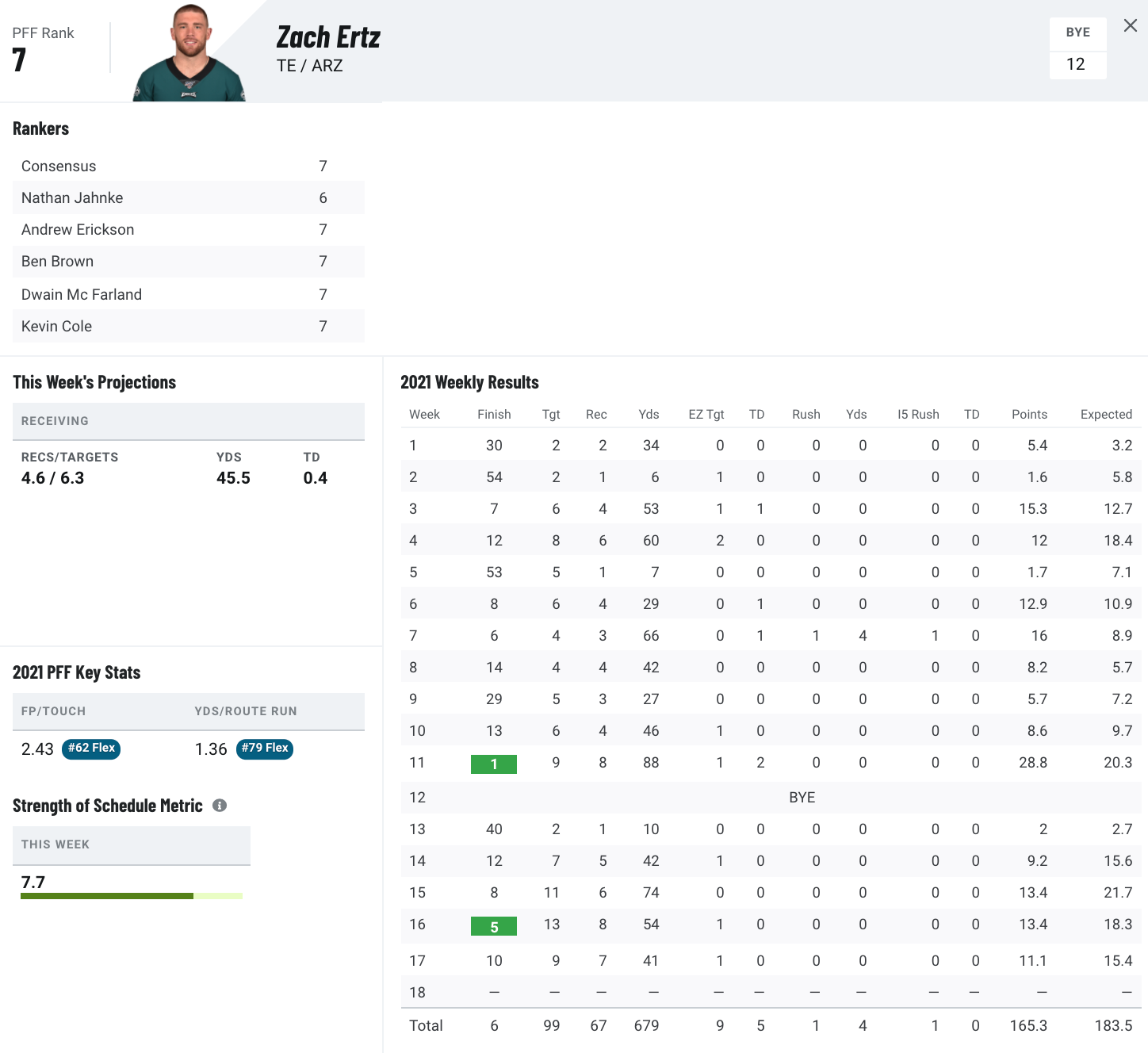 Kirk ($6,000) is viable in cash and tournament games alike as an underpriced No. 1 receiver, Ertz ($5,300) deserves to be treated as the main slate's fourth-highest projected tight end and Edmonds ($5,800) *needs* to be jammed into cash game lineups if Conner is ultimately sidelined again.
Pass rushes that haunt the dreams of your favorite quarterback: The league's best pass rushes feature the Dolphins, Packers, Bills, Buccaneers and Raiders above all else in terms of pure pressure. The former four teams also make up four of the NFL's top-five defenses in havoc, with the Cowboys replacing the Raiders as the fifth-best unit in that metric.
The league's finest individual rushers of the passer: Just 10 defenders have racked up at least 64 pressures this season: Maxx Crosby (89 pressures), Aaron Donald (84), Raashan Gary (76), Myles Garrett (76), Shaquil Barrett (75), Trey Hendrickson (75), Nick Bosa (71), Micah Parsons (64), Chris Jones (64) and Joey Bosa (64). Those Bosa brothers are scary good.
Trench Battles
RBs receive most of the praise for an offense's rushing output, but an overmatched offensive line can thwart a team's run game before it even has a chance to get started. We can determine the offensive lines that might be especially better (or worse) off this week by looking at yards before contact.
Combined Yards Before Contact Per Rush

: The sum of an offensive line's adjusted line yards per rush and the opposing defense's adjusted line yards allowed per rush. A higher number (blue) is good for running backs, while a lower number (red) indicates that matchup's offense could have some trouble consistently running the ball.
Mismatch Manifesto Week 18: combined yards before contact per rush

Sum of each offense and defense's YBC/carry.

High number: Good run-blocking o-line vs. bad run-defending D (blue)
Low number: Bad run blocking o-line vs. stout D against the run (red)

Data from 2021, PFF pic.twitter.com/Z1nR3lJ670

— Ian Hartitz (@Ihartitz) January 6, 2022
Great day to be a great running back: The Mount Rushmore of backfields set up well to run the ball this week: Eagles, Ravens, Bills and Jaguars. Obviously the former team leans on their quarterback quite a bit in the ole run game.
It Hurts being this good: Jalen Hurts is a high-floor QB1 thanks to one of the largest rushing workloads the position has ever seen. Overall, Hurts' 139 rush attempts are the fifth-most in a single season by a quarterback in NFL history; just nine more carries will leave him behind only 2019 and 2020 Lamar Jackson.
Hurts didn't have the easiest time moving the football during the Eagles' 41-21 loss to the Cowboys back in Week 3, but that didn't stop him from returning another QB1 fantasy performance on the back of 326 passing yards. He's always captain worthy in showdown slates and could boom more than usual against a Cowboys defense that will be without difference-making LB Micah Parsons (covid, IR).
I Dare you to play Ogunbowale again: Credit to Dare Ogunbowale for finding the end zone at the end of the Jaguars' 50-10 loss to the Patriots, but he didn't exactly dominate usage:
Ogunbowale: 66% snaps, 9-36-0 rushing, 2-32-1 receiving

Ryquell Armstead

: 30% snaps, 6-28-0 rushing, 1-6-0 receiving
The Colts need to win in order to get in. Meanwhile, Jaguars fans are planning to dress up as clowns as a way of showing their discontent with the organization. Only the Jets (12.5) are implied to score fewer points than the Jaguars (14.25) this week.
Dare ($5,200) isn't someone worth trusting over Devonta Freeman ($5,200), Duke Johnson ($5,000) or Le'Veon Bell ($5,000). This isn't to suggest I'm in love with these other backs; just realize 12-15 touches don't go very far inside of the Jaguars' league-worst scoring offense.
More running backs expected to have a little thing called success: The Football Team, Seahawks, Patriots and Lions also stand out as groups that should see more open lanes than usual this week. Remember last week when Dan Campbell said the Lions were going to cut D'Andre Swift loose in his first game back from injury? He finished with six touches. Cool.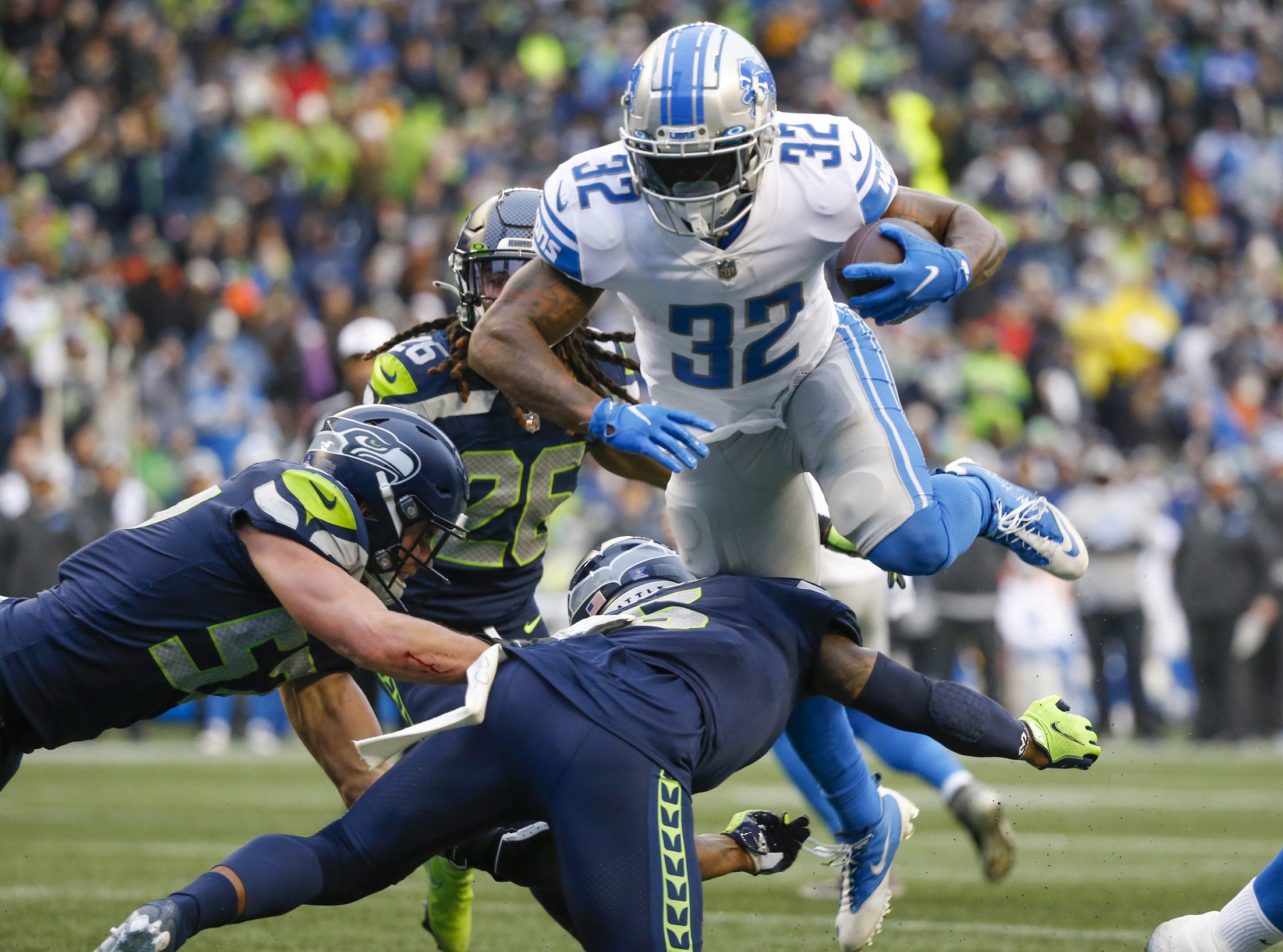 Someone has to win this game: Antonio Gibson ($5,800) has been activated from the covid list and looks like a solid enough tournament option between likely chalky backs in Chase Edmonds ($5,800) and D'Onta Foreman ($5,700). There isn't anything wrong with either Edmonds or Foreman; I'd prioritize them ahead of Gibson in cash games. Still, the Giants seem to have quit this season if their back-to-back blowout loss to the Eagles and Bears (yuck) mean anything.
Gibson truly put together a solid stretch run to end the season after a disappointing first half:
Week 10: PPR RB7

Week 11: RB23

Week 12: RB7

Week 13: RB6

Week 14: RB36

Week 15: RB4

Week 16: R18
You'd better have a good reason to fully fade any running back with a ceiling of 20-plus touches, and this Giants defense ain't it, man.
Gotta love a good run game scheme: Only four offenses are averaging at least 1.7 yards before contact per carry: Eagles (1.9), Chiefs (1.84), Ravens (1.82) and Seahawks (1.73). Call me crazy, but having a mobile quarterback might just help matters.
Best Steven Tyler voice: Run away, run away from the pain yeah, yeah, yeah, yeah, yeah: The Texans, Steelers and 49ers look like the most screwed offenses in terms of expected success on the ground before contact. Luckily the latter two squads feature true workhorses in Najee Harris and Elijah Mitchell that are plenty capable of overcoming perceived tough matchups with pure, sweet volume.
EPA
Points are ultimately what wins football games. We can measure the expected points of every play on offense and defense by considering the down, distance and field position before factoring in the result. Estimated points added (EPA) is thus the value of a play that takes context into account and thereby better measures efficiency at the play level.
Combined EPA: The sum of an offense's EPA/play and their opposing defense's EPA/play allowed. A higher number (green) is good for offenses, while a lower number (red) indicates that offense could be in trouble.
Mismatch Manifesto Week 18: combined EPA per play

Sum of EPA/play of matchup's offense and defense to see biggest potential overall mismatches

High numbers indicate efficient offense vs. inefficient defense (blue), lower numbers are bad for o (red)

Data from 2021, PFF pic.twitter.com/AQaP4LN0cf

— Ian Hartitz (@Ihartitz) January 6, 2022
Blowout alert: The clear top-five matchups in terms of one offense likely having a huge relative advantage over their opponent: Packers over the Lions, Colts over the Jaguars, Titans over the Texans, Bills over the Jets and Buccaneers over the Panthers. Note that the Packers are the only team from this group tentatively expected to rest their key starters to some extent.
Over alert: The highest combined matchups in expected offensive success: Chiefs-Broncos, Packers-Lions and Chargers-Raiders. I can't express my desire for this latter matchup to devolve into a kneel off enough. Just think about the comedy if one team screws the other late in the game. The possibilities are truly endless.
Under alert: Titans-Texans, Saints-Falcons, Panthers-Buccaneers and Patriots-Dolphins stand out as the week's four matchups that could feature the most overall offensive futility. There are way too many matchups with a game total that starts with a three this week.
Upset alert: The Bengals (+6) are the only team expected to have a relative offensive advantage, yet are underdogs. Of course, this is mainly because Joe Burrow and some of the offense's key players are expected to rest. One could also argue moving from Baker Mayfield (labrum) to Case Keenum is an upgrade. Week 18 baby! Imagine life without this!