Washington Commanders WR Terry McLaurin has a tough projected shadow matchup on his hands against Philadelphia Eagles CB Darius Slay.
Jacksonville Jaguars WR Christian Kirk has emerged as one of the NFL's most efficient wide receivers during the first two weeks.
Don't be surprised if Minnesota Vikings WR Adam Thielen gets back on track in a major way against the Lions' banged-up secondary
Estimated reading time: 20 minutes
---
Happy Week 3; let's break down all things wide receiver ahead of another electric slate of NFL football. What follows is a look at the week's projected shadow matchups followed by answers to bunches of key questions before getting to the fantasy football rankings.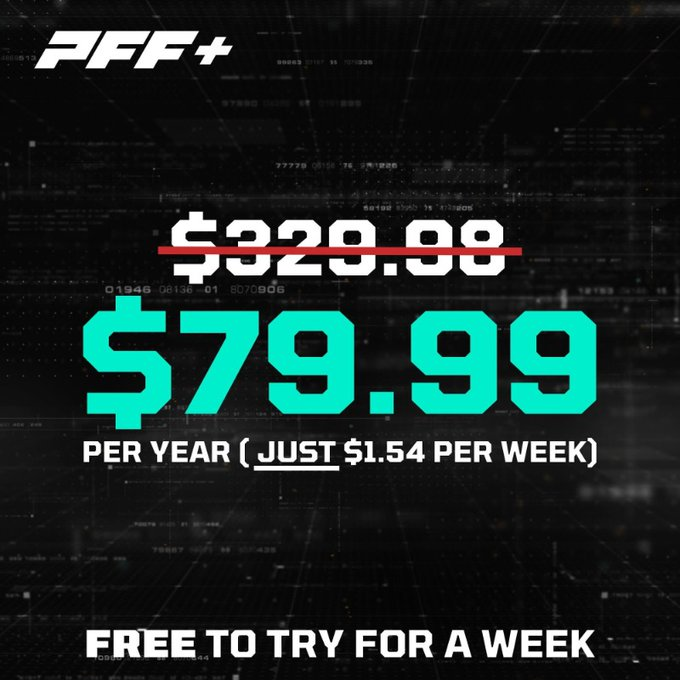 ---
Week 3 Shadow Matchups
Wide receivers often can overcome difficult one-on-one matchups thanks to good ol' fashioned volume. It's also rare that a cornerback follows a single receiver around the field for each and every route. This leads to situations where Jalen Ramsey "shuts down" Justin Jefferson in their direct coverage (3-25-0), but Jefferson's full game line (8-116-0) reflects the reality that fantasy managers were still better off playing him.
Last week eight different defenses had at least one cornerback shadow the opposition's No. 1 wide receiver all over the field:
A good rule of thumb: Start your studs. Still, fantasy managers are always looking for an edge, so what follows is a breakdown of the week's projected shadow matchups defined by instances in which a defense will ask one of their cornerbacks to travel with a specific opposing wide receiver for at least 50% of the game.
Week 17, 2021 marks the only time that Ward has been used in shadow coverage under DC Joe Woods — and it was against Johnson. The result: 8-31-1 on an obnoxious 15 targets. This is essentially the argument for Johnson during any given week: Immense volume that unfortunately remains inefficient due to the quarterback play at hand. Through two weeks, Johnson has 13 receptions for just 112 scoreless yards, yet I've never been more convinced that he's an elite wide receiver based on his ability to continue to get open and demand targets in this porous Mitchell Trubisky-led offense. Consider: Johnson has an NFL-high 24 games with double-digit targets since 2020; nobody else has even 20 such games. The matchup overall isn't a concern; there might not be a cornerback in the NFL capable of shutting down Johnson over the course of 60 minutes. Unfortunately, it remains tough to rank him too highly due to the Steelers' brutal offensive environment.
Howard has shadowed Diggs on three occasions since 2020:
Week 17, 2020:

7-76-0 (8 targets – Diggs also only played 48% of the game's snaps)

Week 2, 2021:

4-60-1 (8)

Week 8, 2021:

5-40-1 (7)
Nothing ridiculously overwhelming, but obviously this matchup hasn't caused too much trouble for fantasy's current top-scoring player regardless of position. You don't need me to tell you to continue to fire up Diggs as an upside WR1 regardless of the matchup.
Jackson tracked Donovan Peoples-Jones as opposed to Amari Cooper in Week 1. Perhaps this is a sign that Jackson will take the opposition's field-stretcher more weeks than not. This will be an important role after Olave racked up 6,000 air yards (319.8) in Week 2. I'm treating Michael Thomas as a legit WR1 in his first smooth-sailing matchup of the season, while those waiting for an Olave's inevitable eruption might want to chill for just one more week when he's not potentially spending all game across from quite possibly the fastest player in the NFL.
It's always tough to figure out what exactly the Patriots will do with their cornerbacks; Jonathan Jones shadowed Tyreek Hill (8-94-0) in Week 1 and Mills matched Diontae Johnson (6-57-0) in Week 2. Neither matchup should be seen as a reason to fade Bateman; the bigger issue is that he's only run a route on 72% of Lamar Jackson's dropbacks this season. Still, Bateman has shown enough ability already to likely continue to demand plenty of targets whenever he is on the field. I'm drinking the early-season Kool-Aid to an extent and am rolling with Bateman as a low-end WR2 even in a potentially tougher matchup than usual.
This one is dependent on the status of Amani Oruwariye (back), who didn't suit up in Week 2 after tracking A.J. Brown in Week 1. If Oruwariye is active, I'd expect him to take Jefferson, and Okduah matches up on Adam Thielen. There's little reason to fear either matchup for Jefferson, while Thielen would receive just a slight downgrade if Oruwariye winds up suiting up.
McLaurin and Slay have matched up on five separate occasions since 2019:
Week 12, 2019:

5-72-0 (12)

Week 1, 2020:

5-61-0 (7)

Week 17, 2020:

7-40-1 (8)

Week 15, 2021:

2-51-0 (4)

Week 17, 2021:

7-61-0 (8)
It's not fair to say Slay has completely shut McLaurin down, but the results certainly haven't been great. The Eagles' No. 1 corner sure looked pretty dominant against Justin Jefferson and company last Monday night. This matchup certainly isn't ideal for McLaurin, and he deserves to be ranked a bit lower than normal with Washington not going out of its way to feed him the ball to start the season.
Stingley has flashed early by making a few great plays on the ball, but he wasn't much of an impedance on Courtland Sutton (7-122-0) in Week 2. Of course, the Broncos passing game is a bit (read: a lot) more formidable than the Bears at the moment. Don't expect Stingley to make life easy on Mooney, but the much larger issue leading to Mooney falling down the ranks is the overall available volume inside of the league's most run-heavy offense.
Murphy deserves all the respect in the world after shutting down Davante Adams (2-12-1) in Week 2. He's even played 15 snaps in the slot this season, making him one of very few candidates to actually spend more time than not lined up across from Cooper Kupp. This pairing would certainly be more of a benefit for A-Rob, while Kupp remains the most matchup-proof receiver in football.
Terrell didn't track Cooper Kupp or Allen Robinson in Week 2, but that didn't stop him from giving up his third goal-line score of the young season to A-Rob. Terrell has now allowed as many receiving touchdowns in his direct coverage through two weeks (3) as he did in all of 2021 (3). On the other side, Metcalf's past matchups with Jalen Ramsey have already shown that he's capable of winning against even the league's very best corners. The larger issue remains the Geno factor and overall volume inside an offense that might actually be able to run as much as they would fancy as rare home favorites this week.
Cooper Rush has just narrowly missed Lamb on two deep shots during their 4.5 quarters together this season. Credit to Jackson for limiting Robbie Anderson (3-32-0) and Robert Woods (4-39-0) to start the season, but it'd be shocking if Lamb doesn't exceed their combined eight targets on his own. Treat Lamb as the NFC version of Brandin Cooks while Dak is sidelined; he should have enough volume to put up WR2 production more weeks than not, even if the efficiency isn't pretty.
Other notes: All-Pro Bills CB Tre'Davious White (knee, PUP) isn't available and was only asked to shadow once in all of 2021 anyways. … The Bengals didn't deploy Chidobe Awuzie in full-time shadow coverage on CeeDee Lamb last week; I doubt they play a specific matchup against a Jets offense with multiple talented wide receivers after they didn't have Awuzie or Eli Apple follow a specific receiver when these squads matched up in 2021. … Stud rookie Jets CB Sauce Gardner has spent all 92 of his outside cornerback snaps on the left side of the field. … Saints CB Marshon Lattimore has never been asked to shadow D.J. Moore. … Ravens CB Marlon Humphrey shadowed once against Ja'Marr Chase last season and it went so terribly (8-201-1) that he wasn't asked to do so again all season. This has continued into 2022 so far. … Colts CB Stephon Gilmore has tracked Brandin Cooks and Marvin Jones this season, but it's tough to discern if Indy will treat anybody in the Chiefs offense as the true No. 1 wide receiver. Regardless, Gilmore has moved into the slot for just *one* of his 141 snaps this season, so any potential shadow coverage should be easy enough to scheme away from. … Rams CB Jalen Ramsey hasn't shadowed this season and only did so against Davante Adams, Justin Jefferson, D.K. Metcalf, Deebo Samuel and Mike Evans in 2021. I doubt Marquise Brown earns this treatment, but it's not impossible. … The Packers haven't had CB Jaire Alexander shadow since Week 7, 2020. … Buccaneers CB Carlton Davis hasn't shadowed yet this season even in matchups against CeeDee Lamb and Michael Thomas; I doubt he is asked to track anyone specific on Green Bay. … Neither J.C. Jackson nor Asante Samuel Jr. traveled with a specific receiver in Week 2 after the latter corner did so in Week 1. Maybe this was a way to ease Jackson back into action, but the reality that Jaguars' No. 1 WR Christian Kirk spends most of his time in the slot could once again lead to neither corner having a specific one-on-one assignment. … The 49ers do such a good job moving Deebo Samuel all over the field that I'd be more concerned about Brandon Aiyuk catching a shadow from Ronald Darby or Patrick Surtain. The duo did shadow against the Seahawks in Week 1, but neither specifically tracked clear-cut No. 1 Texans WR Brandin Cooks in Week 2. … Cowboys CB Trevon Diggs hasn't been asked to consistently track anybody yet this season; don't expect that to change against a Giants offense still largely looking for an identity in the passing game.
---
Maybe Christian Kirk is properly paid
Few receivers have been more impressive than Kirk in the opening two weeks of the season. The Jaguars' high-priced offseason addition has proved to be borderline unrecoverable from the friendly confines of the slot while continuing to threaten defenses downfield. The early result has been one of the more efficient receivers in football:
PFF receiving grade:

80.0 (No. 8 among 57 wide receivers with 10-plus targets this season)

Yards per route run:

2.79 (No. 11)

Yards per reception: 16.3 (No. 8)

Yards after the catch per reception:

7.1 (No. 7)

Targets per route run:

22.9% (No. 26)
Kirk is an every-week full-PPR starter with this sort of efficiency and volume. Maybe Derwin James and company make life a bit harder than usual in Week 3, but that's far from guaranteed.
Christian Kirk is a top-12 wide receiver in PFF receiving grade, yards per route run, yards per reception and yards after the catch per reception through two weeks. Dude is balling. pic.twitter.com/SPN3wouqoa

— Ian Hartitz (@Ihartitz) September 21, 2022
---
Cool stuff going on in Miami
Head coach Mike McDaniel has consistently put his third-year quarterback in positions to succeed this season:
Play-action rate:

40.9% (No. 1)

Shift/motion rate:

78.9% (No. 1)

Pressure rate allowed:

23.9% (No. 7)
Tua Tagovailoa has responded by putting forward top-tier efficiency numbers. Only Jalen Hurts has averaged more yards per attempt on straight dropbacks when also excluding screens than Tua, while only the Chargers and Bills have a higher rate of catchable deep balls (20-plus yards downfield) than the Dolphins after two weeks of action.
The results in Week 2 was nothing short of remarkable for Tyreek Hill and Jaylen Waddle, who became the first pair of teammates in NFL history to each have 10-plus receptions, 150-plus yards and multiple receiving touchdowns in the same game. Both are weekly auto-starts thanks to McDaniel's ability and willingness to essentially flow the entire Dolphins offense through them. A head coach flowing the offense through the best players, what a concept!
---
What if this year's Cooper Kupp is … Cooper Kupp?
Last season Kupp caught 145 passes for 1,947 yards and 16 touchdowns on his way to winning the triple-crown. This season's pace after 120 minutes of action: 204 receptions, 2,006 yards and 26 scores. Nobody has a longer active touchdown streak than Kupp (8 games) at the moment; his weekly upside WR1 production has never felt more inevitable inside of a Rams offense that is passing the ball more than usual to start the season:
2022:

67.4% pass-play rate in non-garbage time (No. 9)

2021:

62.1% (No. 15)

2020:

59.9% (No. 22)

2019:

63.3% (No. 13)

2018:

60.7% (No. 21)

2017:

58.2% (No. 23)
Allen Robinson remains on the WR2 borderline and doesn't seem to be washed; just realize Kupp might continue dominating targets anyway because, why not? It sure seems to be working.
---
"Why be a king, when you can be a Sun God?" – Amon-Ra St. Brown
What a time to be alive:
Week 13, 2021:

10 receptions-86 yards-1 TD (12 targets, PPR WR6)

Week 14, 2021:

8-73-0 (12, WR26)

Week 15, 2021:

8-90-1 (11, WR6)

Week 16, 2021:

9-91-1 (11, WR6)

Week 17, 2021:

8-111-1 (11, WR2)

Week 18, 2021:

8-109-1 (10, WR9)

Week 1, 2022:

8-64-1 (12, WR12)

Week 2, 2022:

9-116-2 (12, WR4)
The most recent performance included 68 rushing yards. St. Brown has now converted nine carries into 129 rushing yards and a score; he can do that, too. I'm more curious than Boobie Miles' father to find out if he can pass.
St. Brown is an every-week WR1 because that's we now literally have a half season's worth of games of him being exactly that. Matchups don't matter nearly as much when double-digit targets are on the table every single week — but hey, St. Brown is set up rather awesomely against the Vikings' bottom-four defense in yards per attempt allowed to targets aligned in the slot.
---
Tragedy leads to opportunity in San Francisco
Trey Lance fractured his right ankle and will miss the rest of the 2022 season. The absence of the team's promising second-year dual-threat talent leaves coach Kyle Shanahan no choice other than to go back to Jimmy Garoppolo, who has gone 31-14 in 45 starts for San Fran since 2017. The presence of Jimmy G under center is good news for the team's various pass-catchers and rushers considering mobile quarterbacks usually aren't great for the fantasy upside of their teammates.
The best-case scenario upside of the 49ers is likely higher with Lance than Jimmy G under center, but there's a good case to be made that the median outcome is higher in the opposite scenario. Each of Deebo Samuel (every week WR1), George Kittle (every week top-five TE when healthy) and Brandon Aiyuk (borderline WR3 at the moment) are probably better off in the near term inside of a Jimmy G-led passing game that throws the ball a bit more often and with better efficiency.
---
Streamers of the week
The six wide receivers suggested on the Tuesday waiver wire edition of The PFF Fantasy Football Podcast:
Jets WR Garrett Wilson

: Breakout Week 2 came hand in hand with a growing role.

Joe Flacco

has thrown for at least 300 yards and/or multiple touchdowns in five straight starts, and he seems to prefer targeting the rookie: Wilson's 19 "first read" targets trail only

Cooper Kupp

,

Jaylen Waddle

,

Tyreek Hill

and

Davante Adams

through two weeks. While Wilson might be in too crowded of a passing game to keep up his elite usage over the course of an entire season, he deserves to be ranked right next to

Elijah Moore

in the WR3 conversation ahead of Sunday's home matchup against the Bengals.
Saints WR Chris Olave

: The 320 air yards reflect the reality that the "f*ck it" version of

Jameis Winston

is BACK. The Saints have shown a willingness to throw the ball far more often in 2022 vs. 2021, although their back-to-back games with some extreme negative game script haven't helped establish the ole run. While Olave is still a candidate to finish fourth in this offense in targets during any given week, his field-stretching role makes him an ideal weekly boom-or-bust WR4 type who will be valuable when bye weeks start rolling in.
Patriots WR Jakobi Meyers

: Since Week 1 of last season Meyers has 149 targets. The next closest Patriot?

Hunter Henry

… with 82 targets. The problem for Meyers it that the Patriots' reigning sixth-ranked scoring offense ranks just 29th through two weeks, but there's potential for a Week 3 get-right spot against a banged-up Ravens secondary that simply couldn't stop blowing coverages late in their Week 2 loss against the Dolphins.
Commanders WR Curtis Samuel

: The 3.0-yard average target depth reflects the reality that Samuel has been play-caller Scott Turner's favorite child in terms of scheming up touches. This should allow Samuel to consistently avoid the likes of

Darius Slay

and

James Bradberry

on the outside, which worked out rather nicely for

Amon-Ra St. Brown

(8-64-1) against this defense back in Week 1.
Giants WR Sterling Shepard

: One of the biggest

Week 2 sheeshes

was

Daniel Jones

missing a

wide-open Shepard

for what would have been a 78-yard touchdown. Big miss aside, Shepard appears to be all the way back from last season's Achilles tear and sure looks to be the undisputed No. 1 receiver inside of a banged-up Giants wide receiver room that also includes "The Human Mannequin"

Kenny Golladay

.
Chargers WR Josh Palmer

: Has posted 5-43-1, 4-30-1, 5-66-1, 4-45-1 and 3-5-0 receiving lines in five career games with at least 60% of the offense's snaps, something that is assured when one of

Keenan Allen

(hamstring) or

Mike Williams

(has never broken a fall in his life) is sidelined. It really might not matter considering Palmer has seemingly fully leaped

Jalen Guyton

on the depth chart. Palmer is a low-end WR3 when one of Allen or Williams is sidelined, and a quality WR4 when not.
---
Who had a far better game than the box score indicated in Week 2?
I break down all the near misses (dropped touchdowns, bad throws that could have gone for big plays, nullified scores etc.) in my weekly fantasy fallout column after watching every game in an effort to provide "beyond the box score" type analysis. The following wide receivers stood out as players who were quite a bit better than their raw counting numbers indicated in Week 2:
SHEESH pic.twitter.com/eNXUkIM4NC

— Ian Hartitz (@Ihartitz) September 18, 2022
---
Matchup to take advantage of
PFF's WR/CB matchup tool denotes which wide receivers have excellent, good, average, below average or poor matchups. Note that the matchup rating is derived from both the wide receiver's personal PFF grade in addition to their projected coverage, so sometimes it's simply a matter of a receiver being too damn good for just about anybody to handle. Just six receivers are deemed to have an excellent matchup ahead of Week 3:
---
Matchup to be cautious of
Note that since the PFF WR/CB matchup tool is derived from both the wide receiver's personal PFF grade and their projected coverage, unproven rookies are naturally lower at the moment. The following fantasy-relevant receivers are deemed to have a poor matchup ahead of Week 3:
I'm least concerned about the London and Kirk matchups due to each receiver's ability to dominate target share in early weeks. Speaking of the latter receiver …
---
Injuries to monitor
Be sure to check out the Friday afternoon edition of The PFF Fantasy Football Podcast for final thoughts on every fantasy-relevant injury around the league. For now, the following wide receiver situations need to be monitored:
---
Bold call of the week: Adam Thielen gets back on track with a pair of touchdowns
The Lions have surrendered big performances to both Jalen Hurts (QB4) and Carson Wentz (QB4) to start the season. Meanwhile, Kirk Cousins posted a middling 277-2-0 passing line in Week 1 before struggling to get the ball to anyone other than Eagles CB Darius Slay during the Vikings' Monday night loss to the Eagles.
Cousins' struggles against the Packers' league-best pass-rush in pressure rate as well as the Eagles' formidable front-seven shouldn't be particularly surprising. Only Jameis Winston (-3.95) averaged fewer yards per attempt when pressured vs. when kept clean than Cousins (-3.43) in 2021.
The Lions (31.6%, 14th) shouldn't be confused as a bad pass rush, but it'd still be surprising to see Cousins go much longer without a big performance. The leaderboard in terms of total games with 300-plus passing yards and three touchdowns since 2020 is as follows:
As bad as this Vikings passing "attack" looked at times in Week 2, don't be surprised if Justin Jefferson *and* Thielen have their way with a banged-up Lions secondary that was without No. 1 CB Amani Oruwariye (back) last week. Only Davante Adams (31), Mike Evans (28) and Tyreek Hill (26) have more receiving touchdowns than Thielen (24) since 2020.
Last week: "Elijah Moore gets back on track with 100-plus yards and a touchdown." "The process was right," the man screamed as his wife left with their kids and belongings.
---
Pissed-off call of the week: Terry McLaurin continues to disappoint with his third non-WR2 finish in as many weeks
There are two objective reasons to not be thrilled about McLaurin's upside this week:
His aforementioned non-ideal history vs.

Darius Slay

Target allocation.

Curtis Samuel

leads Washington with 18 targets. Next up is

Antonio Gibson

with 12. After that, McLaurin is tied with

J.D. McKissic

and

Logan Thomas

.

Jahan Dotson

is also close with nine.
A third subjective thought is the belief that the clock might strike midnight soon on Carson Wentz's fairy tale start to the season. A date against his old team that just shut down Justin Jefferson and company doesn't provide much optimism. I'm bullish on McLaurin's chances at supplying WR2 value down the stretch, but this week could be rough (again).
Last week: "Jacoby Brissett continues to hurt the fantasy value of all parties involved in Cleveland." False! Brissett was actually rather awesome last week; his first four incompletions were all catchable, while his lone interception came in the final 10 seconds in pure desperation mode.
---
Who does Josh Hermsmeyer expect to rebound (he's smart)
Last week Josh's model helped predict Garrett Wilson and Amari Cooper's big performances. Who does his Air Yards Buy-Low Model think will go off in Week 3? Click here to find out.
---
Deep ball guess of the week: Cowboys WR CeeDee Lamb
Why? Because of Josh's Air Yards Buy-Low Model. Again: The dude is really smart. Let's trust him here. Cool? Cool. Click here. Do it.
Last week: Brandon Aiyuk, who went 5-63-0 with a long catch of 25 yards.
---
Week 3 wide receiver rankings
| | | |
| --- | --- | --- |
| Rank | Wide Receiver | Game Info |
| 1 | Cooper Kupp | LAR@ARI |
| 2 | Justin Jefferson | DET@MIN |
| 3 | Stefon Diggs | BUF@MIA |
| 4 | Davante Adams | LV@TEN |
| 5 | Tyreek Hill | BUF@MIA |
| 6 | Ja'Marr Chase | CIN@NYJ |
| 7 | A.J. Brown | PHI@WAS |
| 8 | Deebo Samuel | SF@DEN |
| 9 | Amon-Ra St. Brown | DET@MIN |
| 10 | Mike Williams | JAX@LAC |
| 11 | Michael Thomas | NO@CAR |
| 12 | Courtland Sutton | SF@DEN |
| 13 | Christian Kirk | JAX@LAC |
| 14 | Jaylen Waddle | BUF@MIA |
| 15 | Tee Higgins | CIN@NYJ |
| 16 | Marquise Brown | LAR@ARI |
| 17 | CeeDee Lamb | DAL@NYG |
| 18 | Brandin Cooks | HOU@CHI |
| 19 | Diontae Johnson | PIT@CLE |
| 20 | Drake London | ATL@SEA |
| 21 | Rashod Bateman | BAL@NE |
| 22 | DK Metcalf | ATL@SEA |
| 23 | Allen Robinson II | LAR@ARI |
| 24 | Adam Thielen | DET@MIN |
| 25 | DJ Moore | NO@CAR |
| 26 | Allen Lazard | GB@TB |
| 27 | JuJu Smith-Schuster | KC@IND |
| 28 | Amari Cooper | PIT@CLE |
| 29 | Terry McLaurin | PHI@WAS |
| 30 | Garrett Wilson | CIN@NYJ |
| 31 | DeVonta Smith | PHI@WAS |
| 32 | Curtis Samuel | PHI@WAS |
| 33 | Elijah Moore | CIN@NYJ |
| 34 | Joshua Palmer | JAX@LAC |
| 35 | Darnell Mooney | HOU@CHI |
| 36 | Tyler Lockett | ATL@SEA |
| 37 | Hunter Renfrow | LV@TEN |
| 38 | Sterling Shepard | DAL@NYG |
| 39 | Jakobi Meyers | BAL@NE |
| 40 | Brandon Aiyuk | SF@DEN |
| 41 | Chris Olave | NO@CAR |
| 42 | Treylon Burks | LV@TEN |
| 43 | Robert Woods | LV@TEN |
| 44 | Tyler Boyd | CIN@NYJ |
| 45 | DJ Chark Jr. | DET@MIN |
| 46 | Robbie Anderson | NO@CAR |
| 47 | K.J. Osborn | DET@MIN |
| 48 | Jarvis Landry | NO@CAR |
| 49 | Marquez Valdes-Scantling | KC@IND |
| 50 | Russell Gage | GB@TB |
| 51 | Ashton Dulin | KC@IND |
| 52 | Corey Davis | CIN@NYJ |
| 53 | Isaiah McKenzie | BUF@MIA |
| 54 | Mecole Hardman | KC@IND |
| 55 | Jahan Dotson | PHI@WAS |
| 56 | Chase Claypool | PIT@CLE |
| 57 | Noah Brown | DAL@NYG |
| 58 | Jamison Crowder | BUF@MIA |
| 59 | Greg Dortch | LAR@ARI |
| 60 | Sammy Watkins | GB@TB |
| 61 | Donovan Peoples-Jones | PIT@CLE |
| 62 | Nelson Agholor | BAL@NE |
| 63 | A.J. Green | LAR@ARI |
| 64 | Devin Duvernay | BAL@NE |
| 65 | DeVante Parker | BAL@NE |
| 66 | Zay Jones | JAX@LAC |
| 67 | Romeo Doubs | GB@TB |
| 68 | Christian Watson | GB@TB |
| 69 | George Pickens | PIT@CLE |
| 70 | Olamide Zaccheaus | ATL@SEA |
| 71 | Marvin Jones Jr. | JAX@LAC |
| 72 | Nico Collins | HOU@CHI |
| 73 | Breshad Perriman | GB@TB |
| 74 | Randall Cobb | GB@TB |
| 75 | Josh Reynolds | DET@MIN |
| 76 | Nick Westbrook-Ikhine | LV@TEN |
| 77 | Kadarius Toney | DAL@NYG |
| 78 | Scotty Miller | GB@TB |
| 79 | Quez Watkins | PHI@WAS |
| 80 | Kendrick Bourne | BAL@NE |
| 81 | Byron Pringle | HOU@CHI |
| 82 | Parris Campbell | KC@IND |
| 83 | Richie James Jr. | DAL@NYG |
[/am4show]