The goal is to quantify the week's biggest near misses: Bad passes, drops, penalties, and sometimes simply bad luck prevented players from putting up bigger numbers than they actually did.
New Orleans Saints WR Chris Olave had an egregious number of downfield opportunities but only wound up catching one of them — which he then fumbled.
Seattle Seahawks WR D.K. Metcalf made arguably the catch of the season. It sure would have been a lot cooler if it counted and wasn't nullified by a penalty.
Estimated reading time: 10 minutes
---
Week 2 has come and gone. Sixteen NFL games brought joy, laughs and tears; today we'll focus on the latter sadness and break down just how close some came to achieving fantasy football glory.
What follows is a breakdown on all the "Sheesh" moments from Week 2. I've watched every game and used PFF's back-end tools to help determine instances when:
Pass-catchers could have scored or picked up big yardage with a more accurate pass

Pass-catchers did receive an accurate pass that should have resulted in a score or big gain, but the ball was dropped

Ball carriers managed to get inside the 3-yard line but didn't score

Players scored or picked up big yardage, but the play was nullified by penalty

Other random shit happened that tilted fantasy football managers of all shapes and sizes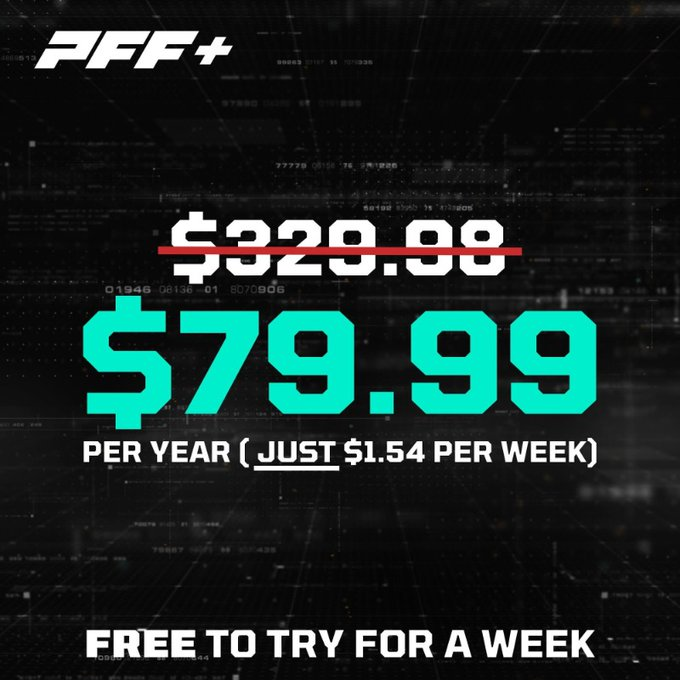 But first: The Week 2 Sheesh Award for the most-tilting overall performance goes to …
Air yards can be a helluva drug in fantasy football land. For those unaware, air yards simply track the number of yards that a target traveled to the intended receiver, regardless of whether the ball was ultimately caught. Looking at the difference between a receiver's air yards and actual receiving yards can sometimes present buy-low opportunities.
In Week 2, Olave racked up an asinine 319.8 air yards. The performance featured one uncatchable deep ball after another from Jameis Winston, and sadly their most notable downfield connection ended with Olave losing a fumble.
"Fuck it Olave down there somewhere" pic.twitter.com/7T86cPcs9z

— Ian Hartitz (@Ihartitz) September 19, 2022
The good news for Olave fantasy managers/Saints fans: The rookie has already flashed the sort of high-end route-running ability and separation skills that make it more of a matter of when, not if, the Winston-Olave connection starts clicking in a major way.
---
Pass-catchers could have scored or picked up big yardage with a more accurate pass
The following pass-catchers should have had a much bigger day at the office, but unfortunately their respective quarterbacks weren't quite up to the task for at least a moment. There were five notable players who had to deal with some subjectively shitty near misses:
New York Giants WR Sterling Shepherd was open for a 78-yard house call. He drew a penalty — which clearly could have impacted the timing involved — but this doesn't make Daniel Jones' ensuing overthrow any easier for fantasy managers to stomach. At least Shepherd is truly moving well in just his second full game back from last season's Achilles tear.
Sterling Shepard should still be running pic.twitter.com/OBxez7j9VB

— Ian Hartitz (@Ihartitz) September 19, 2022
New York Jets WR Garrett Wilson broke free late in the second quarter for what could have ultimately been his third touchdown reception of the day, but Joe Flacco sailed the short potential touchdown. The rookie shouldn't be too upset with Mr. Elite: Wilson is one of just seven receivers to be targeted at least 19 times on plays where the player was considered the quarterback's first read (pre-MNF).
Baltimore Ravens TE Mark Andrews had himself a big day at the office (9-104-1). And yet, the performance would have been even bigger if Lamar Jackson had just one more great throw in him late in the fourth quarter. Andrews broke free down the seam from the Dolphins' 33-yard line, but Jackson's heave was just out of reach.
Detroit Lions WR D.J. Chark nearly capitalized on a well-designed flea-flicker for a 35-yard score, but his diving effort didn't quite work out. Later he was fully cleared from any potential blame when Jared Goff missed him streaking wide open across the middle of the field just before halftime; a good pass could have been good for 50-plus yards.
Dallas Cowboys WR CeeDee Lamb is having to deal with less-stellar quarterback play than usual, leading to his second straight appearance on this list. A perfect pass from Cooper Rush likely would have led to a 47-yard score, at a minimum Lamb should have had an opportunity to haul in an explosive play.
Buffalo Bills FB Reggie Gilliam was somewhat oddly incredibly involved in the Bills' passing game on Monday night. He caught a touchdown early and got wide open early in the third quarter for a potential 40-yard gain before being overthrown by Josh Allen. Most fantasy managers were probably far happier with Allen linking up with Stefon Diggs for a 46-yard score the very next play.
---
Dropped touchdowns
Sometimes players get open and receive a catchable pass, but unfortunately they drop the ball and cost their team six points. 
There were a couple of rather egregious instances of receivers dropping a seemingly sure-thing touchdown in Week 2. Jacksonville Jaguars return specialist Jamal Agnew occasionally moonlights at wide receiver, and he let a perfectly thrown deep ball from Trevor Lawrence go right through his hands after getting open from 41 yards out.
Near miss for Trevor Lawrence pic.twitter.com/dmu6e6HJlu

— Ian Hartitz (@Ihartitz) September 19, 2022
Houston Texans WR Brandin Cooks got tons of separation on a potential 6-yard score, but dammit he let the ball bounce out of his hands. He caught his next opportunity on the very next play — the only problem was that he came down with the ball out of bounds. Back-to-back sheeshes is never good to see.
Carolina Panthers WR Shi Smith got a step of separation from 26 yards out only to have Baker Mayfield's rather pinpoint attempt bounce off his hands. An illegal contact penalty still got the Panthers their first down, but the missed opportunity especially stings given the score was 16-16 at this point (Giants won 19-16).
Minnesota Vikings TE Irv Smith should have taken advantage of a blown coverage-induced 63-yard touchdown, but he failed to catch the perfectly thrown pass from Kirk Cousins. The ball was truly right there; at a minimum Smith should have had a major chunk gain to add to his first-half touchdown.
Los Angeles Rams TE Tyler Higbee could have added a touchdown to his 7-71-0 performance had he not dropped a borderline erotic sidearm sling from Matthew Stafford. This truly would have been all over the highlight reels if caught.
Sheesh pic.twitter.com/o5Egb2bDZJ

— Ian Hartitz (@Ihartitz) September 20, 2022
---
Sequences that just made you say sheesh
There were two sequences in Week 2 that consisted of not one, not two, but three (and even four) consecutive plays that a non-biased party would generally expect to have a good chance to produce a touchdown.
The Ravens had an 18-play drive take 10:52 off the clock and produce zero points. First, Mike Davis was stuffed on runs over right guard from the 2- and 1-yard line. Next, Lamar Jackson seemingly snuck his way into the end zone, but further review showed that he was down just short of the goal line. Finally, a bad snap caused a fumble which resulted in the Ravens losing five yards on fourth down. The ultimate 42-38 loss doesn't make this one any easier to swallow.
The Broncos went deep to Courtland Sutton from the 44-yard line, and he managed to at least draw a defensive pass interference penalty after narrowly missing out on what would have been a filthy one-handed catch. Russell Wilson decided to do the cool thing and go back to Sutton on the very next play on a short fade that was initially ruled a touchdown, but later overturned after it was shown that both feet weren't down inbounds.
Another failed fade to Sutton was followed by an absolutely bonkers incompletion that featured Russ attempt to hit a wide-open Javonte Williams over the middle, only for the pass to bounce off a helmet and into the hands of WR Kendall Hinton in the back of the end zone, who failed to get both feet down inbounds. Madness.
---
Defensive sheeshes
Defenses count in fantasy football too (usually). There were three instances of a defender making an awesome jump on the pass and even getting their hands on it, but the theoretical pick-six was ultimately dropped and merely goes into the books as an incomplete pass:
The Giants were attempting to get some extra points with just 30 seconds remaining in the first half; they were incredibly lucky to not do the opposite when

Daniel Jones

' ill-advised pass to the flat was dropped by Panthers LB

Frankie Luvu

.

Baltimore Ravens

QB

Lamar Jackson

had a wonderful afternoon, but he was lucky to not make the Dolphins' comeback an easier when a short pass to

Rashod Bateman

in the flat was jumped — and dropped — by No. 1 Dolphins CB

Xavien Howard

.

Los Angeles Rams

CB

Jalen Ramsey

essentially sealed the game by intercepting

Marcus Mariota

with just 1:07 remaining, although he nearly made things an early route when he jumped a short pass in the flat and nearly took it 50 yards back the other way.
---
Other sheeshes
There were a number of other near misses throughout Week 2 that were tougher to fully blame one particular party, but that doesn't make the near-miss result any less sheeshful for the fantasy managers and fans at hand to deal with.
Good ball, no touchdown: Jacoby Brissett had a far better day at the office in Week 2 compared to Week 1; unfortunately, a pair of well-thrown passes into the end zone were caught out of bounds by Donovan Peoples-Jones as well as David Njoku. … Massive human being/Colts TE Mo Alie-Cox also managed to catch a short touchdown; the only problem was that NFL rules require a receiver to get two feet down inbounds in order for a catch to count. … Rams WR Allen Robinson found the end zone once, actually twice, but the second time around the short score was ruled to be blown dead because the injury official was concerned about Falcons CB A.J. Terrell. None of the players realized the whistle had blown in the heat of the moment. … Raiders TE Darren Waller briefly had what would have been his second red zone touchdown in his hands, but a well-time pass-breakup by Cardinals S Jalen Thompson prevented the score. … Cardinals WR A.J. Green couldn't come down with a pair of tough, but catchable, contested catches down the sideline before straight up dropping the potential game-tying touchdown with just 16 seconds remaining. Luckily, AJG redeemed himself with a lovely diving catch on the team's game-tying two-point conversion. … Broncos WR Montrell Washington was oh so close to coming down with a 26-yard touchdown in the fourth; he just couldn't quite get both feet inbounds.
Not the worst throw, but also not the best: Steelers WR George Pickens nearly hauled in an off-target hail mary before halftime that wouldn't have counted for a touchdown, but still would have yielded a chunk gain for the rookie. Diontae Johnson also just missed a long catch when he came down out of bounds; it's safe to say Mitch Trubisky hasn't exactly made it easy for these Pittsburgh pass-catchers over the past two weeks. … Falcons QB Marcus Mariota actually tried to throw the ball to Kyle Pitts during the course of a professional football game from the 8-yard line; the problem was that the ball came after Pitts was finally covered and rocketed through his out-stretched hands. Note that Pitts also drew a long pass interference penalty when his defender had no choice but to grab the gargantuan's arm downfield. Maybe throwing the ball to Pitts could also help, you know, win football games? … Bills TE Dawson Knox got loose downfield for what had the potential to be a 40-yard score. Too bad Josh Allen sailed the pass, although the Bills still got a first down thanks to an illegal contact penalty.
Penalties happen for a reason. But still: Browns RB Nick Chubb had an electric 33-yard run called back by penalty. … Much-maligned Giants WR Kadarius Toney racked up 37 yards on a busted coverage early in the second quarter, only for the gain to get called back and nullified.
Just short. Sheesh: 49ers RB Jeff Wilson did a great job winning as a true wide receiver on the outside and nearly got the ball into the end zone. Instead of rewarding him with a goal line opportunity, coach Kyle Shanahan went to FB Kyle Juszczyk for the short score. Wilson later got stuffed at the 1-yard line after picking up two yards, while fellow backfield mates Tyrion Davis-Price and Juszczyk also failed with their late-game goal-line chances. … Commanders RB Antonio Gibson found the end zone once, but he was denied twice from inside the 2-yard line on a separate drive. … Raiders RB Josh Jacobs looked shifty as hell for the majority of Sunday afternoon; too bad he was denied from the 1-yard line on a potential goal-line score. … Chargers WR Mike Williams would have had an even bigger Thursday night if he didn't come down at the 1-yard line after hauling in a b-e-a-utiful 39-yard contested catch. The very next play also produced a sheesh when Sony Michel was stuffed from the goal line. … Bears QB Justin Fields nearly dove across the goal line in the fourth quarter for his second rushing score before being ruled just short. His fourth-and-ballgame plunge on the next play was also stuffed. … Cardinals WR Marquise Brown helped keep the game alive with a lovely one-handed catch on fourth down; too bad he gained 24 yards instead of 25 and a touchdown. The artist known as Hollywood also missed out on a potential chunk gain in overtime, although this was less of a sheesh and more of a brilliant hit/defensive play from Raiders S Duron Harmon.
---
The grand finale
And finally, arguably the single-sheeshiest play of the week belongs to D.K. Metcalf for his absolutely UNREAL one-handed catch downfield on a well-thrown bomb from Geno Smith, but unfortunately, an illegal man downfield penalty brought back the big gain. Sheesh.
SHEESH pic.twitter.com/eNXUkIM4NC

— Ian Hartitz (@Ihartitz) September 18, 2022