Obviously, a lot happens each week in the NFL. Less obviously, some of it means a lot for fantasy football and some doesn't. Each week in this space, I'm running through the key lessons from each game.
This is what we learned in the Week 4 games.
Don't run on Philly
The Eagles have faced Derrius Guice, Devonta Freeman, Kerryon Johnson, and Aaron Jones through four weeks. Those four have combined for 54 carries for 97 yards, 1.8 yards per carry. No full team has had 100 rushing yards against them. The next backs they face: Le'Veon Bell, Dalvin Cook, Ezekiel Elliott. Either their numbers fall off a bit, or this could be a complete do-not-cross.
Green Bay anointed too early?
The Packers defense was one of the league's best through three weeks. Of course, they had faced the Bears, Vikings, and Broncos. The Eagles had little trouble, with five touchdowns. Passing yardage was still only middling (160), but after defense grades of 78.1, 69.2, and 81.9 in Weeks 1-3, Green Bay managed a 49.6 Thursday.
Ball's in Mariota's court
Out of Marcus Mariota's 227 passing yards Sunday, 185 went to either A.J. Brown or Corey Davis. Adam Humphries (15) was the only other pass catcher to even reach double-digit yardage. But you aren't planning on any onslaught stacks with this offense anyway; if Mariota can be good enough to just manage a productive receiver or two each week, that's enough. The question, of course, is whether he can do that.
Austin Hooper is for real
Hooper had 7.4 PPR points in Week 2. Take that out, and he's averaging 21.1 points per game. He finished as TE6 last year in part because the rest of the tight ends were struggling so much that someone had to, but he's firmly in that range now on his own merit.
The Chiefs have a confusing backfield
"Andy Reid doesn't use a committee" has been hammered into our brains for years. But through four weeks, the Chiefs haven't had a back get more than 13 carries in a game and have had two with at least 8 carries in each game. Yes, injuries to Damien Williams and LeSean McCoy have factored into that, but this remains a multi-headed beast.
Matthew Stafford's back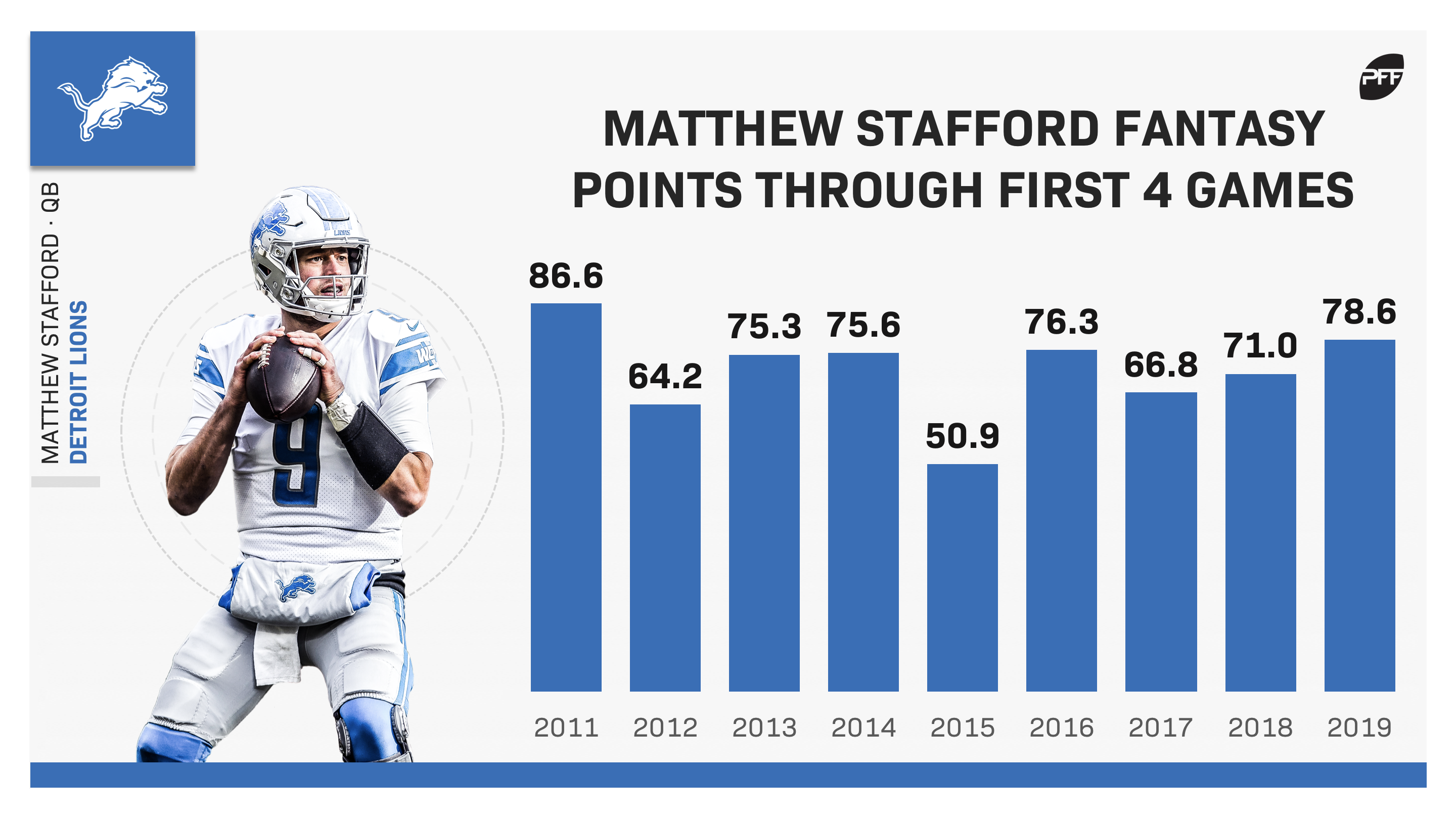 Stafford's off to a strong start to the season, averaging two touchdown passes and 280.5 passing yards a game. For a team that we all thought was going to be Vikings-level run-heavy this year, suddenly Stafford has the second-best fantasy point total through four weeks of the year. He's not quite an every-week starter yet, but he's flirting with it.
Tough times for Michel
After Sony Michel ran for 15 yards on his first touch Sunday, there was buzz that maybe this would be the day he got going. He only added 48 more yards on his remaining 16 touches. For the year now, he's averaging 2.8 yards per carry on 62 carries with two scores and zero receptions (and only one target) and he's averaging under 7.0 PPR points per game. He's a bench candidate until things change.
Josh Allen is a huge question mark
Allen was truly bad in the first half of Week 1, then led a comeback. He was legitimately good in Week 2 against an overmatched Giants team. He was … good enough in Week 3. And then he could scarcely have been worse Sunday before a concussion knocked him out for the game, with only a rushing touchdown salvaging even a little bit of a day. He now has a 66.4 passer rating through four games. And his health is in question. What do you do with him? At the very least, you have to have an alternative available.
Josh Jacobs getting slightly more involved?
The Raiders are a pretty known quantity as a team. You want to use Darren Waller. You can use Tyrell Williams and Derek Carr in a pinch. And then there's Jacobs, who had a monster Week 1 but got worse each of the next two weeks. Week 4 wasn't any great shakes — 108 scrimmage yards and no scores — but he did have two receptions (he had one total entering Sunday) and saw his carries climb back up. Jacobs looks to be very gamescript-sensitive in this offense.
With Hilton out, the answer is … no one?
T.Y. Hilton missed Sunday. Zach Pascal led the Colts in receiving yards (72), while Parris Campbell and Jack Doyle led in targets (8), and Doyle, Eric Ebron, and Chester Rogers each notched a score. The Colts trailed from the sixth minute of the game, leading to Jacoby Brissett throwing the ball a career-high 46 times, and any time that happens, multiple pass-catchers will be relevant. But with Hilton out, there isn't a one-man replacement right now.
Philip Rivers is the steadiest force in the game
There's a (fake) meme that purports to show an arch in Nagasaki in 1945 after the atomic bomb, and then in 2011 after the earthquake and tsunami, standing tall both times, and asks "What in the world is that arch made of?" That's more or less Rivers, who was without two of his top running backs, his No. 1 tight end, his Nos. 2 and 3 wide receivers, and multiple offensive line pieces Sunday, and had roughly the platonic ideal of a Rivers game nonetheless. He's exactly what you want out of him, nothing more, nothing less.
The Dolphins will offer chunk plays
Miami entered Week 4 leading the league in passes targeted 20-plus yards downfield. The Lions passed the Dolphins Sunday, but Miami still ranks second, at 27. The Dolphins' lone touchdown Sunday came on such a pass to DeVante Parker. The Dolphins are bad and will be bad, but that badness will force them to take deep chances, and that will (very) occasionally offer a big play or big game.
This is more what to expect from Danny Dimes
Daniel Jones' Week 3 start was amazing, huge, and certainly not replicable. He might be better than most of us guessed, but he's not super-Patrick Mahomes. Sunday, he threw for 225 yards, 1 touchdown, and 2 interceptions, and added 33 yards on the ground. And that's fine. The Giants won going away, so Jones didn't have to do much, but he did keep his weapons involved — 7-76 for Sterling Shepard, 4-54 for Evan Engram, 6-55-1 (through the air) for Wayne Gallman. This is Jones. Enough.
Shut the door on another group of options
Maybe Washington just really needs Terry McLaurin, but the woes of the offensive line, the poor quarterback play, and the extreme obviousness that Dwayne Haskins isn't ready yet makes it almost impossible to use anybody on this offense in fantasy. The list is down to basically Chris Thompson and a healthy McLaurin, and even those are risky.
We're halfway through the Time of Chubb
We finally had the Nick Chubb breakout game Sunday, with the Browns back going for 183 scrimmage yards and 3 touchdowns. Still, through four weeks now, he's just under 500 total yards and has scored four times. No shame there. But with Kareem Hunt coming back down the stretch, this (or next week) might be a good time to sell high on Chubb if you can get big value. He's still going to be the team's No. 1 back down the stretch, but Hunt will take touches away.
Sell high on Ingram if you still can
Keep in mind: Mark Ingram will be fine. His game Sunday — 71 yards on 12 carries, one reception for no yards — is relatively close to what we should expect for Ingram, and then you hope for a touchdown. But after he had two hundred-yard games and five scores in the first three weeks, hopes might have been higher. If you can get that sort of return for Ingram, it's a good idea.
Pump the brakes on that whole "Cam's job" thing
After Kyle Allen's big Week 3 performance, there were real whispers about whether Cam Newton had started his last game for Carolina, whether the Panthers would be better off with a switch. After Allen's second start of the year, I bet we won't hear that so much. Allen did throw for 232 yards Sunday and wasn't picked off, but he also threw for no touchdowns and lost three fumbles. For fantasy, Allen will have better days, but his fantasy ceiling is far lower than Newton's.
Don't bail on DeAndre Hopkins
Since his monster Week 1, Hopkins has been quiet. He's totaled 148 scoreless yards across the last three weeks, disappointing numbers for one of the most consistently dominant players of recent seasons. But Hopkins is still averaging 9.0 targets per game. We need a much bigger sample than three rough games to drop Hopkins in the rankings.
Changing backfield for Tampa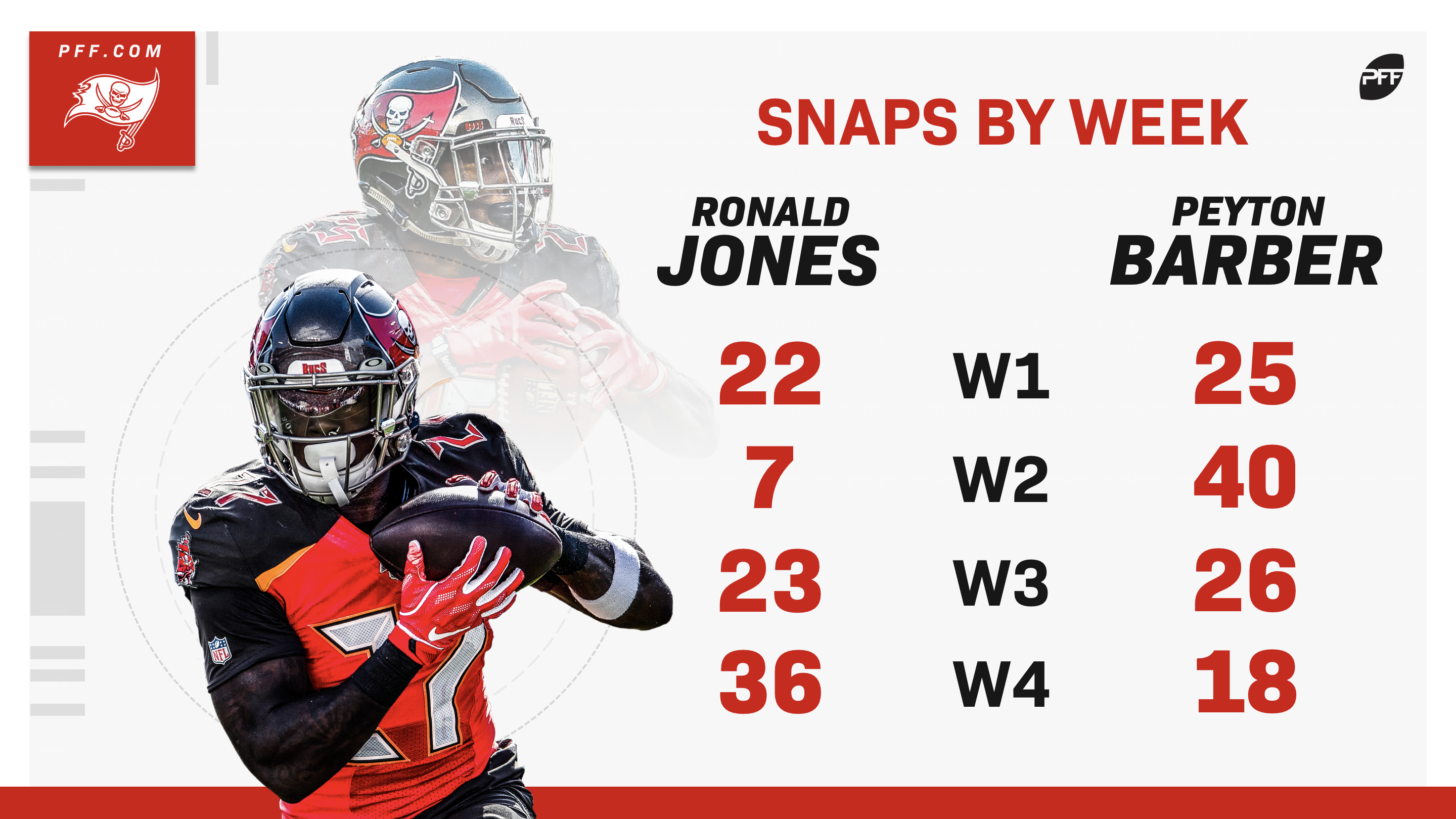 Ronald Jones had a big game Sunday, with 82 scrimmage yards and a touchdown. It was his third single game this year with more yards than he had in total last year. And most importantly, it was the first game of his career where he outsnapped backfieldmate Peyton Barber. We need more before Jones is a fantasy start, but he seems clearly above his teammate now.
All is still not well for Gurley
Yes, Todd Gurley ran in two scores Sunday, and that's great to see. He also ran the ball only five times (the Rams trailed a lot and for a long time) for only 16 yards. Gurley's 54 receiving yards was nice to see, but we're still waiting for him to put up even one game like he regularly offered a year ago.
Will Dissly is a bona fide fantasy option
Yes, it was against the Cardinals, but Dissly scored another touchdown Sunday and led the Seahawks in targets, receptions, and yards. Dissly was drafted as (we thought) a blocking tight end, after 25 receptions and 336 yards in all four years of college combined (he wasn't a tight end the whole time, but still). Now, eight games into his NFL career, those numbers are 27 and 337, respectively. Dissly has forced his way into the TE1 conversation.
So … tight ends, then
It was a brief conversation on Twitter this week about whether the Cardinals would adjust against tight ends. And … yes, they will. If only because they have to. But so far this season "tight end against Arizona" is a cheat code, and until that changes, any functional tight end against Arizona is a must-start. The next few weeks, that means Tyler Eifert (Week 5), Austin Hooper (Week 6), Evan Engram (Week 7), and Jared Cook (Week 8).
Fournette unleashed
Leonard Fournette still hasn't found the end zone (somehow), but his game Sunday (225 yards on the ground, plus 20 more through the air) was exactly what we've been waiting for. Fournette's playing time has been massive this year, and that was bound to translate to fantasy production eventually. The amount he's playing, he's in the RB1 conversation.
Speaking of running backs…
It's been good to be a running back against the Broncos so far. Josh Jacobs and Aaron Jones both scored twice and David Montgomery added one, and then there was the aforementioned Fournette performance. That makes Austin Ekeler and Melvin Gordon (Week 5), Derrick Henry (Week 6), and whoever is healthy and playing for Kansas City (Week 7) interesting names to monitor the next few weeks.
Trubisky's absence meant … nothing
Allen Robinson led the team with 77 receiving yards. David Montgomery had 53 rushing yards. Tarik Cohen had a handful of targets and scored. Yes, Mitchell Trubisky got hurt and Chase Daniel came in, but for the fantasy options in Chicago that we care about, just about the only change was that Javon Wims (who has likely seen plenty of Daniel in practice) saw 56 yards. But in short, don't change what you think about the Bears' weapons.
Reverse Vikings' expectations against the Bears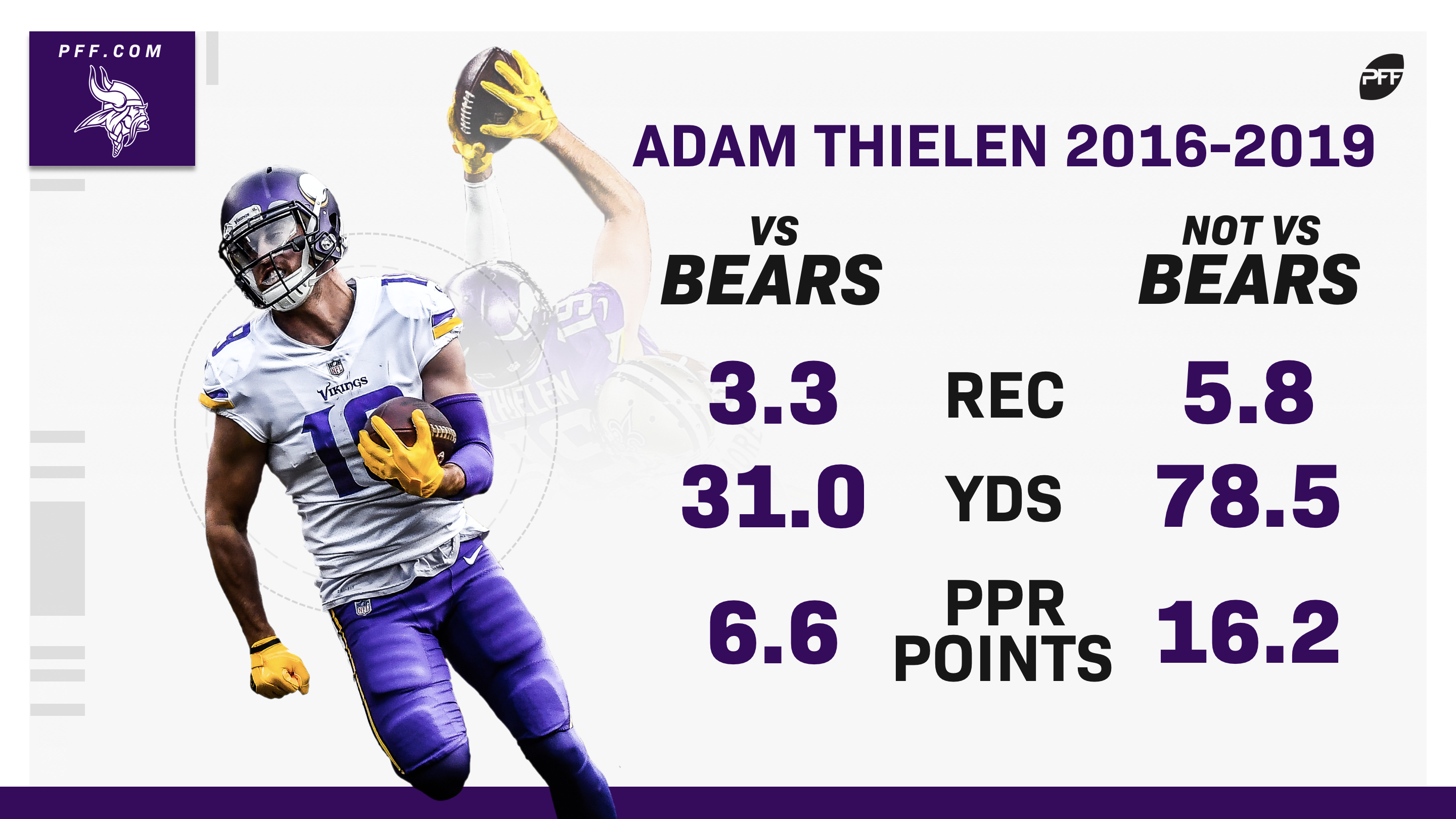 Adam Thielen has been the slightly better fantasy option than Stefon Diggs for the last year-plus. Against Chicago, that is completely backward. Since the start of 2016, Thielen averaged 31.0 yards and 6.6 PPR points per game against the Bears, 78.5 and 16.2 in all other games. Diggs averaged 71.0 yards and 17.8 points against the Bears, 63.9 and 14.7 in all other games. Does that mean anything? Who knows. But it's interesting.
The Saints have a two-man offense
This looked pretty clear after Teddy Bridgewater's first start in Week 3, and Week 4 cemented it — as long as Bridgewater is the starter, you don't want any part of this offense that isn't named Alvin Kamara or Michael Thomas. If you want to stash Jared Cook and/or Latavius Murray until Drew Brees' return, that's not the end of the world, but they definitely shouldn't be in any lineups, and any other Saints need to be benched.
It's possible we overrated the Cowboys
Dallas looked great the first three weeks of the season! … By beating Washington, Miami, and the Giants. There are enough really bad teams in the league that teams can fool us for long stretches, but this was the first real test of the Cowboys' offense, and it failed pretty spectacularly. Don't bail on the guys you were using, but definitely lower your expectations a bit.