If Week 1 in fantasy football is the week of the overreaction, Week 2 is the week of the overcorrection. Turns out the Week 1 breakout star couldn't do it again, let's drop him. The guy who disappointed in Week 1 has a dominant game, pick him back up.
All of it is wrong, and none of it is. In a 16-game season, everything is a small-sample size, but we are still tasked with divining meaning from it. Each week in this space, I'm breaking down the top lessons from the week that was. These are the Week 1 reactions.
Do the Buccaneers have a good run defense?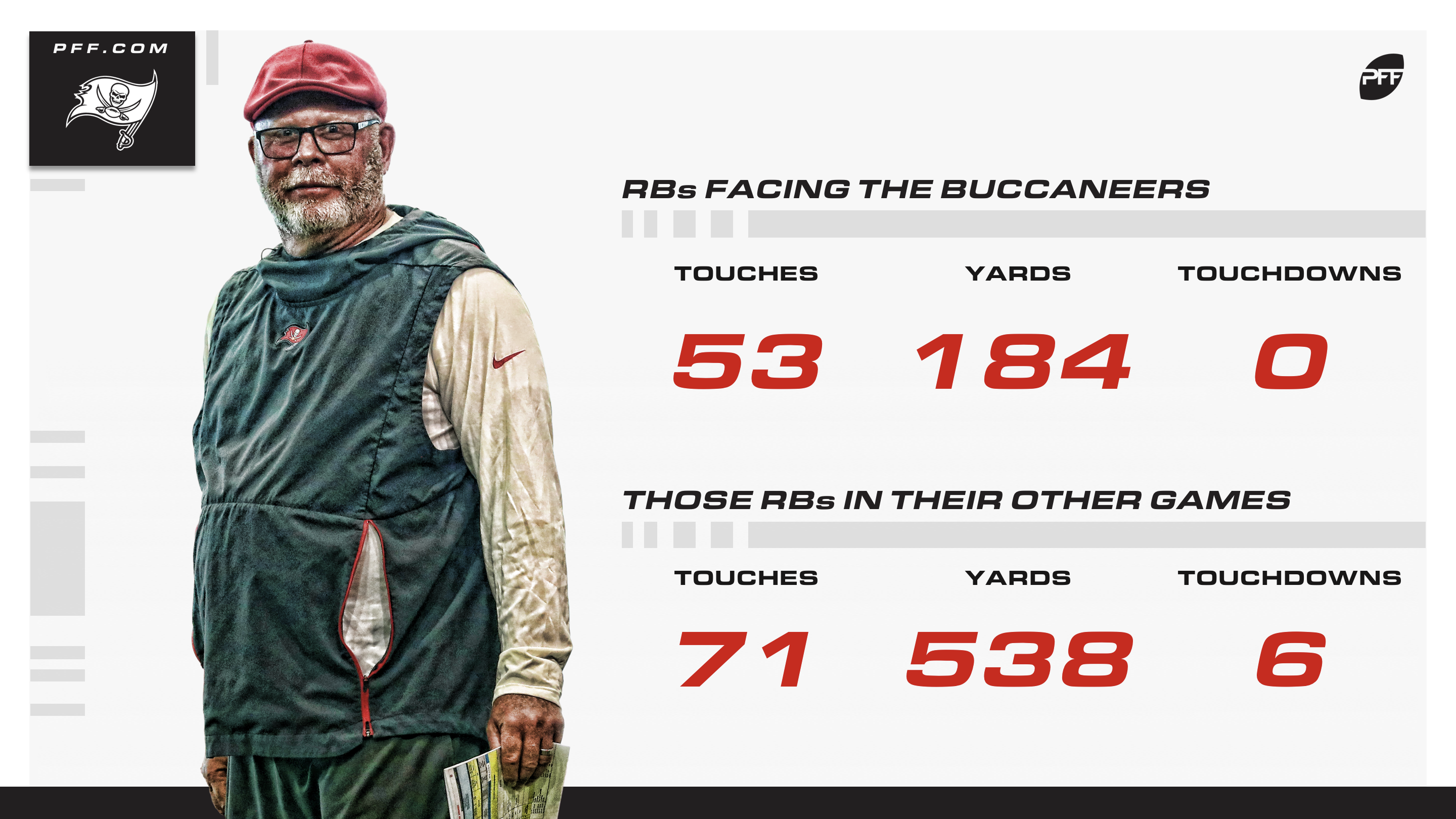 A year after having a dead-worst 61.0 PFF team run grade, the Buccaneers have played two games so far this year, losing to San Francisco and beating Carolina. In the games against Tampa Bay, the running backs and fullbacks on those teams have combined for 53 touches, 184 yards, and no touchdowns. In their other games (Carolina against the Rams in Week 1, San Francisco against Cincinnati in Week 2), those numbers jump to an incredible 71 touches, 538 yards, and 6 touchdowns. Don't go crazy about this yet, but it's definitely something to monitor.
Sit Cam
In his last four games dating back to last year, Cam Newton has 968 passing yards, no touchdowns, and three interceptions. Add in a fifth game and he has two touchdowns, but four more picks. And you have more rushing yards this year than his negative-2. Something's not right, and until we see that it is, he has to be benched in fantasy.
Seems we have to pay attention to the Min-show
Gardner Minshew had a big debut in Week 1 against the Chiefs, but then that was against the Chiefs. He followed it up with a wholly respectable 213 yards and a touchdown this week—not exactly lighting the world on fire, but aggressively fine. And he complemented that with a team-leading 56 rushing yards on six carries. Minshew is only relevant in two-QB and deep leagues, but that's more than we ever envisioned.
Dr. Johnson and Mr. Hyde
In Cleveland last year, Carlos Hyde ran ahead of Duke Johnson (and Nick Chubb) despite underwhelming numbers. That wasn't supposed to be the case this year in Houston, with Johnson a key trade and Hyde a last-minute addition. Instead, Hyde has doubled up Johnson in carries through two weeks, 30-15. Johnson still has a pass-catching role, but Hyde is making this backfield impossible to count on for fantasy.
Pump the brakes on Gronkenson
T.J. Hockenson had arguably the best debut game for any tight end ever last week. His follow-up was … less impressive, as he hauled in only a single catch for 7 yards. He might be the best rookie tight end we've had in a generation, but he's still a rookie tight end. There will be growing pains.
There aren't any extra mouths to feed
With Hunter Henry out and Mike Williams at less than 100%, the Chargers just doubled down on Keenan Allen and Austin Ekeler Sunday. They were the only Chargers pass-catchers to top five targets Sunday, and a banged-up Williams was the only other one to even top two. Maybe a Travis Benjamin or a Dontrelle Inman or a Virgil Green has a moment here or there, but in Los Angeles you only want the big names.
Terry McLaurin is for real
The rookie out of Ohio State had a big Week 1, with 125 yards and a score. He wasn't quite as good in Week 2, but he did score again and added 62 more yards. More crucially, he is playing a lot. After seven targets in Week 1, McLaurin saw that number rise to nine Sunday.
Remember Tony Pollard?
Two weeks ago, Pollard was a wildly popular breakout pick. In Week 1, he split carries with the newly extended Ezekiel Elliott. But Sunday, Elliott had 23 carries and 2 receptions compared to 4 and 1, respectively, for Pollard. He's no longer a must-stash. He's a handcuff to one of the league's most durable running backs.
Maybe Week 1 wasn't so informative
A week ago, we were scared that Jamaal Williams would make the Green Bay backfield a committee, while we were sure Marquez Valdes-Scantling had pushed Geronimo Allison aside for No. 2 duties. Then Sunday, Aaron Jones had 27 touches to Williams' 12 (though both found the end zone), while Allison had 5 targets (and scored) to MVS' 6 (without a score). Maybe what we thought to start the season — Jones is the man, while it's a cluster behind Davante Adams — is true after all.
Dalvin Cook is in the top tier of running backs
There was a clear top group in drafts this year of (in some order) Christian McCaffrey, Saquon Barkley, Alvin Kamara, and — once he was under contract — Ezekiel Elliott. Through two weeks, Cook has cracked that group. He has 411 yards and 3 touchdowns through two weeks and is the key part of one of the league's run-heaviest offense. He's an easy top-five back.
Too many mouths to feed in San Francisco?
Better days will be ahead for George Kittle, who was held to three receptions for 54 yards Sunday. But other than that, it's hard to know who to count on in this offense. Matt Breida, Raheem Mostert, and Jeff Wilson Jr. each reached double-digit carries, while Deebo Samuel, Marquise Goodwin, and Richie James Jr. each had at least three targets among wide receivers. Samuel is currently the leader for the top wide receiver role, but it's possible this just stays too muddled.
John Ross time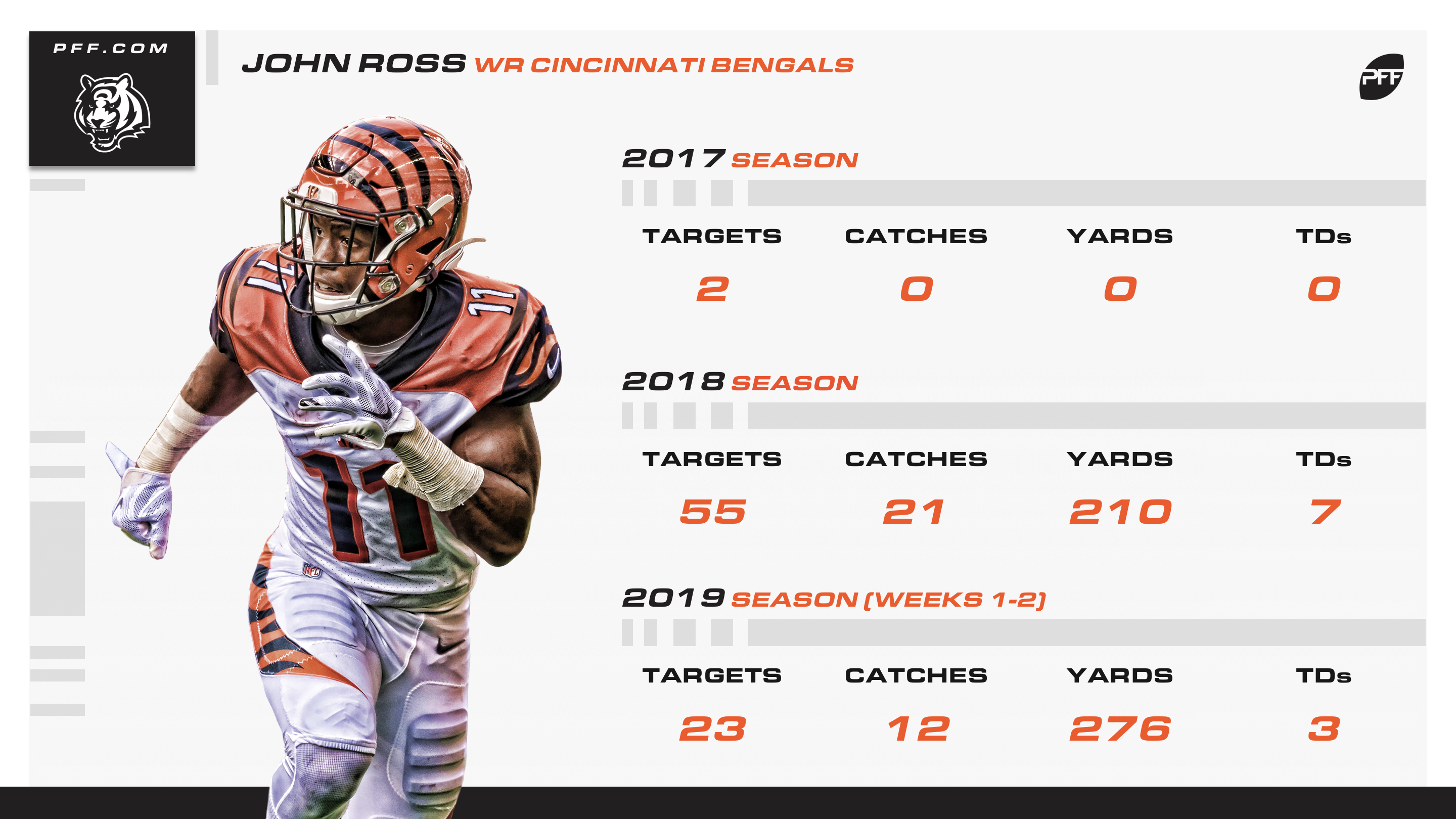 You can overlook one week of big usage and big production for the third-year receiver. But we're now two weeks into the season, and that's two games in which Ross has at least 8 targets, at least 112 yards, and at least 1 touchdown (he topped all three of those numbers in Week 1). His season debut made him a must-add. If he keeps doing this? He'll flirt with must-start.
Don't buy into Jordan Wilkins
Where did that come from? Wilkins didn't even play a snap in Week 1, then had a team-leading 82 yards Sunday as the Colts won. But keep an eye on playing time. Wilkins had only five carries, while Marlon Mack had 20. Mack's production was disappointing (51 yards on his 20 carries), but he's still the clear No. 1 in this offense, and Wilkins is best left on the wire.
Hard to trust any Titans pass-catcher for consistency
Last week, Delanie Walker had two scores, while A.J. Brown had massive yardage. This week, offensive lineman David Quessenberry (who?) had the only receiving score, and no one in the offense reached even 40 receiving yards. Walker, Brown, Corey Davis, and even Adam Humphries and Dion Lewis will have moments, but reliability is going to be in short supply.
John Brown's for real
Brown had a massive Bills debut last week, but it was his Week 2 that really secured his position. Brown's eight targets were twice as many as any other Bill, and he pulled in seven of them. His 72 yards lagged behind Cole Beasley's 83, but still, he's an easy weekly flex play in this offense with upside above that.
Is it Daniel Jones time?
Who knows what the Giants will do, but Eli Manning is looking done. Well, even more done than he's looked for a while now. A 250-yard total isn't embarrassing, but on 45 pass attempts, that works out to 5.6 yards per attempt and that's just untenable.
Donte Moncrief is droppable
After an abysmal, worst-grade-in-the-league Week 1, Moncrief had one target Sunday. It was a pass from backup quarterback Mason Rudolph that bounced off his hands and ended up as an interception. Maybe the Steelers lean on James Washington or Diontae Johnson, or maybe this just becomes the JuJu Smith-Schuster/Vance McDonald show. Either way, Moncrief has fallen out of favor in Pittsburgh in a hurry.
Carson concerns
Only three running backs (Ezekiel Elliott, James Conner, and Christian McCaffrey) had more fumbles on carries than Chris Carson did a year ago. He added another fumble in Week 1. And then he added another in Week 2, and could have been credited with another that ultimately went to Russell Wilson. We'll see if that played into Rashaad Penny getting more carries down the stretch in the game, but for all Carson has done well so far in his career, ball security could unravel all of it.
Quantity is enough for Arizona
The Cardinals might want to get out of the business of falling behind and having furious comebacks. But for fantasy, it has led to massive work for the team's receivers. Christian Kirk, Larry Fitzgerald, and even Damiere Byrd topped 10 PPR points Sunday, with Kirk and Fitzgerald surpassing 100 yards each. David Johnson being hampered by a wrist injury helped that, but this is a team that will allow receiver to do a lot of work.
Mark Andrews, top-six tight end
Andrews was incredible efficient as a rookie last year, but he's taken that to another level so far this year. He's topped 100 yards both weeks, scored both weeks, and has clearly put himself near the top tier among tight ends.
Tyreek Hill's replacement is two guys
Both Mecole Hardman and Demarcus Robinson saw six targets Sunday, with Hardman catching four for 61 yards and a score, and Robinson absolutely demolishing that line by catching all of his targets for 172 yards and two touchdowns. Travis Kelce had a big game too, while Sammy Watkins was relatively quiet after his huge Week 1. Still, as good as Patrick Mahomes is, you can't go wrong here.
Maybe we overreacted to the Raiders' Week 1
The Oakland offense wasn't a disaster Sunday. Josh Jacobs had 99 yards, Darren Waller had 64, and Tyrell Williams had another touchdown. But all three of those guys and QB Derek Carr were popular DFS plays in Week 2 in what many expected to be a shootout. Instead, there wasn't a huge game among them and the Raiders had only 10 points. Don't bail on any of these guys, but they need to drop a little.
We've got a full-blown backfield committee
A week after Phillip Lindsay had only one more carry than Royce Freeman but got much more work in the receiving game, Lindsay had two more carries than Freeman Sunday … but they split the receiving work as well. All told, Freeman had 16 touches Sunday for 102 yards, while Lindsay had 17 for 66. Lindsay does not look like he'll repeat his big rookie year. These guys are both low-upside flex options.
Bail on Mitchell Trubisky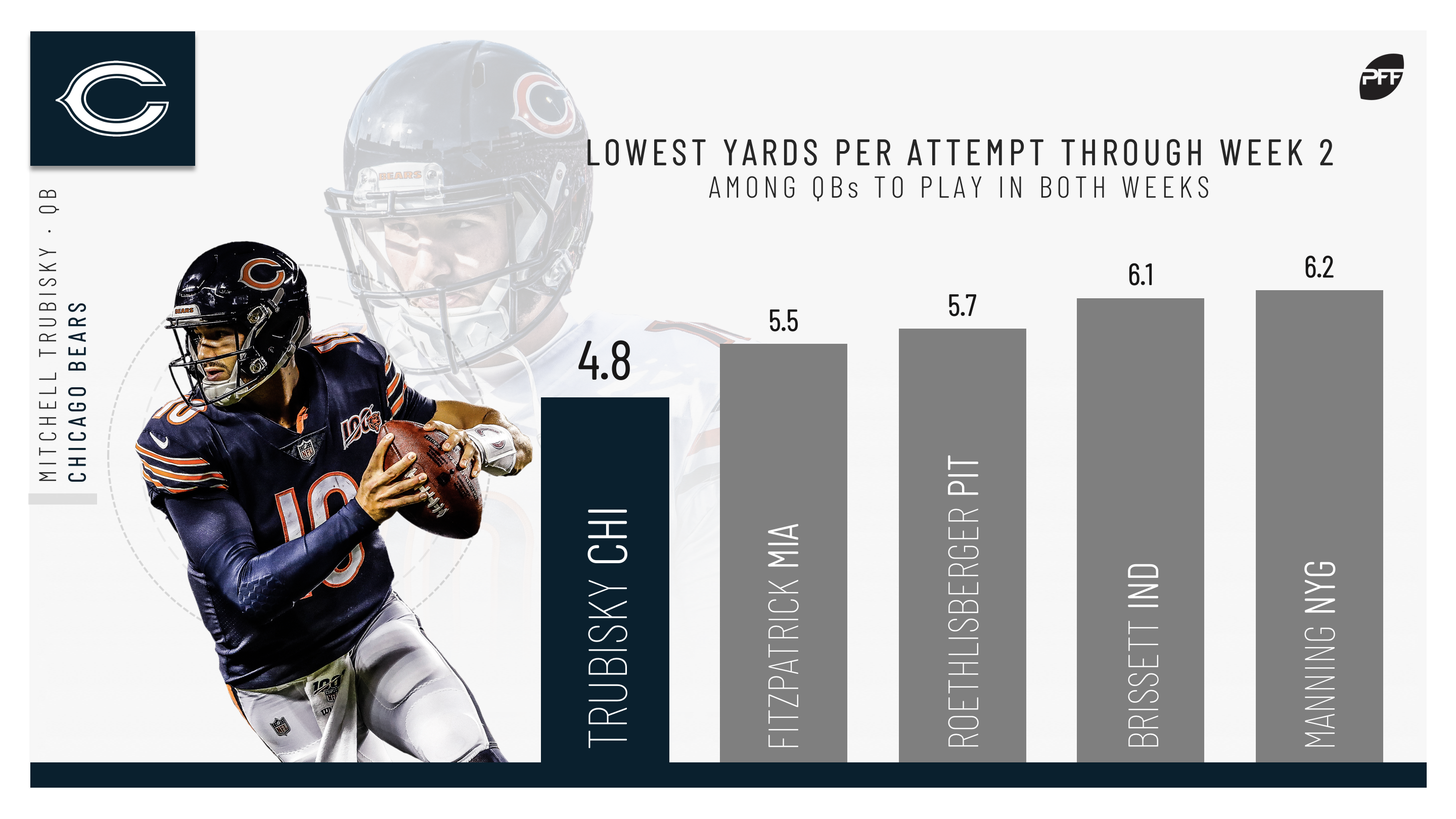 The aforementioned Freeman averaged 4.9 yards per carry Sunday. Trubisky averaged 4.4 yards per pass attempt. Through two weeks now, Trubisky has 348 passing yards, no touchdowns, and an interception, and he's only gotten 19 yards on the ground. This is a guy I would be fine dropping in all but the very deepest of leagues.
Rumors of Gurley's demise have been greatly exaggerated
Todd Gurley's usage in Week 1 was maddening. He got plenty of carries, but nothing in the red zone, while Malcolm Brown scored two touchdowns down deep. Sunday, though, Gurley scored a touchdown on a red-zone carry, and he was never pulled off the field in the red zone. Brown's successful usage in Week 1 was more about it just being his turn on those drives, and while that will continue and will limit Gurley's upside, the team isn't going to avoid using him down deep for any real reason. Gurley's still a borderline RB1.
Wait and see on Bridgewater
I'm just about tossing out every bit of Saints offensive stats from Sunday. The Rams are a good defense to start with, but having to switch things up midstream from one of the league's most tenured quarterbacks to a backup in Teddy Bridgewater who hasn't seen meaningful game action in almost four years now is too big an ask to draw conclusions from. Obviously, the Saints have lower upside without Drew Brees, but don't bail out on their options until we see what Bridgewater does with more first-team work and a gameplan built around him. (Assuming, of course, that Brees misses time, which sounds likely as of now.)
There isn't a Falcons running back you want right now
Ito Smith was the more productive back on the ground Sunday, gaining … 32 yards. That it came on only four carries is a sign of efficiency, but when you gain only 32 yards and lead the team, we aren't excited. Devonta Freeman managed 22 yards on 11 carries. Freeman had one big play on a shovel pass late in the game, but until things change in a big way, you are free to ignore the Atlanta backfield.
You're free to treat this game as an aberration
Nelson Agholor had 107 yards and a score (plus a mind-numbingly egregious drop late). Zach Ertz had 72 yards and a successful two-point conversion catch. They were the only Eagles to top 50 yards. But they were also just about the only Eagles to make it through the game healthy. Alshon Jeffery, DeSean Jackson, Dallas Goedert, and others got hurt in the game for Philadelphia, meaning they were basically playing a game of attrition. We'll see how many of those can get healthy for next week, and if it's most of all of them, then Sunday might not be indicative of anything.