Obviously, a lot happens each week in the NFL. Less obviously, some of it means a lot for fantasy football and some doesn't. Each week in this space, I'm running through the key lessons from each game.
This is what we learned in the Week 13 games.
The Bears have … an offense
Sure, the Lions have struggled on defense this year. But that hasn't really mattered as far as the Bears offense has been concerned, with little to rely on other than Allen Robinson. But on Thanksgiving, Mitchell Trubisky had 23.9 PPR points. David Montgomery had 16.7. Anthony Miller had 23.0. Robinson had 22.6. (And Jesper Horsted had 8.8, but you probably care less about that one.) The Bears will need to show it more than once before we can really buy in, but going forward, Robinson is still a must-start, and Montgomery and Miller are trending the right direction.
Don't go nuts for Blough
With Jeff Driskel landing on IR, the Detroit job is David Blough's going forward, at least until a possible Matthew Stafford return. And his final line Thursday (280 yards, 2 TD, 1 INT, 7.4 yards per attempt) was totally acceptable for a guy in his first appearance. But so much of his work came in the first quarter, when he threw for 132 yards and both of his scores. That means in Q2-4, Blough had 148 scoreless yards, an interception, and led the Lions to only 6 points. He was better than we had to have expected, but we aren't investing yet.
You don't need passing yards from Allen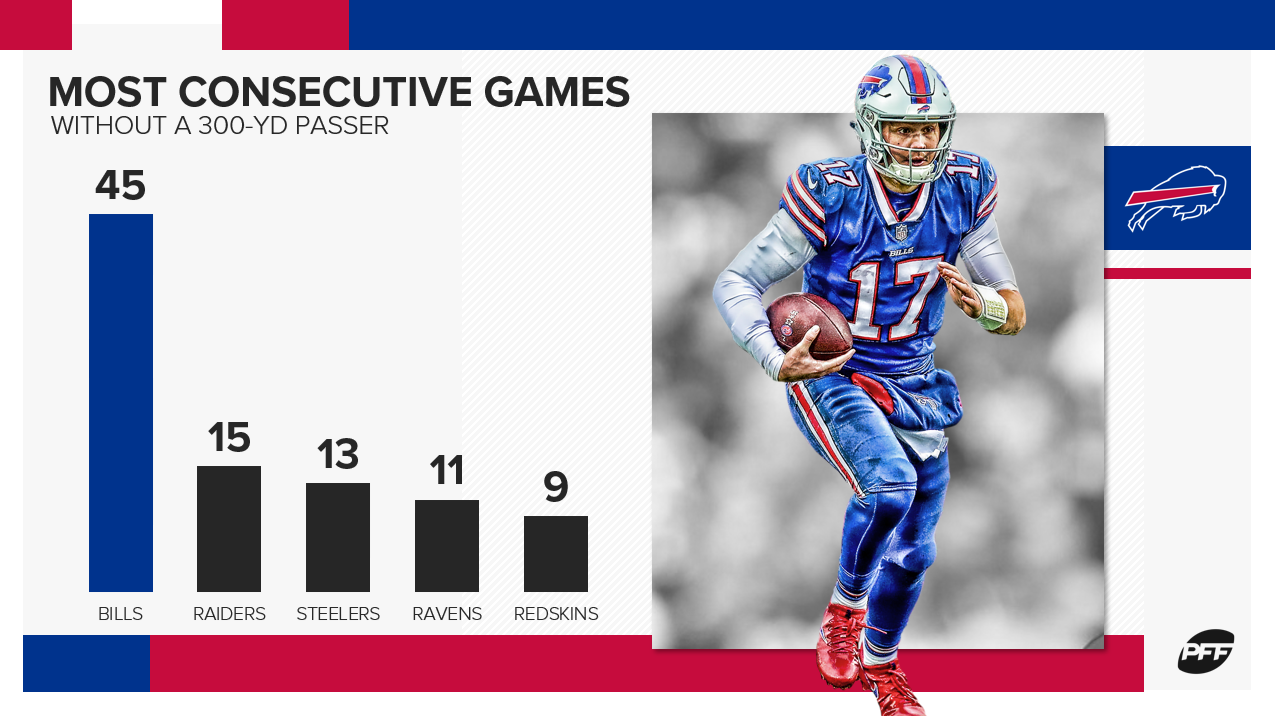 I've enjoyed making quasi-jokes about the fact that Josh Allen doesn't have a game over 270 passing yards so far in his career. In fact, the Bills don't have a 300-yard passing game since Week 16 of the 2016 season, a stretch of 45 games. But when it comes to Allen, it really hasn't mattered. He's not rushing for quite as much yardage as he did over the last month of last year, but he's still averaging more than 35 rushing yards a game and he has 8 rushing scores. You'll take a lower passing yardage ceiling in exchange for that.
Receiving work for Elliott!
Over the last four games before Thanksgiving, Ezekiel Elliott totaled 8 receptions on 10 targets for 84 yards. That kind of receiving work (or lack thereof) is more than enough to knock him out of the top-top tier of running backs, a disappointing path for one of the year's top fantasy picks. That's why it was nice Thursday to see Elliott set season-highs in targets (10), receptions (7), and receiving yards (66). The Cowboys trailed for most of that game, so we'll see if that continues in better gamescripts, but it's reassuring to see.
Back to the Kamara show
In Alvin Kamara's first game back from injury, he had 12 touches compared to 7 for Latavius Murray. And that sort of split is a good way to be frustrated with Kamara's results. But his percentage of the backfield work has increased each game since, with 58 touches for Kamara to 23 for Murray over the last three weeks. Kamara's just fine.
We might not see vintage Freeman again this year
Devonta Freeman had his third-most rushing yards of the season Thursday … at only 51. He has had two 88-yard games. He hasn't scored on the ground all year (he has 3 receiving scores). He's had under 13 PPR points six times in 10 games, over 20 only once. He's clearly the No. 1 option in the Falcons backfield, so he'll be a borderline RB2 going forward, but his RB1 days don't appear to be in the cards.
Name value over production value: Jimmy Graham
Graham has now had 20 yards or fewer (and no touchdowns) in four of his last five games. He has seven such games on the season, and he fell to a lowly 1 target Sunday. Davante Adams is back to being Davante Adams, and Allen Lazard had a big game Sunday, but Graham doesn't need to sniff fantasy rosters the rest of the way.
Smith, a rookie sixth-rounder, had played all of 13 snaps on the season before Week 10. But as Evan Engram and Rhett Ellison have been injured, Smith's workload has spiked. He's averaged 52.3 snaps over the Giants' last three, and has caught 11-of-13 targets for 87 yards and a score over his last two. Once Engram is back (whenever that might happen), Smith is likely off the board again, but if he has the gig, he's relevant in a "break glass in case of emergency" sense.
Ingram back to earth
I wrote to fade the starting running backs in this game in DFS, which worked out better than almost every other last bit of my Week 13 advice. Mark Ingram's production has been tremendously TD-dependent this season, while the 49ers have allowed only 3 RB touchdowns all year. That was a mix that made sense. With the Ravens facing the Bills next week, there's a decent chance Ingram bounces back.
Mostert, RB1?
Raheem Mostert set all sorts of career-highs Sunday, running the ball 19 times for 146 yards and a score. That's especially notable because presumptive starting RB Tevin Coleman had only 5 carries for 6 yards. We'll see if that means Mostert has leapfrogged Coleman in the depth chart (and Matt Breida should be back next week as well), but at a minimum Mostert absolutely has to be rostered.
Dalton makes this offense tenable
The Bengals are bad. We know this. But with Andy Dalton back at quarterback Sunday, the team put up 22 points, its most since Week 5 and second-most all season. Dalton threw for 243 yards, more than Ryan Finley did in any of his three starts. And no Bengal had a monster day, but Auden Tate, Tyler Boyd, C.J. Uzomah, and Joe Mixon all had 50-plus scrimmage yards. This offense is at least worth monitoring going forward.
The Jets had a miserable day Sunday. Le'Veon Bell had 67 scrimmage yards, second-most on the team. Ryan Griffin had 30, third-most. But Anderson had a big day, catching 7 balls for 101 yards. Anderson had only had one good game all season before Week 11, but over his last three weeks, he has 12 catches for 193 yards and 2 touchdowns. If Anderson got dropped in your league (certainly a possibility) and you're hurting at receiver, he's an interesting option.
Henry disappoints
Yes, I'm kidding. But Derrick Henry had scored twice in each of his last three games (with 28.2 PPR points per game) coming into Sunday, when he only scored once and only had 23.6 PPR points. What the heck, Derrick. (He's a solid RB1 the rest of the way, even in PPR, and is closer to the top of that list than the bottom.)
RIP backfield clarity
After Jonathan Williams got his first start last week and had a monster game, he was a popular start this week. Instead, Jordan Wilkins came back to life, with 11 carries compared to 8 for Williams (and 4 for Nyheim Hines, who got the touchdown). It seems Wilkins was either being punished or still wasn't healthy last week, and with the way the backfield shook out Sunday, we're better off just waiting for Marlon Mack's return.
Gesicki worth a long look
Obviously, DeVante Parker's 7/159/2 line Sunday is the headline from the Dolphins win. But then Parker's been on fire for much of the season. This was his best game, but he's already been solidly in our conversations. But Mike Gesicki now has back-to-back games with a touchdown after going scoreless in his first 26 career games. He's had at least 6 targets in six straight games, with games of 79 and 95 yards in that time and those 2 scores. He's not a TE1, but he's firmly in the upper level of the TE2s.
Alshon's healthy, Alshon's good
Alshon Jeffery played Sunday for the first time in a month and he went off, catching 9 of 16 targets for 137 yards and a score. His last three games before missing time, he totaled a disappointing 10 catches for 138 yards. But that was in a brutal three-game stretch against Dallas, Buffalo, and Chicago; before that he had averaged 17.4 PPR points over the season's first month, with 4 touchdowns in four games. Assuming Jeffery stays healthy, he's worthy of a starting spot every week.
Washington breakout confirmed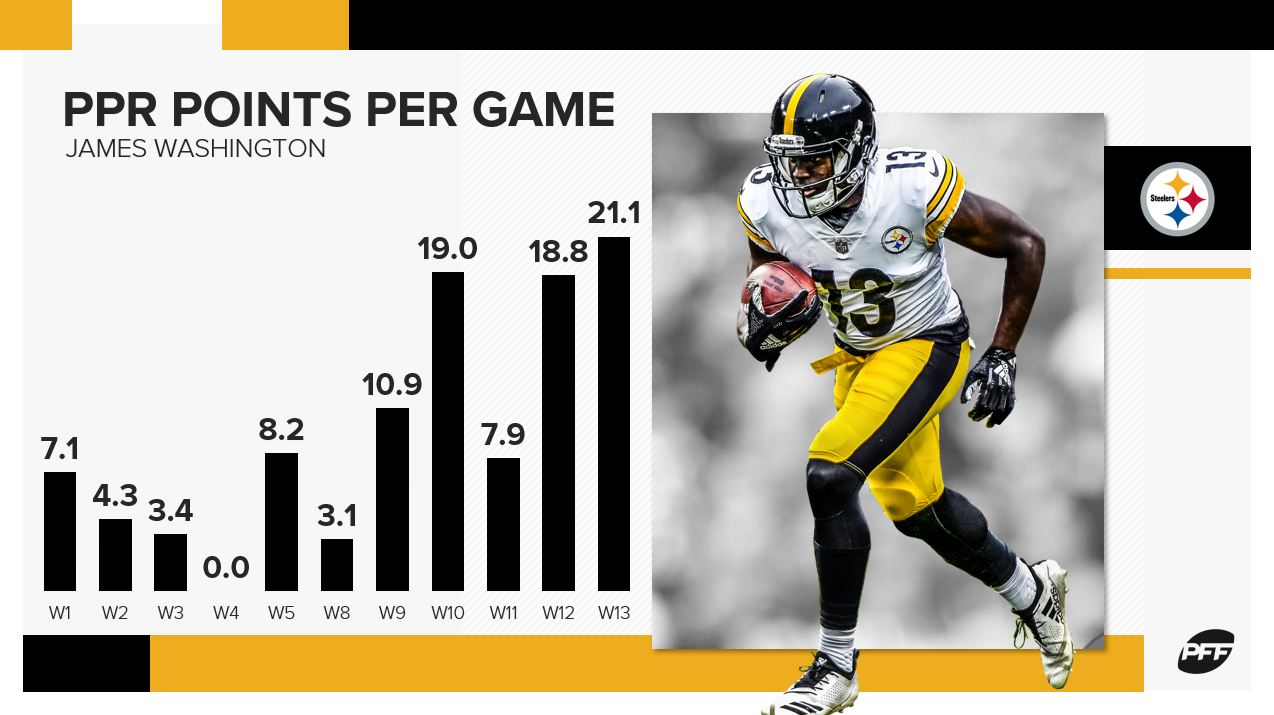 Coming out of training camp, James Washington was behind JuJu Smith-Schuster, Donte Moncrief (remember him?), and Diontae Johnson in the depth chart. Moncrief was terrible, JuJu's been hurt, and Washington has jumped Johnson, with 90-plus yards and a touchdown in three of his last four games. We'll see how things go for him when Smith-Schuster is back (whenever that is), but Washington is a genuinely fantasy-relevant name now.
Jarvis > Odell?
The Browns have played six times since their Week 7 bye. Jarvis Landry has outscored Odell Beckham Jr. in PPR over that time … six times. The last time Beckham had more points than Landry in a game was that Week 6 game, and he's only done it four times all season. It's been closer by targets (Beckham has had more targets five times, Landry five, and they've tied twice), but based on production, it might be time to consider ranking Landry higher than his high-profile teammate.
Two running backs with fantasy relevance?
Neither Derrius Guice nor Adrian Peterson (nor Chris Thompson, for that matter) dominated the snap share Sunday, with all three playing at least 32% of the snaps and no one reaching 38%. But with Dwayne Haskins yet to establish himself as a passing threat, both Guice and Peterson had big games on the ground, with Guice putting up a 10/129/2 line and Peterson going for 13/99/1. Against the Packers next week, you wouldn't be crazy to consider both low-end starters.
McCaffrey's bad game tells you how good he is
We have to be disappointed with Christian McCaffrey's results Sunday. He had only 17.2 PPR points, his worst since a 7.3-point Week 2 and his second-lowest of the season. That said, the guy still put up 17.2 PPR points. The number of players who can be disappointed with a 17.2 line (with 44 rushing yards, 58 receiving yards, and 7 receptions) is literally just Christian McCaffrey. Sometimes it takes the bad to show you how good you have it.
Okay, I literally give up on trying to guess who will be productive out of the Tampa Bay offense in a given week. Perriman led the team in receiving yards with 87 (Mike Evans had 53, Chris Godwin had 50). But hey, they led the whole game, maybe they were just taking it easy on their monster receivers. Barber's game — 17 carries for 44 yards and 2 touchdowns — was more frustrating, because almost everyone thought it was Ronald Jones time, only for Bruce Arians to bench Jones for the hot hand of Barber. Evans and Godwin are still every-week starters, and there is nothing else you can really say about this offense with any confidence.
Welcome back to the Min-show
Nick Foles couldn't have looked much worse Sunday, completing only half of his 14 pass attempts for 93 yards, throwing an interception, and losing two fumbles before being benched at halftime. And considering that came in what should have been an appealing matchup against Tampa Bay, it's even more frustrating. The Jaguars went back to Gardner Minshew in the second half, and while he wasn't electric — he averaged only 5.4 yards per attempt, even lower than Foles — he did throw a touchdown pass and at least made the offense functional. It appears we've had yet another switch under center for the Jaguars.
Back to life for Goff
Jared Goff had 18.3 fantasy points in November. That's incredible. He had 0 touchdown passes compared to 5 interceptions. But then Sunday, he had 25.0 points (more than all last month, to be clear) and a monster 424 yards. Sure, the entirety of the Cardinals team might as well have taken Sunday off, and things will get harder, but after an awful stretch for Goff, it was nice to see him get back to the good. Against Seattle next week, he'll be in the QB2 conversation.
Still tight ends against Arizona
Gerald Everett missed Sunday's game, and it didn't matter at all, as Tyler Higbee hauled in 7 passes for 107 yards and a score. As soon as Everett was declared out, Higbee was a must-add everywhere. But this is more about the Cardinals. Over their last four games to end the season, they face the Steelers, Browns, Seahawks, and Rams, which means we'll be looking hard at Vance McDonald, David Njoku, Jacob Hollister, and whichever Rams tight end has the job in Week 17. Enjoy.
I was hard on the anti-Sutton train this week, expecting him to struggle in a Casey Hayward shadow and see Derwin James as well. Instead, Sutton had 74 yards and 2 touchdowns, his third game with at least 15 PPR points in his last four despite three different starting quarterbacks in that time. He's an every-week starter, even if I am the Denver quarterback some week.
Allen has exorcised his demons
Keenan Allen was an absolute monster in Weeks 1-3. And then things went really cold, going scoreless for his next seven games and only topped 53 yards once in the stretch from Week 4 to Week 9. But the last three games, he's had 22 catches on 29 targets for 207 yards and 2 touchdowns. It's not the heights we had early in the season, but this level of production is enough to have Allen as a low-end WR1 or high-end WR2.
Obviously, that's "concern" about Mahomes relative to his ridiculous standards. But Mahomes has now had only 1 touchdown pass in back-to-back games, making it five times in 10 games this year he's thrown for 1 or 0 touchdowns. He hasn't had 200 passing yards in either of those last two games either. Clearly, the Chiefs have won both of those games and are doing fine overall, so this isn't a real-world concern, but fantasy managers had much higher hopes this year.
There are only two Raiders we care about
Josh Jacobs is an every-week starter. So is Darren Waller, though he'd been on a mini-slump before his 100-yard Sunday. But that's it. Tyrell Williams has had 36.4 yards per game over his last five, with no touchdowns. Derek Carr has 3 touchdown passes against 4 interceptions in his last four games, with 214.8 passing yards per game in that time. Play Jacobs. Play Waller. Release everyone else.
Texans managing Hopkins' workload?
It's not exactly cause for concern, but it's worth noting that DeAndre Hopkins had played at least 93.3% of the Texans' offensive snaps in every game before Sunday night, but played only 82.7% of the team's 52 snaps Sunday. His workload was still fine — 6 targets plus a touchdown pass of all things — but if Hopkins is going to be playing 10-15% fewer snaps, that's worth knowing.
Edelman and White and out for the night
Julian Edelman's been a monster for the Patriots all year. James White hasn't (I actually listed him as droppable last week), but he certainly was Sunday night. Those two accounted for 276 yards and all three of the New England touchdowns, while the rest of the team's skill players totaled 182 scoreless yards. This is a team with a lot of names, but not a lot of producers, and we have to adjust our expectations accordingly.