A key decision to make in fantasy football each week is who to add on the waiver wire. Naturally, that means an equally key decision is who to drop. Roster space is a finite resource, so when you want to add that new key player, someone's gotta go.
Every other week in this space, I'm going to break down players worth dropping. Sometimes it's a player who should be dropped, while others are just players who can be dropped in a pinch. I'll run through the list in order of ownership percentage on Yahoo as of Monday morning.
(90% rostered)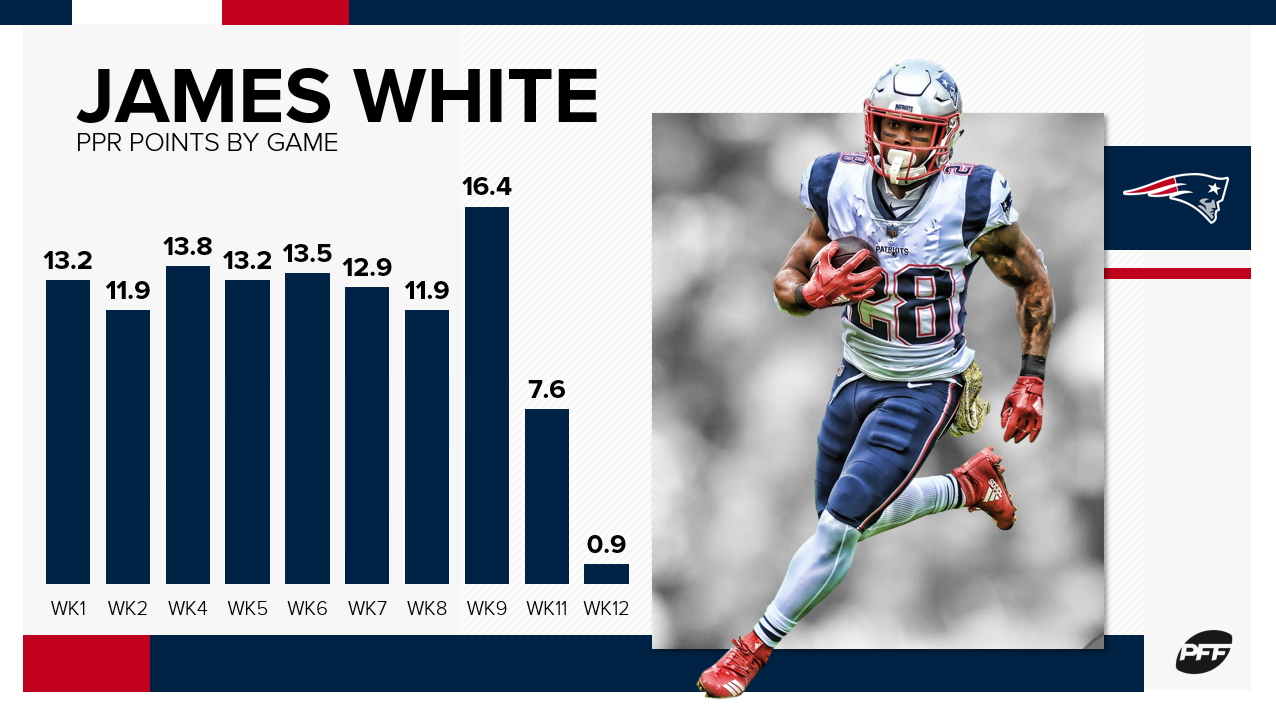 Even with the Patriots down to spare parts at receiver and tight end behind Julian Edelman Sunday, White didn't have a big role in the offense, catching only one pass (and even that one only went for negative-6 yards). He only has one touchdown since Week 2, hasn't had more than 4 catches since Week 7, and only has more than 60 receiving yards once all year. He's only topped 14 PPR points once, and hasn't reached 17 at all. Obviously, White isn't a must-drop, but it's hard to imagine thrusting him into a fantasy starting lineup heading into the playoffs, and if you aren't starting him, there's not a huge argument for rostering him.
(84% rostered)
James Conner and JuJu Smith-Schuster were out Sunday. Mason Rudolph has been cratering, to the point that he got benched in the middle of the game. And despite all that, Samuels only had 5 touches and played only 22 snaps against the Bengals. Benny Snell was well ahead of Samuels in the pecking order. And with Conner and/or Smith-Schuster returning soon, what upside does Samuels have left? Feel free to move on.
(75% rostered)
Like White above, Samuel is nowhere near a must-drop. But he also hasn't really helped your fantasy team in a while now; even in the games he's scored touchdowns lately, he's maxed out at 16.4 PPR points since Week 6. D.J. Moore's target load has spiked recently, and Samuel's has dipped accordingly. He still has upside, so feel free to stash him, but in a bind, Samuel is not a must-hold.
(71% rostered)
Goff's November stats: 59-96 passing (61.5%), 628 yards, 0:5 TD:INT ratio. Yes, he went the whole month (three games and a bye) without a touchdown pass. Now, for the year, Goff has an 11:12 ratio and no games with more than 2 touchdowns. He has as many no-touchdown games (four) and multi-interception games as two-score games. Yes, the Rams schedule gets slightly better over the next couple weeks, but then the fantasy semifinals and finals are against Dallas and San Francisco. You can move on.
(67% rostered)
Freeman's appeal was half-handcuff, half-"well, he can help in a pinch anyway." Recently, though, that second half has disappeared. Since Brandon Allen took over as the starter, Freeman has 19 touches for 88 scoreless yards across three games. He had 10-plus carries in seven of eight games with Joe Flacco starting, but hasn't had more than 8 carries with Allen there. If you want Freeman to handcuff Phillip Lindsay, by all means keep him stashed. But he has basically no independent value now.
(67% rostered)
He's hitting IR this week. That's the whole story. Moving on.
(65% rostered)
Number of games with 300-plus passing yards this year: Zero. Number of games with more than 2 passing touchdowns this year: One. Carr has been aggressively "fine" this year, but doesn't offer nearly enough upside to be rostered in single-QB leagues.
(59% rostered)
No games with more than 40 yards. One touchdown since Week 2. Even with a bunch of injuries in the Pittsburgh offense Sunday, he had all of one catch. McDonald is much more name value than fantasy value right now.
(43% rostered)
In the first four games with Bill Callahan as head coach, Peterson averaged 18.8 carries and 114.5 scrimmage yards a game. Then Derrius Guice returned, and over the last two weeks, those averages have dropped to 9.5 and 39.5, respectively. With Washington looking to the future and needing to see if Guice can be an RB1, there's little reason to lean on Peterson, and that means fantasy managers can move on as well.
(41% rostered)
Even if Devonta Freeman is out in Week 13 (we don't know either way yet), how can you possibly run Hill out in your fantasy lineup? In two weeks with Freeman out, he has 24 carries for 44 yards, and we saw Qadree Ollison set a career-high in carries last week. Hill doesn't offer any real fantasy upside.
(37% rostered)
Since his big Week 1, Hockenson hasn't had more than 4 targets or 56 yards in a game (he's done those once each). His best game since Week 1 featured 11.7 PPR points and only 27 yards. Long-term value? High. 2019 value? Low.
(Howard 34% rostered; Brate 15% rostered)
After Howard got benched and Brate had a huge Week 11, there was reason to believe Brate could be valuable going forward as well. Instead, Howard played 49 snaps compared to Brate's 20 Sunday, and they combined for a single 10-yard catch. It looks like Howard will have the No. 1 role going forward, but it's hard to imagine putting either one in a fantasy lineup.
(Hines 30% rostered; Wilkins 6% rostered)
With Marlon Mack out Thursday, Jonathan Williams soaked up a huge workload, with 29 touches that would have been the second-highest total for Mack all year. Wilkins didn't see any touches, while Hines had his normal backup load (nine carries, two receptions). Even if Wilkins gets more work as he gets healthier, it's clear he's not going to help in fantasy. As for Hines, in a bind in PPR leagues, maybe he's got some value, but in general he's just not someone you can possibly start in fantasy unless you're absolutely desperate.
(18% rostered)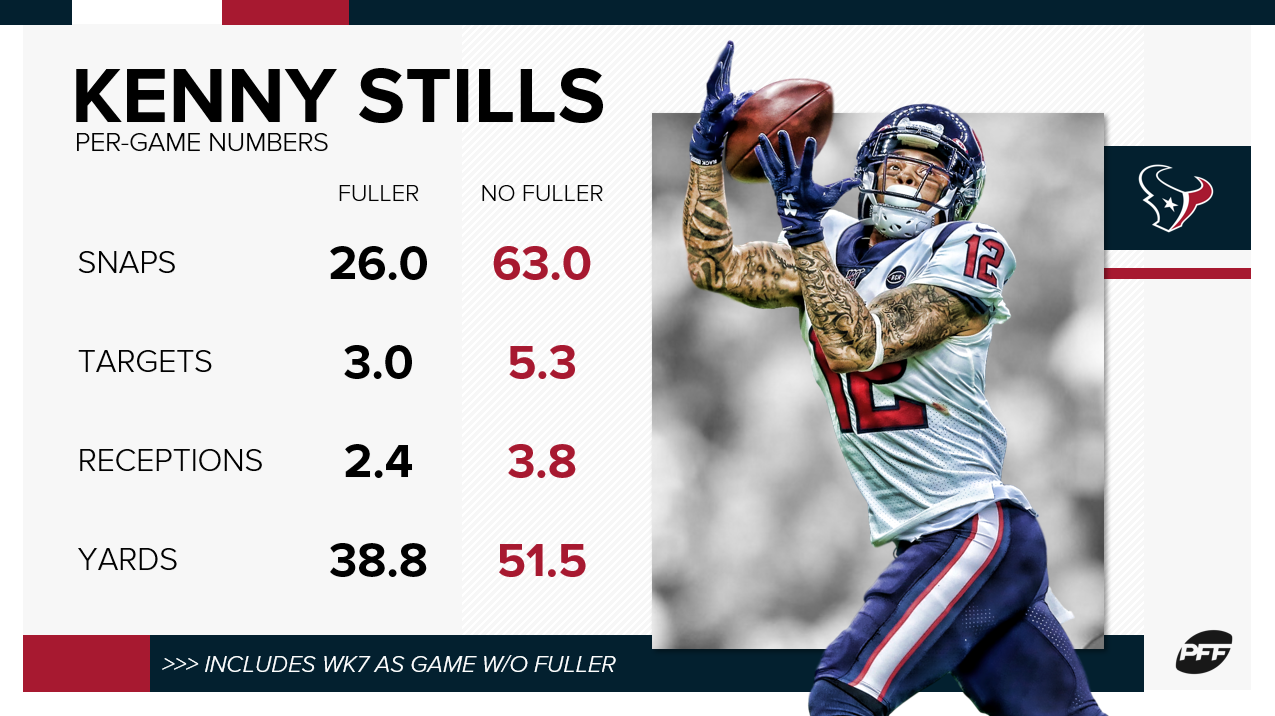 With Will Fuller back in the lineup for Week 12, Stills saw his playing time largely evaporate, getting only a single target and playing 36 snaps, his low mark since Week 4. For the season now, Stills has averaged 68.0 snaps and 5.3 targets in games Fuller has missed (counting Week 7 when Fuller was hurt after only 3 snaps), but 26.0 snaps and 3.0 targets when he has played. Fuller is always an injury risk, but absent that, Stills is not a fantasy helper.
(5% rostered)
We thought Lazard might be relevant going forward after his 4-catch, 65-yard, 1-score game in Week 6, and he's been a starter, but his fantasy value has been negligible. He hasn't had even 45 yards or scored a touchdown since that game, and he has totaled 4 receptions for 34 yards (plus a 21-yard run) the last two games.