Is Russell Wilson the best cook in the NFL? Well, sure, Wilson can compete with the Gordon Ramseys of the world, but in Week 8 nobody cooked better than Minnesota Vikings running back Dalvin Cook. 
He was the main course for many fantasy managers — for better or worst — and surely contributed to countless winning DFS lineups. Time to dig into the leftovers to find actionable fantasy advice from Week 8.
Keep in mind that scheduled bye weeks continue in Week 9 with the Cincinnati Bengals, Cleveland Browns, Los Angeles Rams and Philadelphia Eagles all taking a rest. 
Without further ado, let's dive into Sunday's action with an eye toward improving next week. I'll hit on snap counts, routes run, goal-line usage, targets and target shares to make sure we're ready to roll as waiver deadlines approach on Wednesday and Week 9 sit/start decisions loom. 
Let the Week 8 digestion process begin.
Dalvin Cook was questionable with a groin injury entering this game, but that seems to have had zero influence on his workload and production. He totaled 32 touches, over 200 yards from scrimmage and four touchdowns (three rushing and one receiving).
Unfortunately, Cook's absolute explosion came at the expense of essentially every other fantasy-viable option for the Vikings. Including Kirk Cousins, no Minnesota player scored more than 11 fantasy points.
Cook isn't going to score 40-plus fantasy points every single week, so consider this a nice buying window for Adam Thielen and Justin Jefferson. The Vikings take on the Detroit Lions in Week 9 — they were just shredded by Philip Rivers for three touchdowns and 262 passing yards.
Aaron Rodgers still got it done from a fantasy points perspective (three touchdowns, 291 passing yards), but the defense couldn't hold up and the Packers lost at home to Minnesota for the first time since 2015.
Davante Adams continues to be unstoppable (three receiving touchdowns on 11 targets) and Jamaal Williams is still posting RB1 numbers in the absence of Aaron Jones. Rookie running back A.J. Dillon still is not getting involved at all, with just seven snaps played in Week 8.
Packers tight end Robert Tonyan saw a season-high in targets (seven), while Marques Valdes-Scantling had just on target. At this point, it's safe to say that the MVS experiment is over. Tonyan should be viewed as the No. 3 pass-catcher behind Adams and whoever is at starting RB, pending the addition of another WR to this offense. 
"Patrick Mahomes is priced way up in DFS ($8,100), so he's hard to fit in cash game builds, but he is probably a great player in tournaments — this is a spot where he could easily just throw five touchdown passes."
This excerpt is from my Week 8 rankings preview piece, and Mahomes did just that — five touchdown passes and 416 passing yards in a rout win over the Jets.
The usual suspects for Mahomes did most of the damage on the receiving end of his touchdown throws: Tyreek Hill (25.8 fantasy points) and Travis Kelce (24.9 fantasy points).
But some ancillary pieces got involved as well — most notably Mecole Hardman, who saw nine targets and ranked third in routes run on the Chiefs' offense. Hardman is still going to be difficult to trust going forward with Sammy Watkins' return looming.
The two-man backfield between Clyde Edwards-Helaire and Le'Veon Bell continued this week, and both busted in fantasy. They split touches equally (nine each), but CEH led the way in snap share (50% vs. 25%). 
The Chiefs only ran two plays inside the 10-yard line, so neither got the chance to reach paydirt. So much for Bell's sweet revenge game against Adam Gase. 
It doesn't matter who plays the slot for the Jets, because they are going to get peppered with targets no matter what. Braxton Berrios filled in for Jamison Crowder and saw 11 targets, which he turned into an uninspiring eight catches for 34 yards. 
La'Mical Perine edged Frank Gore in snaps (27 vs. 22) but they tied in touches (10). Perine just isn't being used enough in the passing game to even attain RB3 status — 50/50 work in the worst offense in the league simply won't get it done. 
Robert Woods had his best game to date in Week 8 against the Miami Dolphins because it was the perfect storm for his fantasy upside. The Rams were down early, which forced Jared Goff to attempt a whopping 61 passing attempts — almost double his season average (32 per game).
Even so, Woods still saw fewer targets than Cooper Kupp (21), Gerald Everett (nine) and Josh Reynolds (nine). 
This would make Woods a prime sell-high candidate, but he's a hold for now as we wait to hear more about Kupp's wrist injury.
Darrell Henderson was also forced out of action in the first half. In the second half, Malcolm Brown led the snap share (68%), but Cam Akers led the way in carries (six to five). Should Henderson miss any time, Brown would likely maintain his pass-catching role and see an expanded role on early downs. 
The Rams are off in Week 9, so they do have additional time to get players healthy before they play Seattle in Week 10. 
Gerald Everett looks to have jumped Tyler Higbee as the primary pass-catching tight end. Higbee only had four targets and ran 23 routes, both were fewer than Everett.
There wasn't a ton of offensive fantasy points for the Miami Dolphins, as their DST scored 24 fantasy points. Still, it's important to take away from this game that Myles Gaskin led the team in targets and DeVante Parker only saw two targets. 
This lines up with what I hypothesized in the Fantasy Football Mailbag before Week 8, where I projected Gaskin's stock up and Parker's stock down with Tua Tagovailoa under center. Preston Williams actually led the team in routes run. 
It was another week of Chase Claypool, JuJu Smith-Schuster and Diontae Johnson splitting looks from Ben Roethlisberger. 
Claypool ended the day with the most targets (nine) and the touchdown, but Smith-Schuster finished with more catches (seven). Johnson was also reportedly dealing with a hamstring injury, which might have been a contributing factor to him having just one catch for six yards. It's still encouraging that he didn't miss too much time from offense — he still led the team in routes run (33).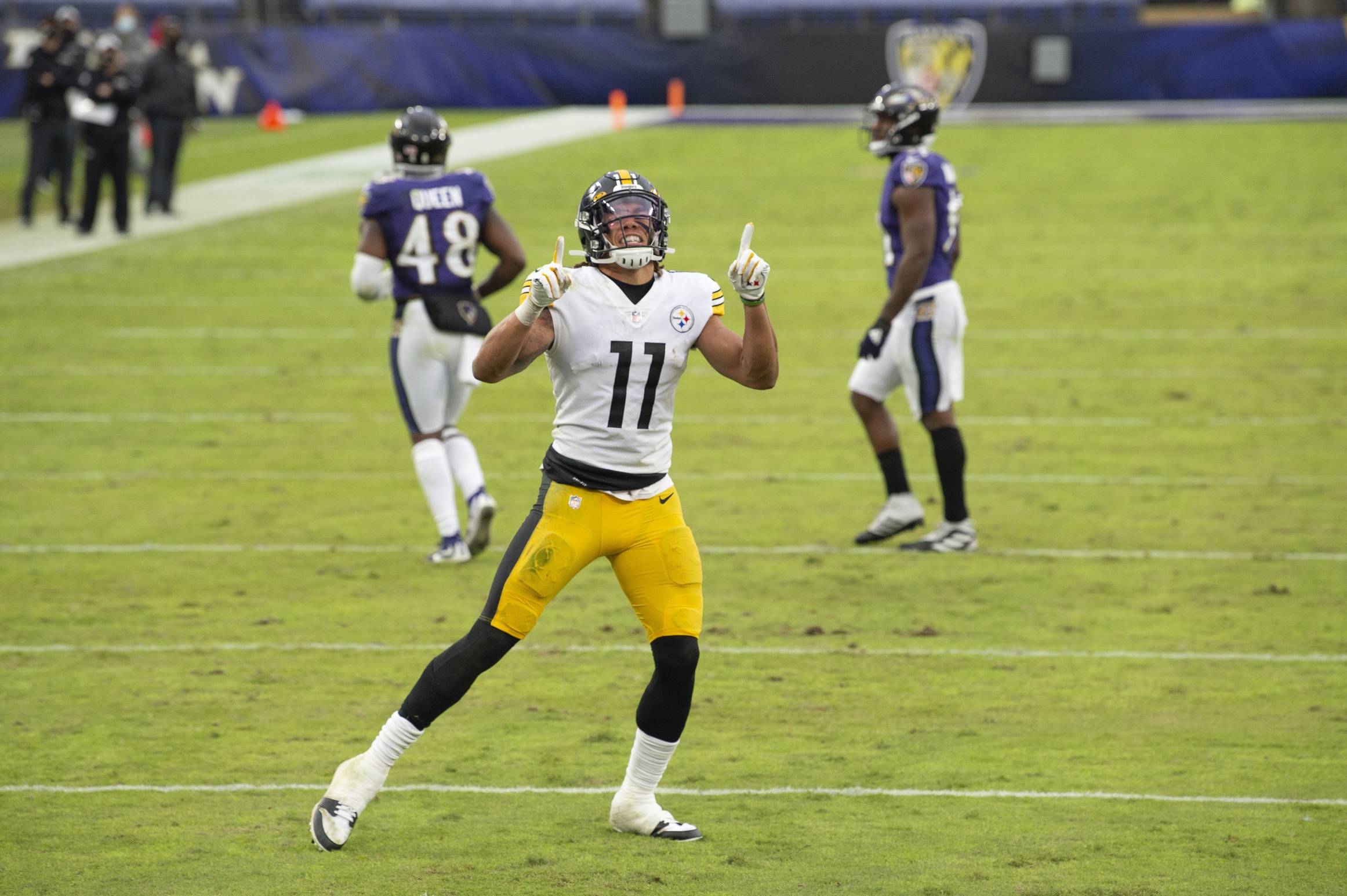 I'd view Johnson as an easy-buy low candidate, especially considering they get the Dallas Cowboys in Week 9. 
The Baltimore Ravens' backfield turned into a two-man show in Week 8 with Mark Ingram sidelined with an ankle injury. Gus Edwards (16 carries for 87 yards) and J.K. Dobbins (15 carries for 113 yards) were both extremely effective against a stout Steelers run defense.
Dobbins ended up playing a higher percentage of snaps (65%) compared to Edwards (33%), but Edwards left the game after a knee injury in the second quarter. 
Lamar Jackson was disappointing in the fantasy points column (14.8 fantasy points) but it's important to call out that his 16 rushing attempts tied a season-high. His four turnovers are what suppressed his fantasy points, and Jackson ran unlucky inside the 10-yard line: six carries and zero touchdowns. Through the first seven weeks, Jackson only had two carries inside the 10-yard line. 
I would expect a bounce-back performance from Jackson next week against the Indianapolis Colts whose defense was exposed a bit versus an above-average quarterback in Week 8. 
Matthew Stafford that threw for 336 passing yards and three touchdowns  despite not having the services of Kenny Golladay, who left early with an injury. In his absence, tight end T.J. Hockenson led the team with 10 targets, followed by Marvin Jones Jr. (seven) and Marvin Hall (seven).
Hall surpassed 100 yards receiving and should be a low-end WR target off the waiver wire ahead of Week 9, as Golladay is expected to miss time. 
De'Andre Swift played 62% of the team's snaps in Week 8, well ahead of Adrian Peterson (20%) and Kerryon Jonson (19%). Unfortunately, it only resulted in nine touches and 5.3 fantasy points. This was a tough matchup for Swift, so don't panic because the snap usage is extremely encouraging.
The same cannot be said for the Colts' rookie running back Jonathan Taylor, who was out-carried by Jordan Wilkins 20 to 11. Ten of Taylor's carries came in the first half. After averaging just 2.2 yards per carry, the coaches put Wilkins in to shoulder the running back workload.
Taylor played just four snaps in the second half. 
On the season, Jordan Wilkins owns PFF's eighth-highest rushing grade (76.0) and leads the NFL in missed tackles forced per attempt (0.31). 
This game was ugly from the get-go because of the weather conditions. Neither Derek Carr nor Baker Mayfield threw for more than 120 yards, so it's hard to draw immediate conclusions from a game that stands out as an outlier.
Josh Jacobs carried the ball 31 times for 128 rushing yards — both season-highs — which bodes well for his fantasy value as the team continues to feed him touches. 
Henry Ruggs III led the team in routes run (28) and was second in targets (four). He had a touchdown reception called back because he was unable to get both feet in bounds. 
Jarvis Landry emerged as Mayfield's go-to target post-Odell Beckham Jr. with 11 targets, good for a 44% target share. Kareem Hunt posted his second-worst fantasy performance of the season despite a plus-matchup.
This begs the question of whether Hunt is better working in tandem with Nick Chubb — over the past four weeks as "the guy," his fantasy points per game has fallen from 17.4 to 13.6. The Browns' offensive line has also deeply missed starting guard Wyatt Teller, PFF's highest-graded run-blocking guard this season (93.9). 
Both Teller and Chubb should be returning after the team's bye week. 
No offensive line? No problem for rookie quarterback Joe Burrow, who got the W for the Bengals on the back of 249 passing yards and two passing touchdowns. Tee Higgins led the team in targets (ten), followed by Tyler Boyd (seven) and Auden Tate (seven), who put to rest an A.J. Green reemergence. 
Whenever Tate has seen an uptick in snaps this season, he has almost always eaten into Green's production. 
Corey Davis led the way for the Titans with 10 targets, and it's hard to not see him continuing to produce with Adam Humphries potentially missing games with a concussion. He's now had back-to-back games with 10 targets.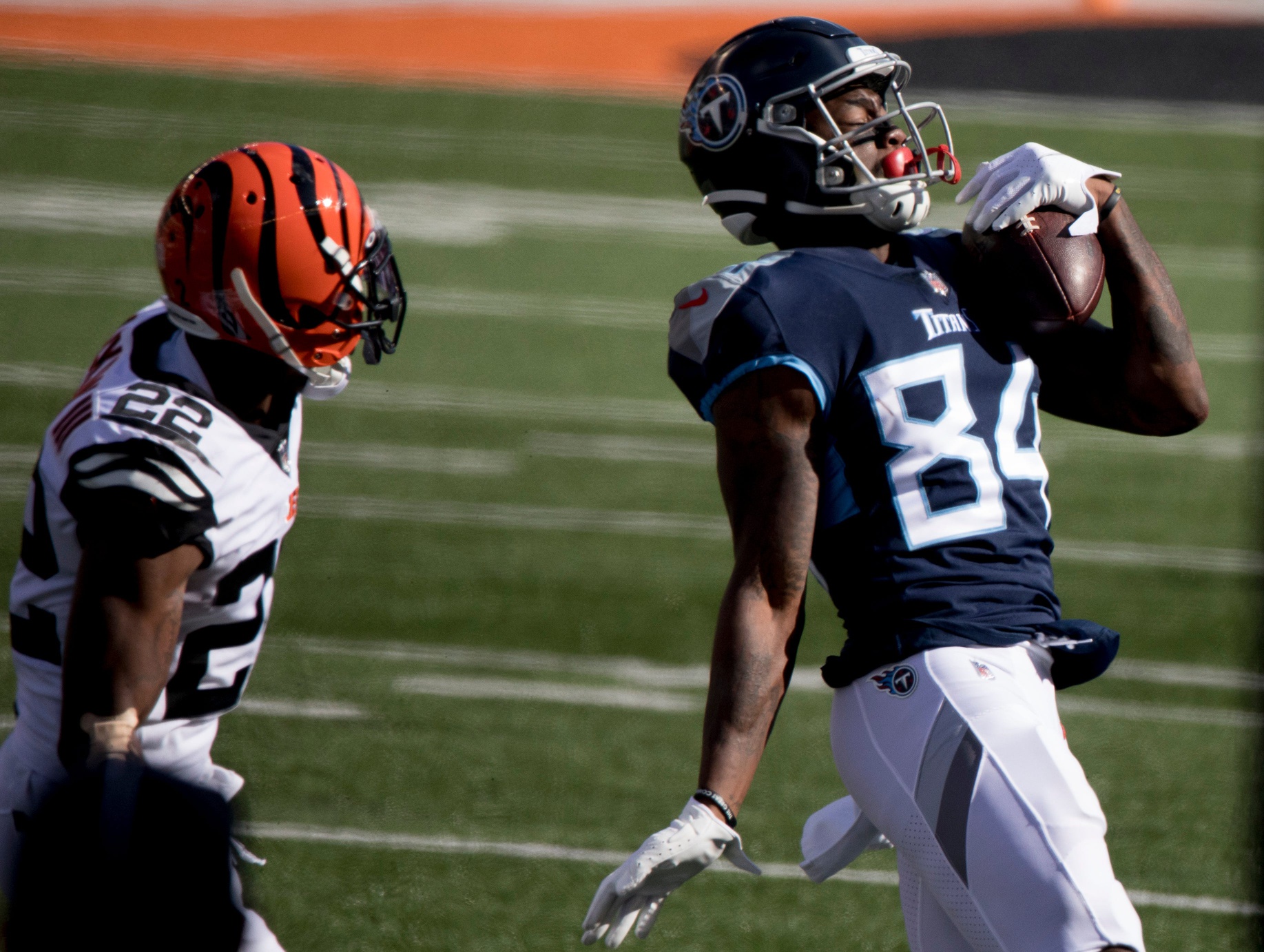 It should have been a bounce-back performance from Jonnu Smith in an extremely favorable matchup, but the targets have not been flowing the way of the athletic TE. Backup tight end Anthony Firsker has seen one more target (six vs. five) and run just four fewer routes than Smith over the past two weeks.
The good news for Smith is that he gets another solid matchup against the Chicago Bears in Week 9 — and he scored 21 fantasy points the last time he played a game without Humphries.
The Patriots showed more semblance of life on offense in Week 8 between Cam Newton, Damien Harris and Jakobi Meyers. Newton rushed for 54 yards and a score while Meyers hauled in six of his 10 targets for 58 receiving yards. It's now been two back-to-back weeks with Meyers operating as the team's No. 1 wide receiver, and that has value considering the Pats play the New York Jets in Week 9. 
Harris rushed for over 100 yards for the second time this season and is emerging as the early-down running back. His snaps are still below Rex Burkhead and Jame White, but his 16 touches were more than Burkhead/White combined (11). 
Both Zack Moss and Devin Singletary were effective rushing on the ground, but Moss was the superior fantasy producer because of his two rushing touchdowns. The duo is going to continue to split work 50/50, but Moss is going to have a higher ceiling because of the team's willingness to utilize him and Josh Allen at the goal-line.
Singletary's fantasy upside is always going to be capped, so savvy fantasy owners would be wise to ship him off after an 86 rushing yard performance. 
The Bills' quarterback posted his worst fantasy game of the season, and it came against a Patriots defense missing Stephon Gilmore. Allen has fallen far from his hot start to the season but gets the defense that cures all offenses in Week 9: the Seattle Seahawks. 
I liked Jerry Jeudy in this game, and although he didn't light the world ablaze with fantasy points, he commanded a team-leading 10 targets. He should be in a great spot next week to take full advantage of a vulnerable Atlanta Falcons secondary. 
Quarterback Drew Lock should also find similar success against Atlanta after he had his best game to date (19.8 fantasy points) — he has improved every single week since returning from his injury. 
Keenan Allen continues to be a lock-button WR1 with Justin Herbert under center. His latest 11-target game means he still has yet to play a full game with Herbet in which he hasn't seen double-digit targets.
Those locked-in looks didn't prevent Mike Williams from getting in on the fun; the Chargers' big-bodied wideout hauled in five of eight targets for 99 yards and one touchdown. Williams is always going to a boom-or-bust WR3, but he has to be started in matchups that call for it.
Week 9 versus the Las Vegas Raiders would be that quintessential matchup. 
The Chargers running back room was much hard to decode this week because it evolved from a two-man system to a three-man backfield with Troymaine Pope working ahead of Joshua Kelley in conjunction with Justin Jackson. 
Jackson led the way in snaps (47%), carries (17) and routes run (16), but Pope edged out Jackson in targets (seven versus five). 
Safe to say, Kelley can be dropped across most formats with him falling to third in the pecking order. 
It was an utter disaster for the 49ers' offense with Jimmy Garoppolo under center. He threw for just 84 yards on 16 attempts. After Jimmy G left with an injury, Nick Mullens threw for 238 passing yards and two touchdowns.
Mullens' late-game heroics salvaged Brandon Aiyuk's day — the rookie WR finished with 91 receiving yards on 11 targets. No. 2 wide receiver Kendrick Bourne was also heavily involved (10 targets, eight catches).
Jerick McKinnon was bailed out by a rushing touchdown toward the end of the game, but he can't be viewed as more than a desperation RB3 going forward unless we get information revealing they are going to take the bubble wrap off him.
He only saw one carry in the first half and it wasn't targeted him in the passing game until the team was trailing considerably.
Tevin Coleman got banged up in this game, which leaves JaMycal Hasty and McKinnon as the two remaining primary backs. Expect McKinnon to see limited touches on early downs and to continue to be used in the passing game as the team looks to limit the abuse he takes on his body.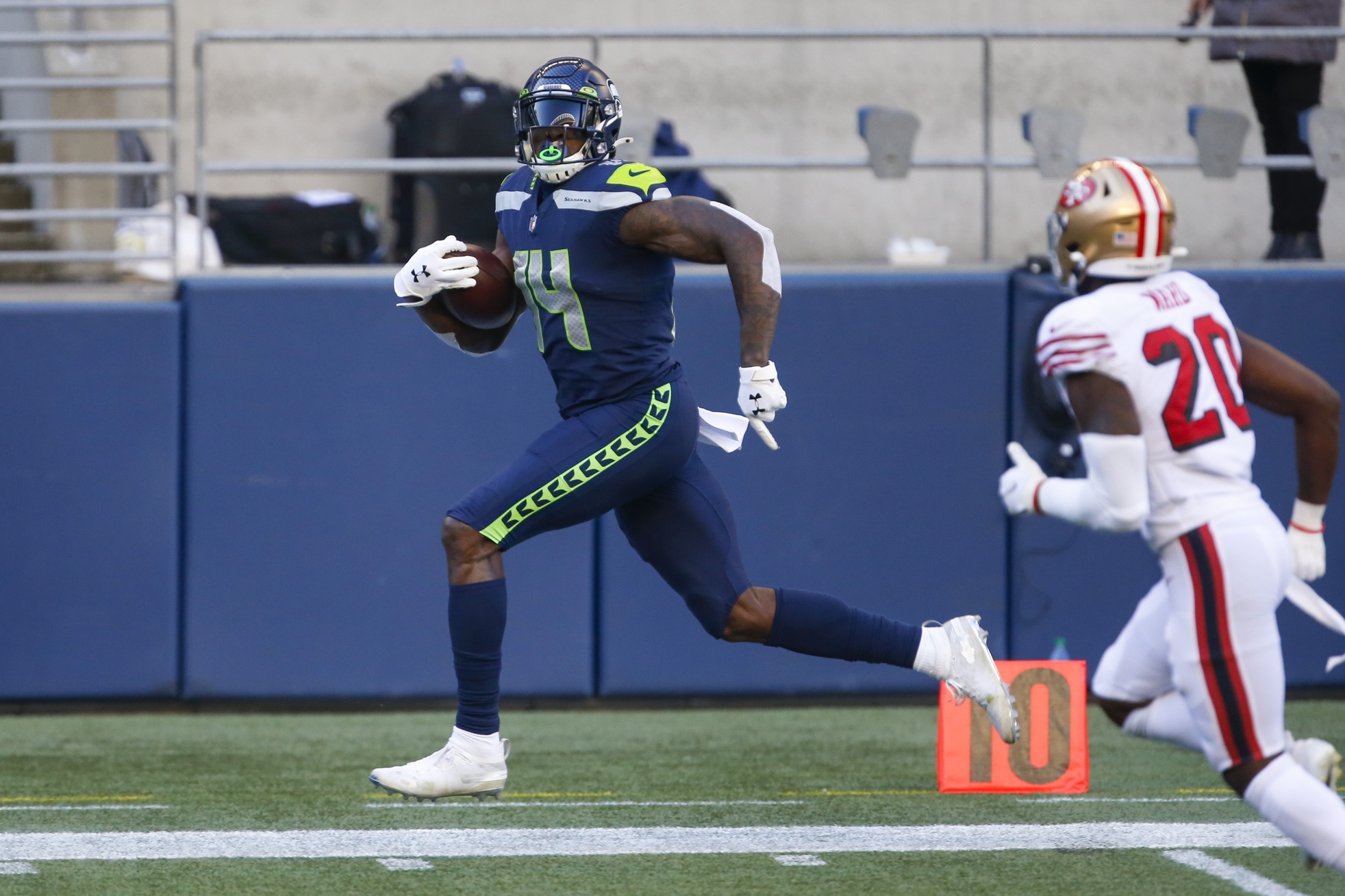 A week after Tyler Lockett melted faces, D.K. Metcalf got in on the face-melting fun, posting a 40-burger on the 49ers' defense. San Francisco had no answers to containing this mammoth of a man, allowing him to catch 12 passes for 161 yards and two touchdowns.
Metcalf wasn't the only player that impressed here — rookie running back DeeJay Dallas showed out in place of the often-injured duo of Chris Carson and Carlos Hyde. He saw 23 touches, scored twice and played 79% of the team's snaps.
That type of usage is hard to come by, which makes him an immediate add off the waiver wire ahead of Week 9. 
The Saints' passing defense continues to struggle in coverage, as three Bears wide receivers scored over 15 fantasy points against them in Week 8. Anthony Miller led the way with 11 targets, but air yards savant and rookie Darnell Mooney saw seven targets of his own— one of which he converted into a touchdown.
Mooney is still the No. 2 in the offense — he should be added off the waiver wire ahead of a matchup versus a very beatable Tennessee Titans' defense.
If the Saints can't get either Emmanuel Sanders and/or Michael Thomas back for Week 9, they are going to be in for a world of pain taking on the Tampa Bay Buccaneers on the road.
Alvin Kamara is doing everything on offense (21 touches, 150-plus yards from scrimmage), but the remaining supporting cast is lackluster. Jared Cook is a touchdown-dependent TE but did tie his season-high in targets in Week 8 (seven).
I would expect Drew Brees to lean in him again versus Tampa Bay — when these teams met back in Week 1, Cook had a season-high 80 receiving yards. 
Jalen Reagor made his return to the lineup in Week 8 for the Eagles and completely supplanted John Hightower as the team's No. 3 WR running alongside Greg Ward and Travis Fulgham. His seven targets and total air yards were second to only Fulgham.
His role in the offense should only expand after the team's bye week, so he is worth holding onto.
Michael Gallup led the way for the Cowboys in targets (12), but it's hard to draw much from that considering Ben DiNucci might not be the QB the next time Dallas takes the field.
It's more of a reminder that we want to target No. 2 WRs that face teams that have strong CBs who can lock down No. 1s. That was the case with Amari Cooper, who went full ghost mode with just one catch for five yards.

Darius Slay made it tough on Cooper, and these WR/CB matchups with Cooper specifically can't be ignored. Cooper also busted the last time he faced a tough CB season (James Bradberry).