From a high-scoring affair between the Cleveland Browns and Tennessee Titans to a Hail Mary pass to Henry Ruggs III to keep the Jets winless, Week 13 truly had a little bit of everything. There was even a massive 45-0 rout for the New England Patriots that reminded fans of the Patriots' glory days. 
Let's dig into every game from Sunday's action to see who else stepped up as we trudge forward toward Week 14. I'll hit on snap counts, routes run, goal-line usage, targets and target shares from every game on the Sunday slate. 
This was the game that DFS players and fantasy football managers couldn't wait for, as it owned on the highest projected totals on the slate. Needless to say the game — and the "over" — delivered.
Baker Mayfield threw for four touchdown passes by halftime and Ryan Tannehill — in full comeback mode — went for 389 passing yards and three touchdowns. A.J. Brown fell to the ground with a non-contact injury but did return to action. His fantasy day wasn't terrible, but it could have been so much better had he not been stripped right before reaching paydirt. 
His fumble was recovered by MyCole Pruitt, who is rostered in zero percent of fantasy football leagues. 
Brown was ultimately outshined by Corey Davis, who was the more prolific of the receivers on Sunday. The former first-round pick hauled in 11 of 12 targets for 182 yards and a touchdown. He was highlighted in my Week 13 start em' or sit em' article. 
Tight end Anthony Firsker came through for fantasy managers who streamed him, going five for 51 on seven targets. And even though he actually played the fewest snaps of the three Titans tight ends, he was running routes on almost 100% of his snaps. If Jonnu Smith can't return next week, go right back to Firsker. 
Nick Chubb and Kareem Hunt split snaps 50/50 with both backs seeing north of 16 touches. Chubb continues to be extremely efficient with his carries (4.5 yards per attempt), but Hunt continues to underwhelm (2.3 yards per attempt). 
Hunt needs to be involved more as a receiver to hit his fantasy ceiling. Considering he ran just one more route than Chubb in Week 13, it's going to be hard to bank on him each week. 
Darren Waller is a straight baller. The Las Vegas Raiders tight end on Sunday reminded us all why we rank him as the No. 2 overall tight end every week. He amassed 200 receiving yards, 13 catches and two touchdowns on 17 targets in what would end up being a victory on the road for the Raiders. 
Don't be fooled by the box score when it comes to Henry Ruggs III. The rookie caught the game-winning touchdown in a desperation toss by Derek Carr but saw just four targets on 47 pass attempts. Nelson Agholor was the most-targeted wideout with 11 targets. 
Devontae Booker operated as the bell cow without Josh Jacobs (17 touches) but compiled just 51 yards from scrimmage. He remains a high-end RB stash, but we can't overstate that a healthy Jalen Richard is also going to be involved. They split the snaps 50/50 on Sunday. 
It was Frank Gore week until it wasn't. The prehistoric back was forced out of action with a concussion. In relief scatback Ty Johnson led the backfield with 22 carries, 104 rushing yards and a rushing touchdown. He played 63% of the snaps, saw two targets and had three carries go over 10 yards. 
We have seen concussions cause players to miss multiple weeks, but Johnson is hardly a high-end waiver wire addition with Seattle up next. 
There's not much to report on when it comes to the Minnesota Vikings because their fantasy producers are an extremely tight-knit group. Even in a game when Dalvin Cook rushed 32 times for 120 yards, Justin Jefferson (27.3 fantasy points ) and Adam Thielen (21.5 fantasy points) found a way to deliver for fantasy owners. If anything can be taken away from this matchup, it's to start everyone and their mother-in-law against the Jaguars.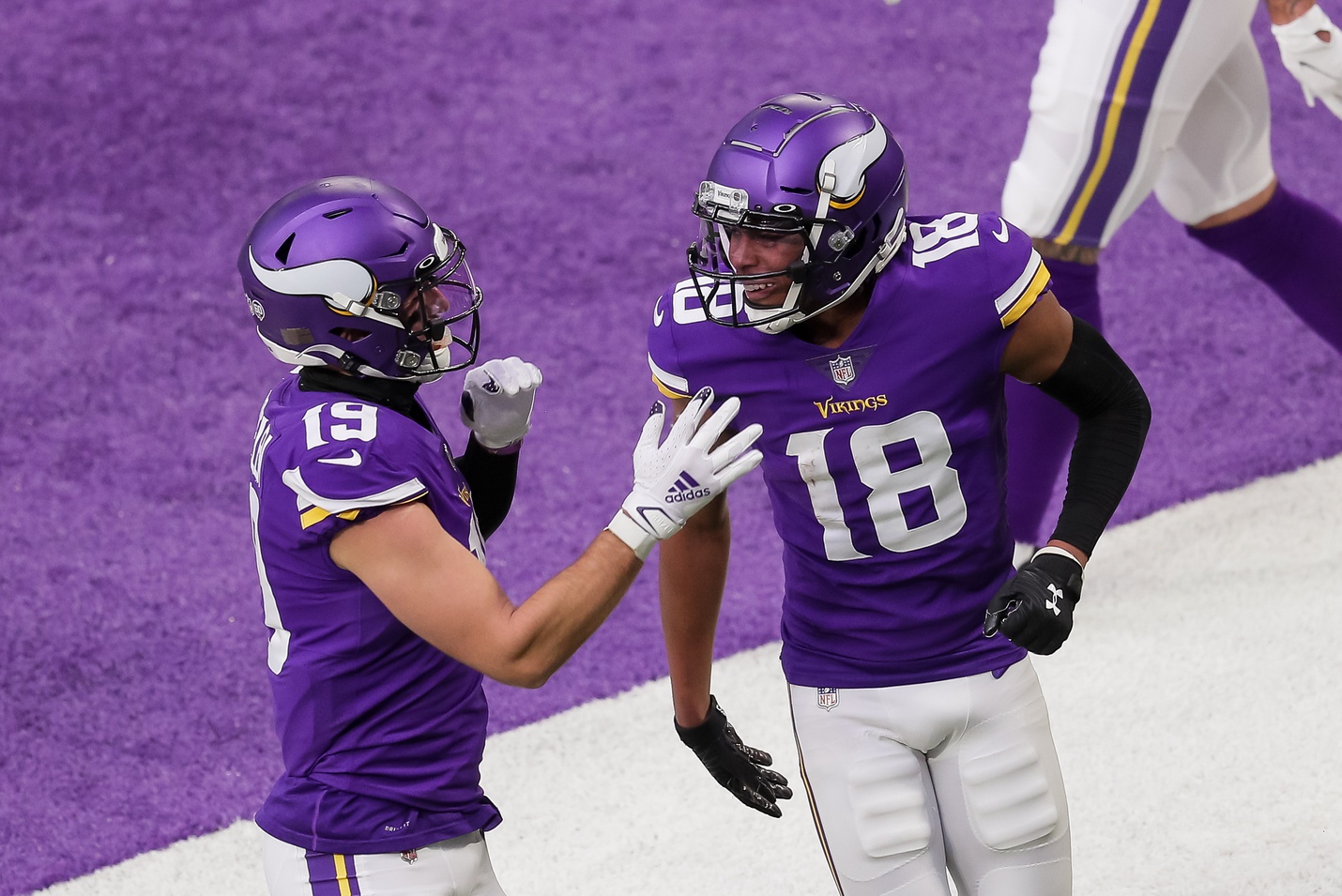 D.J. Chark Jr. was someone I was high on entering this week, but he was an utter bust — just two catches for 41 yards despite leading the team in routes run (44). It's troubling that his team-leading seven targets tied rookie Collin Johnson, who seems to have caught the eye of quarterback Mike Glennon. 
Johnson leads the team in targets (16) over the past two weeks and should be a waiver wire target with the Titans next up. Their secondary was absolutely shredded by Mayfield and his receivers in Week 13. 
Myles Gaskin made his return from IR in Week 13 and reclaimed his usual heavy workload with 23 touches and a 72% snap share. He's back in the high-end RB2 circle of trust.
Mike Gesicki commanded a team-high 11 targets, hauling in nine for 88 yards and a touchdown — his second in as many weeks. DeVante Parker continues to underwhelm with Tua Tagovailoa at quarterback, with just four catches for 41 yards on eight targets. 
So far this season Parker has caught just 57.1% of his passes from Tua. His catch rate is 71.4% with Ryan Fitzpatrick. 
Seemingly every week one Bengals wide receiver will post a WR2 performance because of a touchdown score. It was Tee Higgins last week; this week Tyler Boyd caught a 72-yard touchdown. 
But, be warned that the fall off from Brandon Allen to Ryan Finley is relevant. Proceed with caution starting either Higgins or Boyd in Week 14 despite the plus-matchup versus Dallas. 
The Houston Texans' leader in routes run on Sunday was wide receiver Chad Hansen, who up to this point I had never even heard of. The 2017 New York Jets fourth-round pick was called up off the practice squad and delivered five catches for 101 yards on seven targets in a big spot for quarterback Deshaun Watson. 
But Hansen's breakout game couldn't live up to slot wide receiver Keke Coutee, who absolutely balled out with eight catches for 141 yards. Coutee has traditionally stepped up in the absence of Will Fuller, and that narrative continued in Week 13. 
He's a top priority to add off the waiver wire, especially if there is any injury fallout with Brandin Cooks. Cooks reportedly was tested for a concussion in this game and has a scary history with brain injuries. 
David Johnson's fantasy managers were probably excited to return the Texans' true RB1, but the split with Duke Johnson Jr. was probably more than most would have liked. David just narrowly edged Duke in snaps (37 vs. 34) and touches (10 vs. 8), but the latter's majority came in the form of six catches. 
T.Y. Hilton is another wide receiver who fantasy managers might also need to go back to after the veteran's improved play over the past three weeks. He commanded 11 targets, went over 100 yards and scored.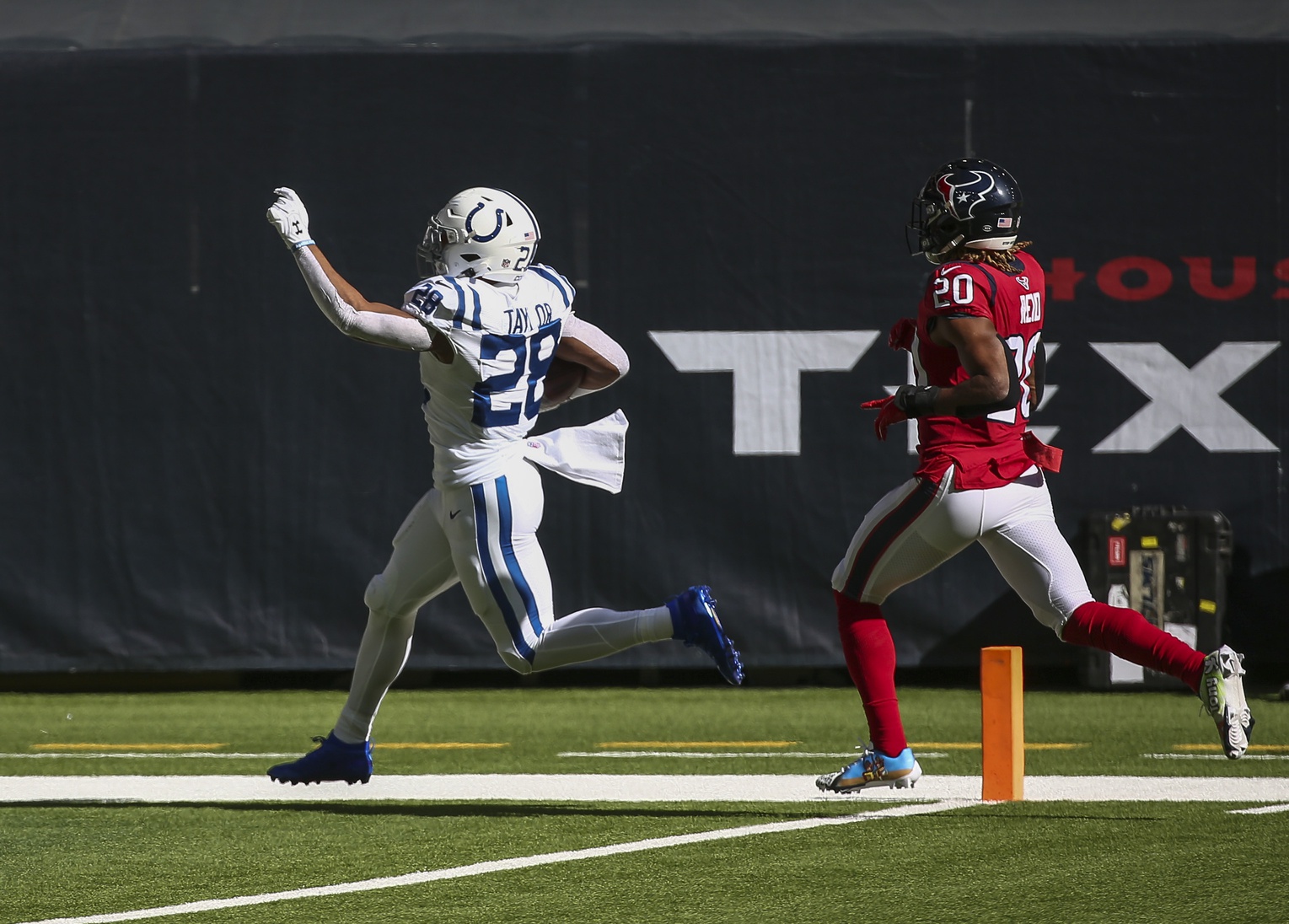 Jonathan Taylor saw the majority of carries (13), snaps (48%) and matched Nyheim Hines with three catches on three targets in the passing game. He also flashed his big-play upside with four attempts of 10-plus yards.
The rookie might finally be over the injury that had been hampering him at earlier points during the season. 
Cole Kmet had been operating as the team's No. 1 tight end over the Chicago's last two games and finally cashed in on those opportunities. He tied Allen Robinson II for the team lead in targets (seven) and was the lone Bear to catch a touchdown in Week 13. He was targeted on 35% of his routes run (20). 
David Montgomery has now posted back-to-back 25-point performances, and the production shouldn't stop anytime soon. His next three matchups are against the Houston Texans, Minnesota Vikings and Jacksonville Jaguars. Giddy up. 
Adrian Peterson seized 84% of the team's RB carries while Kerryon Johnson led the team in RB targets (three). Johnson hurt his knee toward the end of Week 13, so if he and D'Andre Swift remain sidelined it will be hard to ignore Peterson as a viable fantasy option versus the Packers' atrocious run defense in Week 14. 
Matthew Stafford threw for 402 passing yards and three touchdowns, making him the second quarterback to shred the Bears defense in as many weeks. If he can get Kenny Golladay back next week, fantasy managers will witness a shootout in Detroit.
Remember this was the first game this year with interim head coach Darrell Bevell, and it's no coincidence that it also happened to be Stafford's best fantasy outing to date. 
Alvin Kamara got back in the good graces of fantasy managers in Week 13 with 88 rushing yards and a score on 15 carries. The pass-game usage still wasn't there (three targets, two catches, nine yards), but there is a light at the end of the tunnel, folks.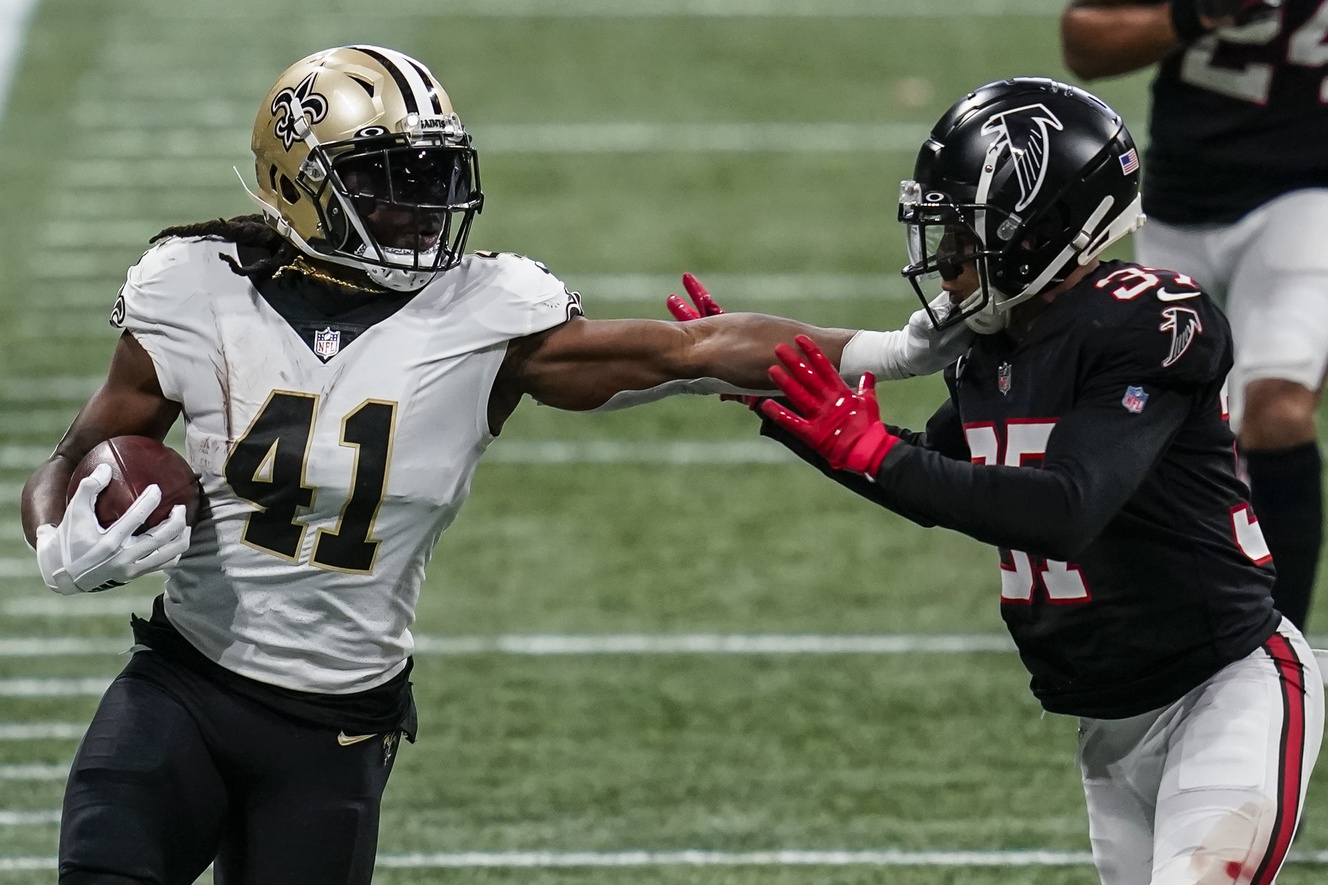 Drew Brees is expected to be back for the Saints in Week 14 — that means better days are coming. 
The Falcons' backfield turned into a three-way committee on Sunday with Ito Smith (24), Todd Gurley II (22), and Brian Hill (11) all handling snaps and seeing at least five carries in the run game. 
Gurley's eight carries for 16 yards were abysmal, but this isn't an outlier performance. Since Week 6, TGII has averaged under 3.3 yards per attempt in every game he has played. Fantasy managers looking to win championships this year should not have Gurley in their lineups. 
Carlos Hyde got the run as the team's lead back over Chris Carson in Week 12, but the incumbent took back his starting gig in Week 13.
Carson played the majority of snaps (58%) and totaled 16 touches. He also added another score through the air, which marks his fourth receiving touchdown of the season. 
Wayne Gallman didn't score for the first time since becoming the team's No. 1 running back, but that didn't stop him from scoring fantasy points in Week 13. The Giants' back rushed for a whopping 135 yards and would have been a smash in fantasy had it not been for the ghost of Alfred Morris siphoning away two touchdowns
Gallman has been nothing but terrific since taking over the lead role and should be a trusted option for any fantasy team against Arizona in Week 14. 
The same can't be said for Darius Slayton, who is downright droppable at this point after another poor showing. Tight end Evan Engram didn't do much in the box score, either, but his team-leading eight targets and 9.6 aDOT are encouraging. 
Sound the alarm because we have a rookie running back breakout on our hands! Cam Akers earned 21 carries in Week 13 while playing a 63% snap share. It's important to note that part of the reason Akers saw such a workload was that Darrell Henderson missed extended time during the first half and did not re-enter the game until the third quarter.
Nearly half of Akers' carries (11) came in the second quarter when Henderson was completely out. It's encouraging that the team leaned on Akers over Malcolm Brown with Henderson sidelined. Brown played a season-low in snaps (15%).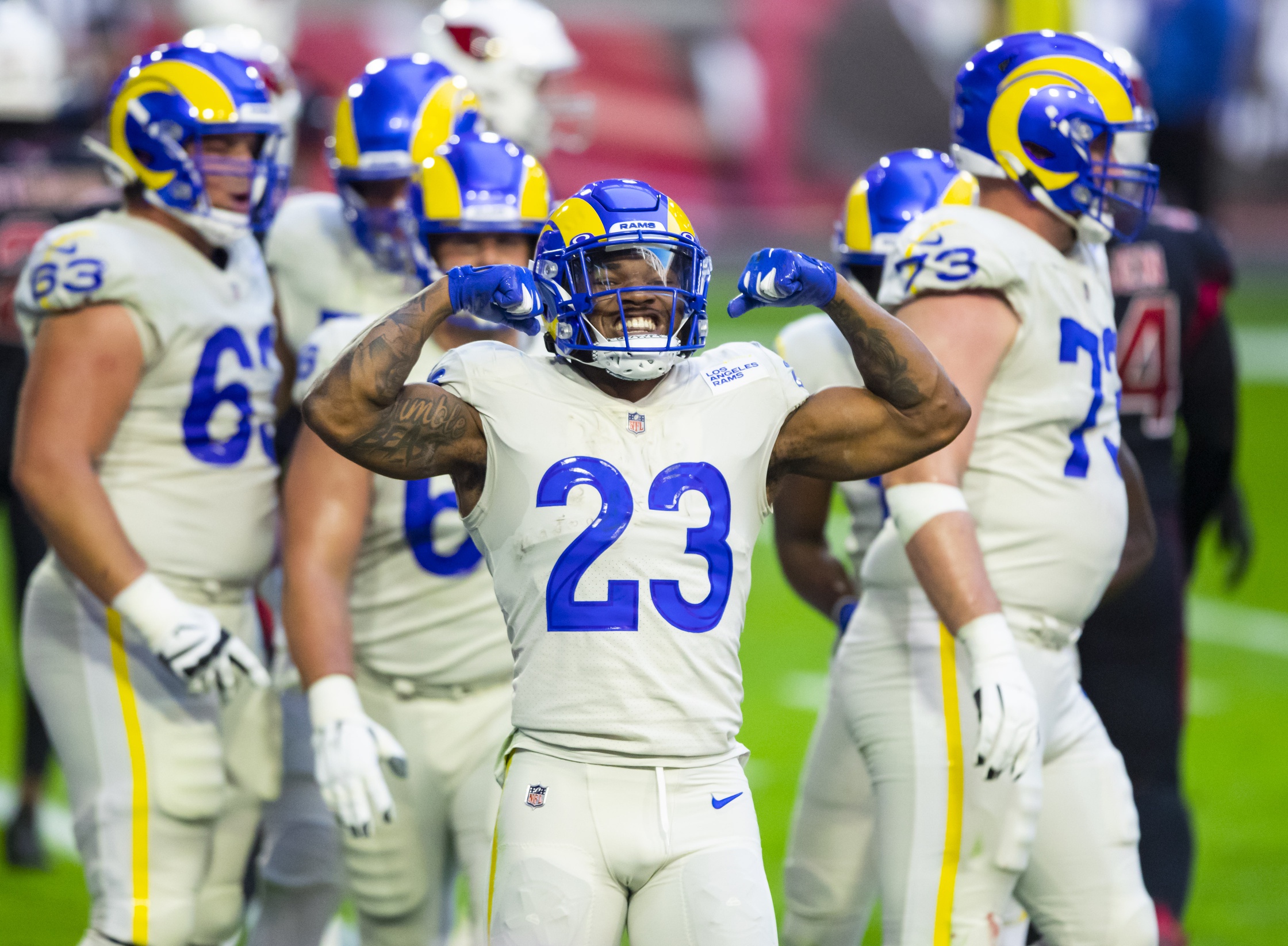 Fantasy managers shouldn't expect Akers to see 20-plus touches every week, but because his usage was trending up anyway, I don't think 15 touches per week is out of the range of outcomes even with Henderson in the fold. 
Rookie wide receiver Van Jefferson also ran in front of Josh Reynolds for the first time since the start of the season. Reynolds has zero fantasy value as the No. 4 wide receiver on the Rams. 
Kyler Murray continues to average just five rushing attempts per game after averaging almost 10 through the first 10 weeks of the season. No rushing means fewer fantasy points for the mobile QB, and that's why he finished Week 13 outside QB1 territory. 
Chase Edmonds led the RB backfield in snaps and targets, which could put him into FLEX consideration next week considering how notoriously bad the Giants are against backs that catch passes out of the backfield. 
There's not too much to take away from a good ol' butt-whopping that the Chargers endured from the Patriots on Sunday other than the fact that it doesn't matter how good of a rusher Damien Harris is for fantasy purposes.
He needs touchdowns, and with Cam Newton at quarterback scoreless rushing yards can only get him so far even in great matchups. We also saw Sony Michel see action with Harris, though to be fair most of his carries came in the fourth quarter. 
Regardless, it's going to be a backfield to avoid Thursday night versus a stout Rams' front. 
As for L.A. it's tough to read too much into snaps and touches in such a one-sided affair, but it's clear that Austin Ekeler is a focal point in the passing game with Justin Hebert under center. He has 25 targets in the past two games. 
Next week's matchup against Atlanta is exactly what the Chargers' offense needs to get back on track. 
As of this moment, we don't know who will be under center for the Philadelphia Eagles in Week 14 after Carson Wentz was straight-up benched for Jalen Hurts. The rookie added some spark into a pretty lifeless offense but importantly rushed five times for 29 yards. The rushing upside makes him fantasy viable.
He hit Greg Ward on a touchdown pass, which marked the team's only offensive touchdown of the game. 
Zach Ertz returned to the lineup, but his role was that of the clear No. 2 tight end option. Dallas Goedert still played more snaps, ran more routes and led the team in targets (seven).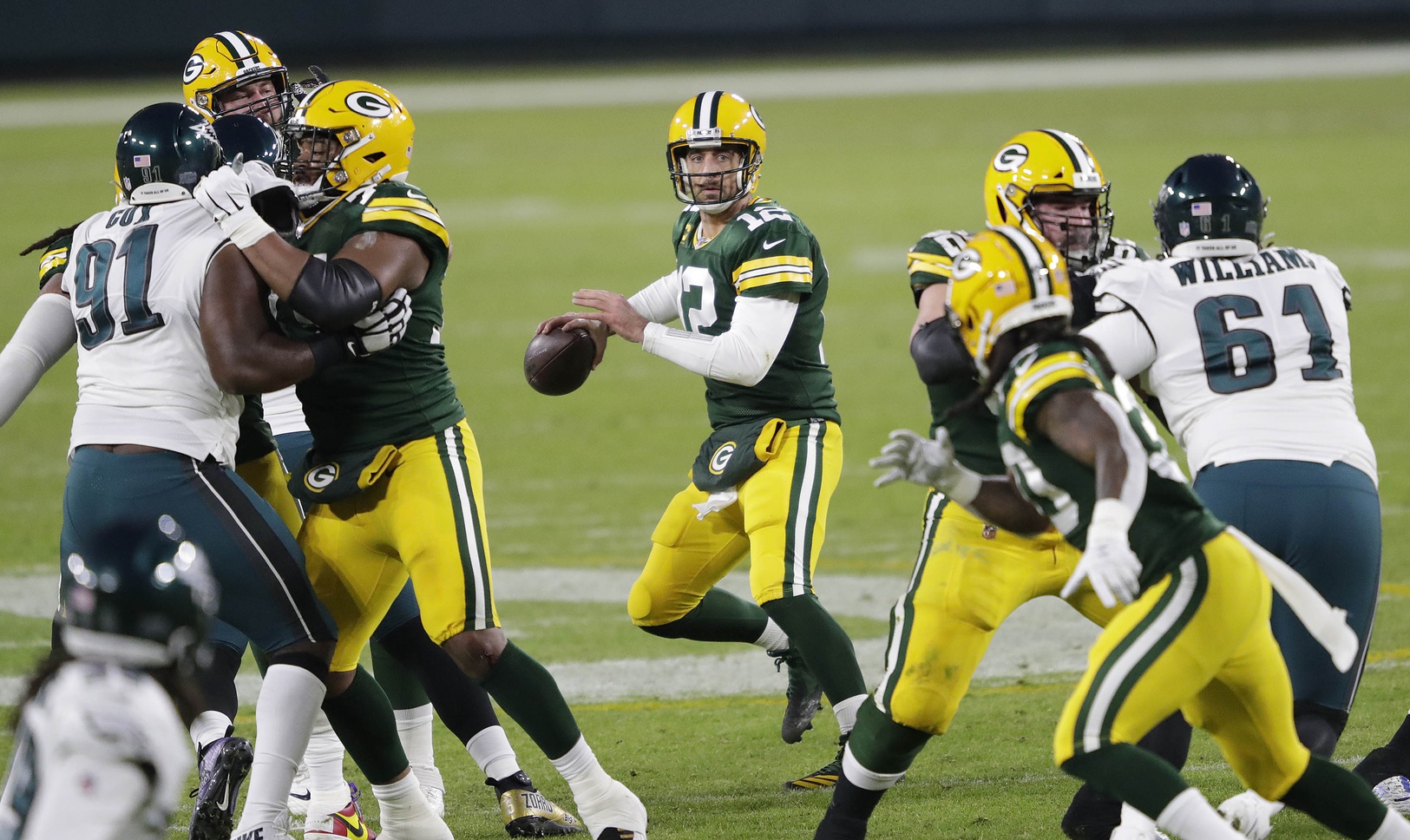 The Packers leaned on Aaron Jones more in Week 13, electing for a 60/40 split in terms of snaps and a 75/25 split in terms of carries with Jamaal Williams. This bodes well for Jones' potential to go nuclear next week against a Detroit Lions run defense that just gave up a top fantasy week to David Montgomery. 
Aaron Rodgers (295 yards, 3 TDs) and Davante Adams (10-121-2) did their typical damage, with Adams catching Rodgers' 400th career touchdown pass in this one.
Tim Patrick hauled in all four of his targets for 44 yards and two touchdowns. He's been operating as the team's No.  1 wide receiverlately with Jerry Jeudy's production in a freefall. Jeudy had just one catch on four targets — it's clear that his lower-body injury is holding him back.
Melvin Gordon III almost helped the Broncos come out of K.C. with a win, but his 131 rushing yards weren't enough to get the job done. The rushing production will put him in the high-end RB2 conversation next week versus the Panthers, but his pass-game usage can't be relied on. It has disappeared from where it was to start the year.
Clyde Edwards-Helaire was listed as "active" but didn't play a single snap in Week 13. Classic trolling by the Chiefs medical staff if you ask me, but that's a gut punch to fantasy managers banking on the rookie to produce. In his relief, we begrudgingly saw Le'Veon Bell and Darrel Williams split snaps 50/50; neither impressed. 
The Chiefs haven't been a great running team all year, so even if CEH was hurt, I'm not sure fantasy managers would be thrilled to plug in Bell or Williams.