The exact definition of a fantasy football sleeper or bust is difficult to pin down, especially in Week 1. For my purposes, I keep it simple: Sleepers are players who I expect to outperform their norm or their expectation, even by a little, and busts are players I expect to fall short. Sometimes, this means a guy is in store for a monster week; sometimes it means a little-used player needs to crack lineups.
Either way, each week in this space I'll use PFF advanced stats to try to identify a handful of the week's key sleepers and busts for fantasy.
Week 1 fantasy football sleepers
Jameis Winston, QB, Tampa Bay Buccaneers (vs. San Francisco): The league's worst coverage defense in 2018. The league's second-best passing offense. Three elite pass-catching options. Any positive influence from Bruce Arians. And most of the elite quarterbacks actually have tough Week 1 situations. Winston? He's my QB1 in Week 1.
Jimmy Garoppolo, QB, San Francisco 49ers (@ Tampa Bay): Basically everything true about Winston is true about Garoppolo, and while he's a health question mark and has a lower ceiling, he still could scarcely ask for a better opponent against whom to return.
Matthew Stafford, QB, Detroit Lions (@ Arizona): Until the Cardinals' motley assortment of Patrick Peterson-less corners show us they can stop people, I'm heavily using any quarterback facing them and I'm licking my lips in the process.
Leonard Fournette, RB, Jacksonville Jaguars (vs. Kansas City): Three teams allowed 30-plus PPR points per game to opposing running backs last year. Two — Arizona and Cincinnati — did it because they were often losing and teams could grind the clock. The third was Kansas City, who let running backs put up more than a point per touch across the year, between a bad defense and regularly high-scoring games. The Chiefs should offer a slightly better run defense this year, but everything else is still true. Meanwhile, Fournette is going to be the cudgel Jacksonville throws at teams until it breaks them down or breaks itself.
Chris Carson, RB, Seattle Seahawks (vs. Cincinnati): Remember earlier, when I noted that the Bengals allowed all sorts of running back production last year? That's still true, and if anything Cincinnati got worse this offseason. Carson isn't much of a contributor in the passing game (his 22 targets last year was more than only Derrick Henry among the top 30 PPR backs), but he was seventh in the league in rushing fantasy points, fifth on a per-game basis.
Mark Ingram, RB, Baltimore Ravens (@ Miami): Running backs should feast against Miami's awful team this year. The Ravens plan to rush the ball into oblivion. Ingram is the lead Ravens running back. This one doesn't take a lot of explaining.
Tony Pollard, RB, Dallas Cowboys (vs. NY Giants): Ezekiel Elliott is back, which will likely scare everybody off of Pollard, but I think he still has a flex-level floor with a higher ceiling. For the full season, Pollard becomes a handcuff and not much else, but in Week 1, he's still interesting.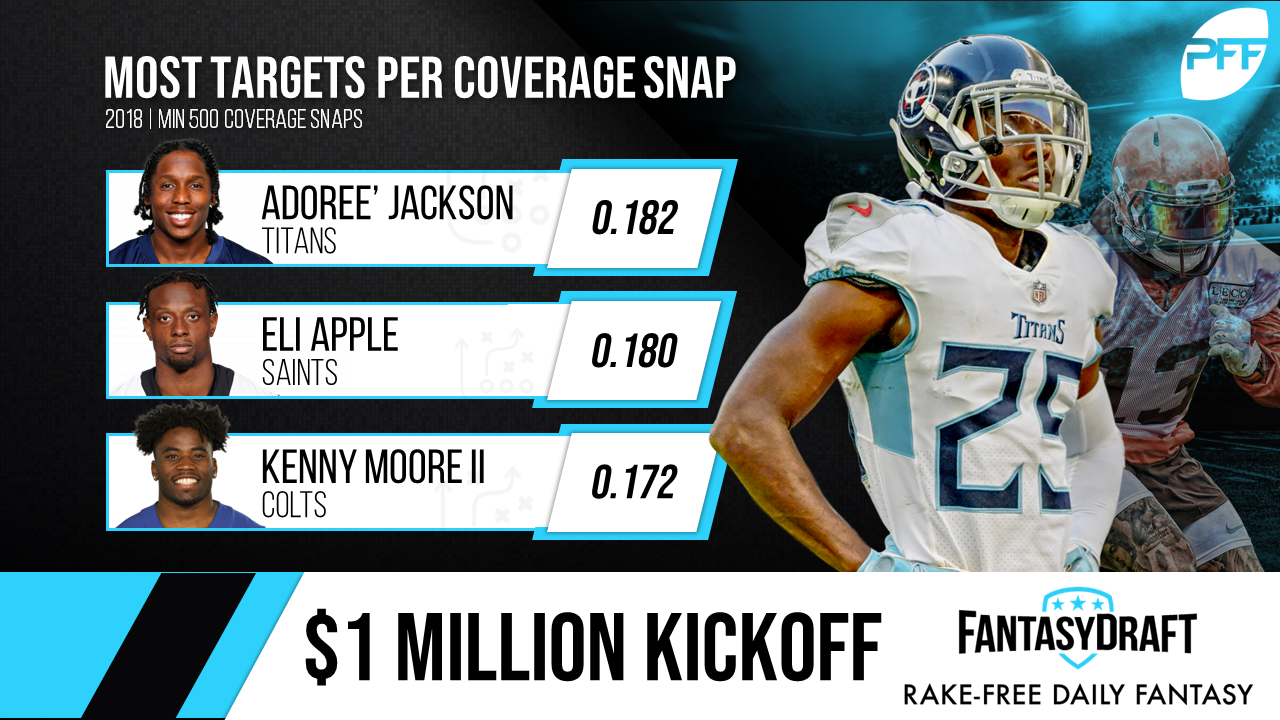 Odell Beckham Jr., WR, Cleveland Browns (vs. Tennessee): Adoree' Jackson was fine last year. Not remarkable, but not awful. It's notable, though, that only Steven Nelson (113) and Eli Apple (108) saw more targets in coverage than Jackson's 105 last year, and on a per-snap-in-coverage basis, Jackson's 0.182 was the highest in the league among 47 corners with at least 500 snaps in coverage. Teams weren't scared of throwing his way, and with him expecting to shadow Beckham (per our WR/CB matchup chart), it could be a big day for the new Brown.
Albert Wilson, WR, Miami Dolphins (vs. Baltimore): Given the awfulness of the Dolphins' offensive line (it was our worst in the league even before Laremy Tunsil was traded), the running game might not be able to do much. And the outside receivers might not have time to get open. But the weak point of the Ravens' pass defense a year ago was the slot, and Wilson (a) should line up in the slot a lot in Week 1, and (b) might be the Dolphins' best receiver.
Marquise Goodwin, WR, San Francisco 49ers (@ Tampa Bay): It's been a tumultuous time for San Francisco receivers. Dante Pettis has reportedly had to earn his role and not healthy. Trent Taylor is out, Jalen Hurd is banged up. Deebo Samuel is a rookie. Through it, Goodwin has been chugging along, apparently now locked into a starting role. Against Tampa Bay in Week 1, that's just about all you need.
George Kittle, TE, San Francisco 49ers (@ Tampa Bay): Speaking of 49ers, everything about Goodwin is also true for Kittle, the No. 1 target in this offense. He's my No. 1 TE of Week 1 in standard leagues, a close No. 2 in PPR.
Evan Engram, TE, New York Giants (@ Dallas): Golden Tate is out on suspension. Sterling Shepard appears to be healthy, but until we see it we can't be sure. Saquon Barkley will get his, but after that, there isn't much beyond Engram in this offseason. In two games against Dallas last year, Engram totaled 12 receptions for 148 yards, with a score in each game.
Tyler Eifert, TE, Cincinnati Bengals (@ Seattle): The thing about Eifert (and or course Jordan Reed) is that if you were somehow guaranteed 100% health for each guy, they'd easily be top-10 tight ends. Well, on a weekly basis, we can get a lot closer to that estimation. Drafting (or trading for) Eifert is always dicey, but if he's healthy in a given week, I'm in.
Will Dissly, TE, Seattle Seahawks (vs. Cincinnati): Dissly a bargain-basement option, but he was a shockingly big part of the Seattle offense last year before his injury, and the Seahawks somehow have even fewer target options than they did then. Meanwhile, no team allowed more touchdowns to tight ends than the Bengals last year.
Week 1 fantasy football busts
Cam Newton, QB, Carolina Panthers (vs. LA Rams): We all remember that Rams-Chiefs game in Week 11 last year, when Patrick Mahomes exploded for big-time fantasy production. The Rams went into their bye the next week and … basically decided to stop allowing production to quarterbacks. Other than Nick Mullens in a the-Rams-weren't-trying Week 17, the only quarterback to pass for multiple scores against Los Angeles after the bye (including the postseason) was Drew Brees in the Conference Championship. Add in Newton recovering from injury (though news in that regard is good), and I'm nervous about him this week.
Kyler Murray, QB, Arizona Cardinals (vs. Detroit): As exciting as Murray is and could be as a rookie, there would be enough question marks about relying on a rookie in his first ever game in the league, and that's even before considering that the Cardinals have one of the league's worst offensive lines and the Lions have one of the league's best defensive lines. Murray is likely to run all year; he might really have to in Week 1.
Ezekiel Elliott, RB, Dallas Cowboys (vs. NY Giants): Zeke's back! And I'm holding off for Week 1 … a little. Rumors are he's not going to get a full workload, and even if he does, he's not likely to be that efficient in his first game back (see how Le'Veon Bell did in his first game in 2017).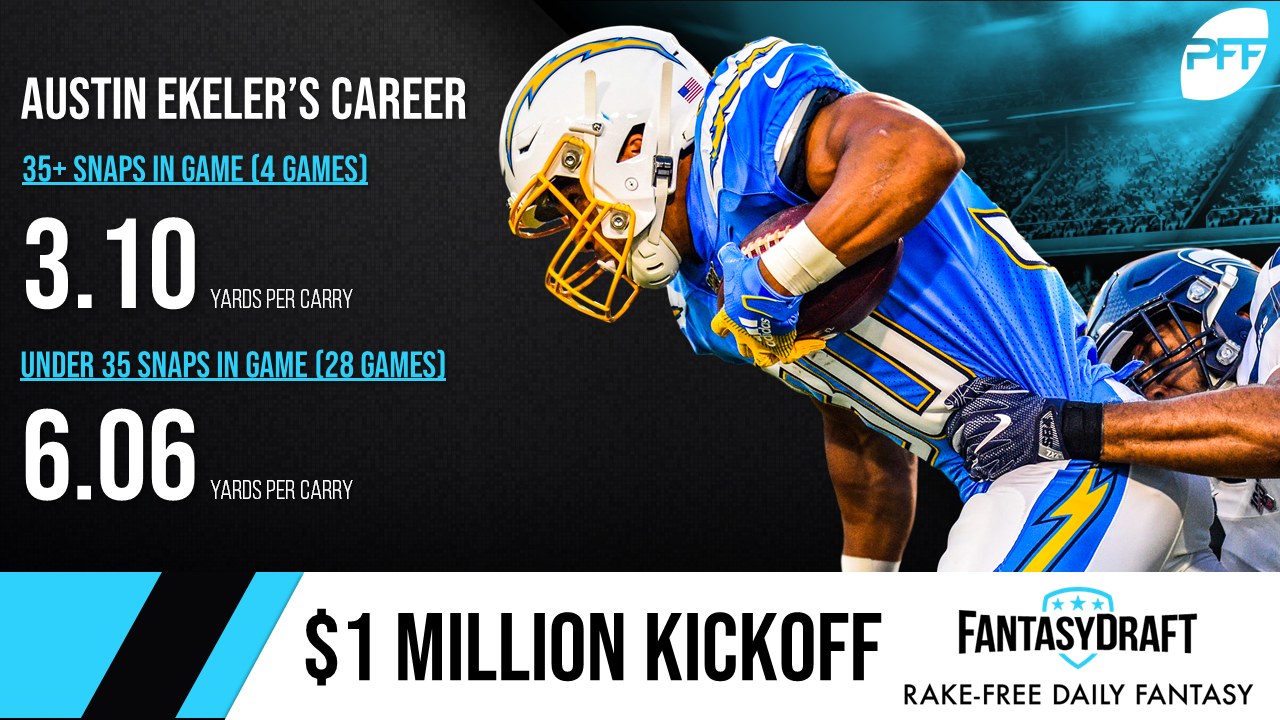 Austin Ekeler, RB, Los Angeles Chargers (vs. Indianapolis): Ekeler is going to be the Chargers' lead back in Melvin Gordon's absence, but he's likely to split work with Justin Jackson to some extent or another. If Jackson gets a big share of the work, Ekeler's ceiling is obviously capped. And if Ekeler actually does get a bell cow role … he's topped 35 snaps in four of his 32 career games and averaged 3.1 yards per carry (113 carries) in those games. In all other games, he's averaged 6.1 yards on 113 carries. Ekeler has been really good so far in his career, but he's just not a bell cow type.
Derrick Henry, RB, Tennessee Titans (@ Cleveland): Even if I'm wrong about the Titans being pass-heavier than reported this year, it's hard to imagine a lot of rushing success in Week 1, with Taylor Lewan out and facing the formidable Browns' defensive line. Even with his amazing hot stretch last year, Henry was only 15th in yards per attempt at 4.9 (though he was second with 4.2 yards after contact per attempt). Take out his 408-yard Week 13-14 stretch, and Henry dropped a 34th-best 4.2 yards per carry, 3.4 yards after contact. I don't buy it.
Amari Cooper, WR, Dallas Cowboys (vs. NY Giants): Reports are that Cooper should be good to go Sunday. At the same time, the Cowboys are facing the Giants, who should be heavy underdogs. If you're the Cowboys, you have an elite offensive line, your No. 1 receiver is healthy-but-barely, and you're expected to win easily, why would you make that receiver work much in the game? Let Cooper ease in.
Robby Anderson, WR, New York Jets (vs. Buffalo): Anderson's 2019 schedule from hell starts in Week 1, when he'll split his routes against (mostly) Levi Wallace and Tre'Davious White, neither of whom allowed even 1.00 yards per route in coverage last year.
Alshon Jeffery, WR, Philadelphia Eagles (vs. Washington): If the Quinton Dunbar we saw last year for Washington is the Dunbar we get this year, this might prove incorrect — Dunbar allowed a 115.0 passer rating in coverage, easily the highest of his career. But he battled injury for a big chunk of the year, playing 88 snaps total after Week 6. The Dunbar who was around in 2017 allowed a 71.2 passer rating. Dunbar is likely to match up with Jeffery a lot in Week 1. And when Dunbar doesn't draw Jeffery? Josh Norman will.
Mark Andrews, TE, Baltimore Ravens (@ Miami): Andrews played the fewest snaps among Ravens tight ends in this year's preseason and saw only three targets. Both Nick Boyle (blocking) and Hayden Hurst (receiving) played right with Andrews, undercutting Andrews' sleeper upside. At this point, despite all the buzz around him (and I've been driving that bus as much as anybody), we need to see that he's going to be used like we hope before doing full-bore.
Eric Ebron, TE, Indianapolis Colts (@ LA Chargers): Jack's back. Jack Doyle's return should, if the Colts proceed anything like last year, push Ebron to No. 2 tight end status on the pecking order. And while that worked for him in 2018 (he scored 14.8 PPR points per game when Doyle was active), it was reliant on some insane touchdown luck — he scored eight times on 19 touches in those games. That's going to regress.