Down to the wire, the Dallas Cowboys and star RB Ezekiel Elliott agreed to terms on a contract extension Wednesday morning that will reportedly tie the back to Dallas through the 2026 season. Fantasy football drafters can finally breathe easy regarding one of the game's top producers.
Regardless of whether Jerry Jones & Co. overpaid for Elliott, it's true that he's been one of the top-producing fantasy backs since his very first game in the league. Among backs who have played all three years 2016-2018, Elliott has averaged the most PPR points per game at 21.4 Only three backs have cracked 20 in that time (Elliott, Todd Gurley, and David Johnson), and only four are even over 16 (add Melvin Gordon). Unlike the Gordon situation in Los Angeles or the Le'Veon Bell situation in Pittsburgh last year, Elliott's 2019 role with the Cowboys never seemed to be in that much jeopardy, for whatever reason, but now we know the back will be available to the Cowboys starting in Week 1.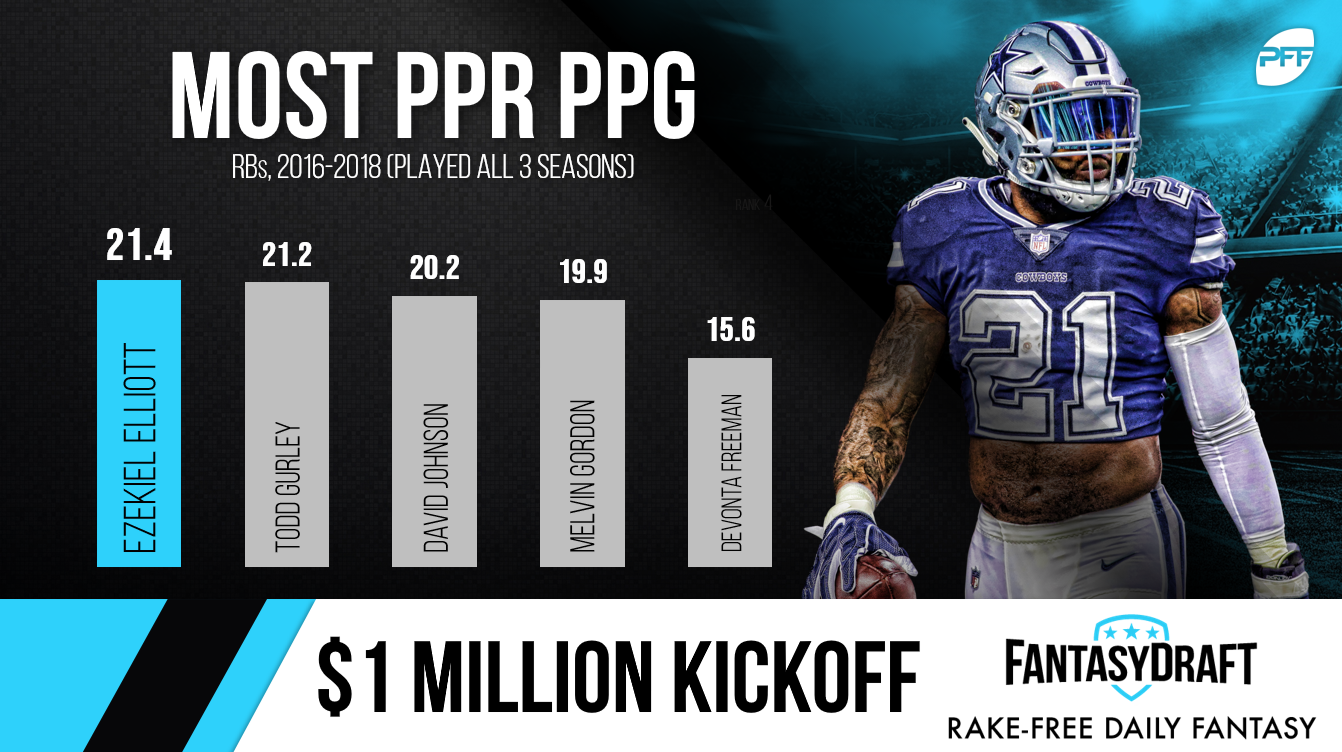 For those few fantasy players still with drafts to go before Week 1, I'm not moving Elliott in my rankings from his spot at fifth overall (I explained why a few weeks ago), but at least now he can be drafted without fear of a completely wasted pick. And anyone who wants to take Elliott even higher than that would be totally justified.
On the other hand, I'm going to be the pessimist regarding Elliott's Week 1 status. The Cowboys play Sunday, meaning the Cowboys will have him in the facilities for four days before games. Elliott has reportedly kept in shape during his holdout, but until we see him at game speed, there have to be questions. After all, in 2017, Bell's holdout with the Steelers lasted until about this same time, and he managed only 32 yards on 10 carries in an underwhelming Week 1 performance. It took him until Week 3 to score his first touchdown of the year, until Week 6 to get his seasonal yards per carry over 4.0. That's only one data point, but practice reps matter, and until we see Elliott play a bit, I'm approaching him with caution. He'll slot in as my RB14 in Week 1 in our PFF Fantasy staff rankings.
This also seriously hurts the fast-rising fantasy stock of now-backup Tony Pollard. Had Elliott sat out some or all of the season, Pollard, who was electric in the preseason and behind our No. 2 offensive line entering the season, might have flirted with RB1 status. Now, considering Elliott has 55 more carries than any other back since entering the league (despite missing six games to a suspension in 2017), Pollard's role shrinks back to elite handcuff and change-of-pace back, cutting his fantasy knees out from under him. I'm fine with Pollard as mid-range flex for Week 1, but the rest of the year, his only value is as Elliott insurance.