NFL training camps are now officially underway, so it won't be long until we are bombarded with training camp clips, overreactions and, unfortunately, injuries.
As always, the main attraction at each camp will be the competition for roster spots and playing time, which profoundly impact fantasy football. And with fantasy draft season approaching, PFF will be here to keep an eye on each camp battle as we get closer to the 2021 campaign.
Some competitions are already as good as settled — see the Buffalo Bills and Arizona Cardinals running backs and the Indianapolis Colts tight ends — but most position battles remain unsolved as we head into August. Here are 10 training camp battles that will have an impact on fantasy football in 2021 and beyond.
Editor's Note: PFF's 2021 Fantasy Football Draft Guide and 2021 Fantasy Football Cheat Sheets are LIVE!
Drew Brees' retirement has opened up a massive opportunity for either Hill or Winston to lead one of the best offenses in the league. And as long as they don't end up sharing the position, the winner of this camp battle should see their fantasy value rise in a big way.
The Saints have always invested heavily in the offense, which makes life easy on the quarterback. Their offensive line ranks fourth in the NFL coming into the season, while Ryan Ramczyk, Terron Armstead, Alvin Kamara and Michael Thomas all secured a spot on the PFF 50.
Hill was gifted the starting role for four weeks while Brees was out with injury in 2020 and finished in the top 12 in fantasy points each of those four weeks, proving that he can be a top-12 quarterback in this offense. And a lot of his value comes from his ability and willingness to run, as he averaged 10 carries and a rushing touchdown per game over his four starts. If the BYU product is declared the starter, he should be a mid-round draft pick.
Winston has a longer track record of fantasy value; it just hasn't come in the Saints' system. He finished as a top-eight fantasy quarterback in half of his games in 2019 with the Tampa Bay Buccaneers, with his value stemming from his ability to make big plays. His 10.9 average depth of target was the second-highest among quarterbacks in 2019, resulting in a league-leading 11 games of 300 or more passing yards.
Winston will be worth drafting in the later rounds if he wins the starting job, though there should be some concern about how many snaps Hill gets at quarterback if the former No. 1 overall pick secures the starting job.
After San Francisco traded three first-round picks in order to draft North Dakota State quarterback Trey Lance, Garoppolo's time at the top of the 49ers depth chart seems to be coming to an end. The question now is when Lance will take over as the starter.
The veteran quarterback has produced five top-10 finishes over the past three seasons, so he doesn't boast much in the way of fantasy value if he remains the starter. And even if he does, fantasy owners will be ever fearful of seeing Trey Lance warming up his arm on the sidelines.
Lance has much more potential as a fantasy starter. He was the most gifted rushing quarterback of the draft, and quarterbacks who can run dominate fantasy football. Six of the top eight quarterbacks in fantasy points last season ran for at least 300 yards, and the only exceptions were future Hall of Famers Tom Brady and Aaron Rodgers. Lance also likes to attack downfield more than Garoppolo does, and there is a correlation between target depth and fantasy points per pass.
Lance should be stashed on your bench if Garoppolo is named the starter, a decision that wouldn't be surprising. But if the FCS product is handed the reins for Week 1, he would be a great option for a fantasy manager who waits to draft a starting quarterback for their team.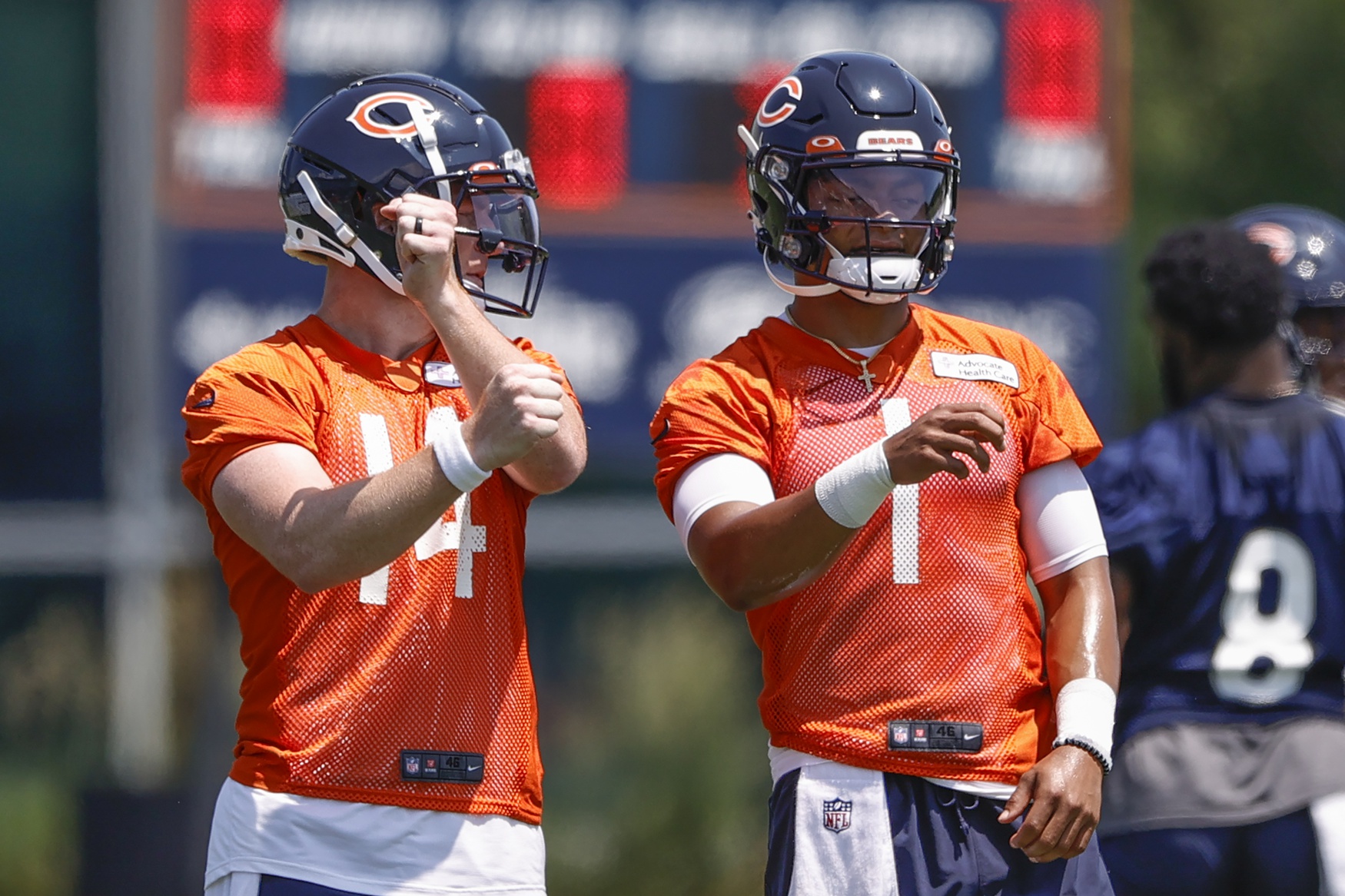 The Bears quarterback situation is eerily similar to the one in San Francisco. Dalton doesn't hold much value as a traditional pocket passer who could be benched at any moment, but Fields' fantasy value is potentially huge because of his rushing ability. Unfortunately, the situation isn't as quite good as San Francisco's because they don't have as much quality on the offensive line and at receiver.
Fields earned the second-best rushing grade among FBS quarterbacks in 2020, and his accuracy as a passer also gives him an advantage over his veteran teammate. The Bears have insisted that Dalton is the starting quarterback, but that shouldn't stop anyone from taking a late-round dart throw at the up-and-coming rookie. The Chances are that Dalton is the Week 1 starting quarterback, but if Fields is named the starter, he should be one of the top quarterbacks to consider when finding a backup for your fantasy team.
After revamping their coaching staff this offseason, the Jets brought in two new backs to increase the competition at the position for 2021. Of course, there is a chance none of these five players is the long-term solution at the position, but someone needs to win the starting job this year.
The new coaching staff comes from a 49ers offense that always had a clear lead back, so chances are the winner of this job should see the majority of carries, which can only be good for his fantasy value.
Carter profiled similarly to Clyde Edwards-Helaire coming out of North Carolina. He is the favorite to land the third-down role based on his play in college and the strengths of the other backs on the roster. It's rare for fourth-round picks to instantly become every-down players, putting him at a disadvantage in becoming the primary ball carrier, but he's the first player drafted in typical drafts because he has the most potential.
Coleman is someone to target in the late round of drafts. He's the favorite to start the season as the primary ball carrier due to his familiarity with the offense, but he has graded out below average throughout his NFL career, so his only upside is his opportunity. The rest of the backs on the roster are going undrafted.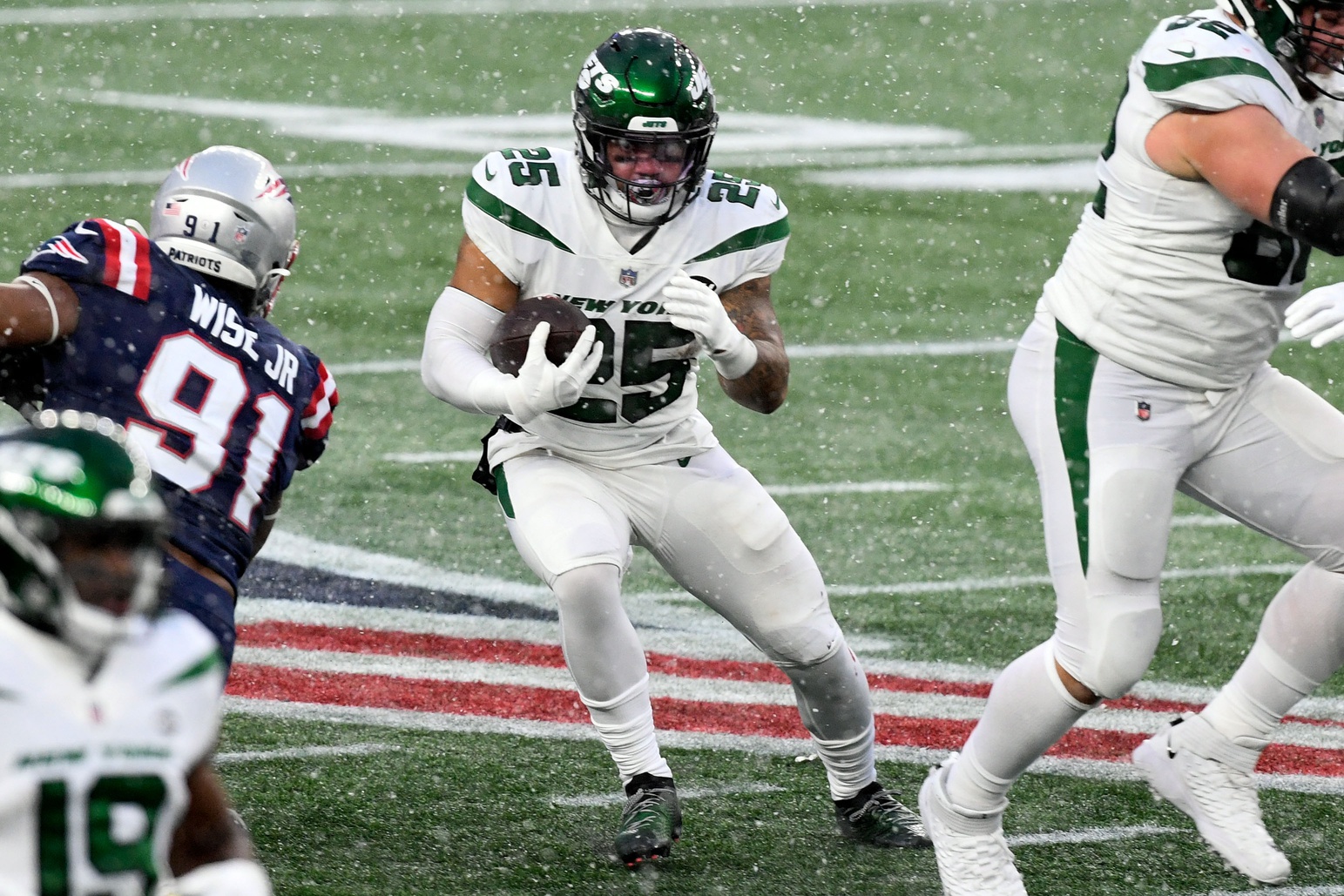 Johnson is the incumbent running back most likely to have a chance as the starter. He rotated with Carter and Coleman at mini camps this offseason.
It's also hard to deny how well Adams played in a limited sample size in 2020. His 84.9 rushing grade ranked seventh among running backs, regardless of sample size, all while averaging 4.0 yards after contact per carry. The only other back to accomplish this on his sample size or bigger is Nick Chubb. He's unlikely to play this well if he's given more of an opportunity, but he's played well enough to deserve more of a chance.
The coaching staff might not name a starter until late August, and even then, we might not know how the snaps will be distributed among players. It might be hard to capitalize from this competition in the short term, but there could be a clear waiver wire target after Week 1.
The Texans running back competition is unusual, to say the least. Lindsay is the youngest player at the position at 27, while the other three backs will be on the wrong side of 30 by the end of the season. Johnson was the only player on the roster in 2020, while the other three were all free-agent additions this offseason.
The former Denver Bronco has been the best player of the four on the ground in recent years, leading the group in explosive plays over the past four campaigns at 65, even though he's just played three seasons while the others have played in all four.
Meanwhile, Burkhead has been the most efficient receiver among the group, averaging 1.89 yards per route run over the past four years. Everyone else is under 1.50 over that same timeframe.
Anything could happen in this one. We may not have a clear winner now, but it's a situation to keep monitoring as the season gets closer.
The pairing of Jones and Fournette led to a lot of frustration for fantasy managers in 2020. Jones finished as a top-24 back in eight of his 14 matchups. Fournette only accomplished this four times in 13 games but then proceeded to dominate in the playoffs. Obviously, it was difficult to decipher which back would more likely to lead the team for fantasy purposes each eek. Now Bernard, the longtime Bengals receiving back, is in the mix, along with 2020 third-rounder Vaughn, who only saw 111 snaps as a rookie.
Jones and Fournette are currently being drafted in the middle rounds of fantasy drafts as Tier 6 running backs, while Bernard and Vaughn are late-round options. There are clearly too many backs whose strengths overlap. 
Jones has been the best rusher of the group in the last three seasons — his 0.17 missed tackles per attempt, 3.3 yards after contact per attempt and 21.4% first down rate all lead the group. Still, it was Fournette who saw 64 carries during the Buccaneers' playoff run compared to Jones' 35. Vaughn was running at a similar efficiency to Jones but on a small sample.
Bernard is a fully capable third-down back, but Fournette has been the superior receiver in recent years. Fournette's 33 forced missed tackles are more than double Bernard's total over the last three seasons despite a similar number of receptions. Fournette had a drop problem last season, but drops are inconsistent from one season to the next. Plus he has just one more drop than Bernard over the last three seasons.
Similar to the Jets and Texans, one of these four backs could be out of a job by the time cut-down day happens. Fournette's decision to not get vaccinated for Covid-19 could factor into that decision. Both Jones and Fournette proved last season that Tampa's lead back is worthy of a starting spot in fantasy leagues. 
The Jets wide receiver competition is complicated with four players competing for two roles. Corey Davis signed as an unrestricted free agent and should rarely leave the field from one of the outside receiver spots. He was one of nine wide receivers last season with five or more 100-yard games. The other four players are fighting for the other outside receiving spot and the slot position.
Cole signed a 1-year, $5.5 million contract with the Jets this offseason and took the first-team snaps as the other outside receiver in minicamp. Second-rounder Mims put up 15 explosive catches as a rookie last year, which tied Cole's best mark in a full season daring back in 2017. Mims appears to have more upside here, but he came in with the old regime. Cole's addition has led to Mims being one of the biggest droppers in ADP over the last two months.
Crowder, the incumbent slot receiver, has ranked in the top seven in both receiving yards and touchdowns from the slot since joining the Jets in 2019. He took a pay cut to remain with the team, so he's likely to see at least some playing time.
Moore is potentially the most exciting option here, having been drafted near the top of the second round this year. Though he's a complete unknown at outside receiver, he has the potential to be an elite slot receiver in the NFL. The Jets have given him some opportunities outside during in minicamp. Moore's range of outcomes is wide, but there's room in this group for such a dynamic player to carve out a role sooner than later.
The Jets wide receivers haven't exactly been fantasy gold in recent seasons, but that could all change if Zach Wilson lives up to his potential. Davis will likely lead the Jets in targets, but the rookie could also support a second viable fantasy receiver — it just depends on who garners the second-most targets here. 
These three wide receivers are fighting for the third receiving job in L.A. The Chargers have one of the best up and coming quarterbacks in Justin Herbert and are expected to put up some points. 
Los Angeles' No. 2 receiver Mike Williams is an unrestricted free agent after this season. Williams' overall PFF grade has declined the last two seasons, so it's within the realm of possibility that he is surpassed on the depth chart this year. The Chargers also lost Hunter Henry in free agency, so the third wide receiver spot might carry more importance this year compared to last.
After going undrafted in 2019, Guyton led the Chargers wide receivers in routes run last year thanks partly to staying healthy. His 0.88 yards per route ranked second-worst among wide receivers with at least 300 routes. It's his job to lose, and it wouldn't be surprising if he loses it.
Johnson, also an undrafted rookie in 2019, played better than Guyton but on a smaller sample size. He and Calvin Ridley were the only wide receivers with an aDOT over 15 and more than 2.4 yards per route run.
The chargers invested a third-rounder in Palmer this year despite the fact that he never amassed even 500 receiving yards in college. Still, his tape makes him an intriguing prospect despite the lack of production. 
There is no guarantee that a clear winner will emerge or that anyone will see a high enough target share to rely on. But the situation could have long-term ramifications for the Chargers' depth chart.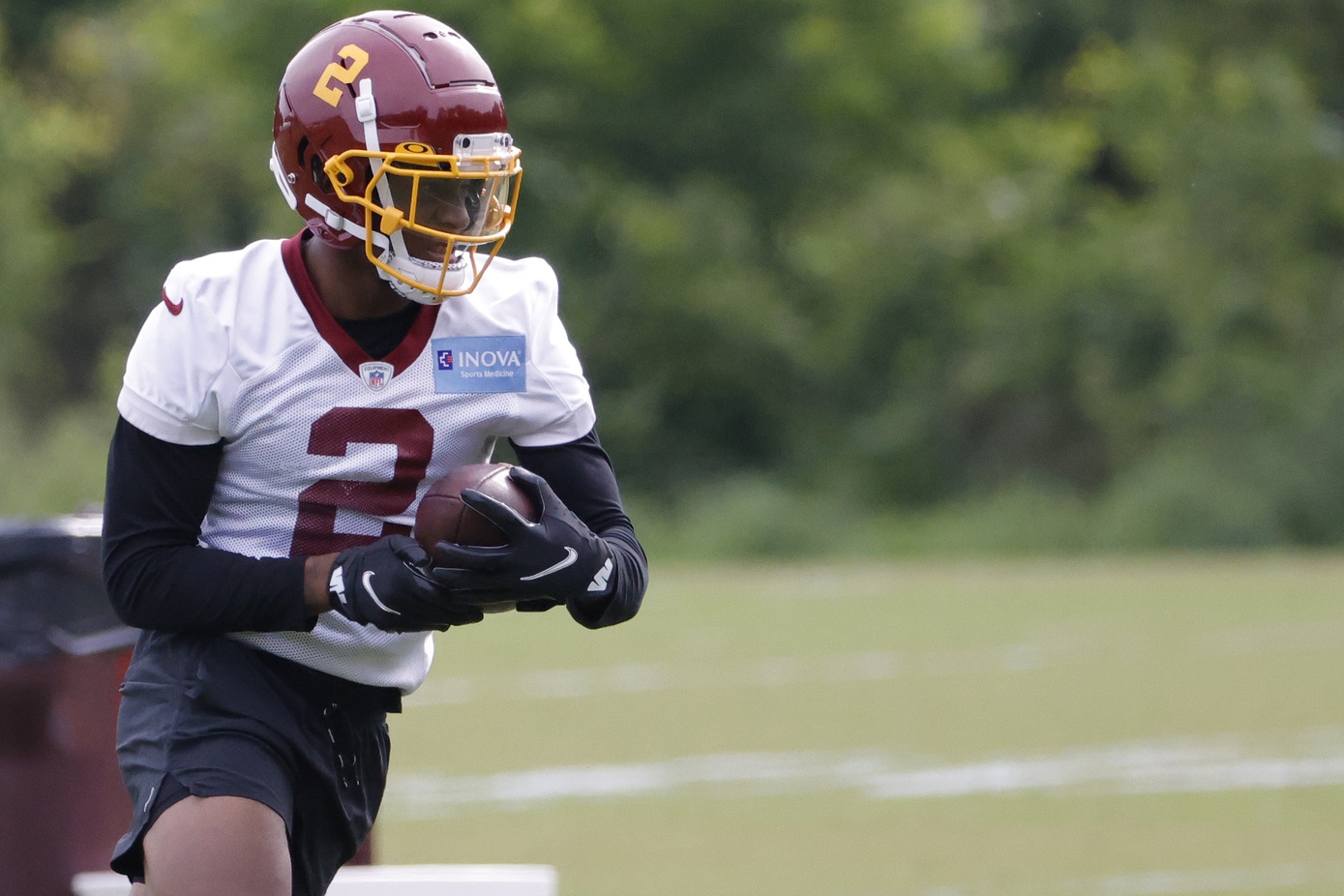 Washington is lucky to have a clear-cut top wide receiver like Terry McLaurin, and the team added a sidekick in Curtis Samuel this offseason. The third receiving spot will be between free-agent signee Humphries and the third-round rookie, Brown. There might not be a ton of fantasy points trickling down to the No. 3 WR here, but the performance could affect both McLaurin and Samuel.
Humphries is a career slot receiver who has run 80% of his pass routes from the slot in each of his last four seasons. Brown, on the other hand, saw 1,007 pass plays from the outside in college compared to 21 from the slot.
If Brown can do enough to win the third receiver role, then McLaurin and Samuel could split snaps from the slot. Both starting receivers have had a higher target share as well as higher yards per route run from the slot in their careers. Brown winning the job would be a good thing for both starters.
Jarwin was expected to take over after Jason Witten's departure in 2020, but the four-year veteran lasted only 25 snaps before an ACL injury cost him the rest of his season. The Cowboys have already started training camp this year because they play in the Hall of Fame game, and Jarwin is already back to practice.
Schultz ended up being the Cowboys primary tight end in 2020 and finished as the TE10. The 2018 fourth-round pick has earned a shot to compete with Jarwin for a starting job that has produced top-12 fantasy tight ends in each of the past two seasons. The winner will have plenty of competition for touches from the team's wide receivers and running backs, but that might not be enough to end the top-12 streak in such a high-powered offense. 
Jarwin has graded out as the better receiver over their careers (67.9 vs. 62.9) and boasts a higher average depth of target and a higher yards per route run. Schultz has performed better at catching shorter passes and making defenders miss after the catch.
The competition has suppressed both players' price, but both are worthy late-round options in case they win the starting job.