A receiver can be the best athlete on the field. They can create separation consistently with clean routes. But unless the quarterback gives them an opportunity to catch the football, high-level production is hard to come by.
Taking a deeper dive into a wide receiver's college situation provides an opportunity for NFL teams to find value in players who didn't perform in an ideal environment and may find themselves pushed down draft boards as a result. These five wide receiver prospects potentially fit that bill.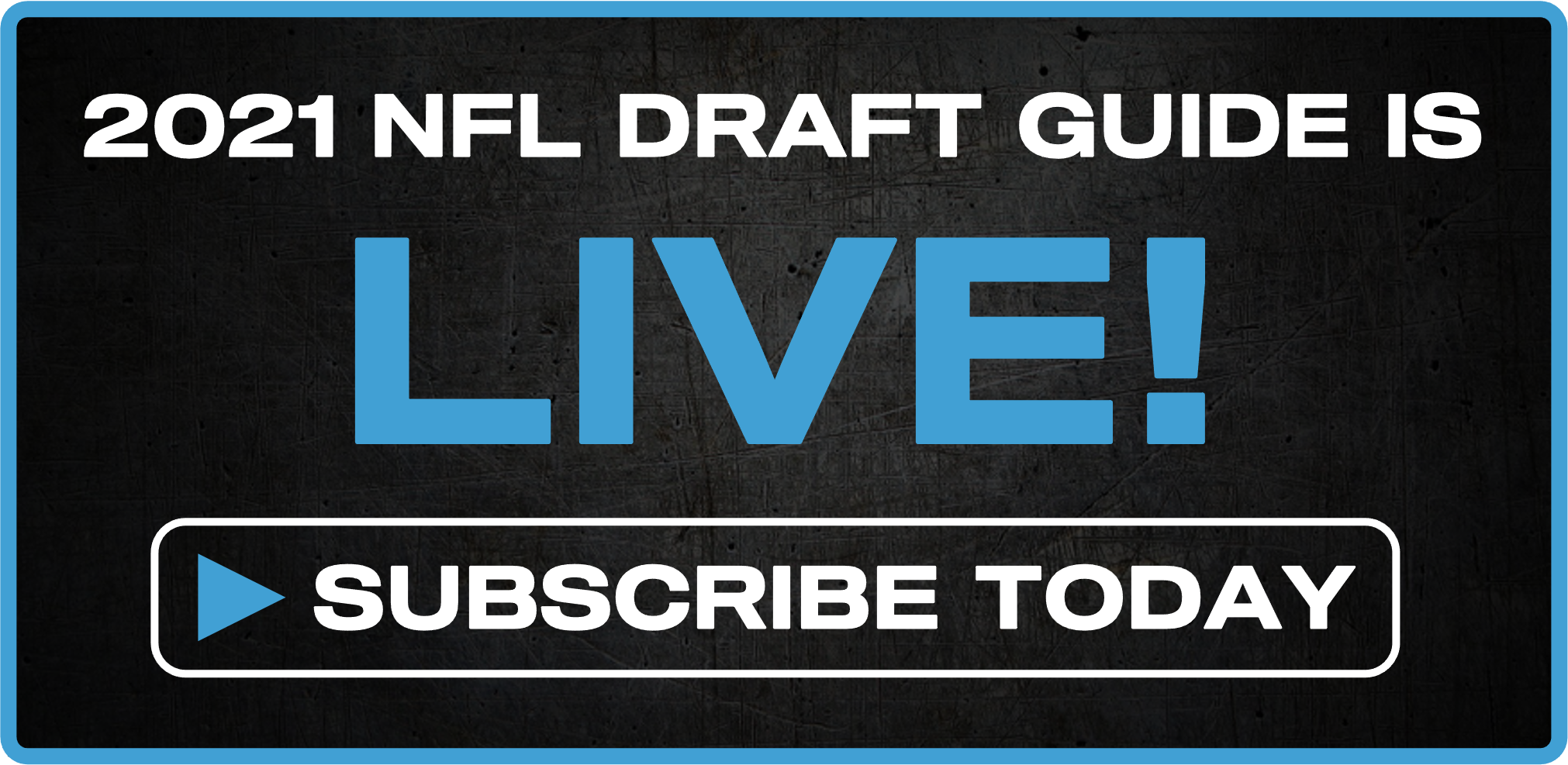 Palmer's college production was mediocre at best. He never topped 500 receiving yards in a season despite playing at least 400 offensive snaps in each of his four years at Tennessee. His career-high 70.7 overall grade in 2020 ranked just 59th among 138 qualifying wide receivers in this draft class. Yet, Palmer slots in as a top-10 wide receiver on PFF's Big Board — a Day 2 projection in the 2021 NFL Draft.
High-end athletic testing isn't driving that projection, either. Palmer put up middling testing numbers across each of his Pro Day events, topping out in the 70th percentile in the broad jump.
It was Palmer's tape — despite limited production — that intrigues. He was used primarily as a deep threat at Tennessee, seeing targets at an average depth of 17.3 yards over the course of his four-year career. As he showed this season against Alabama's Patrick Surtain II, he can win in that vertical role. But Tennessee's quarterbacks often didn't give him enough opportunities to do so.
Highest percentage of uncatchable passes since 2019 | Power Five schools
| | |
| --- | --- |
| School | Uncatchable pass rate |
| Georgia Tech | 34.0% |
| Kentucky | 30.8% |
| Illinois | 30.8% |
| Michigan | 28.4% |
| Kansas | 28.1% |
| Tennessee | 27.9% |
| Maryland | 27.7% |
| Duke | 27.2% |
That sixth-worst finish in the Power Five in uncatchable pass rate over the past two seasons is across all throws. It jumps to 37.2% on passes targeting Palmer, specifically.
Palmer doesn't profile exclusively as a deep threat. He has suddenness to his routes that allows him to get open underneath and in the intermediate range. There's a strong chance he becomes a more productive professional than college receiver.
PFF Big Board Rank: 119
Bo Nix won SEC Freshman of the Year in 2019, but LSU's Derek Stingley Jr. was seemingly more deserving. Nix finished that 2019 season with a 63.1 overall grade. He did bring it up to 73.4 in 2020 with Auburn, but it's clear that Williams hasn't had top-notch quarterback play in his time with the Tigers. Even going back to 2018, current New England Patriots quarterback Jarrett Stidham posted just a 57.8 PFF grade in his final season at Auburn.
To that point, just over 50% of the passes thrown in Williams' direction since 2018 were charted as accurate, with over 30% of those passes falling in the "uncatchable" category. Williams was almost given no shot in the intermediate range (10 to 19 yards downfield). Some 45.3% of his 75 targets at that depth were deemed uncatchable, while just 30.7% were charted as accurate — easily worse than any other draft prospect on this list.
Williams has the size and explosiveness to provide a big catch radius for his quarterback, but he can only do so much to erase accuracy woes.
PFF Big Board Rank: 124
PFF lead draft analyst Mike Renner wrote in the PFF Draft Guide, "Smith-Marsette's raw numbers aren't going to tell the entire story of his game. The number of underthrown deep balls on his tape rivals anyone else's in the country. He was able to run past pretty much any defensive back in the Big Ten if he got shoulder to shoulder with them."
Folks, Renner isn't lying.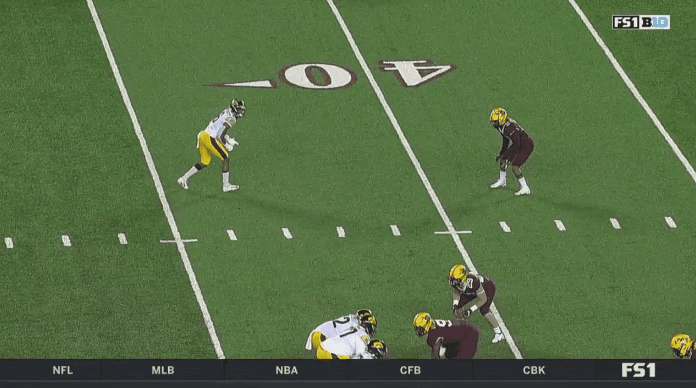 This is a touchdown if the ball is put out in front of Smith-Marsette. Instead, Iowa's quarterback gifts No. 2 an incompletion off the helmet on a bad underthrow. Smith-Marsette's speed jumps off the tape. His 4.43-second 40-yard dash at his Pro Day was merely good in the spectrum of some of the other times from this draft cycle. But his 1.44-second 10-yard split — where you see him eating up the cushion on the play above — is better than "good."
Like many of the receivers on this list, Smith-Marsette can produce if he lands in an offense with a quarterback who regularly hits him in stride on these vertical routes. That's not a bad trick to have, even if Smith-Marsette projects as a "one-trick" guy at this stage of his career.
PFF Big Board Rank: 150
Almost the entirety of Collins' career coincided with Shea Patterson's two years at Michigan in 2018 and 2019. The Patterson-led passing offense did no favors for Collins. Patterson's 50.7% accurate pass rate across those two campaigns ranked 58th among 65 quarterbacks to have at least 500 passes charted. Over 25% of the passes targeting Collins were labeled "uncatchable," and you have to remember that Collins isn't a difficult target to hit.
Here are a few of Collins' notable measurements from his recent Pro Day: 
Height: 6-foot-4 (93rd percentile)

Weight: 215 pounds (82nd percentile)

Arms: 34 inches (97th percentile)

Vertical jump: 38 inches (74th percentile)

Broad jump: 125 inches (76th percentile)
That makes for an impressive catch radius. Add in low 4.4-second speed, and you have the makings of an intriguing mid-round target with legitimate developmental traits. Collins has shown the ability to win vertically with that size and athleticism, including on this rep against Oklahoma cornerback Tre Brown in Mobile. 
One opt-out player who showed up looking different at Senior Bowl was @UMichFootball WR Nico Collins. @lbg_nico7 was 230 lbs on '19 tape but weighed 215 lbs in Mobile. This rep winning vertical vs maybe the fastest player in the game, Oklahoma CB Tré Brown, is evidence of that. pic.twitter.com/Bduo0ev4Ec

— Jim Nagy (@JimNagy_SB) February 13, 2021
Pair him with a quarterback who provides opportunities to make plays on those downfield passes, and a team could end up with one of those receivers who leaves us wondering how he fell so far in the draft.
PFF Big Board Rank: 284
Imatorbhebhe is not in the same tier of prospects as the other four players on this list, as his spot on the PFF Big Board suggests. However, you're going to warrant some consideration as a wide receiver when you're 6-foot-1 and 223 pounds with rare leaping ability (46.5-inch vertical and 11-foot-2 broad jump).
The former four-star recruit was highly coveted coming out of high school, originally committing to USC over offers from Michigan, Alabama and Oregon, among others. He caught just two passes at USC before transferring to Illinois, where he played his final two seasons in 2019 and 2020. Imatorbhebhe had more success with the Fighting Illini, but he still topped out at just a 66.3 PFF grade this past season.
Illinois' quarterback play has to be brought up in that discussion, though. Among 130 FBS offenses, the Illini ranked 98th in PFF passing grade in 2019 and 112th this past season. It was truly a bottom-of-the-barrel performance. Only 44.8% of the passes thrown Imatorbhebhe's way were charted as accurate over those two seasons. 
Granted, Imatorbhebhe has a ways to go toward becoming more than a guy who can jump, but he wasn't put in a situation to succeed in Illinois. Perhaps that changes as a late-round pick or an undrafted free agent in the NFL.