Welcome to the Week 7 edition of the 2019 fantasy football trade value chart. Although it wasn't as bonkers as week 5 in terms of scoring outbursts, week 6 saw its share of "fun" action. Stefon Diggs finally came alive (props to those of you who were able to patiently hold onto him without him killing you in the prior weeks), erupting for 43.5 PPR points. Alternatively, many of you who owned Alvin Kamara or Todd Gurley may have a much more pessimistic outlook over the next few weeks. Players' values can change so drastically each week, so capitalizing on a great buy-low or sell-high opportunity is paramount.
In addition to Diggs' Week 6 explosion, many other players produced favorably for their owners. Chris Godwin continued his amazing streak of games with at least 125 receiving yards. Terry McLaurin returned from injury to torch the Dolphins for two more touchdowns. Several effective fantasy QBs (i.e., Deshaun Watson, Matt Ryan, Lamar Jackson, Russell Wilson) buoyed their owners' teams again last week, while others who may have started slowly, finally came alive (i.e., Kyler Murray and Kirk Cousins). Beyond QBs and WRs, there were some truly standout performances by RBs and TEs.
James Conner wouldn't be denied, scoring two touchdowns en route to a 30.9 PPR day, despite their QB turmoil facing the Steelers. Jamaal Williams outproduced Aaron Jones — highlighted on last week's trade chart due to his four-touchdown performance — in his first game back from his scary concussion a few weeks ago. Leonard Fournette got 25-plus touches again … and Carlos Hyde dominated the Chiefs' run defense, going for 116 rushing yards and a touchdown on 26 carries.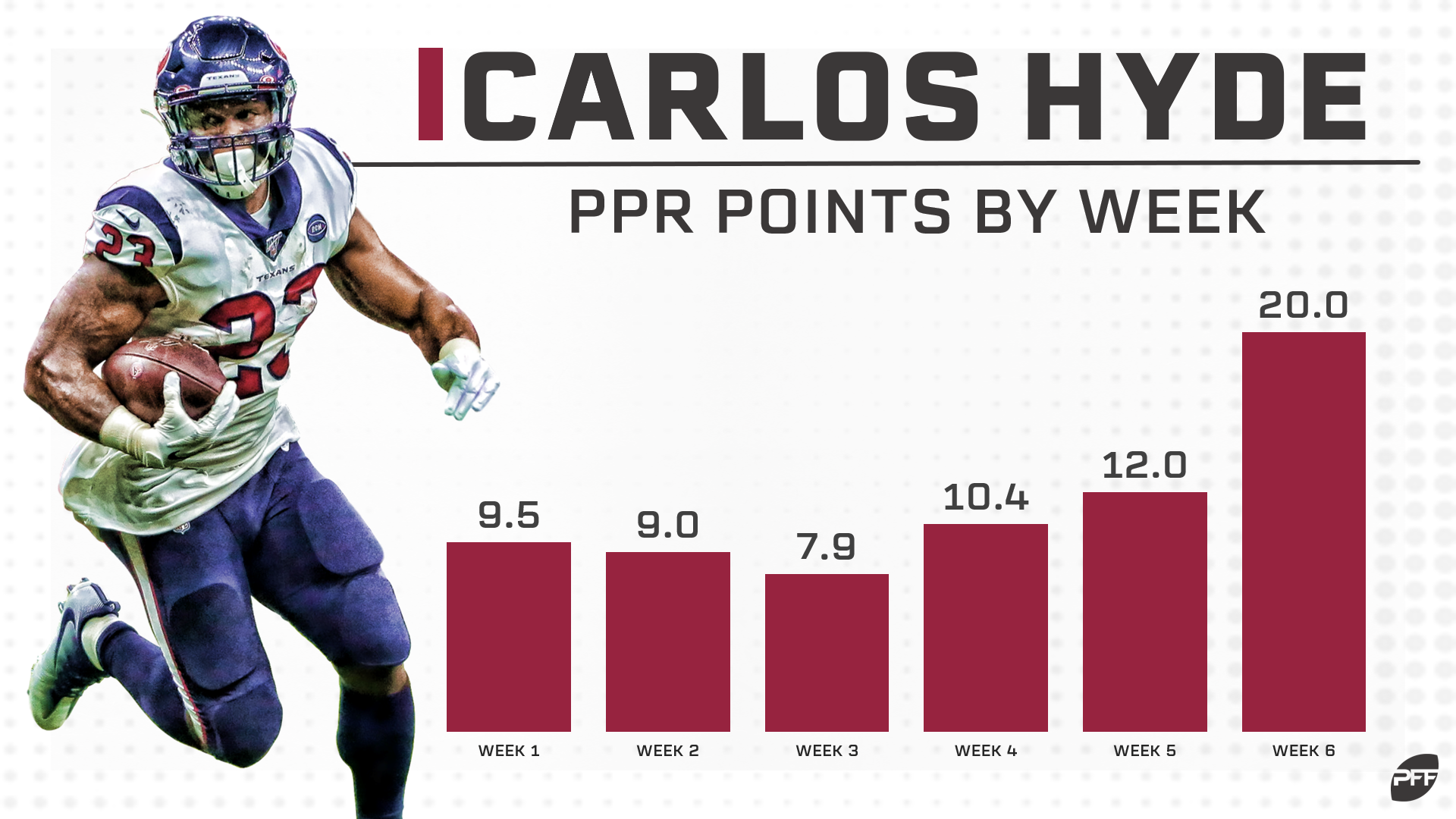 Hunter. Henry. Henry rewarded anyone who held onto him throughout his injury or retrieved him from waivers in recent weeks. Who could have seen him potentially not playing to just playing limited snaps to catching eight balls for 100 yards and two touchdowns? Amazing. Let's not forget about Austin Hooper though, who continues his dominance at the TE position. George Kittle — whom I've highlighted on these trade charts for a few weeks now — put up another great performance in a smashing of the Rams to the tune of eight catches for 103 yards. I promise to avoid discussing Kittle on next week's article.
Check out the full chart below. Remember, these values simply provide you with a foundation for prospective trades as of Week 6 and looking forward throughout the rest of the season. Tailoring these values to your league's distinct settings or your opponents' tendencies can drastically impact your transactions.
The trade value chart uses our rest-of-season projections to assign values to every relevant player. The players are displayed in order of their trade values.
Subscribe to PFF Edge to continue reading

Already have a subscription? Sign In