Despite what the headline says, it's never too early to talk about 2020 fantasy football rankings. Sure, the 2019 season isn't even over yet, but we're really only a little over a month away from 2020 best-ball contests opening up. The combine will follow just a few weeks later. Then there's free agency which spills into the draft. Minicamps and OTAs follow shortly after. Before we know it, the Fourth of July is here and we're right back into fantasy draft mode.
In other words, it's never too early to start prepping for next season. Let's get the 2020 fantasy football season started with our first batch of rankings. Of course, this is only the first incarnation of 2020 fantasy football rankings. With so much yet to unfold across the NFL landscape, this list will undergo many changes over the next several months. We'll give plenty of updates along the way in addition to rankings for standard scoring, dynasty leagues, best ball, and IDP.
In the meantime, don't forget that you can check out our fantasy football projections and matchup charts for all of your fantasy needs as the 2019 season wraps up.
1. Christian McCaffrey (RB1) – Obvious choice. Don't expect this ranking to change between now and August. McCaffrey will be the No. 1 pick in 2020 drafts.
2. Michael Thomas (WR1) – Sure, you could put a running back here, but Thomas showed us in 2019 that he's about as safe as they come for an elite fantasy option.
3. Saquon Barkley (RB2) – This past season wasn't ideal for Barkley, but he did finish strong and remains an elite fantasy option in 2020.
4. Ezekiel Elliott (RB3) – Believe it or not, Elliott is starting to get older for the position. That said, he's still on the right side of 27 and will continue to see heavy volume next season.
5. Dalvin Cook (RB4) – Cook broke out in a big way this past season in the Vikings' run-friendly scheme.
6. Alvin Kamara (RB5) – A touchdown drought took the wind out of Kamara's fantasy sails this season, but touchdowns regress to the mean. Kamara remains a high-ceiling fantasy option.
7. DeAndre Hopkins (WR2) – While he wasn't quite the fantasy producer he had been over the last two seasons, Hopkins still managed to produce rock solid numbers this year.
8. Tyreek Hill (WR3) – Injuries to both Hill and Patrick Mahomes hampered his production this season, but he still has arguably the highest fantasy ceiling of any player in the NFL.
9. Nick Chubb (RB6) – The Browns fed Chubb the rock this season, and that continues in 2020.
10. Mike Evans (WR4) – Let's be clear, Evans is extremely volatile from week to week. But he also has a massive ceiling and is essentially a lock for 1,000-plus yards if he stays healthy.
11. Derrick Henry (RB7) – The Titans running back showed this season that it is possible to be a top-10 fantasy running back in PPR even with a limited role in the passing game.
12. Joe Mixon (RB8) – This may seem high, but Mixon was a force down the stretch. A lot is going to change for Cincinnati in 2020, but the team feeding Mixon is not one of them.
13. Davante Adams (WR5) – When you look at the whole picture, 2019 was disappointing for Adams. However, he's been one of the most heavily targeted receivers on a per-game basis and remains one of the top fantasy options.
14. Julio Jones (WR6) – Jones is on the wrong side of 30, but he still has enough tread left on the tires to produce another top-10 season.
15. Chris Godwin (WR7) – The Bucs wideout exploded this season. While his production dropped off slightly after his hot start, Godwin's arrow continues to point up.
16. Aaron Jones (RB9) – It certainly was a bumpy ride with Jones this season, but he leads the league in rushing scores with a massive 16 of them.
17. Travis Kelce (TE1) – We've seen some interesting tight ends emerge this season, but Kelce remains the top dog.
18. Josh Jacobs (RB10) – The top rookie performer this season, Jacobs' arrow is pointing up in an improving Raiders offense.
19. Leonard Fournette (RB11) – He isn't the sexiest fantasy option, but Fournette was one of the most heavily used backs of the year this season.
20. Amari Cooper (WR8) – Injuries slowed Cooper through the second half of the season, but he still has a positive outlook moving forward with Dak Prescott continue to mature as a pro.
21. George Kittle (TE2) – He isn't quite the No. 1 fantasy tight end just yet, but that time is coming in the very near future.
22. Todd Gurley (RB12) – The Rams started to feed Gurley down the stretch, but his days as an elite option are in the past. That being said, he's still a fringe-RB1 option heading into next year.
23. JuJu Smith-Schuster (WR9) – Don't blame Smith-Schuster for this year. Bad injury luck really hampered his production, but he's still extremely talented and will benefit from Ben Roethlisberger back under center.
24. Odell Beckham Jr. (WR10) – Beckham has elite fantasy potential, but Browns really need to figure out how to use him more effectively next year.
25. Melvin Gordon (RB13) – Buyer beware with Gordon as he's entering his age-27 season.
26. Chris Carson (RB14) – He was an RB1 for a chunk of the year, but do we see the fumbling issues again in 2020?
27. Keenan Allen (WR11) – Allen has flashed an elite ceiling at various points of his pro career but is best viewed as more of a back-end WR1.
28. Allen Robinson (WR12) – One of the biggest bounceback players of 2019, Robinson will carry this momentum over into next season.
29. Stefon Diggs (WR13) – The Vikings' run-heavy approach put a cap of Diggs' fantasy potential, but he did display massive big-play upside this season.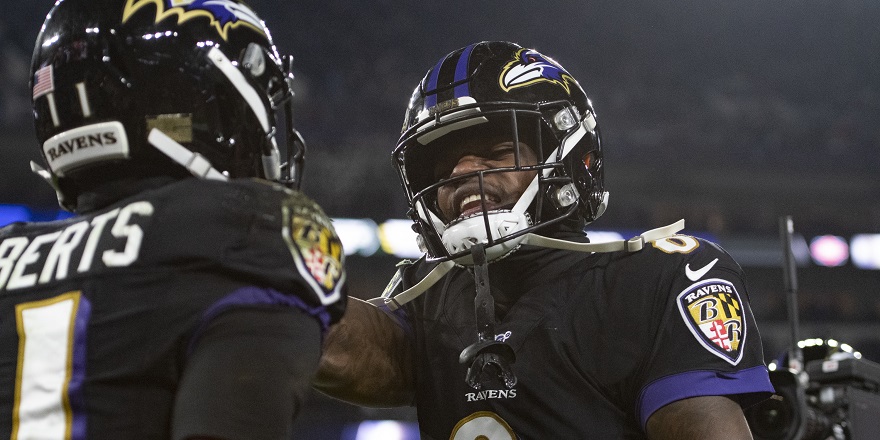 © Tommy Gilligan-USA TODAY Sports
30. Lamar Jackson (QB1) – Yep. These rankings have Jackson going in the middle of the third round. There's no way he lasts that long in drafts, but this is a good place to view his value relative to the rest of the position given the sheer depth we have at quarterback. Jackson is going to be drafted way too early in 2020.
31. Kenny Golladay (WR14)
32. Kenyan Drake (RB15)
33. Cooper Kupp (WR15)
34. Miles Sanders (RB16)
35. Devin Singletary (RB17)
36. D.J. Moore (WR16) –
37. Courtland Sutton (WR17)
38. Tyler Lockett (WR18)
39. Kerryon Johnson (RB18)
40. Mark Ingram (RB19) – Ingram has a widely efficient season in 2019, but the veteran back just turned 30. It's tough to see him replicating this year's production.
41. Marlon Mack (RB20)
42. James Conner (RB21)
43. Phillip Lindsay (RB22)
44. Julian Edelman (WR19)
45. Zach Ertz (TE3)
46. Derrius Guice (RB23) – Can he stay healthy? If so, Guice has the chance to be one of the bigger breakouts of 2020.
47. David Montgomery (RB24)
48. Austin Ekeler (RB25)
49. Devonta Freeman (RB26)
50. Robert Woods (WR20)
51. Calvin Ridley (WR21)
52. John Brown (WR22)
53. D.J. Chark (WR23) – A massive surprise in 2019, Chark is poised to enter next season as a high-upside WR2 option.
54. Tyler Boyd (WR24)
55. Jarvis Landry (WR25)
56. T.Y. Hilton (WR26)
57. Adam Thielen (WR27)
58. Le'Veon Bell (RB27)
59. Patrick Mahomes (QB2) – Believe it or not, Mahomes may end up being a reasonable value in next year's drafts.
60. DeVante Parker (WR28)
61. Christian Kirk (WR29)
62. A.J. Brown (WR30)
63. Michael Gallup (WR31)
64. Evan Engram (TE4)
65. Hunter Henry (TE5)
66. Mark Andrews (TE6)
67. Raheem Mostert (RB28) – The 49ers backfield is a tough nut to crack, but as of now Mostert is the best bet to take the lead.
68. James White (RB29)
69. Emmanuel Sanders (WR32)
70. Alshon Jeffery (WR33)
71. Kareem Hunt (RB30)
72. Darren Waller (TE7)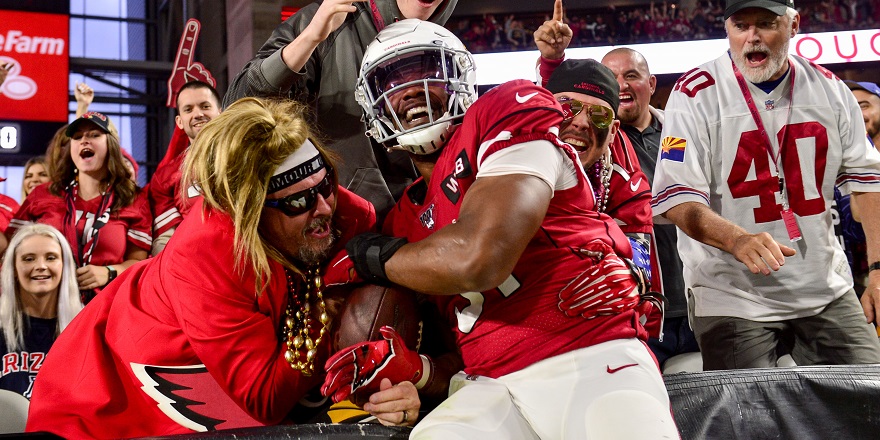 © Matt Kartozian-USA TODAY Sports
73. David Johnson (RB31) – Will he still be in Arizona next season? His contract situation suggests he will, but Johnson's fantasy ranking is heavily contingent on which team he plays for in 2020.
74. Sony Michel (RB32)
75. Deshaun Watson (QB3)
76. Austin Hooper (TE8)
77. D.K. Metcalf (WR34)
78. Mike Williams (WR35)
79. Rashaad Penny (RB33)
80. Carlos Hyde (RB34)
81. Sterling Shepard (WR36)
82. Marvin Jones Jr. (WR37)
83. Terry McLaurin (WR38)
84. A.J. Green (WR39) – Green missed the entire season and will be 32 when the season begins. Tough to see him being a consistent fantasy option going forward.
85. Russell Wilson (QB4)
86. Jamaal Williams (RB35)
87. Aaron Rodgers (QB5)
88. Kyler Murray (QB6) – Murray finished as a top-10 fantasy quarterback this year despite not topping 20 passing scores. He's going to take a step forward in 20200.
89. Jamison Crowder (WR40)
90. Ronald Jones II (RB36)
91. Jameis Winston (QB7)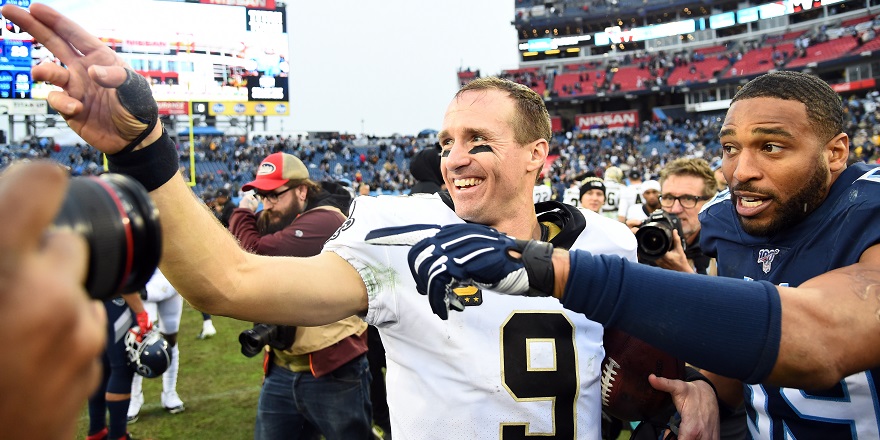 © Christopher Hanewinckel-USA TODAY Sports
92. Drew Brees (QB8)
93. Jared Cook (TE9)
94. Josh Allen (QB9)
95. Latavius Murray (RB37)
96. Deebo Samuel (WR41) – The rookie wideout impressed this season and has the potential to really blossom next year in Kyle Shanahan's offense.
97. Robby Anderson (WR42)
98. Will Fuller V (WR43)
99. Dak Prescott (QB10)
100. Damien Williams (RB38)
101. Tarik Cohen (RB39)
102. James Washington (WR44)
103. Marquise Brown (WR45)
104. Curtis Samuel (WR46)
105. Anthony Miller (WR47)
106. Golden Tate (WR48)
107. Dallas Goedert (TE10) – Philadelphia showed us this year that the Eagles are capable of sustaining TE1 production from two tight ends.
108. Alexander Mattison (RB40)
109. Matt Breida (RB41)
110. Cam Newton (QB11)
111. Matt Ryan (QB12)
112. Royce Freeman (RB42)
113. Ben Roethlisberger (QB13)
114. Ryan Tannehill (QB14) – He was on fire down the stretch and should carry that momentum over to 2020.Tannehill looks like he should be an interesting late-round option.
115. Matthew Stafford (QB15)
116. Carson Wentz (QB16)
117. Tevin Coleman (RB43)
118. T.J. Hockenson (TE11)
119. Daniel Jones (QB17)
120. Tyler Higbee (TE12) – This is a bit of speculation, but there's no way the Rams can ignore what Higbee did over the last month of the season.
121. Noah Fant (TE13)
122. Duke Johnson (RB44)
123. Sammy Watkins (WR49)
124. Dede Westbrook (WR50)
125. Brandin Cooks (WR51)
126. Tony Pollard (RB45)
127. Baker Mayfield (QB18) – The Mayfield hype was out of control in 2019. He has a chance to be an excellent post-hype sleeper next year.
128. Jordan Howard (RB46)
129. Tyrell Williams (WR52)
130. Larry Fitzgerald (WR53)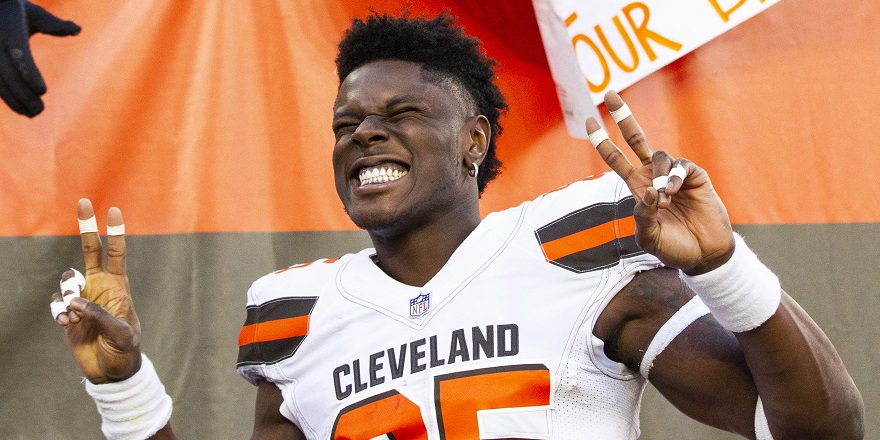 © Scott R Galvin-USA TODAY Sports
131. David Njoku (TE14)
132. Mike Gesicki (TE15)
133. O.J. Howard (TE16)
134. Darwin Thompson (RB47)
135. DeAndre Washington (RB48)
136. Jared Goff (QB19)
137. Tom Brady (QB20)
138. Kyle Rudolph (TE17)
139. Diontae Johnson (WR54) – JuJu Smith-Schuster is the clear No. 1 in Pittsburgh next year, but Johnson flashed an appealing skill set this past season.
140. Corey Davis (WR55)
141. Darius Slayton (WR56)
142. Zach Pascal (WR57)
143. Kirk Cousins (QB21)
144. Cole Beasley (WR58)
145. Benny Snell Jr. (RB49)
146. Breshad Perriman (WR59) – Stay tuned on Perriman. Landing spot will be key if he doesn't re-up with Tampa. We also don't know if he'll be able to pick up where he left off this season.
147. Allen Lazard (WR60)
148. Philip Rivers (QB22)
149. Jimmy Garoppolo (QB23)
150. Kenny Stills (WR61)