Free agency and the 2022 NFL Draft have come and gone. Now, it's time to fully embrace the 2022 offseason by breaking down each team's fantasy football aspirations before fantasy draft season truly gets underway in August.
What follows is a New Orleans Saints fantasy-focused breakdown, focusing on key questions such as:
Can

James Winston

build on his sneaky-solid debut season?

Just how big will

Alvin Kamara

's workload be in the post-Sean Payton era?

Could both

Michael Thomas

and

Chris Olave

ball out in major ways?
Every fantasy-relevant player from the Saints will be covered in the following paragraphs. Make sure to check out the PFF Team Preview Landing Page through early July for more all-encompassing fantasy football coverage.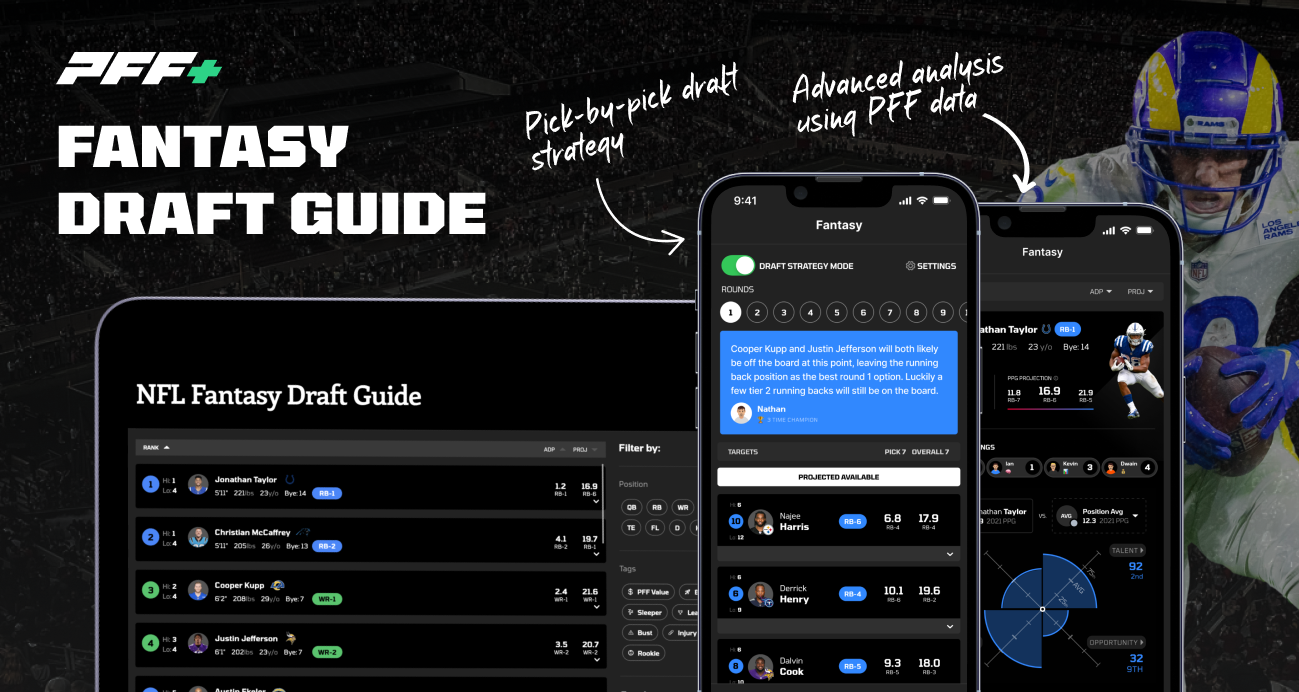 Notable offseason moves
It's a new era in New Orleans after Sean Payton stepped down as the head coach following 15 years with the squad. However, the organization prioritized continuity when replacing Payton, as defensive coordinator Dennis Allen was promoted to head coach while longtime offensive coordinator Pete Carmichael retained his position.
The 2021 Saints were one of the league's most run-heavy offenses while getting used to life without Drew Brees, although this has been a fairly steady trend over the past half-decade, particularly in years when Brees was forced to miss some time:
2017: 57.6% pass-play rate in non-garbage time situations (No. 26)
2018: 56.8% (No. 29)
2019: 63% (tied for No. 14)
2020: 56.3% (No. 27)
2021: 55.6% (No. 29)
Looking at the team's situation neutral pace (Football Outsiders) paints a similar picture: The days of the Saints throwing the ball more than just about anyone while moving at a breakneck pace have been over for quite some time.
2017: 30.53 seconds per play in neutral situations (No. 15)
2018: 31.07 (No. 13)
2019: 31.63 (No. 23)
2020: 31.54 (No. 28)
2021: 31.03 (No. 14)
Dealing with an aging Brees, better defense and middling receiver rooms are all factors in this. Perhaps a more confident Jameis Winston, combined with a vastly deeper wide receiver room, leads to a decent uptick in overall passing volume, but just realize this offense has a long way to go before being considered even an average group in pass-play rate. Expecting more than one consistent high-end fantasy asset from this passing game might be wishful thinking without some extremely positive efficiency.
Additionally, the Saints have made plenty of changes to their roster. The following quarterbacks, running backs, wide receivers, and tight ends have either joined or left the Saints in some way, shape, or form this offseason:
QB Andy Dalton:

Signed a one-year, $6 million contract to serve as the Saints' backup quarterback. The move goes hand in hand with the organization's declaration that

Taysom Hill

will be focusing more on tight end in 2022. Dalton managed to give his team a chance to win more times than not with the Cincinnati Bengals (70-61-2), Dallas Cowboys (4-5), and Chicago Bears (3-3) alike, but just realize it's been quite some time since Dalton offered anything resembling true fantasy upside, and it's more likely than not that the soon-to-be 35-year-old veteran's best days are in the rear-view mirror.
QB Trevor Siemian:

Signed with the Bears in free agency. Siemian didn't manage to lead the Saints to a victory in his four starts last season, but he did post a solid 11-to-three touchdown to interception ratio and has a good chance of sticking around the league for a while as a backup.
RB Ty Montgomery: Signed with the New England Patriots in free agency and, thankfully, will no longer be wearing No. 88. Montgomery was never exactly leaned on during his two seasons with the Saints, ultimately posting pedestrian 34-145-0 rushing and 19-122-0 receiving lines in 20 games.
WR Jarvis Landry: Signed a one-year, $6 million deal with the Saints to presumably work as the offense's starting slot receiver. The homecoming comes after four solid years in Cleveland that featured Landry post 81-976-4, 83-1,174-6, 72-840-3 and most recently 52-570-2 receiving lines. Still, Landry turns 30 years old in late November and could feasibly only be this offense's No. 4 passing-game option when everyone is healthy.
WR Kenny Stills:

Remains a free agent. The fact that the Saints had to unironically lean on Stills for chunks of 2021 demonstrates just how rough things were inside of this wide receiver room last season. Stills' early-career Saints tenure featured plenty of big plays, but last season, the 30-year-old veteran caught just six of 23 targets for 68 yards and one score.
WR Lil'Jordan Humphrey:

Remains a restricted free agent. The former undrafted free agent caught 16 of 24 targets for 295 yards and three touchdowns in 18 games with the Saints over the past three seasons.
TE Garrett Griffin: Signed with the Detroit Lions in free agency. Griffin was a block-first option with the Saints, as he saw just five targets in 20 games with the team from 2017 to 2021.
TE J.P. Holtz:

Signed a one-year, $965,000 contract with the Saints. Holtz has just seven catches in 44 career games and doesn't profile as anything more than a rotational backup.
The Saints only added one skill-position player in the draft, but they certainly made the selection count by taking Ohio State WR Chris Olave with the No. 11 overall pick. Olave, the Buckeyes' all-time leader in receiving touchdowns, figures to instantly start in three-WR sets and profiles as Winston's potential No. 1 passing-game option from Day 1 depending on how Michael Thomas' (ankle) recovery progresses.
Winston's debut campaign as the Saints' QB1 wasn't perfect, but he did demonstrate the sort of upside that goes hand-in-hand with a former No. 1 overall pick with a 5,000-yard season to his name:
PFF passing grade

: 66.3 (No. 24 among 45 quarterbacks with 100-plus dropbacks)

QB rating

: 102.8 (No. 8)

Big-time throw rate

: 7.1% (No. 2)

Turnover-worthy play rate

: 3% (No. 17)

Yards per attempt

: 7.3 (No. 19)

Adjusted completion rate

: 72.5% (No. 32)
Yes, the Saints ranked dead last in pass-play rate in non-garbage time situations when Winston was under center. Also yes, he made a number of truly excellent throws despite dealing with anyone's idea of a bottom-five group of pass-cachers.
Jameis Winston pic.twitter.com/M9Fiem04bg

— Ian Hartitz (@Ihartitz) June 5, 2022
Unfortunately, consistent high-end fantasy production was tough to come by in 2021. Winston peeled off elite QB3 and QB5 finishes in Weeks 1 and 5, respectively, but showed off a low floor with QB26, QB25, QB26, QB15 and QB27 (injured early) finishes in his other five starts.
Winston's infamous 2019 campaign did feature a robust fantasy ceiling thanks, in large part, to Bruce Arians' limitless leash, but just realize he's generally been a rather underwhelming fantasy option over the years:
2021: QB14 in fantasy points per game
2019: QB8
2018: QB15
2017: QB18
2016: QB20
2015: QB19
There's never been a robust rushing floor here, and we shouldn't expect that to appear in 2022 due to Winston's recovery from a torn ACL and the history of quarterbacks rushing less as they get older.
Winston's path to a good fantasy season is reliant on: The Saints throwing the ball more often while he maintains or improves his efficiency thanks to having a better group of weapons at his disposal. Both seem like reasonable enough leaps of faith, particularly after the Saints gave Winston a solid two-year, $28 million investment.
Famous Jameis comes in as my QB18, which is ahead of Ryan Tannehill, Zach Wilson, Trevor Lawrence, Tua Tagovailoa and Daniel Jones. I'd still go with more proven, and similar pocket passers, such as Kirk Cousins and Derek Carr ahead of Winston, but we've simply seen a higher ceiling from Winston than most of the former quarterbacks mentioned. Presently priced as the QB20 over at Underdog Fantasy, Winston is a solid QB2 in best-ball land who can be rather cheaply stacked with each of his top-three wide receivers.
First up: Kamara's ongoing legal situation. His next hearing has been pushed to August, meaning there's a chance things could be further delayed to the point where no decision is made before the end of the 2022 season. This scenario would resemble Dalvin Cook's current outlook, as the expectation is that no suspension will be handed down until a legal resolution is reached.
Of course, there's also a chance that Kamara's legal conclusion is reached before the season starts. The worst-case scenario seems to be a six-game suspension due to the potential of a battery charge. There is apparently a video of the issue, which sure seems like a potential problem given the NFL's history of weighing crimes more heavily when there's confirmed video evidence.
It's also curious that Kamara's lackluster 2021 season hasn't faced the same scrutiny as Saquon Barkley or Ezekiel Elliott. This isn't to suggest that Kamara failed his fantasy manager, as his 18.1 PPR points per game were tied with Joe Mixon for the sixth-highest mark in the league. Still, he posted the position's eight-most fantasy points below expectation due to some of the worst efficiency marks of his career:
PFF rushing grade: 65.9 (No. 42 among 50 backs with 100-plus carries)
Yards per carry: 3.7 (No. 42)
Yards after contact per carry: 2.8 (No. 30)
Missed tackles forced per carry: 0.19 (tied for No. 15)
I'm fully out on Kamara at the moment as long as he remains priced as a top-12 back in fantasy land. There are healthy workhorses such as Leonard Fournette, Saquon Barkley and James Conner who arguably boast higher season-long ceilings than Kamara even if a suspension wasn't on the table. All of the above veterans suffered an injury at some point last season so be careful about outweighing your ability to predict the future of injuries compared to a potential looming suspension that is actively ongoing at the moment.
Of course, Kamara would be back to his familiar standing as an upside RB1 if/when his legal problems are gone. He remained a top-five back in expected points last season, finally receiving a robust rushing workload for the first time in his career. The potential for more passing in Year 2 of the Jameis experience would be a positive for Kamara given the fact that historically one target is worth roughly 2.7 carries in terms of expected fantasy points while another run-heavy system could still plausibly lift the Saints' $75 million man to a 300-plus touch pace with good health. I'd slide in Kamara as my RB6 in a tier with Fournette, Cook, Conner and Barkley with full assurance of no suspension.
Kamara's uncertain legal situation has Ingram firmly on the late-round radar. The 32-year-old veteran averaged a career-low 3.5 yards per carry in 2021, but that didn't stop the Saints from giving him some hefty workloads in three games with Kamara sidelined:
Week 10: 14-47-1 rushing, 4-61-0 receiving, 85% snap rate
Week 11: 16-88-0 rushing, 6-25-0 receiving, 72% snaps
Week 13: 10-28-0 rushing, 1-(-)2-0 receiving, 43% snaps
The problem with expecting Ingram to once again handle this rather robust workload in Kamara's potential absence is the potential for the Saints to dip into the remaining group of free agents available. Fellow 30-plus-year-old backs David Johnson, Devontae Booker, Carlos Hyde, and Devonta Freeman (among others) remain on the open market and could quickly turn Ingram's featured role into something far closer to that of a lead committee back. It's fine to throw a dart at Ingram in the final round or two of best-ball drafts, but just realize his best years are in the past, so it's tough to see the Saints signing up to give him more than 15-plus touches for more than a game or two.
Thomas started his career on an absolute tear, posting 92-1,137-9, 104-1,245-5, 125-1,405-9, and 149-1,725-9 receiving lines while playing at least 15 games in each of his first four seasons. He was heavily banged up and played just four games in 2020, but that didn't stop him from surpassing the 100-yard mark on two separate occasions despite dealing with Taysom Hill under center.
And then 2021 happened. Suddenly, Thomas hasn't played a professional football game in 17 months and counting.
There were three updates on Thomas' ankle recovery last May:
May 6: Saints head coach Dennis Allen said: "There's still a few hurdles that we've got to climb, with any of our guys that had any injuries they're trying to get back from."
May 26: Allen said: "I think he's doing well in his rehab. He's not ready yet, but he's here, he's rehabbing, getting himself better and we're certainly anxious to get him out here." When Allen was then asked if Thomas would be ready for training camp: "That's certainly our plan."
May 27: Ace Saints beat writer Nick Underhill reported that he believes Thomas is "heading in the right direction" in his recovery. Underhill went on to explain that he won't be concerned about Thomas' regular-season status unless he's not ready for Saints training camp in July.
All in all, that's pretty decent news, albeit not fantastic given that there's still at least some uncertainty surrounding Thomas' ability to be 100% by Week 1.
There's little doubt that Thomas is capable of functioning as one of the league's better wide receivers when healthy. Being forced to play with late-career Drew Brees, Teddy Bridgewater, and Taysom Hill understandably reduced him to more of a low-aDOT possession receiver, but the former 2019 NFL Offensive Player of the Year might just be capable of far more. Entering 2021, Thomas had caught 33 of 36 (92%) catchable targets thrown at least 20 yards downfield since entering the league in 2016 — the fourth-highest mark among 64 qualified receivers.
Slander surrounding Thomas' ability to win on non-slant routes has also gone too far. Yes, the Saints' long-time No. 1 receiver was certainly the league's premier pass-catcher when running the slant during the 2016-2020 seasons. Also yes, he ranked highly in just about everything else as well:
Slant route

: 6.44 yards per route run (No. 1 out of 145 qualified WRs)

Comeback and hitch

: 3.64 YPRR (No. 2 out of 126)

In, post and crossing routes

: 4.59 YPRR (No. 6 out of 150)

Out and corner routes

: 1.42 YPRR (No. 41 out of 130)

Go, wheel, fades and general deep routes

: 3.24 YPRR (No. 24 out of 98)

Screen

: 0.67 YPRR (No. 88 out of 116)
Watch the film: Thomas has always been plenty capable of winning against man coverage in a variety of ways.
The key question ahead of 2022 is whether or not Thomas will be the same player as he was before the injury. History tells us that wide receivers tend to start falling off in their late 20s and especially after hitting 30, as there isn't the same sort of safe combination of health, high-volume and elite quarterback play on the table for Thomas as there is for guys such as Keenan Allen and Mike Evans.
Ranking Thomas is tough at the moment. He'd be worthy of legit low-end WR2 treatment with full assurance of good health, although that's simply not a certainty at the moment. Priced as the WR31 over at Underdog Fantasy, I'm leaning slightly into Thomas (my WR30) at the moment over youthful talents such as Elijah Moore, Amon-Ra St. Brown, Darnell Mooney, Treylon Burks and Drake London, who simply haven't shown the same elite ability to demand a high-end target share at the professional level just yet. I'd happily rank Thomas next to Amari Cooper (my WR24) once fully cleared to get back on the field, but until then, be careful about betting too highly on players that are actively battling an injury.
Of course, it'd be far easier to rationalize drafting Thomas in the hopes of him achieving a dominant target share had the Saints not spent a first-round pick on Olave.
In one word, and brace yourself people because there's a good chance you've never heard anyone say this: Olave is smooth.
Chris Olave pic.twitter.com/FT2GBNUGve

— Ian Hartitz (@Ihartitz) February 22, 2022
PFF wrote the following about Olave in our 2022 NFL Draft Guide:
"Where he wins: Route-Running. Olave wins with high-level route-running and plus speed. Leave him on an island with no help over the top too often, and you'll eventually pay.

What's his role: Reliable #2-Z. Olave is your prototypical No. 2 receiver. He's not a do-it-all guy, but he's adept enough downfield that defenses can't leave him one-on-one.

Where he can improve: After The Catch. Olave's main weakness is only that he may not be elite at anything in particular. There's not much to his game that qualifies as problematic."
Similar to Winston: Thomas and Olave's fantasy upside is dependent on whether or not the Saints decide to embrace more of a pass-first offense. In 2022, Saints wide receivers ranked 29th in both routes and targets. Only Philadelphia Eagles wide receivers caught fewer total passes.
It's great that the Saints thought enough of Olave to make him the third wide receiver off the board, although this sort of high-end draft capital hasn't always led to Year 1 success. The following table denotes the top-three receivers in every draft since 2017 alongside their rookie-year finish in PPR points per game.
Run-first offenses are certainly capable of producing a high-end fantasy receiver — look at Deebo Samuel and A.J. Brown. Still, it's tough to assume Thomas overly dominates target share while adjusting to a new quarterback when sharing the field with Kamara and Olave, who might already be the best No. 2 receiver to ever share the field with Thomas.
With so much uncertainty surrounding Thomas' health and ability at this moment in time, I find myself more willing to wait an extra two or three rounds before snagging Olave (my WR41, ADP WR46). Landry isn't a bad late-round dart either, but just realize money and draft capital suggests that he could potentially fall as low as fourth on the overall pass-game totem poll.
The Hill experience certainly isn't for everyone, but there's no denying the man is pretty badass with the football in his hands. The one thing that even haters can't deny: Hill was put on this Earth to run the ball down the defense's throat.
Sometimes Taysom Hill actually does some pretty cool shit pic.twitter.com/MlFAwIGbeS

— Ian Hartitz (@Ihartitz) June 6, 2022
Don't expect this to happen too often under center with Winston and Dalton likely handling most of those duties in 2022, and head coach Dennis Allen confirmed as much by saying Hill would focus on tight end back in March.
It's tough to be overly optimistic about this potential new look workload. Hill posted snap rates of just 35%, 23%, 53%, 50%, 16%, 22% and 31% in his first seven games of 2021 that didn't feature him as the starting quarterback. While his 19-234-6 receiving line in 2019 demonstrated the soon-to-be 32-year-old veteran is capable of finding the end zone as a pass-catcher, he's had just 18 total targets since.
Another issue is that Hill wasn't overly leaned on as the offense's goal-line back last season. Kamara easily led the way in rush attempts inside the five- (nine versus three) and 10-yard line (17 versus seven) alike. Hell, Ingram (two) was nearly as involved as Hill (three) around the goal line over the course of the season.
Throw in Trautman's presence, as he played at least 50% of the snaps in all 13 of his games and 80%-plus reps on eight separate occasions, and it seems unlikely Hill gets the sort of volume in the pass, run, and/or receiving game to be a consistently fantasy-relevant asset. His best path to success was always getting the quarterback job while maintaining the tight end designation in fantasy land, but that pipe dream seems as good as over with Dalton cemented as the No. 2 QB.