Free agency and the 2022 NFL Draft have come and gone. Now, it's time to fully embrace the 2022 offseason by breaking down each team's fantasy football aspirations before fantasy draft season truly gets underway in August.
What follows is a fantasy-focused breakdown of the Las Vegas Raiders, focusing on key questions like:
Will

Derek Carr

play his best football ever now that he's reunited with his Fresno State BFF?

Could

Josh Jacobs

offer mid-round value as the lead back of another Josh McDaniels committee backfield?

How high are the fantasy ceilings for

Davante Adams

,

Hunter Renfrow

 and

Darren Waller

?
Every fantasy-relevant player from the Raiders will be covered in the following paragraphs. Make sure to check out the PFF Team Preview Landing Page through early July for more all-encompassing fantasy football coverage.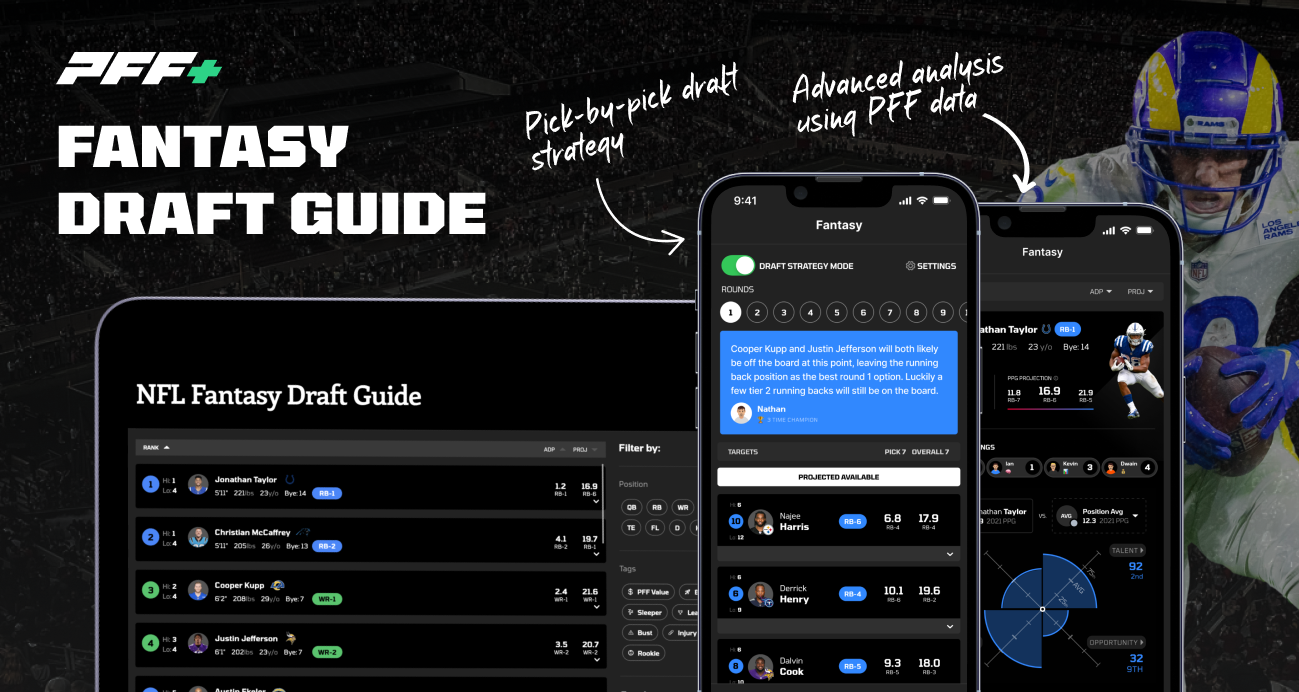 Notable offseason moves
From the front office, to the coaching staff, to the roster: Every 2022 NFL team will be different than its 2021 version.
The Raiders declined to bring back the Jon Gruden-led staff and underwent an organizational overhaul. Gone are interim head coach Rich Bisaccia, offensive coordinator Greg Olson and defensive coordinator Gus Bradley. In are Josh McDaniels, Mick Lombardi and Patrick Graham for those respective roles.
Seeing as Lombardi has worked with McDaniels in New England since 2019: It's a safe bet that the Raiders will embrace many of the same offensive principles that the Patriots have made their living on over the years. Of course, there is at least some question as to whether or not McDaniels will fully unleash the passing game after utilizing an extremely run-heavy approach in the post-TB12 era:
2017: 60.5% pass-play rate in non-garbage time situations (No. 17)
2018: 58.3% (No. 28)
2019: 61.3% (No. 22)
2020: 51.5% (No. 31)
2021: 56% (No. 28)
There are similar questions regarding how fast the offense will generally be moving. Per Football Outsiders, the Patriots ranked second, first and first in situation-neutral pace during the final three years of the Brady era, but fell to 13th in 2020 and 27th in 2021.
The Raiders agreed to a three-year, $121.5 million extension with Carr that locks the veteran quarterback into Las Vegas for at least 2022, although the team can really get out of the deal as early as 2023. Maybe McDaniels isn't ready to anoint Carr as Sin City Brady just yet, but expect the offense to embrace the strengths of their high-priced offensive options and accordingly run at least an above-average offense in terms of pass-play rate and (especially) pace.
Additionally, the Raiders have made plenty of changes to their roster. The following quarterbacks, running backs, wide receivers and tight ends have either joined or left Las Vegas in some way, shape or form this offseason:
QB Marcus Mariota: Signed a two-year, $18.75 million contract with the Falcons, although only $6.75 million is guaranteed. Meaning: Atlanta can easily get out of this deal after a single season if they desire. Mariota disappointed during his four and a half seasons as the Titans starter before spending the last two years working as a change-of-pace backup behind

Derek Carr

in Las Vegas.
QB Jarrett Stidham:

Was acquired from the Patriots in May to reunite with Josh McDaniels. Stidham has thrown just 48 regular season passes for the Patriots since being drafted in the fourth round of the 2019 NFL Draft, most notably losing a 2020 preseason quarterback battle to

Cam Newton

.
QB Nick Mullens:

Signed a one-year, $2 million contract to battle it out with Stidham as

Derek Carr

's backup. Mullens averaged a solid 7.9 yards per attempt in 16 starts with the 49ers from 2018 to 2020 but faltered with a meh 147-1-0 line in his only start with the Browns last season, which coincidentally came against the Raiders.
RB Jalen Richard:

Remains an unrestricted free agent. Richard posted 264-1,333-4 rushing and 191-1,590-3 receiving lines in 87 games with the Raiders from 2016 to 2021. He totaled a career-high 866 yards in 2018 before being reduced to more of a pure pass-down backup after the organization used a first-round pick on

Josh Jacobs

in 2019.
RB Peyton Barber:

Remains an unrestricted free agent. Rather inexplicably worked ahead of high-priced backup

Kenyan Drake

for two weeks even after Jacobs was forced out of the lineup with injury. Barber finished the season with 279 yards and two scores on 65 touches.
RB Brandon Bolden:

Signed a two-year, $5 million contract with the Raiders. The deal includes $2.375 million in guaranteed money. Bolden made most of his money with the Patriots thanks to his excellence on special teams, but he's fresh off a career-high 85 touches that produced 44-226-1 rushing and 41-405-2 receiving lines as

Mac Jones

' lead pass-down back after

James White

was lost for the season. The guaranteed money at hand suggests that the 32-year-old veteran might be seeing some additional offensive snaps in 2022.
RB Ameer Abdullah: Signed a one-year, $1.2 million contract with the Raiders. The deal includes just $152,500 in guaranteed money. Abdullah has spent time with the Lions, Vikings and Panthers since 2018, typically serving as a pass-down backup to the likes of

Dalvin Cook

and

Christian McCaffrey

. The guaranteed money at hand indicates the 29-year-old veteran isn't a lock to make the roster.
FB Alec Ingold: Signed with the Dolphins in free agency. Ingold played in 41 games from 2019 to 2021 and played well enough to earn a hefty two-year, $6.5 million contract with Miami. Ingold was PFF's fifth-highest-graded fullback among 25 qualified players from 2019 to 2021.
FB Jakob Johnson:

Another former Patriot, Johnson signed a one-year, $1.5 million contract to presumably replace Ingold, although there's only $200,000 in guaranteed money here. Johnson graded out as PFF's 19th-best fullback among 25 qualified players from 2019 to 2021.
WR Zay Jones: Signed a three-year, $24 million contract that includes $14 million guaranteed with the Jaguars. Jones converted 117 targets into an underwhelming 81-847-2 receiving line in 43 games with the Raiders; he likely wouldn't have cleared 50 targets in 2022 had

Henry Ruggs

not been released.
WR Bryan Edwards:

Traded to the Falcons. Edwards started 15 games over the last two seasons but never quite managed to fulfill expectations as the 2020 NFL Draft's 81st overall pick. Edwards became expendable after the Raiders traded for

Davante Adams

. Credit to Edwards for averaging a robust 10.3 yards per target on his career, but his two-year 45-764-4 receiving line in 28 games simply wasn't enough.
WR DeSean Jackson: Remains an unrestricted free agent. D-Jax memorably scored (another) chunk touchdown against the Cowboys on Thanksgiving and also seemingly forgot which way the end zone was against the Chiefs. Overall, he caught 12 of 19 targets for 233 yards and a score in nine games in Las Vegas.
WR Davante Adams: Acquired from the Packers in return for first- and second-round picks in the 2022 NFL Draft. He then signed a five-year, $141.25 million contract that features a whopping $67.5 million in fully guaranteed money. The move reunites Carr with his former Fresno State BFF. Arguably the single-best wide receiver in the NFL at the moment, Adams is coming off back-to-back All-Pro seasons thanks to breathtaking 115-1,374-18 and 123-1,553-11 receiving lines.
WR Demarcus Robinson: Signed a one-year, $1.2 million contract with the Raiders that includes just $427,500 in guaranteed dollars. Robinson started 42 of his 97 games with the Chiefs since joining the squad in 2016, although his career-high marks in receptions (45), receiving yards (466) and receiving touchdowns (4) reflect the reality that he was never exactly a featured target.
WR Mack Hollins:

Signed a one-year, $2 million contract with the Raiders that includes $700,000 guaranteed. The 28-year-old field-stretching talent looks like the safest bet to make the roster out of the Raiders' trio of complementary backup options thanks to his superior contract. Hollins averaged a career-high 15.9 yards per reception with the Dolphins in 2021.
WR Keelan Cole:

Signed a one-year, $1.3 million contract with the Raiders that includes just $150,000 guaranteed. He's not a guarantee to make the roster and profiles as the offense's No. 4 wide receiver at best. Cole posted a 28-449-1 receiving line in 15 games with the Jets last season.
TE Derek Carrier:

Remains an unrestricted free agent. Carrier served as the Raiders third tight end behind

Darren Waller

and

Foster Moreau

in recent years. The block-first tight end caught just 23 passes in 53 games with the Raiders from 2017 to 2021.
TE Jacob Hollister:

Signed a one-year, $1.2 million contract with the Raiders that includes just $76,250 in guaranteed money. Hollister has bounced around from the Patriots to the Seahawks and most recently the Jaguars since entering the league in 2017. He's multiple injuries away from sniffing the fantasy grid at the moment.
The Raiders didn't have much high-end draft capital left to use after trading for Adams but did manage to add Georgia RB Zamir White in the fourth round and UCLA RB Brittain Brown in the seventh. White could boast some long-term value if his athletic profile winds up superseding his lack of elite production inside of Georgia's ever-loaded backfield, although expecting that to happen in 2022 seems like wishful thinking. The fantasy track record of players not selected inside of the draft's top three rounds isn't pretty.
While Carr put together some solid early-career success throwing to the likes of Amari Cooper and Michael Crabtree, only recently has he really leapt into the league's top-tier of quarterbacks when measuring efficiency. Pick basically any per-dropback passing metric from the past three years and there's a good chance that Carr is inside the top-15:
PFF passing grade:

85.8 (No. 10 among 51 quarterbacks with 300-plus dropbacks 2019-2021)

QB rating:

98.0 (No. 14)

Big-time throw rate:

5.5% (No. 7)

Turnover-worthy play rate:

3% (No. 14)

Yards per attempt:

7.9 (tied for No. 8)

Adjusted completion rate:

79.1% (No. 2)
Carr's big-time throws were a consistent treat to watch all season long. There aren't many throws that he's incapable of making when given the benefit of a clean pocket.
Derek Carr pic.twitter.com/NDKG6j1pHx

— Ian Hartitz (@Ihartitz) June 12, 2022
And yet, Carr's average of 15.8 fantasy points per game over the past three seasons ranks just 19th among 38 quarterbacks to start at least 17 games. Carr has never averaged even 10 rushing yards per game during his eight-year career, and he's also gone scoreless on the ground in five separate seasons.
The hope for a breakout season from Carr comes down to whether or not Adams can elevate this entire passing game to a new level. The offense was absolutely humming during the first seven games of 2021 with 2020 first-round WR Henry Ruggs regularly making defenses pay down the field:
| | | | | | | | |
| --- | --- | --- | --- | --- | --- | --- | --- |
| Derek Carr | PFF Pass Grade | QB Rating | BTT % | TWP % | YPA | Adj Cmp % | aDOT |
| Weeks 1-7 | 89.9 | 101.2 | 8.5% | 1.9% | 8.5 | 79.7% | 9.2 |
| Weeks 9-WC | 64.3 | 86.1 | 3.9% | 3.9% | 6.9 | 75.3% | 7.9 |
Carr didn't demonstrate the same willingness to throw downfield without a proven field-stretcher talent, and his efficiency accordingly suffered.
While just about nobody in the NFL can replicate Ruggs' 4.27 speed, Adams should demand even more attention thanks to his status as arguably the game's single-best wide receiver. This will accordingly make life even easier for Hunter Renfrow and Darren Waller inside of a potentially better-schemed McDaniels-led offense.
The problem in fantasy land: Carr's truly impeccable start to the season only produced the QB11 in total fantasy points. In Weeks 9 through 18 Carr worked as the QB30 in fantasy points per game, finishing behind guys like Teddy Bridgewater, Carson Wentz and Andy Dalton among others.
The potential for middling passing volume combined with Carr's ever-non-existent rushing floor makes the possibility of him working as a top-five fantasy quarterback a bit of a pipe dream. Of course, plenty of quarterbacks don't exactly boast this best-case scenario, but it's troubling to see that Carr couldn't even crack the position's top-10 in *fantasy* scoring during arguably the best seven-week stretch of his career.
Carr comes in as my QB15 in the same tier as Aaron Rodgers, Matthew Stafford and Kirk Cousins. He'll need to reach the 30-touchdown threshold for the first time since 2015 in order to return QB1 production; fantasy teams would be a lot cooler with a higher-upside dual-threat talent at quarterback, but Carr certainly presents the sort of upside QB2 floor worthy of chasing in Superflex formats and/or as a streaming option in a plus matchup.
This will almost certainly be Jacobs' last season with the Raiders after the organization declined his fifth-year option. While the Raiders' 2019 first-round round pick deserves credit for racking up at least 1,200 total yards and seven touchdowns during each of his three professional seasons, things haven't been trending quite so great.
| | | | | |
| --- | --- | --- | --- | --- |
| Josh Jacobs | PFF Rush Grade | YPC | YCO/ATT | MTF/ATT |
| 2021 | 81.5 | 4.0 | 2.8 | 0.26 |
| 2020 | 79.4 | 3.9 | 2.8 | 0.19 |
| 2019 | 86.9 | 4.8 | 3.5 | 0.29 |
Injuries have certainly played a role. Jacobs fractured his shoulder as a rookie before going on to deal with multiple sprained ankles as well as a sprained toe and chest contusion in 2020 and 2021.
Ultimately, Jacobs is a plenty good enough rusher to produce some upside RB2 goodness with a big enough workload, but the path to him reaching true RB1 heights revolves around whether or not his pass-game usage will continue to increase. Jacobs set career-high marks in targets (64), receptions (54) and receiving yards (348) alike in 2021, although his average targets per game with Drake (4) weren't quite on par with his enhanced target share without (4.7).
The allure of betting on Jacobs winning out as the offense's pass-down back comes down to the reality that he's flashed as a receiver throughout his short career.
— Ian Hartitz (@Ihartitz) June 12, 2022
The million-dollar question: What will Josh McDaniels' backfield committee look like? Jacobs certainly doesn't appear to be opposed to splitting snaps; he literally requested more work for Drake prior to Week 7 last season.
Some of the following backs will be released prior to Week 1, but this could be a situation where at least four players are involved during any given week.
Jacobs

: Obviously expected to work as the starting running back.

Drake

: Had his contract restructured this offseason, presumably locking him in as the offense's No. 2 back. Note that Drake is

reportedly

expected to be fully recovered from his fractured ankle by Week 1.

White

: The Raiders traded up four spots to acquire the rookie in the fourth round. It's possible that he factors into the equation from Day 1.

Bolden

: His aforementioned $2.375 million in guaranteed money could seemingly be a sign that the ex-Patriot is only on the roster to serve on special teams.

Abdullah

: Has carved out a role as a backup pass-catching specialist in each of his last two stops in Minnesota and Carolina.

Brown

: Seventh-round rookies seldom amount to much. Unlike most of these backups, Brown doesn't project as someone to overly worry about in terms of pass-down ability.
It's notable that the final four names on the above list were all added to the team this offseason; clearly, McDaniels and company wanted to add extra men to this room. While McDaniels did already say that Jacobs can work across all three downs, one has to go back to his days as the Broncos head coach to find his last offense that leaned solely on one back (shoutout Knowshon Moreno). The Patriots' No. 1 running back in PPR points per game over the past decade has been as follows (minimum 8 games):
If anything, the group's primary pass-catching option has been the best bet to produce a top-end fantasy producer. Reminder: Blount scored 18 touchdowns in 2016, while Harris found the end zone on 15 separate occasions last season, and neither managed to function as a true fantasy RB1 due to the lack of targets at hand.
Ultimately, Jacobs joins players like Antonio Gibson and Elijah Mitchell who I'm lower on than consensus due to their projected lack of a pass-down floor *and* more competition than expected on early downs. Some interpret the lack of a fifth-year option as a signal that the Raiders are ready to feed Jacobs all the touches he can handle, but that simply isn't how McDaniels has operated for quite some time, and the team's specific choices of backups indicate that the targets involved could be spread out. I'd rather take lower-ADP backs like Clyde Edwards-Helaire, Cordarrelle Patterson and Miles Sanders thanks to their potential to see similar work as Jacobs on the ground and far more through the air.
None of these backup running backs are worth prioritizing in re-draft formats due to the likelihood that an injury to Jacobs would result in an even more evenly split three-plus back committee.
Adams and Carr were incredibly prolific together at Fresno State. Obviously that was a long time ago, and the NFL couldn't be more different in terms of competition level, but there's at least a solid history of chemistry here.
There is somewhat recent evidence of Adams performing just fine with Rodgers out of the lineup. This occurred in 2017 when his quarterback missed time due to a broken collarbone, leading to Adams posting the following production in eight games with Brett Hundley under center:
Week 6: 5 receptions-54 yards-1 TD (10 targets), PPR WR12
Week 7: 2-12-0 (5), WR80
Week 9: 7-53-0 (10), WR26
Week 10: 5-90-1 (8), WR12
Week 11: 8-126-0 (10), WR9
Week 12: 5-82-1 (8), WR11
Week 13: 4-42-0 (6), WR43
Week 14: 10-84-2 (14), WR3
Overall, Adams worked as the PPR WR12 during this stretch. He only busted when he wasn't given the benefit of even a decent-sized workload, something that certainly doesn't seem likely on a team that just decided to make him the league's highest-paid wide receiver.
Even the world's biggest hater would be hard-pressed to find a stat that paints Adams as anything other than one of the league's very best wide receivers. The question then becomes just how highly he should be drafted. There are plenty of examples of wide receivers being traded in the offseason and immediately booming on the stat sheet:
Guys like Odell Beckham Jr., Sammy Watkins, Julio Jones and Jarvis Landry were more meh, but it'd hardly be unprecedented for Adams to go the f*ck off in 2022 despite having to adjust to a new environment.
Ultimately, Adams comes in as my WR6 only behind Cooper Kupp, Justin Jefferson, Ja'Marr Chase, Stefon Diggs and CeeDee Lamb: Fellow undisputed No. 1 wide receivers with absurd talent, but they don't have the same sort of question mark when it comes to finding their footing on a new team. I'll gladly take Adams ahead of every other wide receiver as well as any non-top-five running back. There shouldn't be a scenario in traditional 12-person, one-QB re-draft leagues where Adams falls out of the first round.
And then there's Renfrow, whose mixtape near the goal line is particularly fun to watch. The man is capable of putting just about anybody in a blender if left in one-on-one coverage.
Hunter Renfrow pic.twitter.com/UvCB0qo0oE

— Ian Hartitz (@Ihartitz) January 12, 2022
The Raiders recently inked Renfrow to a two-year, $32 million extension, demonstrating that he's expected to remain a big part of the present and future. This aligns with Josh McDaniels' history of keeping primary slot receivers on the field; it's not a given that his 128 targets from a season ago will decrease.
There have been an average of 4.3 instances per season in which one team employs two top-24 fantasy wide receivers over the past decade. Adams and Renfrow are certainly each talented enough to work as one of 2021's examples, but it's not exactly a trend that's moving in the right direction.
Things grow even dire when factoring in the presence of a top-performing tight end. Overall, there have been 17 total instances of a team enabling multiple top-24 wide receivers alongside a top-12 tight end. Again: The Raiders have the sort of talented skill-position players to believe they could be an exception, but this isn't going to be easy. I'd lean toward Gabriel Davis having the best chance of joining this crew, although Renfrow is arguably the next best option among some of the year's clear-cut contenders based on ADP.
Ultimately, Renfrow comes in as my WR36 in a tier with a bunch of other talented receivers who are looking at life as either a secondary option with a great quarterback or potentially the No. 1 target inside of a more mediocre passing attack. I'd take Renfrow ahead of the likes of Tyler Lockett and DeVonta Smith as a testament to Carr's proven ability as a passer, but the likes of Drake London, Darnell Mooney and DeAndre Hopkins get the nod from me due to their superior alpha outlooks.
No other Raiders wide receivers are recommended fantasy options inside of an offense expected to feature plenty of two-WR sets due to the presence of multiple talented pass-catching tight ends as well as running backs. Oh yeah, and McDaniels figures to keep a fullback involved, too. Don't overthink this group beyond Adams and Renfrow.
Waller turns 30 on Sept. 13. This age threshold has been far less severe for tight ends than wide receivers or running backs over the years, but it's also not exactly a good thing.
% of top-12 fantasy producers (PPR) by age over the last 10 years pic.twitter.com/PTySzVXBq5

— Ian Hartitz (@Ihartitz) February 8, 2022
The hope for Waller is that his gradual decrease in yards per route run from 2019 (2.54) to 2020 (2.15) and 2021 (1.72) was more due to injury than a sign of declining play. Last year Waller suffered a sprained ankle in August before the season started and then doubled down with the issue in Week 7. A strained knee sidelined Waller from Weeks 13 to 17.
Waller didn't completely fall off the map in 2021, as evidenced by big-time 10-105-1, 7-92-0, and 7-116-0 performances inside of the season's first 11 weeks. His 90 targets were somehow the eighth-most at the position despite him only playing 11 games. The aforementioned 1.72 yards per route run still ranked a respectable ninth among all tight ends with at least 25 targets.
The key question for Waller is whether or not he's still good enough to potentially make more out of less opportunity. Only Cole Kmet (-36.6) and Cameron Brate (-29.2) scored more fantasy points below expectation than Waller (-27.1) in 2021. This comes just one season after Waller ranked third (+21.1) in scoring fantasy points above expectation.
Ultimately, I'm willing to write off Waller's dropoff in efficiency in large part due to the reality that he was dealing with ankle injuries the entire season before finally being fully sidelined with a knee issue. He's still PFF's No. 5 tight end in terms of projected targets despite the presence of Adams, meaning there doesn't need to be that big of an improvement from 2021 in order to rebound back into fantasy's top-five performers at the position.
The only tight ends I'd draft ahead of Waller in fantasy drafts of all shapes and sizes: Travis Kelce, Mark Andrews, Kyle Pitts and George Kittle. However, Waller's status as the 43rd player off the board in Underdog Fantasy best-ball drafts is a bit too rich for my liking at the moment. Specifically, I find myself consistently taking Terry McLaurin or Travis Etienne ahead of Waller at a similar cost.
Unlike Kelce, Andrews and Pitts: Waller no longer has a best-case scenario as his offense's No. 1 pass-game option. Even if this is also true for Kittle, he's deserving of enhanced treatment thanks to his superior youth and efficiency in recent seasons.
Waller remains anyone's idea of a top-five fantasy tight end, but this year he's far closer to the bottom half of the position compared to the top. Moreau would slide into borderline TE1 territory if Waller misses time, although it's not a given that McDaniels would give him the same sort of every-down role.