Free agency and the 2022 NFL Draft have come and gone. Now, it's time to fully embrace the 2022 offseason by breaking down each team's fantasy football aspirations before fantasy draft season truly gets underway in August.
What follows is a Jacksonville Jaguars fantasy-focused breakdown, keying in on important questions such as:
Will

Trevor Lawrence

break out in a major way with an improved supporting cast?

Does

Travis Etienne

offer enough fantasy-friendly receiving upside to draft him early?

Is

Christian Kirk

worth chasing at his affordable (fantasy) price?
Every fantasy-relevant Jaguars player will be covered in the following paragraphs. Make sure to check out the PFF Team Preview Landing Page through early July for more all-encompassing fantasy football coverage.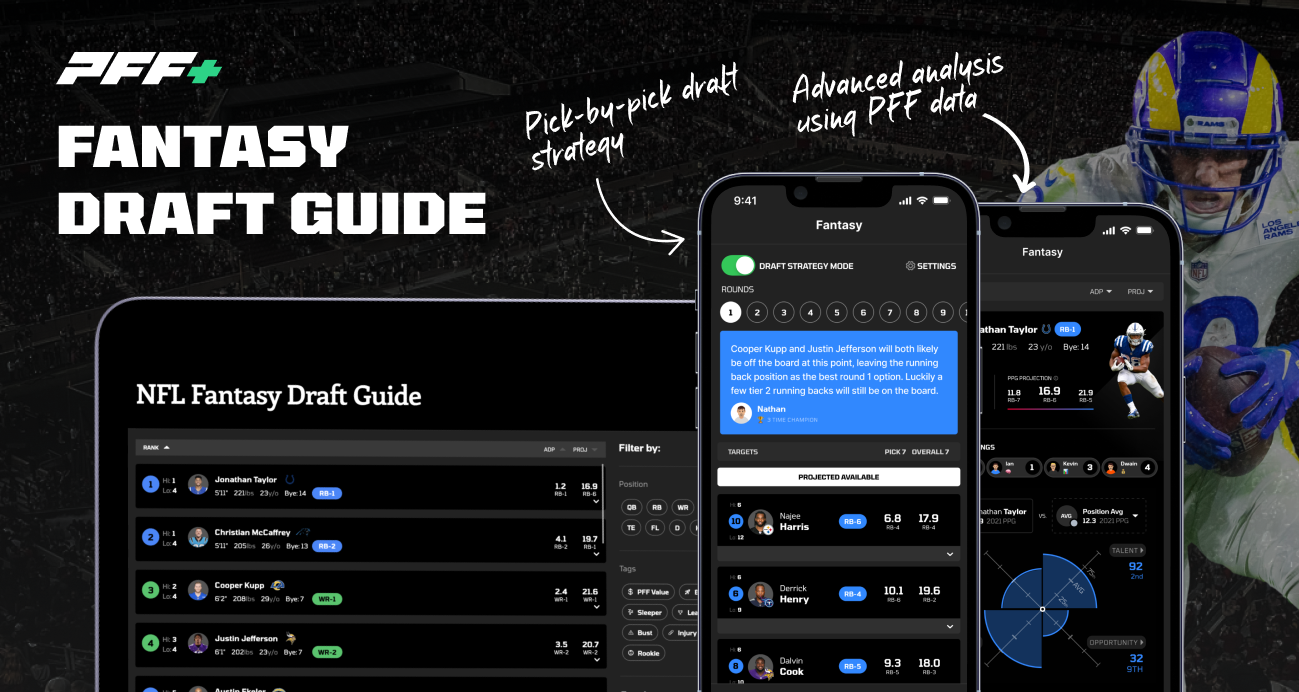 Notable offseason moves
It's probably a good thing the Jaguars' new coaching staff looks nothing like the past iteration. The Urban Meyer era ended with more distractions than wins, while offensive and defensive coordinators Darrell Bevell and Joe Cullen are also out of the picture.
Enter Doug Pederson, who spent 2021 away from coaching after working as the Eagles' head coach from 2016 to 2020. He's joined by offensive coordinator Press Taylor and defensive coordinator Mike Caldwell. Taylor worked with Pederson during his tenure with the Eagles as the quarterbacks coach and later the passing game coordinator before spending last season as a senior offensive assistant for the Colts, who have obviously been run by ex-Eagles offensive coordinator Frank Reich for the past half-decade.
We're essentially looking at Philly South in terms of expected play calling. This isn't a bad thing based on the Eagles' pass-play rate in non-garbage time, although expecting this offense to move with any sense of urgency might be wishful thinking based on Pederson's previous ranks in neutral-pace situations (Football Outsiders):
2016: 62.1% pass-play rate (No. 12), 31.45 seconds per play (No. 27)
2017: 61.3% (No. 14), 30.75 (No. 17)
2018: 63.8% (No. 11), 32.69 (No. 30)
2019: 63% (No. 14), 30.81 (No. 17)
2020: 66.5% (No. 4), 30.4 (No. 17)
Look for the 2022 Jaguars to feature an above-average passing offense in terms of volume while moving at a below-average pace. Throw in uncertainty surrounding just how big of a leap Trevor Lawrence can make in Year 2, and expecting multiple high-end pass-game options to emerge might be wishful thinking.
Additionally, the Jaguars' roster has undergone plenty of change. The following quarterbacks, running backs, wide receivers and tight ends have either joined or left the team in some way, shape or form this offseason:
RB Carlos Hyde:

Remains an unrestricted free agent. Hyde rather inexplicably was given the ball 84 times in 2021 despite the presence of difference-making talent

James Robinson

.
RB Dare Ogunbowale:

Signed with the Texans in free agency. Ogunbowale totaled 450 yards and two scores in 31 games with the Jaguars over the past two seasons, primarily working as the backfield's pass-down specialist.
WR Christian Kirk:

Signed a four-year, $72 million contract that includes $37 million guaranteed. The deal makes Kirk the NFL's 10th-highest-paid receiver in terms of total value despite the fact that his single-season career-high marks in receptions (77), receiving yards (982) and receiving touchdowns (5) leave a bit to be desired.
WR Zay Jones:

Signed a three-year, $24 million contract that includes $14 million guaranteed. Similar to Kirk, there's nothing wrong with Jones as a player, but the price tag sure seems steep considering his past production. Overall, Jones converted 117 targets into an underwhelming 81-847-2 receiving line in 43 games with the Raiders. And he likely wouldn't have cleared 50 targets in 2022 had

Henry Ruggs III

not been released.
WR D.J. Chark: Chark signed with the Lions in free agency. The Jaguars' 2018 second-round pick broke out back in his second season with a 73-1,008-8 receiving line but struggled to replicate the production in 2020 (53-706-4) before breaking his ankle just four games into 2021.
WR Tavon Austin:

Remains an unrestricted free agent. Austin quietly played in 13 games for the Jaguars last season, posting modest 24-213-1 receiving and 3-21-0 rushing lines. 
TE Evan Engram:

Signed a one-year, fully guaranteed $9 million contract. The deal makes Engram one of just 12 tight ends making an average of $9 million per season. While the former first-round pick didn't quite fulfill expectations with the Giants, he posted a 262-2,828-16 receiving line in 65 games and has flashed an ability to operate at a high level.
TE James O'Shaughnessy: Signed with the Bears. Played in 57 games with the Jaguars from 2017 to 2021, totaling 104 receptions for 1,022 yards and three scores. Still, O'Shaughnessy started only 34 of 57 games and never reached even 30 receptions or 300 receiving yards in a single season.
TE Jacob Hollister: Signed with the Raiders. Hollister caught nine of 14 targets for 55 yards and a score in seven games with the Jaguars last season.
Fifth-round Ole Miss running back Snoop Conner was the Jaguars' lone addition to their skill-position core during the draft. Perhaps Conner's best days are still ahead of him, but history tells us not to expect much here. The fantasy track record of players not selected inside of the draft's first three rounds isn't pretty.
Lawrence's rookie year was terrible. Pick a stat, any stat: He was bad.
PFF passing grade: 58.2 (No. 36 among 44 quarterbacks with 100-plus dropbacks)
Big-time throw rate: 3.4% (No. 27)
Turnover-worthy play rate: 3.7% (No. 29)
Yards per attempt: 6 (No. 40)
Adjusted completion rate: 72.4% (No. 34)
Even comparing Lawrence to only 2020-21 rookies doesn't exactly paint a brighter picture. Believing that he will take a Burrow-esque second-year leap seems awfully hopeful. At this point, supporters should be more than happy if the 2021 NFL Draft's No. 1 overall pick manages to approach something closer to average in 2022.
Of course, the combination of Urban Meyer, a constantly banged-up and generally underwhelming group of pass-catchers and PFF's 24th-ranked offensive line didn't make things easy.
There were plenty of lows for Lawrence in 2021, although to say his receivers left a lot of yards on the field is an understatement.
Sheesh pic.twitter.com/GZ5SFvlGSZ

— Ian Hartitz (@Ihartitz) June 1, 2022
Overall, the Jaguars posted the NFL's single-worst catch rate (69%) on catchable targets thrown at least 20 yards downfield.
The problem with projecting anything close to a massive leap forward for Lawrence is just how poorly things went for stretches of 2021. He joined Tua Tagovailoa, Taylor Heinicke, Tyler Huntley, Jacoby Brissett and Mike Glennon as the only six quarterbacks to average six or fewer yards per attempt when removing RPOs, screens and play-action attempts. Not great company.
The question is just how often quarterbacks are that bad as rookies, only to turn the ship around and put up some big numbers in Year 2. Thirty-one quarterbacks have played at least eight games and scored fewer than 15 fantasy points per game since 2012. Every top rookie signal-caller from 2021 other than Trey Lance (not enough games) qualified for this list. Out of the group, the biggest success stories are Derek Carr (12 fantasy points per game as a rookie, 16.96 the next year), Mitchell Trubisky (11.2 vs. 18.8), Blake Bortles (12.01 vs. 19.76) and Carson Wentz (13.31 vs. 21.67).
Of course, the list is littered with players who didn't exactly turn things around, as well. Josh Rosen, Dwayne Haskins, Geno Smith, Brandon Weeden, Case Keenum, EJ Manuel, Teddy Bridgewater, Tua Tagovailoa, Sam Darnold and Ryan Tannehill all averaged fewer than 15 fantasy points per game in each of their first two NFL seasons under center.
It's not unprecedented for a player like Lawrence to make a second-year leap, but it's also not exactly likely. For this reason, I'm comfortable ranking Lawrence as my QB21, a spot in which he won't be drafted outside of best-ball contests and superflex leagues. He's in a tier with the likes of Zach Wilson, Tua Tagovailoa, Daniel Jones, Jameis Winston and Mac Jones, although I lean toward the former two signal-callers thanks to their superior influx of skill-position talent. While Lawrence is far from a priority in fantasy land ahead of 2022, joining him with Kirk and Engram forms one of the cheaper QB1-WR1-TE1 stacks available at the moment.
This running back room is impossible to talk about without first figuring out who's healthy:
Etienne

: Suffered a Lisfranc injury in August 2020. Head coach Doug Pederson confirmed in May that Etienne will be a full-go for OTAs. Etienne claimed it would have been possible for him to suit up at the end of 2021.

Robinson

: Tore his Achilles in late December during the Jaguars' Week 16 matchup against the Jets. While

Marlon Mack

's

and (especially)

Cam Akers

' speedy recoveries from the same injury are encouraging, the reality that neither back managed to reach anything close to average efficiency is troubling.
Look no further than Pederson himself for a better feel on which running back will be entering Week 1 at full health.
"Travis [Etienne Jr.] is doing extremely well. … He's been in our offseason program and working every day and feeling good. Again, it's a process and we're going to continue to monitor that and keep it slow. James [Robinson] is progressing well. He's obviously not doing the things physically now on the football field, but we're hoping at some point during training camp that that becomes more of a reality for us, and he's doing extremely well."
Dr. Jesse Morse wouldn't count on Robinson even playing football in 2022, noting the best-case scenario is a nine-to-12-month recovery.
At a minimum, starting the season on the PUP list seems more than possible, if not likely, for Robinson, while skeptics could reasonably expect him to miss the majority of the year.
This leaves Etienne as the offense's projected three-down back. Yes, Etienne was drafted under the Urban Meyer regime. Also yes, the same general manager who seemingly allowed the pick, Trent Baalke, remains the man in charge of the team's personnel. If the team wasn't ready to feature Etienne, why would it enter the season with only a career backup in Armstead as well as a fifth-round pick in Conner as competition?
PFF stated the following about Etienne in our 2021 NFL Draft Guide:
"While it's a tad concerning that Etienne's efficiency took a massive hit — Clemson's offensive line faltered this season after losing four starters to the NFL — what Etienne did as a receiver likely turned some heads. He was a downfield passing weapon in the Clemson attack after being an afterthought in that regard early in his career. His 588 receiving yards were the most of any back in the country this year. His explosiveness and tackle-breaking ability didn't go away; rather, Etienne only saw 1.8 yards before contact this season compared to 2.8 in 2019 and 3.8 in 2018."
Etienne possesses a combination of explosiveness, three-down ability and first-round draft capital that is hard to come by at the position. Throw in one of the softer depth charts in the league based on Robinson's injury, and I'm happy to scoop up Etienne ahead of ADP (RB20 at Underdog Fantasy). I'd draft him ahead of some higher-ADP players, including Cam Akers, Ezekiel Elliott, Breece Hall and David Montgomery, thanks to arguably similar 17-game touch projections but a far higher ceiling in the passing game.
Robinson's ADP has slowly drifted lower and lower as the offseason progresses. He's not a recommended pick before Rounds 12 or 13 in typical 12-man best-ball drafts. Even then, the potential that a slower-than-expected recovery produces a big zero has me looking elsewhere in drafts. I'd rather take lower-ADP guys like Gus Edwards, Khalil Herbert or Jamaal Williams thanks to each potentially offering similar standalone value combined with arguably higher ceilings and more-assured health.
PFF projections paint the following picture in terms of each Jaguars wide receiver's total targets:
Kirk: 110.9 targets
M. Jones: 103
Z. Jones: 69.8
Shenault: 46.2
Treadwell: 36.6
Note that tight ends and running backs Engram (47.9), Etienne (45.6), Arnold (42.2) and Robinson (30.4) are also expected to be major pieces inside this passing game.
Kirk's sizable contract necessitates that he be treated as the projected No. 1 wide receiver in this offense. Still, the grass usually isn't greener on the other side for free agents who switch teams. There have been roughly 25 cases in which a team signed a wide receiver to a big-money deal with the intention of making him their starter or at least a solid part of the offense since 2016:
Among these wide receivers, Britt is really the only one who couldn't find a full-time role with his new team. Sure, guys such as Benjamin, Richardson and Humphries hardly proved worthy of their high-priced deals, but they at least were regulars in their team's respective three-receiver sets when healthy.
Still, it's tough to call a lot of these guys successful signings, particularly when we take a closer look at those whose contracts were worth at least $30 million:
2016 Jones (Lions): 5 years, $40 million

2016 Sanu (Falcons): 5 years, $32.5 million

2017 Garcon (49ers): 5 years, $47.5 million

2017 Woods (Rams): 5 years, $39 million

2017 Jackson (Bucs): 3 years, $35 million

2017 Britt (Browns): 4 years, $32.5 million

2018 Watkins (Chiefs): 3 years, $48 million

2018 Robinson (Bears): 3 years, $42 million

2018 Richardson (Redskins): 5 years, $40 million

2019 Williams (Raiders): 4 years, $44.3 million

2019 Tate (Giants): 4 years, $37.5 million

2019 Humphries (Titans): 4 years, $36 million

2021 Golladay (Giants): 4 years, $72 million

2021 Davis (Jets): 3 years, $37.5 million

2021 Samuel (Commanders): 3 years, $34.5 million
There are certainly more hits here compared to the quarterback and running back groups. At the very least, these wide receivers were almost exclusively signed to work as one of the top two pass-game options in their new offenses.
Unfortunately, there just isn't much evidence that any of Kirk, Marvin, Zay or Shenault are the sort of high-talent players capable of making the most out of whatever targets they wind up earning. Kirk was the best of the bunch in 2021, but even then it's tough to call him more than an above-average receiver. All below ranks are among 89 wide receivers with 50-plus targets last season:
| | | | | |
| --- | --- | --- | --- | --- |
| WR | PFF Receiving Grade | YPRR | TPRR | WR Rating |
| Christian Kirk | 72.7 (No. 42) | 1.81 (No. 26) | 18.6% (No. 50) | 114.5 (No. 16) |
| Marvin Jones | 70.4 (No. 52) | 1.33 (No. 68) | 18.5% (No. 52) | 86.6 (No. 61) |
| Zay Jones | 70.1 (No. 53) | 1.38 (No. 64) | 17.4% (No. 63) | 66.5 (No. 83) |
| Laviska Shenault | 62.6 (No. 79) | 1.36 (No. 67) | 20.9% (No. 39) | 75.7 (No. 74) |
| Laquon Treadwell | 69.8 (No. 54) | 1.52 (No. 55) | 17.8% (No. 57) | 89.8 (No. 52) |
A potentially larger problem for Kirk will be life as the offense's primary receiving threat. His film is full of great catches and nice routes but also an alarming number of instances where Kliff Kingsbury was able to get him in a plus matchup against a linebacker or safety. While Kirk ranked 26th among 89 qualified wide receivers in raw yards per route run, he ranked 49th against cornerbacks compared to 16th against non-cornerbacks.
Kirk was one of just 14 wide receivers with 45%-plus targets coming with a non-cornerback as the primary coverage defender in 2021, so it's unclear if he will be able to maintain his better-than-average efficiency now that defenses will seemingly be focusing on him more than any other Jaguars receiver.
Ultimately, it seems unlikely Kirk's already not-elite efficiency gets better in a new offense with an objectively worse quarterback under center. For this reason, it's tough to squeeze him into the position's top 36 options, but luckily his status as the WR43 in ADP over at Underdog Fantasy means you don't have to. I'm comfortable taking Kirk slightly ahead of consensus as my WR39, in front of players with lower target ceilings like Devonta Smith and Brandon Aiyuk.
Kirk's tier of wide receivers is just about the last group of players to feel especially good about for fantasy football, although don't be afraid to add him as your fourth or fifth wide receiver if he's still on the board late in Round 7 or early in Round 8.
I'm largely out on both Marvin Jones and Zay Jones. The former enjoyed a best-case scenario last season with 120 targets and a full season's worth of good health, yet he couldn't finish any better than the PPR WR44 on a per-game basis. Now a year older and the expected No. 2 (at best) pass-game option in another offense that isn't exactly expected to be great, Marvin is someone that I'm only adding to teams in order to complete a Lawrence-Kirk stack. Zay is basically off the board; the man has reached 70 or more receiving yards in just three of 81 career games (including playoffs).
Engram has had quite the dropoff in fantasy production across the past two seasons despite operating in a Giants offense that was usually happy to feature him as one of its top two pass-game options:
2017: 11.6 PPR points per game (No. 4 among all tight ends with 8-plus games)
2018: 11.5 (No. 7)
2019: 13.7 (No. 7)
2020: 8.8 (No. 18)
2021: 6.8 (No. 22)
Of course, life with The Clapper and Daniel Jones didn't always make things easy, and Engram also dealt with multiple calf injuries despite playing in 31 of a potential 33 regular-season games over the past two seasons.
It's far from a given that Engram gets back to seeing triple-digit targets, although it's not like there's a ton of competition in the Jaguars' tight end room. Arnold has flashed some receiving upside during his short career but has ultimately been on four different teams since 2019. Chris Manhertz and Luke Farrell are block-first players at the position. Remember though, Doug Pederson has overseen some truly gigantic seasons from the Travis Kelce and Zach Ertz over the years.
Ultimately, Engram is someone who will be drafted a helluva lot higher than his current ADP with clarity surrounding just how big his role is. Neither Engram nor Arnold will be recommended fantasy options if forced to essentially split routes down the middle. However, it'd be tough not to rank Engram inside the position's top 20 (at worst) options if given the benefit of a near every-down role.
I lean more toward the idea that the Jaguars paid Engram handsomely in order to feature him as their every-down tight end. While Jacksonville did trade for Arnold, the main pieces of that deal were cornerback C.J. Henderson as well as a Panthers third-round pick. Arnold wound up producing a halfway decent 28-324-0 receiving line in eight games of action and averaged a more-than-solid 1.61 yards per route run on the season (10th among qualified tight ends). Still, the former wideout-convert might be enough of a liability as a blocker to only come on the field as an occasional second tight end and/or backup receiver.
Engram is a solid third tight end to add in best-ball land for those who refrain from adding a sure-thing in the earlier rounds. While he's far from my favorite late-round option (that honor goes to Irv Smith and Gerald Everett), Engram's status as the TE24 over at Underdog Fantasy makes him priced far closer to his floor than his ceiling.
Available into the final four rounds of drafts, Engram is someone who will instantly be on the top of every Week 2 waiver wire article with confirmed evidence of the sort of high-end route participation rate that should probably be expected in the first place thanks to his big-money deal.