Free agency and the 2022 NFL Draft have come and gone: It's time to fully embrace the 2022 offseason by breaking down the fantasy football aspirations of each and every team before drafts season truly gets underway in August.
What follows is a fantasy-focused breakdown of the Green Bay Packers, focusing on key questions like:
Can

Aaron Rodgers

produce elite fantasy numbers without a high-end receiver room?

Could both

Aaron Jones

and

A.J. Dillon

supply weekly fantasy goodness?

Will

Allen Lazard

emerge as the go-to receiver in this suddenly wide-open passing game?
Every fantasy-relevant player from the Packers will be covered in the following paragraphs. Make sure to check out the PFF Team Preview Landing Page through early July for more all-encompassing fantasy football coverage.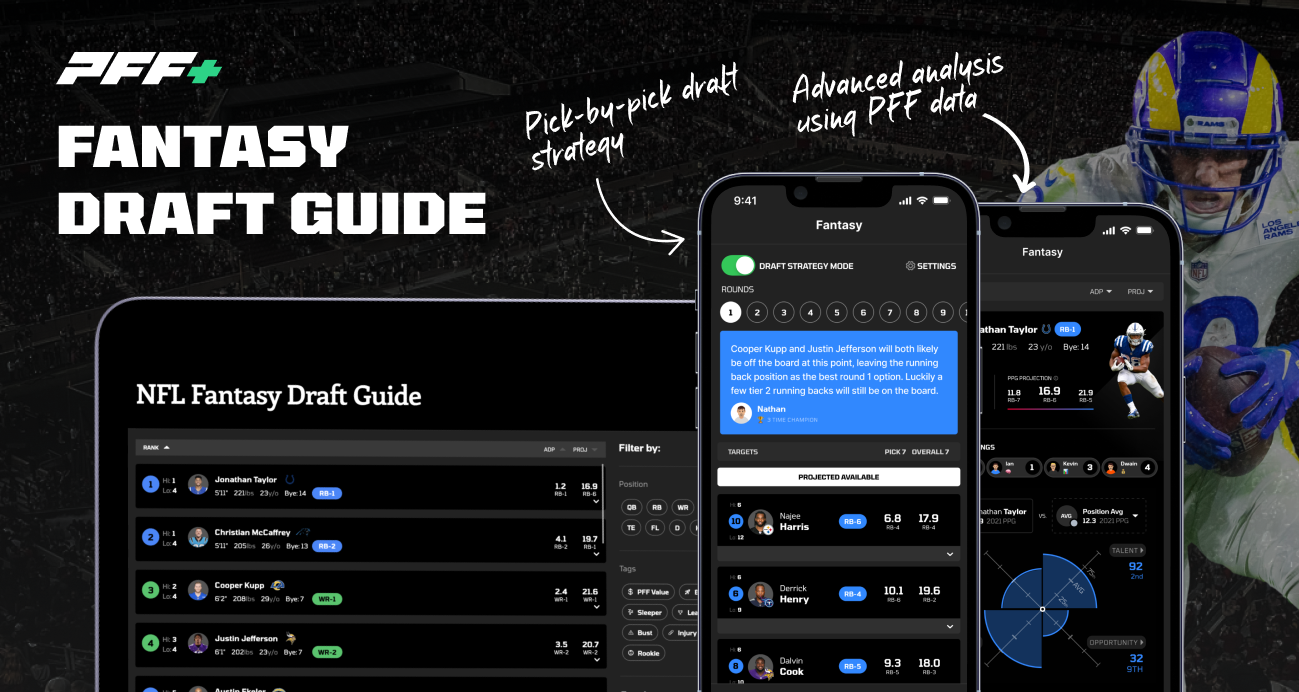 Notable offseason moves
From the front office to the coaching staff to the roster, every 2022 NFL team will be different than its 2021 version.
Head coach Matt LaFleur is back for his fourth season leading the charge in Green Bay, but for the first time, he'll be without offensive coordinator (now Denver Broncos head coach) Nathaniel Hackett. Enter Adam Stenavich, who has worked as the Packers' offensive line coach over the past three seasons.
This promotion from within, combined with the reality that LaFleur calls his own plays, points toward the idea that there won't be too much philosophical change in this offense. Perhaps the loss of a certain all-world wide receiver changes things, but this wasn't exactly a pass-happy or fast-paced offense to begin with:
2021:

61.2% pass-play rate in non-garbage time situations (No. 16); 32.8 seconds per play in neutral situations (No. 31, Football Outsiders)
2020:

59.5% (No. 23); 32.8 (No. 32)
2019:

63.5% (No. 11); 31.1 (No. 18)
Expect Aaron Rodgers and company to put up plenty of points once again, but don't be surprised if there aren't more than one or two consistent high-scoring skill-position talents in a more run-first offense than ever. Overall play volume could continue to be an issue in an offense that has never exactly moved down the field with a sense of urgency.
Additionally, the Packers have made plenty of changes to their roster. The following quarterbacks, running backs, wide receivers and tight ends have either joined or left Green Bay in some way, shape or form this offseason:
WR Davante Adams: Traded to the Las Vegas Raiders in return for first-and second-round picks in the 2022 NFL Draft. He then signed a five-year, $141.25 million contract that features a whopping $67.5 million in fully guaranteed money. Arguably the single best wide receiver in the NFL at the moment, Adams is coming off back-to-back All-Pro seasons, thanks to breathtaking 115-1,374-18 and 123-1,553-11 receiving lines.
WR Marquez Valdes-Scantling: Signed a three-year, $30 million deal with the Kansas City Chiefs that includes $15 million guaranteed. While Valdes-Scantling's career-high marks in receptions (38), receiving yards (690) and receiving touchdowns (6) don't exactly scream No. 1 receiver, the 6-foot-4 and 206-pound field-stretching extraordinaire has the sort of deep speed (4.37-second 40-yard dash) to demand attention from secondaries of all shapes and sizes.
WR Equanimeous St. Brown: Signed a one-year, $965,000 deal with the Chicago Bears that doesn't include a single dollar in fully guaranteed money. The 2018 sixth-round pick failed to ever really catch on in Green Bay, posting a 37-543-1 receiving line in 37 total games with the Packers.
WR Sammy Watkins:

Signed a one-year, $1.85 million contract with the Packers, which includes $350,000 guaranteed. Watkins posted an underwhelming 27-394-1 receiving line in 13 games with the Ravens last season. He ranked just 65th in yards per route run (1.45) among 122 wide receivers with at least 25 targets.
The Packers understandably added a trio of pass-catchers to help replace all that lost talent. North Dakota State WR Christian Watson is the top pick for an early role after going off the board with the 34th overall pick. The 6-foot-4 FCS product runs a blazing 4.36-second 40-yard dash, but plenty of questions remain about his strength and overall readiness to battle pro-level competition.
The Packers also added a pair of late-round talents in Nevada WR Romeo Doubs and Nebraska WR Samori Toure in the fourth and seventh round, respectively. Doubs is coming off back-to-back seasons with over 1,000 yards and boasts the sort of size (6-foot-2, 200 pounds) to potentially make an early-career impact. Toure could be looking at more of a special teams-only role, given his lowly draft capital. This latter point is honestly a problem for both rookies: The fantasy track record of players selected outside of the draft's top three rounds isn't pretty.
Rodgers has been nothing short of incredible over the past two seasons. His mixtape of tight-window dimes is up there with the best in the league.
Aaron Rodgers pic.twitter.com/UUWbEuGKo3

— Ian Hartitz (@Ihartitz) July 3, 2022
Even the world's biggest hater would have a tough time finding a stat that doesn't paint Rodgers as one of the league's best passers. This has generally been true throughout the future Hall of Famer's career, but especially since joining forces with LaFleur in 2019:
PFF passing grade:

92.9 (No. 1 among 51 quarterbacks with 300-plus dropbacks 2019-2021)
Big-time throw rate:

6.7% (No. 2)
Turnover-worthy play rate:

2.1% (No. 3)
Yards per attempt:

7.6 (No. 14)
Adjusted completion rate:

77.3% (No. 8)
It's a good thing Rodgers has posted such asinine passing efficiency in recent years because his once-solid rushing floor is a thing of the past. Overall, Rodgers has posted back-to-back-to-back career-lows in rushing yards per game. This isn't particularly surprising, however, as quarterbacks understandably run less as they get older.
Still, Rodgers needs to maintain this bonkers level of play in order to keep on keeping on as one of the game's best fantasy quarterbacks. In 2021, he ranked eighth in fantasy points per game but 10th in expected fantasy points per game. The disparity was even wider in 2020, as Rodgers worked as the QB6 in fantasy points per game but just the QB17 when looking at expected per-game production.
As Rodgers said himself: "A lot of times, down years for me are career years for most quarterbacks." He's largely never been anything other than a great real-life quarterback, although the man has been mortal in terms of fantasy production over the years.
2011

: QB1 in fantasy points per game

2012

: QB2

2013

: QB4

2014

: QB1

2015

: QB9

2016

: QB1

2017

: QB6

2018

: QB10

2019

: QB14

2020

: QB6

2021:

QB8
Only the Bears ranked lower than the Packers in PFF's receiving corps rankings. And it'd make more sense than ever to lean on PFF's fifth-ranked offensive line in the run game after the front office declined to make any truly meaningful offseason additions at wide receiver or tight end.
Rodgers is faced with the prospect of having less fantasy-friendly volume than ever inside of arguably the most-baren passing attack of his career. The 38-year-old veteran sure didn't look like he lost a step in 2021, but it's not a given that every elderly quarterback will age as gracefully as a certain GOAT.
Rodgers comes in as my QB13, in the same tier as fellow pocket passers living on high-end efficiency: Matthew Stafford, Kirk Cousins and Derek Carr. I'd take the former signal-caller ahead of Rodgers purely due to better surrounding talent and more likely high-end volume. This is in line with Rodgers' current Underdog Fantasy average draft position (ADP) as the QB13: It's simply tough to expect too much out of the reigning, defending, two-time MVP from a pure counting numbers perspective in 2022.
Jones and Dillon posted the following numbers in 16 games together last season, including playoffs:
Snaps

: Jones (59%); Dillon (40%)

Rush attempts

: Jones (183); Dillon (169)

Targets

: Jones (74); Dillon (30)

PPR points per game

: Jones (16.1, RB12); Dillon (10.8, RB37)

Expected PPR points per game

: Jones (15.5, RB14); Dillon (10.3, RB42)
This is truly more of a 1a/1b situation on the ground, but Jones is clearly the more-used back through the air. And for good reason: He is one of just four running backs to average at least 2.0 yards per route run when lined up in the slot or out wide over the past three seasons. He stands out as one of the league's few backs who doesn't look at all out of place when working as a true receiver and/or downfield threat.
No running back in the NFL has more targets 10-plus yards downfield over the last three years than Aaron Jones (21).

This is not your average back — can work multiple levels of the field as a receiver and Rodgers is not afraid to attack a mismatch or hole in the zone. pic.twitter.com/u6ku7T29h6

— Dwain McFarland (@dwainmcfarland) June 10, 2022
Jones has unsurprisingly seen his already fantasy-friendly receiving usage border on special when Adams has been sidelined. Overall, he's posted an average 4.5-48.5-0.5 receiving line in eight games without Adams. Jones has been targeted on an astronomical 34% of his routes during this stretch. There's legit full-PPR CMC/Kamara-level receiving upside on the table this season.
Of course, Dillon isn't disappearing. He's been one of the league's better pure runners of the football since entering the league in 2020.
PFF rushing grade:

90.7 (No. 4 among 86 running backs with 100-plus carries since 2020, including playoffs)
Yards per carry:

4.5 (tied for No. 31)
Yards after contact per carry:

3.2 (No. 21)
Missed tackles forced per carry:

0.19 (tied for No. 21)
Most impressive has been Dillon's ability to constantly churn out yards after contact. Overall, Dillon has gained at least 2.0 yards after contact on a league-high 75.5% of his carries over the past two seasons. It turns out that getting a 6-foot, 247-pound monster to the ground is pretty difficult.
The Packers backfield has been a top-10 unit in expected PPR points per game in each of the past two seasons: There's enough fantasy-friendly volume at hand for both Jones and Dillon to ball out alongside one another, and the history of one offense enabling multiple top-24 running backs in the same season is reasonable. Overall, 18 offenses have enabled two top-24 running backs in PPR points per game since 2012, with many having a similar one-two receiving-rushing punch as the Packers.
I'm drinking the Kool-Aid on *both* running backs being major producers in this offense. Jones (my RB9) is someone I'm willing to take ahead of just about anyone who doesn't have a true three-down role. This means I'd draft him ahead of D'Andre Swift, Joe Mixon and Javonte Williams but behind Leonard Fournette and Saquon Barkley. Dillon (my RB22) comes in at the lower end of the RB2 totem pole behind secure lead backs like David Montgomery and Ezekiel Elliott but ahead of fellow early-down grinders in potentially worse offenses and/or with more overall competition like Miles Sanders, Antonio Gibson and Josh Jacobs. 
The allure with Jones and Dillon — unlike with Nick Chubb and Kareem Hunt — is that each is one injury away from the other from possessing a true workhorse role that would leave either player as a weekly top-five option. Note that Dillon and Jones each had four regular-season games with 40-plus receiving yards last season. Both are capable of working as legit three-down workhorses if needed.
Lazard has flashed in small spurts without Adams over the years, averaging 2.86 yards per route run while getting targeted on 20% of the 103 total routes without the Packers' stud No. 1 wide receiver.
The concern for Lazard is that his overall body of work doesn't fall in line with past high-scoring fifth-year receivers. Such is life for a receiver who has never caught more than 40 passes or gained more than 515 yards in a single season.
Of course, if there ever was going to be an exception to the idea that fifth-year wide receivers usually don't suddenly blossom overnight, it'd be for Rodgers' top pass-catcher in an offense suddenly devoid of its top-two wide receivers from a season ago. A-aron certainly seems to think this is the case:
"He's (Lazard) been our dirty-work guy for most of his career here. Now he's getting an opportunity to be a No. 1 receiver, so I'm not worried about him at all stepping into that role,"
There are still a handful of veteran wide receivers like Julio Jones, Odell Beckham (ACL), Will Fuller and Cole Beasley on the open market who could feasibly find a home in Lambeau before September. But Lazard profiles as the No. 1 wide receiver at the moment and is coming off a season in which he quietly scored eight touchdowns. The 6-foot-3, 225-pound receiver has certainly shown the ability to win downfield when given the chance over the years.
???? pic.twitter.com/hFsLzu1SGS

— Ian Hartitz (@Ihartitz) July 4, 2022
Ultimately, the biggest thing going for Lazard is the lack of truly viable options behind him. Watkins' one-year deal is worth just $1.85 million, and only the $350,000 signing bonus is guaranteed. Watson and Doubs are both rookies, while Cobb (32 in August) and Amari Rodgers were largely used as distant complementary pieces when on the field in 2021.
Lazard comes in as my WR40. The potential for Rodgers to distribute the ball evenly shouldn't be discounted, but there certainly appears to be a far higher best-case scenario for him as opposed to guys like Tyler Boyd, Rondale Moore, Brandon Aiyuk and Tyler Lockett, who could each find themselves on the outside looking in regarding their offense's top-two pass-game options. I still lean toward more proven veterans with an unfortunate ongoing red flag like Chris Godwin, DeAndre Hopkins and Michael Thomas, but Lazard's potential to work as Rodgers' No. 1 pass-game option can't be ignored.
PFF's 2022 NFL Draft Guide said the following about Watson:
Where he wins: Flexible Athleticism
Most 6-foot-4 receivers struggle mightily to drop their hips at the top of routes to create the precision necessary to gain separation in the NFL. That's not the case with Watson who explodes in his cuts like a man much smaller.
What's his role: Project X
While it's all there physically to be a number one in the NFL, there are still many aspects of the receiver position where Watson is underdeveloped. He'll be a vertical threat out the gate with hopefully more in time.
Where he can improve: Ball Skills
With a 13.3% career drop rate and 30% career contested catch conversion rate, Watson has left a lot of yards on the field at the collegiate level. The question becomes, is this something that one can even improve once they get to the NFL?"
The list of non-Power Five, non-early declare wide receivers drafted in Round 2 since 2011 is not good. In fact, it's terrible. Still, Watson has all sorts of opportunity inside of a passing game led by arguably the best quarterback in the world.
The latter point is why all of these receivers are reasonable dart throws at one stage of the draft or another. I'm taking Watson (my WR56) just after first-round talents Jahan Dotson and Jameson Williams but ahead of guys like Kadarius Toney and Robert Woods, who could suffer badly from their team's lack of 1.) high-end quarterback play (for Toney) and 2.) elite receiving volume (for Woods).
I'd throw darts at Watkins, Doubs and Cobb (in that order) during the final rounds of drafts, but the former and latter receiver have almost certainly already played their best football, while the middle rookie could be on the outside looking in of three-WR sets for the entire season.
Tonyan suffered a season-ending ACL tear in Week 8 last season. This was just one year after Tonyan generated more touchdowns (12) than incomplete targets in his direction (6). Note that he is literally the only player to accomplish this in a single season with at least 50 targets since the metric began being tracked in 1992.
Of course, Tonyan's encore wasn't exactly going great prior to the injury. He popped off with 3-52-1 and 4-63-1 performances in Week 2 and 7 but otherwise failed to surpass even *10* yards before Week 8. More problematic was a tendency to keep the roster's other tight ends involved: Tonyan lost plenty of reps to the likes of Dominique Dafney, Lewis and Deguara throughout the early parts of the season.
Only the Bengals, Jets and Rams gave their tight ends a lower target share than the Packers in 2021. Overall, the Packers rank 23rd in targets to tight ends under the LaFleur/Rodgers partnership since 2019. No individual tight end has reached even 60 targets in a single season during this span.
Ultimately, Tonyan joins the likes of Irv Smith, Dawson Knox, Tyler Higbee and Gerald Everett as this year's top late-round tight ends with the potential to make up for a lack of overall opportunity with touchdown-scoring efficiency, thanks to both their own fairly proven talent and (especially) their quarterback situation under center.
I'd prioritize Smith, Knox and Higbee ahead of Tonyan due to their more likely every-down role, but the Packers' TE1 maintains double-digit scoring upside in an offense suddenly dying for red-zone playmakers.