Free agency and the 2022 NFL Draft have come and gone. Now, it's time to fully embrace the 2022 offseason by breaking down each team's fantasy football aspirations before fantasy draft season truly gets underway in August.
What follows is a fantasy-focused breakdown of the Atlanta Falcons, focusing on key questions like:
What sort of fantasy ceiling does

Marcus Mariota

have as a true dual-threat quarterback?

Was 2021 a fluke, or a sign of even bigger things to come for

Cordarrelle Patterson

?

Is there enough pass-game volume for both

Drake London

and

Kyle Pitts

to put up big numbers?
Every fantasy-relevant player from the Falcons will be covered in the following paragraphs. Make sure to check out the PFF Team Preview Landing Page through early July for more all-encompassing fantasy football coverage.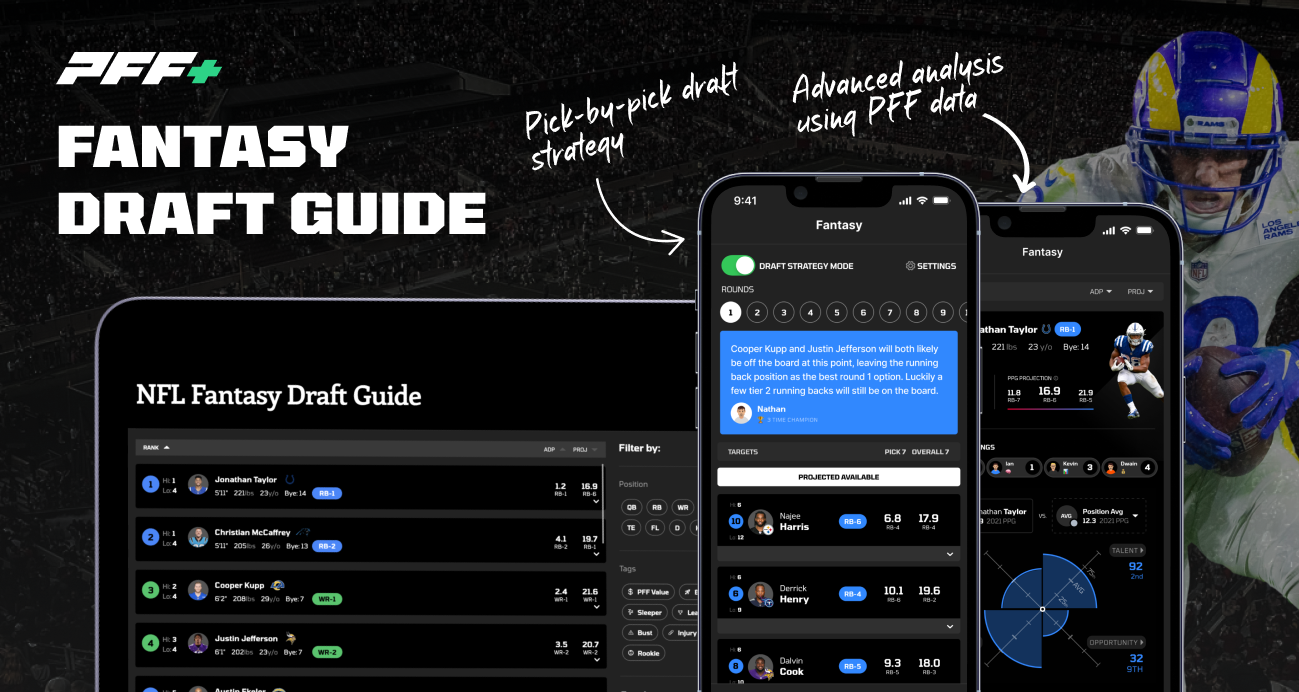 Notable offseason moves
From the front office, to the coaching staff, to the roster: Every 2022 NFL team will be different than its 2021 version.
The Falcons didn't overreact to last season's 7-10 finish, as head coach Arthur Smith, offensive coordinator Dave Ragone and defensive coordinator Dean Pees are all back for their second season in Atlanta.
Smith spent 2019 and 2020 as the Titans' offensive coordinator before taking over as the head ball coach in Atlanta last season. His ranks in non-garbage time pass-play rate, as well as situation neutral pace (Football Outsiders), are below:
2019: 58.7% pass-play rate (No. 26); 31.25 seconds per play (No. 19)
2020: 52.8% (No. 30); 28.56 (No. 3)
2021: 62.8% (No. 10); 30.35 (No. 11)
Credit to Smith for playing to the strengths of his offense, but it sure wouldn't be surprising to see him get back to something closer to 2019-2020 levels of running the d*mn ball without Matt Ryan in the fold. Here's to hoping Smith at least keeps moving the ball with an above-average pace. Either way: Expecting multiple high-end pass-catchers to emerge out of this offense might be wishful thinking.
Additionally, the Falcons have made plenty of changes to their roster. The following quarterbacks, running backs, wide receivers and tight ends have either joined or left the Falcons in some way, shape or form this offseason:
QB Matt Ryan: Traded to the Colts in return for a 2022 third-round pick after the Falcons lost out in the

Deshaun Watson

sweepstakes. Ryan started 222 games in his 14 seasons as the Falcons starting quarterback, most memorably winning the 2016 MVP award on the back of 4,944 passing yards and 38 touchdowns. He finished his Falcons career with a 120-102 record.
QB Marcus Mariota: Signed a two-year, $18.75 million contract with the Falcons, although only $6.75 million is guaranteed. Meaning: Atlanta can easily get out of this deal after a single season if they desire. Mariota disappointed during his four and a half seasons as the Titans starter before spending the last two years working as a change-of-pace backup behind

Derek Carr

in Las Vegas. While Mariota hasn't technically started a game since 2019, he showed plenty of gas in the tank as a passer and (especially) rusher (9-88-1) against the Chargers in Week 15, 2020 when forced to play 86% of the snaps after Carr was forced out of action early due to injury.
RB Mike Davis: Signed with the Ravens. The veteran journeyman started eight games in 2021, posting underwhelming 138-503-3 rushing and 44-259-1 receiving lines.
RB Damien Williams: Signed a one-year, $1.6 million deal with the Falcons that includes just $500,000 in guaranteed money. Williams memorably balled out throughout the Chiefs' 2019-2020 Super Bowl run but wasn't able to earn a consistent role with the Bears in 2021 and was eventually demoted to third-string behind both

David Montgomery

and

Khalil Herbert

. Williams turned 30 last April.
WR Calvin Ridley:

Suspended for the entire 2022 season due to gambling. Ridley's breathtaking 2020 campaign (90-1,374-9) set the bar awfully high ahead of 2021, but unfortunately he only suited up for five games in 2021 and struggled to provide the same level of efficiency.
WR Russell Gage:

Signed a three-year, $30 million contract to work as the Buccaneers' No. 3 receiver, although he might wind up being the No. 2 during the early parts of the season depending on how

Chris Godwin

's ACL recovery goes. Gage posted stellar 72-786-4 and 66-770-4 receiving lines during his final two years with the Falcons, demonstrating some

borderline erotic route-running ability

along the way.
WR Tajae Sharpe:

Signed with the Bears. Sharpe posted a modest 25-230-0 receiving line in 15 games with the Falcons in 2021 as a complementary receiver.
WR Christian Blake: Signed with the Cardinals. Blake totaled just 28 receptions for 257 scoreless yards in 41 games with the Falcons from 2019 to 2021.
WR Auden Tate:

Signed a one-year, $1.2 million deal with the Falcons.

A true contested-catch maestro

, Tate makes up for a lack of separation ability with the

catch radius of an elephant. While Tate's mediocre 61-799-2 receiving line in 35 games with the Bengals doesn't pop off the page, the 25-year-old receiver enters a wide-open offense with a better chance than ever to secure a starting role.
WR Bryan Edwards:

Acquired from the Raiders this offseason. Edwards started 15 games over the last two seasons but never quite managed to fulfill expectations as the 2020 NFL Draft's 81st overall pick. Edwards became expendable after the Raiders traded for

Davante Adams

; he'll likely be competing with Tate and

Olamide Zaccheaus

for the final two starting spots in three-WR sets alongside first-round pick

Drake London

.
WR Damiere Byrd:

Signed a one-year, $1.2 million contract with the Falcons. Similar to Tate and Edwards, Byrd doesn't have much of a guaranteed role inside of the offense at the moment, but the veteran journeyman has the sort of speed (4.28-second 40-yard dash) to feasibly earn a role as a pure field-stretching threat.
WR KhaDarel Hodge: Signed a one-year, $1 million deal with the Falcons, although just $35,000 is guaranteed. Hodge is probably the least likely new addition to earn a spot in three-WR sets; look for the former Rams, Browns, and Lions receiver to work as the offense's No. 4 or No. 5 wide receiver at best in Atlanta.
TE Hayden Hurst:

Signed with the Bengals. Hurst worked as the offense's primary tight end in 2020 and responded with a solid enough 56-571-6 receiving line, but he became expendable in a hurry after the Falcons used the 2021 NFL Draft's No. 4 overall pick to select

Kyle Pitts

.
TE Anthony Firkser:

Signed a one-year, $1.2 million contract with the Falcons. A popular late-round dart in 2021 after the Titans allowed

Jonnu Smith

to walk in free agency, Firkser unfortunately never managed to break out in Tennessee's multi-TE heavy offense. He's expected to take Hurst's role as the clear backup to Pitts.
TE Lee Smith:

Remains an unrestricted free agent. The 34-year-old block-first option played 16 games for the Falcons in 2021, although he only saw nine total targets.
The Falcons used the No. 8 overall pick on USC WR Drake London. While many were quick to reject his ability to separate due to his contested-catch production (FBS-high 17 contested catches in 2021), it's important to remember that a high contested-catch total doesn't imply an inability to separate (just ask that No. 1 wide receiver in Washington). Ultimately, London was the heart and soul of the Trojans offense and showed off some elite YAC potential with 22 missed tackles forced in just eight games before injury. London projects as the offense's No. 2 pass-game option — at worst — from Day 1.
Atlanta also made a splash on Day 3 of the draft by taking Desmond Ridder at 74th overall. This was seen as a fairly awesome value considering the pre-draft potential for Ridder to go in the first round. Accuracy (72% adjusted completion rate) is a bit of a concern, but Ridder has plenty of experience in a pro-style system and offers dual-threat upside (4.52-second 40-yard dash) that makes him a solid scheme-fit in this Mariota-led (for now) offense.
The Falcons also added a pair of late-round picks with fifth-round RB Tyler Allgeier and sixth-round TE John FitzPatrick. Allgeier has more potential than most late-round picks due to the Falcons' lack of backfield depth; just realize the fantasy track record of players not selected inside of the draft's top-three rounds isn't pretty.
Post-draft reports indicate Mariota is still expected to open up the season as the Falcons starting quarterback despite adding Ridder in the third round.
On the surface, Mariota looks like the sort of dual-threat quarterback capable of being better in fantasy land than in real life. This was evident with the Raiders regularly using him as a short-yardage read-option specialist of sorts over the past two seasons, as he posted a more than solid 22-175-2 rushing line in 11 games during the 2020 and 2021 seasons.
In 2019, the Titans ranked eighth in total designed quarterback runs with a mix of Mariota and Tannehill under center; it's reasonable to believe that Mariota slightly exceeds his average of 3.8 carries per game with the Titans. This is something that has already been discussed at Falcons OTAs.
Still, history tells us that quarterbacks run less as they get older, and this part of Mariota's game didn't help him overcome an overall lack of passing upside back when he was a starter in 2015 through 2019. The lack of pass-game production in 2019 was most damning due to the presence of A.J. Brown and the reality that Ryan Tannehill performed far better in the same environment:
2015: 17.5 fantasy points per game (QB17, min. 6 games)
2016: 17.3 (QB12)
2017: 14 (QB23)
2018: 12.5 (QB33)
2019: 12.1 (QB30)
Yes, the Falcons were a fairly pass-happy offense in 2021. Also yes, they had Matt Ryan under center, and their -146 point differential (No. 28 in the NFL) presented all sorts of trailing game scripts that forced Arthur Smith's hand. While the latter variable certainly isn't a given to increase, it's possible this offense trends a bit more toward what Smith did with the Titans in terms of establishing the ole run.
This lack of proven pass-game options across this entire offense hints toward more of a run-heavy, or at a minimum balanced, offensive approach. Barring a completely unforeseen shift in philosophy from both Mariota and Smith to make the 28-year-old veteran one of the league's most-used rushing threats, it seems likely Mariota will need to post some serious passing efficiency in order to emerge as a fantasy-viable quarterback.
There just isn't much reason to expect this to happen based on his stable passing metrics from 2015 to 2019:
Passing grade from a clean pocket:

79.4 (No. 36 among 52 quarterbacks with 300-plus dropbacks)

Passing grade on straight dropbacks:

75.3 (No. 26)

Passing grade on first/second down:

69.7 (No. 31)

Passing grade with no play-action:

65.5 (No. 32)

Passing grade on throws at/beyond the first-down marker:

83.9 (No. 27)
Throw in the combination of Ridder's potential to take over seemingly at any point, with an offense that doesn't exactly boast oodles of proven top-tier talent at any single position group, and Mariota doesn't offer the sort of upside or floor to be anything more than the latest of late-round darts in fantasy leagues of all shapes and sizes.
This brings us to Ridder. PFF wrote the following about the longtime Cincinnati quarterback in our 2022 NFL Draft Guide:
"Where he wins: Processing Speed. Ridder is a decisive and quick pocket-passer who has good enough arm talent to hit defenses over the top. While he's not much of a runner himself, his speed demands that he's accounted for.
What's his role: Quick Passer. Ridder isn't scheme-limited by any means. He can step in Day1 and not look out of place as a starter. Utilizing his legs as a weapon is a plus but isn't necessary for him to succeed at the next level.
Where he can improve: Ball Placement. Ridder's ball placement is still below-average by NFL standards, and it often is even worse early in games. He's too refined technically for this to dramatically change."
The aforementioned speed was on full display this March. Ridder posted some truly elite numbers at the combine:
40-yard dash: 4.52 seconds (No. 1 among all quarterbacks who tested)
Vertical jump: 36 inches (No. 1)
Broad jump: 10 feet-7 inches (No. 1)
Three-cone drill: 7.15 seconds (No. 4)
20-yard shuttle: 4.29 seconds (tied for No. 3)
Here's the catch: Ridder ran less, not more, as his collegiate career progressed. This is probably a good idea for his aspirations of being a good real-life quarterback, but it's not ideal in fantasy land. Overall, Ridder averaged a relatively modest 7.9 rush attempts per game in 2021 after utilizing his legs far more frequently in 2018 (11.5), 2019 (11.1) and 2020 (9.8). Ridder (4.9 yards per carry, 0.08 missed tackles forced per carry) wasn't even comparable to guys like Sam Howell (8.0, 0.46) or Matt Corral (5.4, 0.26) when it came to consistently picking up yards and making defenders miss on designed runs last season. Credit to Ridder for averaging 43.6 rushing yards per game throughout his collegiate career, but, similar to Mariota, don't expect him to vie for the position's top-five most productive rushers.
Only six rookie quarterbacks have finished as a top-12 fantasy football scorer over the past 10 years:
Each qualifier was their team's starting quarterback by Week 2 at the latest and also possessed plenty of dual-threat ability. Ridder doesn't appear to have a great chance of crossing off the former checkbox, while the latter isn't passed with the same sort of flying colors as the aforementioned previous high-end producers.
Ridder isn't someone that needs to be drafted outside of dynasty leagues. Even then, his middling third-round capital doesn't paint the prettiest picture for the future: Over 70% of high-performing fantasy quarterbacks were selected in either Rounds 1 or 2 regardless of experience since 2012.
Neither Mariota nor Ridder appear to have the sort of penchant for rushing that is required to turn an average real-life quarterback into a superior fantasy producer, and PFF's reigning 27th-ranked offensive line, as well as anyone's idea of bottom-five running back and wide receiver rooms, don't employ much confidence in expecting either quarterback to make much out of their likely limited pass-game volume. Throw in a seemingly somewhat active quarterback competition, and there are simply far superior late-round fantasy quarterbacks worth throwing a dart at.
Last season was a special year for Mr. Patterson. The arguable GOAT kick returner (not including punts, chill out Bears fans) finally surpassed the 85-touch mark in a single season, posting 153-618-6 rushing and 52-548-5 receiving lines.
And guess what: The 9-year veteran looked good doing it.
Cordarrelle Patterson pic.twitter.com/d8DR6kvNKx

— Ian Hartitz (@Ihartitz) June 7, 2022
C-Patt was a fantasy darling during the early portions of 2021, ripping off PPR RB36, RB4, RB19, RB1, RB16, RB19, RB11 and RB7 finishes in his eight games before spraining his ankle against the Cowboys. His worse per-game splits after the injury were in large part induced by a reduced pass-game role, but he noticeably still bested his present ADP as the RB30 in both instances:
Weeks 1-9

: 8.5-33.7-0.2 rushing, 4.3-52.6-0.6 receiving, PPR RB7 overall, RB6 per game

Weeks 12-18

: 10.9-45-0.6 rushing, 1.9-10.7-0 receiving, PPR RB20 overall, R31 per game
Age concerns for the position are relevant, although Patterson has far less wear and tear than your typical 31-year-old NFL veteran. Consider: Jonathan Taylor (640) already has 52 more career regular-season offensive touches than Patterson (588).
Patterson's receiving-friendly role helped him work as the RB22 in expected PPR points per game (12.9) last season, just behind Nick Chubb (13.1). While it'd be fair to wonder if this was simply a result of the Falcons' depleted roster, their 2022 backfield situation again seems to be setting up firmly in Patterson's favor. Just look at the contracts at hand:
Patterson

: $10.5M total value, $5M guaranteed

Allgeier

: $3.9M, $333,888 (fifth-round pick)

Williams:

$1.6M, $500,000

Ollison:

$1M, $35,000

Jeremy McNichols

: $1M, $0

Caleb Huntley

: $705,000, $0
The Falcons felt good enough about Patterson to give him the team's 12th-highest contract value. While the team is able to move on after 2022 without too much trouble if they desire, Patterson projects as a fantasy-friendly starting running back with one of the position's better target floors. He's my RB24 ahead of higher-priced players like Josh Jacobs, Antonio Gibson, A.J. Dillon, Kenneth Walker and Tony Pollard among others thanks to C-Patt's potential to once again work as one of the focal points of this shallow offense.
And then there's Allgeier, who projects as a potential late-round FLEX with benefits thanks to his theoretical three-down ability. PFF wrote the following about the BYU running back in our 2022 NFL Draft Guide:
"Where he wins: No-Nonsense Running. Allgeier wins by consistently maximizing his run blocking. He's not going to pass up open holes searching for big plays. He'll get you what's blocked and a little extra.
What's his role: Zone-Scheme RB. Allgeier would be perfect in a zone-heavy scheme to take advantage of his one-cut running style and vision. While he's not limited per se, that's easily his cleanest projection.
Where he can improve: Creativity. Allgeier could stand to be more creative when he gets into the open field. He maintains his no-nonsense running style in the open field and often seeks out contact instead of avoiding it."
There's an early-down role on the table to complement C-Patt; last season Mike Davis handled 196 combined carries and targets. Neither Williams, Ollison, nor McNichols managed to win out in their most recent position battles; I'm most inclined to throw a dart at the one back who hasn't disappointed just yet and just so happened to work as one of just four draft-eligible running backs to boast a 70-plus PFF grade in rushing, receiving and pass blocking in 2021. He's a buy at present ADP that leaves him often available in round 13 or later in best-ball land.
London immediately profiles as the Falcons No. 1 wide receiver inside of arguably the position's single-most shallow room in the league. This shouldn't take away from the reality that the 6-foot-4 and 219-pound receiver has the potential to immediately elevate this entire unit. PFF wrote the following about the USC wide receiver in our 2022 NFL Draft Guide:
"Where he wins: Basketball Background. London wins the way elite power forwards win — not surprising with his basketball background. He's too quick for bigger corners and too physical for smaller corners. Even when he's covered, London is still likely to haul it in.
What's his role: True #1-X. London is the prototypical possession receiver. He will command double-teams on third down at the next level because of how many ways he can win. Teams that use receivers heavily as blockers in the run game will covet him.
Where he can improve: Speed. Speed is the only real knock on his game. Sadly, I don't think that's anything he can drastically change overnight."
Concerns surrounding London's ability to separate don't seem to be overly backed up with extensive film study. Contested-catch excellence shouldn't necessarily be interpreted as an inability to separate; receivers can win and separate early in the route before being forced into contested situations due to a bad throw.
Further helping matters for London is the history of top-10 wide receivers typically seeing plenty of pass-game opportunity in their first professional season. The following 12 players were selected inside of the NFL draft's top-10 overall picks since 2012; all seven who missed fewer than three games due to injury managed to rack up triple-digit targets:
The PPR fantasy finishes from the seven non-injured receivers: WR5, WR13, WR13, WR21, WR27, WR29 and WR30. Not exactly a guarantee for a high-end finish, but a solid upside WR3 floor that just so happens to be where London is being priced (ADP WR33) at the moment.
Similar to Waddle and Smith from 2021, London is his offense's No. 1 wide receiver and likely top pass-game option but finds himself being relegated to WR3 territory due to his rookie status. I'm comfortable buying London at cost thanks to this combination of available opportunities and high-end draft capital. Obviously, the situation under center isn't ideal; just realize that's already being more than baked into this ADP. Keep an eye on London's continued recovery from his 2021 broken ankle, but the early verdict from medical professionals was positive, and his presence with no restrictions at rookie minicamp alleviates any additional concerns.
It's tough to get behind any additional wide receiver in fantasy land due to the likelihood that this offense rotates between multiple parties for the No. 2 and No. 3 roles. It's likely that London, Pitts and Patterson work as the top-three pass-game options anyway; I'm prioritizing other late-round dart throw receivers who have either 1.) more confirmed starting roles (D.J. Chark, Marvin Jones), and/or 2.) are in offenses with a better overall pass-game environment (Van Jefferson, K.J. Hamler).
Last season was largely a massive W for Pitts if you remove the sky-high expectations that were on his plate from Day 1. Overall, he caught 68 of his 110 targets for 1,026 yards and *one* touchdown, finishing the year as the overall PPR TE6 and TE11 on a per-game basis. He joins Evan Engram and Rob Gronkowski as the only rookie tight ends to finish as a top-12 PPR producer since 2010.
The problem was that many were already drafting Pitts as the fourth tight end off the board after the Falcons made him the 2021 NFL Draft's fourth overall pick. The counting numbers were nice, but Pitts really shined on his per-route efficiency:
PFF receiving grade:

82.3 (No. 6 among 53 tight ends with 25-plus targets in 2021)

Yards per route run:

2.02 (No. 5)

Yards per reception:

15.1 (No. 1)

Targets per route run:

21.1% (No. 8)
It's worth noting that Pitts is really only a tight end in terms of his positional designation. Only Mike Gesicki (92%) and (conveniently) Firkser (87%) ran a higher percentage of their routes from the slot or out wide than Pitts (80%) last season.
This usage created a bit of a dilemma for defenses in terms of who they wanted to even guard Pitts with. He ultimately wound up seeing 53 targets with a primary cornerback in coverage compared to 51 against a safety or linebacker. Pitts posted rather mediocre averages of 2.29 yards per route run (No. 62) and 0.27 targets per route run (No. 78) against cornerbacks compared to 2.57 yards per route run (No. 14) and 0.24 targets per route run (No. 53) against safeties and linebackers.
Pitts led all tight ends in yards per route run with a cornerback as his primary coverage defender but ranked 62nd when including wide receivers. For fantasy purposes this is fine; all production counts the same regardless of who it comes against, but be careful about crowing the rising second-year talent as a truly elite pass-catcher regardless of position.
With that said: The man turns 22 years old in October. Pitts' production and efficiency at such a young age are rare, period, and especially for the position. There were more than a few instances of Pitts putting some truly great plays on film in 2021.
Kyle Pitts pic.twitter.com/kfJFjRDQt3

— Ian Hartitz (@Ihartitz) June 7, 2022
Ultimately, Pitts comes in as my overall TE3 behind only Travis Kelce and Mark Andrews. His status as the 32nd player off the board over at Underdog Fantasy is reasonable; I'm comfortable taking him ahead of the WR2s and RB2s of the world in an effort to solidify the always-volatile tight end position. It seems like a matter of when, not if, Pitts starts racking up top-five finishes at the position; don't be afraid to invest in the next big thing at tight end.