Free agency and the 2022 NFL Draft have come and gone. Now, it's time to fully embrace the 2022 offseason by breaking down each team's fantasy football aspirations before fantasy draft season truly gets underway in August.
What follows is an Arizona Cardinals fantasy-focused breakdown, focusing on key questions such as:
Does

Kyler Murray

have legit overall QB1 upside?

Will

James Conner

continue to put up RB1 numbers in his second season with the Cardinals?

What sort of ceiling do

Marquise Brown

,

Zach Ertz

 and

Rondale Moore

possess with

DeAndre Hopkins

suspended?
Every fantasy-relevant player from the Cardinals will be covered in the following paragraphs. Make sure to check out the PFF Team Preview Landing Page through early July for more all-encompassing fantasy football coverage.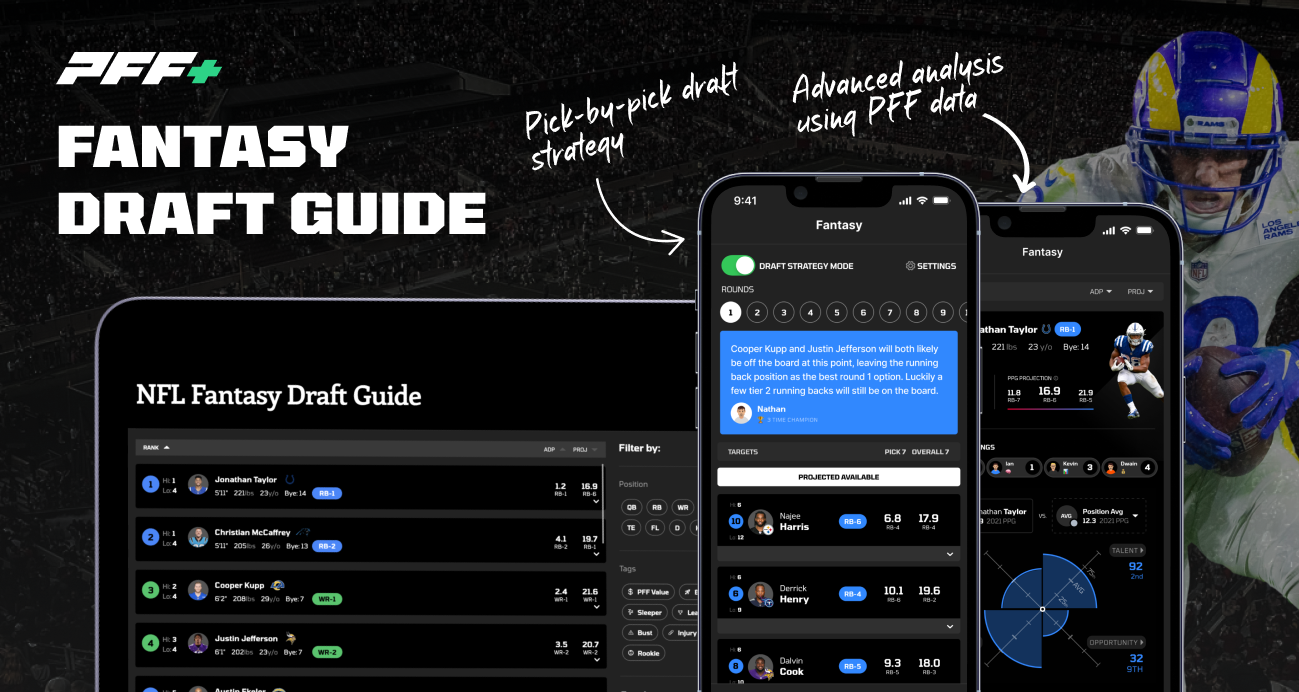 Notable offseason moves
The Cardinals will continue to be led on offense by head coach/de facto offensive coordinator Kliff Kingsbury and on defense by Vance Joseph for the fourth straight season.
Kingsbury hasn't quite revolutionized NFL offenses the way some imagined, and he's even embraced the run to an above-average extent in back-to-back seasons. The good news for prospective fantasy managers is that the offense's regular helter-skelter pace helps keep enough volume available for the pass and run game alike:
2019:

64% pass-play rate in non-garbage time situations (No. 10); 28.35 seconds per play in neutral situations (No. 4)

2020:

61.3% (No. 17); 27.14 (No. 1)

2021:

61% (No. 17); 30.07 (No. 7)
Overall, the Cardinals have called the sixth-most plays in the NFL over the past three seasons, ranking 12th in total run plays and 13th in dropbacks. While we can't guarantee Kingsbury and company will always scheme the ball to the specific players we're hoping for, this offense has more than enough overall play volume to produce multiple high-end fantasy assets.
This is one of the better offenses fantasy managers can target. The more players from the AFC and NFC West on your fantasy team, the better.
Additionally, the Cardinals have made plenty of changes to their roster. The following quarterbacks, running backs, wide receivers and tight ends have either joined or left Arizona in some way, shape, or form this offseason:
RB Chase Edmonds: Signed a two-year, $12.6 million with the Miami Dolphins in free agency. Edmonds worked as the offense's scat back as a clear backup from 2018 to 2020 before starting 11 of his 12 healthy games in 2021. Edmonds has enjoyed plenty of success as a rusher (333-1,551-9) and receiver (128-921-5) during his 57 games with the Cardinals.
RB Darrel Williams: Signed a one-year, $1,2 million contract with the Cardinals that includes $1,047,500 in guaranteed money. The 27-year-old primary pass-down back served in a primary backup capacity with the Kansas City Chiefs from 2018 to 2020 before posting 144-558-6 rushing and 47-452-2 receiving lines when forced into extended action in 2021.
WR Christian Kirk: Signed a rather monstrous four-year, $72 million deal with the Jacksonville Jaguars. Kirk racked up a decent enough 3,044 total yards and 17 touchdowns during his four years with the Cardinals, but the contract sure seems steep for someone who grades out as PFF's 83rd-best wide receiver among 130 players with at least 100 targets during that span.
WR Marquise Brown: Was acquired from the Baltimore Ravens alongside a third-round pick in return for the 23rd overall pick in the 2022 NFL Draft. Brown enjoyed all sorts of success with

Kyler Murray

at Oklahoma and posted 46-584-7, 58-769-8, and 91-1,008-6 receiving lines in three years with the Ravens.
TE Darrell Daniels:

Remains an unrestricted free agent. Daniels served as a block-first option during his four years with the Cardinals, totaling just 19 targets in 40 games from 2018 to 2021.
TE Demetrius Harris:

Remains an unrestricted free agent. Harris caught three of six targets for just 10 scoreless yards with the Cardinals in 2021. The 30-year-old ex-Chiefs talent and former collegiate basketball player appeared in 14 games last season.
TE Stephen Anderson: Signed a one-year, $1.2 million deal with the Cardinals. Anderson worked as the No. 3 option in a committee with the Los Angeles Chargers over the past three seasons, totaling a pedestrian 24-271-1 receiving line in 34 games.
The Cardinals added a pair of skill-position players in the 2022 NFL Draft. First up was Colorado State TE Trey McBride, who was the consensus TE1 in a relatively weak class. This isn't an indictment on McBride, as he's a 6-foot-4 and a 246-pound receiving-friendly tight end who has above-average run-blocking ability and entered the draft as PFF's 60th overall prospect. Sadly, PFF's 2022 NFL Draft Guide comped McBride to Dallas Goedert, and now, McBride faces the prospect of also starting his career spending far too much time on the bench because of Zach Ertz.
Arizona also added sixth-round USC RB Keaontay Ingram, who posted an elite 91.6 rushing grade last season. His lack of passing-game ability makes a 2022 role unlikely, but there's a chance that he could compete for Eno Benjamin's backup role. Note that the fantasy track record of players not selected inside of the draft's top-three rounds isn't pretty.
Murray has suffered an injury during each of his first three seasons. First, a sprained hamstring limited him during the final two games of 2019. Next, a sprained AC joint in Week 11, 2020 led to diminished play and willingness to rush down the stretch, and finally, Murray suffered a sprained ankle in Week 8 of the 2021 season that sidelined him for three entire games.
The common rhetoric associated with Murray is that these knicks and bruises turned him from a great fantasy quarterback into a liability. There seems to be at least some truth to this, particularly due to the reality that Murray has shied away from running post-injury over the years. We'll focus just on 2020 and 2021 since Murray's rookie season injury occurred in Week 17, so there isn't much of an even sample size.
| | | | | | | | | | | |
| --- | --- | --- | --- | --- | --- | --- | --- | --- | --- | --- |
| Year | Weeks | PASS GRADE  | BTT% | TWP% | YPA | ACOMP% | Rush/Gm | Scrambles/Gm | FP/Gm | Rank FP/Gm |
| 2021 | 1-8 | 89.5 | 9.0% | 1.3% | 8.9 | 81.4% | 6.1 | 1.6 | 22.2 | 6 |
| 2021 | 13-18 | 77.6 | 7.2% | 2.9% | 6.8 | 73.2% | 6.5 | 2.8 | 20.5 | 7 |
| 2020 | 1-10 | 72.8 | 3.6% | 2.4% | 7.6 | 78.9% | 9.7 | 3.3 | 29.3 | 1 |
| 2020 | 11-17 | 77 | 5.8% | 2.7% | 6.5 | 73.6% | 6.6 | 3 | 16.5 | 17 |
Note that Murray only played in half of the Cardinals' Week 17 loss to the Los Angeles Rams back in 2020. Removing this produced an average of 18.6 fantasy points per game (QB12).
Either way, Murray clearly fell off hard in 2020 upon attempting to play through what was clearly a painful AC joint injury. Kudos to the Cardinals for not rushing him back in 2021, and he accordingly actually ran the ball more often upon returning. Murray's passing numbers did fall off, but it's tough to necessarily attribute that to the injury when DeAndre Hopkins' absence coincides with the post-injury splits. On the season, Murray's 19.4% dropback rate with zero pass-catchers considered open was the second-highest mark in the NFL, behind only Aaron Rodgers
Ultimately, Murray averaged 20 fantasy points per game before and after his injury. While his stature would seemingly make him more prone to getting banged up, medical studies show that pocket passers don't inherently have a lower injury risk than scrambling quarterbacks. If anything, it makes sense that someone as agile as Murray with the ability to run away from defenders would be superior to a sitting duck who is incapable of leaving the pocket.
With the injury elephant in the room essentially out of the way, Murray has been anyone's idea of an above-average quarterback since entering the league in 2019.
PFF passing grade:

79.5 (No. 17 among 51 quarterbacks with 300-plus dropbacks since 2019)

QB rating:

93.9 (tied for No. 18)

Big-time throw rate:

5.4% (No. 6)

Turnover-worthy play rate:

2.5% (No. 5)

Yards per attempt:

7.3 (tied for No. 21)

Adjusted completion rate:

76.1% (No. 17)
Of course, Murray also brings all sorts of goodness to the table as a rusher. The NFL's all-time leaders in rushing yards per game (min. 16 starts): Lamar Jackson (63.3), Mike Vick (42.7) and Kyler Murray (38.8). That man is absolutely electric in space.
Murray's fantasy floor is pretty damn high. Josh Allen (45%), Tom Brady (45%) and Aaron Rodgers (44%) have finished as a top-five fantasy quarterback in a higher percentage of their starts over the past two seasons than Murray (43%). His ceiling might as well be the moon considering his 29.3 fantasy points per game average before injury in 2020 would have been good for the best mark ever across a full season had he kept that pace for 16 games.
PFF ranked the Cardinals' offensive line as the 25th-ranked unit entering 2022 noting:
"This is one of the most veteran-laden offensive lines in the NFL. The average age of Arizona's five starters come Week 1 will be over 30 years old. While that might sound "stable," it also sounds like injury red flags. Justin Pugh, Rodney Hudson and Kelvin Beachum are all firmly on the downswings of their careers, and the Cardinals can't afford for any of them to fall off a cliff."
Throw in DeAndre Hopkins' six-game absence, and it's clear Murray is going to need some help from Marquise Brown, Rondale Moore and Zach Ertz if he wants to fulfill his fantasy prophecy as the overall QB1.
I'm drinking the kool-aid: Murray is my QB2 behind only Josh Allen, who is the only quarterback with a greater combined rush and pass floor at this point. Obviously, the best versions of Patrick Mahomes and Lamar Jackson have already proven capable of obtaining overall QB1 glory, but the reality that each lost their No. 1 wide receiver for the entire season is enough to give Murray the nod. Curiously priced as the QB5 over at Underdog Fantasy, Murray is my second-highest drafted quarterback after doing 20-plus best-ball drafts since the 2022 NFL Draft.
Conner was largely written off as too injury-prone to make a true impact upon joining the Cardinals in 2021. What happened? The five-year veteran played 15 games, posting 202-752-15 and 37-375-3 receiving lines to work as the overall PPR RB5 and RB9 on a per-game basis.
Of course, Conner wasn't simply handed the starting role. Chase Edmonds worked as the Cardinals' nominal starting running back but missed six games during the second half of the season due to injury. All Conner did with the added opportunity was work as one of the most productive backs in the entire league:
Week 9:

21-96-2 rushing, 5-77-1 receiving, 77% snaps, PPR RB1

Week 10:

10-39-1 rushing, 3-25-0 receiving, 82% snaps, RB17

Week 11:

21-62-1 rushing, 5-37-0 receiving, 82% snaps, RB7

Week 13:

20-75-0 rushing, 2-36-1 receiving, 91% snaps, RB12

Week 14:

13-31-2 rushing, 9-94-0 receiving, 96% snaps, RB2

Week 18:

15-52-1 rushing, 6-41-1 receiving, 61% snaps, RB1
Clearly, the Cardinals were content to leave Conner on the field as much as possible, and why wouldn't they be? Conner caught 37 of 39 targets on the season, working as PFF's third-best back (86.2) in receiving grade on the season. He ranked first in pass blocking grade (88.5) among 68 qualified backs.
While it'd be reasonable to suggest that Conner only handled this role due to necessity, Kingsbury is one of few coaches who has a history of giving his starting running back a true every-down role. Overall, David Johnson, Kenyan Drake, Edmonds and Conner have handled a snap rate north of 80% at one point or another since 2019.
Conner is one of just 12 running backs who has a total contract value north of $20 million —a list that includes a lot of featured backs. It's tough to assume Conner is being set up for anything other than a workhorse role based on the competition the Cardinals have added at the position:
Williams:

An endorsement from

Patrick Mahomes

is nice, but ultimately, the Cardinals only gave Williams a veteran-minimum contract, and it took them until May 31 to do so.

Benjamin:

The 2020 seventh-round pick has amassed 40 total touches over the past two seasons combined.

Ingram:

The 2022 sixth-round pick doesn't project as a polished-enough pass-catcher (0.87 yards per route run) to immediately challenge for anything other than a clear backup role.
It sure looks like Conner will get the every-down role, but hey, maybe he won't. This still wouldn't mean the end for Conner as a fantasy asset due to the reality that he's locked in as one of the most fantasy-friendly goalline backs in all of football. Arizona has only asked Murray to attempt one quarterback sneak his entire career while backups Colt McCoy and Chris Streveler have combined for five in far more limited action during the same time span. This has led to Cardinals running backs tying for fourth in total rush attempts inside the five-yard line over the last three years.
Last season, only Jonathan Taylor (26) recorded more rush attempts inside the five-yard line than Conner (16). This role helped Conner work as the overall PPR RB21 before Edmonds even got injured.
The only real path to Conner busting seems to be injury. He's certainly dealt with his fair share of injuries over the years, racking up rib, heel, ankle, back, toe and quad injuries since 2020 alone. His history with major connective tissue injuries is troubling, and medical professionals in the industry were willing to largely fade him ahead of last season.
Ultimately, the injury concerns are more real here than elsewhere, but he has the upside to be a top-five fantasy back. Conner comes in as my RB13, which is behind D'Andre Swift, Joe Mixon and Javonte Williams but ahead of backs with similar potential suspension/injury concerns in Alvin Kamara, Cam Akers and Travis Etienne.
I'm largely fading Williams at his present RB49 ADP. It's far from a guarantee he even makes the roster, let alone assumes an every-down role should Conner miss time. The lack of money at hand and the reality that the Cardinals waited three months into free agency to make the move sure makes an every-week role seem unlikely. I'd rather throw a Round-18 dart at Ingram than take Williams over more established handcuffs such as Khalil Herbert, Gus Edwards, and Jamaal Williams.
Brown projects to work as the Cardinals' No. 1 receiver during Hopkins' suspension. Brown figures to be joined by a combination of AJG and Wesley at the other outside receiver position while Moore should get a prolonged opportunity to work as the offense's every-down slot receiver.
Brown hasn't produced a true boom season through three years in the league, as his underlying metrics also don't exactly indicate that the Cardinals have an elite receiver on their hands:
PFF receiving grade:

72.5 (No. 65 among 102 wide receivers with 100-plus targets 2019-2021)

Yards per route run:

1.69 (No. 50)

Yards per reception:

12.1 (No. 66)

Targets per route run:

21.4% (No. 28)
Further complicating Brown's potential boom is the reality that Murray was perfectly content to spread the ball around last season. In Weeks 1-8, Hopkins (46 targets) recorded as many passing-game opportunities as Green and Wesley (46 combined) while Kirk (42), a combination of Edmonds and Conner (41), Moore (35) and the banged-up tight end room (26) also stayed plenty involved. A similar pattern emerged from Weeks 13 through the wild-card round, as Green and Wesley (59), Ertz (55), Kirk (52), and a combination of Edmonds and Conner (37) were all toward the top of the totem pole in terms of raw passing-game opportunity.
Cardinals wide receivers ranked 10th in total targets last season, but Moore was the only wide receiver who ranked inside the position's top-50 in terms of targets per route run. This was more so due to Moore's sporadic usage and gadgety role than anything.
Brown is presently flying off the board as the WR16 over at Underdog Fantasy. Note that he's worked as the PPR WR48, WR43 and most recently WR23 on a per-game basis during his three-year career. Last year, Hopkins only worked as the WR19 on a per-game basis and the WR17 per game in Weeks 1-7 before any injury occurred. Hollywood does deserve some slack for not getting a full season with Jackson, but it was disappointing to see him work as the league's seventh-worst receiver in fantasy points below expectation.
"the system wasn't for me, personally" pic.twitter.com/a66eyDkXG9

— Warren Sharp (@SharpFootball) June 13, 2022
It sure seems like Brown is being priced closer to his ceiling as the WR16 over at Underdog Fantasy right now. That level of production seems possible during Hopkins' suspension, but even then, it's a tall task (that was meant to be a short joke). Brown posted the ninth-most targets among wide receivers last season, which seems like a pipe dream for 2021 as a whole, as Murray's tendency to spread the ball around could make even an elite mark during Weeks 1-6 hard to come by.
Brown comes in as my WR22, and even that feels a bit high. His personal indictment on the Ravens' system doesn't match the eye or analytics test.
We really might be underestimating Moore's potential to take most of Kirk and Edmonds' leftover targets. A constant drum beat of good things to say from Kingsbury has been on display all offseason:
June 14, 2022: "Rondale is gonna play a lot more. He's taken real strides this off-season."
June 3, 2022:

"We utilized him in different ways than we will this year. … We kind of got it to him in space and did some things and used him on some check-downs, but he's a dynamic route runner. I think that's what people are going to see. He's really good getting out of his cuts, good at the top of routes, so I think people are going to see a different side of him."
June 2, 2022:

"He feels like he can step into Christian's role and play at a really high level inside there and we do too."
March 29, 2022:

"A bigger role, there's no doubt. Last year, just with the numbers with Christian, A.J. Green, Hop, he kind of got lost in the shuffle more than he should have. He's a dynamic playmaker. With Christian leaving, we expect him to fill that role."
I'd much rather throw a far later-round dart at Moore (my WR45, ADP WR55) or lean more into Ertz as a potential late-round gem at tight end over spending an early-round pick on Brown. Wesley and Green are tentatively expected to rotate at the receiver position opposite of Brown, rendering each a non-viable fantasy option due to a lack of consistent volume.
And then there's Hopkins, who has been suspended six games for three separate types of anabolic steroids and a low-grade beaver tranquilizer. This leaves him as the WR37 over at Underdog Fantasy, just behind fellow veterans Michael Thomas and Adam Thielen. While I'm even with consensus, it's tough to rationalize taking him too much higher due to the same target disparity issues that impacted him last season. History tells us that his status as a 30-year-old isn't ideal, and his marks in PFF receiving grade (81.1) and yards per route run (1.78) were each his lowest since 2016. Yes, Hopkins was playing through a rib injury and in pain during basically all of 2021. Also yes, these are the sorts of things that we should probably expect to happen more frequently for the league's relatively more elderly receivers.
Ertz joined the Cardinals in Week 7 last season and posted the following numbers in nine games with Murray under center:
Week 7: 3 receptions-66 yards-1 TD (5 targets), PPR TE6
Week 8: 4-42-0 (4), TE14
Week 13: 1-10-0 (2), TE40
Week 14: 5-42-0 (7), TE12
Week 15: 6-74-0 (11), TE8
Week 16: 8-54-0 (13), TE5
Week 17: 7-41-0 (9), TE10
Week 18: 7-84-0 (10), TE7
Wild Card: 3-21-0 (4)
Note that Ertz did mix an overall TE1 finish (8-88-2) in there with McCoy under center in Week 11.
Overall, only Mark Andrews (107) posted more targets than Ertz (79) from Weeks 7-18. The Cardinals certainly seemed to value his contributions, inking him to a three-year, $31.65 million extension that includes $17.5 million guaranteed. One of just 11 tight ends making at least $10 million annually, Ertz figures to seldom leave the field despite Williams (2021 Week 1 starter returning from torn ACL) and McBride's (team's second-round pick) presence.
This doesn't mean McBride won't see some snaps, but Ertz played over 70% of the offense's reps in every game after his short-week-induced team debut. The Cardinals rank a middling 15th in pass attempts with at least two tight ends on the field since 2019.
Ertz comes in as my TE10, just behind Dallas Goedert but ahead of Dawson Knox. Regularly available in Round 9 or later in Underdog Fantasy best-ball drafts, Ertz is a prime stacking parter with Murray and someone who figures to be a consensus top-10 tight end by the time August comes around thanks to his gaudy target projection. PFF fantasy projections presently have Ertz as a top-10 target getter ahead of 2022.
Don't expect McBride to be on the field enough to put up meaningful fantasy numbers. His PFF comparison was Dallas Goedert, which was pretty spot on considering he'll likely be forced to spend the first few years of his career playing behind Ertz.