(It's Week 6 of the NFL season. This and every Sunday morning, we'll wrap up the week in fantasy football content with our Study Session, a last-minute guide to our top advice of the week, featuring the highlights of that week's analysis.)
A week ago, I introduced "Fantasy Bingo" on the PFF Fantasy twitter account. It was a silly little addition to the week on social media, just to have something to post on Sundays when our Twitter account is usually quiet because there's no more advice to give. I drew up a box, picked out some things that could happen, and started tweeting.
It could not possibly have gone better.
I was just making it from my brain, no deep plan at all. And there's a balance you have to reach there, between events that are likely enough that they could happen, but not so likely that you'll have Bingo by 2 p.m. Well, for the day, we filled 16 of 24 squares (plus the free square to make 25), spaced out over the entirety of the early and afternoon Sunday slates. We got Bingo, but not until 7 p.m. If you want to design a game to make social media interesting for a day of football, it's that to the letter.
The most interesting squares (at least to me) were the "individual player scores a touchdown" blocks. I picked a few names who had scored a lot, but beyond that I wanted to pick out the players who hadn't scored yet. I identified the flex players with the most carries and/or targets who hadn't yet scored and made a square for each. The names:
Julio Jones
Odell Beckham Jr.
Christian McCaffrey
Zach Ertz
That's a who's who of fantasy notoriety, right? Well, three of the four scored touchdowns, which is exactly what you're looking for with regression choices. (Also, *sigh*, Julio.)
So when making this week's card, I performed the same exercise, identifying the guys with the biggest workload who haven't yet scored. The list:
Julio Jones
Derrick Henry
Chester Rogers
David Njoku
The names are quite a bit smaller this week. It's fun to make a Bingo card that asks you to root for Zach Ertz to score a touchdown; it's quite a bit less exciting to push Chester Rogers or David Njoku.
The lesson? Julio Jones aside (apparently), regression never loses. (I'm leaving Julio as a square every week until it gets filled.) And maybe Rogers and Njoku score this week, but they aren't on the card: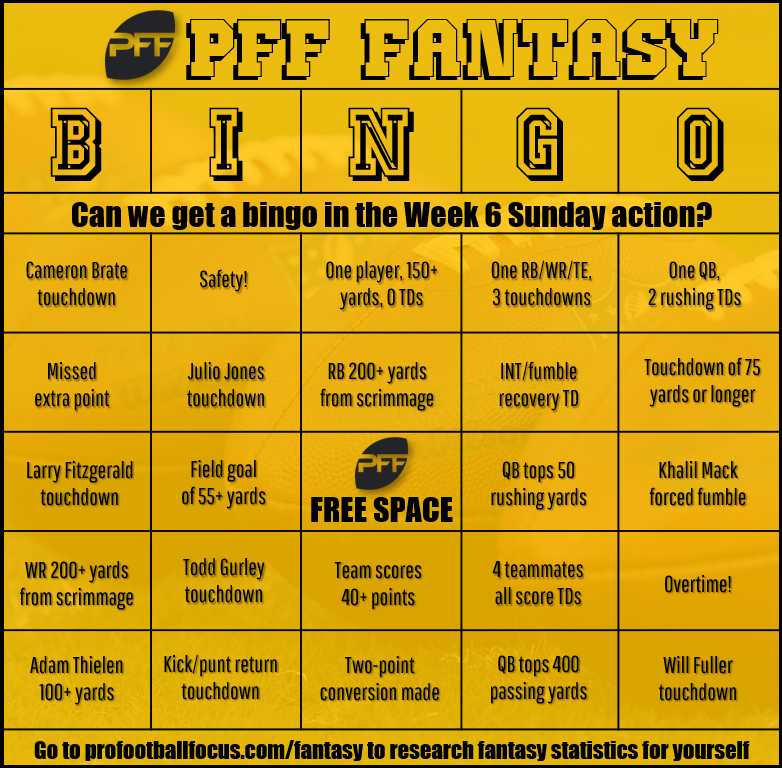 Good luck in Week 6. Hope we get Bingo.
This week on PFF Fantasy
Live chats
We've added live chats to our weekly repertoire of advice Maybe your questions were answered, or maybe you can just use this resource to find answers to questions you had but never got to ask. We hold four each week — Tuesday, Thursday, Saturday, and Sunday. Tuesday's through Saturday's chat are linked below, and Sunday's will be live two hours before gametime.
Saturday with Tyler Buecher
Rankings and start/sit
These are the big-ticket items. Our overall look at what we're doing and how we make those decisions. On Tuesday, Jeff Ratcliffe breaks down the best waiver claims of the week. Wednesday, he publishes his top 150 for that week. Thursday, Scott Barrett attempts to solve some of the top start-or-sit questions. Tuesdays also feature Mike Castiglione and Walton Spurlin offering advice for the key streamers (QB and DST, respectively). And Friday is the big blowout, where Jeff Ratcliffe highlights all the key lessons of the week and prepares fantasy players for the weekend to come. If you only read one piece of fantasy advice a week, it's that.
Previewing the weekend in fantasy
There's no good blurb to pull from this, because the whole thing is gold. Just click. Trust me on this.
A snapshot of the flex rankings
12.A.J. Green, CIN vs PIT (WR5) — He's tied for third in the league with 10 end-zone targets through the first five weeks of the season.
13.Mike Evans, TB @ ATL (WR6) — Evans gets a fantastic matchup against a Falcons secondary that has allowed 10 touchdowns to wide receivers over the last month.
14.Adam Thielen, MIN vs ARI (WR7) — Will we see another 100-yard game from Thielen this week? We like his chances.
15.Davante Adams, GB vs SF (WR8) — Aaron Rodgers' favorite target put up big numbers last week and is a good bet to do so again.
START Mohamed Sanu in medium-sized leagues: Sanu is coming off two big games in back-to-back weeks. We're predicting another big game this week against a Tampa Bay defense that's been getting destroyed by slot wide receivers.
START Courtland Sutton in deep leagues: Although production has been thin for Sutton, volume has been strong. He ranks 36th among all wide receivers in expected fantasy points and eighth in expected touchdowns.
SIT LeSean McCoy in shallow leagues: McCoy finally had a game with good volume, totaling 24 carries and three targets in Week 5. That's promising, but it's still not enough to start him in shallow leagues. He averaged just 9.7 touches per game and 42.0 yards from scrimmage per game the rest of the time.
SIT Alfred Morris in medium-sized leagues: It appears, even with Breida out this week, Morris will be stuck in a low-upside committee. On the road as 9.5-point underdogs against the Green Bay Packers, he's no better than a fantasy RB3 this week.
Sleepers and busts for the week
SLEEPER: Chester Rogers: With T.Y. Hilton likely to miss again, Rogers — who has one of the better individual WR/CB matchups of the week — should again be in for a sizable workload.
BUST: Kenyan Drake: The Chicago Bears have given up the fewest fantasy points to opposing running backs (205 yards on the ground with 0 touchdowns surrendered and just 89 receiving yards and one touchdown to opposing backs).
ADD Greg Olsen in shallow leagues: Initially, it looked like Olsen was going to miss significant time with a foot injury. But he's on track to return this week and is available in 40% of leagues.
ADD Blake Bortles in medium-sized leagues: It isn't pretty, but Bortles is getting it done for fantasy purposes. He's 10th among quarterbacks in fantasy scoring so far this season.
ADD D'Onta Foreman in deep leagues: Foreman has been on the PUP, which means he's eligible to return after this week. He could immediately eat into Lamar Miller's workload.
DROP Derrick Henry: If there were a week on paper where you'd feel comfortable starting Henry, it would've been last week with the Titans six-point favorites by the time lines closed Sunday against Buffalo.
Jameis Winston, Tampa Bay Buccaneers: Left for dead by the fantasy community, "Famous Jameis" is set to make his first start of 2018, and it could hardly come in a better spot. The Bucs-Falcons matchup opened with a game total of 58 points, with an implied total of nearly four touchdowns (27 points) for Tampa Bay.
Pittsburgh Steelers: Let's ride the hot hand here in this Week 6 divisional showdown as the Steelers DST had a field day against the Falcons last week. The Steelers got to Matt Ryan six times with a T.J. Watt strip sack leading to a defensive touchdown for the Steelers. After allowing just four sacks through the first three games, Cincinnati has given up five in the last two.
Deeper dives
You come to use for more than the surface material. Our writers go deeper with thoughts on situations down the road and looking deeper into each week's games.
John Brown, Baltimore Ravens: Brown isn't the same bastion of efficiency that Wilson is, but he has been much more efficient than his teammate Michael Crabtree. I think it's pretty clear that Brown has become Joe Flacco's No. 1 target, and given their combined efforts to stretch the field, Brown has emerged as one of the receiving leaders in expected yards.
Chiefs at Patriots: The jewel of the weekend arrives Sunday night, delivered by our favorite mustachioed Kool-Aid man. The Chiefs rank second in points per play and are averaging 15.2 more snaps in their last three contests than during the first two weeks.
Calvin Ridley, WR, Atlanta Falcons: Despite his awesome production Weeks 2-4, Ridley is still only running about 70% of Atlanta's passing snaps, which puts him firmly behind Julio Jones (89%) and Mohamed Sanu (88%) and even Austin Hooper (79%). Ridley has shown that he is capable of producing big games, but it won't be consistent. It's a great time to sell high on Ridley.
Los Angeles Rams: Even without snow, my research shows that teams pass 2.2% less and quarterbacks complete 3.1% fewer passes for 0.19 fewer yards per attempt in below-freezing temperatures. Things would only get worse for passing if snow starts to fall. That's bad news for Jared Goff (-1.0) and his big three receivers Brandin Cooks (-1.4), Robert Woods (-1.4), and Cooper Kupp (-1.2).
Marlon Mack trending UP: After five games, Nyheim Hines is the RB13 in PPR. His receiving skill set is a big part of that, as Hines' 29 targets are the fourth-most by a running back this season to go with his eighth-best pass-blocking grade (82.7). However, Hines is also graded 36th out of 58 in rushing (63.1) for an offense that has the most lopsided pass-run balance in the league.
Rashaad Penny trending DOWN: If last week is any indication – and granted, it usually isn't with Pete Carroll – the Seahawks have settled on a two-back rotation. Unfortunately for Penny, the team's first-round pick is not one of those backs as he did not get a single snap against the Rams.
DFS advice
We hit weekly DFS from all angles — bargains, stacks, fades, locks. We also look at the best ways to build a DFS lineup on DraftKings (tournament or cash game) and FanDuel (tournament or cash game). And Scott Barrett offers up his favorite tournament plays of the week on both primary sites.
Jameis Winston on DraftKings: Winston was a lot better last year than you may remember. Across the 11 games he played on at least 50% of Tampa Bay's snaps, he averaged 19.9 fantasy points per game and 306.9 passing yards per game. Those numbers ranked fourth and first, respectively, among all quarterbacks to play in as many games.
Chester Rogers on FanDuel: Over the past two weeks, Rogers has averaged 18.0 expected fantasy points per game. That ranks 10th-most among all wide receivers over this span. He's run 94% of his routes from the slot and draws a Jets defense giving up the second-most fantasy points per game to opposing slot wide receivers.
T.J. Yeldon, RB, Jacksonville Jaguars: Yeldon remains a must-play with Leonard Fournette sidelined even given the pass-happy approach we've seen from the Jaguars offense this season.
Jordy Nelson, WR, Oakland Raiders: Nelson has been the hot hand for the Raiders, who are in constant comeback mode in the second halves of games with Amari Cooper continuing to struggle.
Deshaun Watson, QB, Houston Texans: Watson continues to have one of the best floors in fantasy, and he hasn't even touched his ceiling yet. He has at least 25 DraftKings points in four straight games and rolls into Week 6 as a 10-point home favorite against the Bills.
Austin Hooper, TE, Atlanta Falcons: Hooper smashed last week, catching nine of 11 targets for 77 yards (no touchdowns). He won't see double-digit targets often — he had 15 combined targets Weeks 1-4 — but it's nice to know that Hooper, who has always been more of a touchdown-or-bust kind of option, has those ceiling games in him.
Derek Carr, QB; Jordy Nelson, WR, Oakland Raiders: You can safely stack these Raiders and know you'll get a heavy dosage of volume. The Seattle pass defenses is not what it once was, grading out middle of the pack in coverage and No. 30 in pass rush.
Christian McCaffrey, RB, Carolina Panthers: We have McCaffrey projected as one of the five highest-owned players on both sites. While he's always a great play given usage, that's too high to be playing him in large field tournaments this week. He also could be hampered by Greg Olsen's return.