As we head into Week 6 of the NFL season, byes and injuries and surprise performances have changed the defense/special teams landscape in fantasy football, meaning we need to be on the serious lookout for units worth streaming.
It was a crazy weekend of NFL action (why does it feel like I've typed that before?) that saw eight different DST touchdowns. One of the crazier things is that four defensive linemen scored touchdowns, with two coming on interception returns. Trust me folks — that doesn't happen every day (or even on most Sundays in the fall and winter months).
It was a strange day for kickers as well, with the position managing to make merely 76% of the kicks Sunday, well below the 2018 league average of 84 percent. Front and center was poor Mason Crosby who missed a total of five kicks in the Packers loss at Detroit. As a Detroiter and longtime Lions fan I thank you, Mr. Crosby. Cheap shot? Did you miss the part that read "longtime Lions fan"?
The Week 6 matchups are the toughest schedule of games to date when looking for streaming DST options. Many of the top units that are likely rostered such as Chicago or Minnesota face off against offenses I like to stream against in Miami and Arizona respectively.
Nevertheless, we still found a few streaming DST options for Week 6 that should put up nice fantasy totals. Keep in mind that Detroit and New Orleans are on their bye weeks.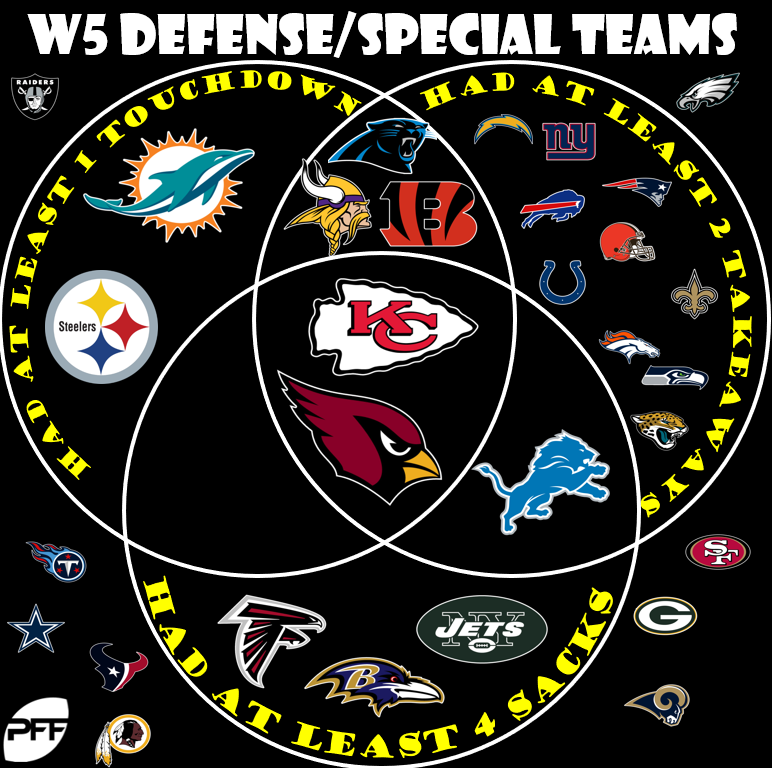 The 2018 season is slipping away from the Falcons as their Week 5 loss to the Steelers puts them in a big hole at 1-4. The offensive line has struggled mightily, allowing six sacks last week and 12 over the past three weeks. The Buccaneers are coming off their bye week and have the edge rushers to take advantage of the banged-up Falcons linemen. Look for big games from Jason Pierre-Paul, Vinny Curry, and Gerald McCoy, as the trio has combined for 37 quarterback pressures and seven sacks.
Ah. It's nice when things to return to form when picking a DST to stream. In a "déjà vu all over again" situation, we chase Blake Bortles once again on a weekly basis. In the Jaguars' loss to the Chiefs last week Bortles turned the ball over a total of five times, including a pick-six to a defensive lineman. In the past two games Bortles has turned the ball over six times and been sacked seven. The Cowboys managed just a single sack in their overtime loss to the Texans but did force a pair of turnovers. Demarcus Lawrence and company will pressure Bortles into at least two turnovers while racking up a few sacks as well.
The Eagles DST is likely available as few owners would have played the unit against the potent Vikings offense. In this Week 6 make-or-break matchup Thursday night against the Giants, the Eagles defense will soar. Philadelphia managed a sack (should have had two if not for a dubious roughing the passer call on Michael Bennett) and a fumble recovery in their loss to the Vikings. The sack was the first of the season for Brandon Graham. The Giants offense was a bit sloppy at Carolina allowing a sack, two interceptions, and a defensive touchdown on a special teams snafu. Trust the Eagles in this divisional showdown.
The Packers defense only managed to get to Matthew Stafford three times in their Week 5 loss and failed to force a turnover. Green Bay was credited with 21 total pressures against Detroit according to PFF and has put up 10 sacks in the past two games. The matchup against a C.J. Beathard led 49ers offense should be just want the fantasy doctor ordered for a bounceback week. Beathard was sacked four times last week and turned the ball over four times, with one of his two fumbles being returned for a score. In his two starts Beathard has turned the ball over six times and the Packers are poised for a big game at home this week against one of the more generous offenses in giving up points to opposing DST.
The Raiders offense has really struggled over the past three weeks, allowing an average of three sacks per game while turning the ball over six times. Derek Carr seems a bit out of sync with his receivers, having thrown eight interceptions through the first five games with just seven touchdowns. The Seahawks defense gave the Rams all they could handle last week before losing on a late field goal putting up a sack and two interceptions. They have averaged two turnovers per game over the last three games. Frank Clark and Jarran Reed both could have big games against Oakland's offensive tackles, who allowed 12 total pressures and the three sacks last week.
Let's ride the hot hand here in this Week 6 divisional showdown as the Steelers DST had a field day against the Falcons last week. Led by T.J. Watt's three sacks, the Steelers got to Matt Ryan six times with a Watt strip sack leading to a defensive touchdown for the Steelers. After allowing just four sacks through the first three games, Cincinnati has given up five in the last two. There will also be big-play opportunities as Andy Dalton has thrown six interceptions in the past three games. Look for Pittsburgh to utilize cornerback Joe Haden in a shadow role on A.J. Green, forcing Dalton to look elsewhere while Watt (six sacks on the season) and Cameron Heyward (2.5 sacks in 2018) bring the pressure.