We're back again for Week 6 of the NFL season to identify some sleeper candidates who could find themselves more valuable in fantasy football sooner or later.
A week into October, it's much more challenging to identify the mismatches in workload and fantasy production than it was a week into September. But touchdown regression isn't the only way to find in-season sleepers. My rushing and receiving Yards Added metrics compare a skill player's yardage totals on their plays relative to expected totals based on factors like the down and distance, distance from the end zone, quality of run-blocking, and quality of coverage. As such, they are perfect tools to identify players whose effectiveness could lead to increases in workload. Here are the skill players Yards Added suggests could be sleepers for Week 6 and beyond.
Wilson was on my sleeper radar before the season started because of his excellent efficiency in limited opportunities on the Chiefs in 2017. With the Dolphins this year, he has continued to be productive on his looks. He is top-10 among all wide receivers with 17 Yards Added despite just 20 catchable targets, and it's clear the Dolphins are taking notice. Wilson has seen his percentage of played snaps jump from around or below 50% over the first three weeks to 75 and then 90% the last two weeks.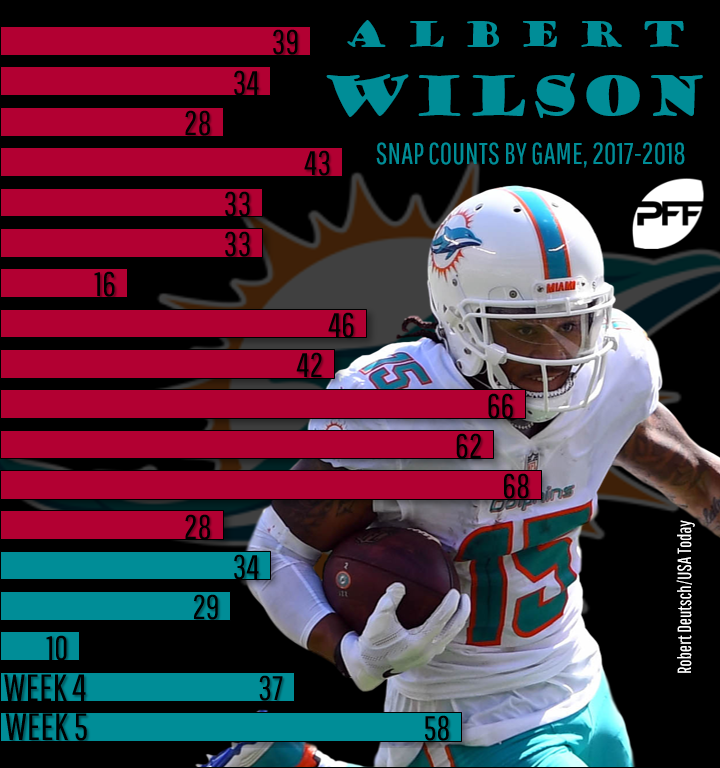 Outside of his crazy two-touchdown game against the Raiders in Week 3, Wilson has yet to become a fantasy factor. But he did pace all Dolphins receivers with six targets in Week 5. I'd start adding him in moderate and deep leagues, even if it's premature to put him in a starting lineup.
Brown isn't the same bastion of efficiency that Wilson is, but he has been much more efficient than his teammate Michael Crabtree. Crabtree has seen his effectiveness crater in recent seasons and currently trails all receivers this year with -26 Yards Added. I think it's pretty clear that Brown has become Joe Flacco's No. 1 target, and given their combined efforts to stretch the field, Brown has emerged as one of the receiving leaders in expected yards.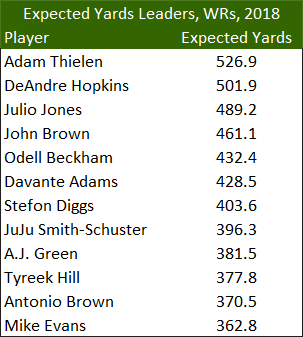 Everyone on that list except Brown is an accepted fantasy star. He has underperformed somewhat relative the quality of his looks, but that can turn around quickly if he converts on a couple of his deep targets. Meanwhile, that underperformance is likely the only reason he is still available in about 20% of leagues. Make sure you pick up or trade for Brown before he has his inevitable breakout fantasy day.
Watkins isn't going to show up on many season-to-date leaderboards because he pulled his hamstring early in Week 4 and finished the week without a catch. Injuries seem to always be an issue for Watkins, but when he has been on the field this year, he's produced. He is one of the positional leaders with 11 Yards Added and has 305 yards from scrimmage, which is a 16-game pace of more than 1,200 yards. Only 7 wide receivers accomplished that feat in 2017. Don't be scared off because Watkins is likely the Chiefs 3rd option. Their offense is so explosive, every major piece of it has the chance to be fantasy-relevant.
Playing behind one of the few feature backs left in the modern NFL in Melvin Gordon, Ekeler has surprised me in having strong fantasy value over the first five weeks of this season. I'm starting to think that he may have the elite per-play efficiency necessary to maintain value with a limited workload, similar to what Chris Thompson does in Washington. The bulk of Ekeler's value comes as a receiver, where he has added 19 yards on just 16 catchable targets. Only Todd Gurley has been more efficient. Meanwhile, Ekeler has overcome his small stature to produce an impressive 3.9 yards after contact per attempt, which trails only Nick Chubb (10.8) and Isaiah Crowell (3.9). He's been a solid RB2 so far this season, and I think that can continue.
Someday-Hall of Famer Jason Witten is a difficult man to replace, but Swaim is making a great effort of it in his fourth year with the Cowboys. Swaim has just 11 combined catches over the last three weeks but has turned them into an impressive 141 yards, highlighted by a 43-yard screen pass on Sunday night.
.@Dak connects with Geoff Swaim for a gain of 43!

????: @snfonnbc #DallasCowboys pic.twitter.com/znAxhvikOX

— NFL (@NFL) October 8, 2018
That catch-and-run showcased speed to complement his excellent hands. Swaim ranks 21st of 84 tight ends in extra catches per catchable target since he entered the league in 2015. He's just behind Rob Gronkowski and just ahead of Greg Olsen and Travis Kelce. Fittingly, Witten is first in that stat. Other than running back Ezekiel Elliott, Swaim has been the most productive Cowboys' receiver this season. Tight end is a really thin fantasy position right now, so if you lack one of the handful of top options, consider adding Swaim.