Fantasy football values are always shifting. Sometimes a player moves from a fringe starter to a surefire starter; sometimes the move is in the opposite direction. Every other week in this space, I'm taking a look at players whose fantasy values are most notable rising or falling heading into the next week.
This is the stock market for Week 6.
Risers
Quarterback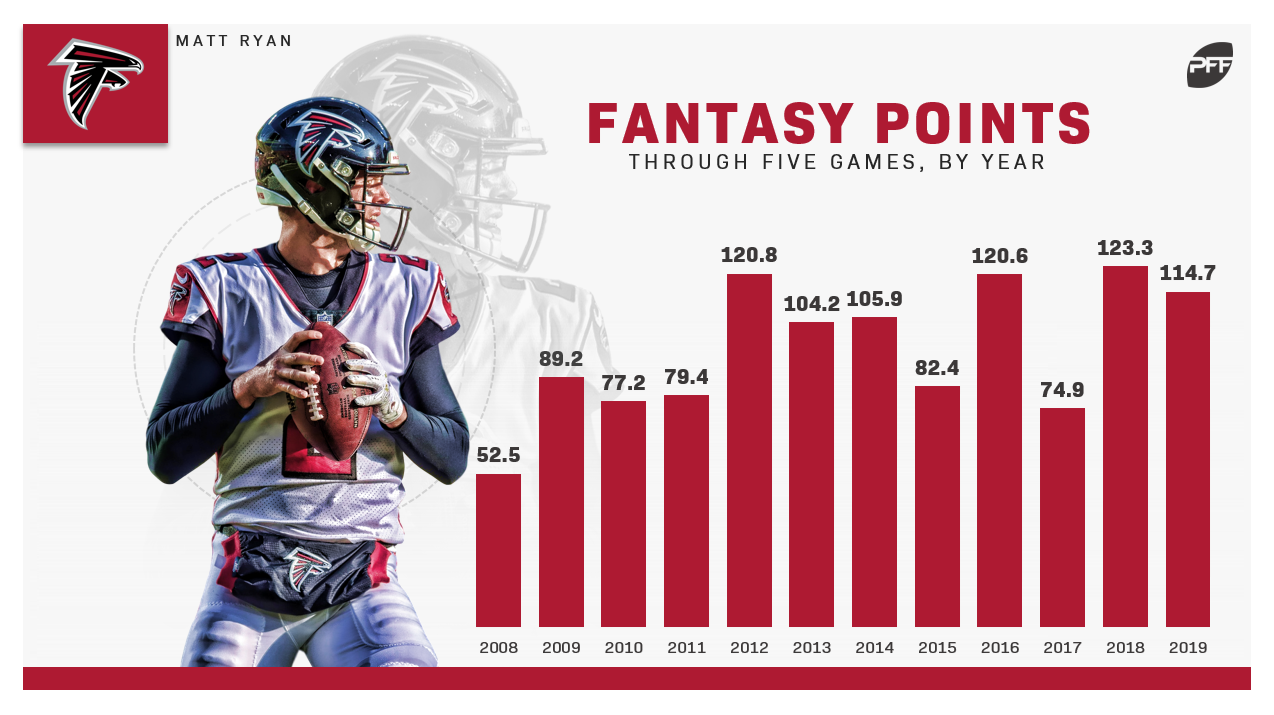 Matt Ryan, Atlanta Falcons: It's easy to overlook because the Falcons are 1-4, but Ryan has 300-plus yards in all five games this year, multiple touchdowns in four of five, and three passing touchdowns three times. He's just barely off the pace he was on a year ago, when he had the No. 14 fantasy QB season ever.
Teddy Bridgewater, New Orleans Saints: Maybe he just needed to work back into things? After essentially three and a half years out of competitive football action, Bridgewater looked like a poor man's game manager in his first three outings, coming in under 200 yards in all three games and barely taking chances. Sunday, he had 314 passing yards, threw for four touchdowns, and most importantly saw his average depth of target grow to over 7.0 yards.
Running back
Leonard Fournette, Jacksonville Jaguars: The last two weeks, Fournette has 52 carries for 333 yards and a score, plus 6 receptions for 49 more yards. After a slow start (but even then with plenty of playing time), he's on track.
Aaron Jones, Green Bay Packers: We'll see how long Jamaal Williams is sidelined, but for however long that ends up being, Jones is an easy RB1. Obviously he won't put up four-touchdown games like he did Sunday, but he's going to get plenty of work.
Josh Jacobs, Oakland Raiders: You'd still like to see more receiving work out of Jacobs, but in back-to-back Raiders wins, he has caught 5-of-6 targets for 49 yards. On top of that, he has 202 rushing yards on 43 carries in those two games.
Chris Carson, Seattle Seahawks: Carson has held onto the ball in consecutive games after losing a fumble in each of the season's first three outings. More importantly, even with Rashaad Penny back on the field in Week 5, Carson played 62 snaps compared to Carson's 11. It's a committee no more.
Austin Ekeler, Los Angeles Chargers: No one really knew what Melvin Gordon's return would mean for Ekeler's fantasy stock. In our PFF Fantasy staff rankings for Week 5, Ekeler was unanimously a low-end RB2. He ended up only getting three carries, but caught a whopping 15 passes, and while we can't count on that sort of receiving output each week, it looks like Ekeler has a definite pass-catching role in this offense that will keep him as a mid-range RB2.
Matt Breida, San Francisco 49ers: For one game at least, Breida stayed ahead of Tevin Coleman on the depth chart, and he made the most of it. Coleman scored as well, but until we see him work ahead of Breida, Coleman needs to be the No. 2 49ers back in rankings.
Jordan Howard, Philadelphia Eagles: We all assumed that Miles Sanders would eventually seize the No. 1 role in this backfield, even if it resembled a committee most of the year. But it's been Howard whose workload has climbed. Sunday, he played one more snap than Sanders, had four more carries, and got the 1-year touchdown. This will stay a committee, but it's starting to look like Howard will have the big half.
Jonathan Hilliman, New York Giantshttps://www.pff.com/nfl/players/wayne-gallman/11895: At the moment, Hilliman is the last man standing in the Giants backfield. Wayne Gallman could return from his concussion and/or Saquon Barkley could return from his ankle sprain (and/or the Giants could add another running back), but until one or more of those things happens, Hilliman is suddenly a starting running back.
Wide receiver
Amari Cooper, Dallas Cowboys: Cooper has seen shadow coverage in all five games this year, the only receiver who can say anything close to that. Despite that, he has five scores in five games. More importantly, the notoriously volatile Cooper has at least 9.8 PPR points in all five games and at least 14.4 in all but one.
Chris Godwin, Tampa Bay Buccaneers: Godwin is the No. 1 fantasy receiver through five weeks, the only player with six receiving touchdowns and (along with Aaron Jones, Christian McCaffrey, and Austin Ekeler) one of only four with at least six scores of any kind. At this point, you have to rank him above Mike Evans, even if the gap isn't as big as it's looked in some weeks.
D.J. Chark, Jacksonville Jaguars: Chark was essentially undrafted this year. All he's done since is (with a backup quarterback) score five touchdowns in five games, manage a 156.3 passer rating when targeted, and hold a 90.2 overall PFF grade through five weeks. He's fantasy's No. 5 PPR receiver so far, and while that might be higher than he ends up, he's made himself a borderline WR1.
Julian Edelman, New England Patriots: Despite the Patriots going 5-0 (and winning most of their games comfortably), Edelman has 40 targets, including at least seven in four games and at least nine in three. If he's doing that in blowouts, imagine what sort of work he'll get in games where the Patriots have tougher opponents. (Which will happen eventually, right? Right?)
Will Fuller, Houston Texans: Exactly how much of Fuller's huge Week 5 we can credit to Kenny Stills' absence is fair to debate. But after a quiet start to the season (14 receptions, 183 scoreless yards) in Weeks 1-4, Fuller exploded for 14 more catches, 217 yards, and 3 touchdowns Sunday. His season line is now about where we'd have guessed it'd be, even if he got there unpredictably. Fuller's a strong weekly flex play.
Courtland Sutton, Denver Broncos: Take out his 70-yard touchdown, and Sutton was pretty quiet Sunday, catching 3-of-6 targets for 22 scoreless yards. Of course, he did have that touchdown, and given he spent most of the game in shadow coverage from Casey Hayward, a 92-yard game with a touchdown is just fine. Sutton is top-five in the league in passer rating when targeted and has become the clear No. 1 in the Denver offense.
Allen Robinson, Chicago Bears: Robinson can thrive no matter who is his quarterback … which he's shown over his entire career, given that the next above-average quarterback he has will be his first. He has at least 7 targets in all five games, 7 receptions in three of five, and scored his first two touchdowns Sunday.
Tyler Boyd, Cincinnati Bengals: Until A.J. Green returns, this is Boyd's offense. He has double-digit targets in four of five games this year, and while Sunday featured his first touchdown, that sort of workload makes him a WR2.
Tight end
George Kittle, San Francisco 49ers: We knew a breakout was coming for Kittle, and it started Monday night. He's still our full-season TE2.
Will Dissly, Seattle Seahawks: Dissly had a quiet Week 1, but he has at least 12 PPR point in every game since. More importantly, he went from just over 50% of the team's snaps played in Weeks 1-3 to (with Nick Vannett shipped off to Pittsburgh) north of 84% the last two weeks. That production and that playing time should easily make Dissly a TE1.
Gerald Everett, Los Angeles Rams: Cooper Kupp is the Rams' No. 1 pass-catcher, and it isn't particularly close. But behind his 16 targets in Week 5, it was Everett's 10 targets who led the way, not Robert Woods (9) or Brandin Cooks (only 3, somehow). He's still far from a fantasy starter, but Everett is worth adding in most leagues now.
Geoff Swaim, Jacksonville Jaguars: James O'Shaughnessy had at least 6.8 PPR points in every game before tearing his ACL Sunday despite splitting TE work with Swaim. O'Shaughnessy is now done for the year, and while rookie Josh Oliver is nearing his debut, Swaim is likely to soak up most of that work for the time being.
Fallers
Quarterback
Lamar Jackson, Baltimore Ravens: Jackson had at least 15 fantasy points in every start of his career entering Sunday, but he failed to reach that mark against the Steelers … barely, as he still had 14.4 points, but still. He's now seen his passing yardage drop each week this year, and he had truly bad passing games in both Week 5 and Week 3. He looked like he'd challenge Patrick Mahomes as the QB1 a few weeks ago, but now (while his rushing will keep him a QB1), he looks more like a back-end starter.
Jared Goff, Los Angeles Rams: So if Goff can continue to average 58.5 pass attempts a game, as he has the last two weeks, he's going to be a fantasy monster by sheer quantity. But if the Rams start performing a little better on defense and keeping the games from being shootouts, Goff's pass attempts could regress back to his Week 1-3 average of 35.0 a game, and with a 7:7 TD:INT ratio this year (already equaling his interception total of 2017), Goff hasn't had the quality to go with his quantity.
Baker Mayfield, Cleveland Browns: There's no sugarcoating it: Mayfield has looked bad this year. More frustrating is that the team isn't doing much. The Browns are averaging a lowly 58.4 offensive plays per game, 27th in the league. That's just not enough opportunity.
Josh Allen, Buffalo Bills: Nobody's ever going to mistake Allen for Tom Brady as a passer. He's never had even 260 yards in a game, and he's averaging one touchdown pass a week. Still, that would all be acceptable if he were running like he did a year ago. But while his rush attempts haven't plummeted (9.0 in Weeks 12-17 last year, 8.2 so far this year), he's not doing nearly as much with them, with no games of 50-plus rushing yards. That keeps Allen's ceiling much lower than we saw it a year ago.
Daniel Jones, New York Giants: It's definitely possible that Jones' big first start was as much about the Buccaneers' defense as it was about his own production. He accounted for 364 all-around yards, four scores, and no turnovers in that debut. Since then, he has two touchdowns, three interceptions, and 452 total yards in two combined games. Jones has still outperformed many people's expectations, but after that big first start, we need to start adjusting downward.
Running back
Todd Gurley, Los Angeles Rams: In his first five games last year, Gurley had 100 scrimmage yards four times and had scored nine touchdowns. This year, he has 100 scrimmage yards once (and barely, with 101 in Week 1) and five touchdowns.  Since Week 1, he's averaging 3.5 yards a carry (getting little help from his line) and only has one game with more than three receptions.
James Conner, Pittsburgh Steelers: After spending the week questionable and on the injury report, Conner's game Sunday — 14 carries for 55 yards and a score, though no targets — was at least nice to see. But he hasn't topped 60 rushing yards yet this year, and now his quarterback (at least for now) is undrafted free agent Devlin Hodges. It's hard to imagine any part of the Steelers offense is going to do much right now.
Miles Sanders, Philadelphia Eagles: Everything I said about Jordan Howard above? That's why Sanders' stock is falling.
Wide receiver
Julio Jones, Atlanta Falcons: We knew Jones wouldn't keep up his pace of the first three weeks. He was going to have scoreless games. But the fact that he set a season-low in targets (7) and receptions (4) in Week 4, then went below that (6 and 3, respectively) in Week 5, even as Matt Ryan was topping 300 yards in both games, is disappointing. Jones is still a WR1, but maybe not the WR1 that he looked like a couple weeks ago.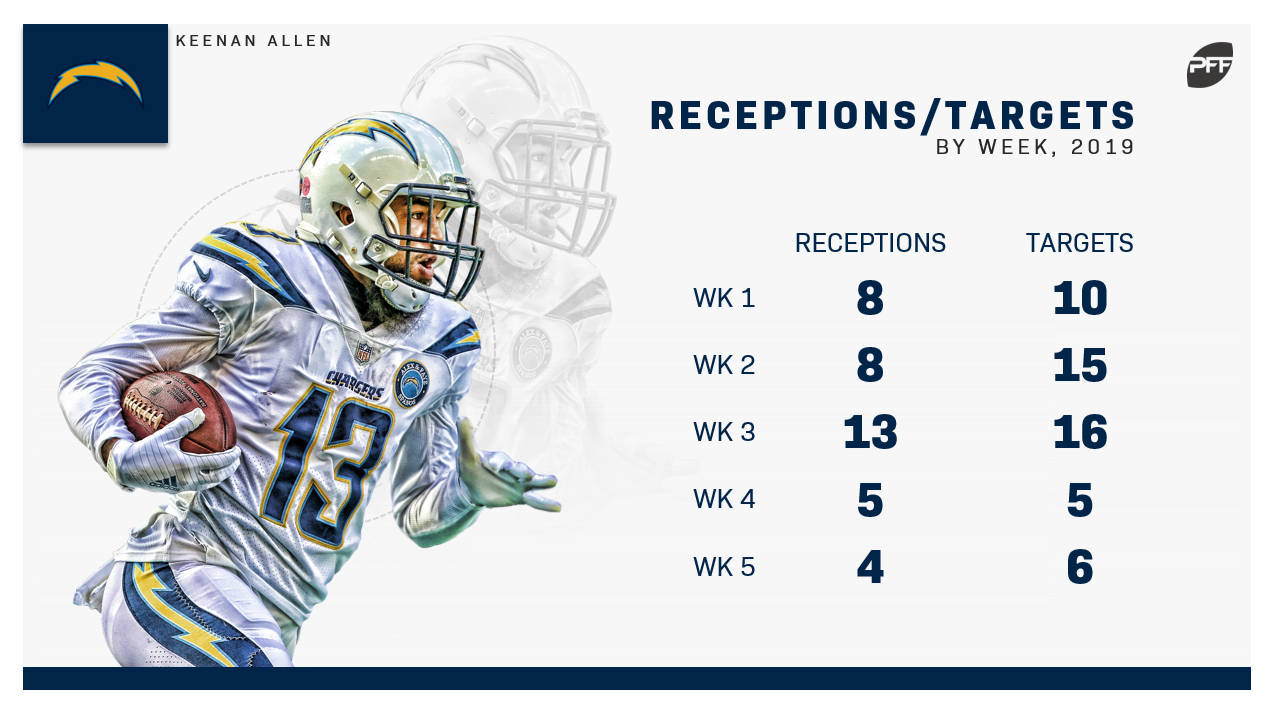 Keenan Allen, Los Angeles Chargers: As soon as we all bought all the way in on Allen — he had 41 targets, 404 yards, and 3 touchdowns in Weeks 1-3 — he came crashing back to earth, with 9 receptions for 66 scoreless yards the last two weeks. Allen's a low-end WR1.
Odell Beckham Jr., Cleveland Browns: Take out his 89-yard score in Week 2, and Beckham's season line is 22 catches for 246 scoreless yards. It's as bad a start as he reasonably could have had in Cleveland (other than injury). Beckham will get better this year. There's little doubt there. But we have no choice but to downgrade him, and the downgrade could get significant.
Robert Woods/Brandin Cooks, Los Angeles Rams: As mentioned above, Cooper Kupp is the No. 1 Rams receiver, while Gerald Everett is on the rise. And all that's happening while Goff is struggling. That's led to a dropoff in production for these two, who have a combined two 100-yard games and one touchdown so far. They combined for 77 receiving yards in Week 5. Neither is a must-start anymore.
JuJu Smith-Schuster, Pittsburgh Steelers: Devlin Hodges as the starter hurts James Conner's outlook, but it could crush Smith-Schuster's. He's likely to be the top target in the offense, but we have to see Hodges perform before that makes him a sure fantasy starter.
Stefon Diggs, Minnesota Vikings: We love our narratives, and the "squeaky wheel" narrative will get bandied about a lot after Adam Thielen's huge Week 5 performance. Of course, Diggs was just as squeaky, and he had only 3 receptions for 44 yards in one of the best possible matchups. You can't drop Diggs, but you can't really start him either.
D.K. Metcalf, Seattle Seahawks: Metcalf opened his career with 13 targets, 7 receptions, 150 yards, and a score in his first two weeks. In three games since, he has 12 targets, 5 receptions, 117 yards, and one more score. Tyler Lockett cementing himself as a surefire No. 1 and the ascension of Will Dissly have pushed Metcalf down the totem pole.
Golden Tate, New York Giants: Obviously, we want to see more than one game before reaching any final decisions on Tate. But a 3-catch, 13-yard Giants debut was disappointing. He's only a stash-and-monitor until we see something.
Marquez Valdes-Scantling, Green Bay Packers: In a game where the Packers put up 34 points, Valdes-Scantling was a non-factor Sunday, catching only a single pass for 18 yards. Of course, the offense ran almost entirely through Aaron Jones, but with Davante Adams out, there were hopes MVS could rise up, and that just didn't happen. He's an untrustworthy low-end flex.
Curtis Samuel, Carolina Panthers: Samuel looked to be on the rise after Kyle Allen's first game, going for 53 yards and a score on five catches. But while his target load has kept up — he has 13 targets across the last two games — the results haven't, with Samuel having only 6 receptions for 51 yards the last two weeks. He's not a real fantasy option right now.
Jamison Crowder, New York Jets: If anyone was going to succeed in the execrable Jets offense right now, you'd hope it would be the slot receiver, who could be his quarterback's safety valve. Instead, in two games with Luke Falk as his quarterback (and only working primarily from the slot in one), Crowder has 4 receptions for 35 yards. He's droppable.
Tight end
Darren Waller, Oakland Raiders: Even with Tyrell Williams out, Waller didn't get much going Sunday, only getting 39 receiving yards and still staying scoreless. His lack of touchdown upside is going to keep Waller from a huge fantasy ceiling.
Delanie Walker, Tennessee Titans: Walker has 14 yards total the last two weeks, catching 1-of-2 targets each week. This offense is running primarily through Derrick Henry and looking to the wide receivers otherwise. Walker's not a sure starter anymore.
Greg Olsen, Carolina Panthers: Olsen was productive enough while Cam Newton was starting, then did well in Kyle Allen's first start, but then that was against the Cardinals. The last two weeks, Olsen has 2 receptions on 6 targets for 5 yards, including a goose egg Sunday. Allen doesn't appear to be looking his way much at all.
O.J. Howard, Tampa Bay Buccaneers: Maybe things turn around for Howard, who now ha 141 scoreless yards through five weeks, but you are free to let that happen with him on the waiver wire.
Kyle Rudolph, Minnesota Vikings: Rudolph's best game this year was his 3-catch, 9-yard Week 2 … unless it was his 1-catch, 12-yard Week 4. If you're rostering him, it's strictly on name value, and you're making a mistake.