Fantasy football values are always shifting. Sometimes a player moves from a fringe starter to a surefire starter; sometimes the move is in the opposite direction. Every other week in this space, I'm taking a look at players whose fantasy values are most notable rising or falling heading into the next week.
This is the stock market for Week 14.
Risers
Quarterback
Carson Wentz, Philadelphia Eagles: Wentz hadn't covered himself in glory of late (exactly 1 touchdown in five straight games), but he put up big numbers in the Eagles' loss Sunday, with 310 yards and 3 scores. Getting his players back healthy helped, and he'll only get more help if and when Zach Ertz is 100% again.
Ryan Fitzpatrick, Miami Dolphins: Over the Dolphins' last five games. Fitzpatrick has 8 passing touchdowns against 4 interceptions, plus 2 rushing scores and three games with 288-plus passing yards. And the Dolphins are 3-2. Craziness.
Running back
Derrick Henry, Tennessee Titans: Christian McCaffrey is the RB1 in rankings every week. But the conversation for RB2 absolutely has to include Henry, and the list of competitors with him is not very long.
Todd Gurley, Los Angeles Rams: Gurley isn't performing at his old standard level (he doesn't have a 100-yard rushing game all season), but he has 95-plus yards and a score in two of his last three games, and 9 touchdowns in 11 games on the season. He's disappointing by Gurley standards, but he's fine based on where his stock has fallen.
Miles Sanders, Philadelphia Eagles: Sanders hasn't had a dominant rookie season by any means, but he's been doing better of late with Jordan Howard on the shelf, and he had 105 scrimmage yards and a score Sunday. As long as Howard is out, Sanders is a fine RB2, and when Howard returns, Sanders will still have a role.
Kareem Hunt, Cleveland Browns: In four games now, Hunt is averaging 11.3 touches, 60.8 scrimmage yards, and 0.5 touchdowns. As a No. 1 running back, that'd be disappointing. As a No. 2 in an offense with relevant receivers? That's more than acceptable.
James White, New England Patriots: White waited until I listed him as a drop candidate a week ago to go off, but go off he did Sunday night, with 22 touches for 177 scrimmage yards and 2 touchdowns. It was easily his best game of the year (he hadn't topped 84 yards in a game and only had 2 touchdowns on the season total before), but with so few relevant offensive weapons in New England right now, White might see more looks.
Alexander Mattison, Minnesota Vikings: Dalvin Cook said after Monday night's game that he'd be good to go for next week. But we'll see for sure, and if Cook misses time, Mattison is not only fantasy-relevant, he's a potential playoff league-winner.
Benny Snell, Pittsburgh Steelers: Over the last two weeks, with James Conner out, Snell has gotten 37 carries compared to 9 for Jaylen Samuels. Snell is not much of a factor as a receiver (only 4 targets all year), but if Conner remains out, his carry total will be enough.
Raheem Mostert, San Francisco 49ers: We'll see if his big workload Sunday was a changing of the guard or just a hot hand, and we'll see what Matt Breida's eventual return does, but Mostert had a monster game Sunday and is suddenly very relevant.
Bo Scarbrough, Detroit Lions: Scarbrough has increased his carry total all three of his games (14 to 18 to 21) and has totaled 236 yards on 53 carries (4.5 YPC). He's less than meaningless as a receiver (0 catches on 1 target), but he's the No. 1 in Detroit and we have to monitor that.
Darwin Thompson, Kansas City Chiefs: The preseason darling failed to follow through on that hype, with only 8 touches for 18 yards on the season before Sunday. But with Damien Williams out, Darrel Williams leaving partway through the game, and LeSean McCoy in serious load management, Thompson had 11 carries for 44 yards and a score Sunday. If the Williamses both miss time going forward, we could finally see Thompson do what many thought he would.
Wide receiver
Alshon Jeffery, Philadelphia Eagles: The Eagles close their last month of the season against the Giants, Washington, the Cowboys, and the Giants again. Maybe you downgrade Jeffery for that Cowboys game, but otherwise that's a fantastic slate for a receiver who returned from injury and immediately saw 16 targets.
Robert Woods, Los Angeles Rams: Obviously it's frustrating that Woods doesn't have a receiving touchdown yet this year. But he does have double-digit targets four times (including Sunday's 19) and has topped 160 receiving yards twice. Woods is a low-end WR2, higher if he can start to find the end zone.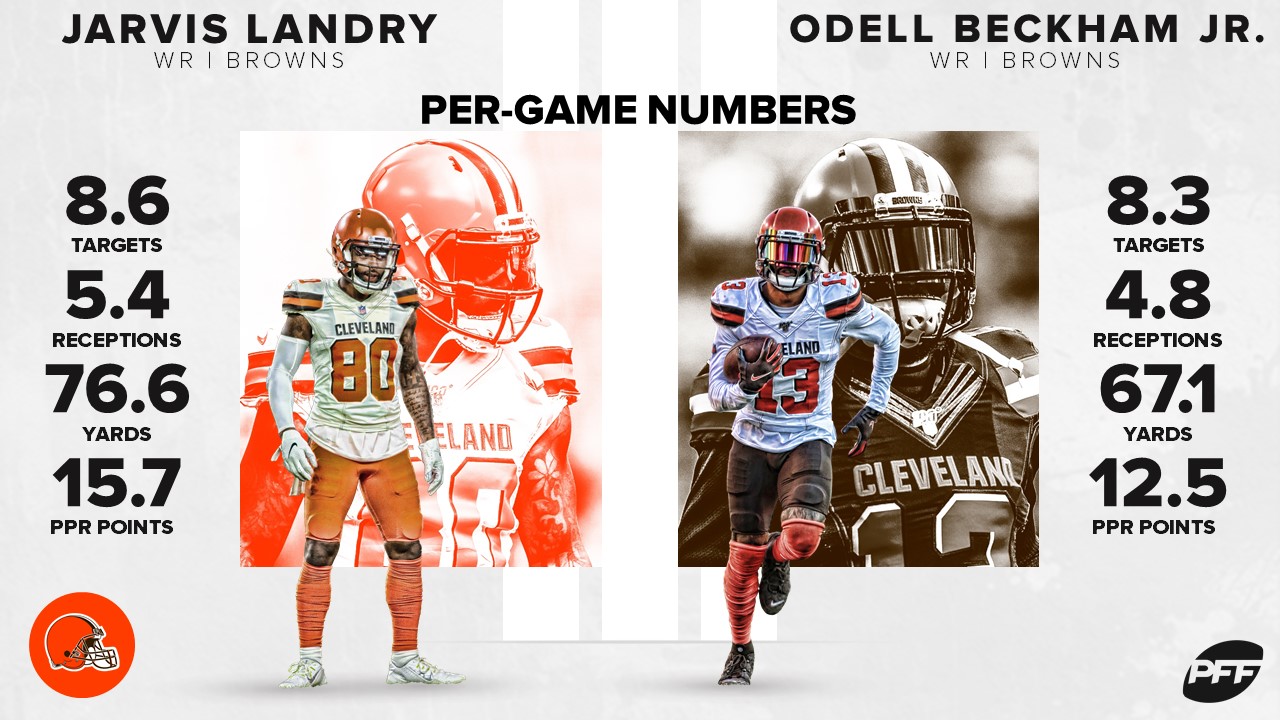 Jarvis Landry, Cleveland Browns: As I mentioned in Monday's piece on what we learned in Week 13, you have to go back to Week 6 to find the last time Odell Beckham Jr. outscored Landry in a game. That's more than half the season, and for the full year, it's 8-4 in favor of Landry. Should we be ranking Landry higher? I'm actually leaning yes.
DeVante Parker, Miami Dolphins: The early parts of Parker's breakout were really only a breakout by his heretofore middling standards: A lot of games of 50-ish yards and a touchdown. But over the last month, he's really lighting it up. Weeks 10-13, Parker is averaging 6.3 receptions on 9.5 targets for 113.5 yards and 0.5 TDs. He's fantasy's WR4 in that time. He's had a breakout by anybody's standards.
James Washington, Pittsburgh Steelers: Washington topped out at 8.2 PPR points in a game in Weeks 1-8. The last five weeks, his worst game is 7.9, and he's topped 10 in all his others, including 18.8-plus in three of his last four. He's Pittsburgh's No. 1 receiver at least until JuJu Smith-Schuster returns, and we'll see how it shakes out at that point, but Washington will still be involved.
Robby Anderson, New York Jets: Anderson woke up from a miserable stretch with a 6-yard touchdown on his only catch in Week 11. But that can be a fluke. The next week, he had 86 yards and another score. And Sunday, even with the entire Jets team failing to score a touchdown, he had 7 receptions for 101 yards. Anderson is rising back into a range where we have to pay attention.
Anthony Miller, Chicago Bears: It looked like Miller was heading for his breakout after 50-plus yards in three straight games in Weeks 5-8. And then it vanished, with 1 reception for 7 yards in Weeks 9-10 combined. But at this point I'm fine ignoring those games, because he's bounced back with 21 catches for 271 yards the last three. He still doesn't have a touchdown this year, but Miller's worth a look as a flex.
Allen Lazard, Green Bay Packers: Don't go crazy for Lazard — he only had 3 targets Sunday. But he did catch all three for 103 yards and a score, and in an offense with not much to offer other than Davante Adams and the running backs, that's worth a look.
Tight end
Jack Doyle, Indianapolis Colts: In his first game without Eric Ebron, Doyle set season-highs in receptions (6), targets (11), and yards (73), and scored his fourth touchdown of the year. We can pencil him in as a TE1 the rest of the way.
Mike Gesicki, Miami Dolphins: Gesicki's first 26 career games: 0 touchdowns. Gesicki's last two: 2 touchdowns. He's had 6-plus targets in five straight games. He's still not a sure fantasy starter or anything, but he's becoming relevant.
Ian Thomas, Carolina Panthers: We'll see if Greg Olsen misses time with the concussion he appeared to suffer Sunday, Thomas came in late in the game and saw 4 quick targets. Remember, as a rookie last year, Thomas was a strong contributor after Olsen got hurt, with 25 receptions on 32 targets for 246 yards and 2 touchdowns over the season's last five games.
Kaden Smith, New York Giants: With Evan Engram out, Smith has taken on a real workload in the Giants offense, playing 50-plus targets a game and catching 11 passes for 87 yards and a score over his last two weeks. If Engram remains out, Smith's definitely in the TE2 conversation.
Fallers
Quarterback
Patrick Mahomes, Kansas City Chiefs: He's still going to be easily a top-three (or so) quarterback each week, but we aren't seeing the same productivity out of Mahomes that we did last year. That's not a huge surprise — it looked unsustainable to begin with — but it's worth noting. He's thrown for only 1 touchdown in each of his last two games and three of his last four, and he has five games this year with 1 or 0 touchdown pass.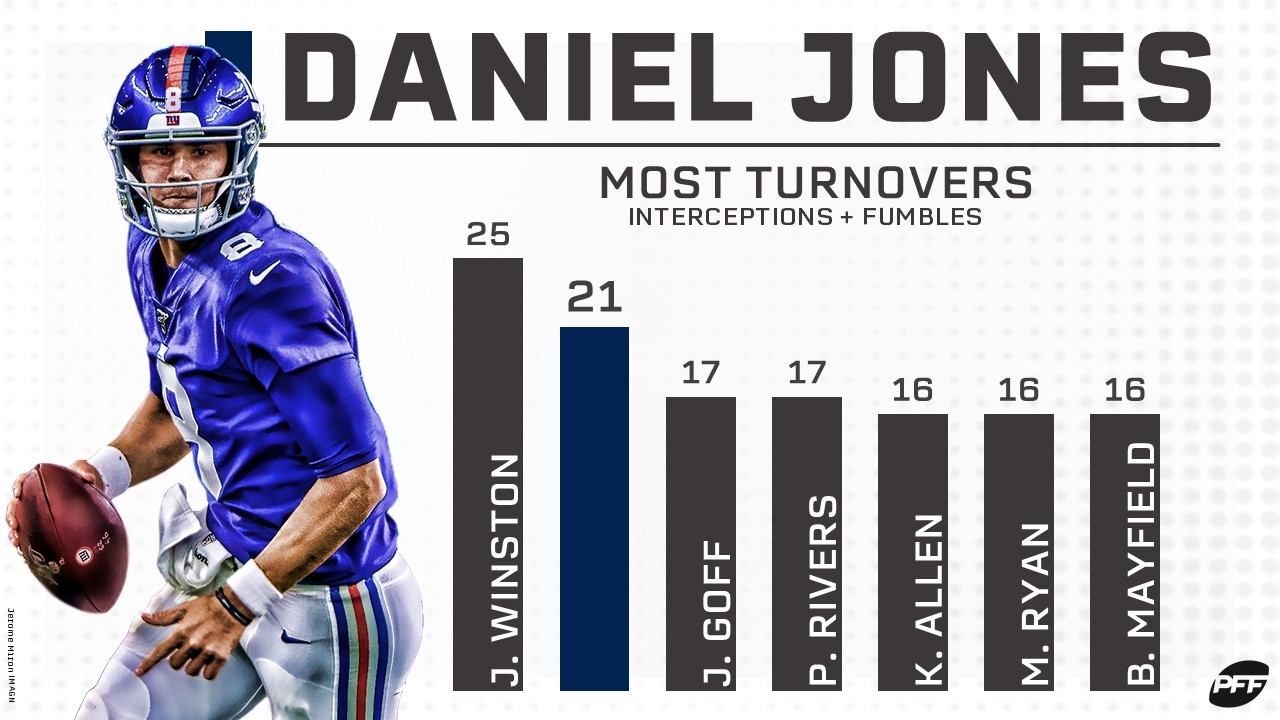 Daniel Jones, New York Giants: Working in Jones' favor the rest of the way is a friendly Giants schedule, with his last four games against Philadelphia, Miami, Washington, and Philadelphia again. But this is a rookie with 21 turnovers so far (interceptions plus fumbles lost), and while that's only second in the league, Jameis Winston (the leader) typically offers much more upside along with his turnovers. The Jones experience has been a frustrating one.
Jimmy Garoppolo, San Francisco 49ers: Yes, most quarterbacks have struggled against the Ravens this year, so downgrading Garoppolo much based on just Sunday's game might not be fair. But Garoppolo has struggled all year, with the notable exception of games against the Cardinals. He's averaged 370.5 yards and 4.0 touchdowns (30.3 fantasy points) in two games against the Cardinals, but 215.5 yards, 1.3 TDs, and 13.4 fantasy points in 10 other games. And he has no more games against Arizona this year.
Derek Carr, Oakland Raiders: Carr hasn't thrown for 300 yards yet this year, has 3 touchdown passes in his last four games, and the Raiders have been outscored 74-12 the last two weeks. The door is shutting.
Running back
Aaron Jones, Green Bay Packers: The last two weeks since the Packers bye, Jones has 28 touches for 69 yards, while Jamaal Williams has 32 for 147. Neither has a touchdown, and we've seen this pendulum swing back and forth multiple times this year, so Jones is still the Green Bay running back you want … just maybe not as a top-five option right now.
Le'Veon Bell, New York Jets: Bell hasn't had more than 70 rushing yards in a game all season. He's scored only 4 touchdowns. He's been acceptable as a receiver, but that's about it. Does any of that sounds like an RB1 or even a high-end RB2?
Mark Ingram, Baltimore Ravens: If Ingram can't score, he's not helping you a lot — he has the highest percentage of his PPR points coming on touchdown his year. And while touchdowns are great, they're hard to count on.
Devonta Freeman, Atlanta Falcons: Freeman is unlikely to drop below, at the least, high-end flex status, considering how much the team's backfield struggled while he was hurt. But he also isn't exactly inspiring confidence for much more than that, with no more than 51 rushing yards since Week 6.
Sony Michel, New England Patriots: Michel has failed to clear 50 yards in three of his last four games and four of his last six. He hasn't scored since Week 8 and he barely contributes as a receiver. Whatever you are hoping for out of him in a given game, adjust downward 15%.
Kenyan Drake, Arizona Cardinals: Drake hasn't seen much competition in the Arizona backfield — with all three guys available Sunday, Chase Edmonds had 0 touches and David Johnson had 4, with all of them coming after the Cardinals had fallen far behind. But since Drake's huge debut game with the team, he has 53 touches for 172 yards and no touchdowns. Maybe you don't want anyone in this backfield.
Tevin Coleman, San Francisco 49ers: Coleman had a huge game in Week 8, with 118 yards and 4 touchdowns. And since then, he's done … very little. In five games, Coleman has 49 carries for 122 yards (2.5 YPC), 12 receptions for 112 yards, and no scores. He basically lost his job Sunday to Raheem Mostert. You can't start him going forward if you have any choice.
Ronald Jones, Tampa Bay Buccaneers: Jones was supposed to have gotten the start and the lion's share of the work Sunday. Instead, Peyton Barber had 17 carries compared to 6 for Jones, with Barber out-snapping Jones 26-18. Never again, Ronald. Never again.
Royce Freeman, Denver Broncos: Over the Broncos last three games (since the start of the Brandon Allen/Drew Lock tenure), Freeman has 22 touches, with no more than 9 in a game. Phillip Lindsay has 52, never fewer than 14. Freeman is just a handcuff.
Frank Gore, Buffalo Bills: Speaking of handcuffs, Gore has had under 30 rushing yards and under 12 carries in four of his last five games. As Devin Singletary has risen, Gore's workload has all but dried up.
Wide receiver
Mike Evans/Chris Godwin, Tampa Bay Buccaneers: If you have either of these guys, you're stick. You can't reasonably bench them. But at the same time, this has been an amazing boom-or-bust offense so far, and as we head to the fantasy playoffs, you can't do much beyond continuing to use them and hope for a boom.
D.J. Chark, Jacksonville Jaguars: Chark has under 50 yards in three of his last four, under 60 in five of his last seven. Gardner Minshew lost his hold on the starting job for a reason, only getting it back because Nick Foles could scarcely have been worse. Chark's outlook might be dropping.
Tyler Lockett, Seattle Seahawks: Across his last three games, Lockett has 4 catches for 64 yards, including Monday's goose egg. By all accounts, he was still pretty sick for the Vikings game, so it's far too early to hit the panic button. But that's a rough stretch.
Odell Beckham Jr., Cleveland Browns: See the Jarvis Landry section above, but at this point you have to strongly consider ranking Beckham behind Landry.
Emmanuel Sanders, San Francisco 49ers: Sanders scored in each of his first two games with the 49ers. In four games since (and yes, he's been hurt), he has 10 receptions for 113 yards and no touchdowns. Deebo Samuel has been the 49ers receiver you want in that span. Downgrade Sanders expectations.
Jamison Crowder, New York Jets: Crowder had a nice stretch in Weeks 9-11, but over the last two weeks, he's caught 4 of 13 targets for 26 yards, including 8 yards on 9 targets Sunday (somehow). As Robby Anderson's stock has risen, Crowder's has tanked.
Terry McLaurin, Washington: It's hard to blame McLaurin for this, but he's now gone scoreless in six straight games, with under 40 yards in four of those games. Dwayne Haskins hasn't been much as a passer so far, and it's keeping McLaurin well in check.
Tyrell Williams, Oakland Raiders: Williams scored a touchdown in each of his first five games this year, and has zero on five games since. Over his last five, he's averaged 2.6 receptions and 36.4 yards. Does that sound like a team's WR1? Not to me.
Tight end
Noah Fant, Denver Broncos: Two weeks ago, it looked like Fant was getting things together, with 175 yards and a score over a two-game stretch. Since then, though, he has 4 receptions for 19 yards in two games. The Denver passing game isn't so good that it can reliably support two pass-catchers, and Courtland Sutton has dibs.
Jonnu Smith, Tennessee Titans: Smith took over for Delanie Walker several weeks ago and had two good games, with 9 receptions for 142 yards and a touchdown in Weeks 7-8. Here are his game lines since: 3/18, 4/30, 0/0, 2/0. That's a four-game stretch of 9 receptions for 48 yards. He was an interesting sleeper for a bit. He's not now.