Each week in this space, we'll be taking a look back at Sunday's games to find five of the most interesting and most important stats for fantasy football owners. With 13 of 14 games from NFL Week 7 in the books, here are the five stats you need to know:
1. It's entirely possible that some fantasy owner somewhere, sitting comfortably in first place, proudly submitted this as their starting lineup:
QB: Patrick Mahomes
RB: David Johnson
RB: Kerryon Johnson
WR: Kenny Golladay
WR: Tyler Boyd
WR: Will Fuller
Flex: Devonta Freeman
TE: Evan Engram
This lineup would have scored just 29.0 total fantasy points in Week 7.
Variance happens.
Fantasy football isn't all luck, or, I think, even mostly luck, but luck does play a key role. And, in a 16-game season, weird things are going to happen. Most weeks will make at least some sense, but some weeks just absolutely won't. Week 7 was one of those weeks.
If you had Mahomes, Fuller, or Kerryon Johnson, you got bit by the injury bug. There was no way you could have seen that coming. Similarly, you probably couldn't have predicted Freeman getting ejected in the third quarter for throwing a punch at one of the scariest men on the planet. Maybe we should have known not to play David Johnson — head Kliff Kingsbury said he was only going to be used in emergency situations" after the game — but again, this wasn't on us. We only got this news after the game, and reports on Johnson were far more optimistic Sunday morning.
Boyd saw good volume (14 targets) but flopped (10.5 fantasy points) in a tough matchup. In each of the past three seasons, Jacksonville ranks top-five in fantasy points per game allowed to opposing slot wide receivers, which is where Boyd ran 70% of his routes.
As for Golladay and Engram, I have absolutely no idea. Maybe the opposing defenses sold to out to stop them using bracket coverage? Or maybe it was just being on the wrong side of variance.
2. It's highly unlikely anyone came close to submitting this lineup, but it would have won all of the money in DFS:
QB: Jacoby Brissett
RB: Latavius Murray
RB: Chase Edmonds
WR: Marvin Jones Jr.
WR: Zach Pascal
WR: Alex Erickson
Flex: Danny Amendola
TE: Josh Hill
This lineup would have scored 219.8 fantasy points.
Again, it was a weird week.
With the exception of Murray and maybe Jones, it's unlikely any of these players were started in even 25% of the leagues they were rostered.
If we knew David Johnson would only see a handful of snaps, Edmonds would have been ranked as a top-10 running back heading into the week. Unfortunately, we didn't know that, so he came into the week ranking as a low-end RB3. However, we did know Alvin Kamara would sit out, and that meant Latavius Murray was one of the best DFS plays of the week.
Ultimately, Edmonds (35.0) and Murray (32.0) finished the week as fantasy's two highest-scoring running backs (entering Monday, obviously). They might not be as talented as their starters, but we've seen this before from backup running backs — due to the depleted depth at the position, Arizona and New Orleans had little choice but to give their No. 2 running backs a bell cow workload. Edmonds played on 60 of 64 snaps, while Murray played on 64 of 76. It's pretty rare to see a running back draw 60 or more snaps in a game — it's happened just 19 other times this season (add in Murray and Edmonds and we're at 3.0 per week) — but with that sort of volume it's hard not to expect RB1 production. Remember, volume matters far more than efficiency for fantasy running backs, and raw snap total correlates better to fantasy points than carries, targets, or touches.
Maybe we should have expected a Jones blow-up game. Historically, Jones has always been a tricky player to roster, maddeningly boom-or-bust week-to-week. In fact, this was Jones' second career game with four receiving touchdowns, and he's one of only three players ever to accomplish this feat. However, this one was especially difficult to see coming, with Jones outscoring Golladay by over 40 fantasy points. Jones came into the week with just 29 total targets, one target inside the 10-yard line, and one end-zone target. Golladay came into the week with 45 targets, eight targets inside the 10-yard line, and seven end-zone targets.
As for everyone else, I'm blaming variance.
3. Since Week 1, Lamar Jackson totals 570 rushing yards – the third-most in the NFL, behind only running backs Leonard Fournette (649) and Dalvin Cook (614).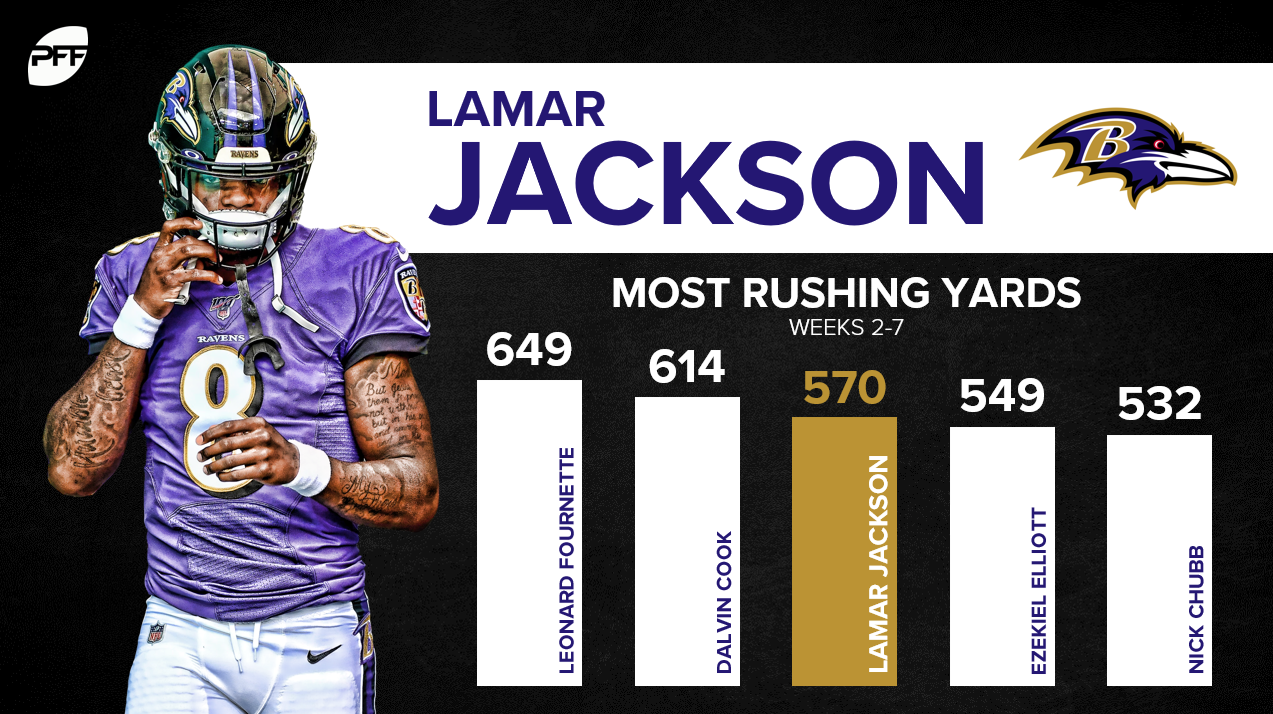 All offseason, I tried to tell you. This is the year of the Konami Code, and Jackson is The Chosen One.
As for the first point, six quarterbacks have exceeded 30.0 rushing fantasy points this year. All six rank in the top-12 in fantasy points per game, and four rank inside the top-four.
For the second point, Jackson leads all quarterbacks in fantasy points per game (25.8) and is on pace to shatter Michael Vick's rushing yardage record (by 277 rushing yards). On Sunday, Jackson completed just nine passes and scored only one touchdown. He still finished the week as a top-six fantasy quarterback.
4. On Sunday, Hunter Henry caught six of eight targets for 97 yards. This was Henry's 20th career game with at least 60 receiving yards or a touchdown. Henry has accomplished this feat in 71% of his career games when targeted. This leads all tight ends since Henry entered the league, just ahead of Travis Kelce (69%) and Zach Ertz (63%).
What's most impressive about this is that Henry was a part-time player in his first two seasons, playing on just 55% of the team's snaps alongside Antonio Gates. Over that span, he also ranked top-two in fantasy points per target and fantasy points per snap. In 2019, he again ranks top-two in fantasy points per target and fantasy points per snap. Only now, he's a full-time player.
In Week 1, Henry caught four passes for 60 yards, but also suffered a tibia plateau fracture to his left knee. In Week 6, his first game back to action, Henry caught eight of nine targets for 100 yards and two scores. In Week 7, Henry ran a route on 90% of Philip Rivers' dropbacks, catching six of eight targets for 97 yards.
Henry running a route on 90% of his quarterback's dropbacks is significant. For perspective, Ertz currently leads the position in route share with 87%. And Henry finished as a top-10 fantasy tight end in 2017, with just a 54% route share.

Henry has already proved he has one of the highest floors at the position. We already knew he was one of the most efficient tight ends in football. Now, with this sort of volume, Henry has legitimate high-end TE1 upside.
5. Gerald Everett leads all receivers in missed tackles forced per reception with 0.46. This is a sizeable margin ahead of the next-closest tight end (George Kittle, 0.21). Everett also holds the PFF College record for career missed tackles forced per reception (0.52). Again, Everett ranks well ahead of the next-closest tight end (David Njoku, 0.31).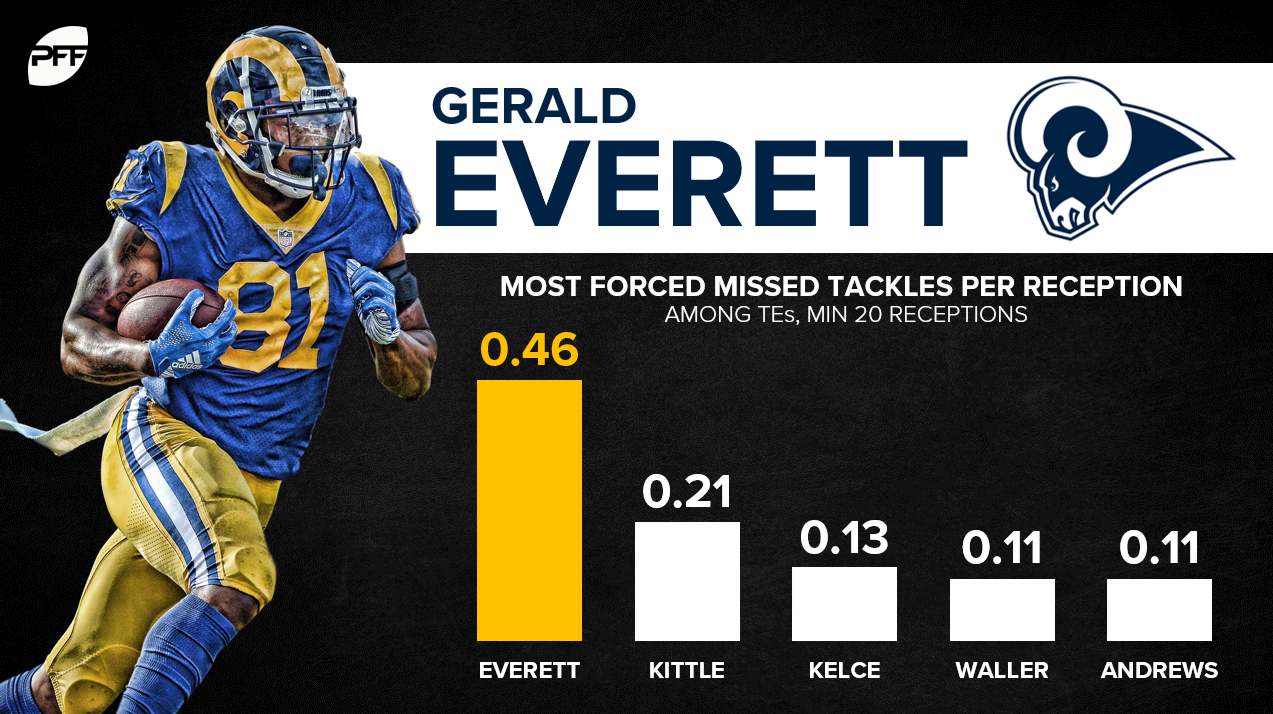 It seems Everett has always been elite with the ball in his hands. The issue is, throughout his first two seasons, Everett rarely found the ball in his hands. From 2017-2018, the Rams targeted tight ends just 5.1 times per game, the fourth-lowest rate in the NFL.
However, over the last four weeks, Everett leads all tight ends in targets (31) and ranks second in fantasy points. If you picked him up as a streamer over the last several weeks, congratulations — he's looking like an every-week starter.