Exactly how to utilize the handcuff in fantasy football is fair to debate, between drafting your player's handcuff, drafting another manager's handcuff, or simply ignoring handcuffs in the draft and monitoring them over the course of the season. What is less debatable is the simple idea. Handcuffs in some form or another have mattered so far in 2019, like they do every year, and they will continue to matter all year.
Obviously, we can't forecast who will get hurt with anything approaching confidence, but we can break down the handcuff situations. And below, that's just what we're doing. From 1-32, these are the handcuff situations to monitor in fantasy the rest of the way in 2019, however you choose to do that. (We performed this exercise before the season as well.) These are the backups who have the best combination of standalone value even if the starter plays and a big ceiling if something were to happen to the guy in front of him.
Category I: Elite handcuffs
Starter: Melvin Gordon/Austin Ekeler
Handcuff: Austin Ekeler/Justin Jackson
Ekeler's gotten plenty of playing time since Gordon returned, so it's possible he doesn't technically even qualify as a full handcuff. But I'm including him, and if he's included, he has to be the No. 1. Ekeler was fantasy's RB2 after Week 1, RB1 after Weeks 1 and 2, and RB2 after Week 4. Even now, after three weeks of down production with Gordon back in the fold, Ekeler is still one of fantasy's top running backs. While his arrow points down as long as Gordon is around, he still has a definite role, and he's an RB1 again if Gordon goes out.
Starter: David Johnson
Handcuff: Chase Edmonds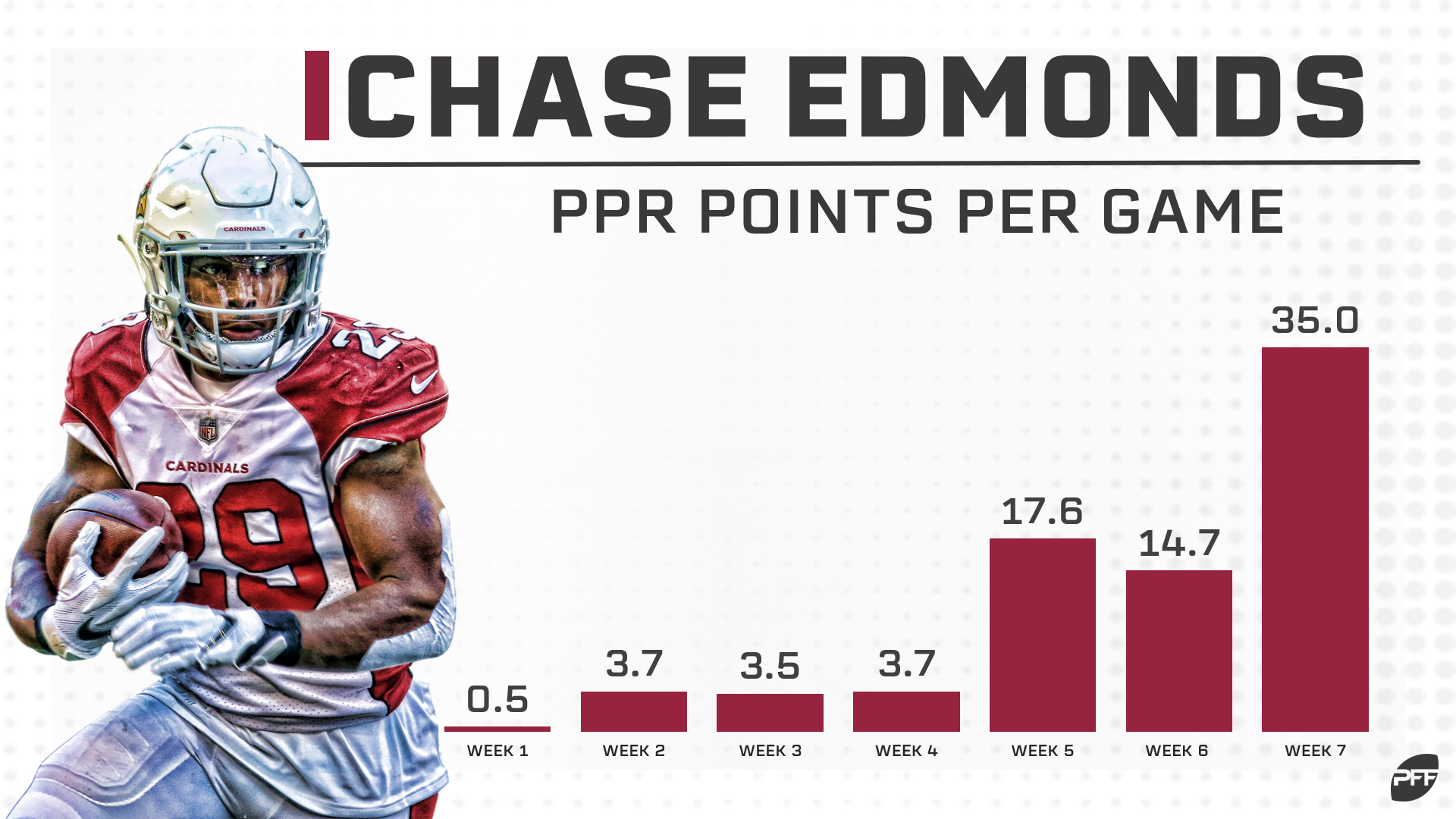 Wow. Edmonds barely had a role in this offense the first two weeks of the season, garnering four total touches for 22 yards. It's gradually grown, though, with back-to-back scores in Weeks 5 and 6 and then his ridiculous 150-yards, 3-score game Sunday. That was essentially a handcuff replacement, with Johnson active-but-not-really, and it showed that if Johnson misses time, Edmonds is an RB1.
Starter: Alvin Kamara
Handcuff: Latavius Murray
It's nice when things work out like you expect. We thought Murray would be one of the elite handcuffs if something were to happen to Kamara, and with the starter out Sunday, Murray went for 150 scrimmage yards and a pair of scores.
Starter: Tevin Coleman
Handcuff: Matt Breida/Raheem Mostert/Jeff Wilson Jr.
Sunday showed that it's not really a committee in this backfield, with Coleman getting 20 carries and the team's other running backs combining for 13. He's the No. 1, and while his numbers were underwhelming Sunday, the weather made for an awful situation across the board. Still, we have data already this season that says that if Coleman misses time, Breida (first) and Mostert and Wilson all have fantasy value.
Starter: Phillip Lindsay
Handcuff: Royce Freeman
To some extent, these two handcuff one another, as it's been as close to a split as it legitimately could have so far this year. Lindsay has the touch advantage, 115-101, but Freeman has the snap advantage, 252-221. Freeman took until Thursday night to score his first touchdown of the season. Lindsay's the back you want of the two on a weekly basis, but both have some value, and if either one were to go down, the other would be a workload monster.
Starter: Nick Chubb
Handcuff: Kareem Hunt/Dontrell Hilliard/D'Ernest Johnson
Message from the fantasy world to Nick Chubb: Hey Nick, if you're going to get hurt … first, please don't, injuries suck … but if you are, please wait two more weeks. If Chubb were to get hurt today, the Hilliard/Johnson tandem would feel largely pointless. If he gets hurt in two weeks? An off-suspension, job-to-himself Hunt would be a top-10 running back. So no injuries, please, but if it's gotta happen, at least time it well.
Starter: Dalvin Cook
Handcuff: Alexander Mattison
Cook has an argument for the best running back in the league this year (because Christian McCaffrey has transcended the rest of the position. But Mattison has been a fine backup, with 55 carries for 270 yards so far. We haven't seen what he can do with a full workload, of course, but given the Vikings' run-heavy ways, there's every reason to think that, if something happens to Cook, Mattison would be an RB2 at least.
Starter: Aaron Jones
Handcuff: Jamaal Williams
Of the four games Jones missed in 2018, Williams had only one big fantasy games, with 156 yards and a score in Week 16. Otherwise, it was fairly underwhelming. He's more of a complementary piece, and if Jones goes down he's just a guy.
Category II: Handcuffs worth rostering, with lower upside
Starter: Leonard Fournette
Handcuff: Ryquell Armstead
It's not that we know much about Armstead's NFL abilities — he has all of 14 carries for 52 yards so far, and 42 of those yards came in one game. It's more that there isn't anybody else in Jacksonville if Fournette were to go down, and we know what kind of workload Fournette has been getting.
Starter: Mark Ingram
Handcuff: Gus Edwards/Justice Hill
Hill has been rendered basically moot in this offense — he didn't have any touches Sunday. But if something were to happen to Ingram, best bet is that the duo would take on the offseason duties instead of going to Edwards alone.
Starter: Ezekiel Elliott
Handcuff: Tony Pollard
Pollard's had double-digit carries twice this year — Week 1, when Ezekiel Elliott was fresh back from a holdout (he had 13 carries for 24 yards) and Week 3, when they blew out the Dolphins (he had 13 carries for 13 yards). He'll get work if Elliott were to go down, but he doesn't have huge upside.
Starter: Saquon Barkley
Handcuff: Wayne Gallman
We've already seen Gallman play without Barkley. He got a little work in Week 3, then had the job to himself in Week 4 and had a huge game (18 carries, 63 yards, and a score on the ground, plus 6 receptions, 55 yards, and a score through the air) before getting hurt himself in Week 5. Still, there's reasonable upside to Gallman if called on.
Starter: Le'Veon Bell
Handcuff: Ty Montgomery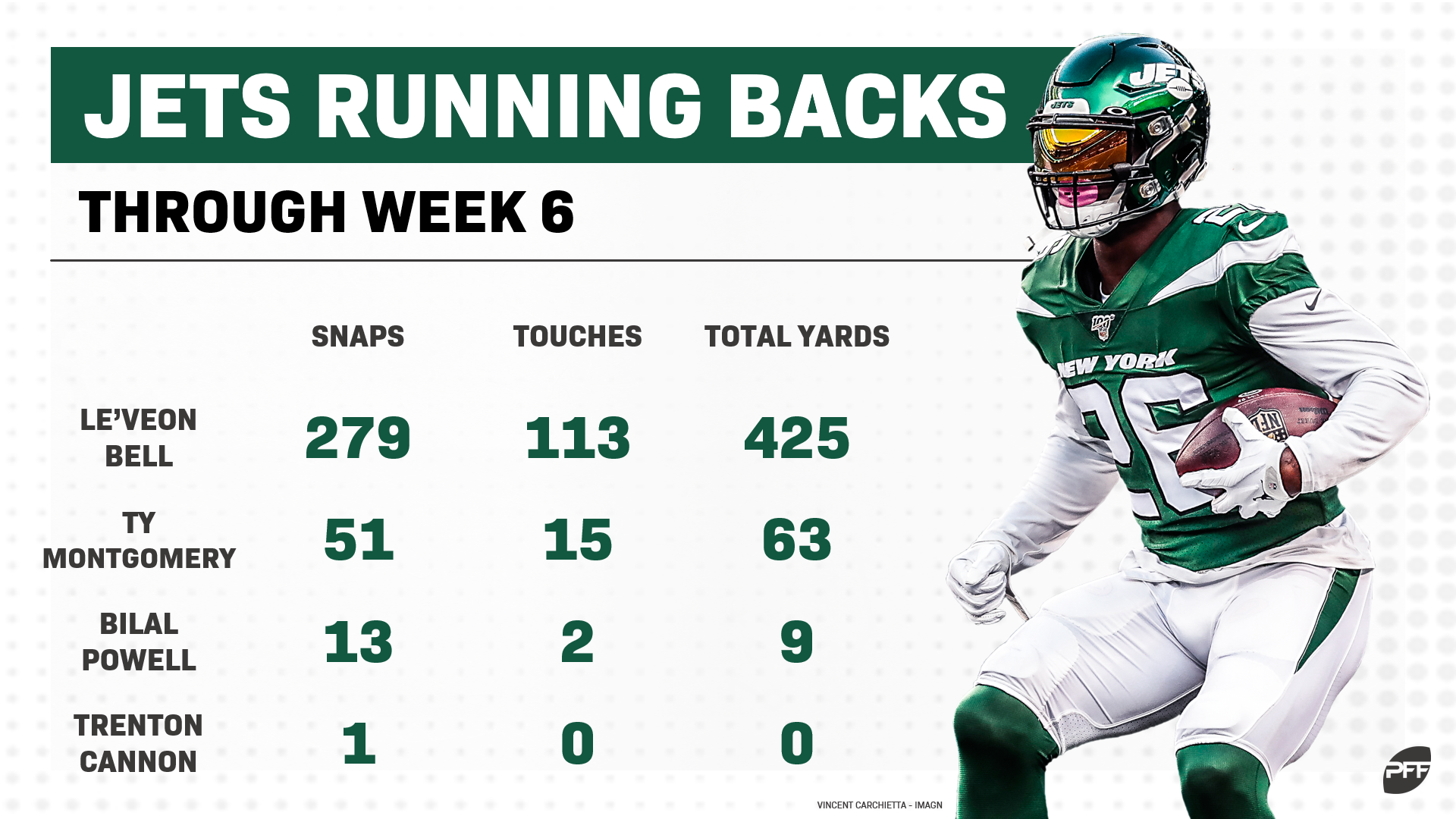 Remember preseason, when the Jets were talking up Montgomery as a real part of the offense and we all decided he'd be the definite handcuff and have unique individual value? Montgomery has played all of 51 snaps through five games, getting 15 touches and 63 scrimmage yards. The thing is, he's still the clear handcuff — Jets running backs not named Bell or Montgomery have totaled only 14 snaps, 2 touches, and 9 yards.
Starter: Carlos Hyde
Handcuff: Duke Johnson
Johnson got the start Sunday, but Hyde still got more carries, 12-7. Neither reached even 40 yards on the ground. It's a low-upside committee, and it's possible the team wouldn't even commit all the way to Johnson if Hyde were to go down.
Starter: Frank Gore
Handcuff: Devin Singletary
In a month or so, this situation might well rise far up the rankings. Right now, though, Singletary has one underwhelming game back from an injury that cost him more than a month. Keep an eye on him, but don't go crazy.
Starter: Todd Gurley
Handcuff: Malcolm Brown/Darrell Henderson
The deterioration of the Rams offensive line makes this more difficult. We saw Brown and Henderson both struggle with Gurley out in Week 6, and Henderson didn't do much behind a back-in-action Gurley Sunday. You'd have to think better days are ahead for one or either, but it's hard to be sure.
Starter: Jordan Howard
Handcuff: Miles Sanders
This was supposed to eventually be Sanders' backfield, but instead it's Howard who has staked his claim. The other names we were concerned about before the season (Darren Sproles, Corey Clement, Wendell Smallwood, Josh Adams, Boston Scott) have all fallen by the wayside one way or another, so there's clarity in that regard, at least.
Starter: Sony Michel
Handcuff: Rex Burkhead/Damien Harris
James White exists in his own sphere in the Patriots offense. Burkhead has missed the last two weeks, while Harris hasn't played a snap all year. So this is a mishmash. Right now, the main ball-carrier job belongs to Michel. If he were to go down, Burkhead would probably get the first shot at the gig, but we'd see the rookie Harris start to get some work.
Starter: James Conner
Handcuff: Jaylen Samuels/Benny Snell
The Steelers would have been much higher on this list in general prior to Samuels' injury. But with him out at least another couple weeks, there is more question behind Conner — it's unlikely either Samuels or Snell gets the job to himself if Conner goes down, making it a likely timeshare.
Category III: Names to know
Starter: Chris Carson
Handcuff: Rashaad Penny
It's worth asking if Penny even still is the handcuff in this backfield. Between injury and a loss of work, he's had no touches in the last two weeks and only 8 touches since Week 2. C.J. Prosise got the line backfield carry that didn't go to Carson Sunday.
Starter: LeSean McCoy
Handcuff: Damien Williams/Darrel Williams
Through Week 5, Damien Williams averaged 39.3 offensive snaps in games he was active, compared to 24.4 for McCoy, despite the fact that McCoy was active even when Damien Williams wasn't. The last two weeks, Damien has been active, but his snaps have fallen to 19.0, while McCoy's have climbed to 26.5. Darrel Williams is only depth right now, but if McCoy went down, we'd see both Williams playing.
Starter: Peyton Barber/Ronald Jones
Handcuff: Ronald Jones/Peyton Barber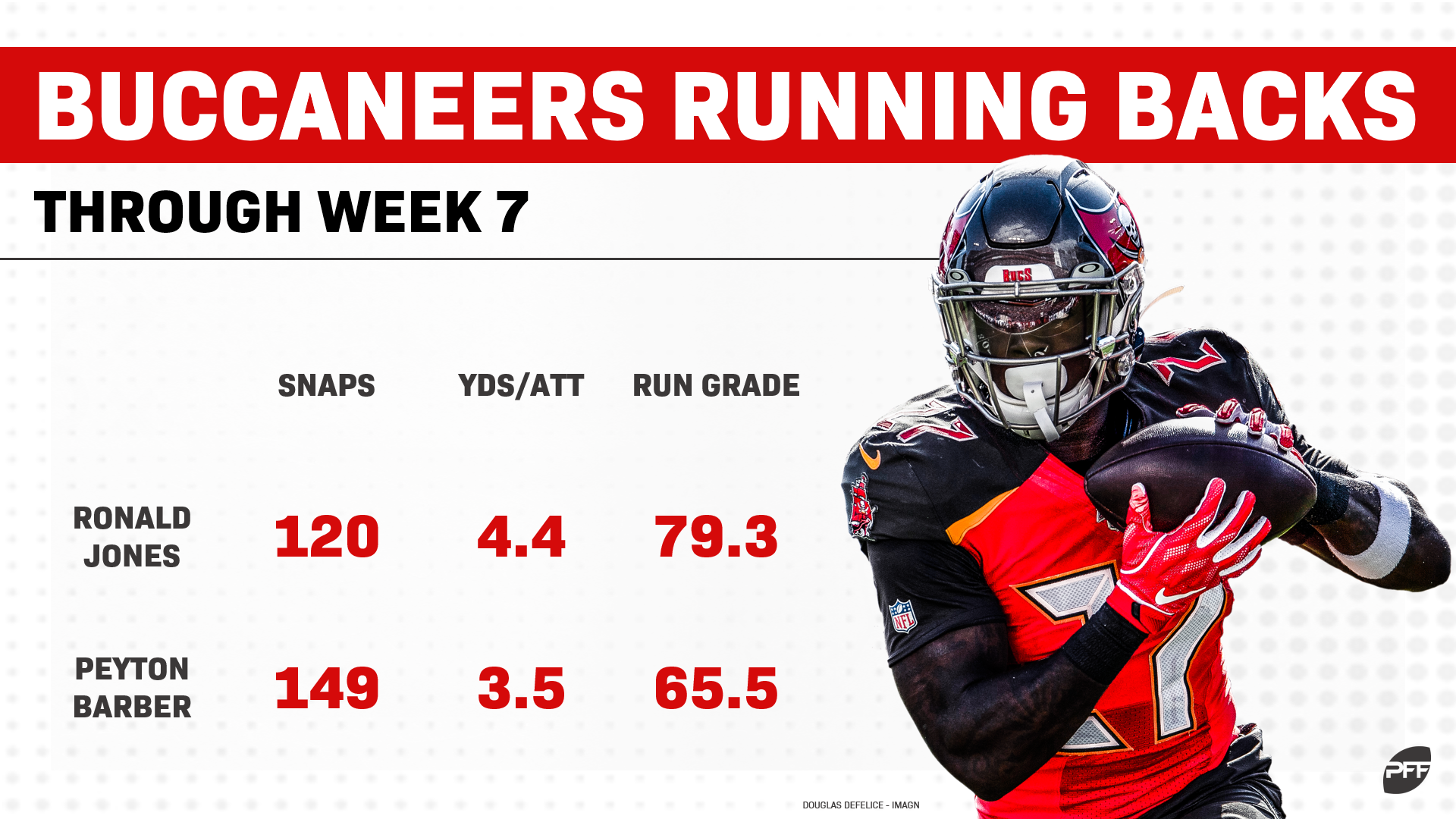 Jones (120) is not only playing fewer snaps than Barber (149) this season, he's also playing fewer snaps than third-down back Dare Ogunbowale (144). Barber also has the touch advantage, 75-68. Where he definitely doesn't have the advantage is in yardage, where Jones is running away with it (pun intended), to the tune of 371 scrimmage yards to 267 for Barber. Basically, in Tampa Bay, there's no lead back, but it would at least be on the interesting side if someone goes down.
Starter: Adrian Peterson
Handcuff: Chris Thompson/Derrius Guice
If this were just a Peterson-and-Thompson scenario, it would be even lower than this, because it's hard to envision Thompson getting that many carries even when he's healthy. But the presumed return of Guice (interim head coach Bill Callahan said he could return to practice this week) makes this at least a situation to monitor.
Starter: Marlon Mack
Handcuff: Jordan Wilkins
We've seen Mack banged up several times this year, but it hasn't mattered, as he's kept right on playing. Wilkins had a fine game in Week 2, gaining 82 yards on five carries, but otherwise he's been a nonfactor this season. And Nyheim Hines will have his passing-game role regardless.
Category IV: Well, these teams also exist
Starter: David Montgomery
Handcuff: Mike Davis
Davis' last touch came in Week 3. Tarik Cohen has a locked-in passing-game role. And the Bears backfield combined for 17 yards on 7 carries Sunday. If you're looking for upside, keep looking.
Starter: Devonta Freeman
Handcuff: Ito Smith
Smith got hurt Sunday, and then Freeman got ejected. That left things to Brian Hill to get his first carries of the season. Smith has 22 carries for 106 yards. Basically, if Freeman goes down, the Falcons are sad.
Starter: Joe Mixon
Handcuff: Giovani Bernard
Mixon had 10 carries Sunday … for 2 yards. Bernard spelled him late, and had 4 carries … for 0 yards. What are we even doing here?
Starter: Kerryon Johnson
Handcuff: Ty Johnson/J.D. McKissic
We might get to put this one to the test really soon, as Kerryon Johnson went down to a knee injury Sunday. Ty Johnson played ahead of McKissic most of the rest of the way (he had 10 carries to McKissic's 5), but if Kerryon is out for any length of time, this will be a diversified backfield.
Starter: Christian McCaffrey
Handcuff: Reggie Bonnafon
When McCaffrey was banged up near the end of Week 5's Jaguars game, Bonnafon ran for 80 yards and a score! Yes, 59 of those yards (and the touchdown) came on one play, but still, that's a 14-point fantasy day. If McCaffrey were to miss time, Bonnafon would be a massive, immediate fantasy add. So why is this situation only 28th? Well Bonnafon played 11 snaps in that game … out of the 18 he's played this year. Despite his role as the team's top backup, he has no snaps played in half the team's game. This is McCaffrey's world, Bonnafon is just (barely) living in it.
Starter: Josh Jacobs
Handcuff: Jalen Richard/DeAndre Washington
Richard probably shouldn't even really be included here, because he's more passing-down back than he is handcuff. Jacobs got banged up Sunday and it was Washington who got 6 carries compared to Richard's 2. Either way, there's a big gap between Jacobs and whoever would replace him.
Starter: Derrick Henry
Handcuff: Dion Lewis
The Titans are paying Lewis $4 million this year. For that investment, they've gotten 57 rushing yards on 17 carries and 61 receiving yards on 14 receptions. And no touchdowns. It's one of the best contracts in football. And man, do fantasy managers not want to see Henry go down.
Starter: Kenyan Drake
Handcuff: Mark Walton/Kalen Ballage
Walton got the start Sunday, almost certainly in part of an effort to make sure Drake can stay healthy for a possible trade. So for now Drake still gets the call as the starter, but the problem overall is the caveat in our exercise — "upside." There's none here.