Each week in this space, we'll be taking a look back at Sunday's games to find five of the most important stats for fantasy owners heading into the following week. With 15 of 16 games from Week 2 in the books, here are the five stats you need to know: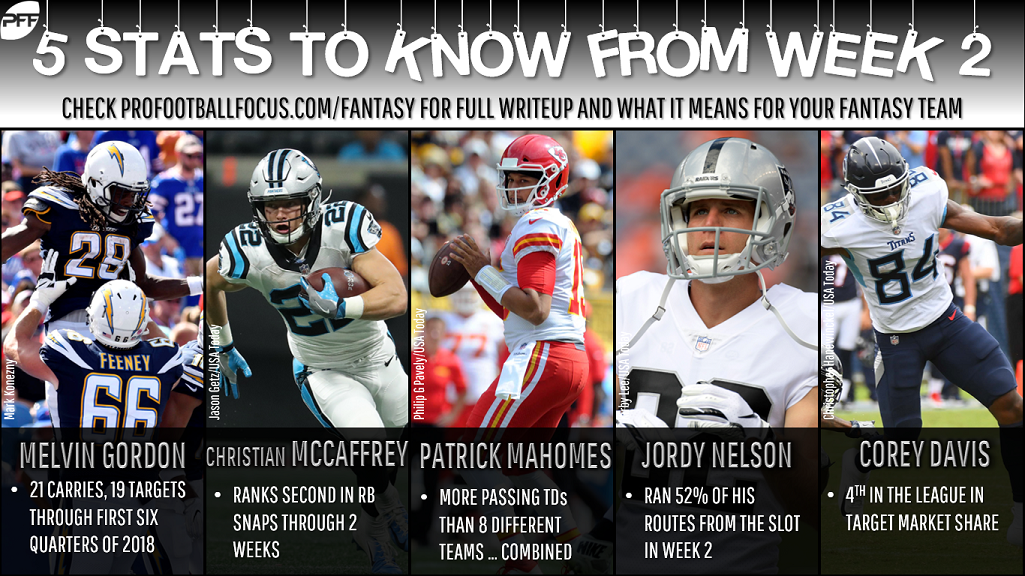 1A. With the Chargers up 22 points at halftime, Melvin Gordon saw just three carries across the final two quarters of play. Excluding the second half, Gordon has totaled 21 carries, 19 targets, 233 yards, and three touchdowns in six quarters of play this season. That's 14.0 carries, 12.7 targets, 155.3 yards, and two touchdowns per four quarters.
We knew Gordon was going to be seeing more work in the passing game this year, but this sort of usage is almost unprecedented (with the exception of maybe Matt Forte, Le'Veon Bell, and LaDainian Tomlinson). Remember, in PPR leagues, targets are worth 2.74 times as much as carry. If this sort of usage holds, Gordon is an easy top-five, possibly top-three, running back in PPR leagues moving forward.
1B. …that is, if Austin Ekeler's performance doesn't start earning him more work in non-blowout games.
Through two weeks, Ekeler is our single-highest-graded running back. Ekeler has 24 more rushing yards than Gordon on eight fewer carries. Ekeler is averaging more yards after contact per attempt (4.5) than Gordon is averaging in general (3.8). Ekeler has only 32 fewer receiving yards than Gordon but on 11 fewer targets (and two fewer dropped passes). Gordon has been much maligned for his career 3.80 yards per carry average, and though I think it's unlikely, it is possible Ekeler turns this into a committee at some point in the season.
2A. Among all running backs, Christian McCaffrey ranks second in snaps (120) and third in snap percentage (89.6 percent).
In July, head coach Ron Rivera said he wanted to get McCaffrey between 25 and 30 touches per game. Through two weeks, McCaffrey has 38 total touches, which amounts to 19.0 per game. So, while Rivera's projection was off, the sentiment behind it was mostly accurate. McCaffrey is seeing a much bigger workload this year than in 2017, when he was on the field for only 70 percent of the team's snaps and averaged just 12.3 touches per game.
2B. Over the past two seasons, McCaffrey and Alvin Kamara rank first and second among running backs in targets. Among all receivers, they rank 14th and 27th.
On Sunday, McCaffrey saw 15 targets against the Falcons, catching 14 passes for 102 yards. Since 2016, Atlanta has surrendered 13.8 receiving fantasy points per game to opposing running backs (most by 1.7). They're also playing without two starters on defense: LB Deion Jones and S Keanu Neal. Atlanta saw a league-high 132 targets (to running backs) last season, and either Jones or Neal were the primary defender (in coverage) on 47 percent of those targets. Kamara, the current running back leader in fantasy points, plays them in Week 3.
Needless to say, I'm expecting a big game.
3. Patrick Mahomes has 10 passing touchdowns through two games, which is more than the combination of Cleveland, Oakland, Philadelphia, Buffalo, Tennessee, Dallas, Arizona, and the New York Giants.
Mahomes has made only three starts in his NFL career but has graded top-four among quarterbacks in each of those weeks. Based on this impressive start to his NFL career, the college pedigree and production, Andy Reid's coaching history, the surrounding talent, and what Alex Smith was able to accomplish in Kansas City last year, I'm ready to buy into Mahomes as a fantasy QB1.
4. In Week 1, Amari Cooper ran 45 percent of his routes from the slot. In Week 2, Jordy Nelson ran 52 percent of his routes from the slot.
Between 2016 and 2017, Nelson ran 28 percent of his routes from the slot, while Cooper ran 18 percent. Despite not spending a lot of time there, Nelson and Cooper were two of the most efficient wide receivers in the league when in the slot (on a per-route basis) – but actually below average when outside. Over this span, Cooper ranked second-best of 97 qualifying wide receivers in yards per route run from the slot (2.73), while Nelson ranked 16th (1.94). On outside routes over this span, Cooper ranked 44th of 83 qualifying wide receivers, while Nelson ranked 58th. Based on their more recent slot usage, I'm more optimistic for their fantasy prospects than I was heading into the season.
5. Through two weeks, both Corey Davis (34.5 percent) and Quincy Enunwa (33.3 percent) rank top-five among all receivers in target market share (percentage of team's targets). Only Julio Jones (41.3 percent), Michael Thomas (38.5 percent), and DeAndre Hopkins (36.1 percent) rank higher. Both Davis and Enunwa are averaging one target every 2.9 routes. Among 97 qualifying wide receivers, only Thomas (2.6) and Jones (2.8) rank higher.
I suspect Enunwa is benefiting from superior rapport with rookie QB Sam Darnold, while Davis is taking advantage of an injury to TE Delanie Walker (who has seen 100-plus targets in four consecutive seasons). Although I expect these numbers to fall, I still think both wide receivers are typically undervalued in most leagues. If your leaguemates typically overvalue fantasy points and undervalue volume, I'd prioritize both as buy-low options for trade.