(Metrics that Matter is a regular offseason feature that examines some aspect of fantasy through a microscope to dive into the finer details.)
Andy Reid and the Kansas City Chiefs offense has been keeping me up at night. Every now and then I'll look at the ADP of their skill position players and notice something feels off, but I haven't been able to pinpoint who that is or why that might be. So today I wanted to take a deeper dive into the fantasy implications of the offense and walk you through my process in determining how I'll be ranking these players.
Considering Andy Reid will be calling plays for the Chiefs again this year, as he has throughout the majority of his career, his fantasy track record feels like a place to start.
Over his entire career as an NFL head coach, here's how his top-scoring quarterback, tight end, running back, and wide receivers fared for fantasy: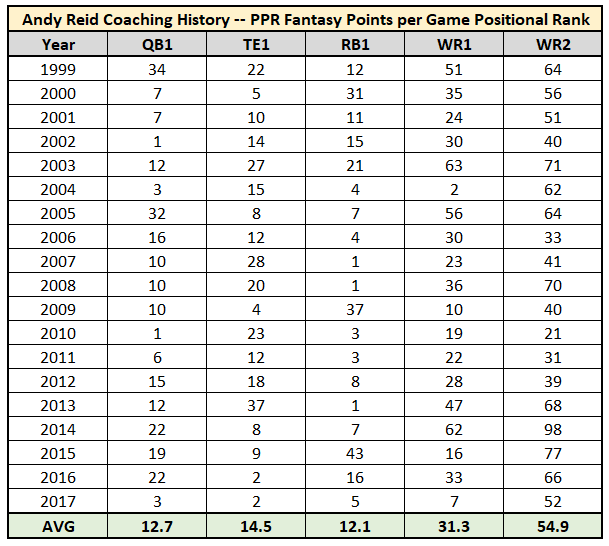 Let's start with the quarterback position.
As he was coming out of college, we touted Mahomes as a high-risk/high-reward prospect. Speaking to this, our analysis team wrote in his scouting report last year, "Mahomes is not likely a Day 1 starter in the NFL but is certainly worth a first-round selection as a potential big hit as a franchise quarterback." Despite considering him to be a little too raw to start right away, Kansas City felt comfortable enough with him starting in year two to trade away Alex Smith following a career year. "Comfortable enough" may also be a slight understatement given how effusive in praise Kansas City brass has been when describing him.
Mahomes has little NFL experience, but certainly made the most of his opportunities, ranking as our highest-graded quarterback last preseason and ranking fifth-best as a passer in his lone start in Week 17. Rushing production matters for quarterbacks and, I think, it's also notable that he totaled more rushing touchdowns than Deshaun Watson over his final two years of college (22 to 21).
Reid's quarterbacks have been ultra-productive throughout his career, but far less so of late – just one top-10 performance over the past six seasons, though it did occur last year. I suspect Mahomes' ADP of QB17 is fair when contrasting his inexperience with the talent-level of his receivers, though I might prefer the value of some of the quarterbacks being drafted behind him (Marcus Mariota, Jameis Winston, and Dak Prescott). I suspect Mahomes is either appropriately priced and one or more of his receivers are too expensive, or he's a screaming value and the ADP is correct on his supporting cast.
Now, let's dig deeper into that supporting cast.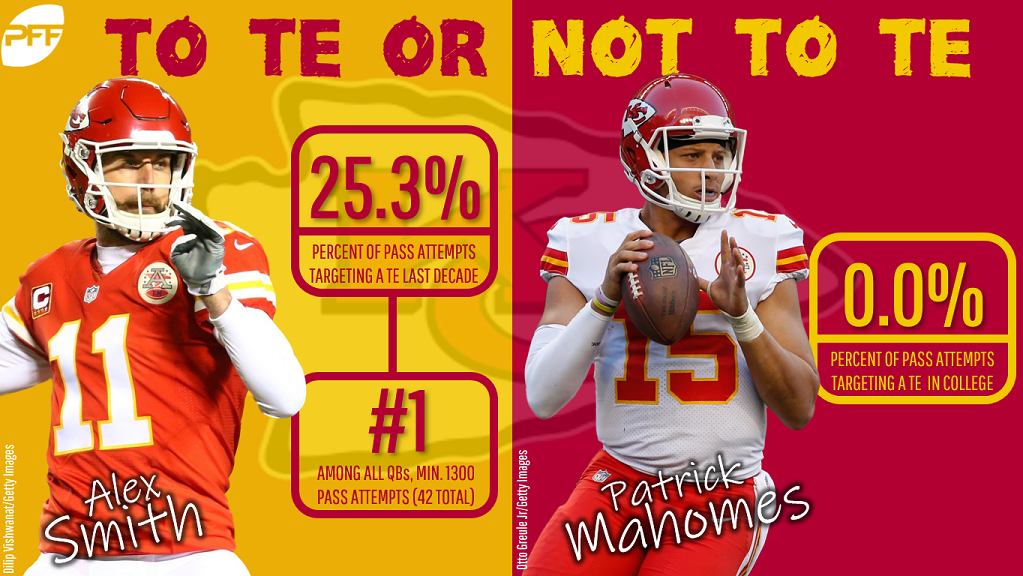 Kelce has an ADP of TE2 and that seems appropriate considering he's ranked second among tight ends in fantasy points per game in each of the past two seasons. Unfortunately for Kelce, the team parted ways with Alex Smith who is the only quarterback this past decade (of 42 qualifying) to target tight ends on at least 25 percent of his throws. Mahomes, meanwhile, never once targeted the tight end position in college (Texas Tech's Air Raid offense). Kelce has also overachieved his usage, which typically implies a forthcoming regression. Over the past three seasons, he ranks second among tight ends in targets but outside of the top-15 in targets inside the 5- and 10-yard lines. Usage might be more of a concern now than ever before, after the team signed Sammy Watkins in the offseason.
That's the bad news. The good news is, Kelce is historically awesome. Kelce leads all tight ends in missed tackles forced and yards after contact over the past two seasons. On top of that, Reid has a fairly impressive history of coaxing top-10 production from the position, despite much lesser talents prior to Kelce's arrival. I suspect there should be a more sizeable gap between Rob Gronkowski and Kelce (by ADP), but can't imagine ranking anyone else ahead of him.
I wrote extensively about Hunt here, but the summation is this – he's really good, and I'm not too worried about Spencer Ware capping his upside. Over his college career, among 59 qualifying running backs, Hunt ranked first in missed tackles forced per touch. In his rookie season, Hunt led all of 33 qualifying running backs in missed tackles forced per touch.
This offseason, Reid said of Ware's return and what that means for Hunt, "We thought we had a decent number of plays for Kareem last year, [but] we probably need to increase the pass part of that a little bit more and expand on his role in the pass game." It doesn't seem like Reid wants a smaller role for Hunt in year two, and indeed, because targets are more valuable than carries, he might be operating out of a more valuable role in 2018.
Reid has also seen unparalleled production from his running backs throughout his career. Hunt is typically selected as the eighth running back off the board in PPR leagues, and that's a number a Reid RB1 has reached in a whopping 11 of 19 seasons (or 11 times over the past 14 seasons). Considering I have Hunt as my No. 7 running back in my rankings, I feel pretty good about his ADP.
Hill has ranked seventh and 28th among wide receivers in fantasy points per game despite only ranking 28th and 65th in targets per game over that stretch. Like Kelce, Hill has also overachieved in the touchdown department, ranking outside of the top-45 wide receivers in targets inside the 5- and 10-yard lines over the past two seasons. He seems like an obvious regression candidate, but perhaps Hill is just one of those players (Doug Baldwin springs to mind) who will continue overachieve his volume.
Over the past two seasons, Hill has made his money on the deep ball, posting some historic efficiency numbers on deep targets. Hill has scored 69 percent of his receiving touchdowns and totaled 46 percent of his receiving yards on deep targets, despite deep targets making up just 20 percent of his total targets. Alex Smith wasn't very successful as a deep ball passer prior to 2017, and perhaps reassuringly, Mahomes ranked fifth in deep passing yardage in his final year of college (2016).
Still, I think Hill is too risky at current ADP (WR13), after the arrival of our final player to analyze.
This offseason, the Chiefs made Watkins the fourth-highest-paid wide receiver in the league, and typically, that means he's a good bet for a heavy workload. His arrival should put a dent in the projected target share of all fellow receivers, save for maybe Hunt. What's troubling for both Hill and Watkins is that Reid's offenses have barely been able to support one productive wide receiver, let alone two. Hill has an ADP of WR13 and Reid's WR1 has bested that number just three times in 19 seasons. Watkins has an ADP of WR32, and that number has been bested by an Andy Reid WR2 only twice (though 11 times by a WR1).
Watkins struggled to see volume in Los Angeles last season, but was efficient on his targets, ranking fifth-best of 80 qualifying wide receivers in passer rating when targeted (122.0). Prior to that, he flashed at times throughout his career, but struggled with injuries and a pedestrian run-first offense in Buffalo. Given the monstrous salary awarded to Watkins this offseason, I'm not sure we shouldn't be treating him as the WR1 on this team, which, if true, means he's currently undervalued. I think he is (slightly), but Reid's history implies the upside is low.
Conclusion
Mahomes and Kelce seem fine at ADP, though they aren't preferred targets of mine. After this analysis, Hill is someone I'll be avoiding in most drafts, while Watkins is likely a slight value.