Name: Patrick Mahomes
School: Texas Tech
Position fit: Starting QB
Stats to know: Ranked second in the nation in big-time throws, but third in the nation in turnover-worthy plays
What he does best:
Smooth, whip release with power and touch.
Arm is special and may define the term "arm talent."
Can make any throw with accuracy and power to and level/area of the field, from every type of platform and arm angle.
Incredibly instinctive, intuitive player with a good feel for passing game.
Athletic in the pocket with ability to make rushers miss, or shed with strength.
Anticipates well. Time from locating receiver to ball out of his hand is extremely quick.
Overall has good vision and ability to see multiple defenders in his reads.
Poise to make any throw no matter what the chaos is around him in the pocket.
Plays outside of the structure of the offense as well as anyone in the NFL does right now.
Gritty playmaker. Wants the ball in his hands and delivers when his team needs it most.
Biggest concerns:
Plays undisciplined too often.
Inconsistent footwork, loses his base but tends to make up for it with his arm.
Tendency to drift in the pocket in all directions when it's not necessary.
Bad habit of breaking from clean pockets too early when the pass rush dictates him to stay in there.
Forces too many throws and tries for the hero play too often.
Steep learning curve coming from the Texas Tech spread/wide open system.
Bottom line: Mahomes is as interesting as a prospect as there is at quarterback that comes with high risk/high reward. His arm is as good as any quarterback in the NFL playing right now. The natural passing instincts as far as sliding and feeling pass-rushers in the pocket, to seeing in front of the throw and adjusting to the type of throw needed, is special. His lack of discipline in the pocket with footwork, bailing on clean pockets, and decision making is a big concern. Some of the bailing on pockets can be attributed to how much "rush three drop eight into coverage" he saw, which can lead to playing outside of structure to find passing lanes more often. Coming from a system with everything so spread out and defined passing lanes, there will be an adjustment period needed for the NFL game and seeing tighter throwing lanes. Mahomes is not likely a Day 1 starter in the NFL but is certainly worth a first-round selection as a potential big hit as a franchise quarterback.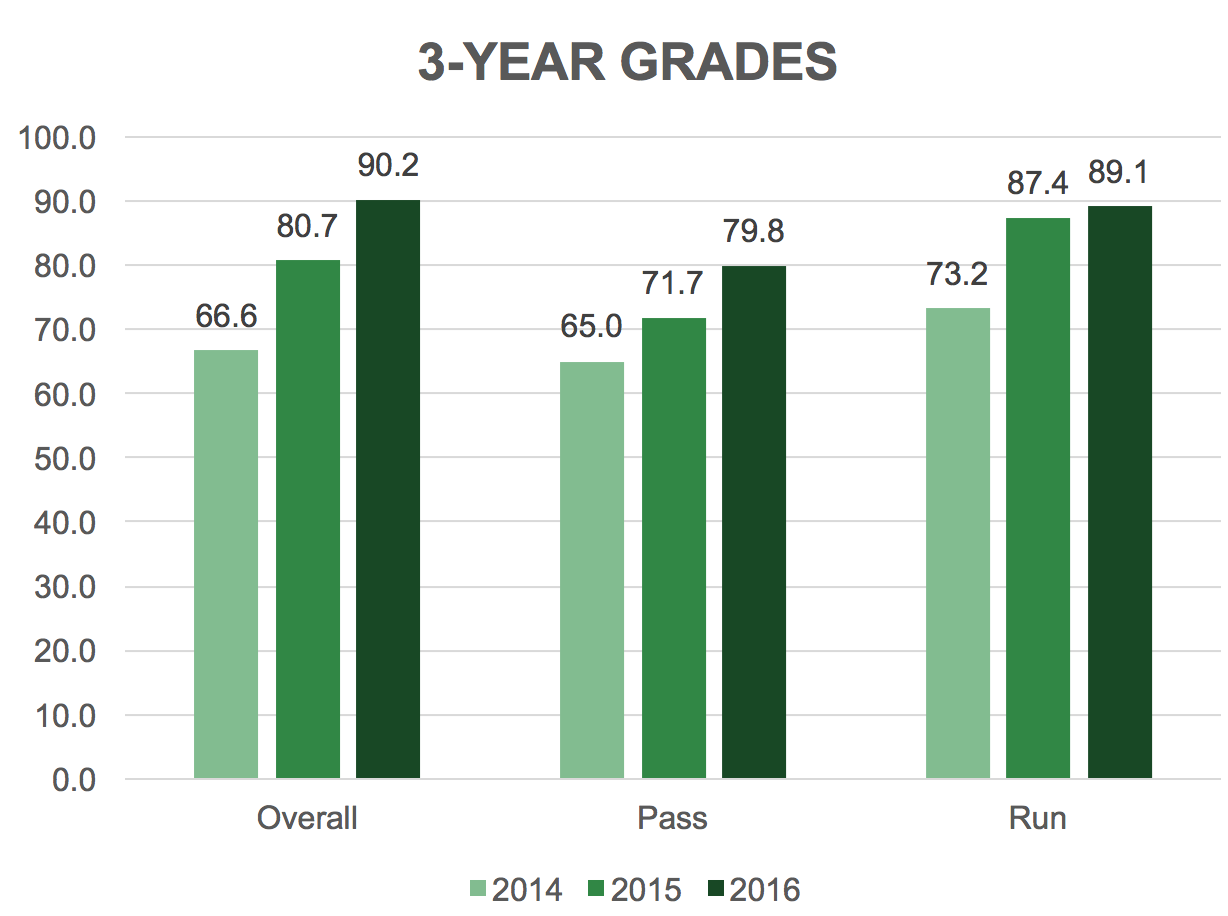 | | | | | | | | |
| --- | --- | --- | --- | --- | --- | --- | --- |
| | Att | Comp | Comp% | Yards | Yds/Att | TD | INT |
| Three Year Stats | 1357 | 858 | 63.2% | 11213 | 8.3 | 93 | 29 |
| 2016 | 595 | 389 | 65.4% | 5057 | 8.5 | 41 | 10 |
| 2015 | 578 | 365 | 63.1% | 4644 | 8 | 36 | 15 |
| 2014 | 184 | 104 | 56.5% | 1512 | 8.2 | 16 | 4 |
| | | |
| --- | --- | --- |
| Advanced Stats | Stat | Rank |
| Adjusted Comp % | 75.4% | 7 |
| Adj Comp % vs. Pressure | 56.1% | 27 |
| Adj Comp % vs. Blitz | 67.7% | 22 |
| Deep Pass Adj Comp % | 44.0% | 16 |
| % Rollout Passes | 4.4% | 36 |
| % Scramble Passes | 13.7% | 2 |
| Drop Rate | 5.4% | 33 |
| Average Depth of Target | 9.3 | 33 |
| 1-5 Yd Adj Comp % | 86.0% | 12 |
| 6-10 Yd Adj Comp % | 73.6% | 19 |
| 11-20 Yd Adj Comp % | 60.4% | 18 |
| 21-30 Yd Adj Comp % | 47.2% | 15 |
| 31-40 Yd Adj Comp % | 41.7% | 15 |
| 40+ Yd Adj Comp % | 40.0% | 21 |