We're back again for Week 12 of the NFL season to identify some sleeper candidates who could find themselves more valuable in fantasy football sooner or later.
Inside of two weeks from December and the fantasy playoffs, you may think it strange to continue to scrounge for fantasy sleepers. But recent breakout players like D.J. Moore and Nick Chubb show how transformative a midseason pick-up can be. My rushing and receiving Yards Added metrics compare a skill player's yardage totals on their plays relative to expected totals based on factors like the down and distance, distance from the end zone, quality of run-blocking, and quality of coverage. As such, they are perfect tools to identify the next Moore or Chubb who could see a bump in future workload because of their efficiency. A few such players stand out as sleepers for Week 12 and beyond.
Lamar Jackson stole the headlines with his incredible 27-carry, 117-yard rushing performance in his first career start, but quarterback may not have been the only Ravens position to experience a changing of guards. Alex Collins made the start at running back, but he was benched in the second half in favor of rookie Edwards, who proceeded to rack up 115 yards on 17 carries. That outburst propelled Edwards to 4.0 yards after contact per attempt for the season, which trails only Chubb at the position.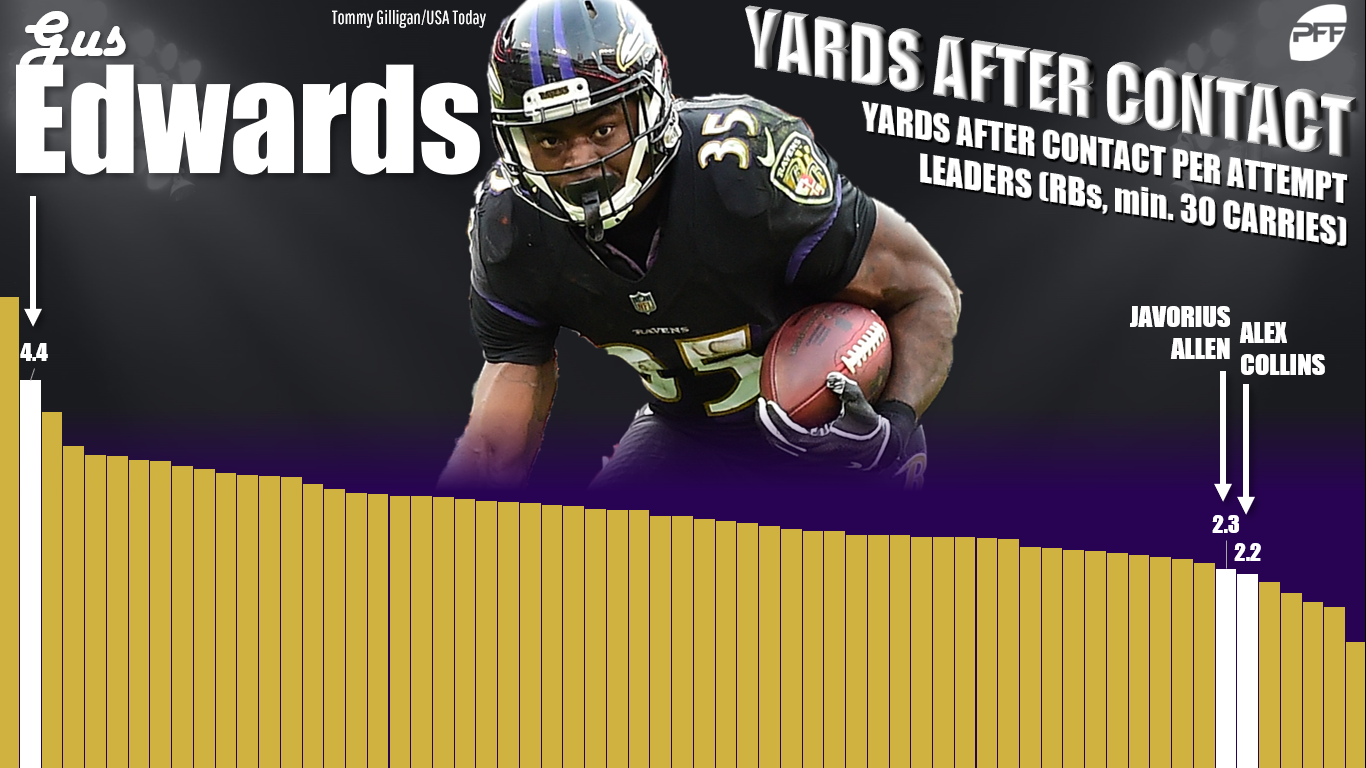 I'm not totally convinced Edwards is an impact rusher. More than half of his seasonal total of 32 carries came on Sunday against the Bengals, and the Bengals are the seventh-friendliest defense for rushing yards per attempt. But Edwards does have an excellent total of 14 Yards Added in limited opportunities, and Collins has regressed sharply from his breakout 2017 season. His yards per carry have fallen from 4.6 last year to 3.6 this year, his yards after contact per attempt have fallen from 3.0 to 2.2, and he his Yards Added total has fallen from 50 to -10. His struggles have opened the door for a sleeper, and Edwards fits the bill.
It's pretty easy to forecast long-term fantasy success for a top-50 NFL draft pick, but few receivers with even that pedigree make it happen in their rookie seasons. Sutton has done better than most, and he has yet to score double-digit standard fantasy points in a game this season. But even with those personal and general trends working against him, I'm starting to see Sutton as a usable fantasy option even in shallow formats. Over the first half of the season, Sutton was more of a big-play threat with a 16.4-yard average depth of target. But in the two games since the Demaryius Thomas trade, Sutton has seen his aDOT fall to 13.5 yards and his target share rise to 15.9%, both approaching the 11.0-yard and 20.8% rates Thomas had before he left. Meanwhile, despite reputations and levels of experience that would suggest the opposite, Sutton has been the more efficient player with 8 Yards Added to Thomas' -14. Sutton has the talent and opportunity to break out over the final month.
Thomas' trade to Houston was about as close to a tit-for-tat replacement of an injured player as one can accomplish in football. That offers some optimism for Thomas' continued fantasy-relevance since DeAndre Hopkins and Will Fuller are the rare teammates who can coexist in the top-20. The problem is that Thomas just isn't the same player he was at his peak. Hopkins and Fuller can thrive together because they are both efficient. The former has added 27 yards this season while the latter has added 19 yards. With Thomas likely to cost the Texans yards relative to an average player on his targets, I expect Deshaun Watson to increase his reliance on his short-route targets. And when rookie slot receiver Coutee has made it on the field, he's seen a heavy workload. His 20.9% target rate when running routes in the slot is top-12 among slot receivers. He's up there with some really strong PPR options like Julian Edelman, Jarvis Landry, and Golden Tate.
Highest Target% When In Slot, 2018
Receiver
Target%
Adam Thielen
26.4%
Cooper Kupp
23.3%
Larry Fitzgerald
22.6%
Willie Snead
22.5%
Keenan Allen
22.3%
JuJu Smith-Schuster
22.2%
Julian Edelman
22.0%
Quincy Enunwa
22.0%
Jarvis Landry
21.9%
Tyler Boyd
21.8%
Golden Tate
21.8%
Keke Coutee
20.9%
Anthony Miller
20.8%
Wide Receivers with 50%+ Slot%
Coutee's 1.56 yards per route run in the slot is toward the lower side of those players, but he has added 2 yards on his targets. And that slightly above-average efficiency is a more attractive option with Fuller out for the season.
McCoy doesn't fit the profile of a fantasy-relevant quarterback. The 32-year-old is a career backup with a completion percentage barely above 60% and a touchdown-to-interception ratio barely above 1:1. Those numbers aren't much better than those of his new backup, Mark Sanchez, and he's no lock to keep the starting job over him. But in deeper and two-quarterback formats, I think it makes sense to roster McCoy and see. Despite his lack of production, McCoy has been one of the most accurate passers on his aimed throws, and he hasn't over-relied on check-downs to inflate that rate the way that Sam Bradford has.
Highest Accuracy%, QBs, 2014-18
Passer
Aimed Att
aDOT
Accuracy%
Drew Brees
2,641
7.8
90.3%
Matt Ryan
2,523
8.6
88.4%
Cody Kessler
220
8.1
88.2%
Sam Bradford
1,131
7.0
88.1%
Colt McCoy
145
7.8
87.6%
Philip Rivers
2,473
8.6
87.3%
Patrick Mahomes
347
9.2
87.3%
Kirk Cousins
2,153
8.5
87.3%
The injury-decimated Redskins' receiving corps is still likely better than McCoy's best options like Greg Little, Mohamed Massaquoi, and Benjamin Watson in his longest stretch as a starter on the turn-of-the-decade Browns. When he had DeSean Jackson and Pierre Garcon in 2014, he completed north of 70% of his passes. He may threaten that again throwing to Jordan Reed, Maurice Harris and company en route to a QB2 finish to the season.
The time to invest in Jones as a true sleeper has come and gone. A four-game stretch with 446 yards and 5 touchdowns will get you noticed. But as clear as I expect every fantasy football player is that Jones has become an every-week starter, I'm unsure if opinion has caught up to the fact that he has emerged as a top-end RB1.
The signs were there from the beginning that Jones had a breakout in his future. He bested teammate Jamaal Williams 28 Rushing Yards Added to -34 in their freshmen seasons. However, Williams was the better pass-catcher as a rookie — 12 Receiving Yards Added to -11 — and is the bigger back and more natural option near the end zone. Those are the most lucrative touches for fantasy, and even if Jones became the exceptional early-down back his rates suggested he could be, he would be capped at Dion Lewis-level production without a role expansion.
Fortunately, I think that role expansion has happened. Jones has continued to throttle his teammate Williams as a runner, 46 Rushing Yards Added to -15. But he has also bridged the gap in Receiving Yards Added — they are both neutral for the season as a whole. And in recent starts, Jones has more than doubled his yardage output per target. For the first year and a half of his career, he sat near the positional basement under 3.0 yards per target. In recent weeks, he's spiked up over 6.0 yards per target, near the best receiving backs in football like James White (6.3) and Christian McCaffrey (7.0).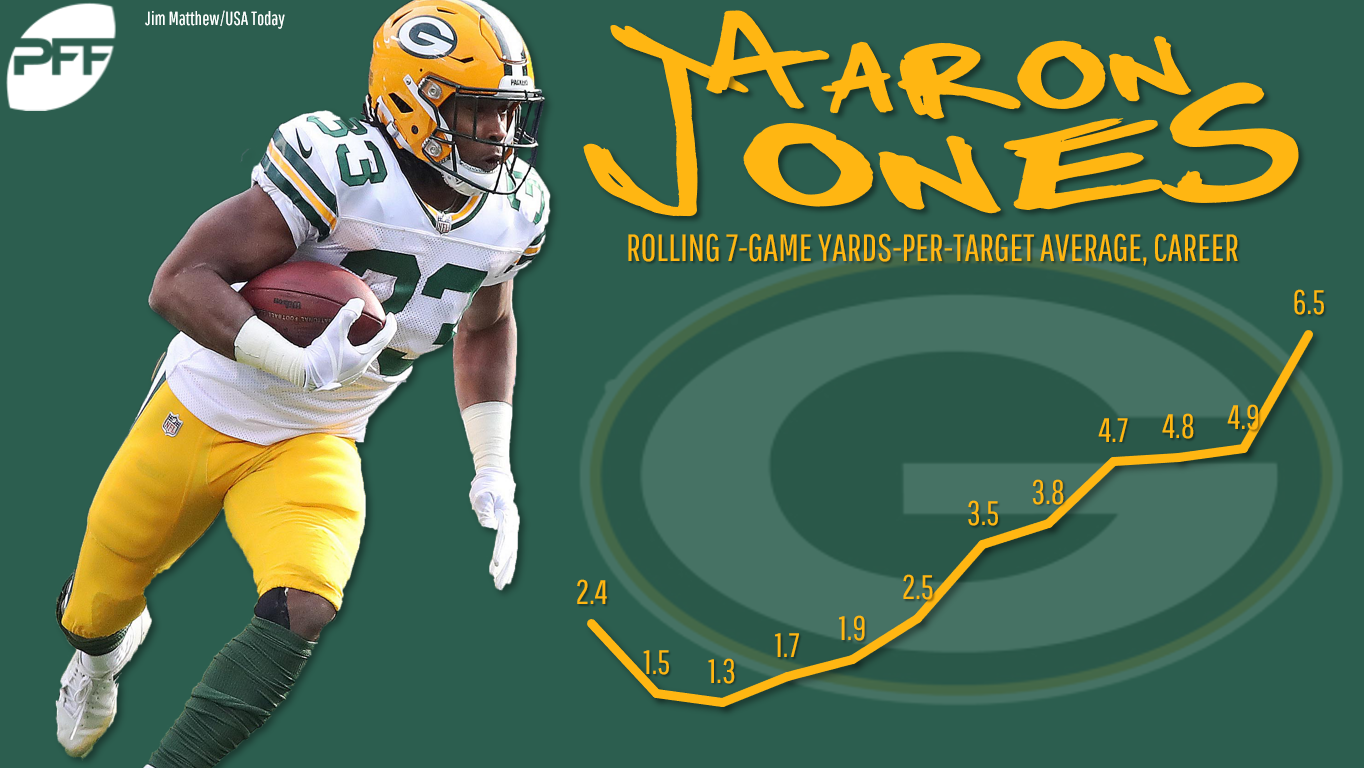 Jones suddenly profiles like an elite every-down back. He has even made major strides as a pass protector, where he has yet to allow a pressure on his 19 pass-blocking snaps this season. He's definitely an RB1 for the rest of this season, and there are only a handful of backs with more dynasty value than the soon-to-be 24-year-old.