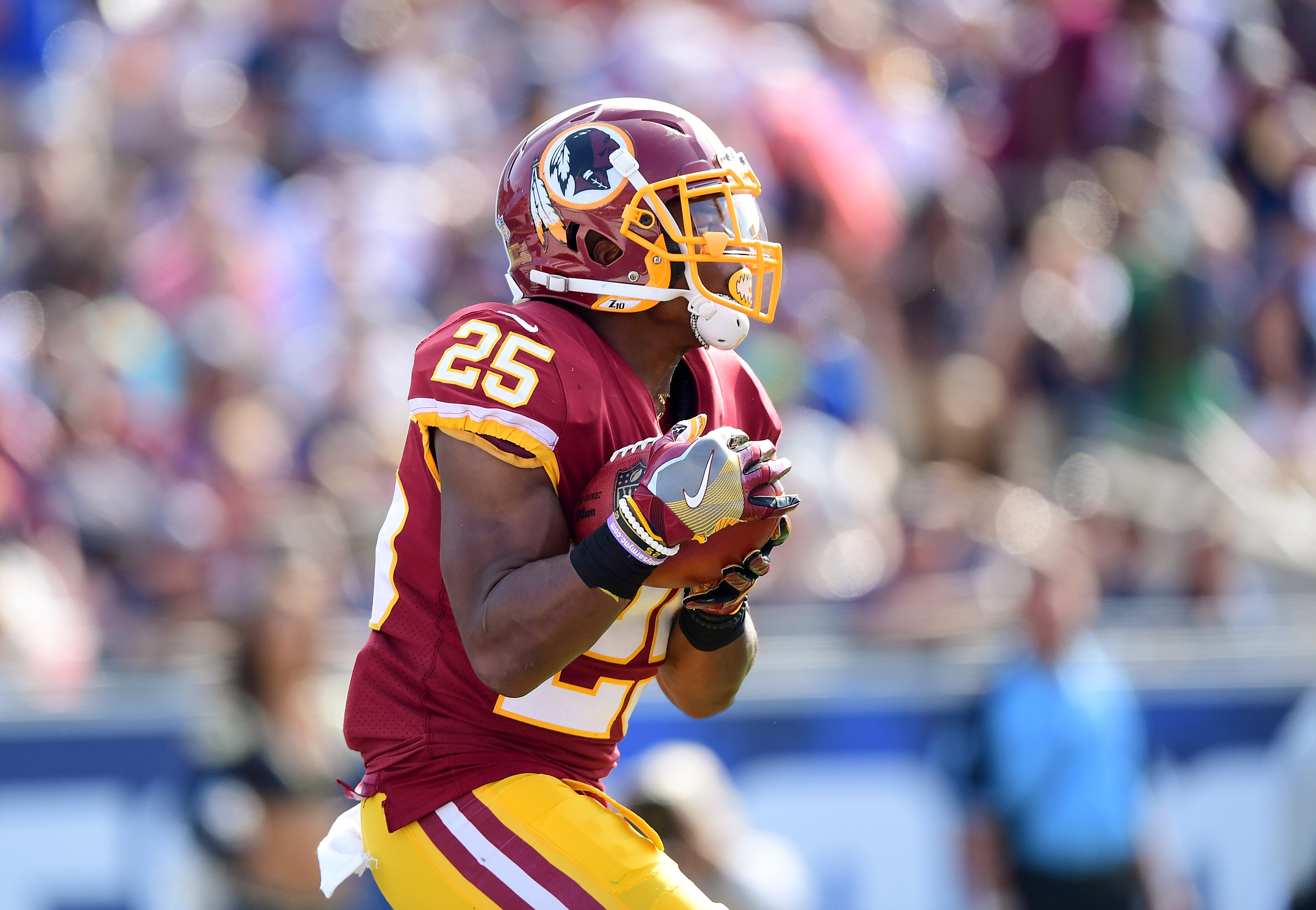 LOS ANGELES, CA - SEPTEMBER 17: Chris Thompson #25 of the Washington Redskins returns the ball during the third quarter against the Los Angeles Rams at Los Angeles Memorial Coliseum on September 17, 2017 in Los Angeles, California. (Photo by Harry How/Getty Images)
In my previous article, I showed that air yards, distance from the end zone, down and distance, score differential, and primary defender position all influenced how likely a receiver was to catch a target and how many yards that target was likely to gain. But those influences are not neat and tidy. In some cases, only certain combinations of a factor made much of a difference — as was the case for distance from a first down on third downs. And all of the factors can influence each play and can therefore distort their individual impacts.
To build a model to handle that tangled web, I decided to use a machine-learning algorithm similar to the one I used to create my win probability model. The major advantage of that sort of model is that it organically decides which factors are most important in which situation. That means that the model can rely heavily on a factor like air yards in typical situations but can then pivot to rely more heavily on distance from the end zone as teams enter the red zone and on distance from a first down when teams face third-and-longs.
I made the model to estimate an expected catch rate and yards per target of every catchable target since 2013. I used catchable targets (CTgts) instead of all targets because of my goal to evaluate receivers and defenders separate from quarterback play. To my mind, neither should see credit or penalty when a quarterback makes an inaccurate throw. Then, once I estimated expected catch rates and yards per target, I could compare the actual catches and yards made by receivers and against defenders to those expectations to evaluate how successful they were relative to the difficulty of their targets. And the model did seem to pass the eye test at my first glance. Here are the receiver leaders in raw yards added from 2017.
Receiver Leaders in Raw Yards Added, 2017
Receiver
CTgts
Rec Added
Yards Added
Todd Gurley II
64
1.9
309
Chris Thompson
48
2.6
249
Tyreek Hill
89
6.4
229
JuJu Smith-Schuster
70
3.9
202
Marvin Jones Jr.
83
3.3
176
Cooper Kupp
74
5.3
175
Keenan Allen
131
3.1
162
Rob Gronkowski
85
5.1
156
Alvin Kamara
92
1.5
155
Ryan Grant
50
5.9
140
Duke Johnson Jr.
82
2.4
138
Adam Thielen
113
5.2
133
You must have PFF Edge to continue reading...