Rookie quarterbacks typically aren't strong sources of production in fantasy football leagues, but there is a glimmer of hope after Kyler Murray and Justin Herbert both secured QB1 finishes in the past two NFL seasons.
This year's crop of rookie quarterbacks features impressive talents who could continue to buck the trend. Of course, there is inherent risk involved when drafting rookie quarterbacks because of the lack of information available, particularly when evaluating how they'll translate to the NFL and how many games they could play.

---
Click here for more PFF tools:
Fantasy Draft Kit | PFF Betting Dashboard | PFF Fantasy Rankings
PFF Fantasy Projections | NFL Premium Stats | Win Totals Tracker
---
Let's rank each rookie quarterback for the 2021 fantasy football season, taking into account their talent and ability, as well as their supporting casts and how many games they may play.
All average draft position (ADP) info is sourced from Underdog Fantasy.
Lawrence may not be in the best position to succeed, but he is the only surefire Day 1 starting quarterback, and that's why he takes the top spot. Oddly enough, fantasy drafters are willing to be riskier to acquire him, with his ADP currently sitting at the QB3 spot among rookie quarterbacks.
Through three seasons at Clemson, Lawrence's lowest PFF grade was 90.6. He never threw for fewer than 3,153 passing yards and has the mobility to rack up fantasy points with his legs. He also rushed for 858 yards and 14 touchdowns at Clemson. There was a reason Lawrence went first overall in the 2021 NFL Draft.
Not to mention, the Jaguars have surrounded him with a legitimate wide receiver corps, including veteran Marvin Jones Jr., potential second-year breakout Laviska Shenault Jr. and vertical weapon D.J. Chark. Expect the Jaguars to pass the ball often — they ran the most plays (791) while trailing last season.
PFF's fantasy projections also rank Lawrence as the top option among the rookies (QB16 finish). There isn't a safer bet than Lawrence in this rookie signal-caller class. His floor is relatively high, and his ceiling is a top-12 finish at the position. He ranked second in passer rating (106.5) among rookie quarterbacks this preseason and looked fully prepared to start at the position.
There probably isn't a more exciting player fit than Lance in head coach Kyle Shanahan's offense. That duo has the ability to legitimately torment defenses, but we have no clue when Lance will be inserted into the starting lineup. Not to mention, he played only one season in college. What we do know with certainty is Lance enables Shanahan to implement things that just aren't possible with Jimmy Garoppolo.
Split back gun nub. You're asking if you want to corner over and Shanny's making you honor jet, zone slice, and zone arc at the same time at the goal line pic.twitter.com/ABU5hYHm4q

— Justis Mosqueda (@JuMosq) August 29, 2021
The North Dakota State product is the living description of a "two-way" threat at the position. With 1,102 rushing yards and 15 rushing touchdowns, in addition to 2,519 passing yards, 27 passing touchdowns and only one interception in college, Lance may possess more upside than any other player on this list.
Lance also joined a team that ranked second in rushing yards and explosive plays rushing, first in rushing touchdowns and fourth in rushing yards before contact per attempt in 2019. The 49ers have been dead set on rushing the football in recent seasons, and Lance will be a major contributor.
His 8.6-yard average depth of target (aDOT) and seven rushing attempts this preseason are both reasons to get excited. He also led all rookies with three passing touchdowns. Lance's ADP is insanely rich but for good reason — he has a legitimate shot to be a QB1 if given enough playing time.
Each quarterback we've listed to this point has flashed throughout the preseason, but none have performed at a higher level than Wilson. The former No. 2 overall pick recorded a team-high 83.9 PFF passing grade, completing 15 of his 20 attempts for 191 yards, two touchdowns and two big-time throws. He also boasts a strong 9.6 passing yards per attempt figure that led all rookies at the position.
There are some concerns, though. The Jets are arguably the worst offense on this list, and that could limit Wilson's upside in standard PPR and redraft formats. New York scored the fewest offensive touchdowns (25) this past season while allowing the fourth-most quarterback pressures (337).
Ideally, those problems were resolved over the offseason, but it's not realistic nor fair to expect the Jets to suddenly be a high-flying attack. The good news is Wilson has looked the part of a franchise quarterback and built a quick rapport with veteran Corey Davis. We have yet to see what the former BYU Cougar can accomplish with fellow rookie Elijah Moore, but the early returns have been very positive, and Wilson looks poised to finish the season as a QB2 at worst.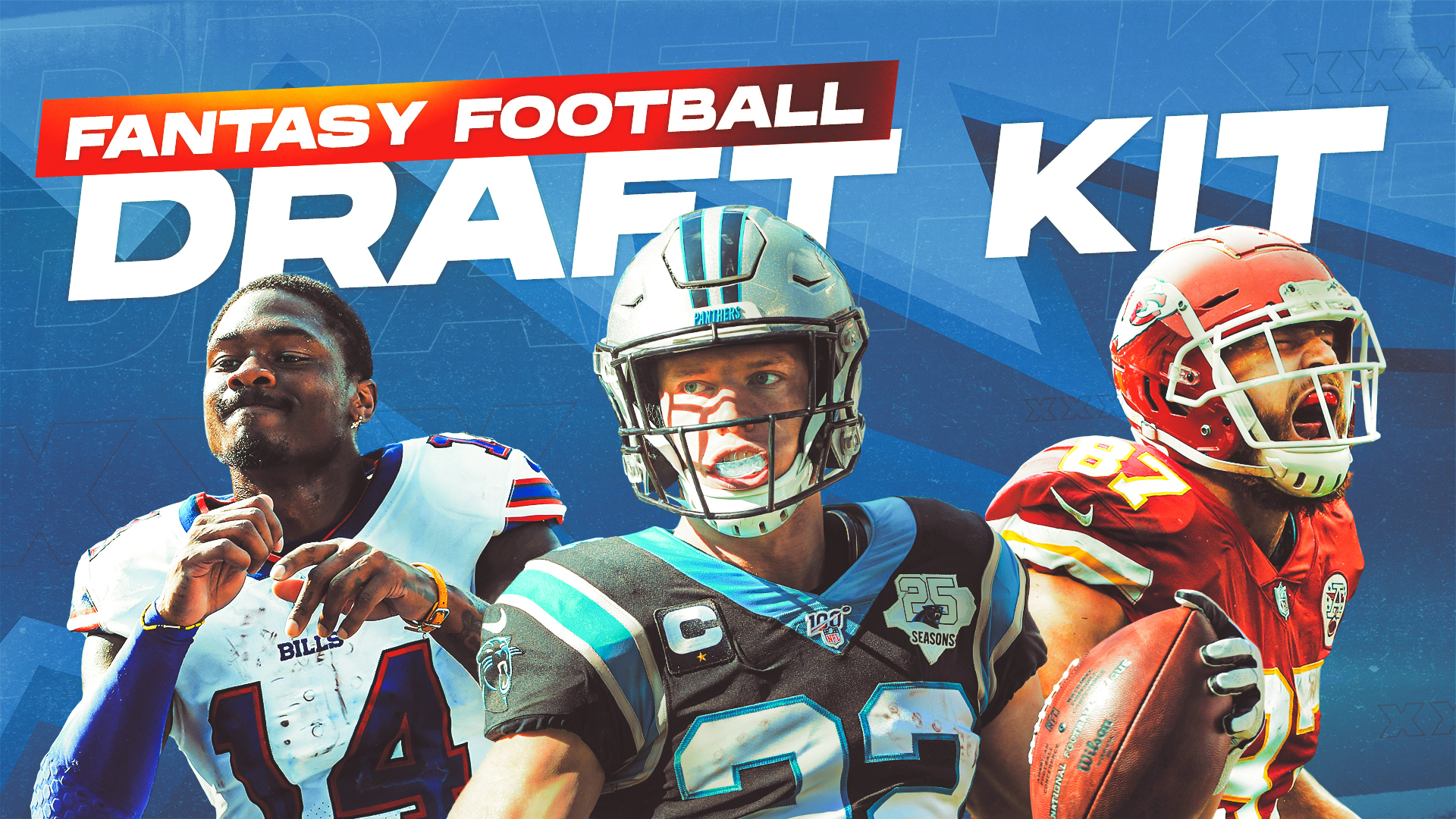 Like all four of the players ahead of him, Fields can create yardage and fantasy points with both his arm and legs. Mobile quarterbacks are a cheat code in fantasy football — that's likely why all of these players are being drafted relatively early.
Fields is one of the more proven options on this list. Like Lawrence, all three of his college seasons ended with 90.0-plus PFF grades, and he tossed 52 touchdowns to only four interceptions and rushed for 937 yards and 15 touchdowns.
The former Buckeye is in a solid-yet-unspectacular situation with the Bears. There really isn't any comparison to be had between the two, but Mitchell Trubisky secured a QB15 finish in 2018. Head coach Matt Nagy's offense works, and now he has a talented quarterback to properly lift it off the ground.
The Bears' offense ranked 12th in deep pass attempts this preseason and ranked ninth in the NFL last season. We all know mobility and deep passing attempts pay — Fields can do both and already proved it in three meaningless preseason games with a 9.7-yard average depth of target and 92 rushing yards.
One of the main concerns with Fields is when he'll see the field (no pun intended). He probably should start from Day 1, but Nagy is adamant that Andy Dalton gets the reins first. Regardless, Fields possesses legit upside. His ADP may be rich, but Dalton has not looked good in the preseason, and it's likely he gets pulled in favor of the rookie much sooner than Nagy anticipates.
their final preseason pass attempt of 2021:

Andy Dalton vs Justin Fields pic.twitter.com/fQjTzXzXOJ

— Warren Sharp (@SharpFootball) August 29, 2021
Like Lance, Jones entered the NFL with a relatively small sample size as a one-year college starter, but his 95.8 PFF grade suggests he was more than ready for it. Jones did not struggle much throughout his final season at Alabama, totaling 3,315 passing yards with 27 touchdowns and only three interceptions.
He's gotten plenty of run in the preseason, completing 36 of his 52 attempts for 389 yards and a touchdown. Jones also made six big-time throws with a team-leading 8.9-yard average depth of target and a 97.4 passer rating. He looks poised to take over the starting quarterback role from Cam Newton, but when will it happen?
Jones looked like the most advanced passer of the rookie crop this preseason, but he offers next to nothing with his legs. The Patriots' offense will also vary drastically depending on which quarterback is out on the field. Newton's legs enable a dangerous rushing attack that pushed the offense away from passing, as it ranked 31st in pass play percentage last season (51.3%). Jones offers nothing on the ground, but he operates tremendously in a quick dropback offense that requires timely reads and precise passing.
Drafting Jones is a legit dart throw in redraft leagues, as he could start in Week 3 or be kept on the sidelines until Week 11. There's really no guessing what head coach Bill Belichick may do, but at least PFF's strength of schedule (SoS) metric ranks the Patriots' quarterback schedule as the sixth-easiest this season.
While Jones has looked advanced as a passer, his floor and ceiling are relatively low. At the end of the day, he is a rookie relying strictly on pass-game progression while offering nothing with his legs.
We're now into the weeds. Mills is definitely not a draftable quarterback right now, but the potential for him to become a streamer at some point does exist. The Texans obviously don't boast a very talented roster and are likely to be drafting first overall in 2022, but Mills is only a stone's throw away from taking over the starting quarterback job in Houston.
Veteran Tyrod Taylor has never played a full 16 games before and brings with him an injury history that suggests he won't play in 17 contests this year. The Texans don't have a ton of talent on offense, but wide receiver Brandin Cooks is a consistent vertical threat and running back David Johnson offers a nice receiving option out of the backfield.
Mills is not draftable in redraft formats, though he may be a hold option in dynasty leagues. Keep tabs on this team, however, because Mills could see starting opportunities in the event of a tank, and a starting quarterback always maintains some value as a potential streamer or in superflex leagues.
Mond is the last quarterback to make this list and is also undraftable right now. We have a strong idea of who Mond is as a player — he posted 7,832 career passing yards and 61 touchdowns at Texas A&M. Of course, he also possesses the ability to create with his leg, racking up 1,425 career rushing yards and 16 rushing touchdowns during his time in College Station.
Mond likely won't see the field at any point this season, barring injury. Kirk Cousins is firmly locked into his role as the team's starting quarterback and has been a solid performer in that role.
There is a fun use-case for Mond, though. His 310 passing yards and 73 rushing yards this preseason were promising, and he would be thrust into a nice offense with Justin Jefferson and Adam Thielen if needed. That same offense ranked ninth in explosive plays passing (95) and fifth in explosive pass percentage (16.6%) last season.