• Tank Bigsby starts over JaMycal Hasty: Bigsby dominated snaps in the first quarter and broke a few good runs.
• Detroit Lions rest key rookies: Running back Jahmyr Gibbs and tight end Sam LaPorta were among the starters and top backups who had the day off, which is another good sign for their success in Year 1. 
• Both teams rest their top four wide receivers: The Lions and Jaguars have ongoing battles for their fifth wide receiver spots, but the top four spots for each team seem pretty clear.
Estimated Reading Time: 4 minutes
---
PFF's fantasy football recap focuses on player usage and stats, breaking down all the vital information you need to achieve fantasy success in 2023. You can find more information on why it's essential to pay attention to the preseason here.
Check out PFF's 2023 Fantasy Draft Kit for even more content to help you dominate your league.
---
Preseason Recaps: Friday Week 2 | Thursday Week 2 | Week 1 | Hall of Fame Game
Player Profiles | Depth Charts
Rankings: PPR | Half-PPR | Standard | Superflex | Best Ball
Dynasty Rankings: PPR | Rookie | Superflex | Superflex Rookie
Position Rankings: QB | RB | WR | TE
Sleepers: Top-10 | QB | RB | WR | TE
League Winners: Top-5 | QB | RB | WR | TE
Breakouts: QB | RB | WR | TE
Position Draft Strategy: QB | RB | TE
14-Team Draft Strategy: Overall strategy
12-Team Draft Strategy: Overall strategy | Picks 1-3 | Picks 4-6 | Picks 7-9 | Picks 10-12
10-Team Draft Strategy: Overall strategy | Picks 1-3 | Picks 4-7 | Picks 8-10
---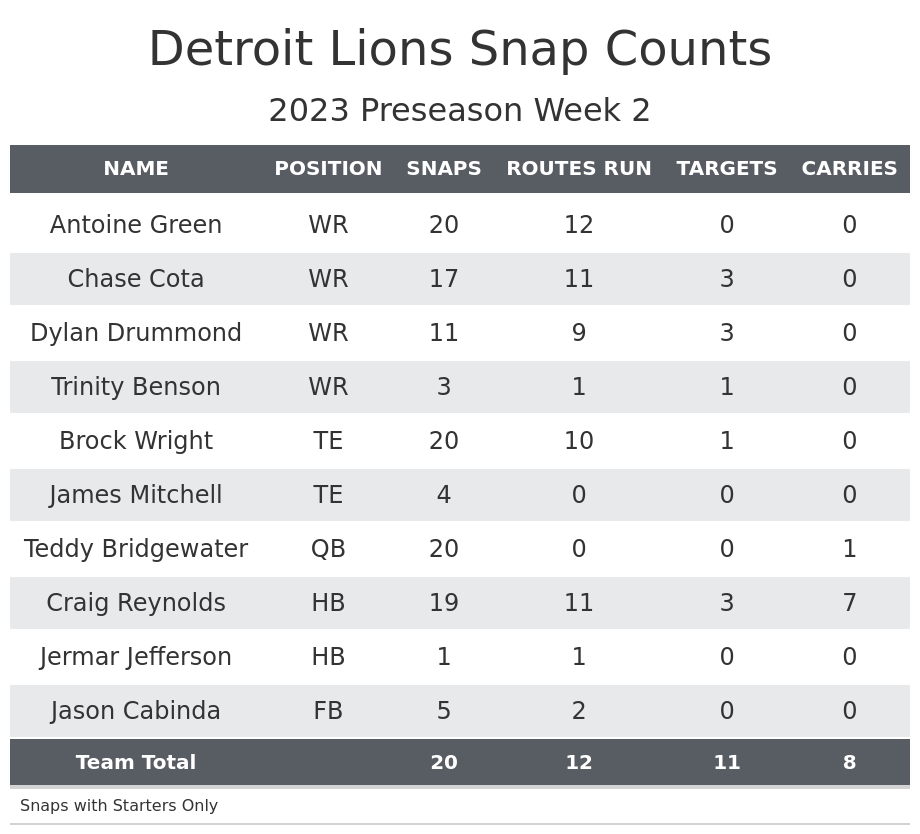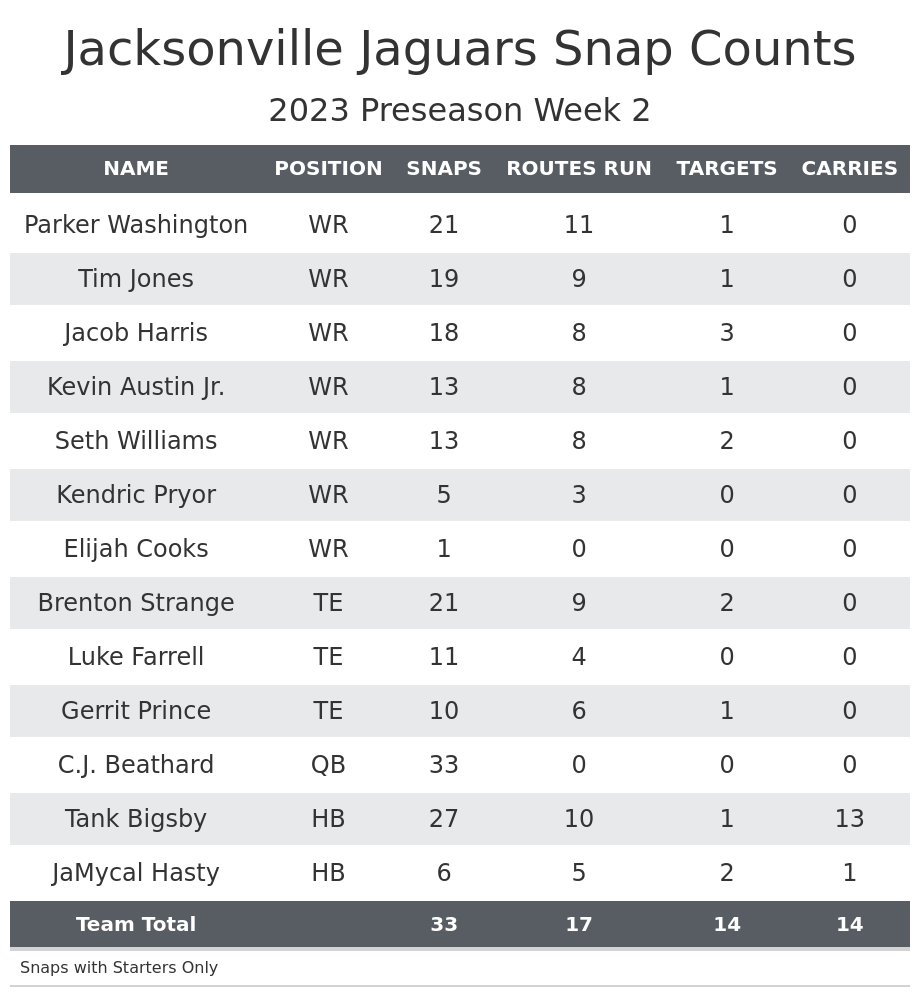 Tank Bigsby is a clear second on the Jaguars' depth chart: Bigsby started the game ahead of JaMycal Hasty and played well against the Lions' second-team defense.
Travis Etienne Jr.

had the game off along with the rest of the starters. Bigsby started the game and played the first eight snaps before Hasty took the field.

Bigsby received a handoff on five of those eight plays and gained 41 rushing yards. He ended the day

with 13 carries for 70 yards.

Hasty took over late on the team's second drive for three plays, but then Jacksonville went back to Bigsby. Hasty also played the last few minutes of the half after Bigsby's day was done.

Hasty replaced Bigsby two more times in the first half, but only for a play or two each.

The first preseason game suggested Bigsby would play in short-yardage situations and Hasty in some passing situations. In this game, the running backs were given several plays in a row rather than being used by situation.

Jacksonville could certainly go back to Bigsby taking short-yardage snaps and Hasty taking passing downs in the regular season, but this leaves the door open for Bigsby to be the primary backup in all situations.

This game was generally a good sign for Bigsby's fantasy value, as it made it clear he's generally ahead of Hasty and could surpass him on third downs. It would have been more ideal if Bigsby was among the important players who sat out the game, as

Jahmyr Gibbs

did for the Lions.
Lions rest rookies Jahmyr Gibbs and Sam LaPorta: Detroit rested its starters as well as key backups. Both players made the cut and were rested despite being rookies.
David Montgomery

joined Gibbs among the rookies with the day off.

Montgomery has yet to play in the preseason, so we haven't been given any indication of how he and Gibbs might rotate.

Craig Reynolds

started the game. He's been the RB3 for the team the past few seasons, and it appears that will remain true this season.

LaPorta was the only Lions tight end who had the day off, with his primary backup

Brock Wright

starting for the team.

The rookie tight end played 100% of snaps with the starters last week in 11 and 12 personnel. He's turned into one of the best sleeper options at the position this season.
Miscellaneous Notes
---
Table Notes
• Snaps include plays called back due to penalties, including offensive holding or defensive pass interference. The other three stats have these plays removed.
• Targets may differ from official NFL sources. The most likely discrepancy would be from a clear thrown-away pass, where the NFL may give the target to the nearest receiver, while this data will not.
• Carries are only on designed plays. Quarterback scrambles won't count for the total number of carries in the game.