• Sam LaPorta has already won the starting job: The second-round rookie already sits atop the Lions' depth chart and deserves to be considered a fantasy sleeper.
• Jameson Williams' curious game: Williams' stat line looks bad for a preseason game, but it was the fourth quarterback on the depth chart throwing him passes.
• The Giants' wide receiver battle becomes a little more clear: We have a better view of the team's wide receiver depth chart based on who didn't play, who started the game with Tyrod Taylor and who didn't see playing time until after Taylor was out.
---
PFF's fantasy football recap focuses on player usage and stats, breaking down all the vital information you need to achieve fantasy success in 2023. Check out PFF's 2023 Fantasy Draft Kit for even more content to help you dominate your league.
Player Profiles
More Rankings: PPR | Half-PPR | Standard | Superflex
Dynasty Rankings: PPR | Rookie | Superflex | Superflex Rookie
Position Rankings: QB | RB | WR | TE
Sleepers: Top-10 | QB | RB | WR | TE
League Winners: QB | RB | WR | TE
12-Team Draft Strategy: Overall strategy | Picks 1-3 | Picks 4-6 | Picks 7-9 | Picks 10-12
10-Team Draft Strategy: Overall strategy | Picks 1-3 | Picks 4-7 | Picks 8-10
---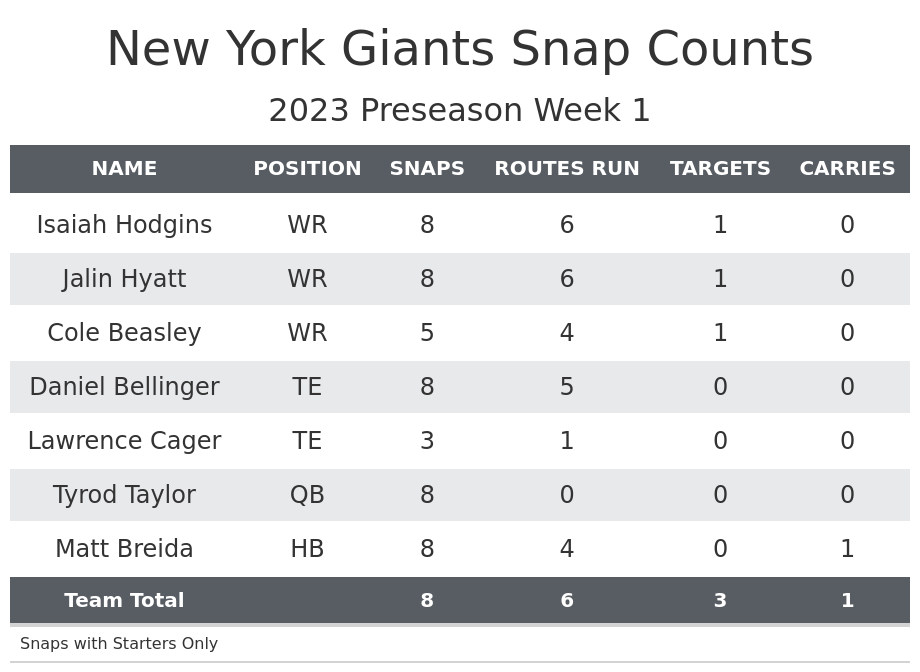 Sam LaPorta is already the Lions' starting tight end: LaPorta played the clear majority of snaps with the starters over the team's other top players.
While starters at several positions got the night off, there were no notable tight ends who didn't play.

LaPorta played during the first three drives, taking 100% of snaps in 11 personnel and 100% of snaps in 12 personnel with

Brock Wright

.

Wright took 100% of snaps in 21 personnel.

Both tight ends were replaced after the third drive by

James Mitchell

and

Daniel Helm

.

This is the best-case scenario for LaPorta. He's already ahead of everyone else, and the time the Lions plan to take him off the field is during likely run situations.

Typically, we shouldn't read too much into rookies playing further down the depth chart, but when a rookie is starting in the first week of the preseason ahead of all veterans, they are very likely to have that role during the regular season.
Jameson Williams plays longer than expected: Williams played much later into the game than other notable Lions.
Rookies

Jahmyr Gibbs

and

Sam LaPorta

played only the first three drives, as did veterans such as

Brock Wright

.

Williams continued to play into the third quarter of the game.

This might look like bad news for Williams, but it might have just been a case of the Lions lacking healthy receivers. While they could have wanted to simply see him play, they also probably needed him.

He officially caught two passes on seven targets for 18 yards, but most of those incomplete passes weren't catchable.

He did drop a pass, but that doesn't indicate he will drop a lot of passes in the future.

Williams brought in a nice two-point conversion in the third quarter.

It will at least be worth monitoring Williams more closely going forward, but this game for him may not have been as bad as it looked.
The Giants' seemingly crowded receiver room wasn't crowded: The Giants had three clear wide receivers, but the room will be more complicated soon.
Darius Slay

ton

and

Parris Campbell

appeared to be among the starters who were given the night off, which should be good news for their fantasy value.

It was at least somewhat surprising that

Isaiah Hodgins

also didn't receive the night off based on how well he played last season. It could have potentially been because of how few healthy receivers New York had.

Wan'Dale Robinson

is still on the PUP list after tearing his ACL last season.

Sterling Shepard

returned from the PUP list two weeks ago, but given his injury history, it isn't surprising he also had the night off.

This meant Hodgins and third-round rookie

Jalin Hyatt

were the starters, while

Cole Beasley

was in the slot.

Beasley stood out the most with four catches for 33 yards. Hyatt caught only one pass for -4 yards by halftime.

Former NFL starter

Jamison Crowder

played with the second-team offense and appears to be among the odd men out once everyone is healthy.

Collin Johnson

also played with the second-team offense but suffered a knee injury and was quickly ruled out.
Miscellaneous Notes
Lions first-round rookie

Jahmyr Gibbs

played every snap in the first quarter before taking the rest of the game off. It was good to see him on the field in every situation, but we can't learn much without

David Montgomery

also playing.

Giants fifth-round rookie

Eric Gray

played on third downs with the second team. It's possible Gray earns time in that situation in the regular season.

Giants backup running back

Matt Breida

and tight end

Daniel Bellinger

were among the players who played for only two drives before sitting out. Starters

Saquon Barkley

and

Darren Waller

were among the several Giants given the night off.
---
Table Notes
Snaps include plays called back due to penalties, including offensive holding or defensive pass interference. The other three stats have these plays removed.

Targets may differ from official NFL sources. The most likely discrepancy would be from a clear thrown-away pass, where the NFL may give the target to the nearest receiver, while this data will not.

Carries are only on designed plays. Quarterback scrambles won't count for the total number of carries in the game.