Running backs are like gold in fantasy football. They are always in high demand, and the supply is never enough.
Identifying breakout running backs and avoiding the land mines is the ticket to winning your fantasy football championship.
Let's continue previewing the 2022 NFL season (we've already hit on QBs) by breaking down breakout players, sleepers and busts at the running back position.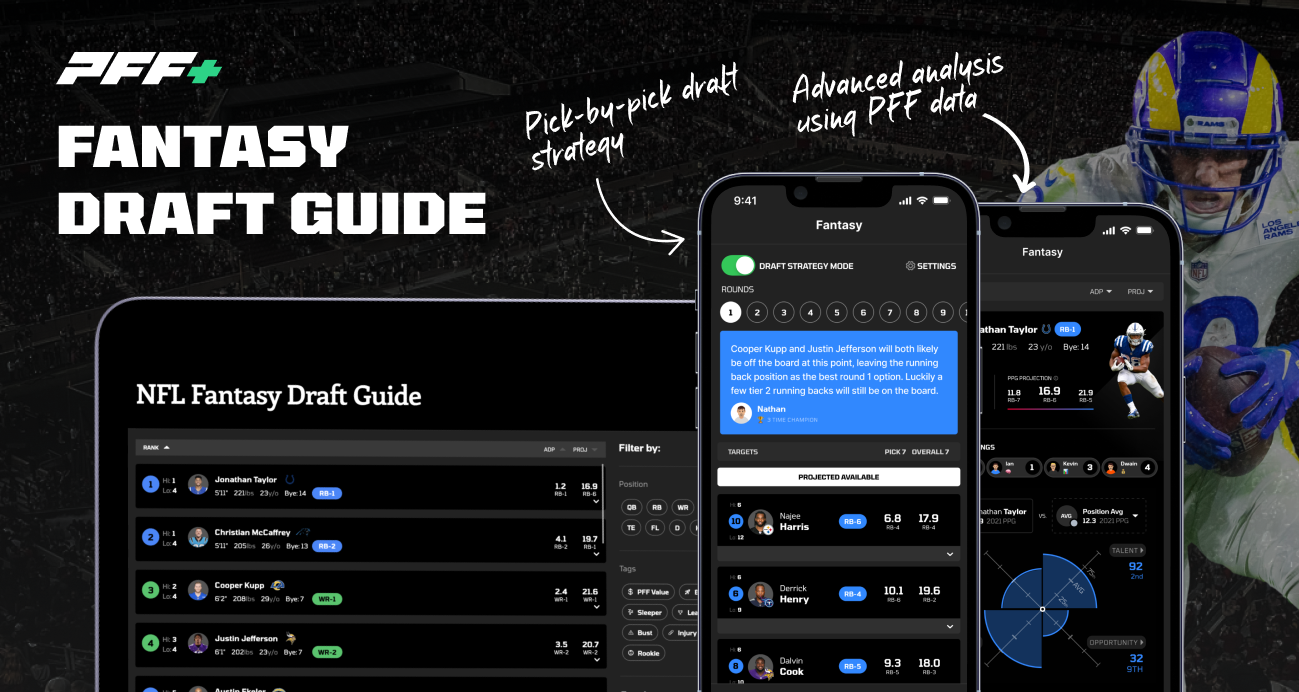 Breakouts
The second-year Broncos running back is the next breakout superstar. Defenders struggle to tackle Williams — he broke a tackle on 31% of attempts last season, the highest rate ever from a running back since PFF began recording data in 2006.
Javonte Williams is just getting started pic.twitter.com/4yfBG9joxj

— PFF Fantasy Football (@PFF_Fantasy) January 14, 2022
Williams was stuck in a time-share with Melvin Gordon last season, which resulted in inconsistent weekly fantasy production. In his only game with 20-plus touches, Williams racked up an astounding 178 total yards and one touchdown for 29.8 PPR fantasy points.
To the dismay of fantasy managers, Denver re-signed Gordon to a one-year contract worth $2.5 million for 2022. That's the kind of contract given to a backup running back, not a starter.
There are already whispers emerging from Denver that the coaching staff plans to feature Williams as the starting running back — he is simply too good a player to keep off the field. The Broncos have Super Bowl aspirations with Russell Wilson in town, and this offense will be scoring touchdowns in bunches all season long.
The bull case for Williams results in a bell-cow RB1 overall season reminiscent of Jonathan Taylor's 2021 breakout.
PFF's consensus fantasy rankings list Williams as the RB11.
In many ways, Harris already broke out last season with 1,667 total yards and 10 touchdowns to finish as the overall RB3. And yet, you can consistently draft him at the end of Round 1 and sometimes even into Round 2.
The Steelers bell cow is a heavy favorite to lead the league in touches after racking up a whopping 381 in his rookie season. Harris has reportedly bulked up to 244 pounds and is primed to handle a heavy workload. Head coach Mike Tomlin is going to feed Najee all the touches he can handle.
Feed Najee Harris all the touches ???? pic.twitter.com/XCi8dLe2nq

— PFF Fantasy Football (@PFF_Fantasy) June 28, 2022
Disregard the Steelers' offensive line or question marks about Pittsburgh's offense with Mitchell Trubisky under center. Volume is everything at the running back position in fantasy. Harris arguably possesses the best role in all of fantasy football, and he is an underrated favorite to finish as the overall RB1.
Both of PFF's consensus fantasy rankings and fantasy projections rank Harris as the overall RB3.
---
Sleepers
Seahawks head coach Pete Carroll wants to run the heck out of the football, and he just spent the 41st overall pick in the 2022 NFL Draft on Walker. The former Michigan State stud was the best running back in college football last season. Check out his rushing production:
1,634 rushing yards (second-most in FBS)

1,168 yards after contact (first)

18 touchdowns (fourth)

89 forced missed tackles (first)

46 runs of 10-plus yards (second)
However, there is a major concern with Walker's receiving profile: He caught only 13 balls last season at Michigan State. Can he be a three-down running back in the NFL?
It's hard to say if it even matters, because Walker can be a fantasy monster with or without a receiving role. Rashaad Penny went absolutely nuclear over his last five games in 2021, racking up 671 rushing yards and six touchdowns. And how many catches did he have over that same five-game stretch? Five.
It doesn't matter who is catching the football on a Pete Carroll-led team that barely passes the football anyway. Penny and Chris Carson and have racked up loads of rushing fantasy points over the past few seasons, regardless. This duo has also piled up tons of injuries and missed games. Over the past two seasons, Penny has played only 13 games, while Carson has played in 16 games (there is real concern that Carson's NFL career is over because of a neck injury).
Given Walker's elite rushing profile, it's hard to understand why people are not excited to select him in fantasy drafts. Breece Hall was picked five spots ahead of Walker in the 2022 NFL Draft, yet you can draft Walker more than five rounds later in fantasy drafts.
The Bills did not draft Cook in the second round to sit him on the bench. They want him to be a dynamic weapon for quarterback Josh Allen.
James Cook is a new weapon out of the backfield for Josh Allen ???? pic.twitter.com/bgisvHHuql

— PFF Fantasy Football (@PFF_Fantasy) May 28, 2022
Devin Singletary went nuts at the end of 2021, racking up the following PPR fantasy point totals in his final seven games (including playoffs): 14.9, 16.6, 18.8, 23.0, 25.2, 24.4 and 15.1.
He is a fine player, but Buffalo has been searching for an explosive playmaker who can elevate the offense. PFF's Miles Ruder explained earlier this offseason the dynamic element that Cook brings to the Bills' offense, especially in the passing game. Singletary really struggles as a receiver (43.9 PFF receiving grade, third-worst) and should cede all the long-down and distance work to Cook from the jump.
The former Georgia standout posted a stellar 83.4 PFF receiving grade (eighth among all FBS running backs) while averaging over 10 yards per reception and 8.6 yards after the catch per reception last season.
It is a foregone conclusion that Cook takes over this backfield's receiving role, but the rushing split is unclear. What if Cook proves to also be a better runner than Singletary? The upside case here is astronomical — there is certainly a universe where Cook sees most of the rushing and receiving work in this high-powered Bills offense, while Singletary is left to eat up the scraps.
Sign me up for RB1 ceiling in the later rounds with James Cook. His PFF consensus fantasy ranking is RB34.
The Patriots want to lean on a ground-and-pound offense. They boast two excellent running backs in Damien Harris (86.6 PFF Grade, second among all running backs) and Rhamondre Stevenson (81.1 PFF grade, 10th).
Harris scored the bulk of his fantasy points in 2021 by piling up a ridiculous 15 rushing touchdowns (second-most). He is unlikely to repeat that feat in 2022, so look to target his backfield mate at a slightly cheaper price.
Stevenson is a violent runner with a true three-down skill set. He recently revealed that he is trying to become a real threat in the receiving game, which would unlock another level of fantasy upside.
Rhamondre Stevenson is working to become a complete running back pic.twitter.com/iPVZwn9QsG

— PFF Fantasy Football (@PFF_Fantasy) June 8, 2022
Targets are worth more than rushing attempts in fantasy football. So, draft Stevenson for his potential receiving role and hope that he also sees enough rushing usage to become a consistent fantasy producer. And if Harris were to suffer an injury, Stevenson could vault into RB1 territory.
His PFF consensus fantasy ranking is RB39, eight spots below Harris at RB31.
Travis Etienne looks fully recovered from his injury and appears ready to take the league by storm. The Etienne hype train grows each day, and videos like this only strengthen it:
View this post on Instagram
His PFF consensus fantasy ranking has skyrocketed up to RB18 and continues to climb. PFF's fantasy projections are even higher on the Jaguars running back at RB14. Etienne is a great fantasy draft pick and has an extremely high ceiling, but stay sensitive to his rising price.
When an industry consensus like this emerges, it is smart practice to ask a simple question: What if the consensus is wrong?
What if James Robinson returns to reclaim the Jaguars RB1 role, not Etienne?
Robinson suffered a nasty Achilles injury late last season, a notoriously difficult injury to return from. Cam Akers battled from his Achilles injury after five-and-a-half months last season, but he did not look his former explosive self.
The latest injury update suggests that Robinson is intentionally being patient in his recovery and hopes to participate in training camp.
But not every injury is the same — what if Robinson is able to recover more effectively than Akers? Maybe the former undrafted free agent eases back into the offense and emerges as a key cog as the season rolls on.
Robinson's on-field ability is unquestioned. He finished as the overall PPR RB7 in 2020 and battled through the 2021 Urban Meyer debacle to finish as the overall PPR RB24. The Jaguars running back averaged a rock-solid 4.7 yards per carry last season (10th among running backs) within one of the most dysfunctional offenses the NFL has seen in a very long time. He was more efficient than all of Dalvin Cook, Leonard Fournette, Austin Ekeler, Derrick Henry, Joe Mixon, D'Andre Swift, Javonte Williams and Alvin Kamara.
Robinson's PFF consensus fantasy ranking is all the way down at RB48, behind dusty backups like Jamaal Williams and Ronald Jones. Draft Robinson now at this steep discount and follow along with his recovery through training camp. Worst case, you cut him because he is not healthy. Best case, you have drafted a starting running back on an ascending offense at a bargain price.
This former undrafted free agent is no stranger to silencing critics and proving doubters wrong.
---
Busts
I love Gibson as a player, but his 2022 role is shaping up to be disastrous for fantasy football. He is strictly a two-down grinder and will cede all passing work to J.D. McKissic. Recent reports suggest that rookie Brian Robinson Jr. might be involved at the goal line and vulture touchdowns. This type of setup would limit Gibson to usage near the 20s and would be an unmitigated catastrophe at his current cost (he carries an RB23 consensus fantasy ranking).
I have zero interest in drafting a two-down grinder on a middling to poor offense in the middle rounds of fantasy drafts. Seek out actual upside and wait a few rounds to draft ascending players on good offenses, such as A.J. Dillon, Rhamondre Stevenson, Tony Pollard or James Cook.
I am not buying into the fantasy industry's hype of Sanders this offseason. He is a talented player on a strong offense, but this backfield is simply too crowded. Eagles head coach Nick Sirianni has demonstrated no willingness to feature Sanders in a consistent role.
Sanders registered over 15 touches in just five of 12 games last season and will once again be splitting carries with Kenneth Gainwell and Boston Scott. Philadelphia also signed promising rookie undrafted free agent Kennedy Brooks, who rushed for over 1,000 yards in each of his three seasons at Oklahoma.
Stunningly, Sanders failed to score a single touchdown on 171 touches last season. That will change in 2022, but he is not going to transform into a double-digit touchdown scorer because of simple regression. Sanders will be competing for goal-line touches with Scott, Gainwell, Brooks and even Jalen Hurts.
Philadelphia took 76 snaps inside the 10-yard line during the 13 games that Sanders played last season (including playoffs). He was on the field for 39 of those plays, while Gainwell saw 21 snaps and Scott registered 15.
Here is the rushing breakdown for those plays:
Hurts: 19 attempts

Sanders: 10 attempts

Scott: 8 attempts

Gainwell: 3 attempts
There is simply too much competition in Philadelphia's backfield for Sanders to maintain consistent fantasy production. Accordingly, the talented Eagles running back carries a very narrow range of outcomes and will probably just be a boring RB2 on your roster. Sanders does not boast the face-melting RB1 ceiling of running backs being drafted in his range (such as A.J. Dillon or Tony Pollard, who are an injury away from winning you a fantasy championship).
Sanders maintains a solid RB24 consensus fantasy ranking, but his RB29 fantasy projection is more in line with my view on his situation.