With fantasy football, you're almost always looking forward. But part of that forward approach necessitates some looking back to evaluate your processes and figure out what you did right and what you can learn from.
Now that the 2018 season is in the books, it's time to look back at our Player Showdown series. At the time, the matchups below were considered tossups and required thought and research to determine who would was more likely to have the better fantasy season. Now that the season is over, we can see how right (or wrong) we were.
Preseason pick: Cam Newton
Postseason pick: Cam Newton
This is a little unfair since Garoppolo tore his ACL early in the season, giving Newton the advantage by default. But even if Garoppolo stayed healthy, he would have been hard-pressed to have a better fantasy season than Newton (that is, until Newton sat out the last two games with an injury of his own). Newton threw for the second-most touchdowns (24) of his career while putting up his second-highest average passing yards per game (242). All while keeping up his stellar rushing numbers, adding 488 yards on the ground and another four scores to make another QB1 season.
Preseason pick: Julian Edelman
Postseason pick: Julian Edelman
We'll give the slight edge to Edelman. Both he and Sanders had extremely similar seasons statistically — Edelman finished with 74 receptions for 850 yards while Sanders had 71 for 868. They even missed the same number of games (four)! But the tiebreaker would will be Edelman's six scores compared to Sanders' four.
Preseason pick: Devonta Freeman
Postseason pick: Joe Mixon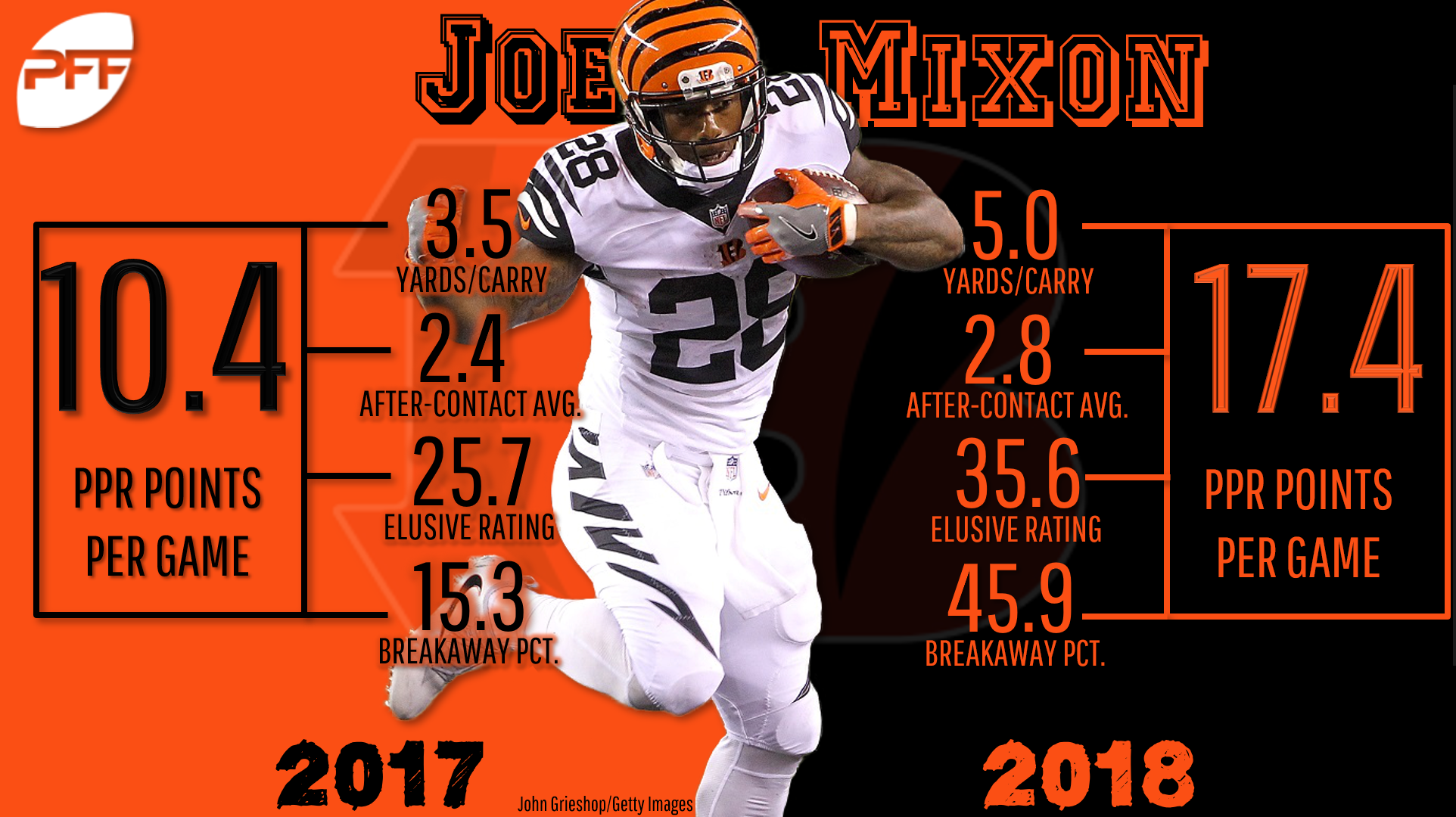 Much like the Garoppolo/Newton matchup above, Mixon wins this by default thanks to an injury to Freeman. But also like that matchup, Mixon probably would have won this anyway. After a disappointing rookie season last year, Mixon established himself as a RB1, rushing for over 1,000 yards and eight scores while adding another 43 receptions.
Preseason pick: Trey Burton
Postseason pick: Trey Burton
Another pick decided by injury, Burton is the answer by default. Unlike Walker — who broke his ankle in Week 1 — Burton played all 16 games for the Bears and set career-highs in receptions (54), yards (569) and touchdowns (6). He technically finished as a TE1 even if it never felt like it. Maybe because nine catches, 123 yards, and one score came in one week, when the Bears played the Patriots in Week 7. Take that game out and Burton falls from the eighth-highest-scoring fantasy tight end to 12th.
Preseason pick: Marvin Jones
Postseason pick: Golden Tate
By no means did Tate have the fantasy season we hoped for. His 74 receptions for 795 yards and four touchdowns were all his lowest totals in each category in five seasons or more and he finished with his worse fantasy ranking since 2011. The midseason trade to Philadelphia didn't help, as Tate failed to top 85 yards receiving in any game with the Eagles and scored just once. But for those who drafted Jones, Tate's mediocrity would easily be the prefernce over the nine games Jones gave them this year.
Preseason pick: O.J. Howard
Postseason pick: David Njoku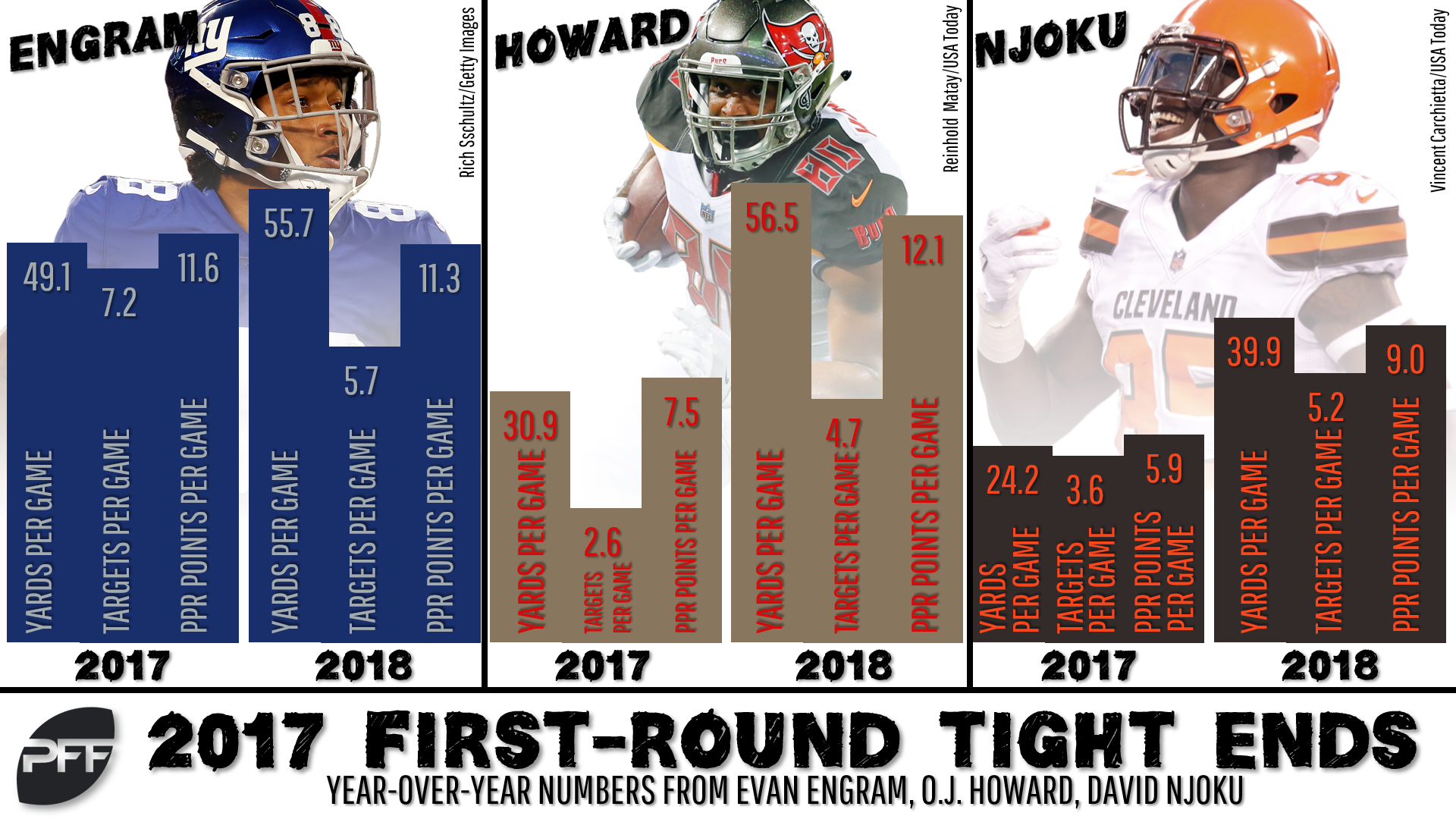 Pre-injury, this would have been Howard in a runaway. Through 11 games, he was fantasy's sixth-highest-scoring tight end with 34 receptions for 565 yards and six scores. But an ankle injury ended his season while Njoku enjoyed the last six weeks of the season with newly installed quarterback Baker Mayfield. On the season, Njoku finished with 56 receptions for 639 yards and four touchdowns to finish as fantasy's eight-highest scoring tight end.
Preseason pick: Jay Ajayi
Postseason pick: Kenyan Drake
If you haven't realized it, there's a theme here with injured players. This matchup was no different as Ajayi lasted only four games before his season ended with a torn ACL. Meanwhile, Drake had a weird season. He totaled 1,000 yards from scrimmage while added 53 receptions but tallied double-digit touches in just 10 of 16 games this season, making him an unreliable RB2 throughout.
Preseason pick: Marcus Mariota
Postseason pick: Dak Prescott
Unlike the matchups above, where injuries made the decisions obvious, this pick was just wrong. Yes, Mariota did miss some time … but it was only two games. And even if you took out those two weeks, he was still fantasy's 20th-highest-scoring quarterback. Meanwhile, Prescott was a low-end QB1 who threw for a career-high 3,885 yards plus 22 touchdowns to go along with his 300 rushing yards and six rushing scores.
Preseason pick: Sony Michel
Postseason pick: Sony Michel
This result came down to one, Michel, being the lead back while the other, Penny, was not. Michel had double-digit rush attempts in every game he played this year but one, ending with a little over 200. The results were four 100-yard rushing games — only five players had more this season. Meanwhile, Penny couldn't overtake Chris Carson for lead-back duties in Seattle and finished with just 85 rush attempts. He had a solid 4.9 yards per attempt, a half-yard better than Michel, but without the volume, the yards weren't there.
Preseason pick: Evan Engram
Postseason pick: Evan Engram
Whether you play in PPR or standard leagues, Engram and Graham were neck-and-neck when it came to fantasy production. Engram finished with 45 receptions for 577 yards and three touchdowns while Graham finished with 55 receptions for 636 yards and just two scores. The reason I'm giving the nod to Engram is he amassed those totals in just 11 games compared to Graham's full 16-game season. As a result, Engram gave fantasy owners way more bang for their buck.
Preseason pick: Adam Thielen
Postseason pick: Adam Thielen
This matchup appeared a lot closer before the season than after. Thielen ended the season with 113 receptions for over 1,300 yards and nine touchdowns to finish as a top-10 fantasy receiver. Baldwin battled injuries that took him out of three games while simultaneously vying against Tyler Lockett to be Seattle's top target in the pass game. On the season, he finished with just 50 receptions for 618 yards and five touchdowns, all his lowest totals in four seasons.
Preseason pick: Matthew Stafford
Postseason pick: Ben Roethlisberger
A rare matchup where A) both players stayed healthy and B) there was as clear-cut winner and it wasn't who we picked. Stafford had a disaster of a year under new coach Matt Patricia, throwing for just 3,777 yards — his lowest total as a starter. His 21 touchdowns were the second-lowest total as a starter too. Of course, it doesn't hurt to lose your top two targets from last year, one to injury and the other to a trade. Meanwhile, Roethlisberger reached career-highs with 5,129 yards and 34 touchdowns to finish as a top-three fantasy quarterback.
Preseason pick: Kareem Hunt
Postseason pick: Kareem Hunt
From a purely football standpoint, Hunt was the better pick after totaling over 1,000 total yards and 14 touchdowns in 11 games before being released. Fournette was both injured (missing half the season) and ineffective (averaging 3.3 yards per carry; averaging less than 60 rushing yards) and not remotely delivering on his ADP.
Preseason pick: Rob Gronkowski
Postseason pick: Travis Kelce
This was definitely one we would take back. Sure, Gronk missed his three games — like every year — but his production was a fraction of what it used to be and paled in comparison to Kelce. Gronk finished with a paltry 47 receptions for 682 yards and three touchdowns. Even if you double Gronk's numbers they don't catch on the whole Kelce's 103 receptions for 1,336 yards and 10 touchdowns and claim as fantasy's top tight end this season.
Preseason pick: Jerick McKinnon
Postseason pick: Jordan Howard
Another matchup that we'll never know the answer to, this one thanks to the torn ACL suffered by McKinnon. Howard nonetheless turned in a decent season, carrying the ball 250 times for the third straight year, but he also saw his yardage decline for the second year in a row. He also continues to be a non-factor in the passing game, catching a career-low 20 balls this year while taking a back seat to Tarik Cohen. However, being a big cog in the improved Bears offense still meant an RB2 season something McKinnon owners would gladly take.
Preseason pick: Stefon Diggs
Postseason pick: Adam Thielen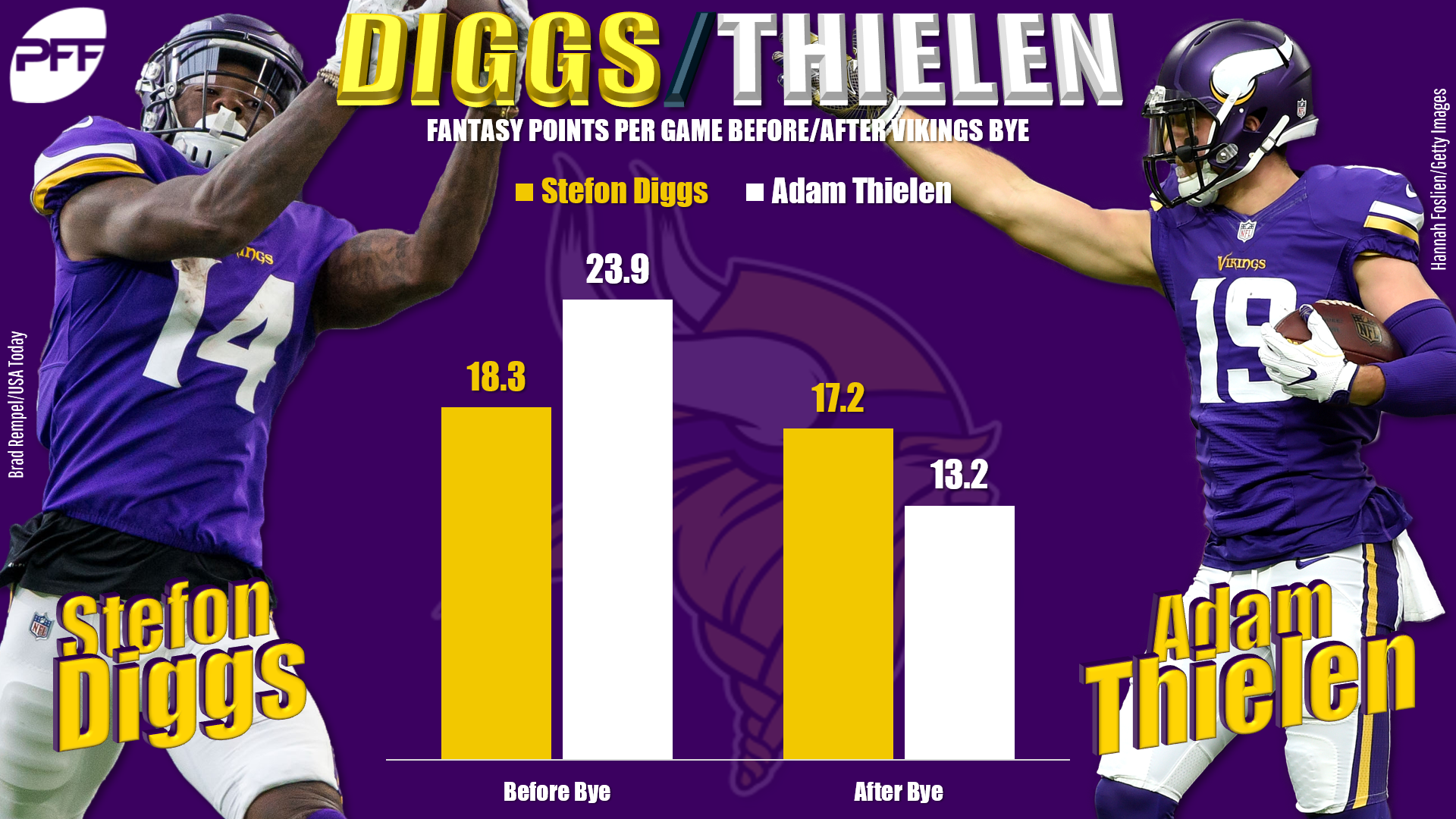 In this case, both players proved their worth. Yes, Thielen was lights out the first part of the season and had the better season-long numbers with 113 receptions for 1,373 yards and nine scores but Diggs wasn't that far behind. He totaled 102 reception for 1,021 yard and nine touchdowns while missing a game. If you take that one game out, Diggs was actually fantasy's eighth-highest-scoring receiver, meaning both he and Theilen were solid WR1s.
Preseason pick: Le'Veon Bell
Postseason pick: David Johnson
Welp. Millions of fantasy players were burned this year after making Bell their top pick, many at the top of their leagues entire draft. Therefore, Johnson wins this by default. And even if he wasn't able to match his historic 2016 season, he still totaled 1,400 yards from scrimmage and 10 total touchdowns. Not bad for your first-round pick.
Preseason pick: Tom Brady
Postseason pick: Tom Brady
I'm still sticking with Brady, even though he and Newton were about even when it came to fantasy production. While Brady threw for 1,000 more yards and five more touchdowns, Newton's 400-plus yards in rushing made up for his lack of passing stats. However, Brady did make it through the entire season with his health intact unlike Newton.
Preseason pick: DeAndre Hopkins
Postseason pick: DeAndre Hopkins
This really came down to a two-player race between Hopkins and Jones. Not that Beckham didn't have a good season — he totaled 77 receptions and had another 1,000-yard season — but he missed a quarter of it due to injury. Meanwhile, Hopkins and Jones were, literally, the top two fantasy receivers in our scoring system this season with Hopkins edging out Jones thanks to more receptions (115-113) and touchdowns (11-8). Jones did gain more yards (1,677-1,572) but it wasn't enough to overtake Hopkins when it came to fantasy points.