(All offseason, Michael Moore will be looking at some specific draft conundrums facing drafters in an effort to determine which player should be the preference. Track the whole series here.)
It's tough to pick between Vikings receivers Stefon Diggs and Adam Thielen. Not only could both claim to be the top Vikings receiver, but both have an MFL ADP of a borderline fantasy WR1 (Diggs is 11th; Thielen is 13th). And while Thielen finished as a top-10 fantasy receiver last year while Diggs was just in the top 20, that was largely because Diggs missed two games. When you look at how they did on a points-per-opportunity basis in PPR leagues, they were exactly the same at 0.44, good for a tie for ninth among all receivers.
Adding to the confusion is what new Vikings quarterback Kirk Cousins adds to the mix. Both Diggs and Thielen had the pleasure of catching balls from an undrafted free agent last year, Case Keenum, who never showed nearly the level of fantasy production that Cousins had in Washington. On the surface, Cousins is a fantasy upgrade and has the ability to single-handedly raise the profile of either Diggs or Thielen — or ignore them altogether. It's an interesting player showdown we have this week.
The players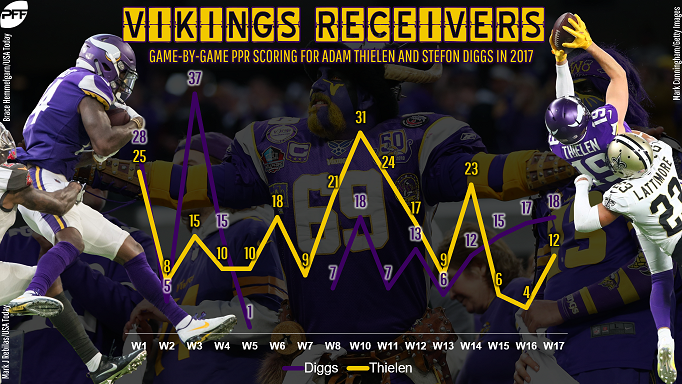 We'll start with Thielen, who we have covered in this space before. He had a mini-breakout in 2016, nearly topping 1,000 yards, before a full-blown breakout in 2017 with 91 receptions for 1,200 yards and a top-10 fantasy finish. The breakout seemingly came out of nowhere when you consider Thielen was undrafted out of Minnesota State-Mankato and didn't top 200 yards in either of his first two professional seasons.