(All offseason, Michael Moore will be looking at some specific draft conundrums facing drafters in an effort to determine which player should be the preference. Track the whole series here.)
The next two players in the Player Showdown need no introduction. But you're getting one anyway.
Rob Gronkowski and Travis Kelce have been the first two tight ends taken off the board in fantasy drafts the last few years and rightfully so. Combined, one of them has finished as fantasy's top tight end four years running. And while the days of Gronk being taken in the first round are likely gone, they both will likely go in the second or no later than the third in 2018. But because such a high draft pick is needed to snag one of these elite options, it makes the decision much more significant than others. Let's dig in to see which one will prevail this year.
The players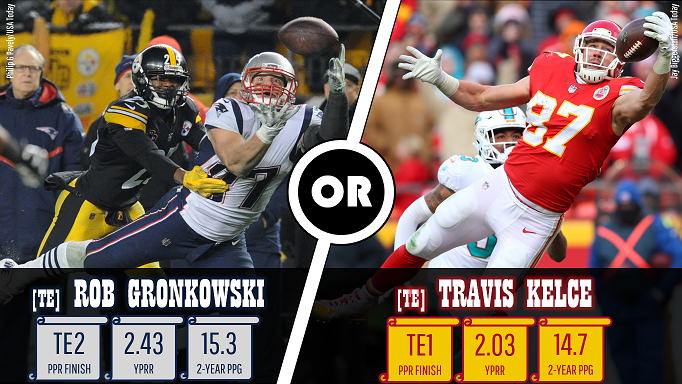 Did you know Gronkowski is good? Really good, actually. But his numbers still leave you in awe when you consider the position he plays. He has four 1,000-yard seasons in his eight-year career; there's only one season — his rookie year — where he's played 14-plus games and failed to hit 1,000 yards. He's also already fourth on the all-time touchdown list by a tight end and he's not even 30. But this tweet is the best example of how great Gronk has been:
We all know Rob Gronkowski is really good. The stat that epitomizes that for me is him finishing in the top two in yards-per-route-run among tight ends in FIVE of the last seven years. And the two he didn't? He only played six games in each season and didn't qualify.

— Michael Moore (@PFF_Moore) July 2, 2018
Seriously, he's good.
But Kelce may not be far behind after having a Gronk-esque start to his career. After essentially redshirting his freshman year, Kelce's been, at times, the best tight end in the game. He's averaged 975 receiving yards the last four seasons and finished as a TE1 in each. His 3,900 yards and 22 touchdowns in that same span are both second to (you guessed it) Gronk. And when you look at the same yards-per-route-run stat cited above, Kelce's finished in the top five each season since 2014. One area Kelce does have a clear advantage over Gronk is health. Since that redshirt rookie season in 2013, Kelce's missed exactly one game. By comparison, Gronk's missed 12 in that same span or three per season on average.
Additions and subtractions
When we looked at Kareem Hunt last week, we looked at the big changes in the passing game coming to Kansas City. We determined that they will have an effect on Hunt but could even more so for Kelce. While Hunt played with quarterback Alex Smith for just one year, Kelce had Smith throwing to him for his entire five-year career, making Kelce an All-Pro in the process. He now has Patrick Mahomes, an unknown commodity, under center and will experience something Gronk never has — a quarterback change.
Subscribe to PFF Edge to continue reading
Already have a subscription? Sign In