December is here and life is good, as it's just about fantasy football playoff season everyone. Let's attempt to predict the future.
---
Click here for more PFF tools:
Rankings & Projections | WR/CB Matchup Chart | NFL & NCAA Betting Dashboards | NFL Player Props tool | NFL & NCAA Power Rankings
---
What follows are my best guesses for every starting quarterback's defining Week 14 storyline. This will be accomplished through a superlative format, identifying who is most likely to accomplish whatever.
Please don't confuse this as an all-encompassing preview of the position, as the goal is merely to get a solid preview on the game's most important position and attempt to learn a thing or two along the way.
Credit to Roethlisberger for engineering the Steelers' come-from-behind Week 13 victory over the Ravens, as he posted a plenty solid 72.9 PFF passing grade and had more big-time throws (two) than turnover-worthy plays (one) for just the second time all season.
Of course, it's hard to ignore the reality that the Ravens were without each of their starting three cornerbacks by the end of the game, which is why John Harbaugh decided to go for two at the end of regulation instead of forcing overtime. The Vikings aren't quite as banged up as the Ravens, but that doesn't really matter because they've established themselves as one of the league's worst cornerback room through 13 weeks:
This Vikings defense just allowed 29 points to a Lions offense that hadn't cracked 20 points in a game since Week 1. Let that sink in.
Roethlisberger has posted mediocre marks in virtually every passing metric this season but just realize Minnesota's secondary might just be porous enough that Diontae Johnson and Chase Claypool carry the Steelers to some semblance of aerial success.
Yes, the Vikings lost to the previously winless Lions in Week 13. Also yes, Cousins wasn't the problem once again. The league's 11th-ranked scoring offense has largely given this team a chance to win more weeks than not, but the Vikings' 25th-ranked scoring defense should receive most of the blame.
Seriously, Cousins made some absolutely ridiculous throws against the Lions despite losing Adam Thielen (ankle) shortly into the game.
This Kirk Cousins throw was pretty, pretty, pretty good pic.twitter.com/dZVNAnyNe3

— Ian Hartitz (@Ihartitz) December 6, 2021
Thielen isn't expected to be back by Thursday night, which could be especially problematic if PFF's 29th-ranked offensive line in pass-blocking grade struggles to contain T.J. Watt and company. Cousins looks like a world-beater at times from a clean pocket, but things can get rough once the situation gets muddled. Overall, only Aaron Rodgers and Jameis Winston have been more sensitive to pressure than Cousins this season in terms of the largest dropoff in yards per attempt from a clean pocket vs. when pressured.
The Steelers, surprisingly, only rank 24th in pressure rate this season, although they rise up to 16th when looking at quick pressure rate (getting to the quarterbacks in 2.5 or fewer seconds). Cousins has one of the league's top-10 quickest release times (2.56 seconds), and he might need to speed things up more than usual for the Vikings' passing attack to reach the peak of its powers.
The Jets rank dead last in fantasy points per game allowed to opposing running backs, which is essentially how we should view Hill in general and while he's playing through the pain of a mallet finger injury (the same one that Russell Wilson has dealt with). The good news is Hill's injury doesn't require surgery, but it'd certainly make sense if his passing ability is further reduced while dealing with this issue.
The good news is that Hill gets the majority of his production from the ground anyway. He's posted the following rushing lines in his five career starts under center:
Week 11, 2020: 10 carries-49 rush yards-2 TD
Week 12, 2020: 10-44-2
Week 13, 2020: 14-83-0
Week 14, 2020: 5-33-0
Week 13, 2021: 11-101-0
Hill has worked as a fantasy football QB1 each and every time. I don't blame anyone for dropping him in their rankings while he is playing through this finger injury, although this might just be the perfect matchup for Hill to put up steady numbers as a full-time Wildcat QB of sorts.
The bottom-six offenses in total drops this season are as follows:
Jets (29 drops)

Chiefs (28)

Chargers (28)

Dolphins (27)

Rams (26)

Steelers (25)
Don't get me wrong, Wilson hasn't exactly helped his cause more weeks than not this season. Still, the rookie dealt with a week-high five cases of the butterfingers during the Jets' loss to the Eagles. Unfortunately, fellow first-year talent Elijah Moore (just two drops this season) can't be the recipient of every attempt.
The Jets' 26th-ranked scoring offense has scored more than 21 points just once this season with Wilson under center so don't expect him to experience a ceiling outcome against the Saints' 11th-ranked defense in QB rating allowed.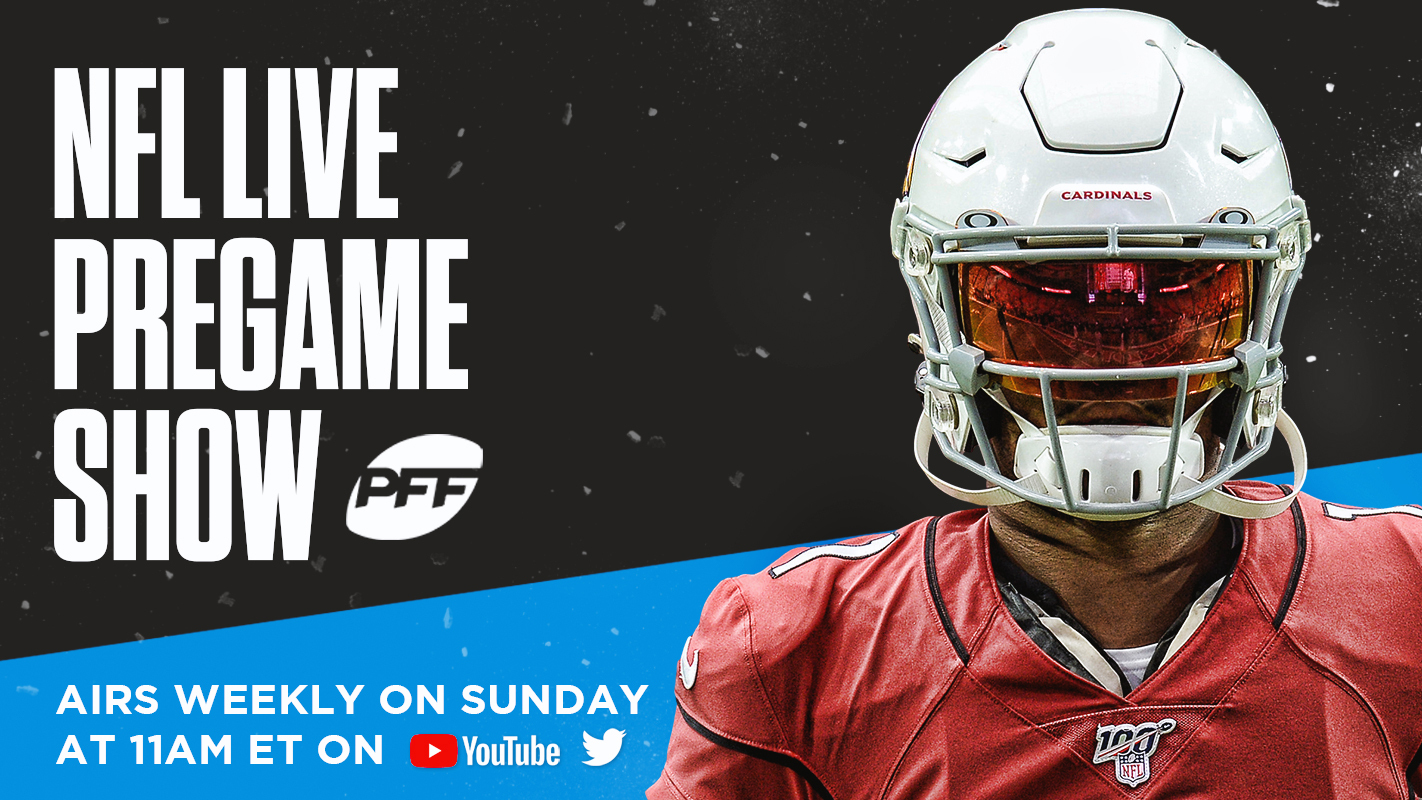 Ryan hasn't had a ton to work with this season in Julio Jones and (mostly) Calvin Ridley's (personal, IR) absences. Both Kyle Pitts and (recently) Russell Gage have flashed to some extent, but Patterson has truly been the key that has unlocked the best version of this offense.
Overall, Patterson leads the NFL with a 92.9 PFF receiving grade. Only Deebo Samuel, Cooper Kupp and Christian McCaffrey have averaged more yards per route run. Patterson has also posted a more-than-solid 105-481-4 rushing line, which equates to a rather robust 4.6 yards per carry — 3.4 yards of which came after contact (No. 7 among 49 qualified players).
Even some of the league's finest rushing defenses have struggled to contain Patterson as a true running back this season.
Mama, there goes that man pic.twitter.com/grVbJt3m2v

— Ian Hartitz (@Ihartitz) December 6, 2021
Life might not be too fun for Ryan this week behind PFF's 25th-ranked offensive line in pass-blocking grade against Brian Burns and company. Hopefully, he can at least continue to feed Patterson copious opportunities in both the run and pass game.
The Panthers' 30th-ranked offensive line in PFF pass-blocking grade has hardly afforded whoever has been under center many clean pockets this season. Overall, it ranks as the fifth-worst group in overall pressure rate and 10th when it comes to quick pressures. Newton dropped back to pass 22 times in Week 12 and was pressured nine (41%) times. Things were even worse for poor P.J. Walker, who was pressured on nine of his 14 dropbacks (64%).
Luckily, the Falcons' sad excuse for a pass rush might just yield this passing game some time to throw. PFF's single-worst graded defense in team pass-rushing grade ranks 32nd and 31st in overall and quick pressure rate. Making matters worse is the reality that Atlanta has struggled to provide any semblance of good passing defense during the frequent occasions in which an opposing quarterback has been able to work from a clean pocket:
QB rating allowed from a clean pocket: 111.5 (No. 28)
Pass touchdown rate: 5.6% (No. 28)
Explosive pass play rate allowed: 16.8% (No. 20)
The Panthers' brutal offensive line meeting the Falcons' potentially worse pass rush is like a stoppable object meeting a moveable force. Hopefully, the offense prevails because it's usually more fun to watch a lot of points get scored than whatever the heck happened to Carolina the last time we saw them in action.
Wilson is at his best when his patented moon balls soar off the television screen before inevitably falling softly into either Tyler Lockett or D.K. Metcalf's waiting hands. It's been a while since Wilson has been at the peak of his powers, although his Week 13 performance against the 49ers was certainly more encouraging than what he showed in the previous three weeks.
Don't be surprised if Wilson and company get back to providing some borderline erotic downfield highlights against a Texans defense that has largely had zero answers this season when offenses have attacked them downfield. The following metrics all denote the Texans' performance when facing targets thrown at least 20 yards downfield:
Pass yards per attempt: 17.7 (No. 31)
Explosive pass play rate: 50% (No. 31)
QB rating: 98.3 (No. 23)
Contested target rate: 14.7% (No. 32)
Houston has exactly one cornerback graded within PFF's top-80 players at the position, so the Texans might just have a serious problem on their hands this Sunday if Wilson can get back to cooking like it's the first half of 2020 again.
Mills, like most of his fellow rookie quarterbacks, has been rather terrible this season:
It's tough to be too hard on any of them considering everyone other than Lance finds themselves in terrible offenses. This includes Mills, as the Texans rank outside of PFF's top-25 highest-graded units in receiving, rushing, pass-blocking and run-blocking this season.
There isn't anything to overly fear about the artists formerly known as the Legion of Boom these days, but expecting much of anything from this Texans passing attack will continue to most likely be nothing more than wishful thinking regardless of whether Mills or Tyrod Taylor (wrist) is under center.
Carr's extremely live arm has helped him rack up more big-time throws (33) than any other quarterback this season. Unfortunately, the eighth-year veteran hasn't made a big habit of utilizing it without the services of ace field-stretching WR Henry Ruggs. The following metrics denote Carr's average yards per attempt by target depth:
The best version of this Raiders offense involves Carr more consistently pushing the ball downfield, but the problem is that his robust deep ball rate of 16.2% in Weeks 1-7 with Ruggs in the lineup has fallen to 12.9% since. There have been flashes of excellence, particularly with DeSean Jackson on the field, but the veteran field-stretcher has yet to play even 50% of the offense's snaps since joining the team in Week 10.
Carr threw for 347 yards with a trio of scores the last time he visited Arrowhead thanks to Ruggs (2-118-1) forcing the defense to respect the deep ball. The Raiders will need Jackson to help do the same this Sunday if they wish to pull off the upset. 
Mahomes has thrown for 275 or fewer yards without multiple scores in five of his last six games. Of course, the one exception occurred against this very defense that seemingly refused to embrace the frequent two-high-safety gameplan that has given this offense so many problems all season. It's safe to say Mahomes owns this Raiders defense:
Week 13, 2018: 295 pass yards-4 TD-0 INT
Week 17, 2018: 281-2-1
Week 2, 2019: 443-4-0
Week 13, 2019: 175-1-0
Week 5, 2020: 340-2-1
Week 11, 2020: 348-2-1
Week 10, 2021: 406-5-0
It's tough to see the Chiefs returning to the Super Bowl without this passing game getting back to its old ways, but perhaps they can parlay another dominant performance against a familiar divisional foe to more future prolonged success this time around.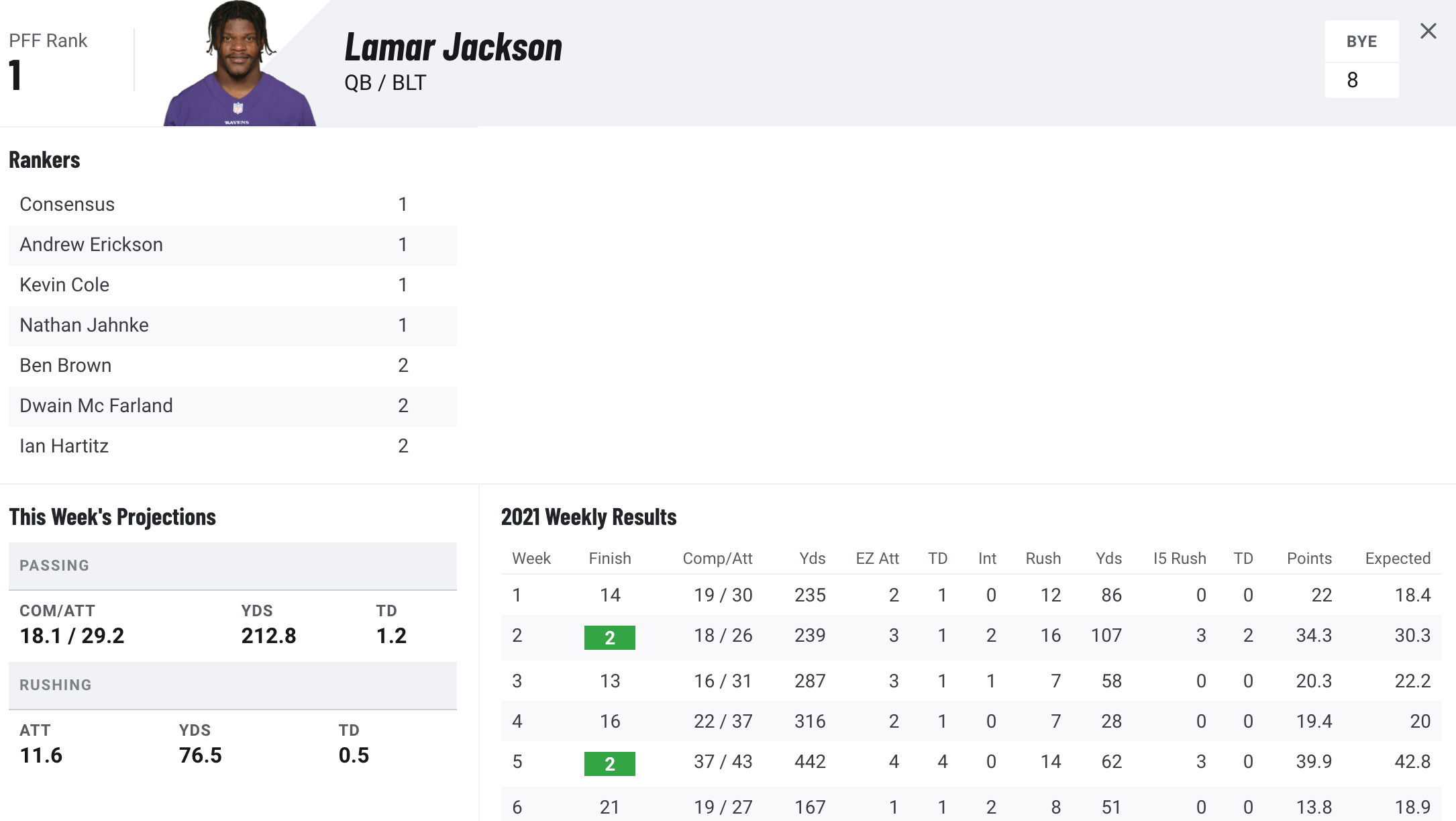 Jackson hasn't been able to sustain any sort of success through the air in recent weeks, but that hasn't stopped him from posting top-12 fantasy finishes in four of his last five games thanks to his rushing volume. It's honestly kind of wild we just accept a quarterback is one of the game's most-productive rushers regardless of position:
The 2019 league MVP already owns the top-three single-season records in terms of most rush attempts by a quarterback, and he's on pace for a career-high 190 carries after 13 weeks of action.
This Browns defense forced Jackson into four interceptions in Week 12. It's unfortunate that Jackson hasn't been able to sustain his truly awesome first-half success as a passer but don't expect his (I hate this word, but it's true) generational rushing production to go anywhere anytime soon.
Mayfield is playing with seemingly dozens of injuries at the moment. It's hard to be too tough on the guy, although using the team's ex-WR1 as a scapegoat wasn't really a cool thing to do. Mayfield has thrown just a single touchdown pass to Browns wide receivers in four games since the team decided to cut Odell Beckham while the current Ram has caught a touchdown in each of his last two contests.
Before their Week 13 bye, the Browns stood as the league's only team with 14 or fewer points in at least six games. This offense hasn't just been bad, it's been terrible outside of the group's ever-dominant rushing attack. Only the Seahawks, Lions, Panthers and Texans have posted a worse EPA per pass play than Cleveland since September ended.
Maybe Mayfield can take advantage of the Ravens' ridiculously-banged-up cornerback room, although his 18-for-37 performance (48.6% completion rate) against Baltimore in Week 12 sure didn't inspire much confidence. Things haven't gone too well this season even when Browns receivers have made life easy on Mayfield, as only the Bears, Panthers and Saints have a lower catchable pass rate than the Browns when targeting a receiver deemed open by PFF this season.
Prescott has had some down moments in 2021 — namely when the Cowboys have been forced to play without all-world LT Tyron Smith or the offense's top-two receivers.
The one scenario that has consistently brought out the best in Prescott throughout the season has been when the sixth-year quarterback is given too much time to throw. The following metrics denote Prescott's performance when getting the ball out of his hands in 2.5 or more seconds:
PFF passing grade: 84.8 (No. 4 among 47 qualified quarterbacks)
QB rating: 100.5 (No. 8)
Yards per attempt: 8.6 (No. 14)
Adjusted completion rate: 70.1% (No. 18)
The Football Team is capable of causing problems for even the league's best offensive lines at full strength, but Chase Young's (ACL, IR) continued absence makes that a pipe dream for the rest of 2021. Things could be especially problematic for PFF's 25th-ranked defense in team-coverage grade if Amari Cooper is ready to play his usual allotment of snaps after largely just playing in high-leverage situations in Week 13.
Heinicke has flashed some high-end ability throughout his career, but he's sustained it only over the last month.
Week 10: 71.5 PFF passing grade (No. 8 among qualified quarterbacks)
Week 11: 90.0 (No. 1)
Week 12: 69.4 (No. 7)
Week 13: 72.3 (No. 10, pre-MNF)
Washington hasn't asked its quarterback to throw the ball more than 35 times in a single game during this stretch, so Heinicke hasn't completely carried this offense during the Football Team's four-game winning streak. Still, he's certainly helped a great deal in their success and will need to continue to do so against Micah Parsons and company if the Football Team wants to continue to play spoiler in their ongoing attempt to make it back to the playoffs.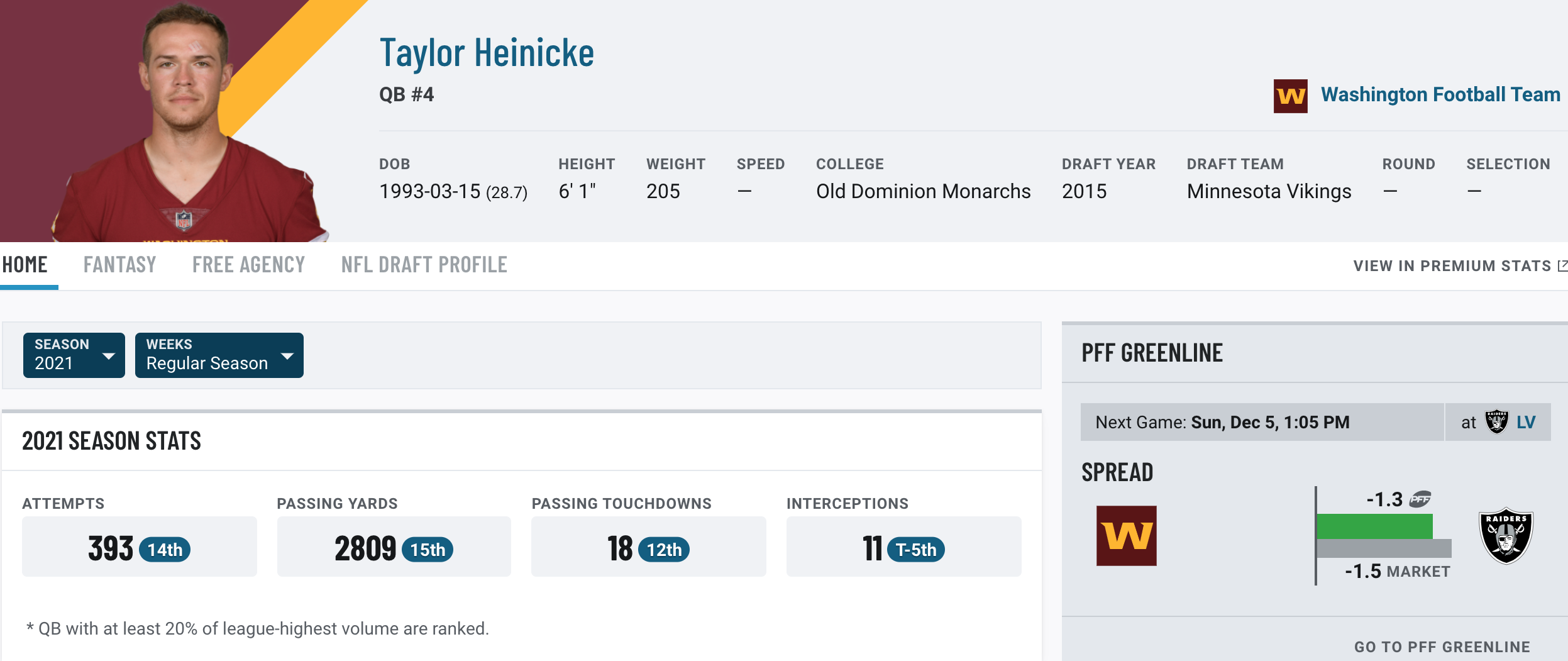 Lawrence seemed to be improving before the Jaguars' Week 7 bye, but he's largely played poorly since. Overall, Lawrence hasn't reached even 250 passing yards in a game since Week 6 while Week 1's three-touchdown performance is still the only time the 2021 NFL Draft's No. 1 overall pick threw for multiple scores in a game.
Obviously, Lawrence isn't the only problem in Jacksonville. The Jaguars rank as the fifth-worst offense in terms of catchable balls that were ultimately caught while their 23 total drops are tied for the seventh-highest mark in the league. The play-calling hasn't helped matters, as evidenced by Jacksonville's pitiful rankings in some easy-QB helper metrics such as motion rate (37.7%, 29th) and play-action percentage (24.9%, 21st).
PFF grades the Jaguars offense as a bottom-10 unit in passing (29th) and receiving (31st) alike. Only the Texans, Lions, Panthers, Bears and Jets have averaged fewer EPA per pass play than the Jaguars, as the opponent really doesn't matter all that much when the group as a whole is performing this bad.
Derrick Henry (foot, IR) was sidelined after Week 8, and to say the Titans have struggled to move the ball since would be an extreme understatement:
| | | |
| --- | --- | --- |
| EPA/Play | Weeks 1-8 | Weeks 9-12 |
| Overall | 0.037 (No. 8) | -0.186 (No. 26) |
| Pass | 0.071 (No. 15) | -0.181 (No. 24) |
| Run | -0.003 (No. 2) | -0.193 (No. 25) |
Julio Jones (hamstring, IR) is eligible to return to action ahead of Sunday, so hopefully having at least one high-end weapon to throw the ball to will bring out the best in Tannehill and company.
Most likely to struggle to do just about anything: Whoever is the New York Giants QB at Los Angeles Chargers
The Giants have scored a combined 32 points in three games since their Week 10 bye. The league's 28th-ranked offense finds itself ranked among the league's worst units in terms of EPA per pass and run play.
EPA per pass and run play (PFF)

-HOU worst of the worst
-CLE, TEN, SEA, DET, CAR, CHI, NYJ, JAX, NYG, PIT, ATL, HOU and NO offenses averaging negative EPA per pass play
-CLE, IND, PHI only offenses averaging positive EPA per run play
-TB looking best, but ARZ not too far behind pic.twitter.com/QKSPOCsTq3

— Ian Hartitz (@Ihartitz) December 6, 2021
Daniel Jones (neck) and Mike Glennon (concussion) are both looking iffy for Sunday, meaning Jake Fromm could wind up starting under center. Expecting much of anything from this passing game is a tall task, but throwing in injuries to Kenny Golladay (ribs), Sterling Shepard (quad) and Kadarius Toney (quad) makes it virtually impossible. Only the Bears (+11.5) are a larger underdog than the Giants (+10) at the moment.
Herbert completed five of his seven passes when throwing at least 20 yards downfield for 188 yards in Week 13. This was awfully refreshing to see, as the second-year talent has completed just six of 11 deep balls for 184 yards in Weeks 8-12 combined.
There isn't a rule that says someone can't be a great NFL quarterback unless they throw downfield all the time, so it's been frustrating to see this aspect of Herbert's game limited in recent weeks considering how damn good he's been at testing the backbone of opposing secondaries. The following metrics denote Herbert's performance when throwing the ball at least 20 yards downfield:
PFF passing grade: 93.0 (No. 6 among 36 qualified quarterbacks)
QB rating: 117.6 (No. 1)
Yards per attempt: 17.6 (No. 5)
Adjusted completion rate: 57.1% (No. 4)
The Giants haven't been a terrible pass defense by any stretch this season, but keeping tabs on Keenan Allen and Austin Ekeler when forced to also worry about Mike Williams, Jalen Guyton and Josh Palmer downfield has proven to be extremely tough for just about anybody to handle.
Most likely to fall back to Earth, but hey at least last week was awesome: Detroit Lions QB Jared Goff at Denver Broncos
It really was!
Okay Jared! pic.twitter.com/219kJJKLjA

— Ian Hartitz (@Ihartitz) December 6, 2021
Of course, expecting Goff to replicate his largely great efforts against the Vikings in this week's spot at Mile High is wishful thinking. Minnesota has allowed the sixth-most fantasy points per game to opposing quarterbacks this season while the Broncos have allowed the fifth-least.
Credit to Goff for earning his first career win without Sean McVay as his head coach, but my money is on his second-such feat not occurring anytime soon.
Don't let last Sunday night's season-worst performance distract from the fact that Bridgewater has largely put forward above-average play this season.
Week 1: 84.9 PFF passing grade (No. 4 among qualified quarterbacks)
Week 2: 71.7 (No. 15)
Week 3: 77.2 (No. 11)
Week 4: 46.3 (No. 32)
Week 5: 73.1 (No. 16)
Week 6: 59.4 (No. 23)
Week 7: 70.4 (No. 13)
Week 8: 72.9 (No. 9)
Week 9: 76.1 (No. 11)
Week 10: 68.3 (No. 10)
Week 12: 66.8 (No. 11)
Week 13: 41.2 (No. 23)
No, the Broncos' 23rd-ranked scoring offense hasn't made a habit of taking over games but just realize Bridgewater usually hasn't been the main problem either.
Expect the two-gloved assassin to get back to doing more good than bad against the Lions' rather pitiful pass defense. Overall, the Lions rank as the league's second-worst defense in yards per attempt (8.3, No. 31) and explosive pass play rate (17.9%, No. 31) allowed this season. If there was ever a time for the Broncos' various talented receivers to experience a boom week, this is it.
Credit to Garoppolo for saving his best football for the second half of the season, but it's clear he's not exactly being asked to carry his offense in a similar manner as some of the league's other signal-callers. Look no further than the 49ers' ever-consistent ability to rack up yardage when throwing the ball behind the line of scrimmage.
2021: 6.6 yards per attempt on passes thrown behind the line (No. 3)
2020: 6.9 (No. 2)
2019: 6.8 (No. 3)
2018: 7.2 (No. 5)
It's not like Garoppolo never makes great throws, as his touchdown down the seam to George Kittle was awfully pretty. Still, he simply stands out for the wrong reasons when looking at how the league's quarterbacks line up in terms of big-time throw and turnover-worthy play rate. Getting Deebo Samuel (groin) back in action would obviously be good news for Garoppolo's chances of continuing to make the most out of fairly easy opportunities.
There arguably hasn't been a better quarterback than Burrow when it comes to defeating the blitz through 13 weeks. The following metrics denote his performance when the defense has brought additional rushers this season:
PFF passing grade: 91.3 (tied for No. 1 among 42 qualified quarterbacks)
QB rating: 123.1 (No. 7)
Yards per attempt: 11 (No. 2)
Adjusted completion rate: 77.6% (No. 12)
The 49ers haven't made a huge habit of blitzing this season, but they've functioned as a bottom-10 defense in PFF coverage grade when they have decided to devote additional rushers to getting after the quarterback. It certainly seems like it'd behoove them to refrain from doing so this week. Of course, Burrow can still be plenty good against base defenses, too.
Allen continues to do his best Jameis Winston impression by either completely crushing it, or struggling mightily, with seemingly nothing in between:
Week 1: 72.6 PFF passing grade (No. 16 among quarterbacks with 10-plus dropbacks)
Week 2: 45.4 (No. 30)
Week 3: 85.5 (No. 3)
Week 4: 62.5 (No. 24)
Week 5: 92.8 (No. 1)
Week 6: 81.3 (No. 7)
Week 7: Bye
Week 8: 72.3 (No. 10)
Week 9: 50.8 (No. 24)
Week 10: 86.4 (No. 2)
Week 11: 40.5 (No. 31)
Week 12: 81.5 (No. 3)
One game between the 10th and 24th highest-graded quarterback is the definition of volatile. Obviously, the Bills are capable of some extreme highs when everything is clicking, but it's tough to figure out which version of Allen will show up on a week-to-week basis this season.

TB12 has been nothing short of dominant inside the 20-yard line since joining the Buccaneers. Overall, he's thrown for 60 touchdowns in the red zone over the past two seasons, including the playoffs. The best part? Zero interceptions. Madness.
Tampa Bay's league-best scoring offense has produced at least 30 points in seven games this season — a mark that only the Cardinals (eight) have bested. Obviously, teams love to rack up explosive plays whenever possible but just realize nobody has been better at both taking care of the ball and punching it into the end zone when forced to diligently drive the ball down the field.
The Bills' league-best defense in EPA allowed per play (pre-MNF) is no joke, but expecting anybody to shut down this version of the Buccaneers offense seems like wishful thinking. The ceiling continues to be the roof for Brady as a fantasy asset: Nobody has more finishes as a top-five fantasy quarterback than TB12 (seven) through 13 weeks of action.
Credit to Dalton for registering two tackles during his four-interception performance against the Cardinals in Week 13. That's the only nice thing I have to say about the performance.
In an effort to keep vibes positive this late into an article, hopefully, Justin Fields (ribs) is able to return before too long and continue to sneakily rank among some of the league's best quarterbacks in big-time throws.
Big-time throw rate vs. turnover-worthy play rate (PFF, min. 200 dropbacks)

-Holy hell Kyler Murray
-Jimmy G, Mills, Wilson, Big Ben, Darnold doing bad job taking care of the ball
-Fields has had an encouraging number of "elite" throws
-Mahomes truly hasn't been his usual self pic.twitter.com/pVmNuAkZWd

— Ian Hartitz (@Ihartitz) December 6, 2021
Obviously, Fields will continue to go through some growing pains, but he mixes in a big-time throw every now and then. Overall, the rookie ranks fourth in big-time throw rate at 6.9% while Dalton's 3.1% mark comes in at 27th among 39 qualified quarterbacks.
Only seven quarterbacks have experienced a dropoff of at least two yards per attempt when under pressure vs. when kept clean this season — and Rodgers headlines the group with a league-high negative four-yard difference.
The reigning league MVP has truly been nothing more than average at best when under duress this season. The following metrics denote Rodgers' rank when under pressure this season:
PFF passing grade: 51.5 (No. 21 among 40 qualified quarterbacks)
QB rating: 55.4 (No. 33)
Yards per attempt: 4.7 (No. 38)
Adjusted completion rate: 53.1% (No. 37)
Luckily, the Bears aren't quite as ferocious at the line of scrimmage without Khalil Mack's (foot, IR) services. Don't expect Rodgers to stop owning the Bears anytime soon, but improvement when pass protection breaks down is needed for the league's 15th-ranked scoring offense to reach its full potential.
Just kidding. Kind of. What the heck, Matt?!
Stafford tackling Sony so he could throw a TD to OBJ on the next play. Baker would never pic.twitter.com/rgk6TAx0O7

— Ian Hartitz (@Ihartitz) December 6, 2021
Goal-line hijinks aside, Stafford and the Rams' passing attack has seemingly hit its stride once again over the past two weeks. Overall, he's thrown for a combined 597 yards and three touchdowns against just a single interception against the Packers and Jaguars.
Only the Patriots and Bills have allowed fewer fantasy points per game to opposing quarterbacks than the Cardinals, so next Monday night will be a good indication as to just how empty Stafford's numbers have been over the past two weeks.
No quarterback has found the end zone more often as a rusher than Murray over the past two seasons. In fact, he finds himself as one of just nine players with more than 15 scores on the ground during this stretch:
The Cardinals' third-year signal-caller ranks first in big-time throw rate (8.8%) and trails only Tom Brady (1.5% vs. 1.3%) in turnover-worthy play rate. Murray has consistently made "elite" throws while limiting mistakes better than any other quarterback in the league.
Get your popcorn ready for this one.