• Evan Engram dominates the Titans: Engram became the first tight end of the season with double-digit catches, 120-plus receiving yards and two or more touchdowns in a game
• J.K. Dobbins comes back with a bang: Dobbins returned after he last played in mid-October and put up his first 100-yard performance since the end of the 2020 season.
• Bengals win without their weapons: Cincinnati played the vast majority of the game without three of its top four receivers, but that didn't stop the team from a decisive victory over the Browns.
---
PFF's fantasy football recap focuses on player usage and stats, breaking down all the vital information you need to achieve fantasy success in 2022.

Jump to a game:
[email protected] | [email protected] | [email protected] | [email protected]
[email protected] | [email protected] | [email protected] | [email protected]
[email protected] | [email protected] | [email protected]
---
• Justin Jefferson: 11 receptions, 223 yards
• D.J. Chark: 6 receptions, 94 yards, 1 touchdown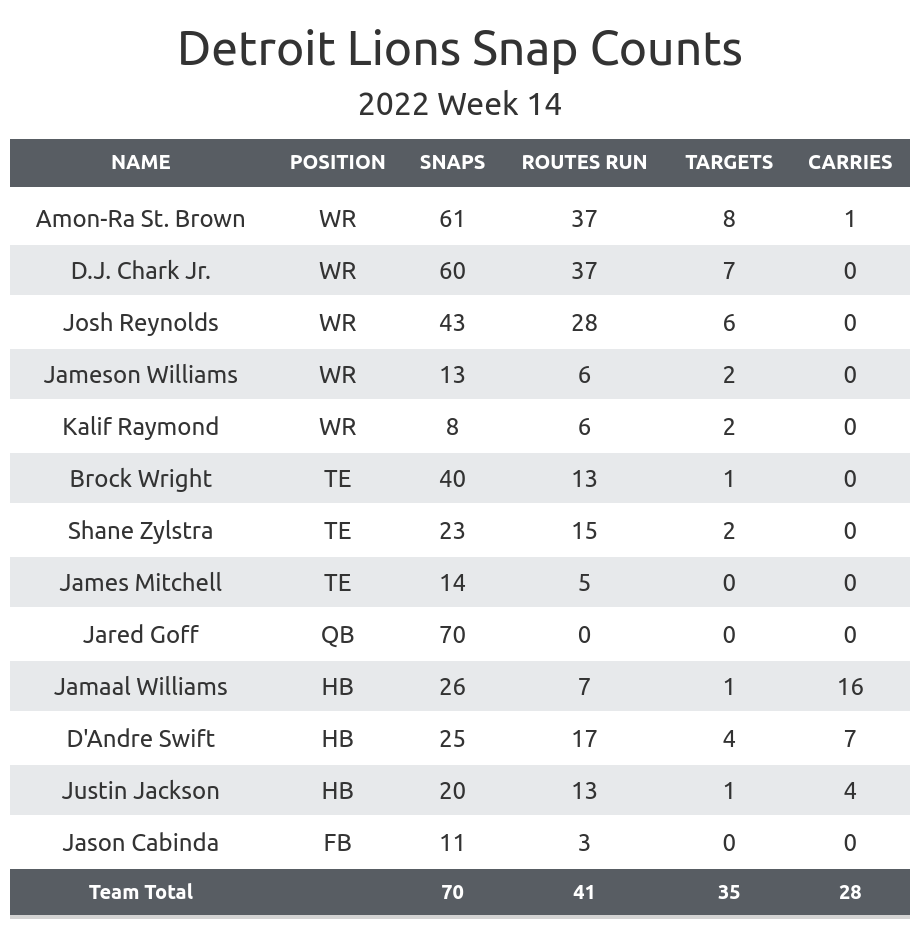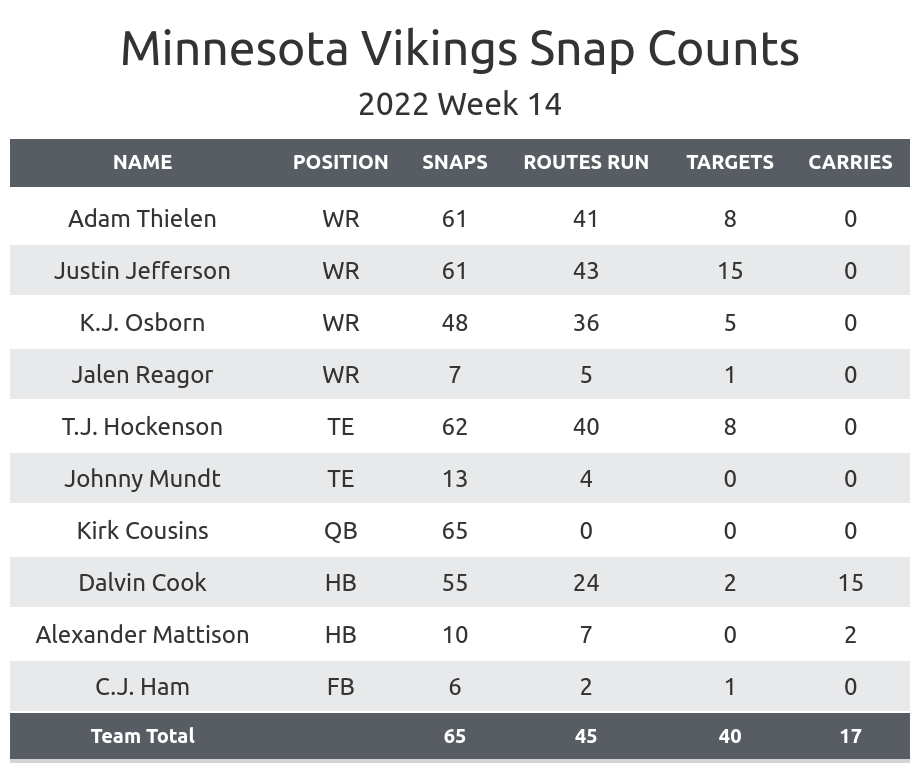 D'Andre Swift's momentum comes to a halt: Swift's role increased last week, leading to double-digit carries, more than 100 yards and a touchdown. This week, he was back to the same role he played for most of November.
Justin Jackson

was the primary third-down back, taking snaps that would ordinarily go to Swift.

Swift made up for that with more snaps on early downs than in past weeks — but not as much as last week.

This led to only six carries for 21 yards and three receptions for 18 receiving yards.

The Lions ran the ball with running backs 26 times and passed the ball 39 times for 330 yards. The fact that Swift didn't see more touches and yards given the Lions' offensive output is concerning.

Safety

C.J. Moore

led the Lions in rushing yards thanks to a 42-yard run on a fake punt.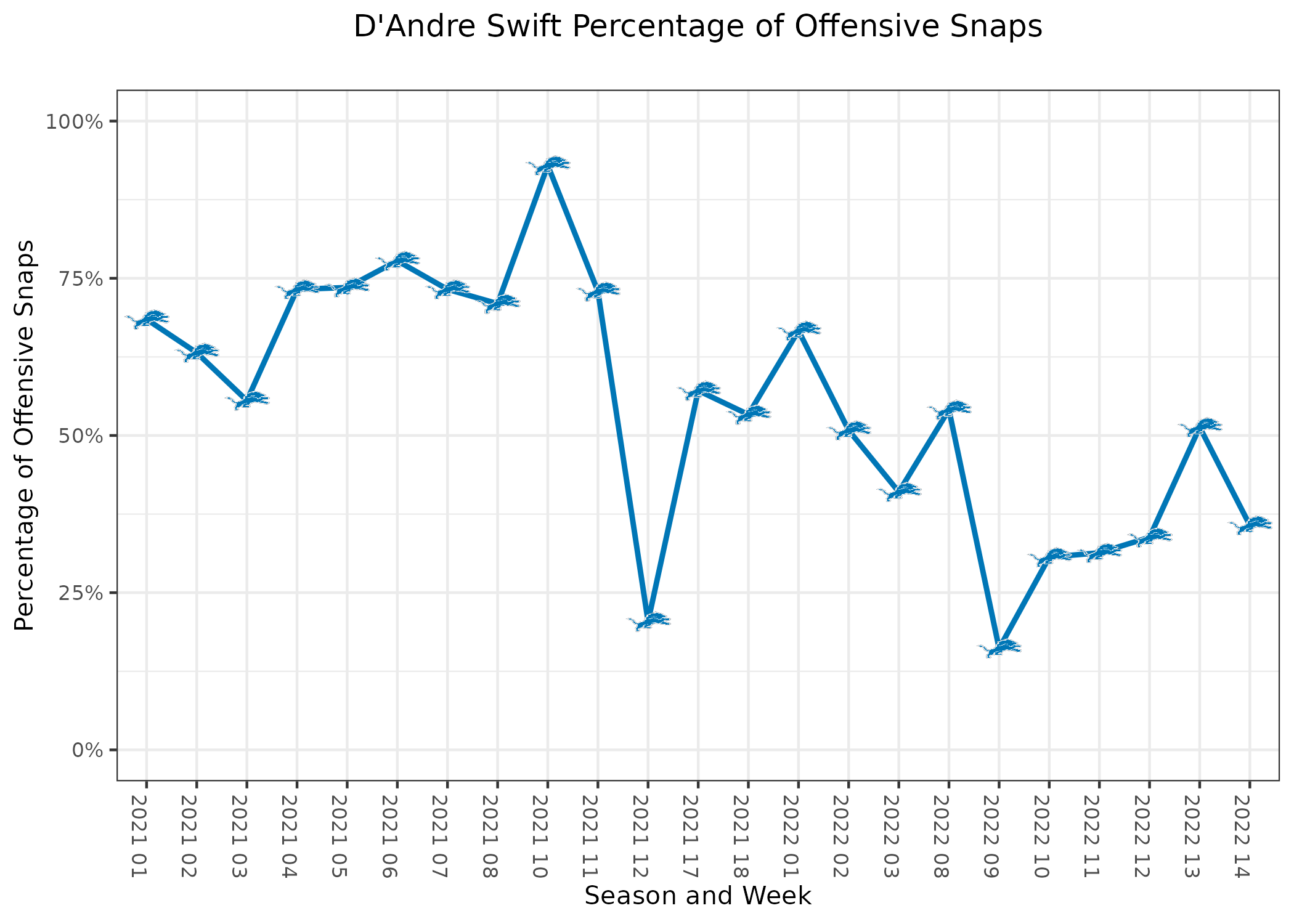 Jameson Williams' role expands: Williams ran more routes in his second NFL game, and he caught the game's first touchdown on a 41-yard pass where he was wide open.
Most of his snaps came in 12 personnel. He played seven of the team's eight snaps from that personnel group. This cut into the playing time of all of the wide receivers.

He also took every snap from 13 personnel. The Lions have constantly put wide receivers near the bottom of the depth chart in for this personnel group throughout the season.

The few snaps he took in 11 personnel came at the expense of

Josh Reynolds

.

We can expect Williams to see more playing time going forward, and it will likely come in 11 personnel at Reynolds' expense.

Williams can remain on fantasy rosters, but he's likely a bench piece until he sees at least 50% of offensive snaps.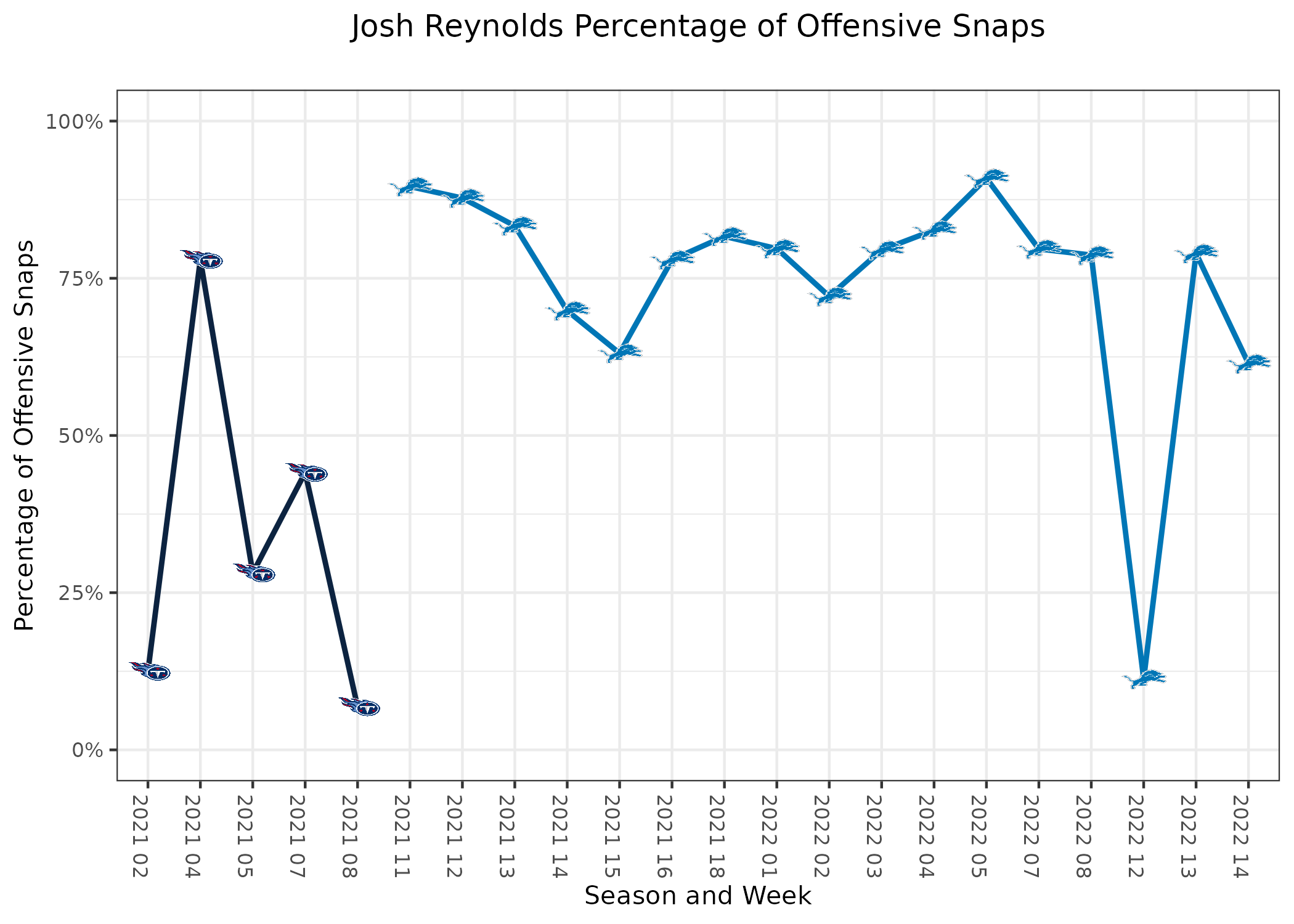 Don't worry about Dalvin Cook: Cook was held to 36 total yards and 1.5 yards per carry, but brighter days are ahead for him.
He plays the

Colts

,

Giants

and

Packers

over the next three weeks. They've ranked eighth, 15th and seventh, respectively, in allowing fantasy points to running backs. 

The latter two teams have sub-48.0 PFF run-defense grades, ranking them among the bottom seven teams in the league.

Two of those three squads are largely out of playoff contention, so they should be games where Minnesota can establish a lead and run a lot late in the game.

Cook is still playing the vast majority of offensive snaps even though his snaps had been declining in early October.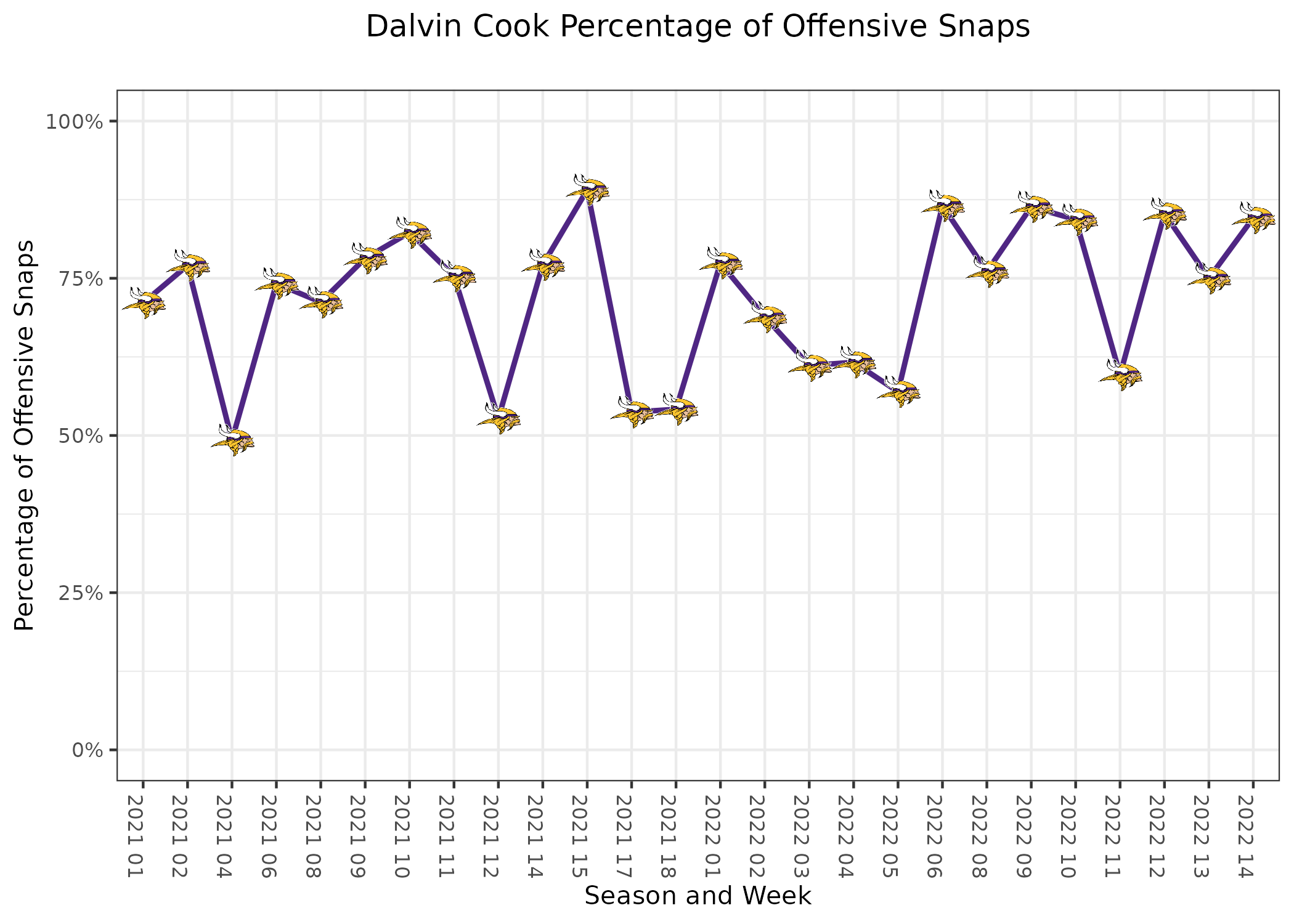 ---
• J.K. Dobbins: 15 carries, 120 yards, 1 touchdown
• Diontae Johnson: 6 receptions, 82 yards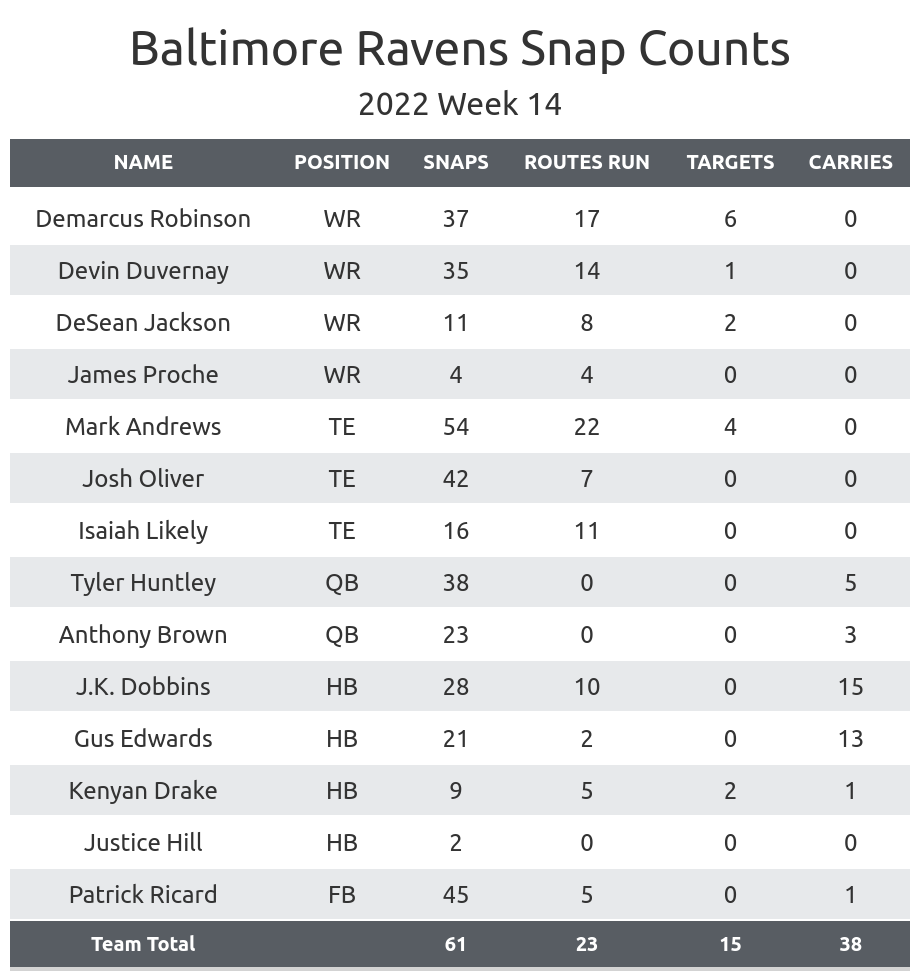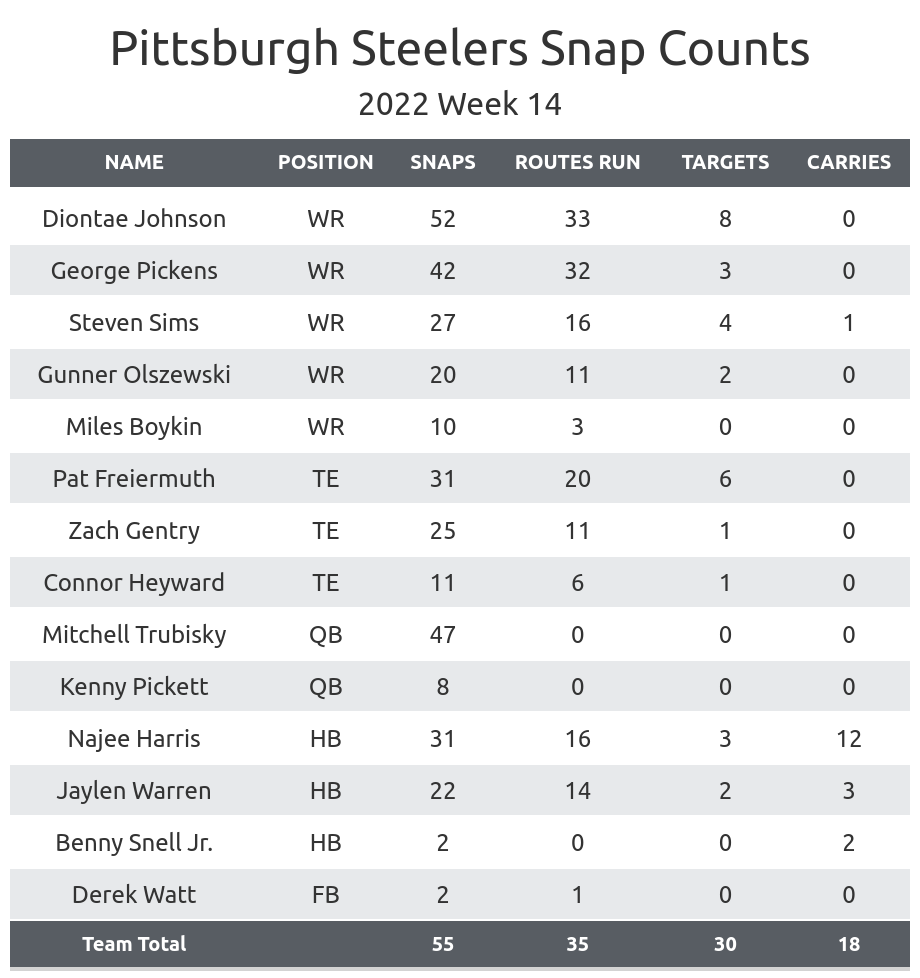 J.K. Dobbins's return: Dobbins played his first game since mid-October and went right back to the team's starting lineup.
The Ravens used a ridiculous four-man rotation at running back, but Dobbins played half the snaps on early downs as well as half the snaps in short-yardage situations.

Gus Edwards

didn't start the game, but he still played significant snaps on early downs, getting double-digit carries and averaging over 5.0 yards per carry, which is something he's done throughout his career.

Edwards can be picked up in fantasy leagues despite not starting because the Ravens have the

easiest schedule for running backs

through the fantasy playoffs.

Ideally, the Ravens view Dobbins and Edwards as healthy enough to make this a two-man backfield.

Both

Kenyan Drake

and

Justice Hill

were reduced to playing in a four-man rotation on third downs. Drake can be dropped in fantasy leagues.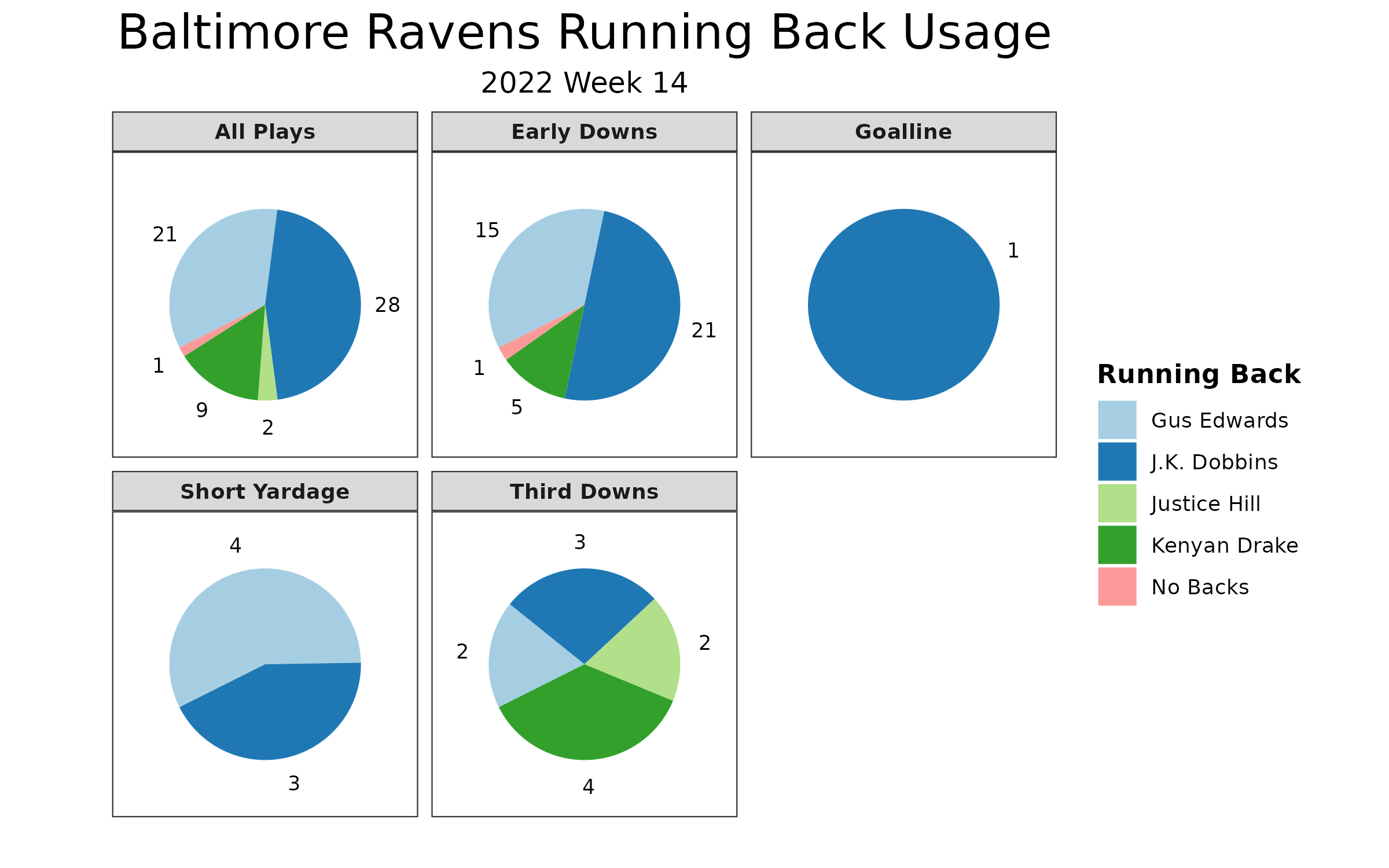 Monitor Tyler Huntley's health: Huntley suffered a concussion in the third quarter and didn't return. 
Lamar Jackson

didn't practice all week with a knee injury and was officially considered doubtful heading into the game.

Undrafted rookie

Anthony Brown

took over as the Ravens' quarterback for the rest of the game.

Baltimore has a tough matchup against the Browns' defense next week. Cleveland has allowed the 10th-fewest fantasy points to quarterbacks this season.

It's probably best not to trust either of the Ravens' backup quarterbacks in that matchup if they need to start. Even Jackson might be only a borderline starter depending on how healthy he is if he plays.
Pat Freiermuth's reduced role: Freiermuth took fewer snaps than usual for the second straight week.
He and

Zach Gentry

continued to split snaps in 11 personnel on first and second downs. He played 17 of a possible 37 snaps in this situation, including 11 of a possible 22 pass plays.

He maintained a targets per route run rate above 29% for a second straight week, but chances are that will regress down to 24.0%, which is his rate over the entire season.

Freiermuth will still be considered a top-12 fantasy tight end with this new role, so he should still be in fantasy starting lineups, but you should think twice before putting him in DFS or betting any overs.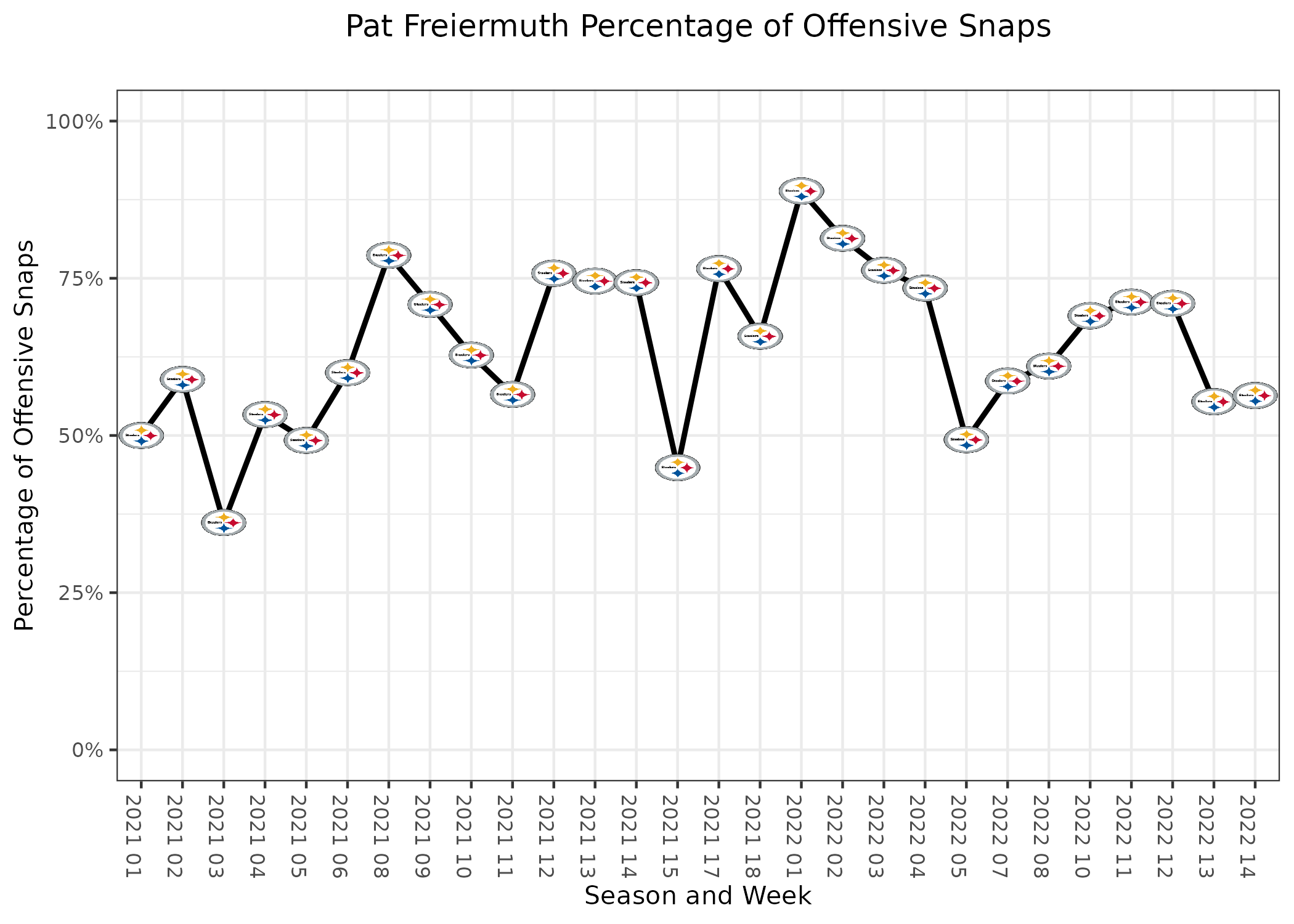 Monitor Kenny Pickett's health: Pickett left the game in the first quarter with a concussion and was replaced by Mitch Trubisky.
Trubisky was the Steelers' starting quarterback at the beginning of the season but never had a week as a top-20 fantasy quarterback.

Pickett could very well miss next week, but it's a game against the

Panthers

where people shouldn't be starting the Steelers quarterback, regardless.

Their following two games are against the Raiders

and the Ravens, so Pickett could be an option in deeper leagues.
---
• Ja'Marr Chase: 10 receptions, 119 yards, 1 touchdown, 1 carry, 6 rushing yards
• Donovan Peoples-Jones: 8 receptions, 114 yards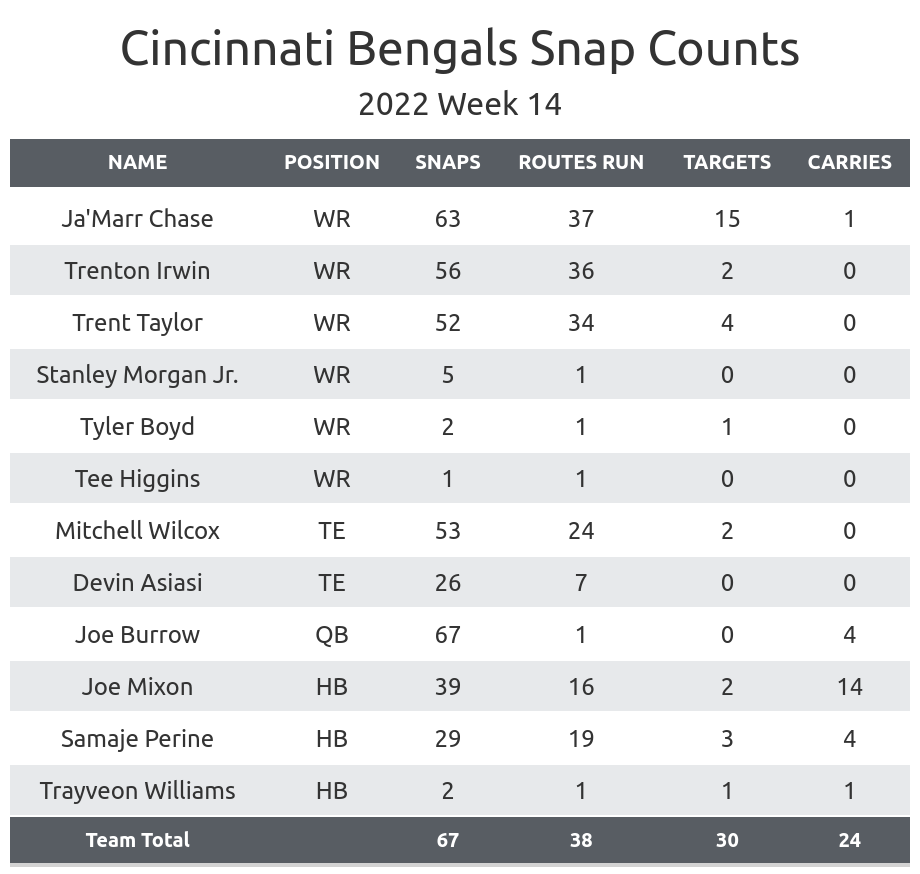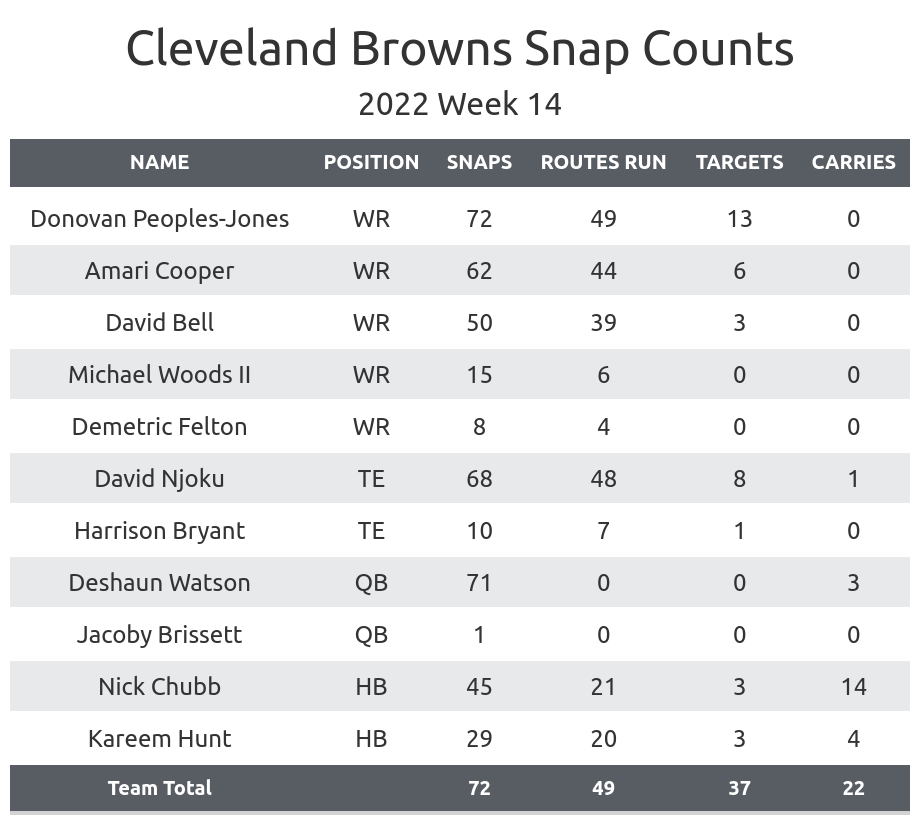 Monitor the health of the Bengals' wide receivers: Tee Higgins and Tyler Boyd combined for three offensive snaps against the Browns.
Higgins popped up on the injury report Thursday with a hamstring. He was limited in practice both Thursday and Friday but wasn't given a game status.

He didn't start the game but did play on the first third down. That ended up being his only snap. He was then ruled questionable to return with his hamstring injury.

Boyd started the game and played the first two snaps before suffering a finger injury. He went to the locker room and was later ruled out.

Trenton Irwin

started the game in place of Higgins, while

Trent Taylor

took over as the team's slot receiver.

The Bengals also didn't have tight end

Hayden Hurst

with a calf injury.

Mitchell Wilcox

was the receiving tight end, as expected.

These backup receivers should be left on the waiver wire. This mostly meant more targets for

Ja'Marr Chase

. Both Irwin and Taylor made a big play, but their targets were too limited to trust them.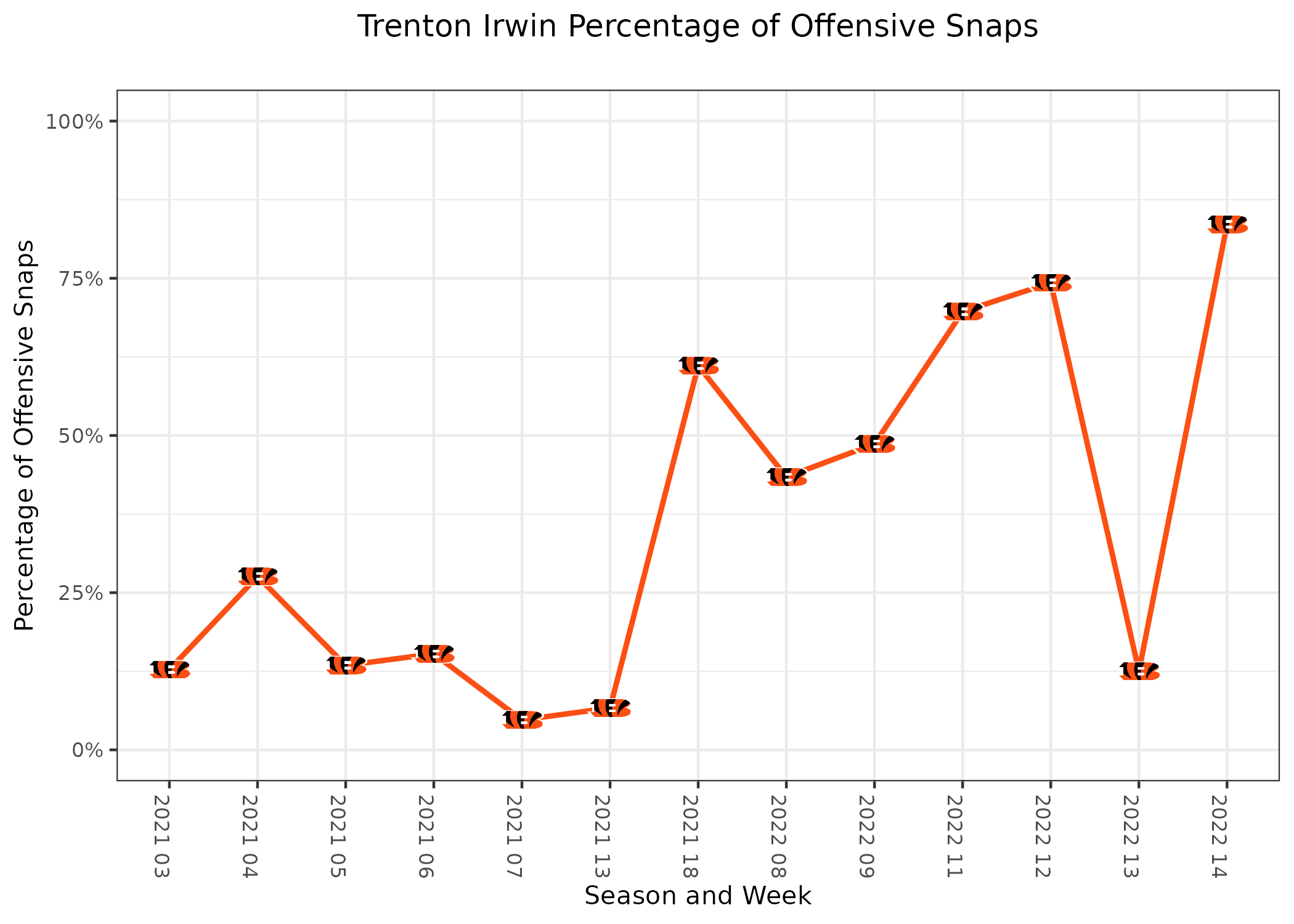 Joe Mixon's return: Mixon returned to the Bengals after missing the past two weeks with a concussion.
Mixon played the majority of snaps on early downs but didn't dominate as much as he has in the past.

Samaje Perine

had played well in past weeks, but he ran the ball only four times for 22 yards, albeit with a touchdown.

The Bengals have the

hardest schedule remaining

, so we should see some competitive games where Cincinnati won't be running as much to run out the clock.

Mixon will still be a fantasy starter, but we can still expect to see a decent amount of Perine, particularly in passing situations.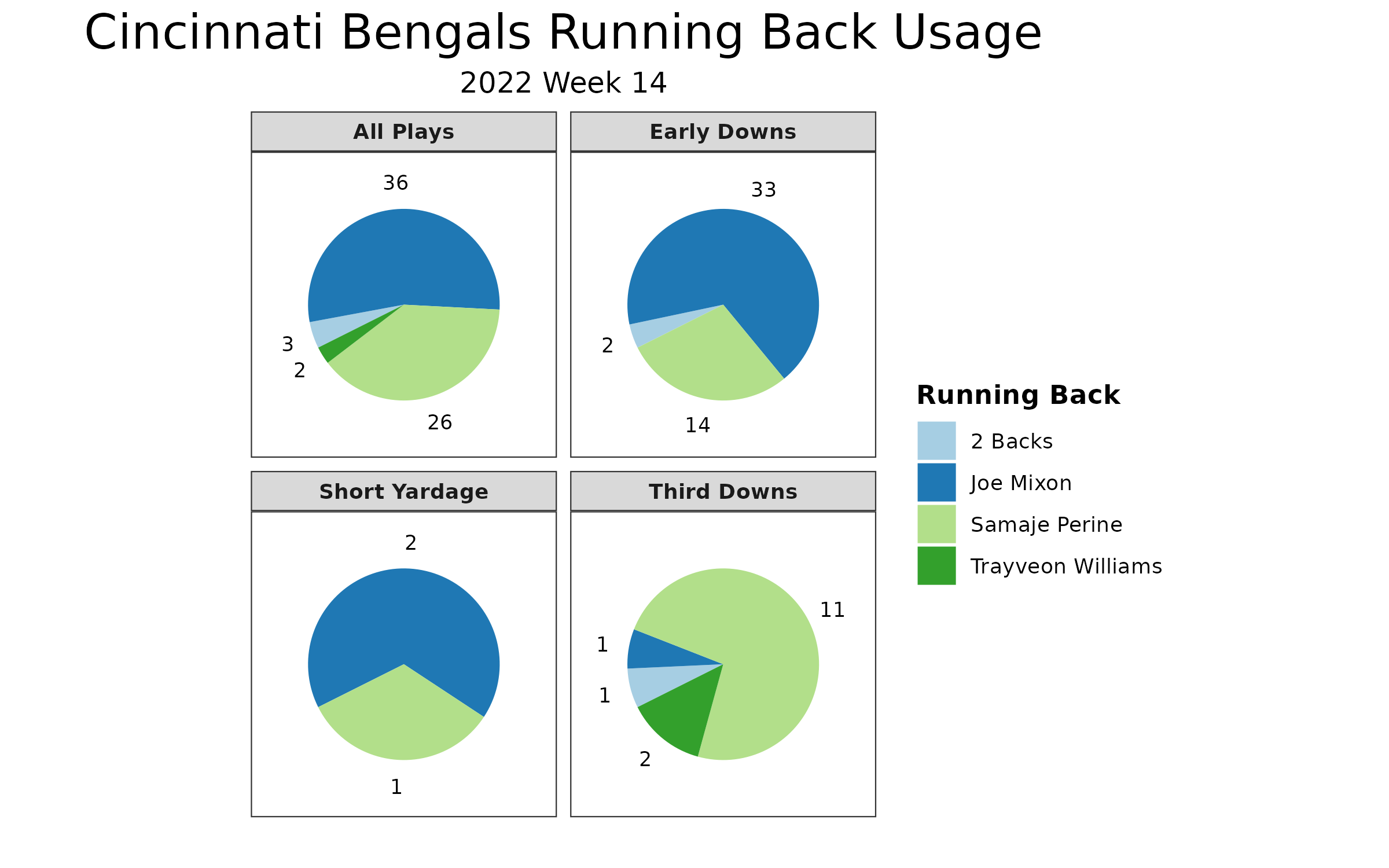 David Njoku's return: Njoku played his second game in a full-time role since Week 7 due to various injuries.
He saw playing time similar to his peak at the beginning of the season.

Njoku caught seven passes for 59 yards and a touchdown.

He has a fine matchup against the

Ravens

next week but finishes the fantasy playoffs with games against the

Saints

and

Commanders

. They have been the top two teams at preventing fantasy points to tight ends.

That makes him a fantasy starter next week, but it could be hard to start him the following two weeks unless the offense starts playing notably better.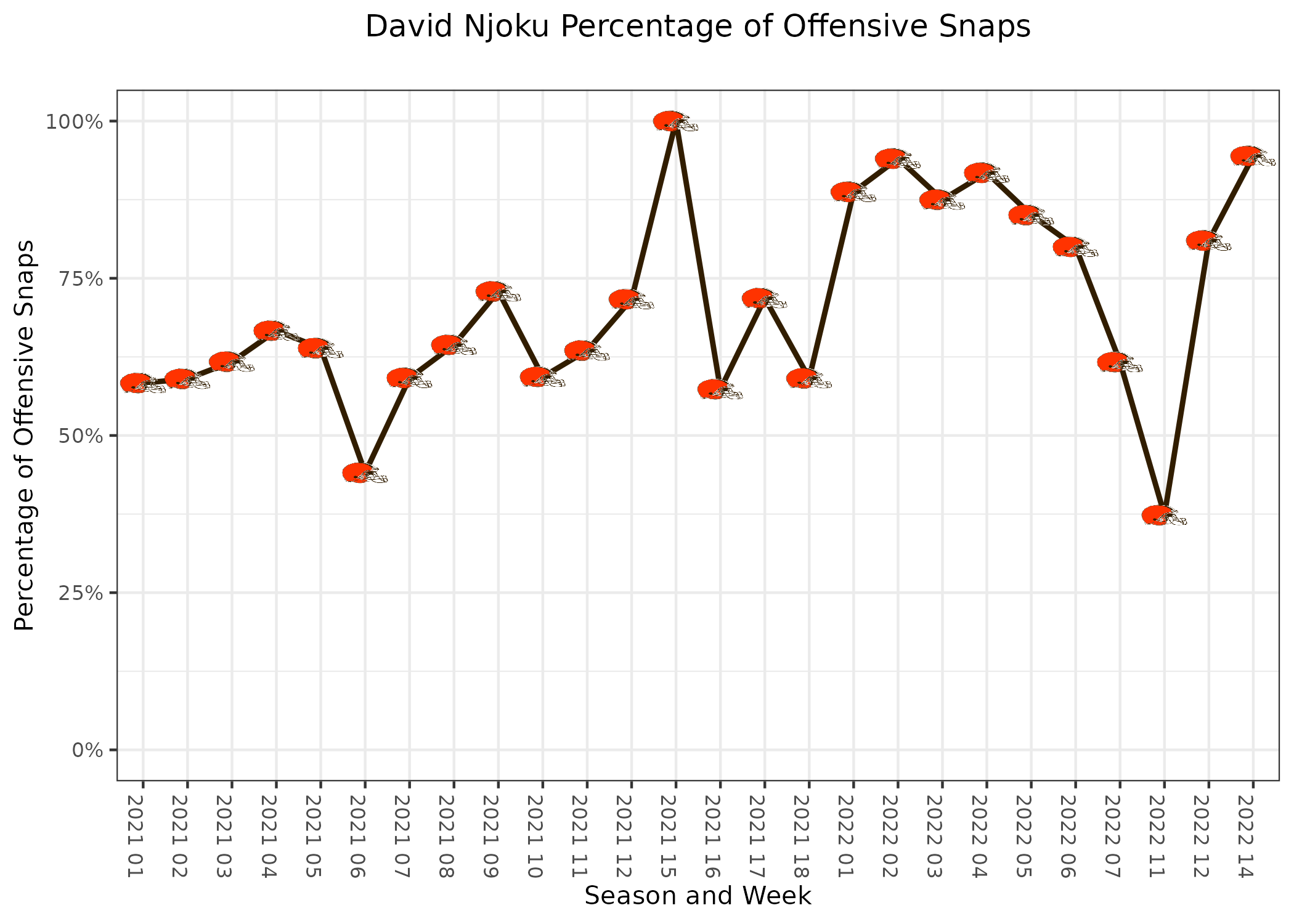 Add Donovan Peoples-Jones: Peoples-Jones put up a career-best eight receptions and 114 receiving yards in the Browns' loss to the Bengals.
He played 100% of offensive snaps for the first time of his career.

Cleveland attempted five deep passes, and Peoples-Jones was the target on all five.

This marked the most deep targets for a Browns receiver in a game this season.

Cleveland has the fifth-easiest schedule for wide receivers

over the rest of the fantasy season.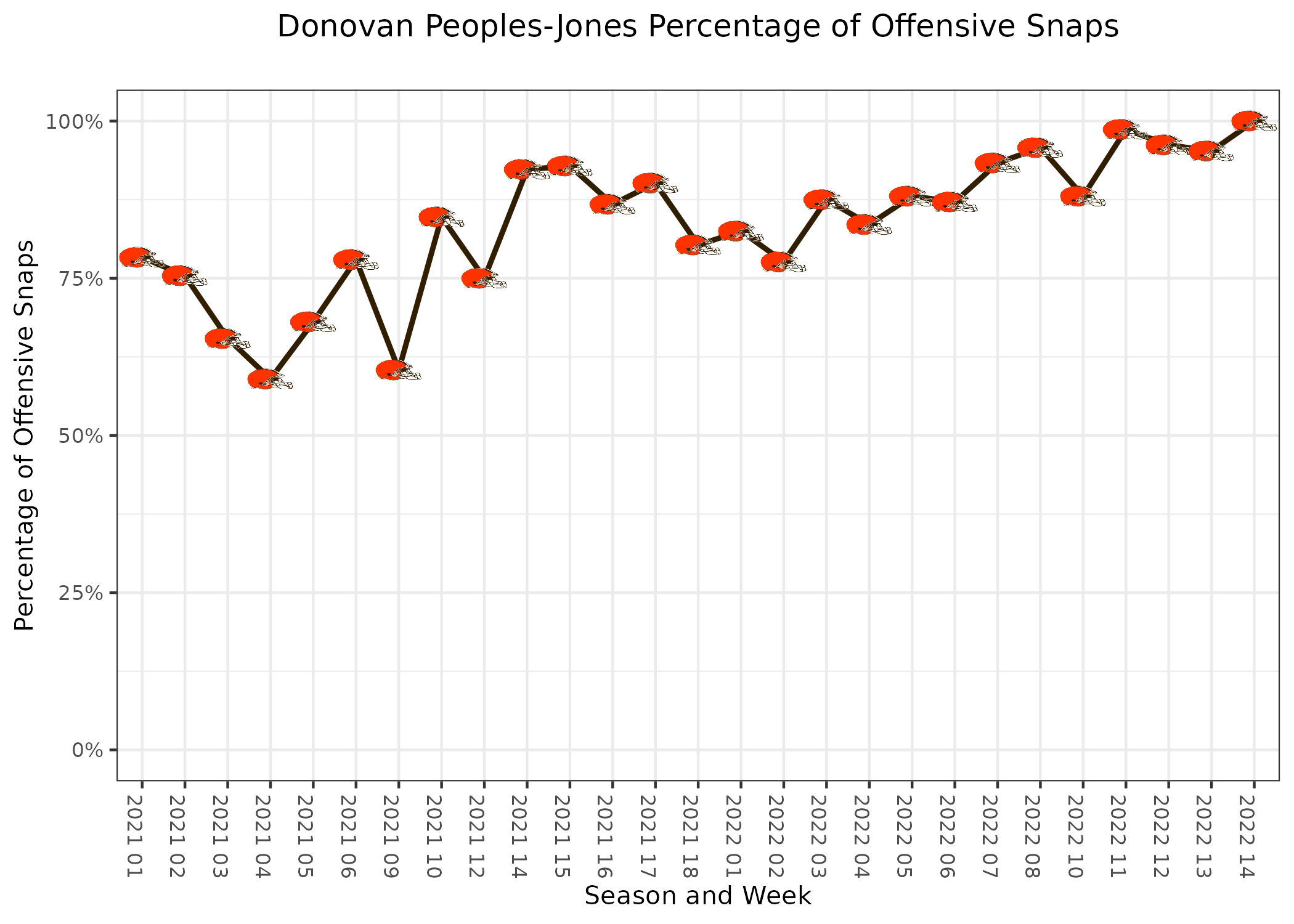 ---
• Zonovan Knight: 17 carries, 71 yards, 1 touchdown, 2 receptions, 6 receiving yards
• Dawson Knox: 4 receptions, 41 yards, 1 touchdown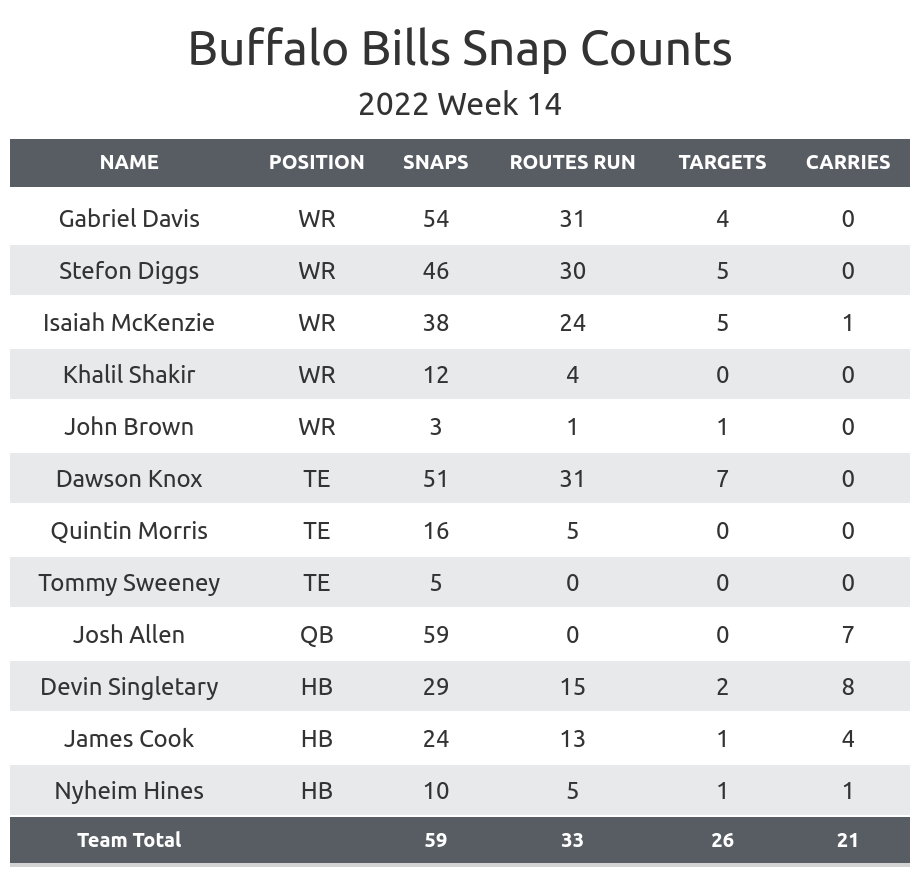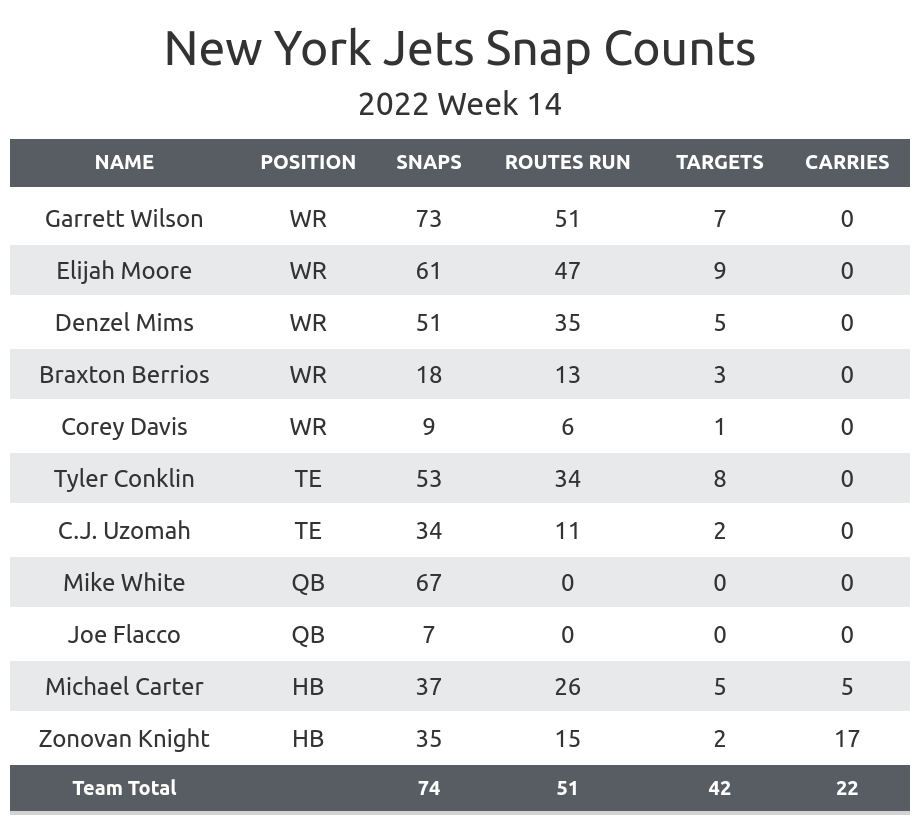 Monitor Corey Davis' health: Davis suffered a head injury late in the first quarter and didn't return.
Denzel Mims

was a direct replacement for Davis. 

Davis missed a month of football from late October to late November with a knee injury, so Mims is experienced in the starting lineup.

Mims caught three passes for the first time since 2020. 

He can be left on the waiver wire without much potential for a big game with the talent at the other receiver spots. If Davis misses time, it will mean more targets for the other skill players.

The Jets have the

fourth-best schedule for fantasy wide receivers

over the fantasy playoffs, so it will be worth considering putting other Jets in your lineup.
Monitor Mike White's health: White left the game against the Bills twice with ribs injuries but returned each time. He was taken to the hospital after the game as a precaution.
He threw for 268 yards on 44 attempts with no touchdowns or interceptions.

Joe Flacco

was the backup in this game. He threw only three passes.

It's unclear if Flacco or

Zach Wilson

would be the starter if White misses any time.

The fact that White could continue to play is a good sign he could be fine for next week.

The Jets have the

most favorable schedule for quarterbacks

during the fantasy playoffs.
The Jets' two-man backfield: Michael Carter returned for the Jets, which led the team to use a two-man backfield for the first time since Breece Hall's injury.
Carter being healthy led to

James Robinson

being a healthy scratch. Robinson was inactive in Week 12, as well. He can be dropped from fantasy rosters.

Ty Johnson

has been the Jets' third-down back for most of the season, but he didn't see any snaps on offense.

Carter took the third-down role and was also a backup runner. This allowed

Zonovan Knight

to take the majority of early-down snaps and short-yardage snaps.

Knight posted 71 yards on 17 carries and a touchdown despite the game script not being in the Jets' favor at the end of the game.

Knight can be a fantasy starter in this role over the rest of the season, as the Jets should either be competitive or leading in games the rest of the fantasy campaign.

Carter can at least stay on fantasy rosters but shouldn't be in starting lineups unless he sees more touches.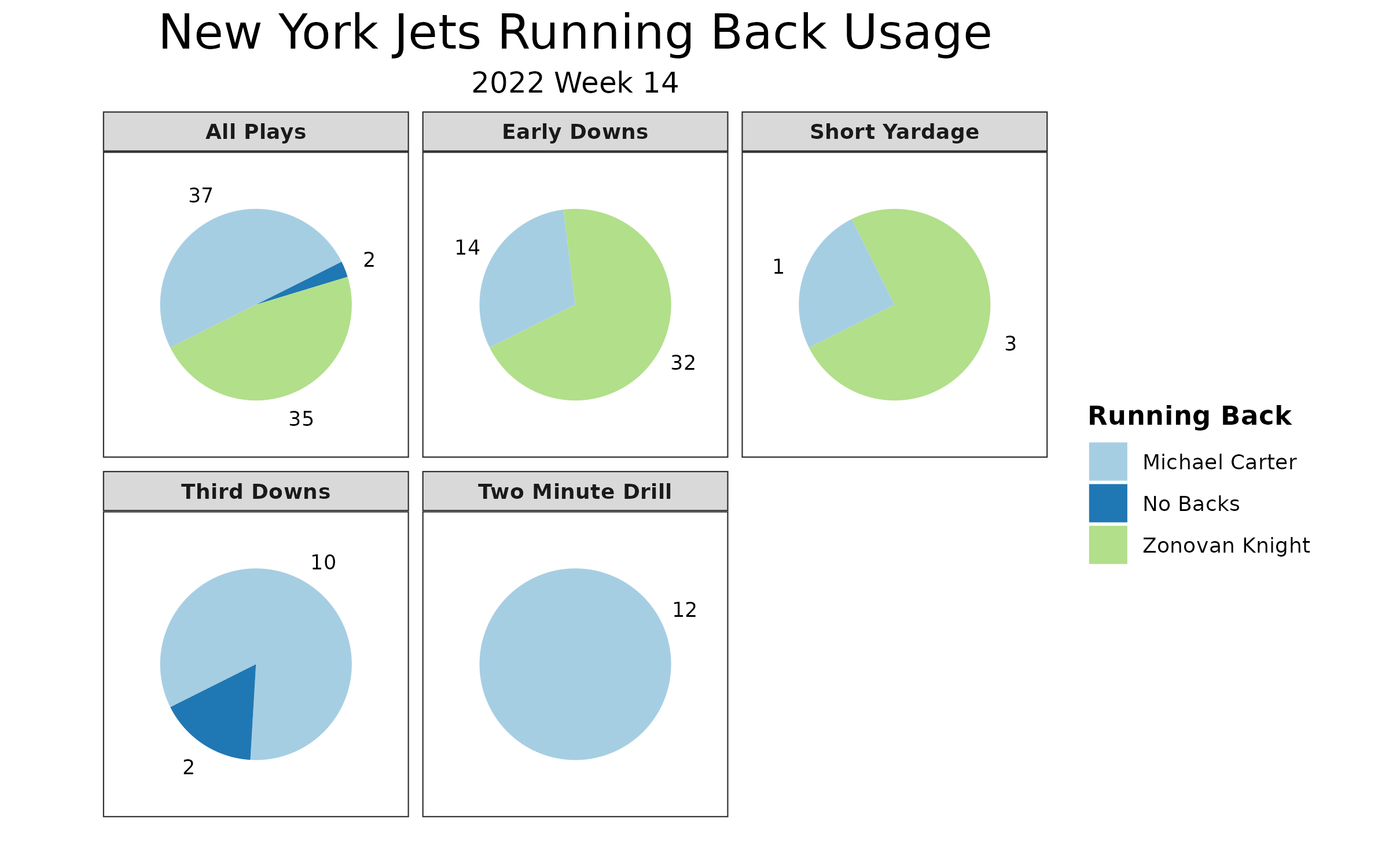 James Cook ineffective on limited touches: Cook saw significant playing time again but didn't do much with his opportunities.
He gained six yards on four carries and caught a nine-yard pass.

The Bills lost the time-of-possession battle, so there weren't as many touches to go around as in previous weeks.

His percentage of offensive snaps wasn't as high as last week. The decrease was slight, but those who picked him up off waivers were hopeful for an increase in playing time.

Buffalo has the

Dolphins

,

Bears

and

Bengals

over the next three weeks. Only one of those games could be predicted to be a blowout where they can be expected to run a lot.

This likely means that Cook won't see enough playing time to be a fantasy starter but will get just enough to prevent

Devin Singletary

from being a fantasy starter.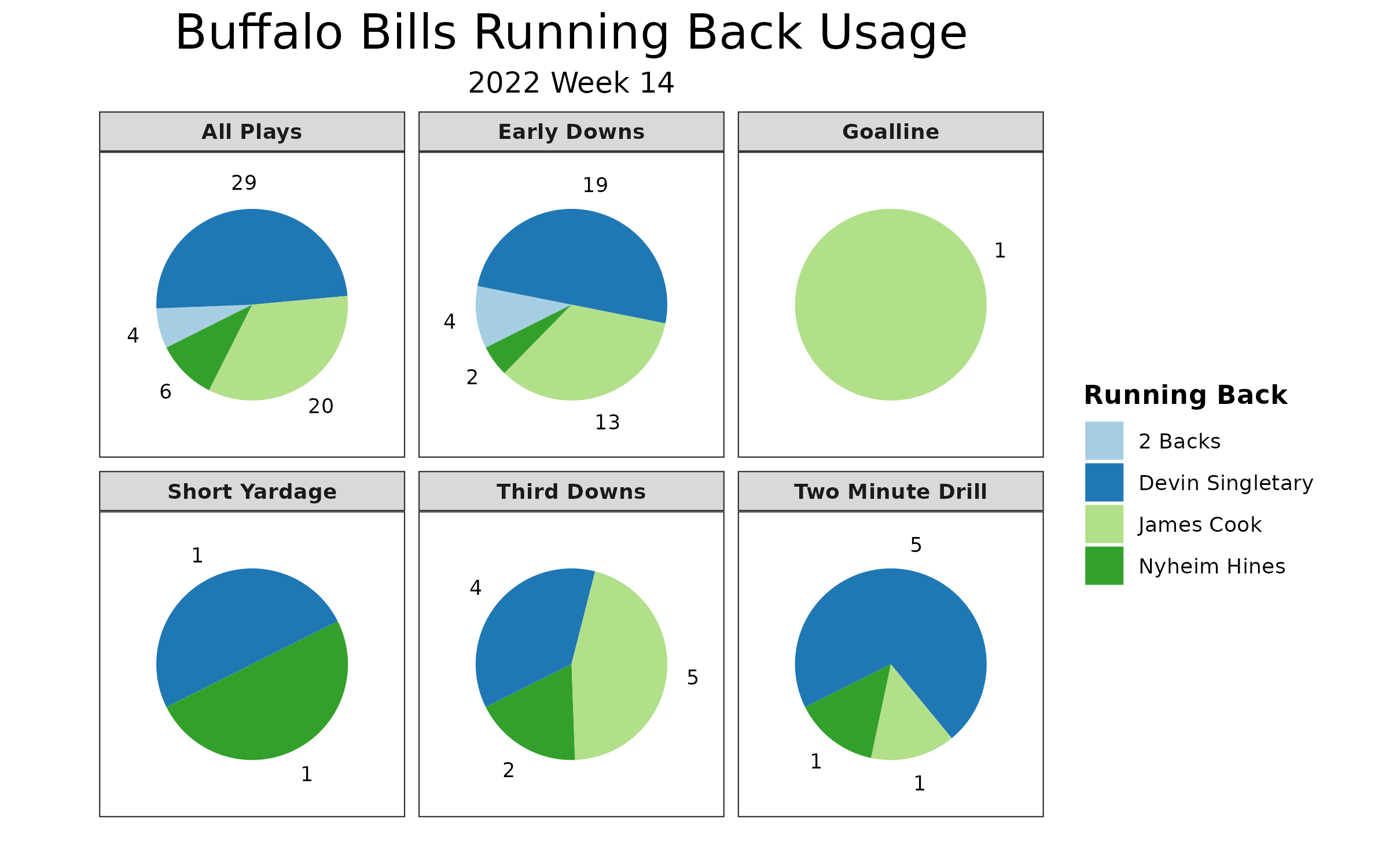 ---
• Tony Pollard: 10 carries, 42 yards, 1 touchdown, 4 receptions, 20 receiving yards, 1 receiving touchdown
• Chris Moore: 10 receptions, 124 yards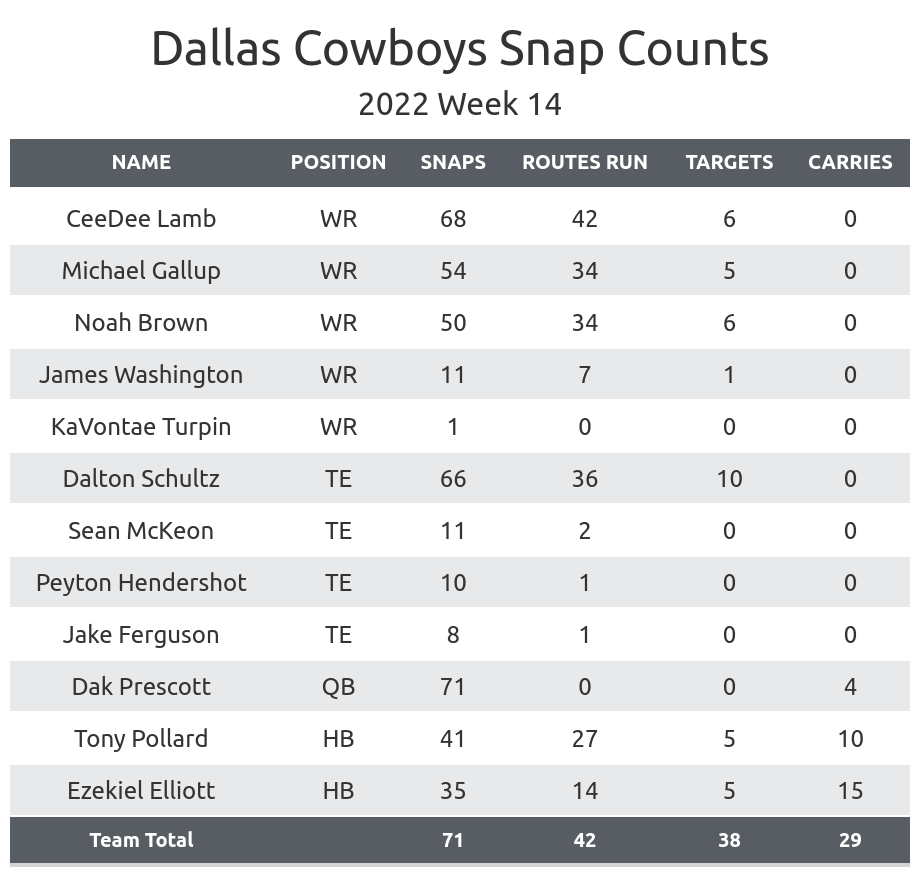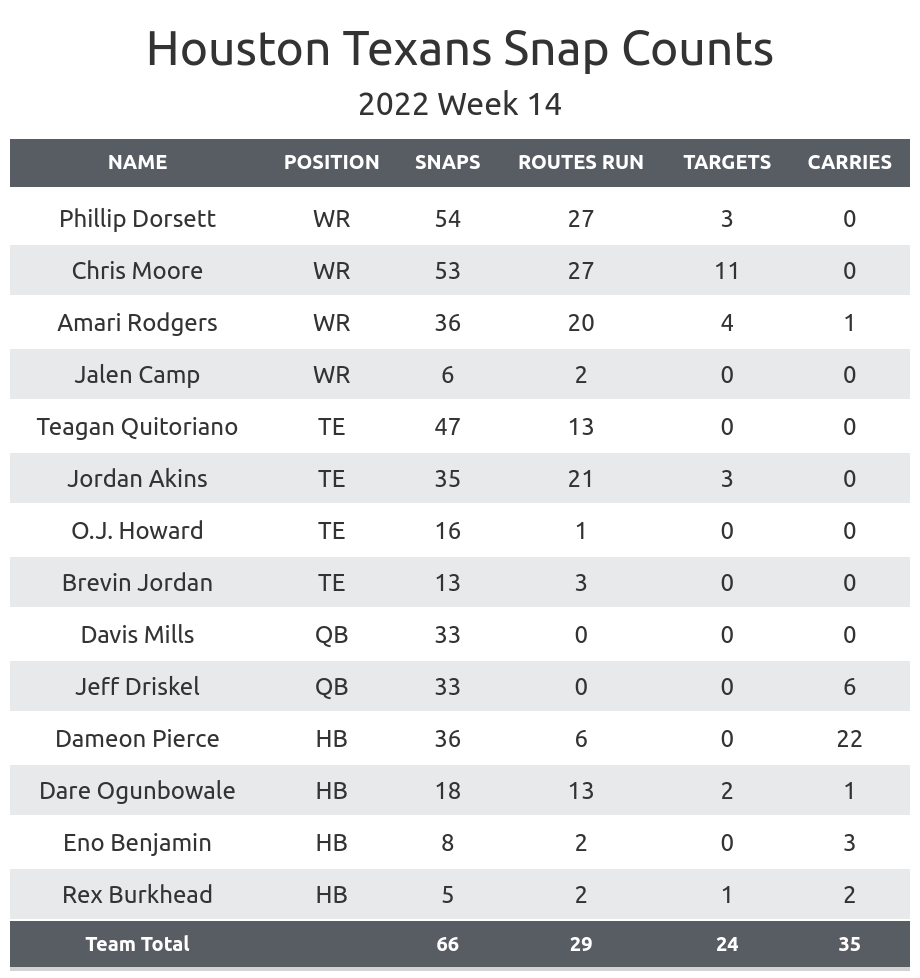 James Washington makes his Cowboys debut: Washington signed with the Cowboys in free agency but broke his foot in training camp. He was activated off injured reserve before this game.
He was fourth on the Cowboys' depth chart, pushing third-round rookie

Jalen Tolbert

to be a healthy inactive.

Nine of his 11 snaps came from 11 personnel. On all nine plays, he took

Michael Gallup

's place on the field.

Gallup played ahead of

Noah Brown

in two-receiver sets for just the second time this season. This meant Brown was the player to see a decrease in snaps rather than Gallup.

Washington could see more snaps going forward, and those would likely come at the expense of Gallup.

Two of the Cowboys' next three games are

favorable for their wide receivers

, but it might be hard to trust any of them outside of

CeeDee Lamb

amid the uncertainty of playing time for everyone else.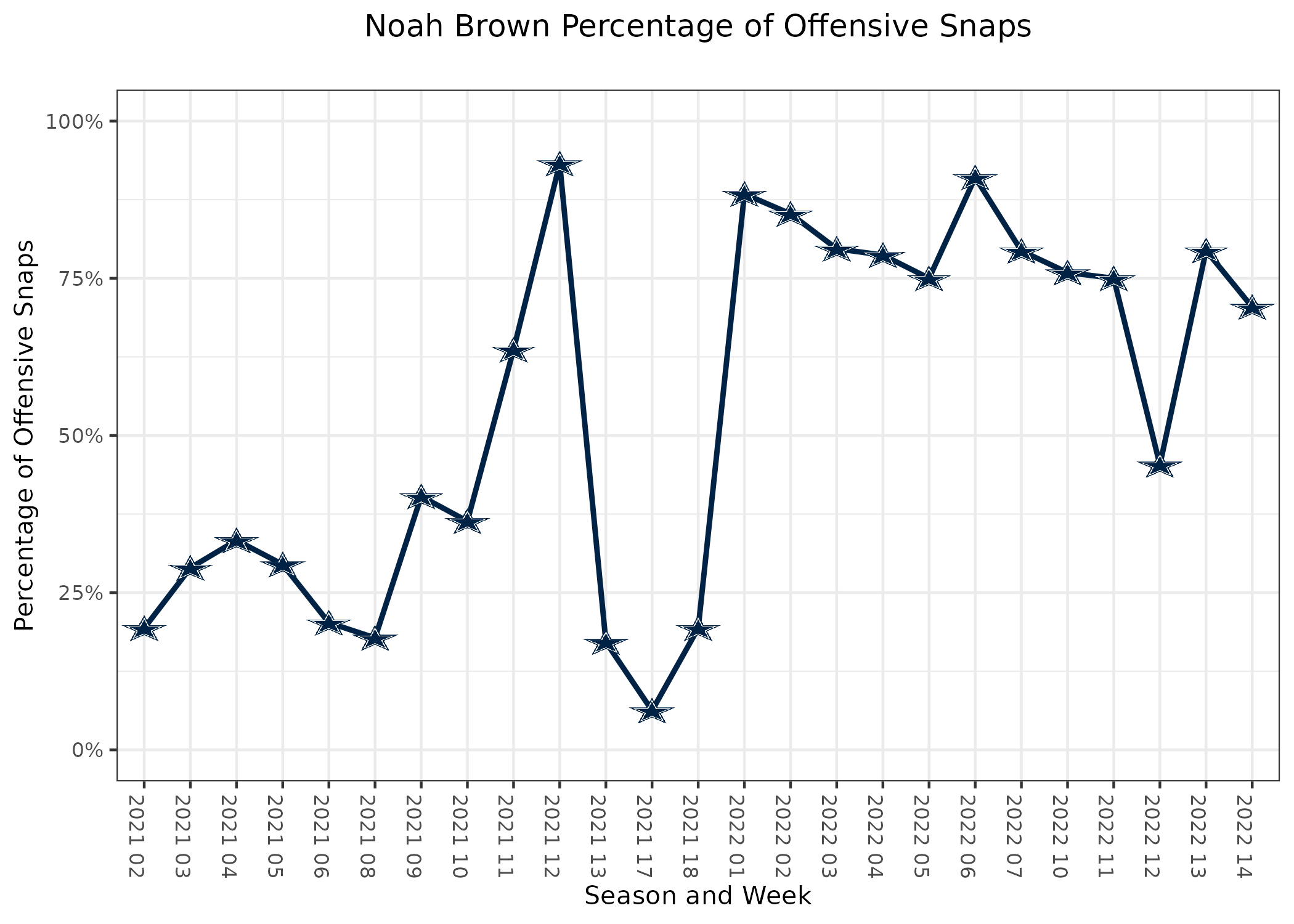 Monitor Dameon Pierce's health: Pierce suffered an ankle injury early in the fourth quarter and didn't return.
He handled his usual role for most of the game, although he wasn't playing as much in passing situations compared to previous weeks.

Dare Ogunbowale

's role was already on the rise in Houston. He played half of their third-down snaps last week for the first time all year. He took a clear hold of the passing role at the start of the game.

Eno Benjamin

was the backup on early downs throughout the game, with

Rex Burkhead

not seeing a snap until after Pierce's injury.

Benjamin would likely be the closest substitute for Pierce if he misses time, but we will probably see a three-back committee if Pierce can't play.

Houston's next two opponents are against likely playoff teams, so there may not be many opportunities to run the ball in those matchups.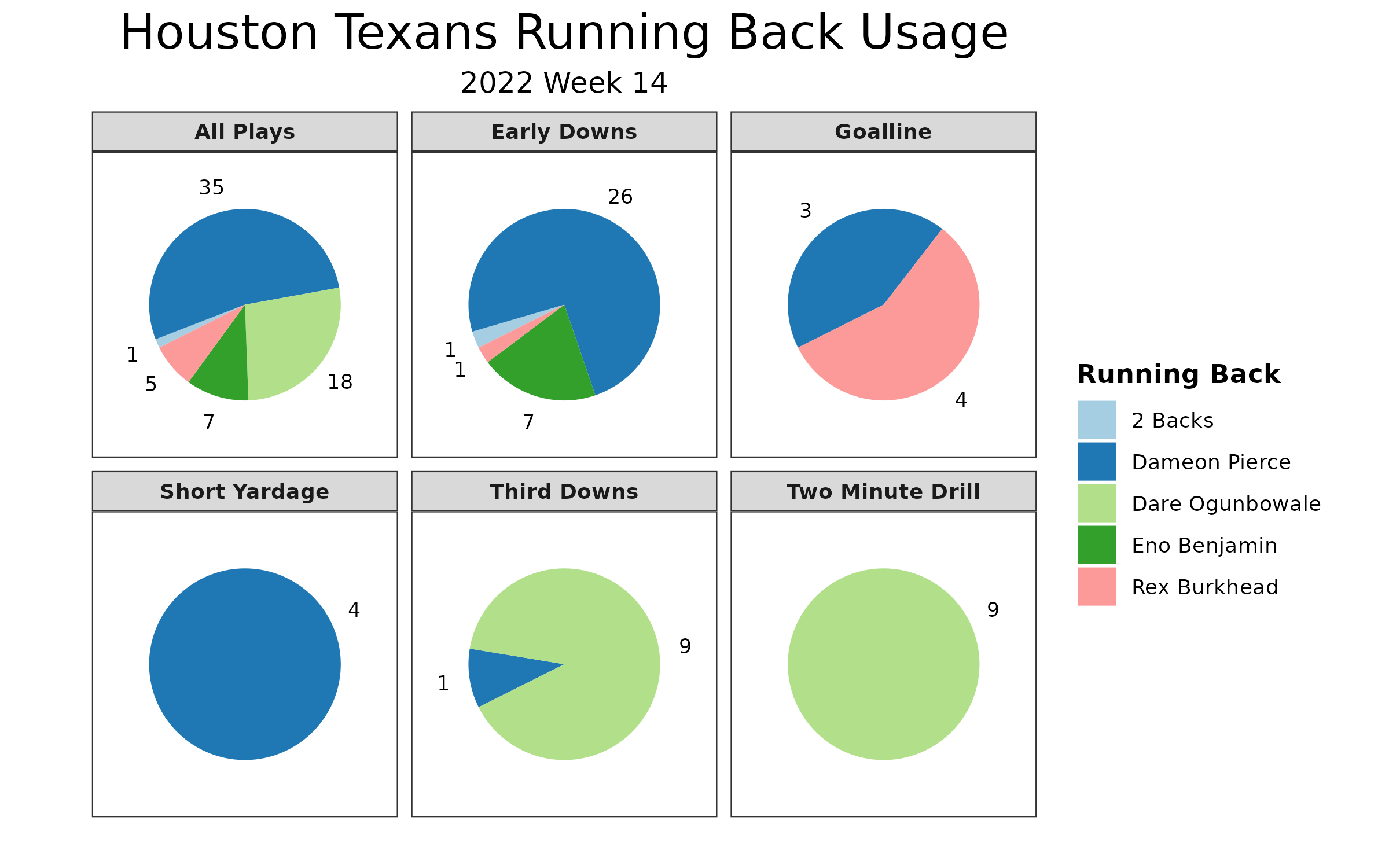 Houston without its top two receivers: Both Brandin Cooks and Nico Collins missed this game with injuries, leading the Texans to dig deep into their depth chart.
Veterans

Chris Moore

and

Phillip Dorsett

were the two starting receivers, with

Amari Rodgers

coming in on three-receiver sets.

Rodgers was a recent waiver wire pickup from the Packers. In Green Bay, Rodgers only ever played in the slot. Houston had him play both in the slot and out wide, with Moore also seeing significant snaps from the slot.

The Texans' top wide receiver is worth rostering in fantasy leagues with how much Houston will need to pass these next few weeks. We might not know who that is until game time next week.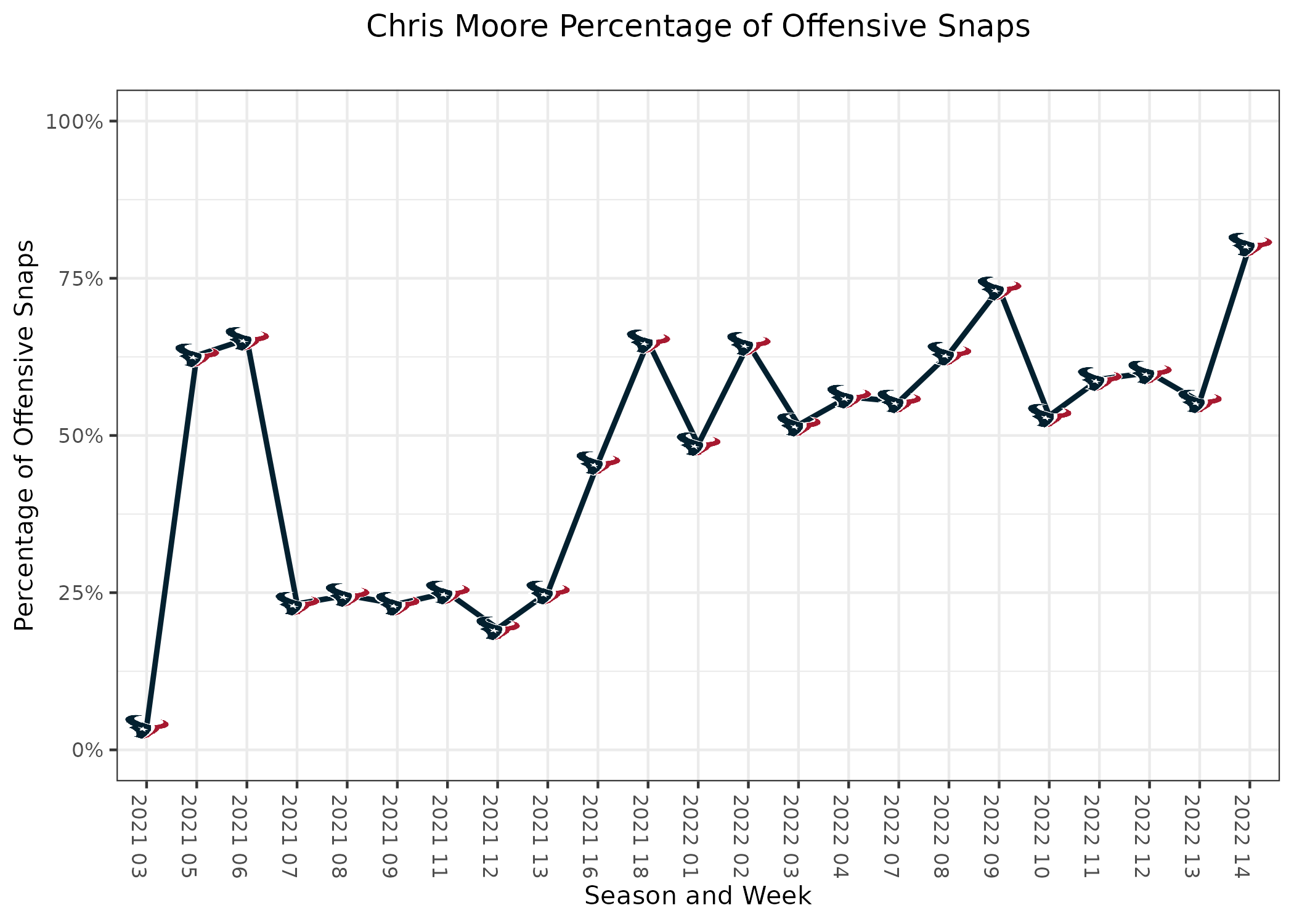 The Texans use a quarterback rotation: Many teams in NFL history have tried to use two healthy quarterbacks throughout a game. The Texans might be the first to have two healthy quarterbacks split snaps 50-50 due to a rotation rather than an injury or a benching, though.
Davis Mills

started the game, with

Jeff Driskel

coming in for the second drive.

There were a few drives throughout the game where a quarterback had a drive to themselves, but there were also several drives where both quarterbacks saw the field.

The biggest tendency was Driskel playing in short-yardage situations, while Mills played more in clear passing situations.

This led Mills to attempt 21 passes compared to six by Driskel. Driskel also ran the ball seven times. Driskel threw a touchdown, while Mills threw an interception.

Neither quarterback would likely be a starter in superflex leagues over the rest of the season, so they definitely won't be fantasy starters in this rotation.
---
• Miles Sanders: 17 carries, 144 yards, 2 touchdowns, 1 reception, 11 receiving yards
• A.J. Brown: 4 receptions, 70 yards, 1 touchdown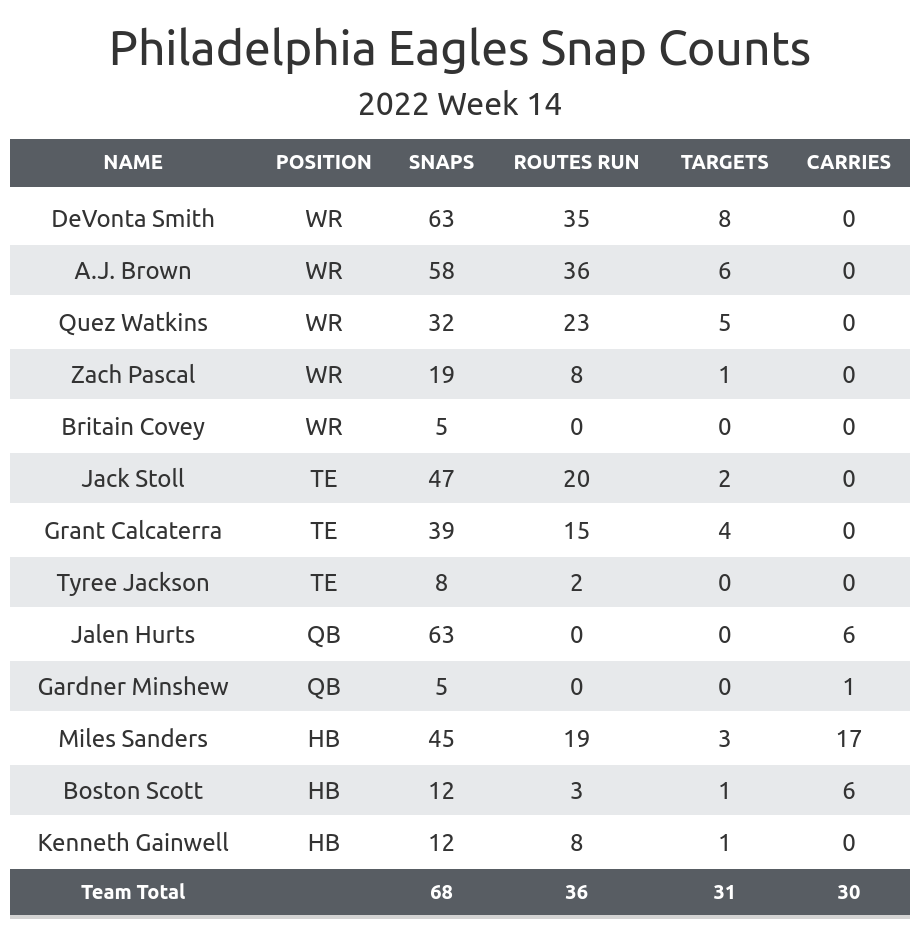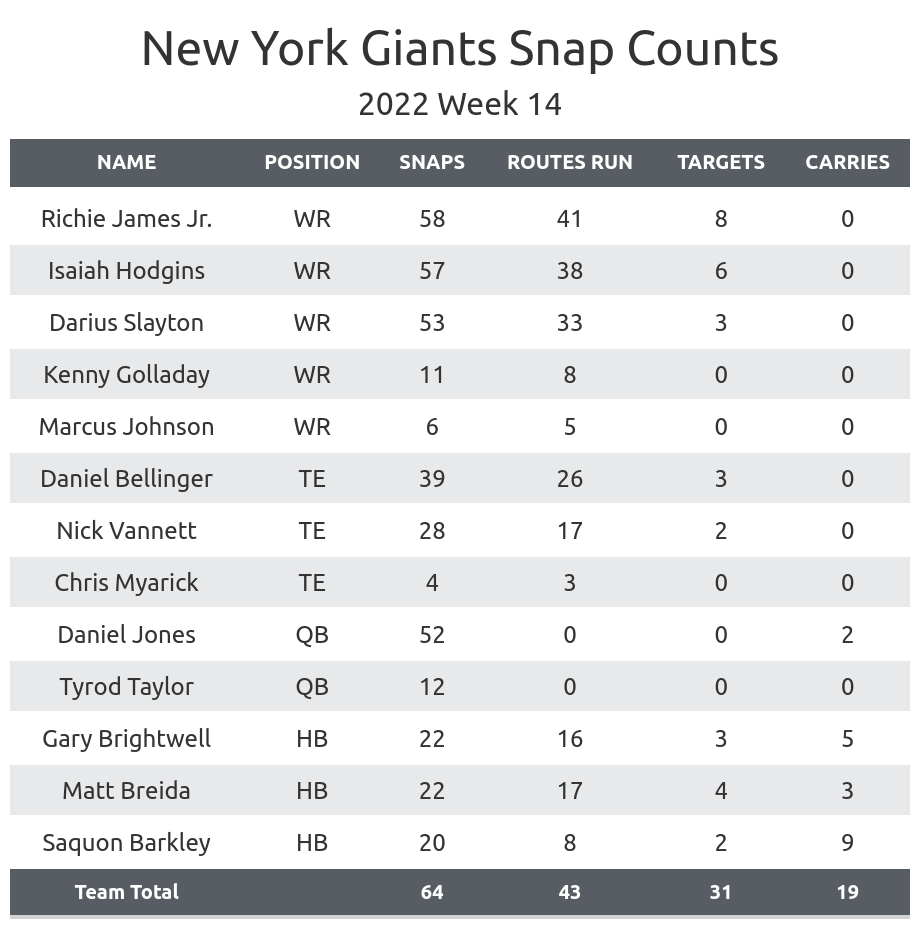 Monitor Daniel Bellinger's health: Bellinger suffered a ribs injury in the third quarter. He attempted to return but was ruled out for the rest of the game soon after.
Bellinger played 100% of the Giants' offensive snaps in the first half, including running a route on 100% of the team's pass plays.

He caught all three passes thrown his way for 19 yards on a respectable 17.6% target share.

Nick Vannett

took over as the receiving tight end for the rest of the game.

If Bellinger misses any time,

Lawrence Cager

would likely take over as the receiving tight end. He was a healthy inactive Sunday, but only to allow better run-blocking tight ends to be active.

Bellinger is the best waiver wire tight end who is widely available if he's healthy due to his combination of playing time and talent.
Monitor Saquon Barkley's health: Barkley showed up on the injury report Thursday with a neck injury and was later ruled a game-time decision.
Barkley usually dominates offensive snaps, but New York used a true three-man rotation.

New York started him, but he played only three snaps in the first quarter.

He played just over half of the offensive snaps over the second and third quarters.

The game was out of reach by the end of the third quarter, so New York didn't play him at all in the fourth quarter. Other starters were also taken out by the middle of the fourth quarter.

Gary Brightwell

would likely be the player to target if Barkley's injury becomes more serious, as he saw a slight edge over

Matt Breida

for carries and early-down snaps.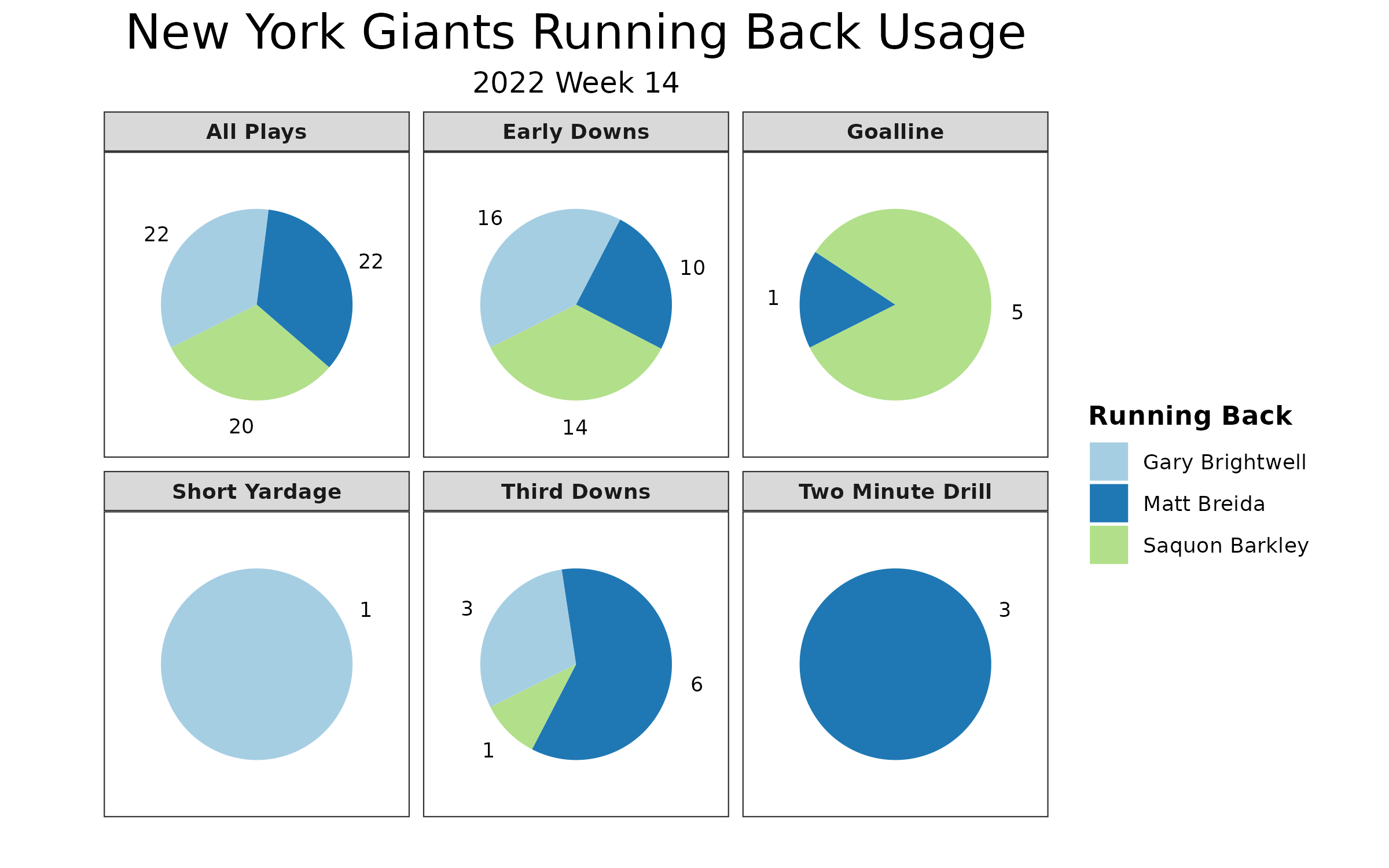 The Eagles give Grant Calcaterra a chance: Jack Stoll has been the team's primary tight end with Dallas Goedert on injured reserve, but the Eagles have given their sixth-round rookie more opportunities each week.
His playing time increased both from the Eagles running a lot of 12 personnel with a huge lead as well as him taking snaps away from Stoll in 11 personnel.

This led to him running double-digit routes for the first time. He also more than doubled his career targets, with four.

He caught two of those passes for 24 yards, finishing third on the team in receiving yards.

Goedert is eligible to return from injured reserve this upcoming week and was already spotted working off to the side of practice last week.

This means Calcaterra is likely to see fewer snaps, but he could be the team's No. 2 tight end next season.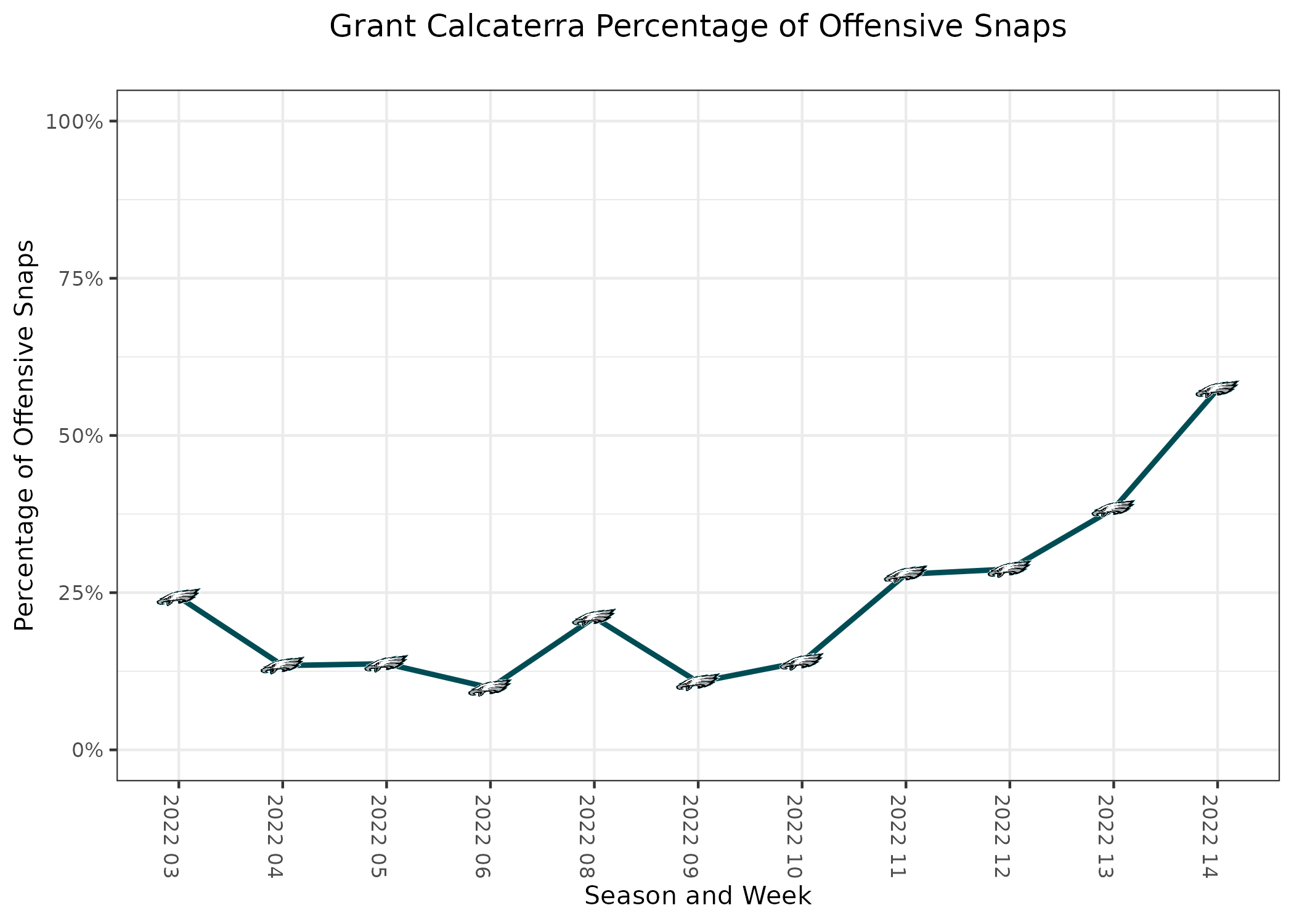 ---
• Evan Engram: 11 receptions, 162 yards, 2 touchdowns
• Derrick Henry: 17 carries, 121 yards, 1 touchdown, 3 receptions, 34 receiving yards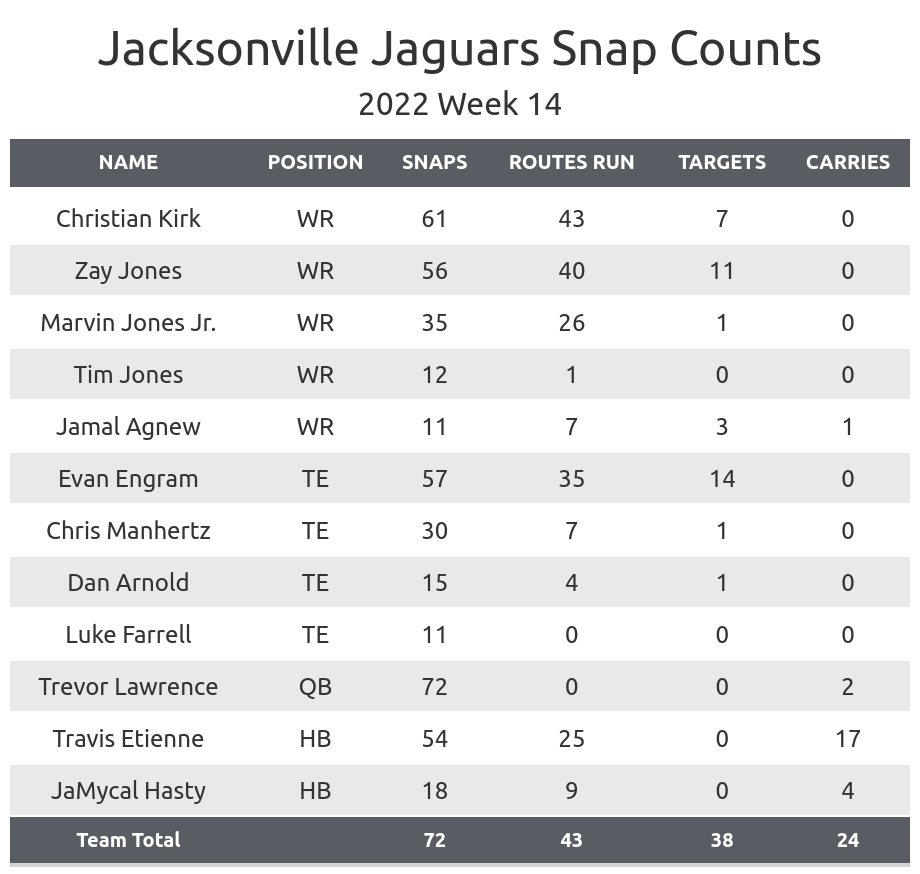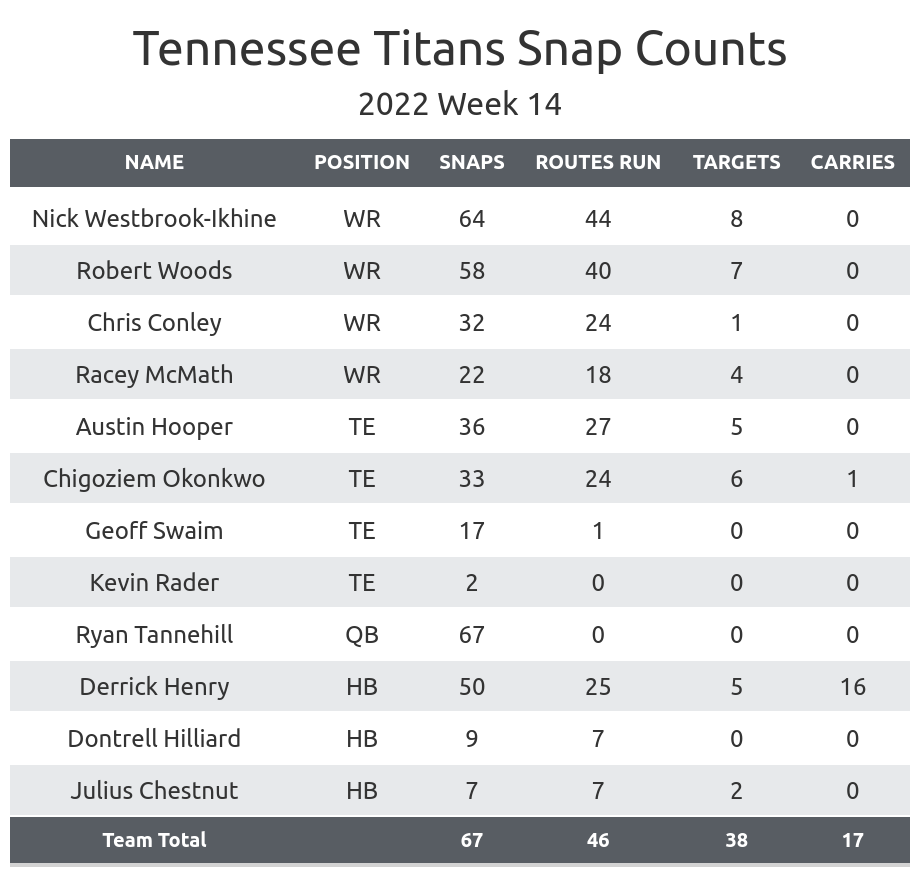 Add Evan Engram: Engram put up one of the best fantasy performances by a tight end this season.
He's been a borderline fantasy starter all season due to volume. His 405 routes run this season are the third-most among tight ends this season.

After this spectacular performance, he also ranks top six in targets, receptions and receiving yards.

He scored one touchdown over the first 12 weeks but has now scored three over the past two weeks.

The Jaguars have only an

average schedule

for tight ends over the fantasy playoffs.

He will likely go back to catching a few passes a game for an unremarkable number of yards, but his route volume still gives him one of the higher floor than other tight ends.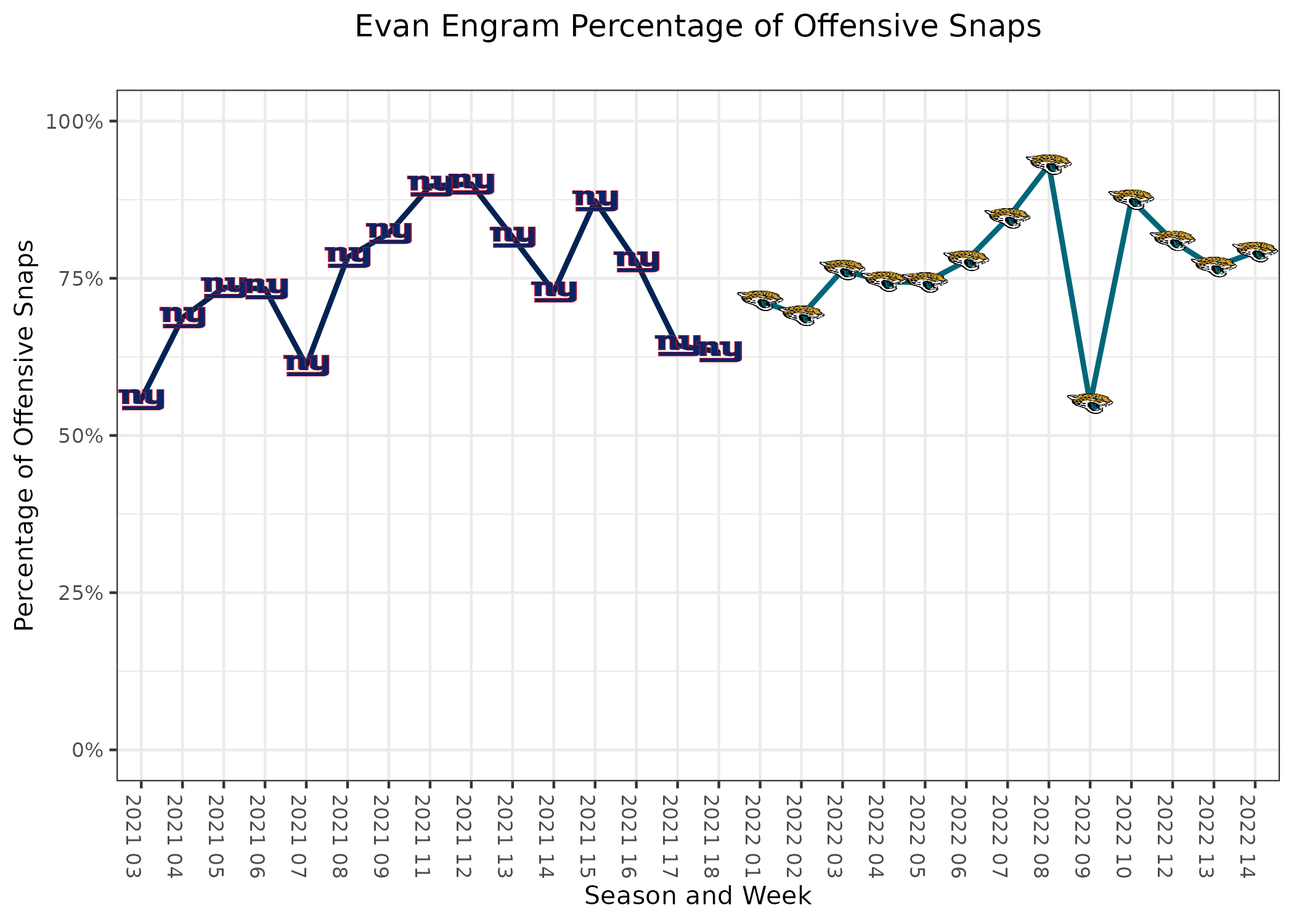 Monitor Dontrell Hilliard's health: Hilliard was carted off the field after suffering a neck injury on a punt play. He didn't return.
Hilliard has served as the Titans' third-down back, as well as the primary backup on early downs, for most of the season.

Third-string running back

Hassan Haskins

was limited in practice all week with a ribs injury and was inactive.

Undrafted rookie

Julius Chestnut

was elevated from the practice squad before this game and took over as the primary backup running back.

They didn't trust Chestnut on any early-down snaps, but he took every third-down snap over the rest of the game.

These injuries all add up to more snaps and touches for Derrick Henry

. Henry particularly took more snaps in two-minute drills than normal.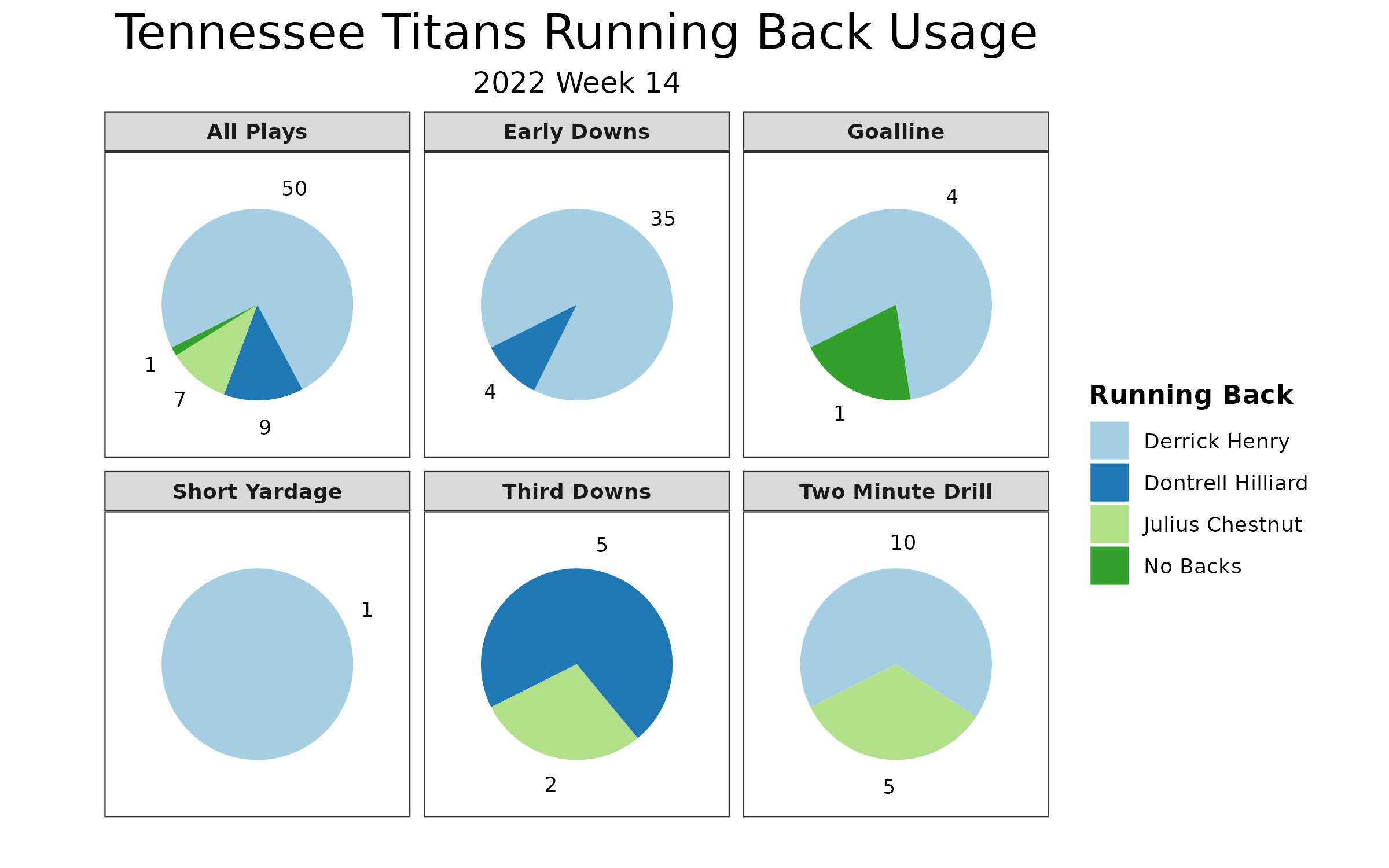 The Titans without three of their top five receivers: The Titans used several players to make up for several injuries.
Treylon Burks

missed this game after suffering a concussion last week, and

C.J. Board

was also inactive with a ribs injury.

Cody Hollister

landed on injured reserve earlier in the week with a neck injury.

This led Tennessee to activate

Racey McMath

off injured reserve and sign

Chris Conley

to the active roster off the practice squad.

Tennessee combated injuries last week with more two-tight end sets, but they didn't have that luxury while playing from behind in the second half.

This led to fewer snaps for

Chigoziem Okonkwo

, but stay optimistic about the rookie tight end.

He played a clear majority of snaps in multiple tight end sets, as was the case last week. He also played 20 of a possible 46 snaps in 11 personnel. He played only three of 21 snaps from that personnel group last week, and 36 of 333 all season prior to this week.

This makes Okonkwo a more viable option going forward, particularly in games where Tennessee has a lead.

His 2.58 yards per route run this season is still by far the best figure among all tight ends.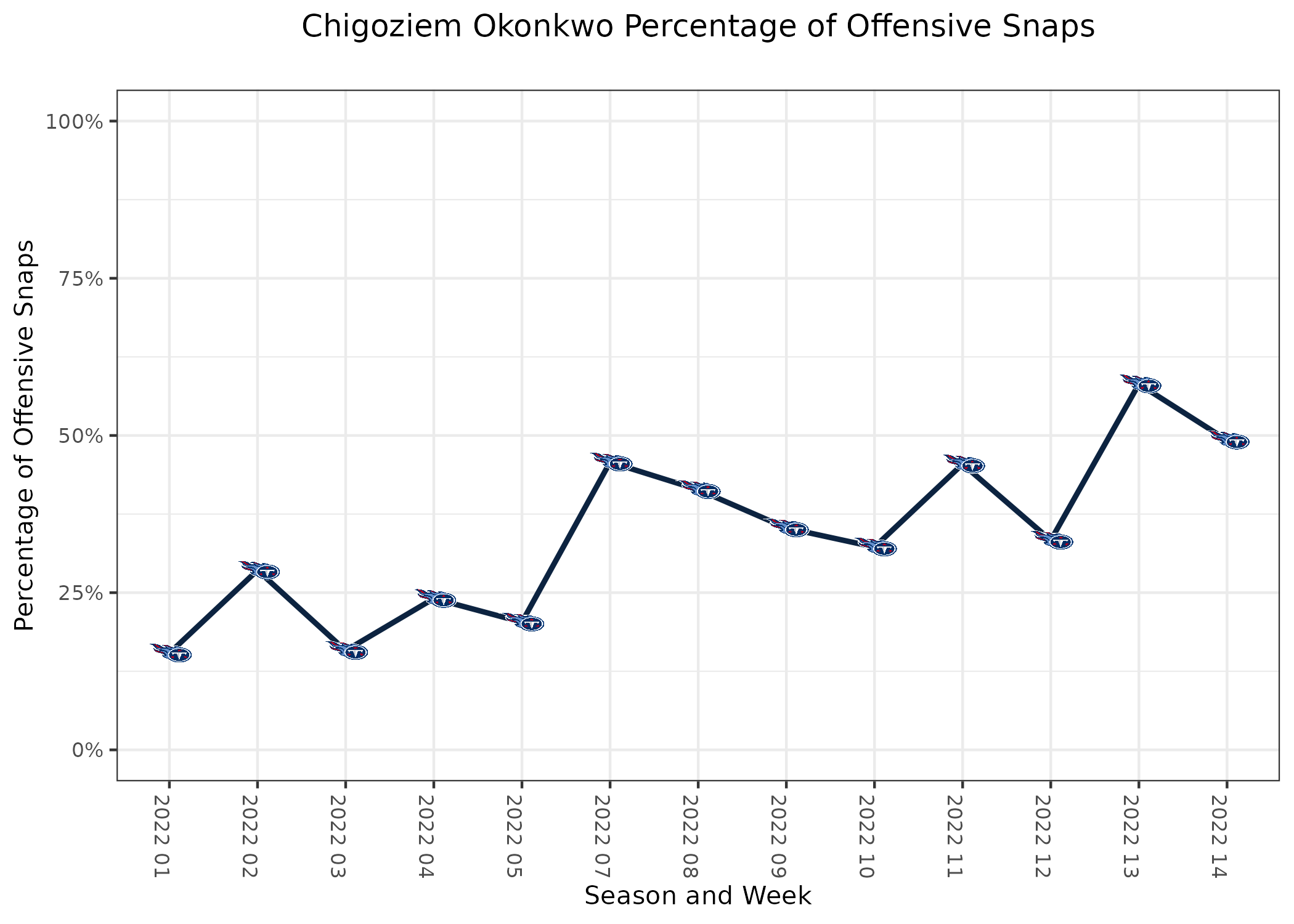 ---
• Jerry Jeudy: 8 receptions, 73 yards, 3 touchdowns
• Jerick McKinnon: 7 receptions, 112 yards, 2 touchdowns; 6 carries, 22 rushing yards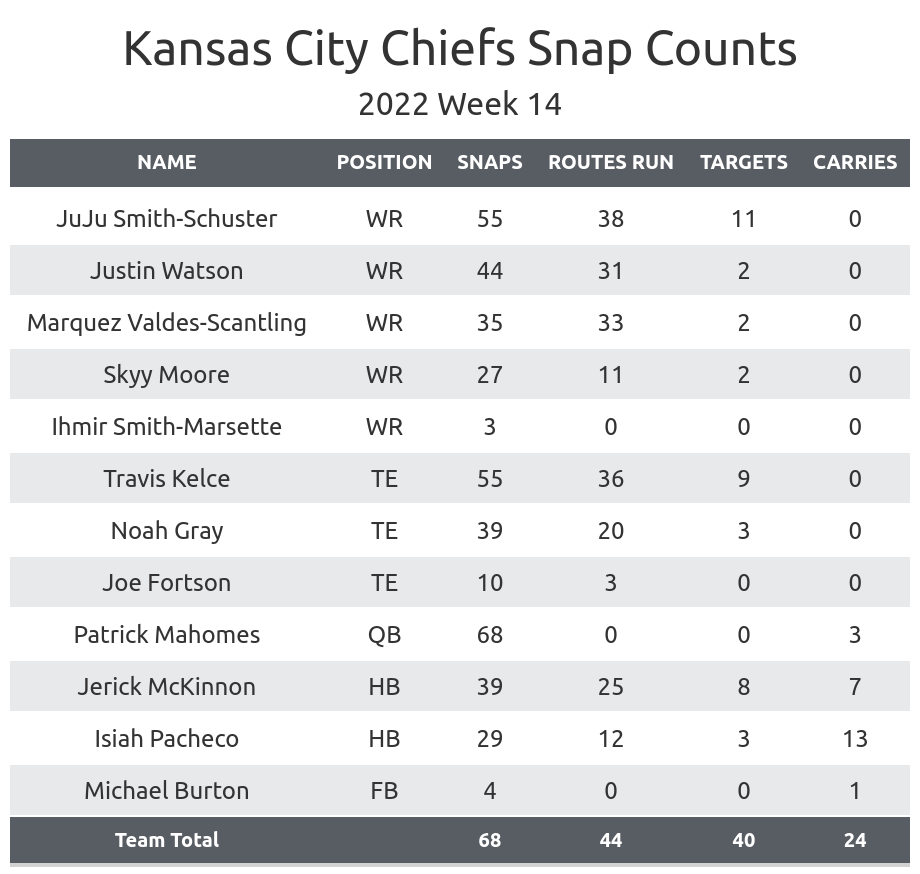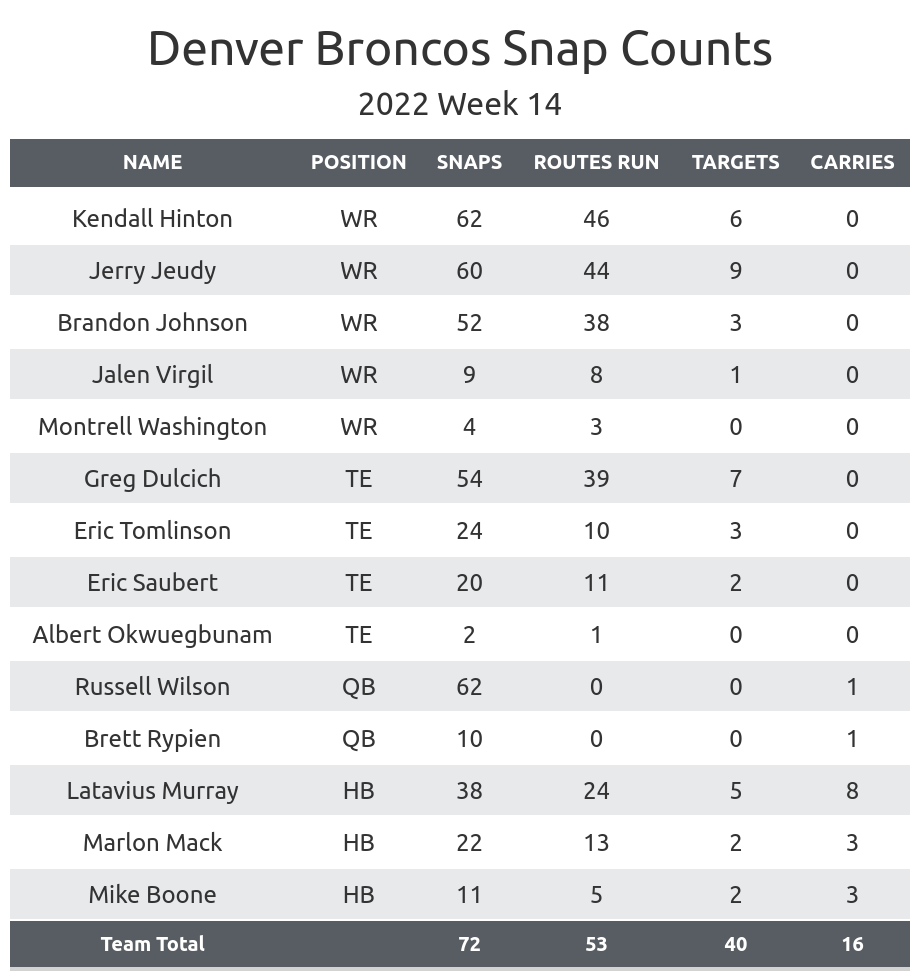 Monitor the health of Mike Boone: Boone suffered an ankle injury late in the second quarter and was carted off the field.
Boone was playing a little more than he did last week, not only taking the third-down snaps but also some work on early downs.

Marlon Mack

, who is historically known as a two-down back, took over for the two-minute drill. He also was the primary backup and played some third downs over the rest of the game.

 He caught a 66-yard touchdown pass in this role to begin the third quarter. Prior to this game, Mack only had 49 receiving yards to his name since 2020.

It was clear the team didn't want

Latavius Murray

to handle the same every-down role he's seen in recent weeks, regardless of Boone's health.

Luckily, the Broncos play two teams with losing records over the next two weeks, so there is a chance Denver can be in a position to run the ball throughout the game.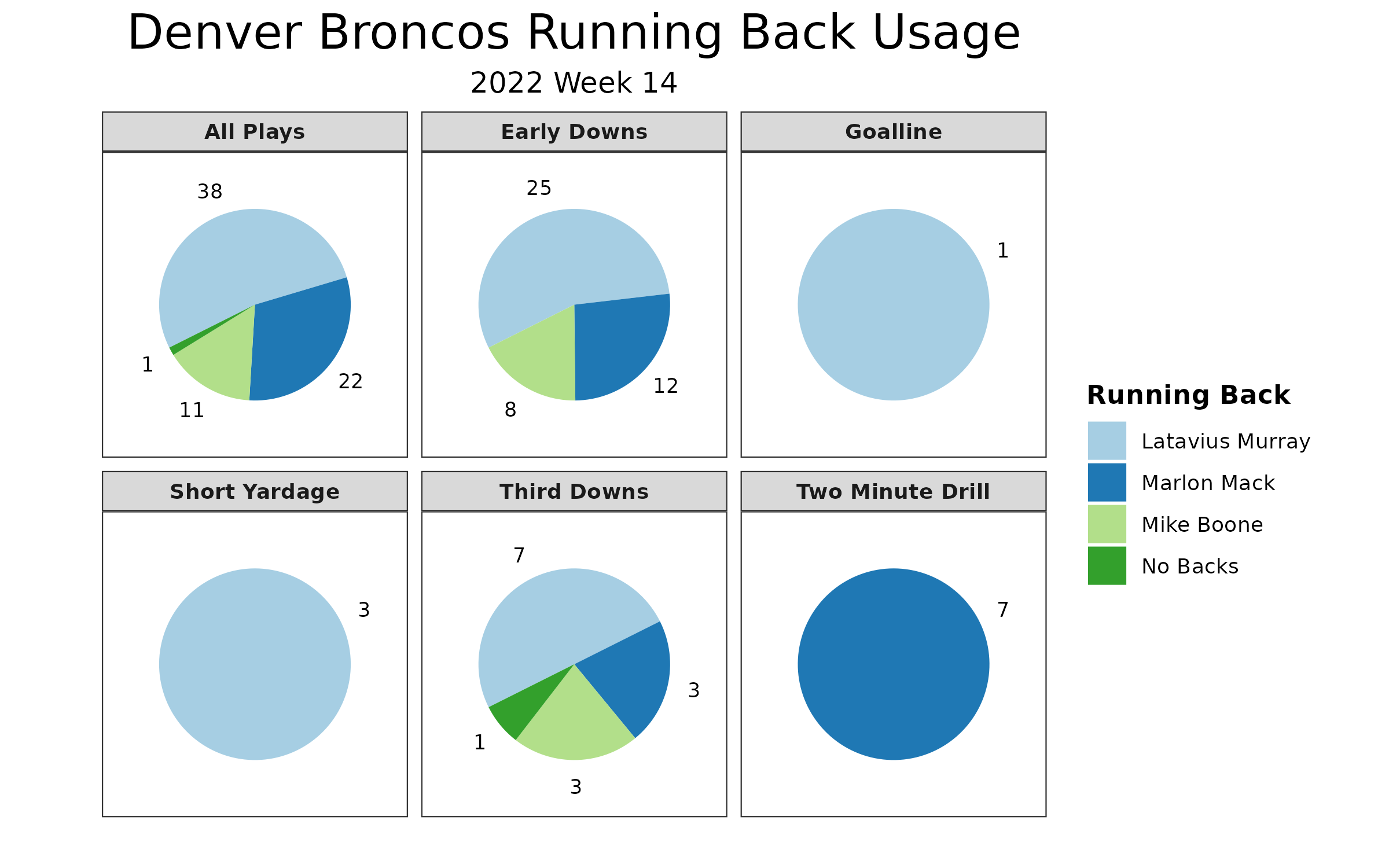 Monitor the health of Russell Wilson: Wilson took a hit in the fourth quarter and was later ruled out with a concussion.
Brett Rypien

took over as the quarterback for the rest of the game, leading to both a touchdown and an interception.

The Broncos play the Cardinals next week. Arizona has allowed the fourth-most fantasy points to quarterbacks this season and will be playing on a short week.

Rypien should be picked up in Superflex leagues just in case Wilson misses the game, as he could have a passable game against that defense. He doesn't need to be considered in single-quarterback leagues.
Skyy Moore heading in the wrong direction: The Chiefs were down two of their top six wide receivers for this game, but Moore played less than usual.
Moore ]played only 27 snaps, with 11 routes and 16 run blocks. 

He had run 31 routes and caught 10 passes in Weeks 11 and 12 combined when more receivers were out with injury, but that's fallen to 21 routes and one catch in Weeks 13 and 14.

Kansas City could get

Kadarius Toney

back next week, which will push him one spot further down the depth chart.

Usually it's okay to hold onto highly-drafted rookies until late in the season in case they have a late-season breakout, but that seems very unlikely in the last three weeks of the season. He can be dropped from fantasy rosters.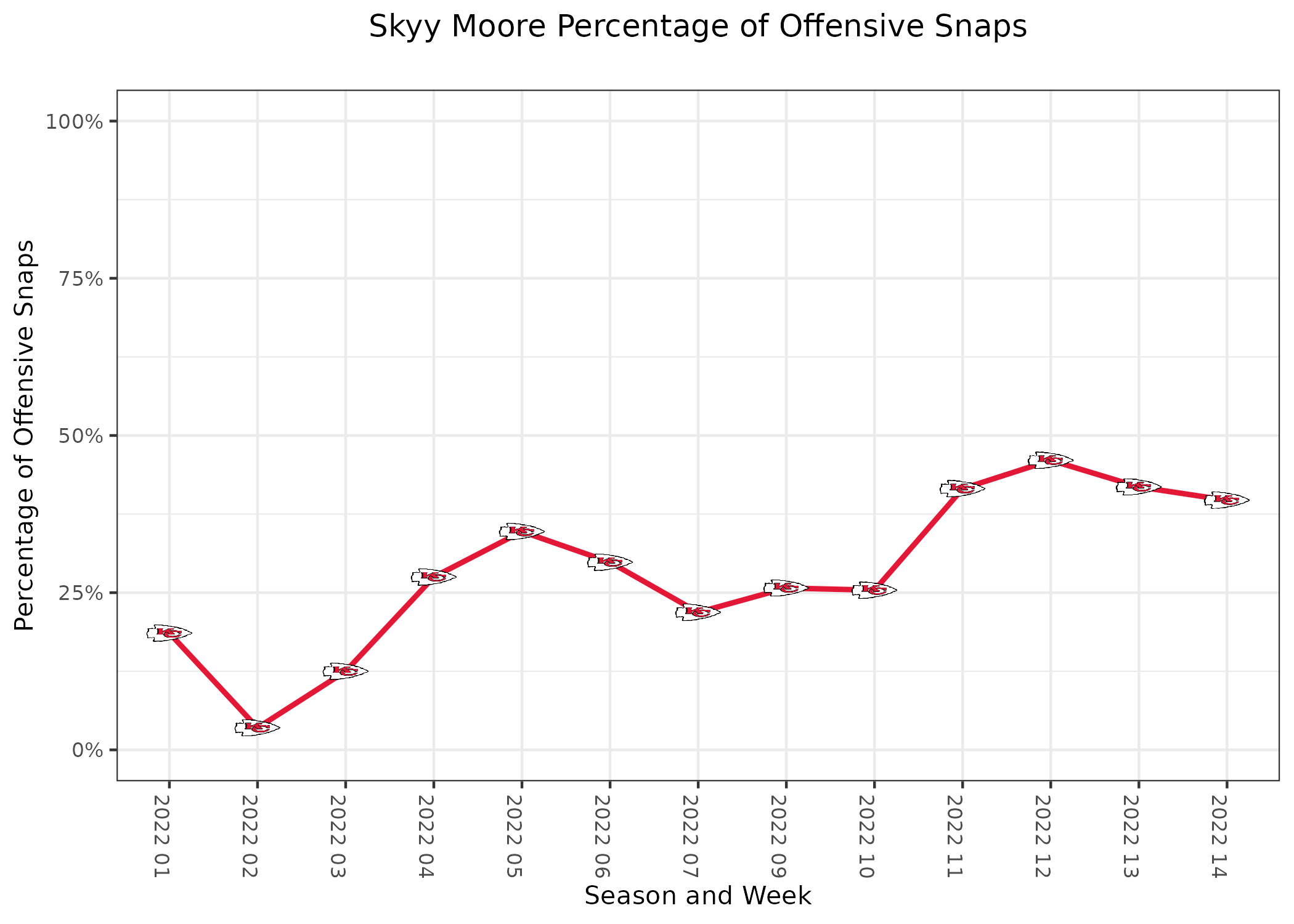 ---
• Marquise Goodwin: 5 receptions, 95 yards, 1 touchdown; 1 carry, -2 rushing yards
• Chuba Hubbard: 14 carries, 74 yards, 1 touchdown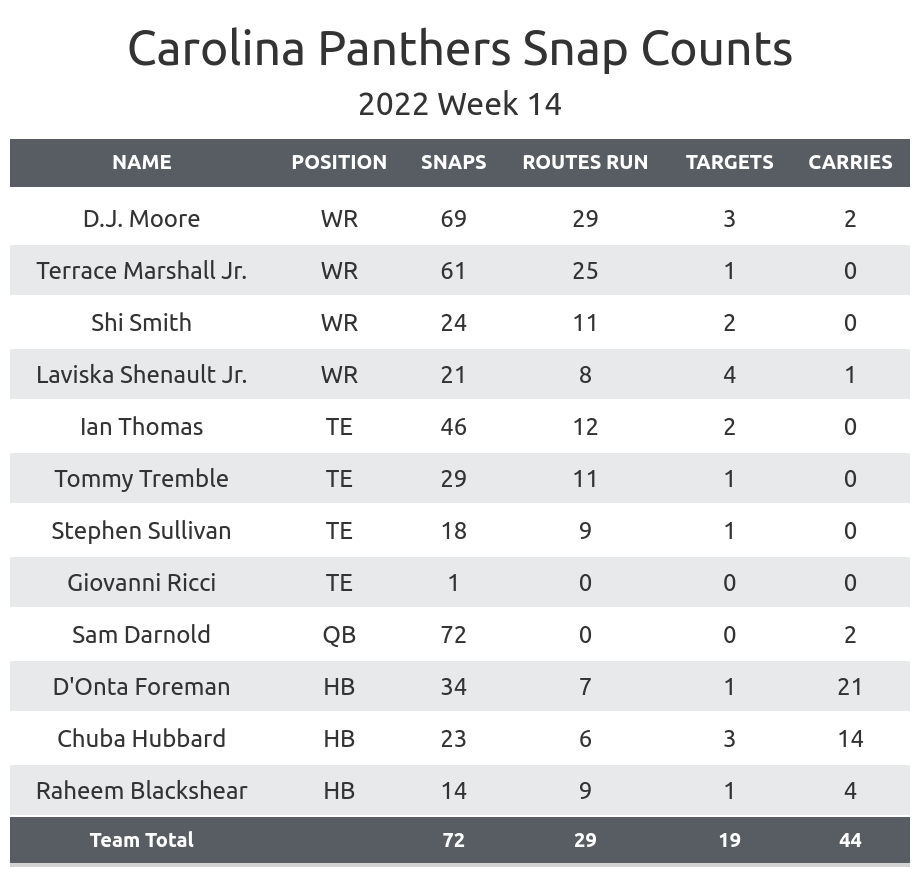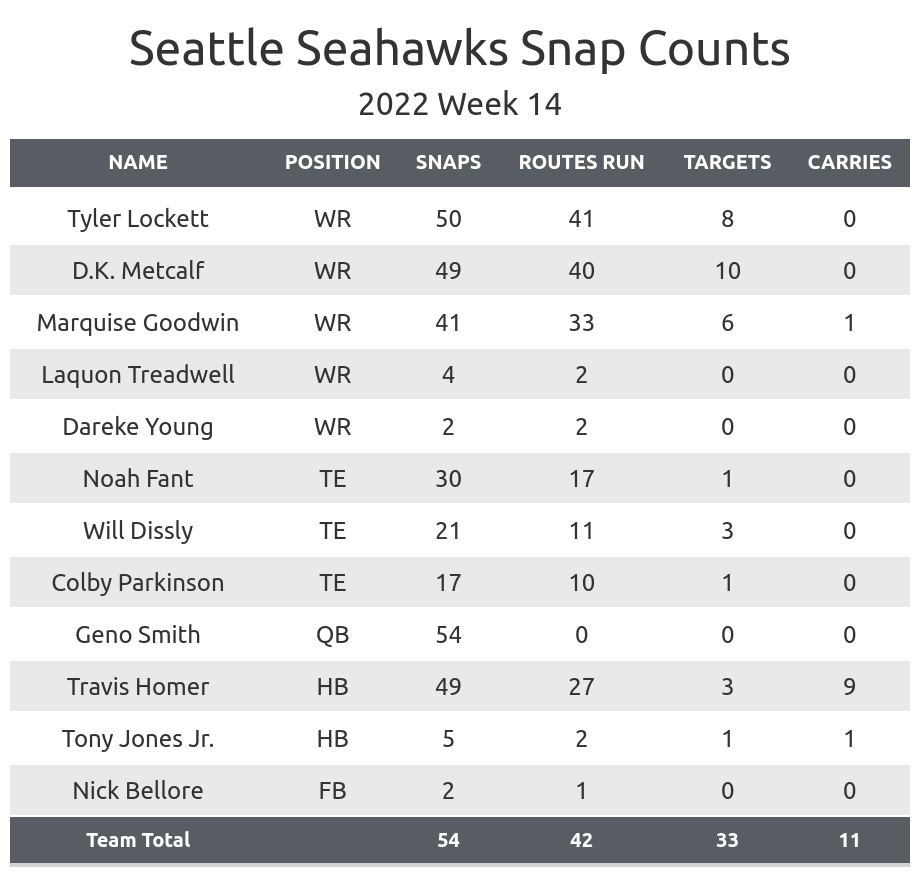 The Seahawks down two running backs: Ken Walker and DeeJay Dallas were both inactive due to injury.
There were reports that

Tony Jones

could be used as a runner

before the game, but

Travis Homer

took every snap in the first half and the vast majority in the second.

That led to only 26 yards on nine carries, and a 2-yard catch.

Jones was targeted on his two plays in the third quarter and took his only carry of the game in the fourth quarter.

The Seahawks play the

49ers

next week. San Francisco has allowed the fewest fantasy points to running backs by far this season. It's best to avoid this situation altogether unless Walker is much closer to 100%.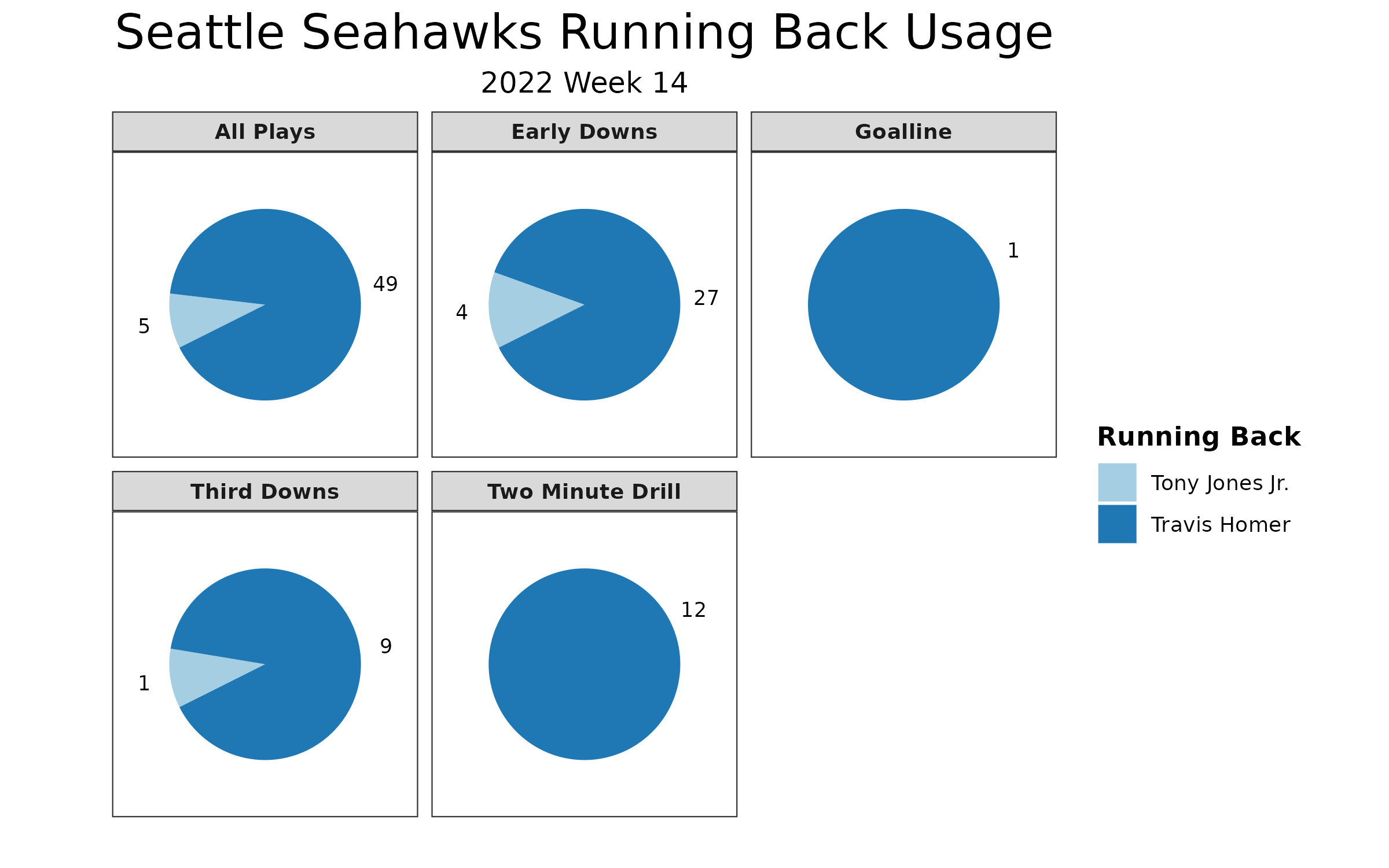 The Panthers' frustrating three-man backfield: Raheem Blackshear took significant snaps for Carolina, making this more of a three-man backfield.
Blackshear led the team in routes run and saw a career-high in percentage of offensive snaps in a game where all three backs were healthy.

These snaps were spread out throughout the game rather than being isolated late in the game or in a particular situation.

This led to an 8-yard touchdow in the fourth quarter.

Chuba Hubbard

served as the third-down back as usual, but he also took significant snaps in short-yardage situations, leading to his 2-yard touchdown run early in the game.

D'Onta Foreman

was clearly the lead rusher, but he gained only 74 yards on the ground despite having 21 carries.

All three of the Panthers' remaining opponents during the fantasy playoffs are in the top half of the league at preventing fantasy points to running backs. This will make it harder to trust Foreman in fantasy starting lineups going forward.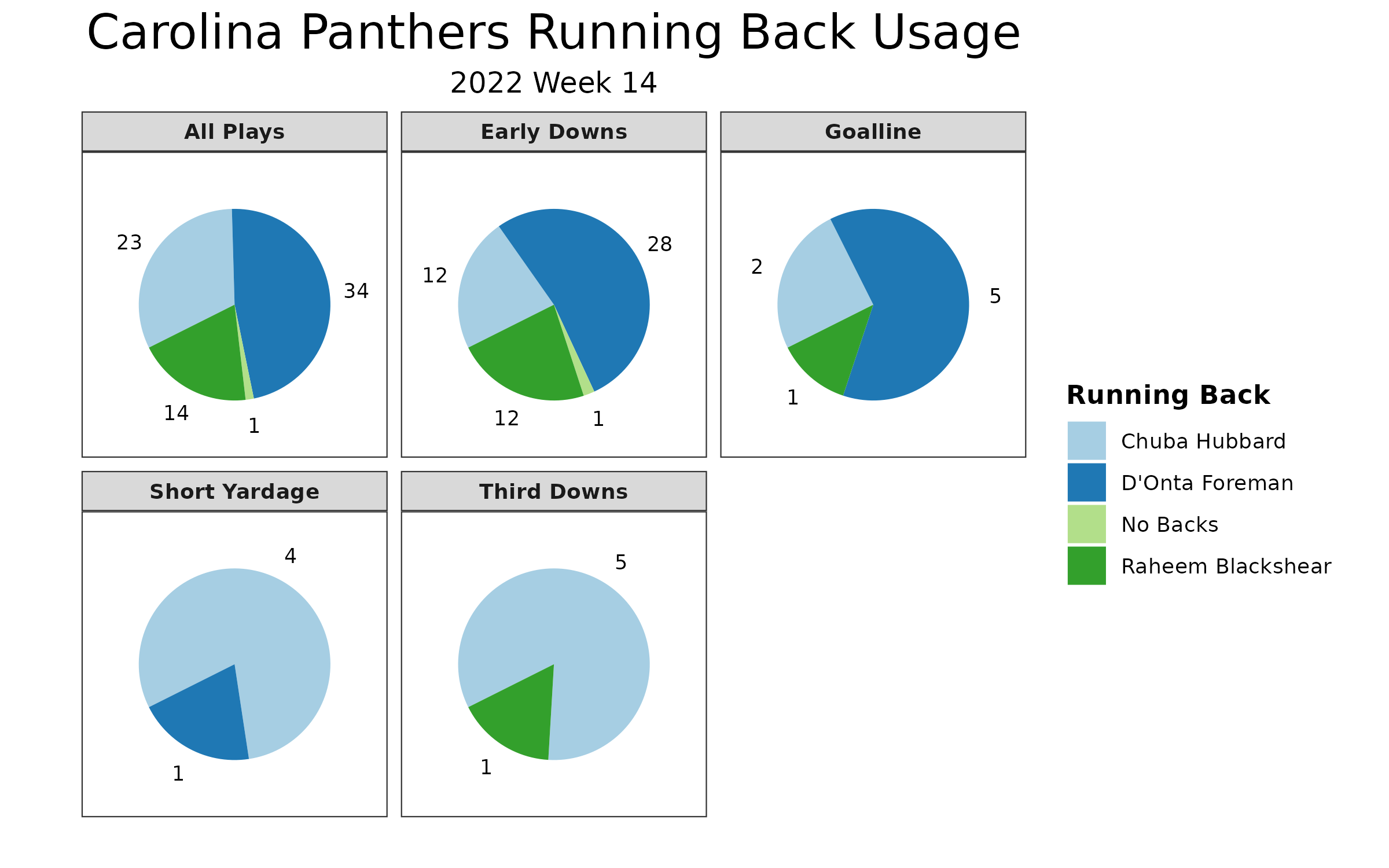 ---
• Christian McCaffrey: 14 carries, 119 yards, 1 touchdown; 2 receptions, 34 receiving yards, 1 receiving touchdown
• Deebo Samuel: 4 carries, 21 yards, 1 touchdown; 4 receptions, 43 receiving yards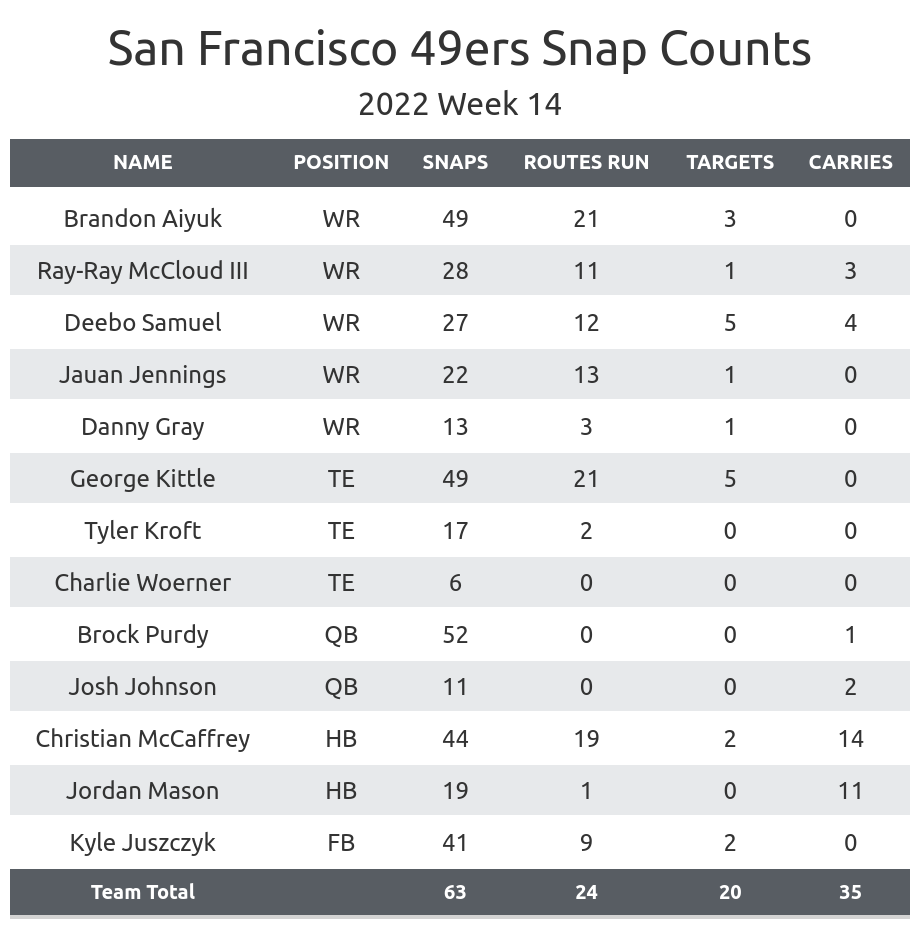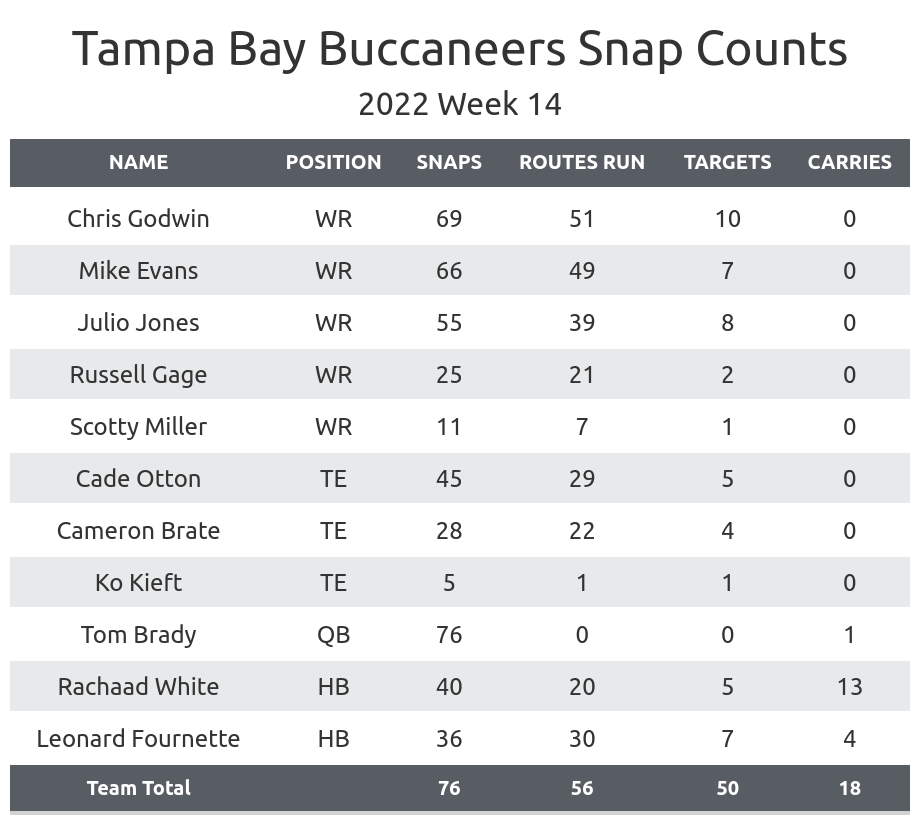 Monitor the health of Deebo Samuel: Samuel suffered an ankle injury in the first half and was quickly ruled out of the game.
Early indication is that the injury is

not expected to be serious

, but it might be enough for him to miss a game or two.

Ray-Ray McCloud III

initially took over for Samuel to end the first half. He and

Jauan Jennings

split Samuel's snaps in the third quarter.

The 49ers switched mostly to backups in the fourth quarter, which gave

Danny Gray

some opportunities to run block along with McCloud.

San Francisco plays Seattle on Thursday Night Football next week, making it very unlikely Samuel is ready to play.

The

Seahawks

have allowed the second-most fantasy points to running backs this season. San Francisco will be running early and often, making it less important to prioritize a 49ers wide receiver off the waiver wire.

The 49ers will likely be able to focus on the run in their other two games in the fantasy playoffs, as well.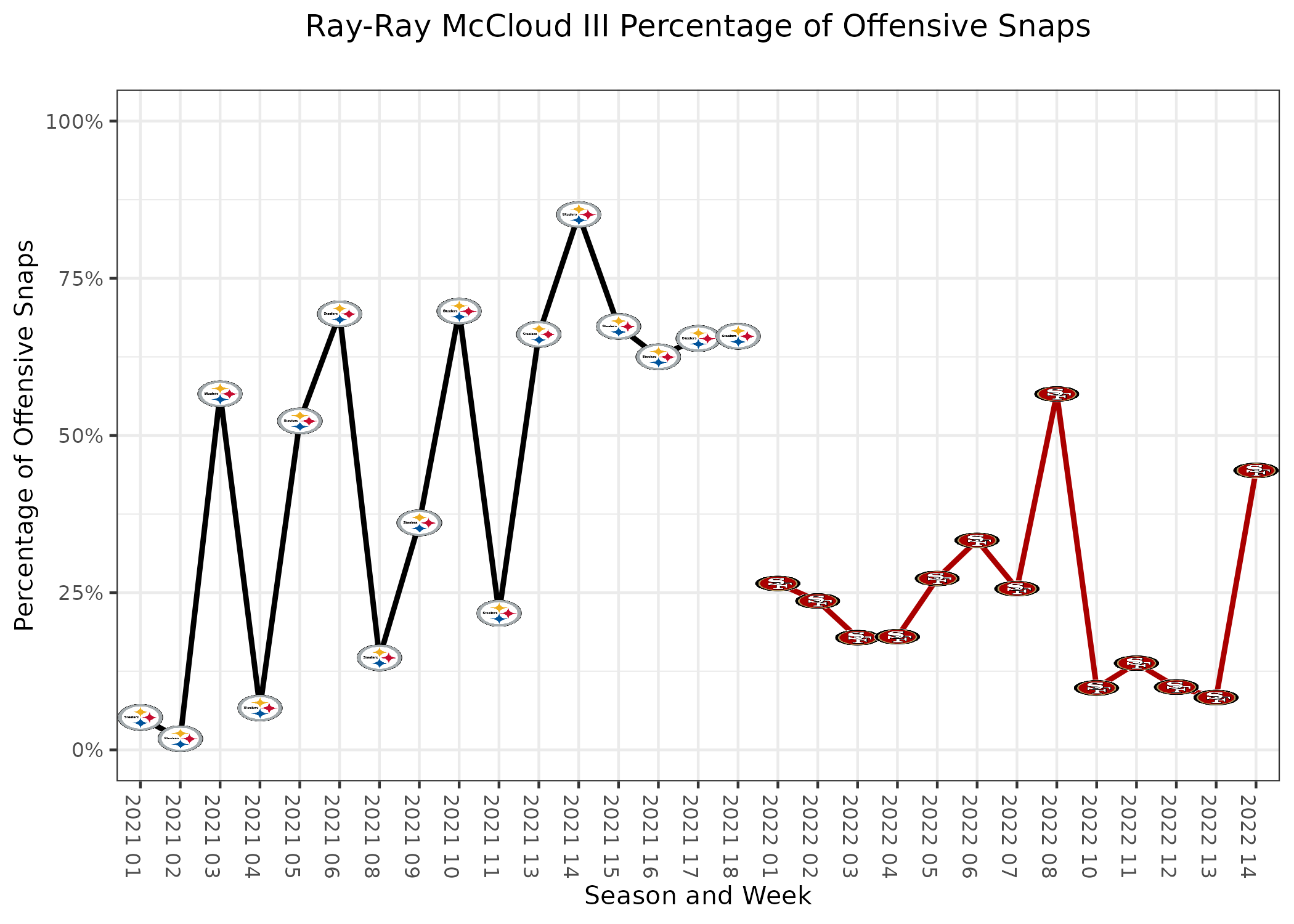 Rachaad White remains the lead back in Tampa Bay: White started the game for Tampa Bay and he continues to rotate by drive with Leonard Fournette as he has in other recent games.
Fournette showed up on the injury report with a foot injury this week, keeping him limited on Thursday and out of practice on Friday.

This made it seem like White could have a larger role than usual, but instead they stayed in the same rotation.

The Buccaneers kept playing Fournette into the fourth quarter despite the game being a blowout, so the injury doesn't seem serious enough to worry about him long-term.

White ended up the clear leader in carries with 13 runs compared to four by Fournette. Fournette caught six passes to five by White.

White remains the player to rank higher among the two going forward, but we could keep seeing similar fantasy production.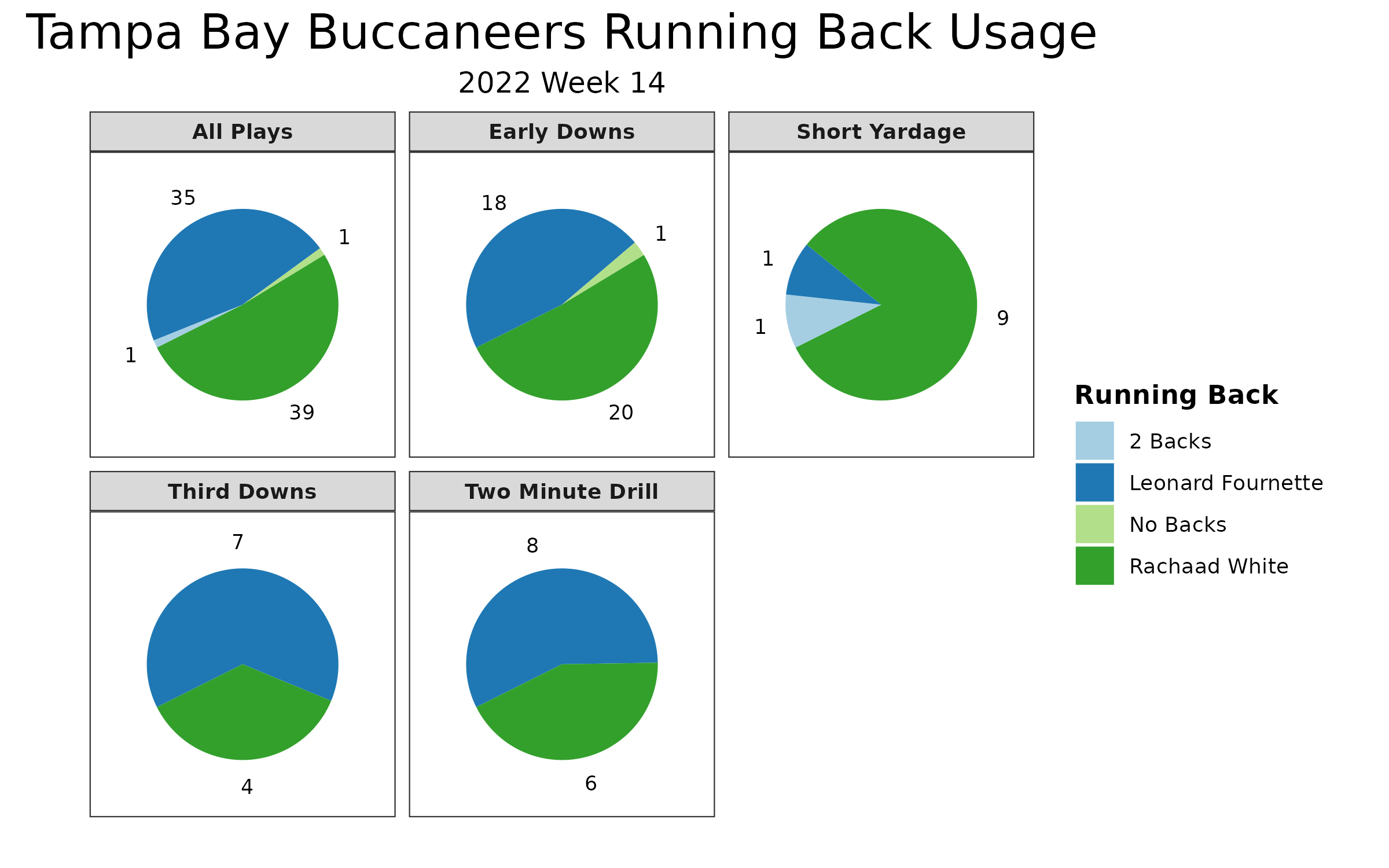 ---
• Tyreek Hill: 4 receptions, 81 yards, 1 touchdown; 57 fumble-recovery yards, 1 fumble-recovery touchdown
• Mike Williams: 6 receptions 116 yards, 1 touchdown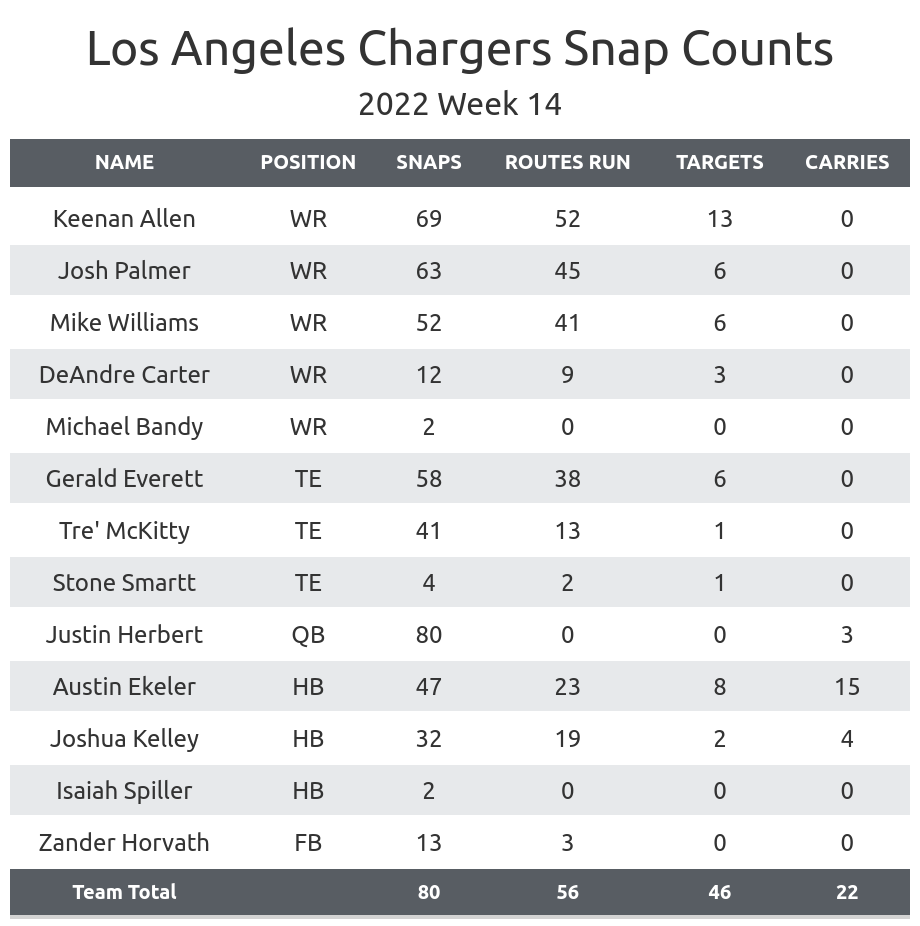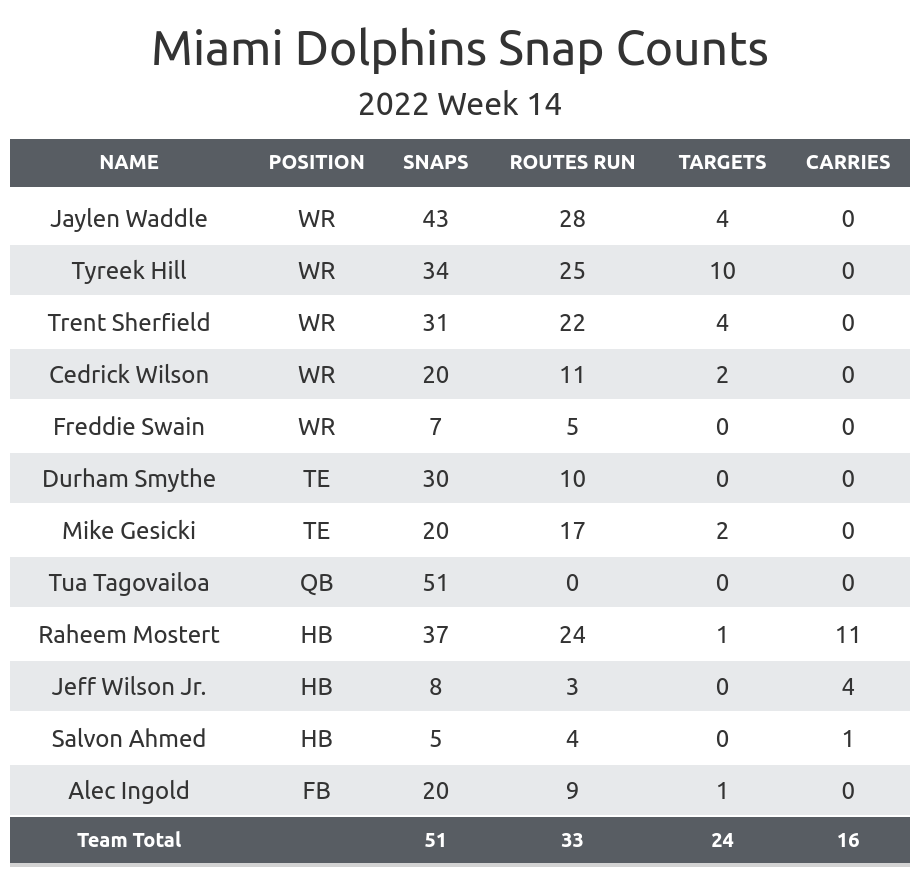 Monitor the health of Jeff Wilson: Wilson suffered a hip injury in the second quarter and didn't return.
Raheem Mostert

took all nine snaps for the Dolphins in the first quarter, making it clear that the Dolphins still view Mostert as the top back. Mostert took the clear majority of snaps for Miami last week.

Mostert took the first two drives, and Wilson took the following two. The team was finding a little more success with Wilson, so he stayed in to start the fifth drive, and that's when he suffered the injury.

Mostert played a clear majority of snaps over the rest of the game, with

Salvon Ahmed

occasionally mixing in for passing situations.

Mostert becomes a must-start running back if Wilson misses time. If Wilson is 100% by next week, then either player could receive significant playing time, making it hard to trust either player.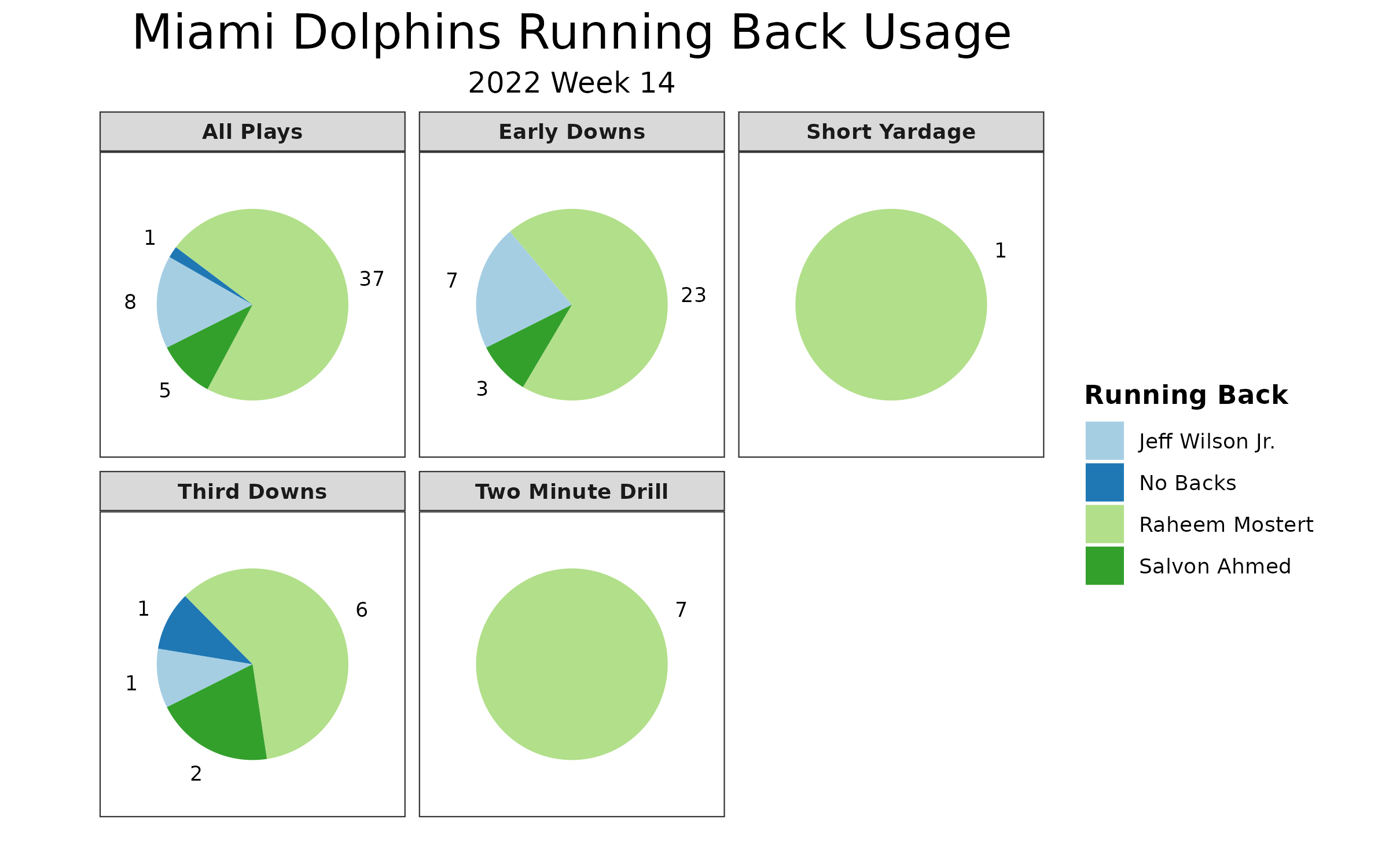 Monitor the health of Tyreek Hill: Hill reportedly suffered an ankle injury in the first half. He continued playing in the second half but did not take the field for the final drive.
Hill was getting his ankle checked out on the sideline throughout the second half, but t

hat didn't stop him from having the performance of the night for Miami.

Trent Sherfield

would be worth picking up if Hill's injury ends up being serious. He's been the clear third wide receiver all season and would see a full-time role if Hill misses time.
The return of Mike Williams: Williams returned to the Chargers lineup after playing only six snaps in November because of an ankle injury.
This was the first game all season where

Keenan Allen

and Williams both started and finished the game.

It resulted in the two receivers combining for 208 yards on 18 catches and

Justin Herbert

throwing for 371 yards.

Williams didn't see quite as much playing time as he usually would at 100%.

Josh Palmer

took some snaps from Williams in two-receiver sets, while

DeAndre Carter

took some snaps from Williams in 11 personnel.

Palmer's playing time wasn't as reduced as it could have been because he played for Williams in 12 personnel and the Chargers stuck with 11 personnel for a lot of the game.

Carter has basically been a starter for the Chargers all season, but he fell to fourth on the depth chart and his playing time was reduced considerably.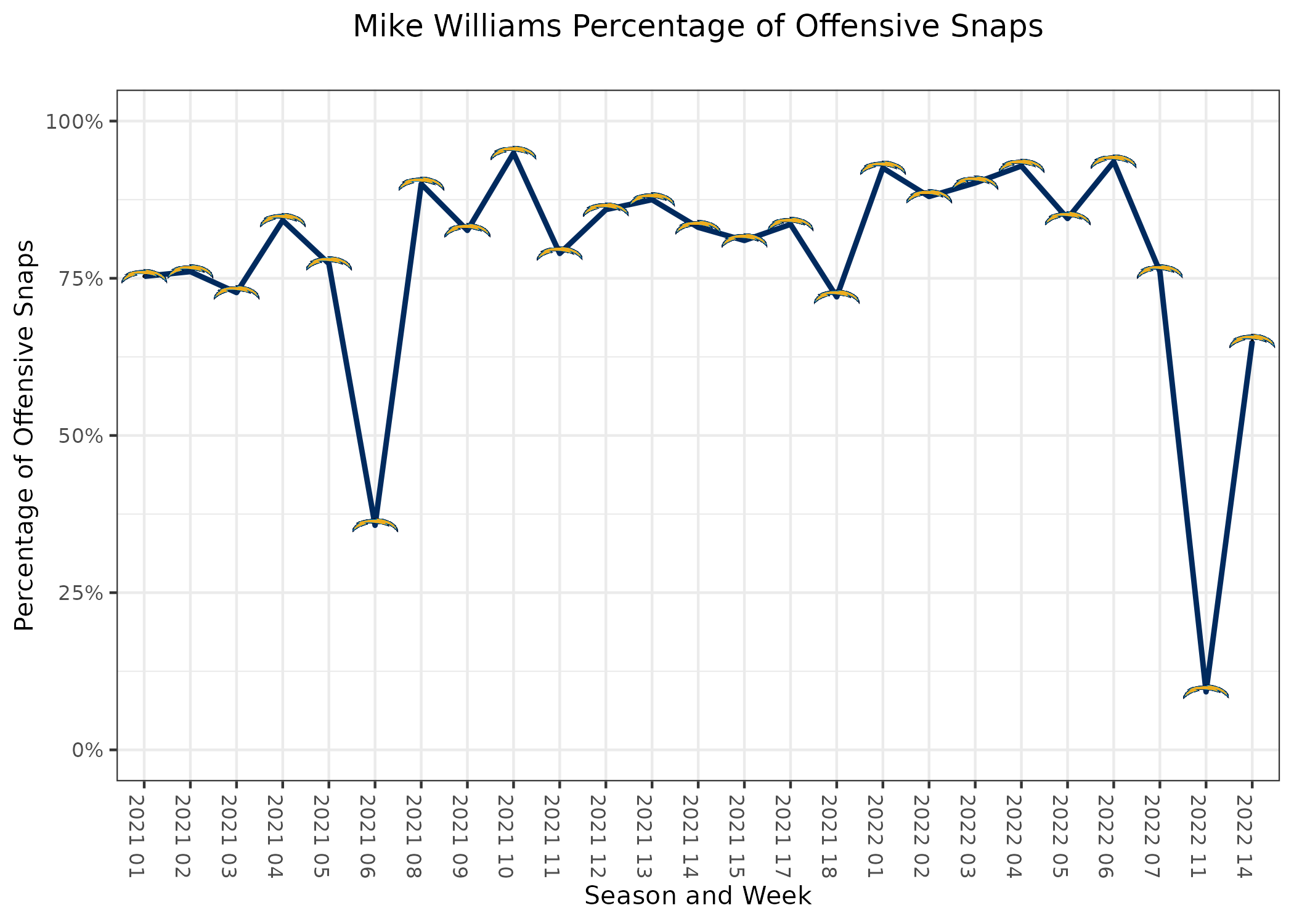 ---
Table Notes
• Snaps include plays called back due to penalties, including offensive holding or defensive pass interference. The other three stats have these plays removed.
• Targets may differ from official NFL sources. The most likely discrepancy would be from a clear thrown-away pass, where the NFL may give the target to the nearest receiver, while this data will not.
• Carries are only on designed plays. Quarterback scrambles won't count for the total number of carries in the game.