• Jamaal Williams with another multi-touchdown game: Williams entered the day with four games of multiple rushing touchdowns this season, but this was the first of his career with three such scores.
• Chris Olave's best fantasy performance: Olave has put together 100-yard games, as well as games with touchdowns, but today was his first NFL game with over 100 yards and a touchdown.
• Rough day for RBs: Nick Chubb and Saquon Barkley both ranked in the top five in fantasy points coming into the week, but they combined for 29 carries for 41 rushing yards and no touchdowns today.
---
PFF's fantasy football recap focuses on player usage and stats, breaking down all the vital information you need to achieve fantasy success in 2022.

Jump to a game:
[email protected] | [email protected] | [email protected] | [email protected]
[email protected] | [email protected] | [email protected] | [email protected]
[email protected] | [email protected] | [email protected] | [email protected]
---
• David Montgomery: 17 carries, 67 yards, 1 touchdown, 3 receptions, 54 receiving yards
• Darnell Mooney: 4 receptions, 29 yards, 1 touchdown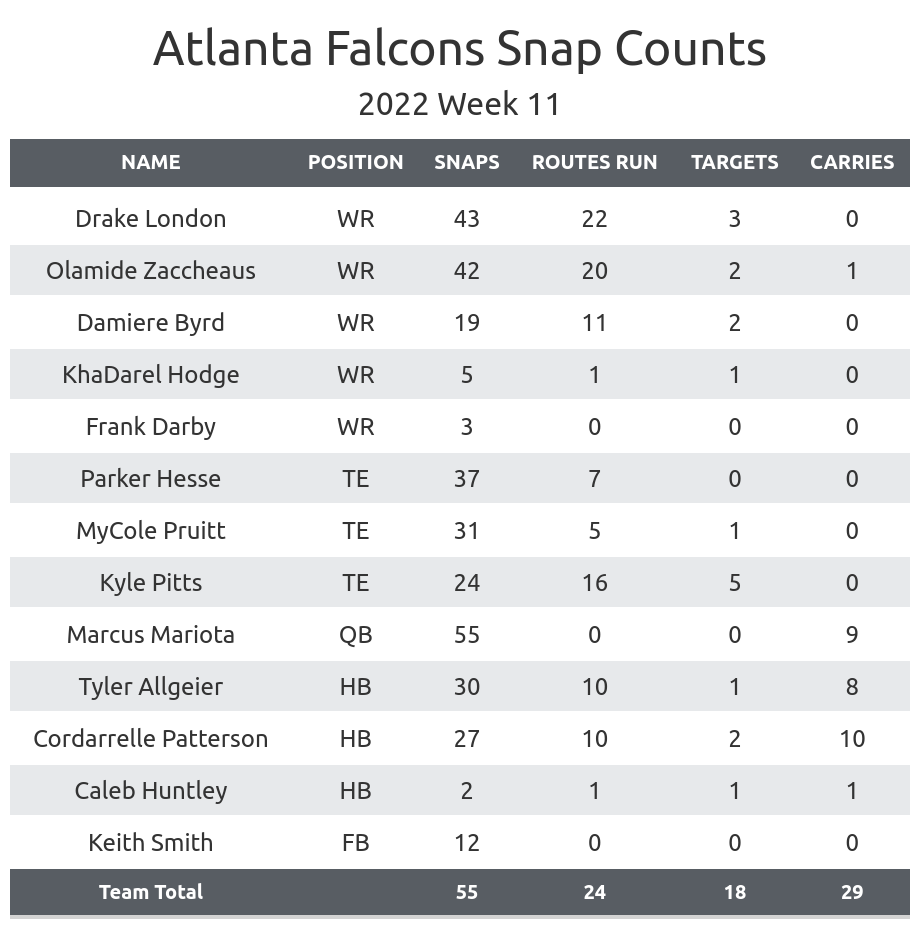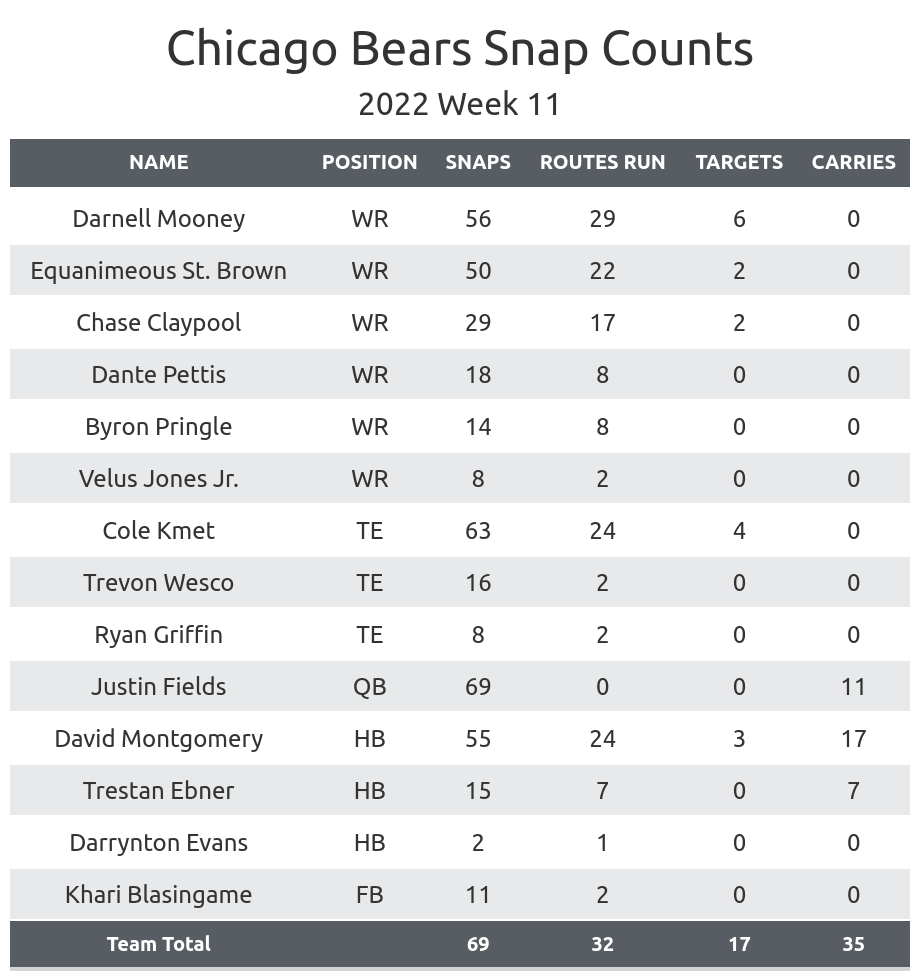 Monitor the Kyle Pitts injury: Pitts suffered a knee injury early in the third quarter and didn't return.
His playing time was on the rise last week, and that carried on into the first half. He played more than 80% of snaps both last week and during the first half. He hadn't surpassed that benchmark since Week 2.

He led the team in receptions (3) and receiving yards (43) despite barely playing in the second half.

MyCole Pruitt

was the primary receiving tight end in the second half. He caught one pass for 17 yards, which was good for the third-most receiving yards on the team.

Anthony Firkser

was a healthy inactive, but he could take over as the primary receiver if Pitts misses time.

There is initial optimism that Pitts didn't tear any ligaments, but it will take more tests on Monday to confirm.
The Bears' backfield without Khalil Herbert: Herbert landed on injured reserve with a hip injury. He's expected to return this season but will miss at least three more games.
David Montgomery

has been the starter all season, and he received more snaps than usual in this game. He was the primary running back in every situation.

While he was the team's clear top back, he didn't receive as much playing time as he did during most of last season under the previous coaching regime.

He finished second behind

Justin Fields

in both carries and rushing yards but led the team in receiving yards.

Rookie

Trestan Ebner

served as the backup running back and was unimpressive. He ran for eight yards on six carries and didn't catch his lone target.

Herbert is a buy-low candidate for anyone confident in making the fantasy playoffs and in leagues where the trade deadline hasn't passed. The Bears play the Lions in Week 17, and Detroit has allowed the fifth-most rushing yards and the third-most rushing touchdowns to running backs this season.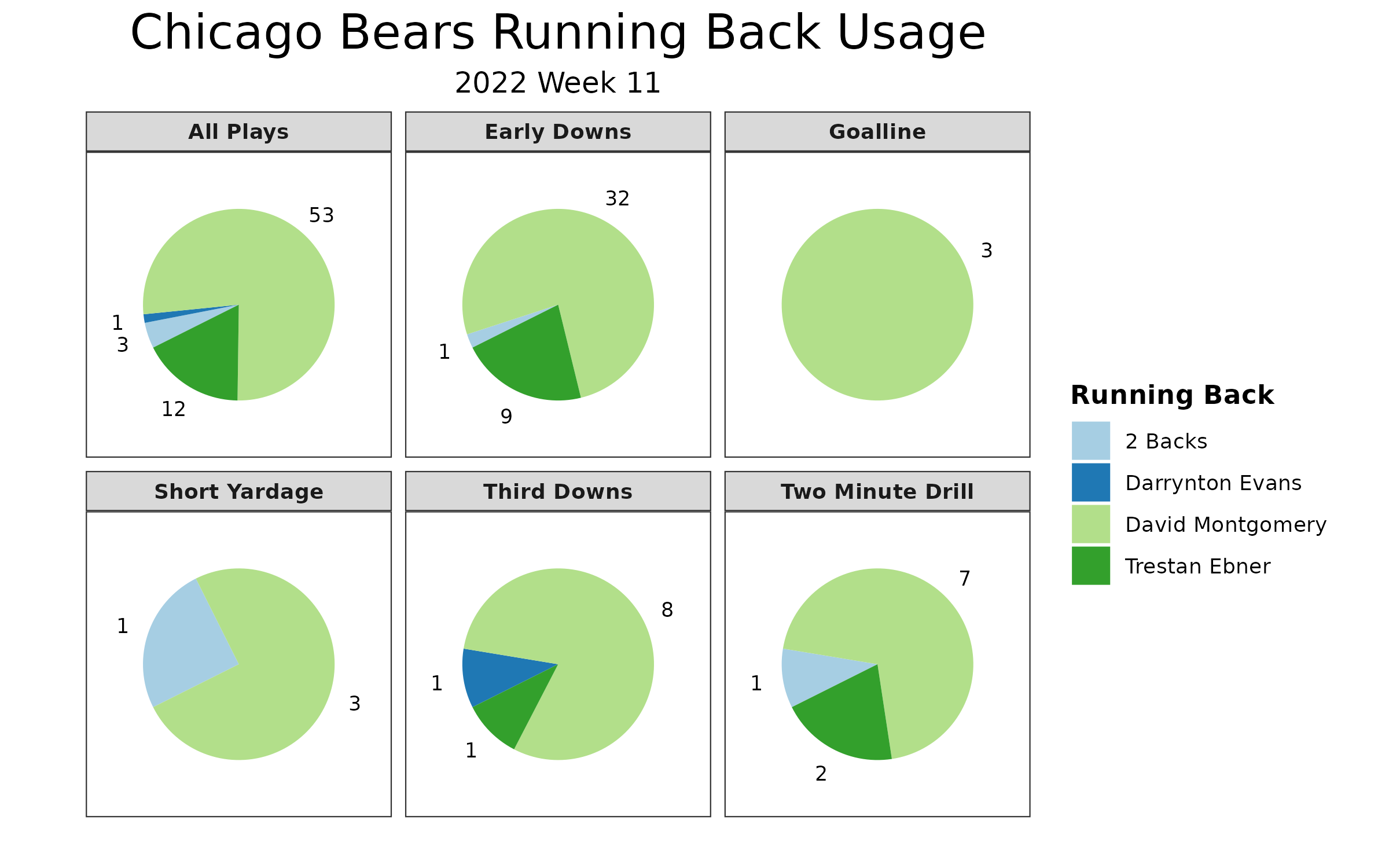 Bears wide receiver competition heats up: Chicago had six wide receivers active, with each getting playing time on offense.
Darnell Mooney

saw his second-lowest percentage of offensive snaps in the past calendar year due to the rotation. Luckily, he was primarily rotated out on run plays, so his fantasy production wasn't impacted by playing time.

Chase Claypool

has emerged as the team's third wide receiver, as he was in the top three in routes run and was one of the three to see any targets.

While this is a step in the right direction, Claypool ran a route on just around half of the Bears' pass plays, and a Chicago receiver was targeted on only roughly half of their pass plays due to scrambles and sacks.

Claypool can still probably be dropped in most fantasy leagues even with the increased playing time. The Bears are having a hard time keeping one fantasy wide receiver relevant. It would be even more difficult to have a second.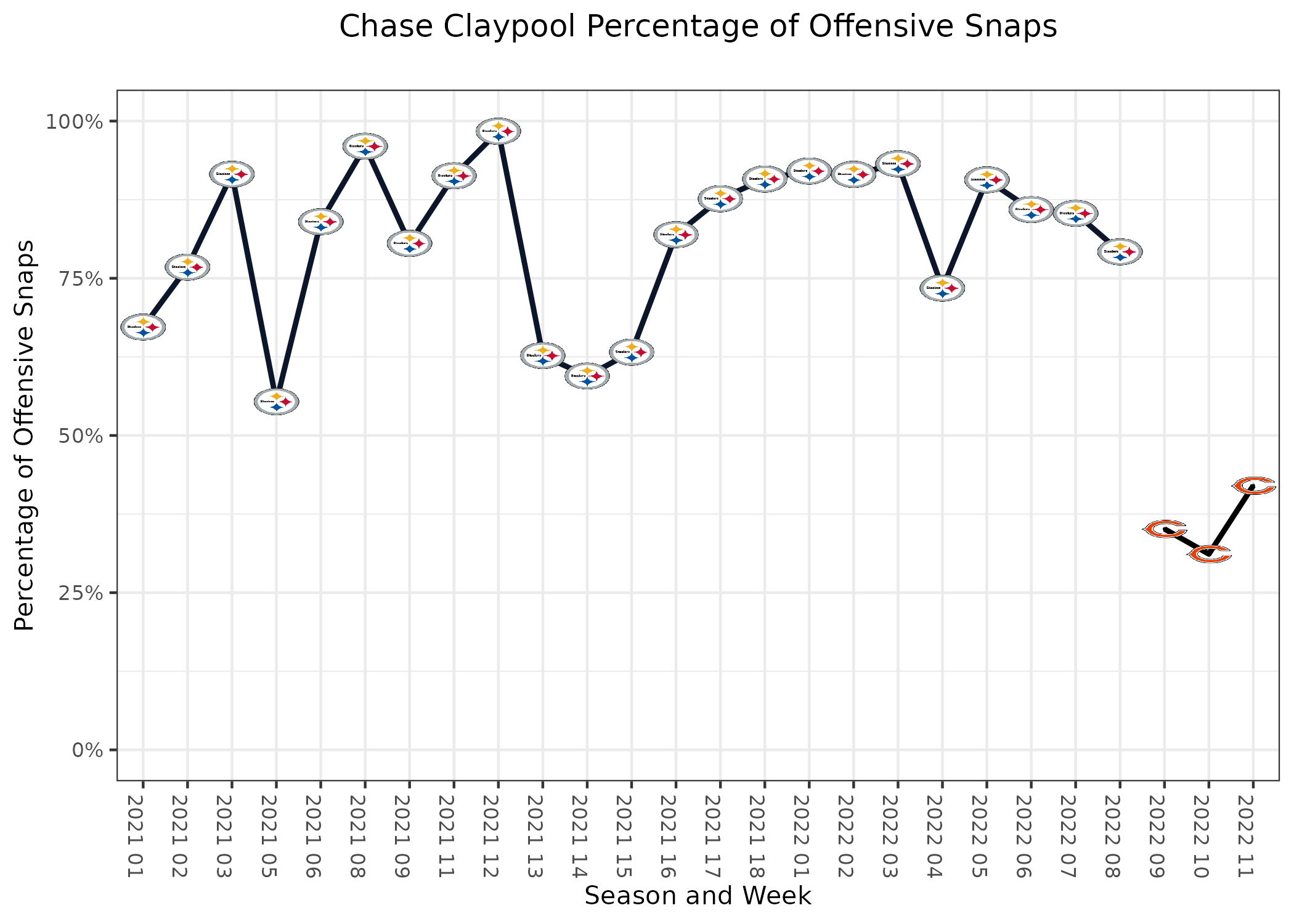 Monitor Justin Fields' health: Fields played the entire game for Chicago but was carted off after the game holding his left shoulder.
Fields continued his fantasy dominance, rushing 18 times for 85 yards and a touchdown while passing for 153 yards and a touchdown.

Trevor Siemian

would be the Bears' starting quarterback if Fields has to miss any time.

The Bears face the Jets and Packers in the next two weeks and then have a bye. That is bad news in the short term for the Bears' pass game, but volume alone could be enough to help the fantasy value of the team's receivers because Siemian wouldn't be running as much as Fields.
---
• Jonathan Taylor: 22 carries, 84 yards, 1 touchdown, 3 receptions, 10 receiving yards
• DeVonta Smith: 6 receptions, 78 yards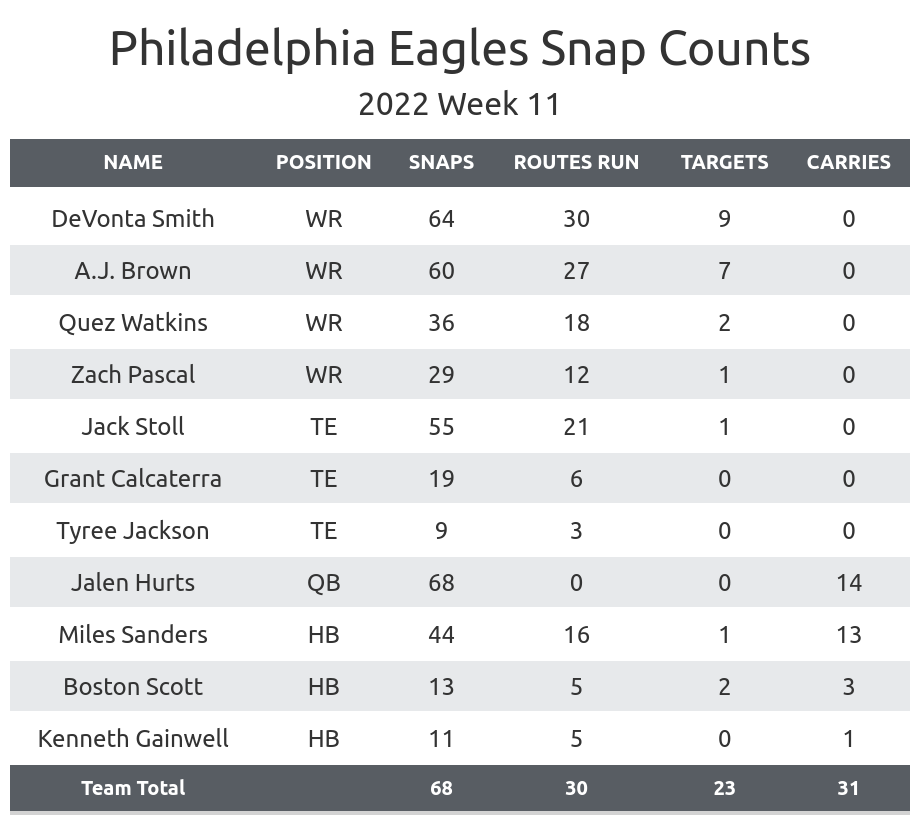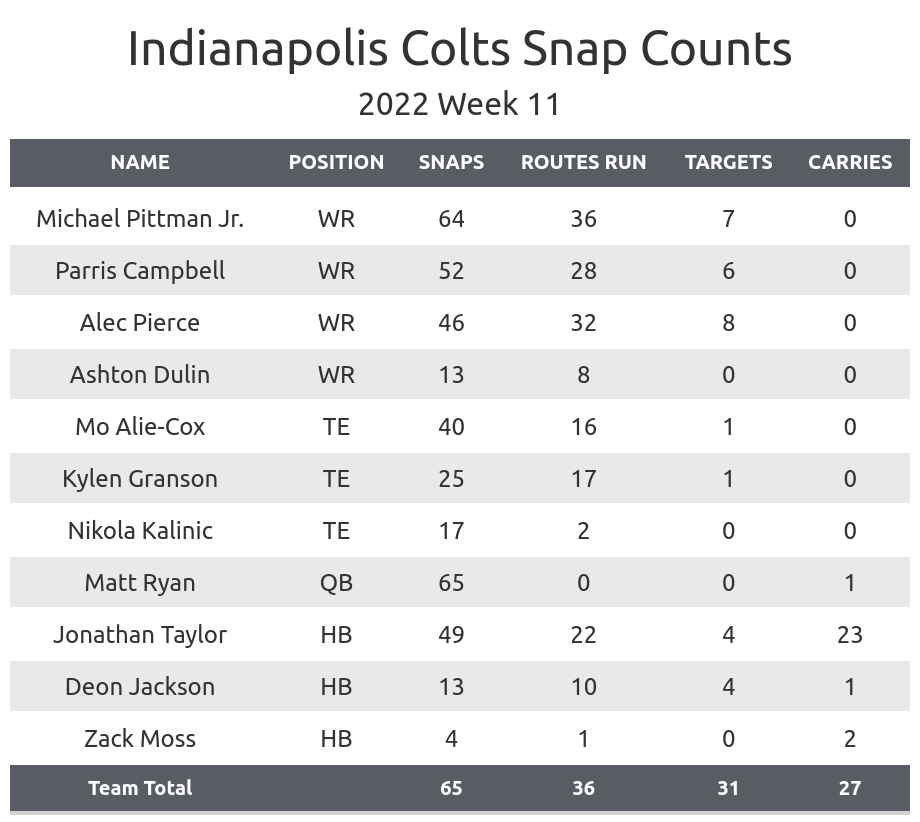 Examining the Colts' backfield: This was the first game with a fully healthy Colts backfield since the team traded Nyheim Hines for Zack Moss.
Jonathan Taylor

dominated playing time, as we've come to expect, but he didn't play during two-minute drills of either half.

He will likely see an even higher percentage of snaps in games where the Colts don't have two two-minute drills.

Taylor's usage mixed with his talent should keep him as one of the top fantasy running backs over the rest of the season despite Indianapolis' offensive line problems.

Moss overtook

Deon Jackson

to be the primary backup on early downs, while Jackson took the two-minute drill snaps.

If Taylor were to get injured at some point over the second half of the season, we would likely see both Moss and Jackson see significant playing time, rather than Jackson dominating snaps as he did earlier in the season when Taylor was hurt.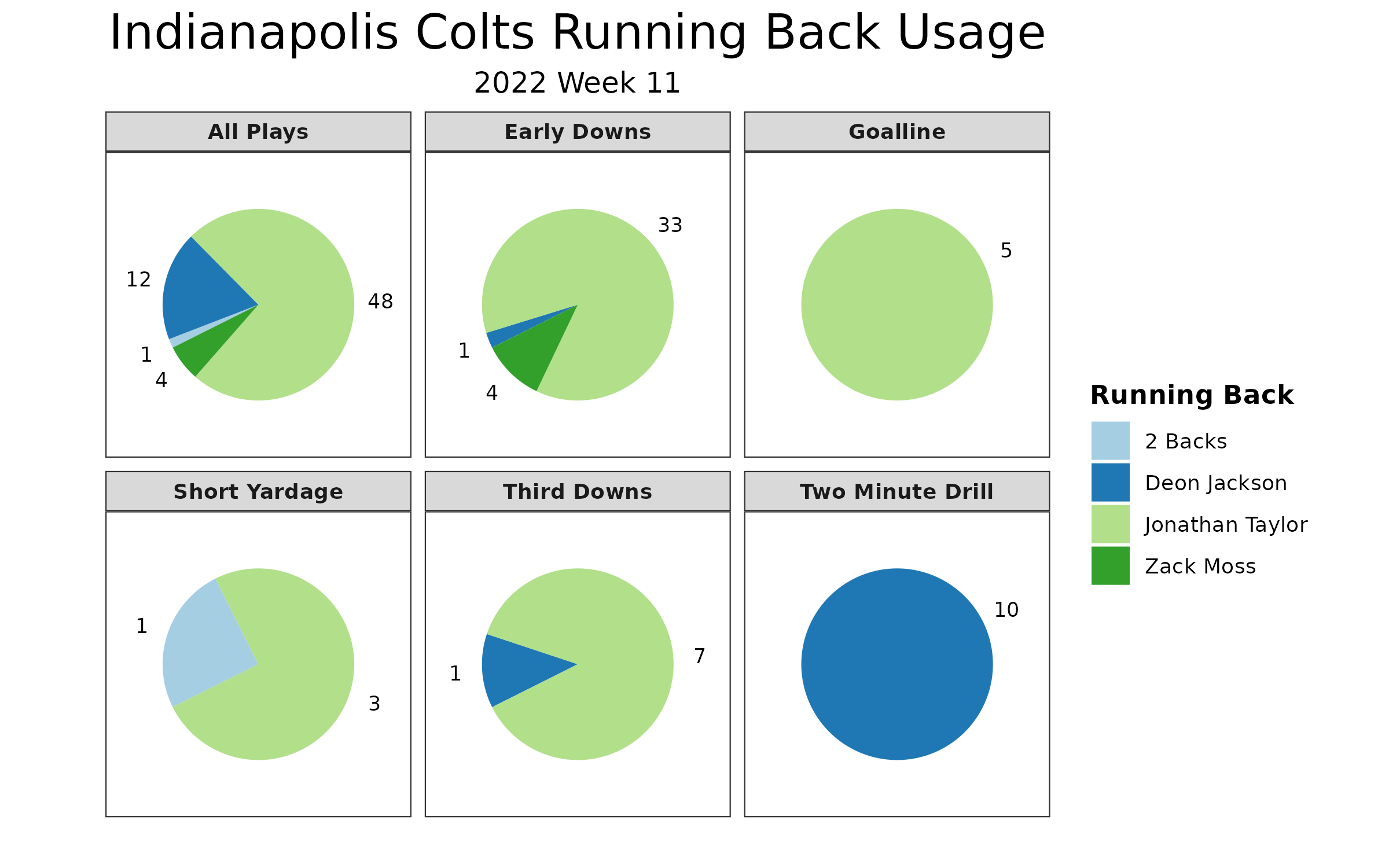 The Eagles replacing Dallas Goedert: Goedert landed on injured reserve earlier in the week with a shoulder injury.
Jack Stoll

took over as the team's primary tight end, as expected. He played every snap in two- or three-tight end sets, as well as a clear majority of snaps in 11 personnel.

He was rotated out a little more often from 11 personnel than Goedert typically is.

Stoll was limited to one target, which he caught for a seven-yard gain.

The Goedert injury just led the team to focus even more on the wide receivers in the passing game. All four of the Eagles' wideouts ended up leading the team in receiving yards.

Stoll should be left on the waiver wire in the vast majority of leagues despite the playing time because he's not a priority in the passing game.

Goedert should be held onto even though he will miss three more games. His talent will lead him to be a top-tier tight end once he's back.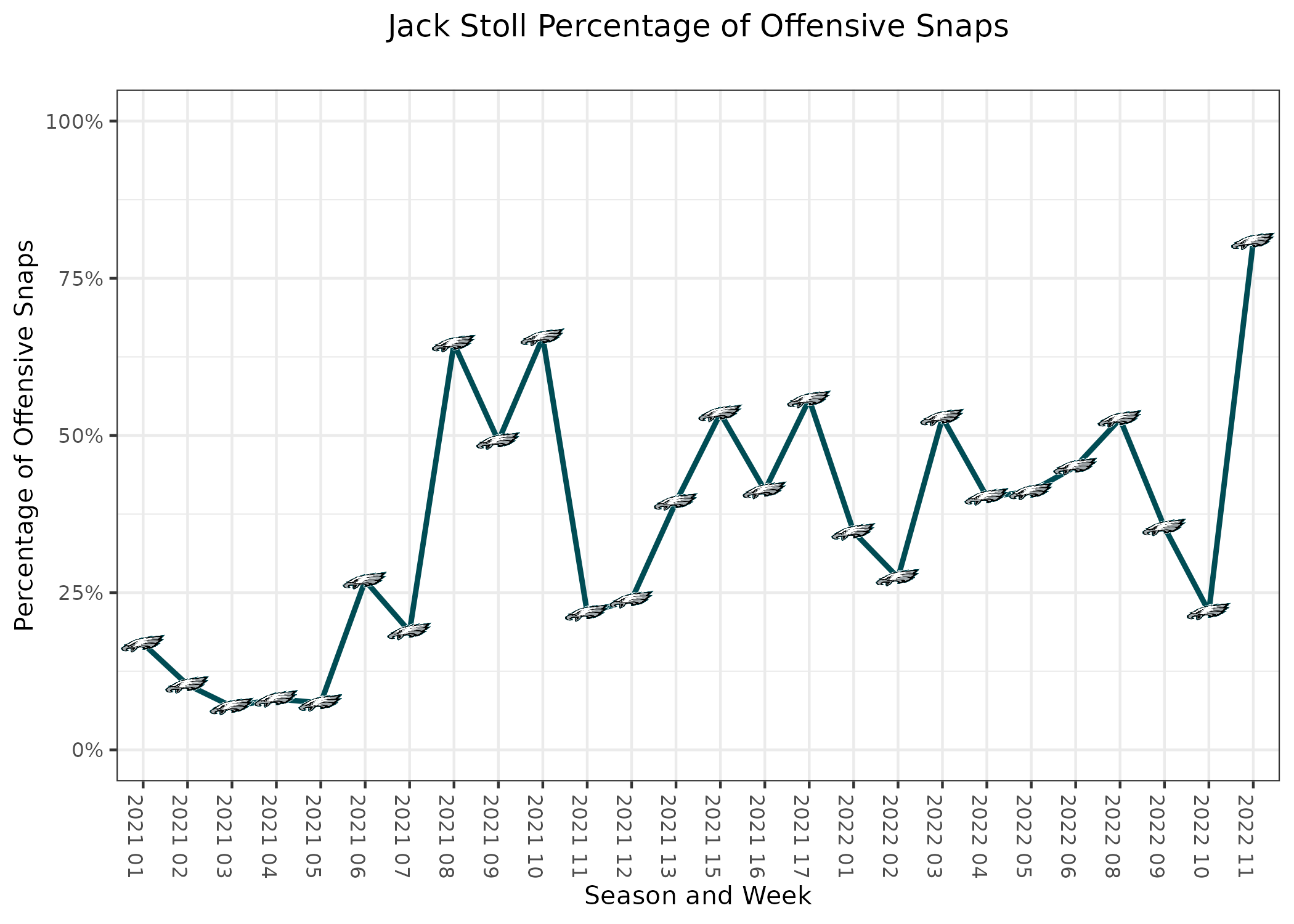 ---
• Damien Harris: 8 carries, 65 yards, 2 receptions, 28 receiving yards
• Rhamondre Stevenson: 15 carries, 26 yards, 6 receptions, 56 receiving yards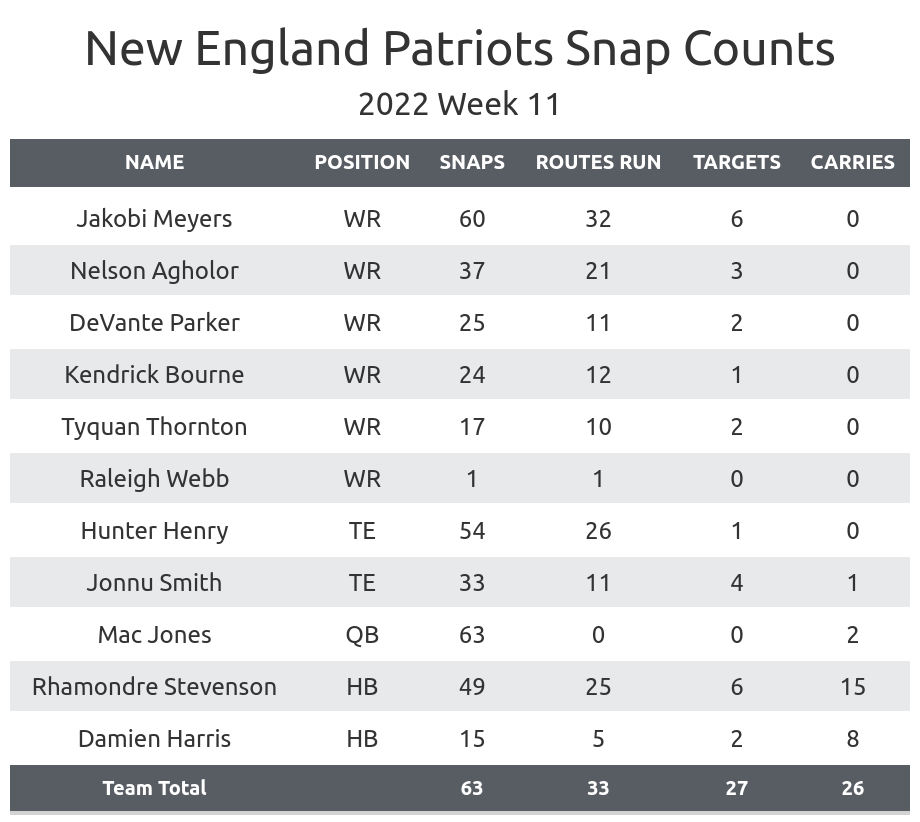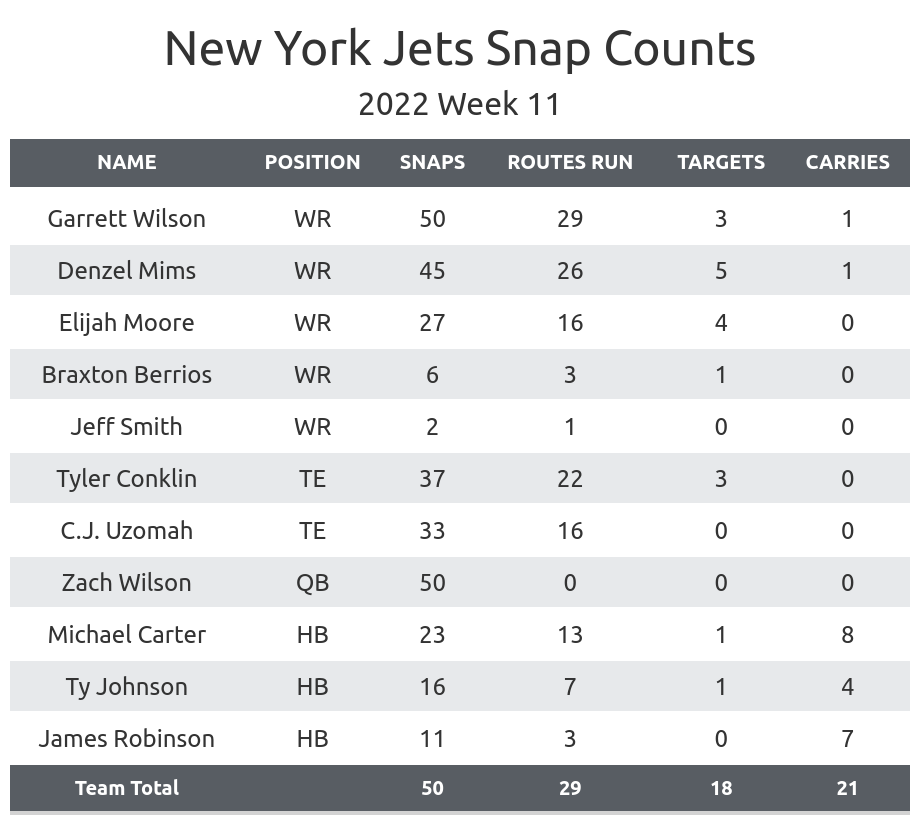 Damien Harris starts for the Patriots: Harris missed the Patriots' last game with an illness and missed a game in October with a hamstring injury, but he seemed back to his normal self in this game.
He played every snap on the first drive.

He averaged eight yards per carry, making it his first game over four yards per carry since Week 4.

The Patriots rotated by drive, but

Rhamondre Stevenson

always played on third-and-long.

New England was also OK with Stevenson staying in for every play even if a drive went long, whereas Stevenson would give Harris a break on early downs if Harris was in for a long drive.

Stevenson is a buy-low candidate after this game, as he will still see many more snaps than Harris despite having the "backup" role, and his rushing efficiency will be better than it was in this game.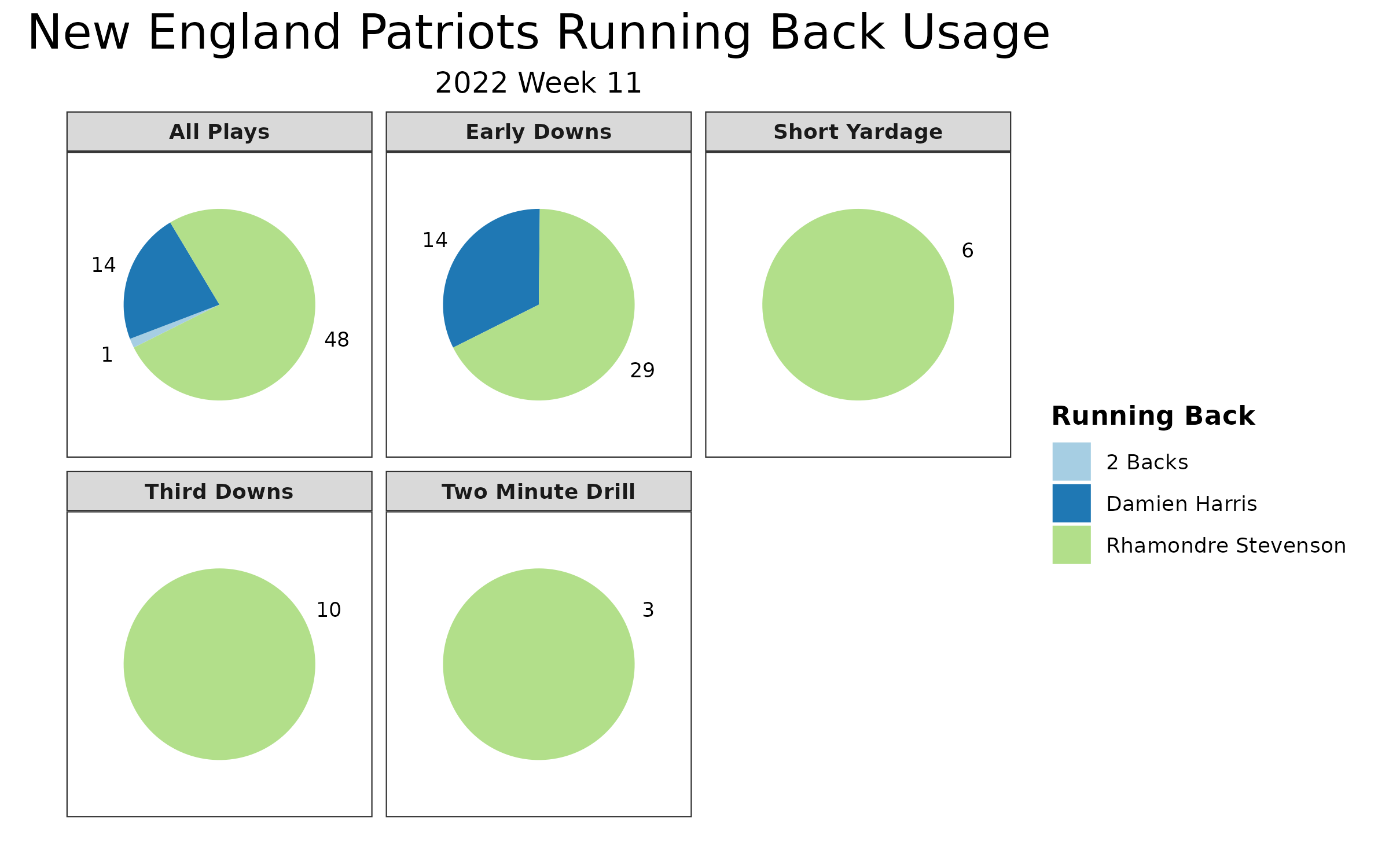 Nelson Agholor re-emerges for the Patriots: Agholor's playing time has been on the rise in the past month.
He finished second on the team in offensive snaps and routes run, despite a fully active wide receiver corps around him.

DeVante Parker

was questionable for the game, which likely led to the Patriots limiting his snaps. He didn't play at all in the second quarter.

Even if Parker returns to being a starter, Agholor is playing clearly ahead of both

Kendrick Bourne

and

Tyquan Thornton

at this point.

Chances are Agholor will only make it harder for other receivers to be fantasy-relevant rather than him becoming a fantasy starter again.
Buy low on Michael Carter: The Jets' run game was non-existent against the Patriots, but New York has some upcoming matchups that could make their run game relevant again. 
The Patriots, their Week 11 opponent, entered the day having allowed the second-fewest fantasy points to running backs.

New York has the

easiest schedule for running backs

during the fantasy playoffs.

They play the Lions, Jaguars and Seahawks during Weeks 15-17. All three have been below average against fantasy running backs, with the Lions and Seahawks among the bottom eight teams.

The game script in at least two of those games should be ones where New York can continue to run throughout the game.

The Jets are currently in a three-man committee with

Ty Johnson

playing in some passing situations, but they won't prevent Carter from getting his touches.

James Robinson

could also be someone to buy low, as he will also get his carries and does have a revenge game in the fantasy playoffs. There is a chance some fantasy managers will drop Robinson after today, so you might not need to trade for him.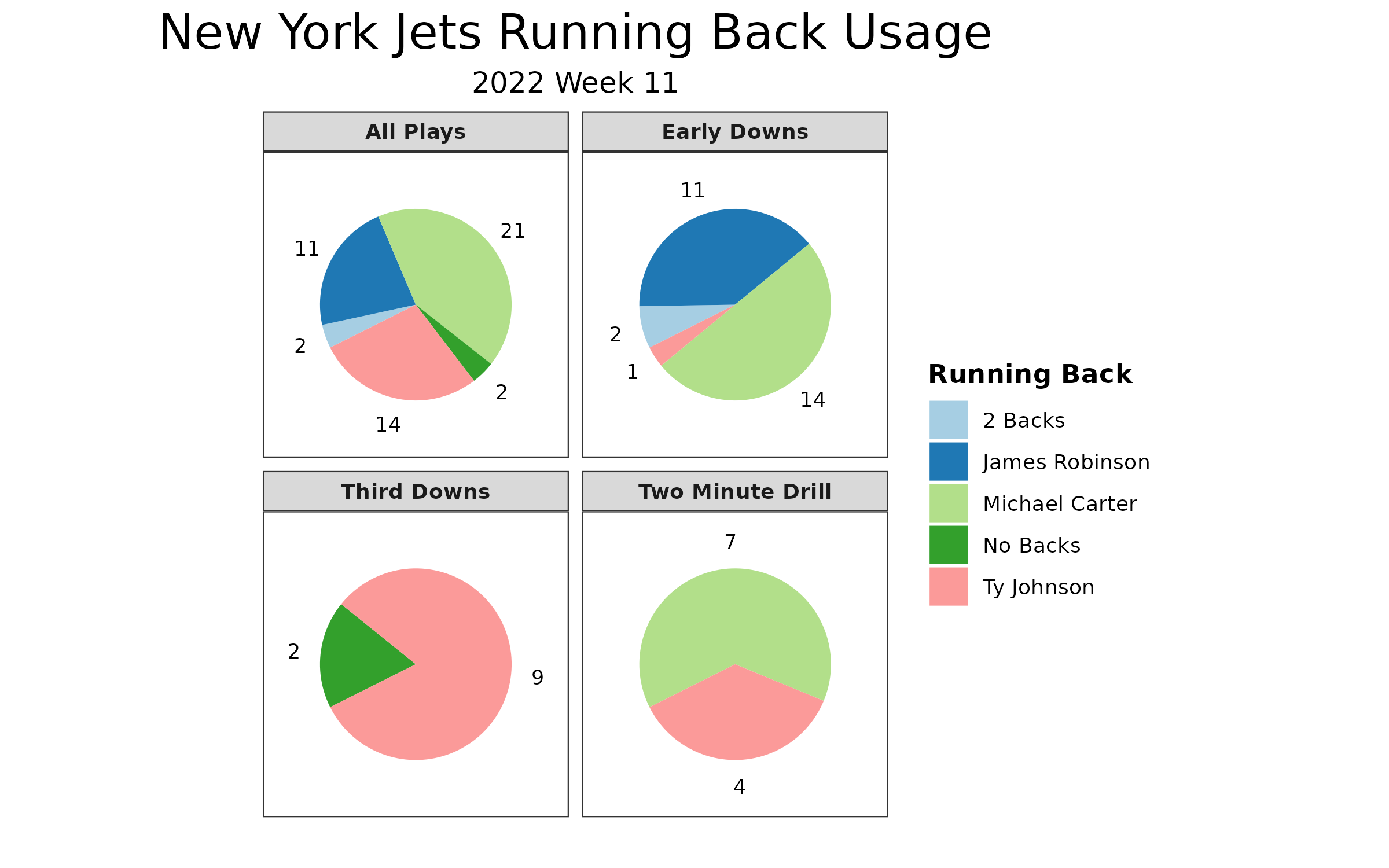 ---
• Antonio Gibson: 18 carries, 72 yards, 3 receptions, 31 receiving yards
• Logan Thomas: 5 receptions, 65 yards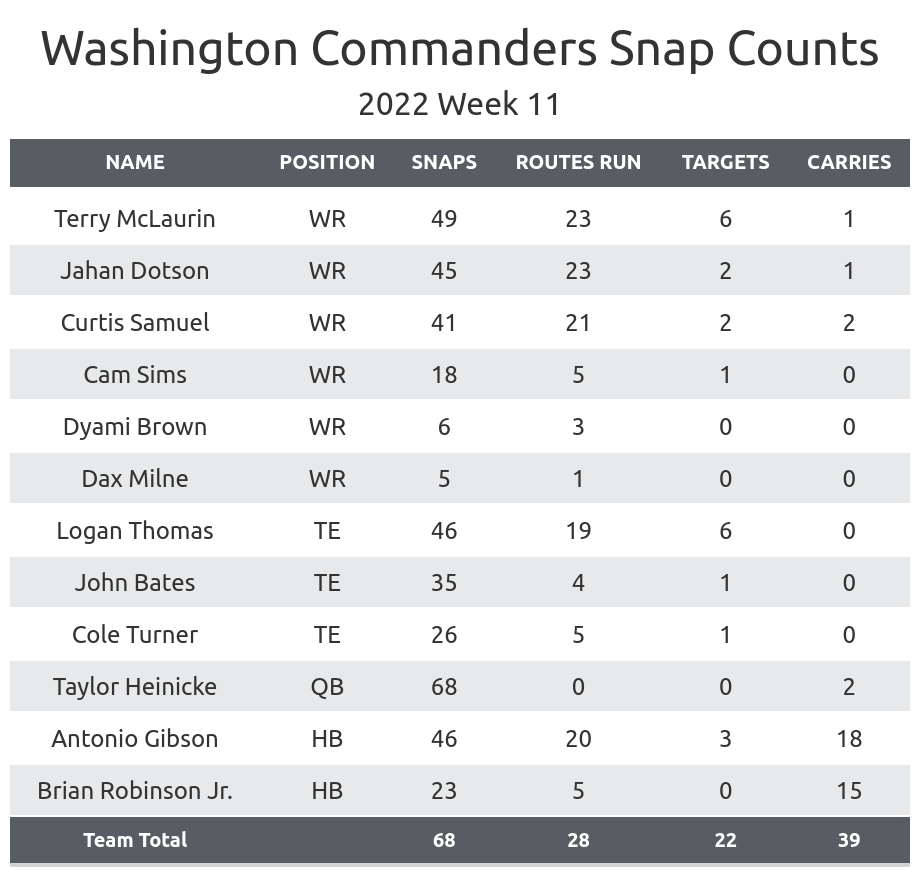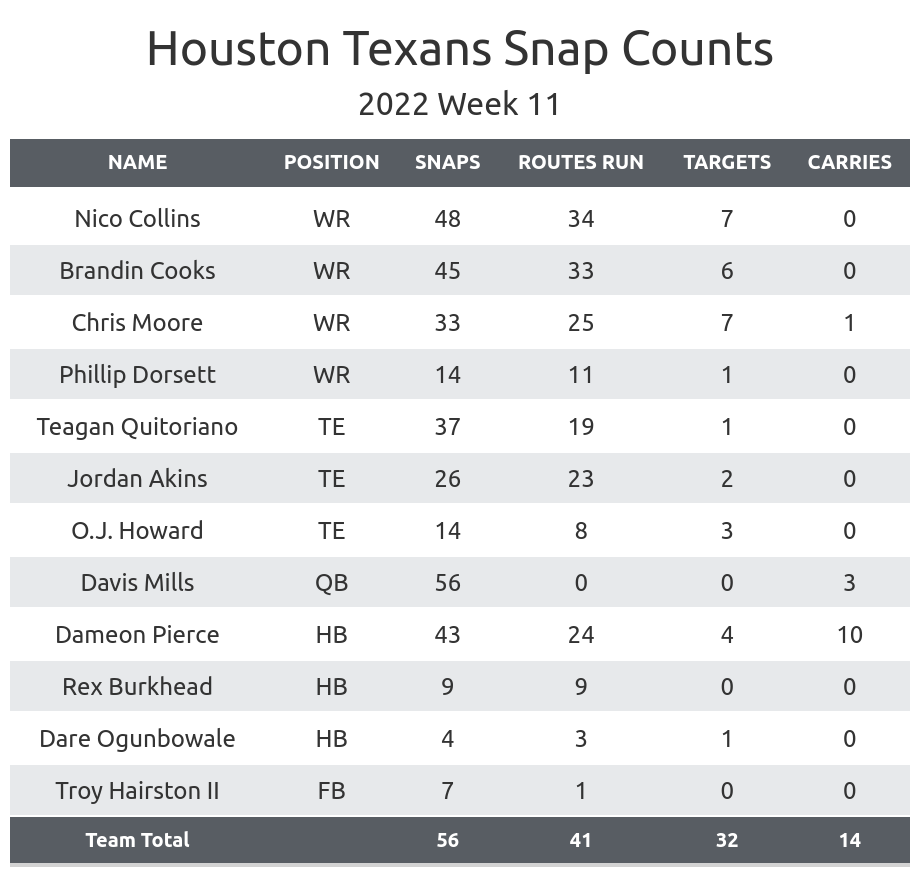 Add Logan Thomas: The Commanders tight end put together his best game of the season with five receptions for 65 yards, leading the team in both receptions and yards.
His playing time has been relatively consistent all season when he's healthy, although the Commanders haven't give him as much playing time as he received back in his prime with the team.

Washington was rotating players out more than usual in general in this game.

Terry McLaurin

finished with a season-low offensive snap rate, and

Jahan Dotson

played more than last week but still less than expected.

Usually, someone with only one good game on the season and this little of playing time wouldn't be on fantasy radars, but Thomas is boosted by his schedule and the number of tight end injuries in recent weeks.

His next three opponents are the Falcons and the Giants twice.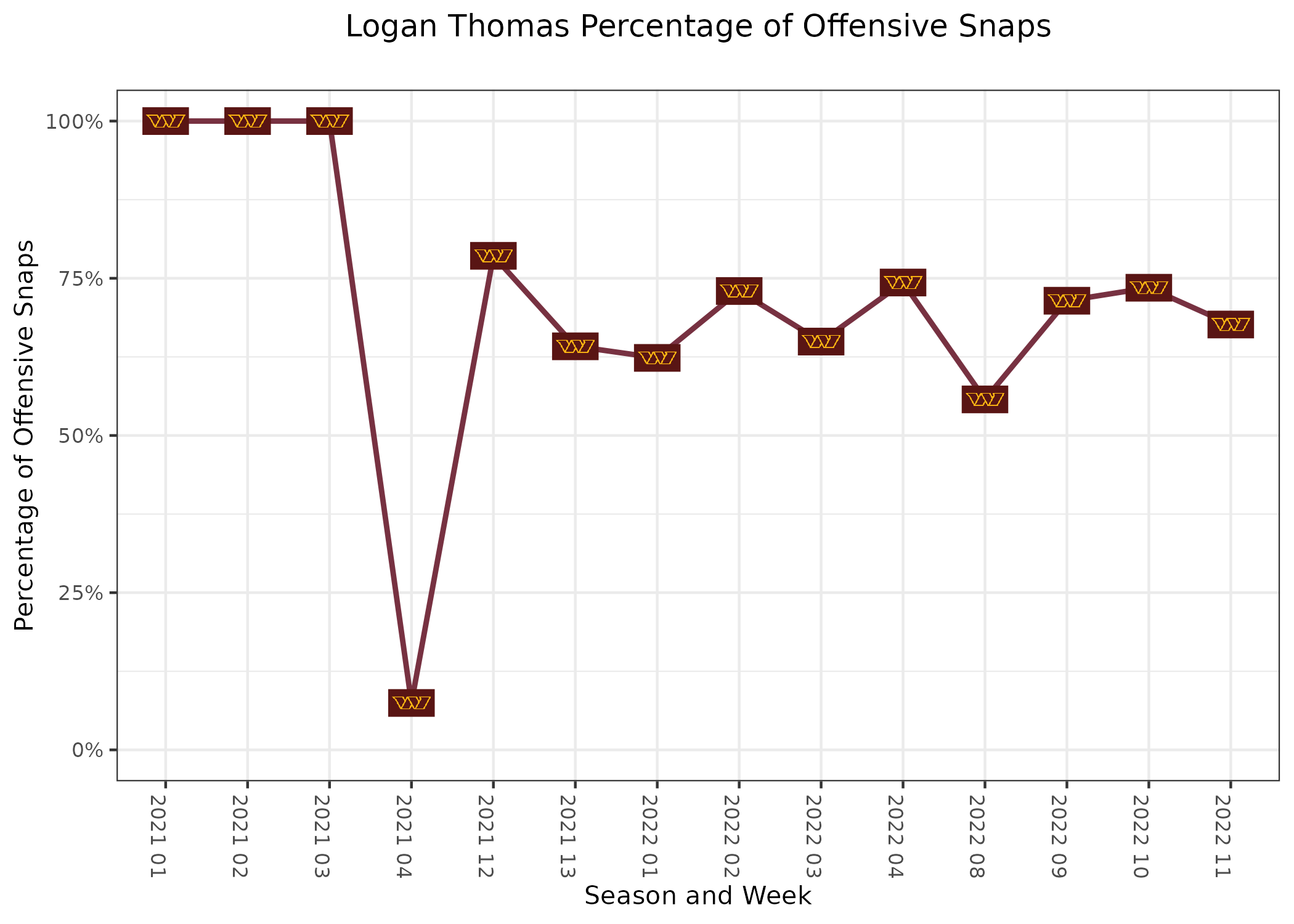 Consider Teagan Quitoriano in dynasty leagues: The Texans' fifth-round tight end continues to see more playing time on offense.
Brevin Jordan

was a healthy inactive for the second straight week.

Quitoriano first started to see playing time in Week 9 after a knee injury kept him out during the first half of the season.

He was primarily used as a blocker in his first two games, running only four pass routes in each outing.

He ran several more pass routes in this game, taking more of the team's snaps in 11 personnel.

His increased playing time didn't lead to any production, as he didn't catch his only target.

Quitoriano is Houston's only tight end who both played in this game and is under contract for 2023. There is a chance he's the team's top tight end in 2023 and could take on that role later this season.

He probably won't be a factor in fantasy football this season, given the state of the Texans' offense.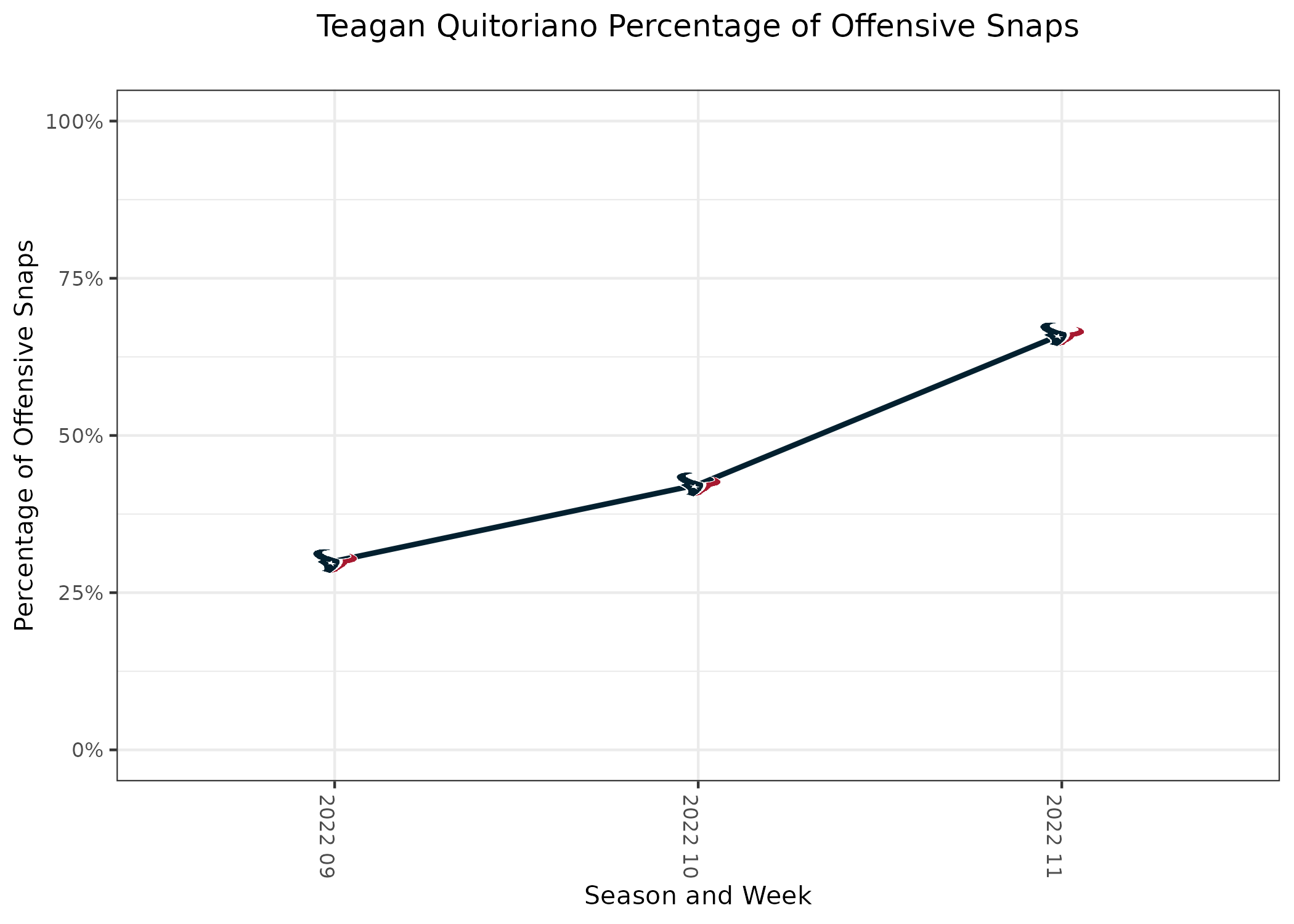 ---
• Chris Olave: 5 receptions, 102 yards, 1 touchdown
• Allen Robinson II: 4 receptions, 47 yards, 1 touchdown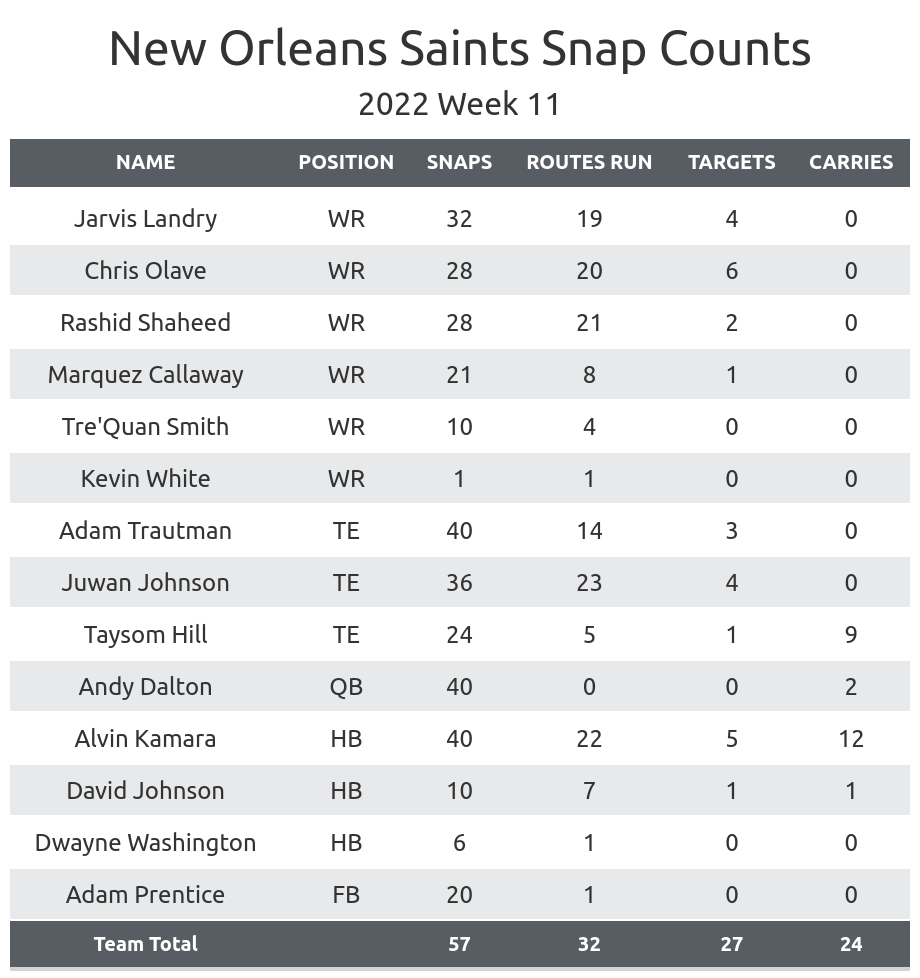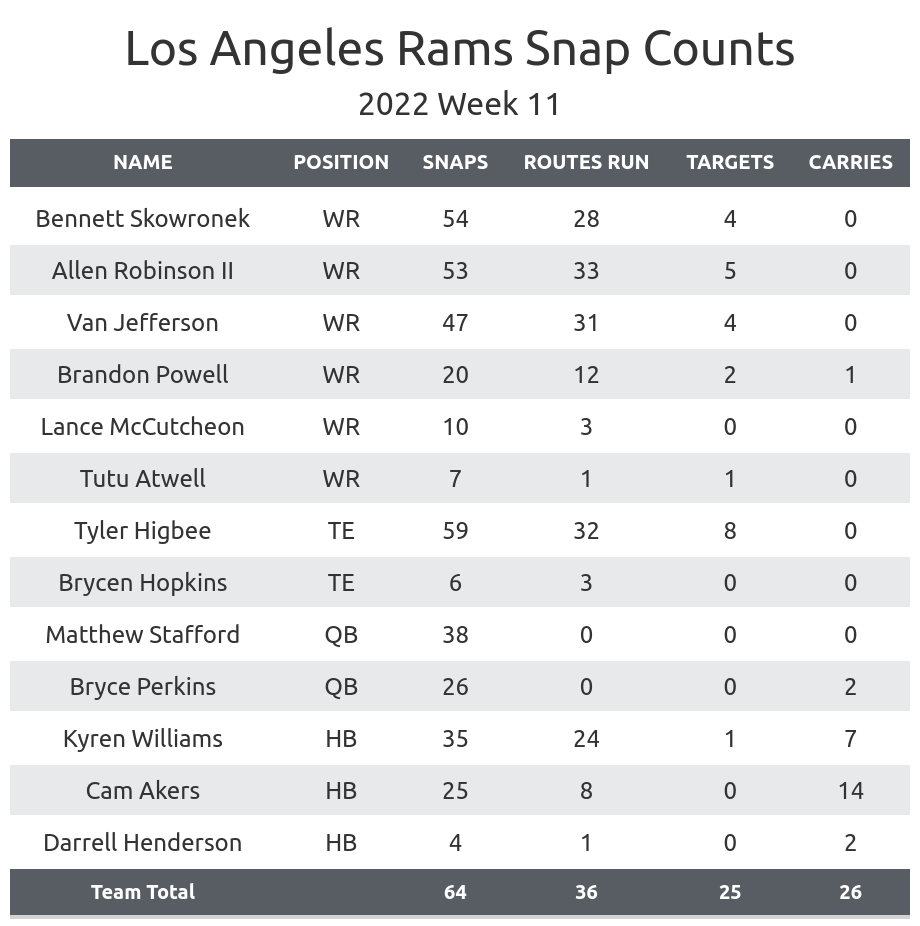 Monitor Matthew Stafford's health: Stafford was taken to the locker room after a third-quarter hit and was being evaluated for a concussion.
Stafford returned to the team this week after missing their Week 10 game due to a concussion.

If Stafford indeed suffered a concussion, it might be some time before he returns. 

Bryce Perkins

took over as the starting quarterback.

John Wolford

was the starting quarterback last week but was inactive with a neck injury.

Wolford would likely be the starting quarterback if Stafford misses time and Perkins is healthy by next week.

The Rams have one of the

most difficult schedules for quarterbacks

for the rest of the season.

Stafford can be dropped in most fantasy leagues, even if we find out he can play next week, based on his performance so far this season as well as the loss of Cooper Kupp

.
The Rams' confusing backfield: Darrell Henderson started for the Rams but played only four snaps and didn't return to the game.
He played all three snaps on the Rams' first drive. He ran twice for nine yards on those plays.

Kyren Williams

took the first snap on the second drive, followed by three plays for

Cam Akers

. Henderson took the third-down snap, on which he ran a route and was untouched. That was his last offensive play of the game.

It's unclear at the moment why Henderson would start and then get taken out of the game. He didn't do anything in those four plays to lose his job, and he didn't appear to get injured.

Akers was the clear rushing back over the rest of the game, while Williams was the clear receiving back.

Williams was still able to run the ball seven times in this situation and gain over five yards per carry.

Akers is probably the top waiver wire target of the group, as he ran the ball the most, but he might not score touchdowns since he wasn't the clear short-yardage back. Plus, his playing time might decline depending on what happened with Henderson.

Williams can also be a waiver target in deeper leagues, as his playing time increased and he played well with the ball in his hand. That could lead to more playing time.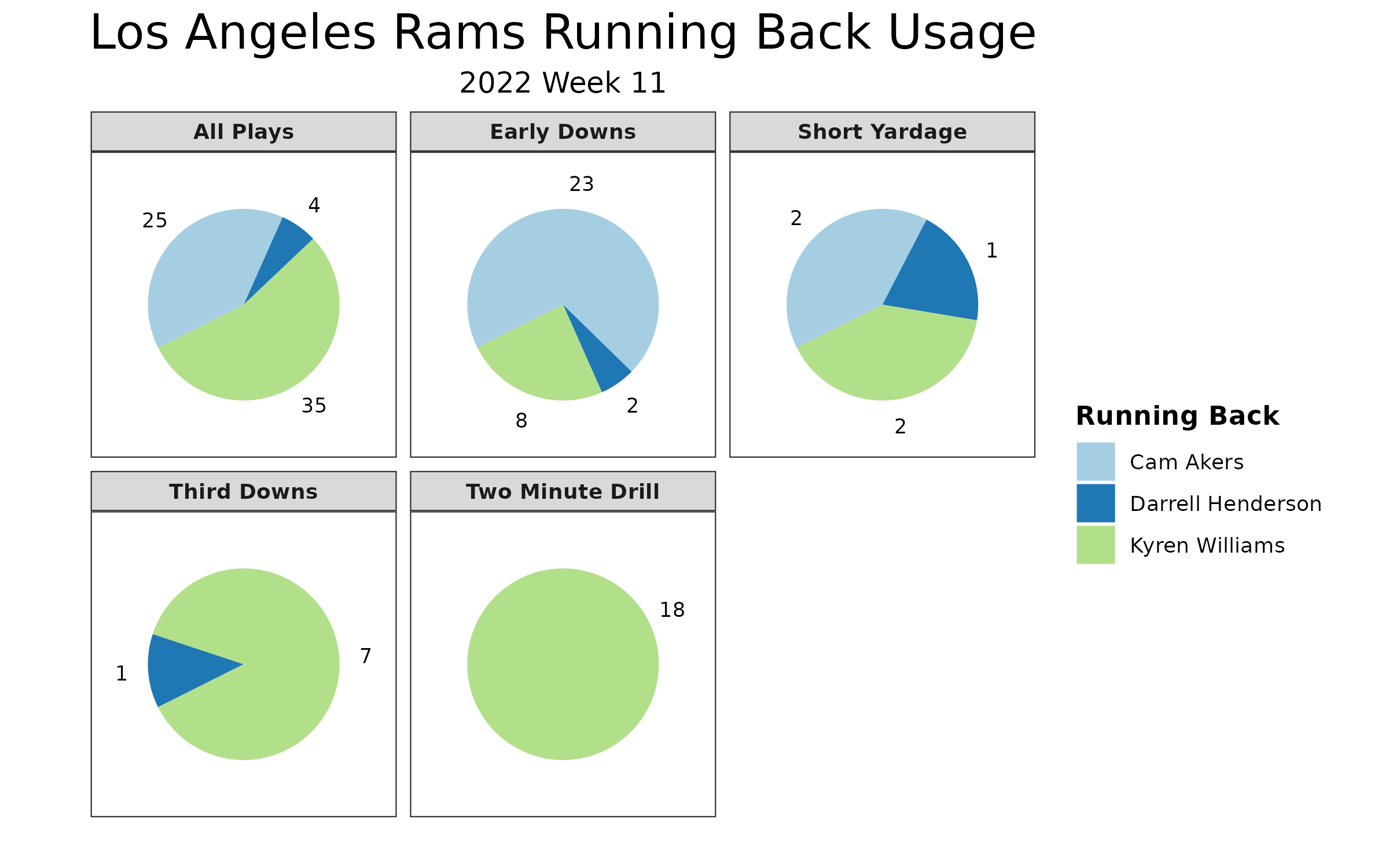 The Rams without Cooper Kupp: The Rams used six different wide receivers while attempting to replace Kupp.
Bennett Skowronek

,

Allen Robinson II

and

Van Jefferson

were the clear top wide receivers, but all of them rotated out more than usual, and none emerged as the clear top target.

Tutu Atwell

stole the show with a 62-yard touchdown reception but never ran another route. He would ideally see more opportunities going forward.

It would be best to avoid these receivers, especially given the current quarterback situation. We could also see the receivers rotate in and out even more going forward as the Rams fall further out of the playoff picture.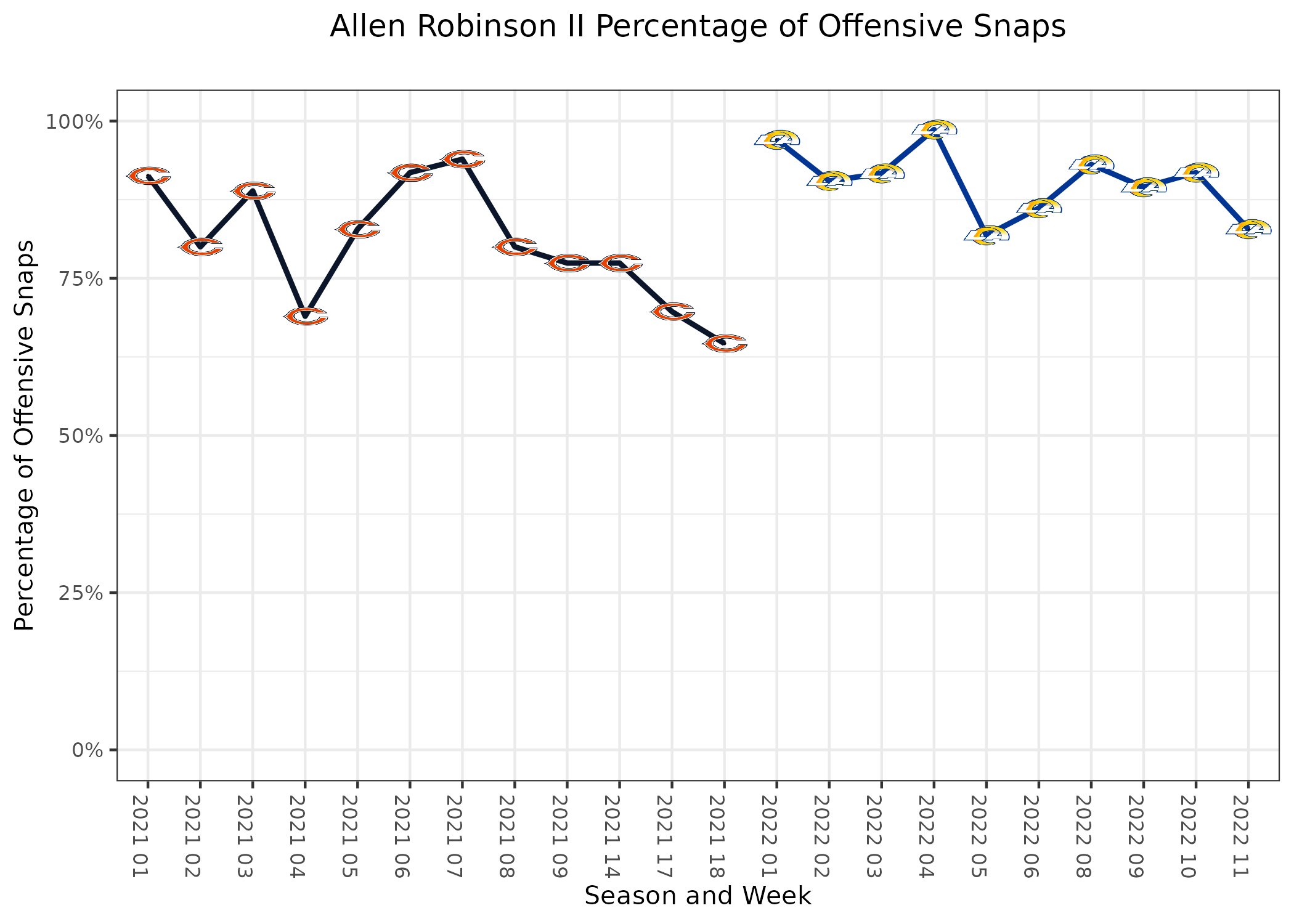 Saints newer contributors: The Saints had two notable players with increased playing time.
David Johnson

became the Saints' new backup running back. 

The Saints had lost

Latavius Murray

and

Tony Jones

from the practice squad earlier in the season when they were signed to other teams, and

Mark Ingram II

is injured. 

Jordan Howard

and

Derrick Gore

were both picked up midseason, but both were cut from the practice squad earlier in the week and Johnson was added.

The former Cardinal and Texan would likely be the starter if

Alvin Kamara

gets hurt in the next week or two, but Ingram might be back sooner rather than later.

Rashid Shaheed

became the Saints' third wide receiver and led the unit in routes run.

The undrafted rookie had a noteworthy 53-yard touchdown in Week 7 and gained 38 yards on three catches in Week 8.

He likely won't see enough targets this season to make it on fantasy radars, but he could be worth a dynasty stash if he can keep one of the top three or four jobs in New Orleans in 2023.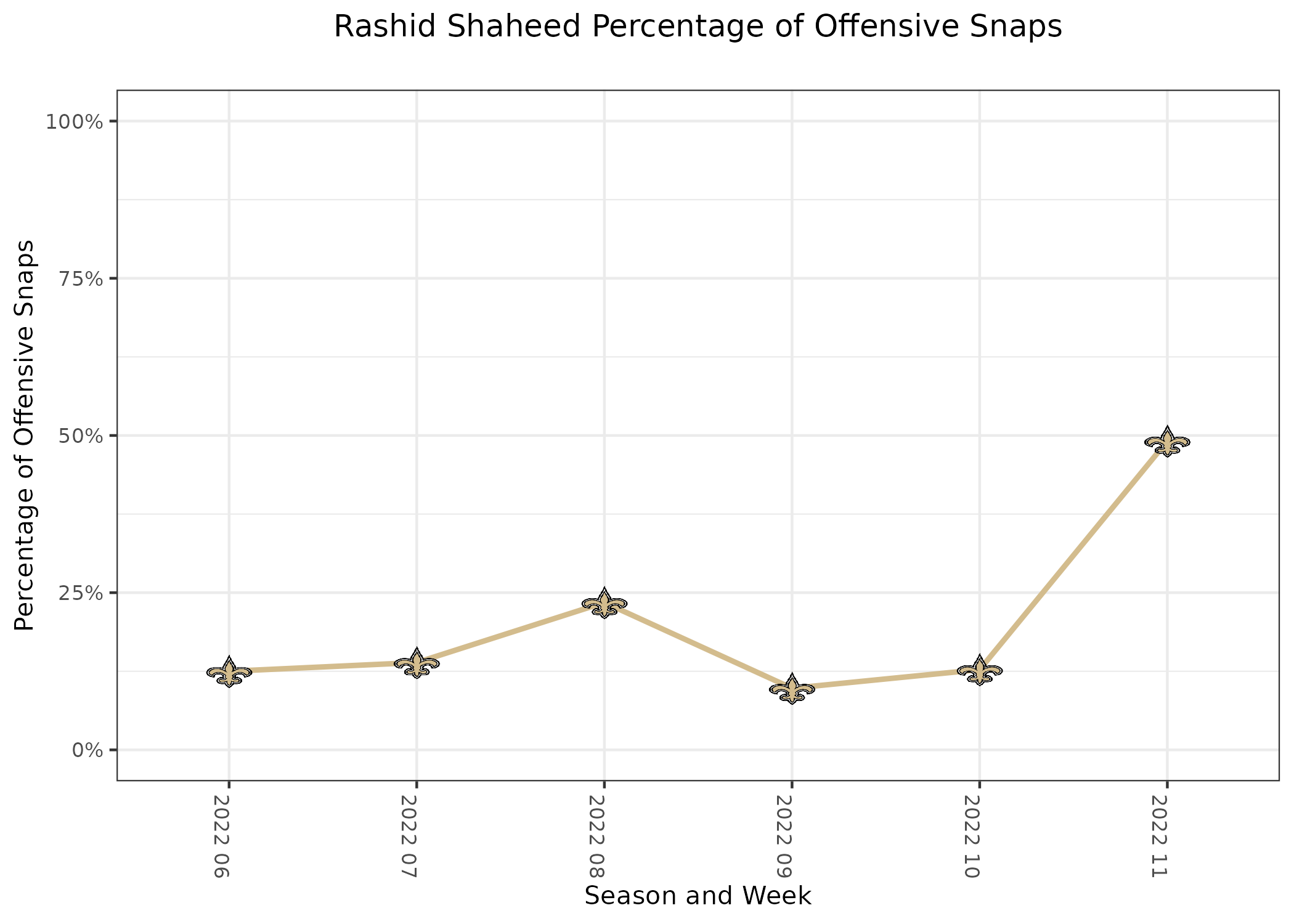 ---
• Amari Cooper: 8 receptions, 113 yards, 2 touchdowns
• Devin Singletary: 18 carries, 86 yards, 1 touchdown, 2 receptions, 11 receiving yards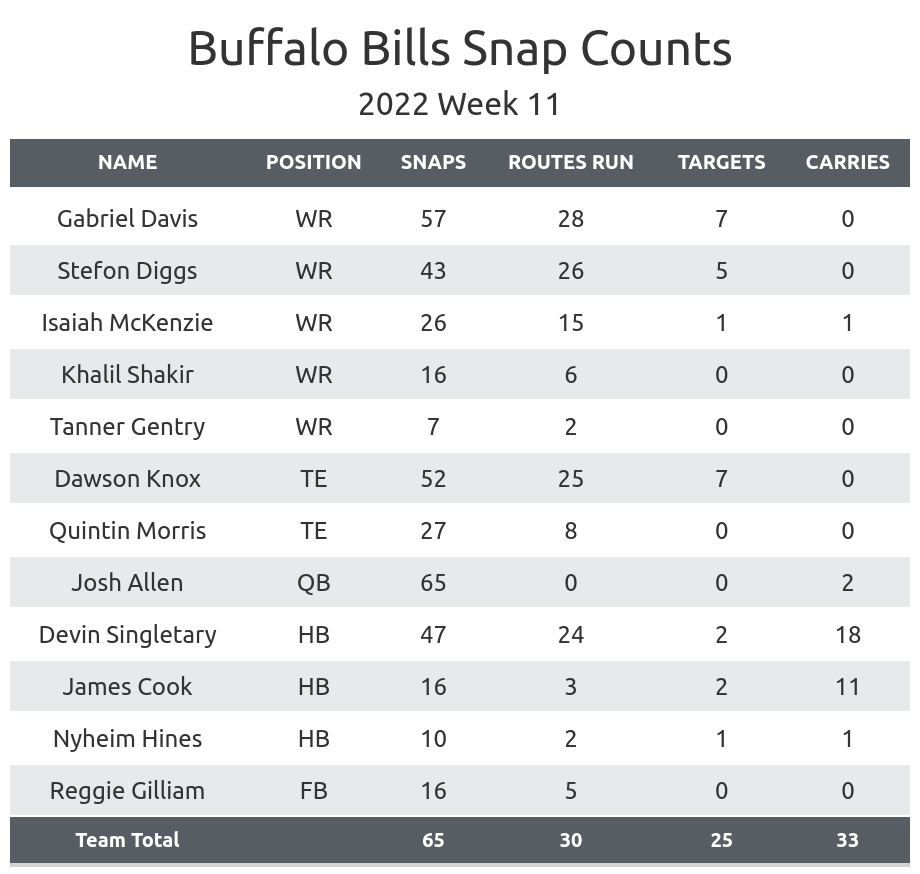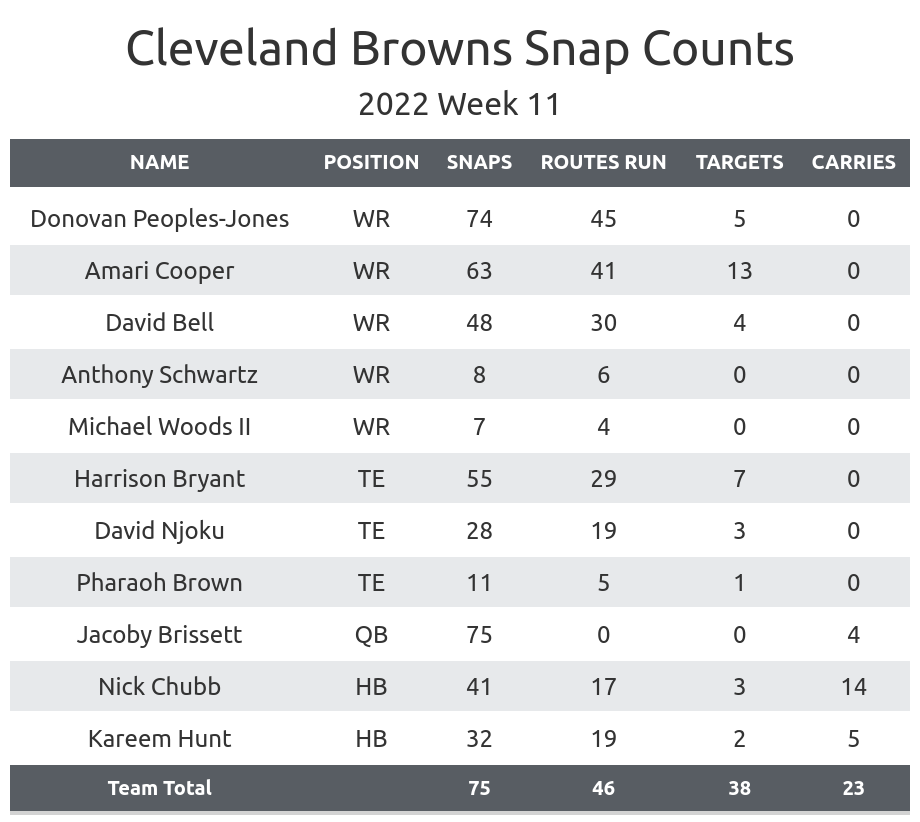 David Njoku's return: The Browns tight end returned from the ankle injury that kept him out for nearly a month, but he was back only on a limited basis.
Njoku was on the field for two- and three-tight end sets, as well as most third downs, but was only on the field roughly 20% of the time for early downs in 11 personnel.

Chances are Njoku will see more playing time next week, but it still might not be his usual workload. This might make it harder to put him in starting lineups.

He caught two passes for 17 yards.

Harrison Bryant

was the other tight end seeing the majority of snaps. He caught four passes for 41 yards, but his playing time will likely decline.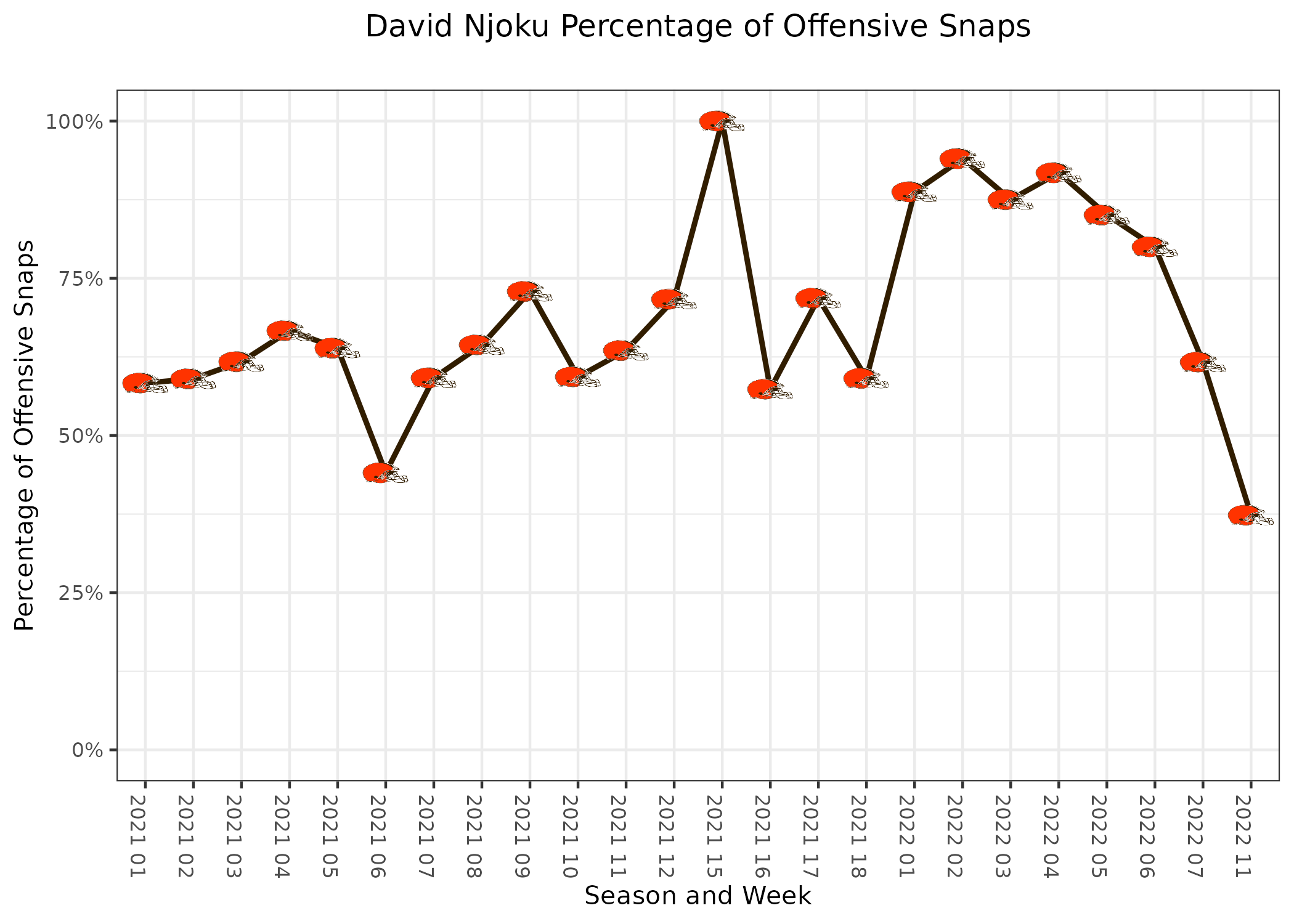 Add Donovan Peoples-Jones: Peoples-Jones gained 60 or more receiving yards for the fifth straight game.
He also caught his first touchdown of the season, albeit in the last 20 seconds of the game.

His totals in targets, receptions and yards are good enough to make him a fantasy starter, but he hasn't scored a touchdown this season.

The Browns have two more games with

Jacoby Brissett

at quarterback before they turn to

Deshaun Watson

. Peoples-Jones could put up better numbers and start scoring touchdowns with Watson under center.

Cleveland has the third-easiest schedule for fantasy wide receivers

from Weeks 15-17.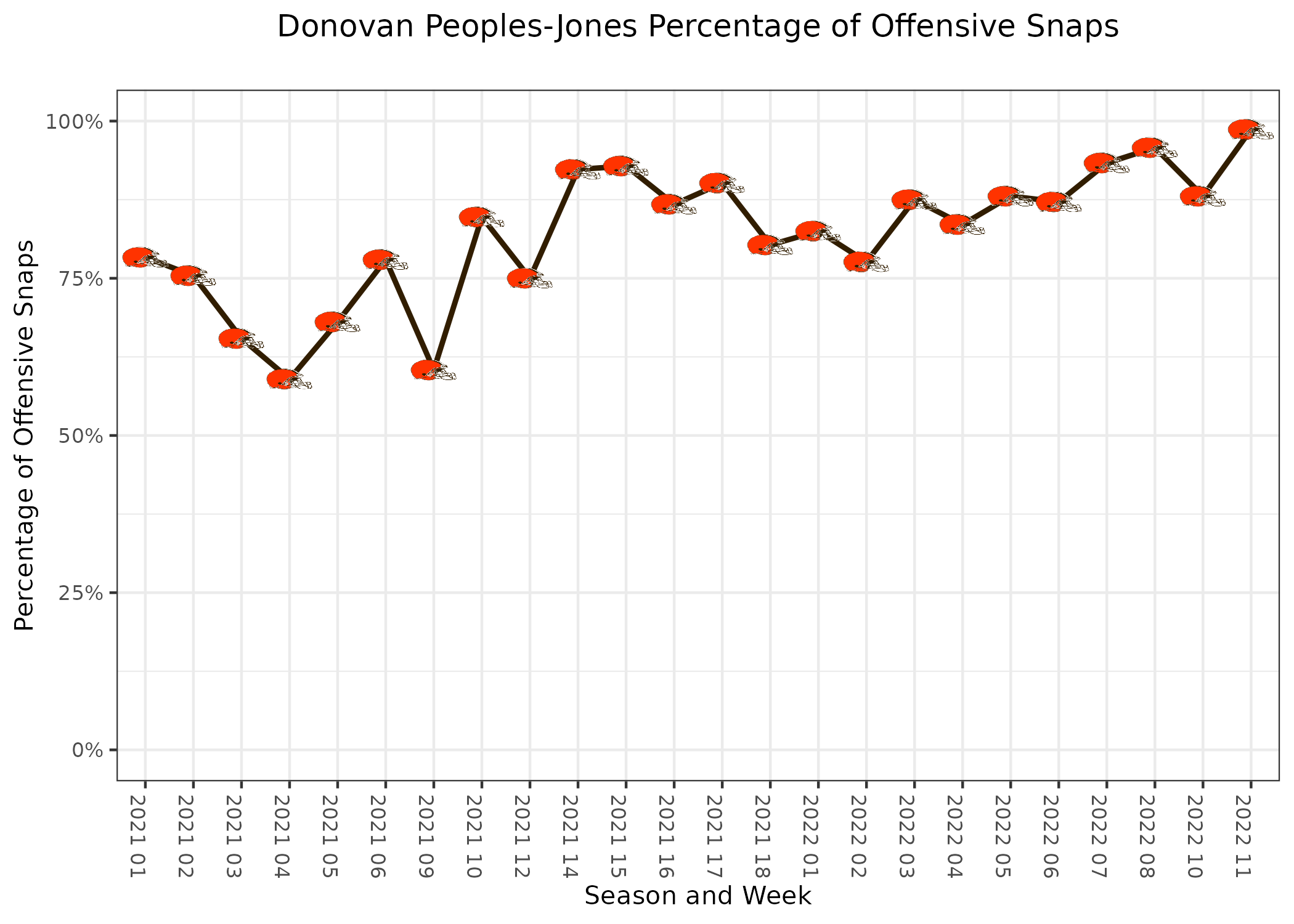 Be cautiously optimistic when adding James Cook: The Bills rookie had the game of his young career, gaining 86 yards on 11 carries.
Cook's playing time didn't really change for Buffalo. What did change is the Bills trying to get him the football on over 80% of his offensive snaps. That's unlikely to continue.

Ideally, his good play from this game is enough for him to earn more playing time in future games.

Another cause for concern is that

Nyheim Hines

saw a slight uptick in snaps. The Bills will also be trying to get Hines more involved, which will make it harder to get Cook more involved.

Cook can still be added just in case he sees a big increase in snaps, but don't count on him in fantasy starting lineups this week.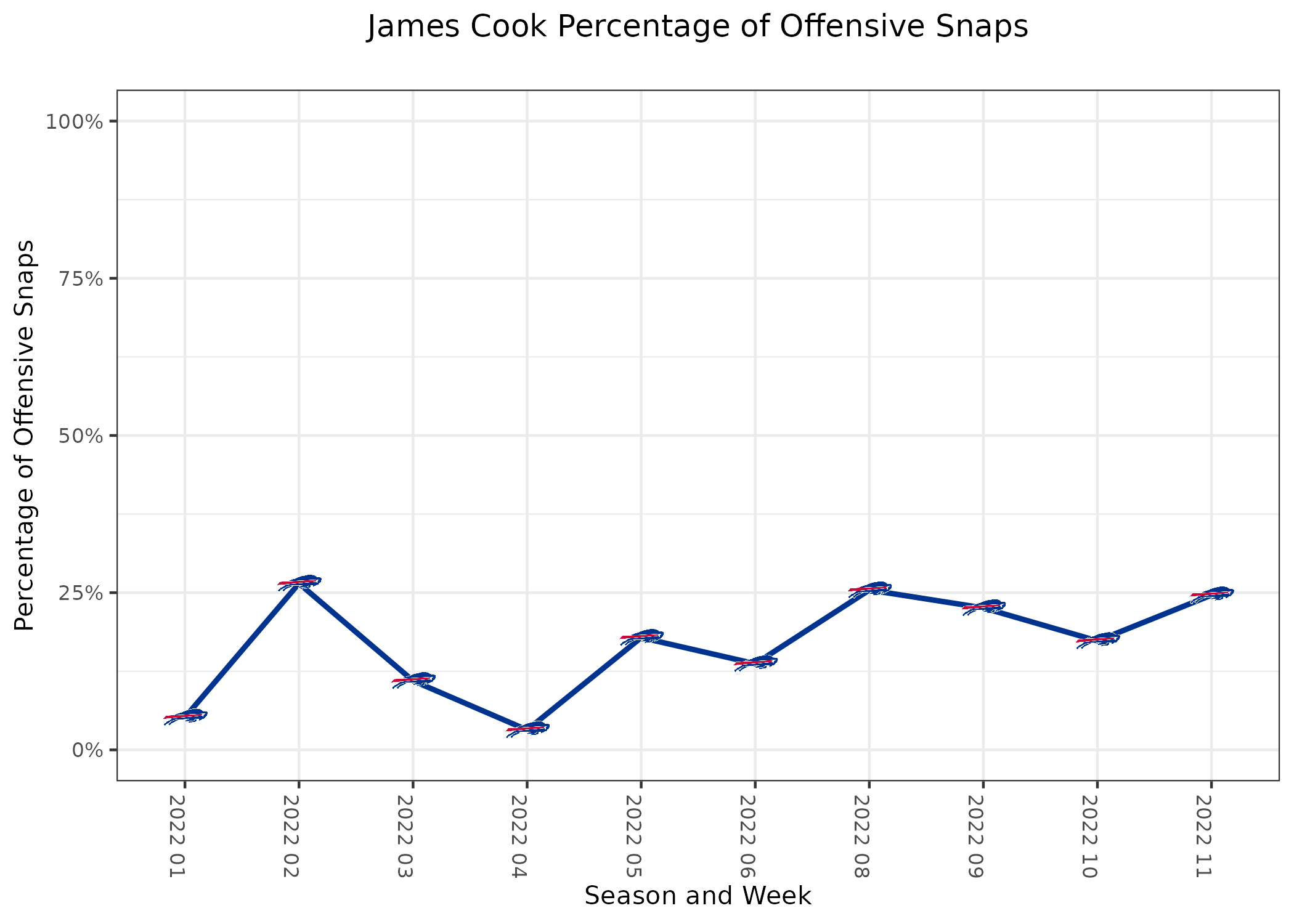 Drop Isaiah McKenzie: McKenzie has recently been considered a waiver wire target with his playing time constantly increasing, but he went from a season high in percentage of snaps to a season low.
Khalil Shakir

was rotated in more often compared to previous weeks.

McKenzie didn't catch his only target.

The game script contributed to McKenzie's snap total, with Buffalo using more 12 personnel late. The Bills do have a relatively easy schedule

over the rest of the season, so we could see this game script more often.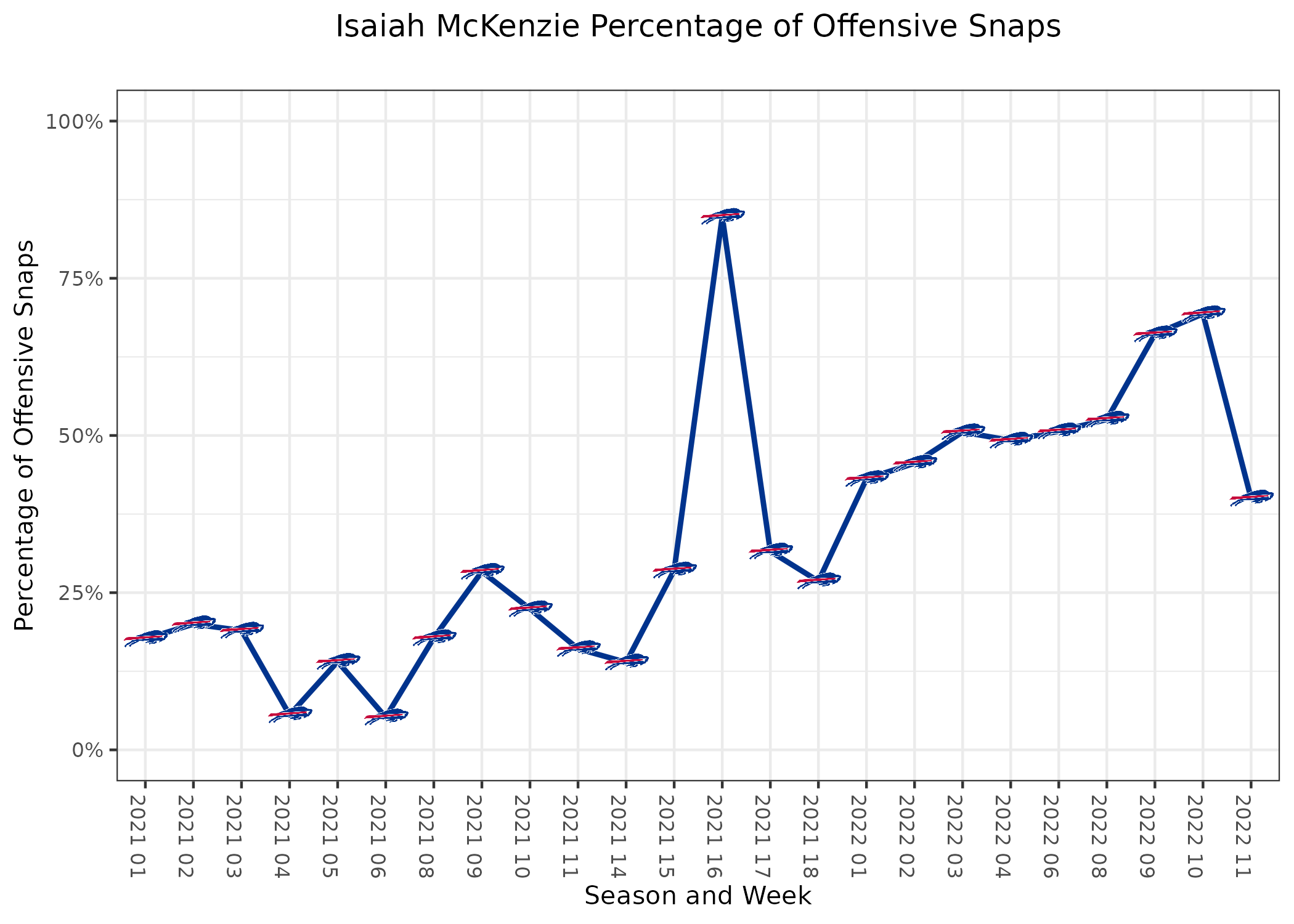 ---
• Demarcus Robinson: 9 receptions, 128 yards
• Terrace Marshall: 3 receptions, 76 yards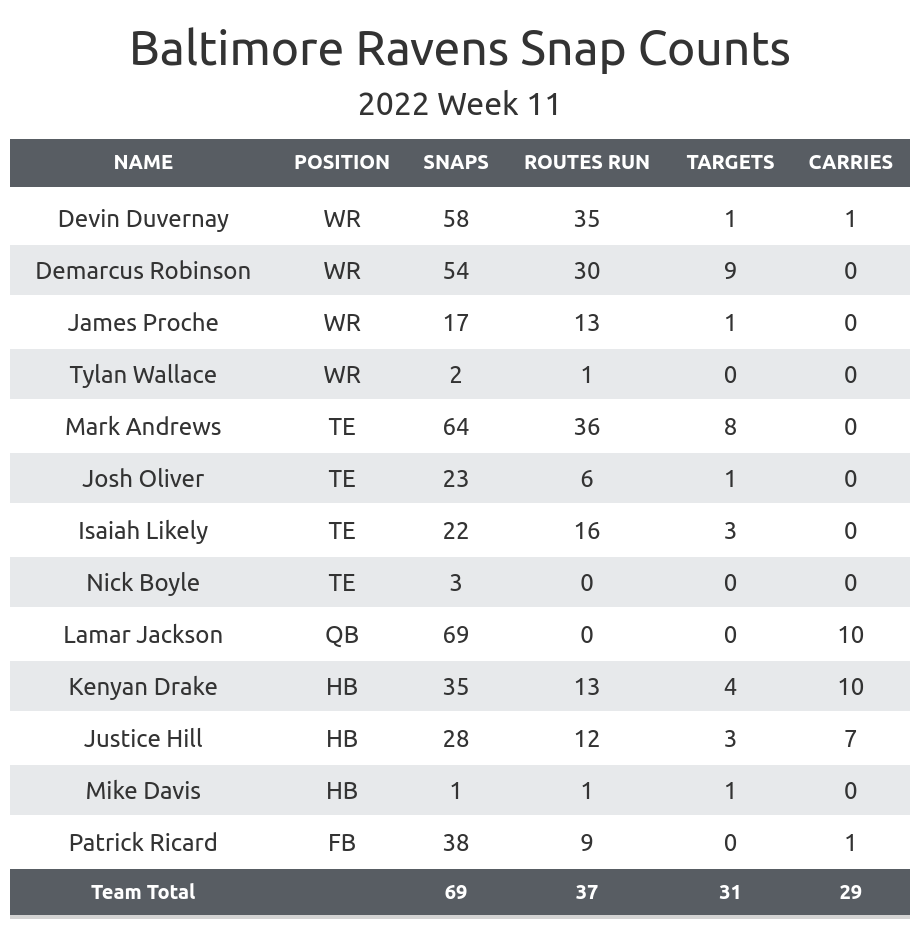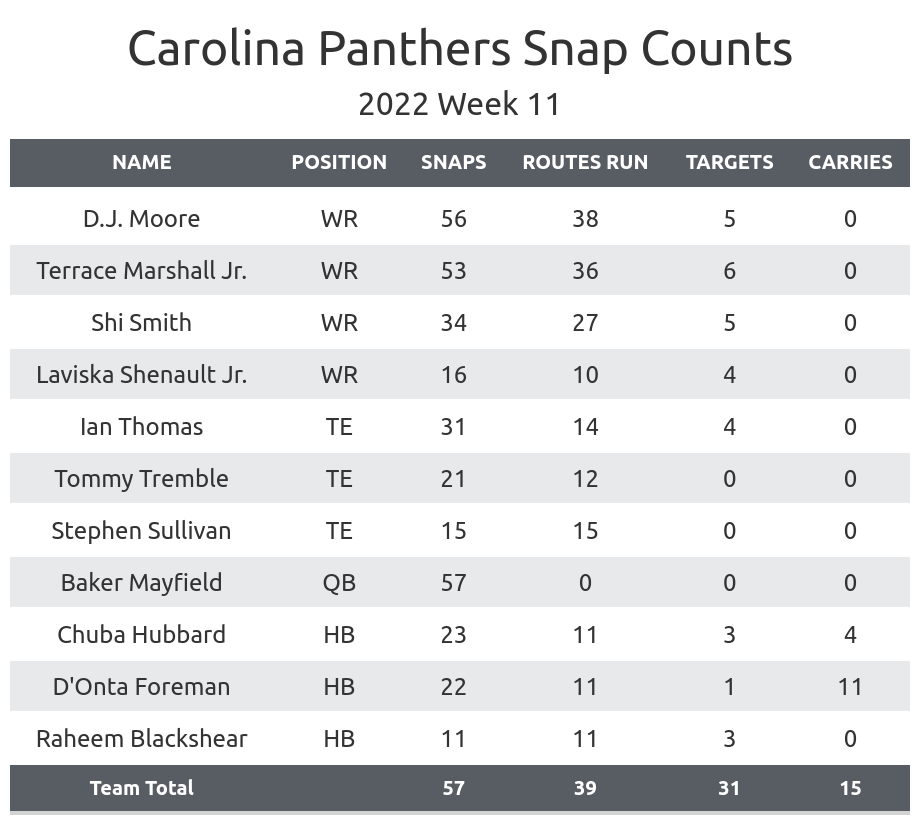 Add Demarcus Robinson: Robinson had his best receiving performance since 2019 in Rashod Bateman's absence.
The Ravens have typically rotated their younger wide receivers in more often, but they kept their veterans in for the vast majority of pass plays in Week 11.

Robinson was by far the favorite target among the wide receivers. He saw nine targets, and the rest of the receivers combined had two.

It's fair to be skeptical of Robinson as a waiver target given his limited production in recent seasons, but the Ravens' schedule in the fantasy playoffs is too easy to ignore.

Baltimore plays Atlanta and Pittsburgh in Weeks 16 and 17. They are the two teams that have allowed the most fantasy points to wide receivers this season.

Whoever Lamar Jackson

's favorite wide receiver is by Week 16 could have league-winning upside.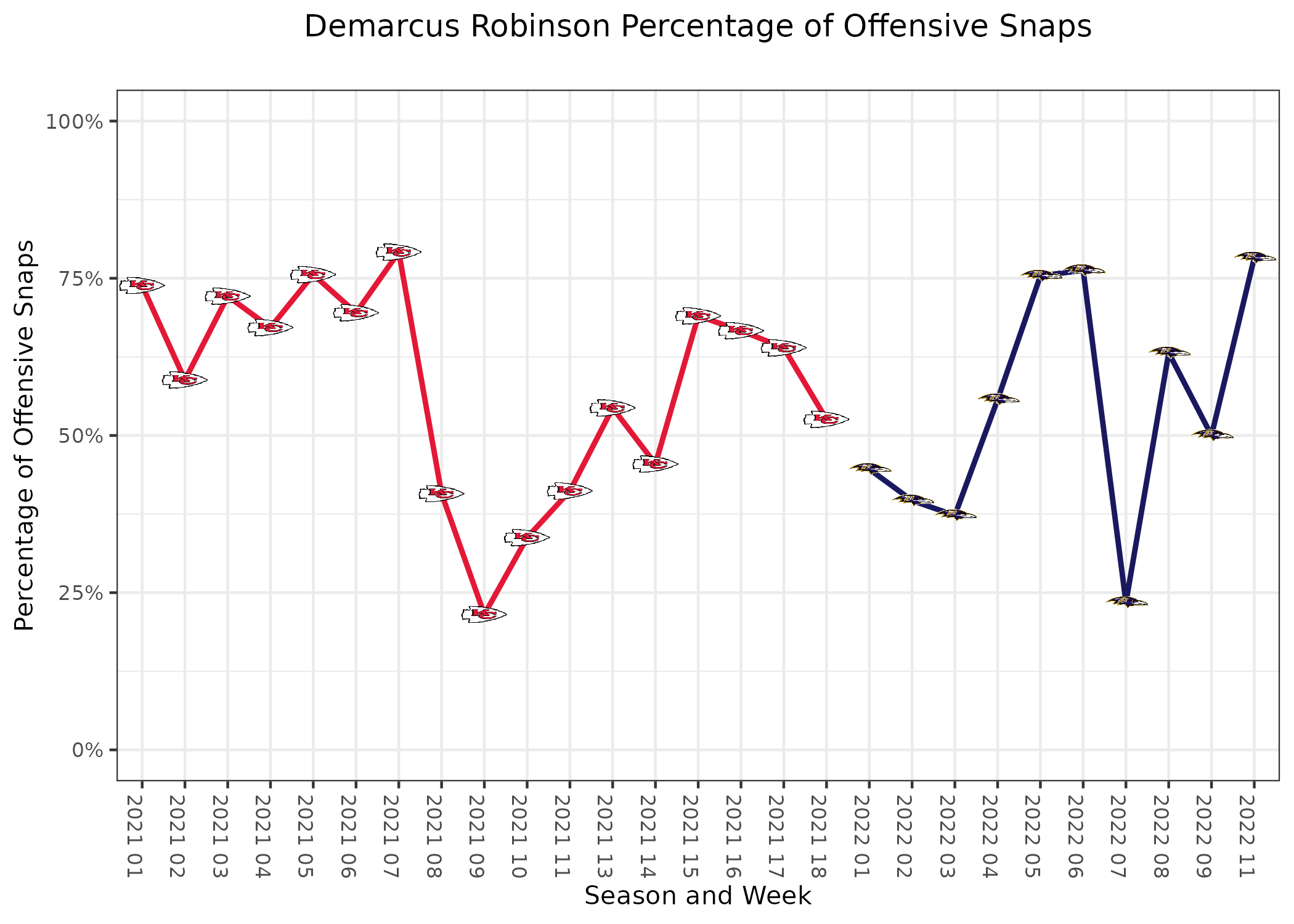 Mark Andrews' return: Andrews has dealt with knee and shoulder injuries that kept him out of Week 9, but the bye week was enough time for him to return to his usual role.
He caught six of eight passes thrown his way for 63 yards. His playing time was right back to what it was before the injuries. Everyone can continue considering him a top-two tight end every week.

Isaiah Likely

went back to a similar role he had at the beginning of the season, playing limited time in passing situations. He can be dropped in most leagues, unless you can afford to keep a handcuff tight end.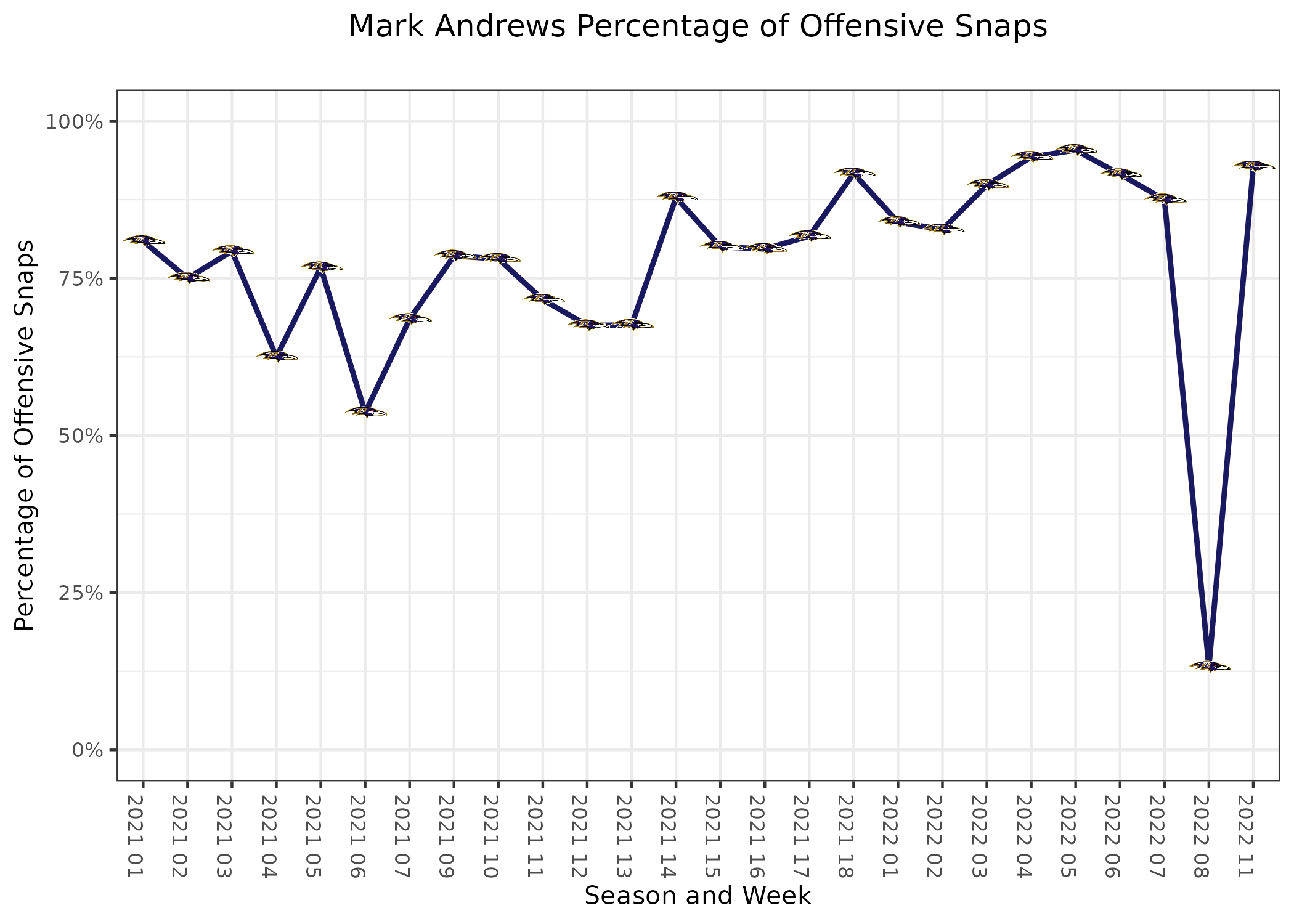 Drop Chuba Hubbard: The Panthers backup saw an increase in playing time in his second week back from injury but isn't getting enough touches to remain on fantasy rosters.
He ran the ball four times but gained zero total yards on those carries.

Hubbard was also targeted on three passes, catching two for 25 yards.

It appears

D'Onta Foreman

remains the clear rushing back for the team.

Raheem Blackshear

has also made this a three-man committee. The majority of his snaps occurred late in the fourth quarter, but it was still a two-score game at that point rather than true garbage time.

Carolina is falling further out of playoff contention, which could mean more opportunities for Blackshear if the other running backs remain ineffective.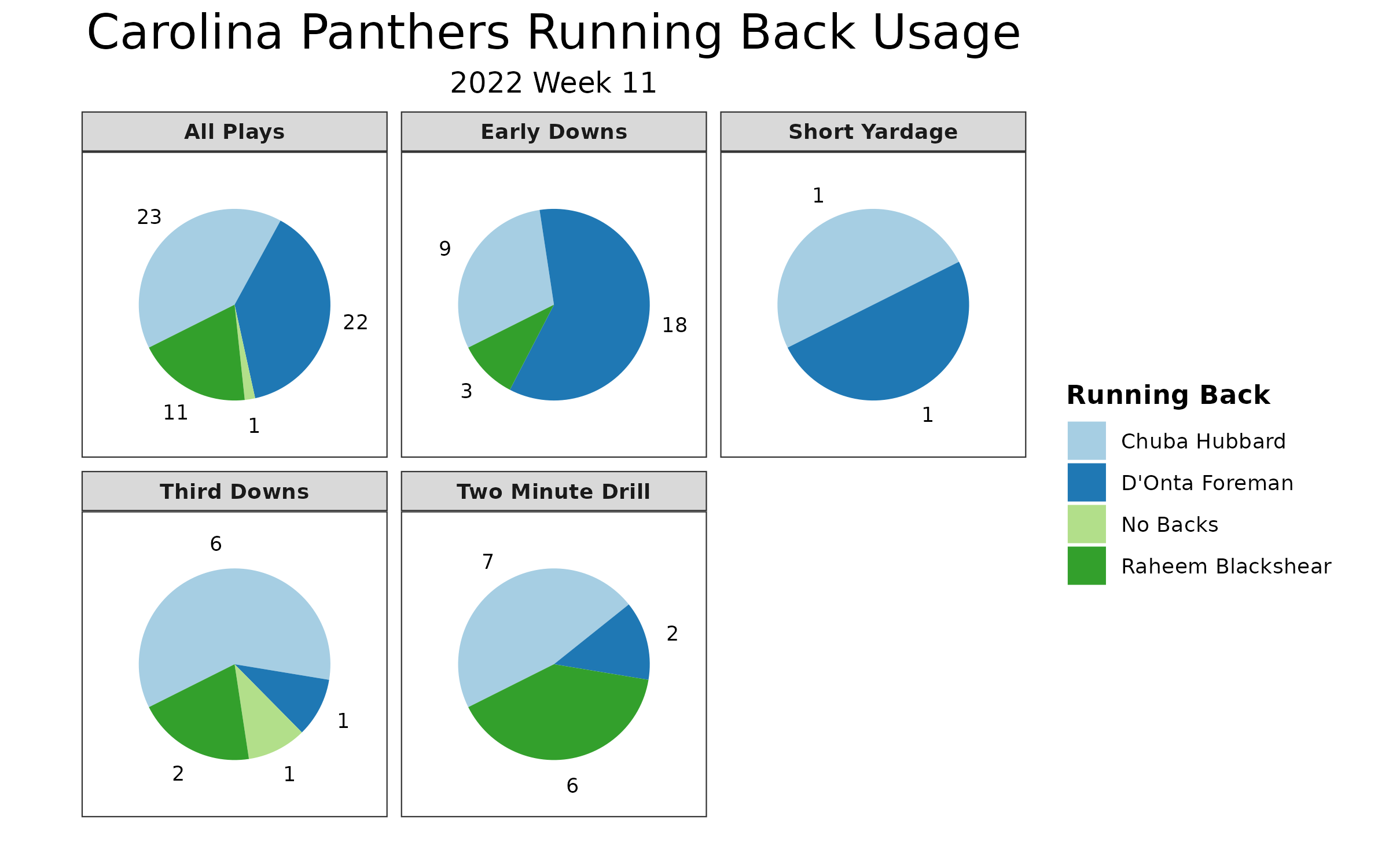 ---
• Jamaal Williams: 17 carries, 64 yards, 3 touchdowns
• Wan'Dale Robinson: 9 receptions, 100 yards, 1 carry, 4 rushing yards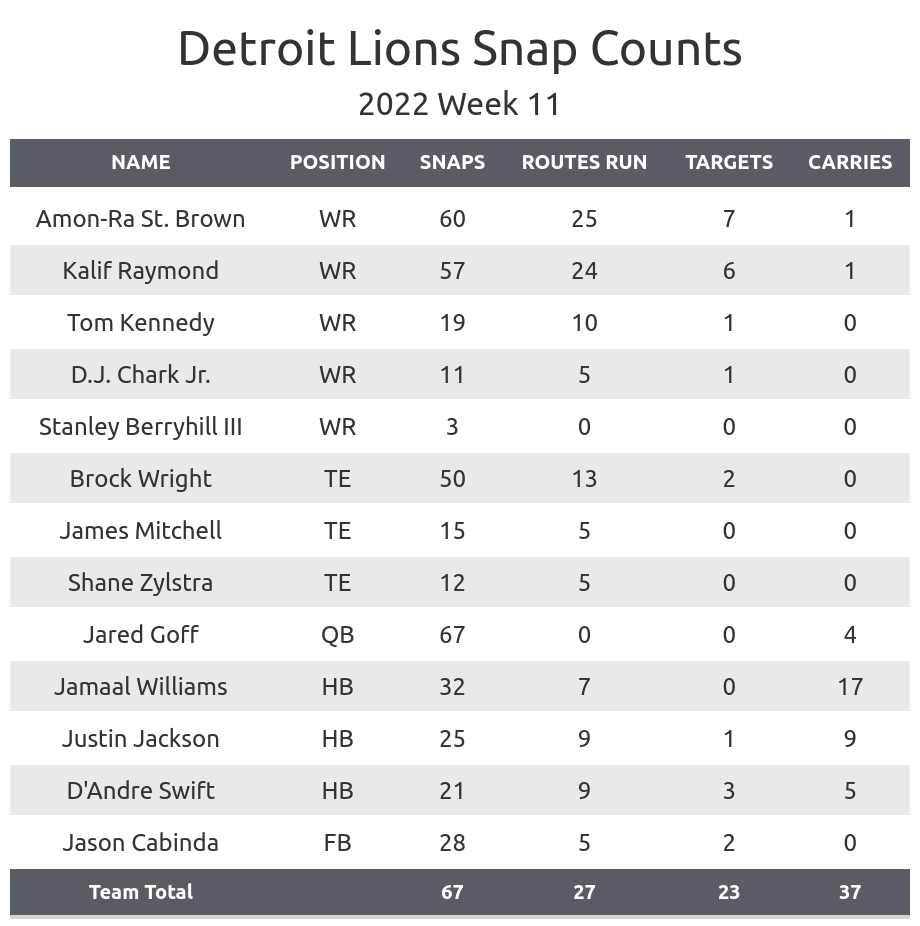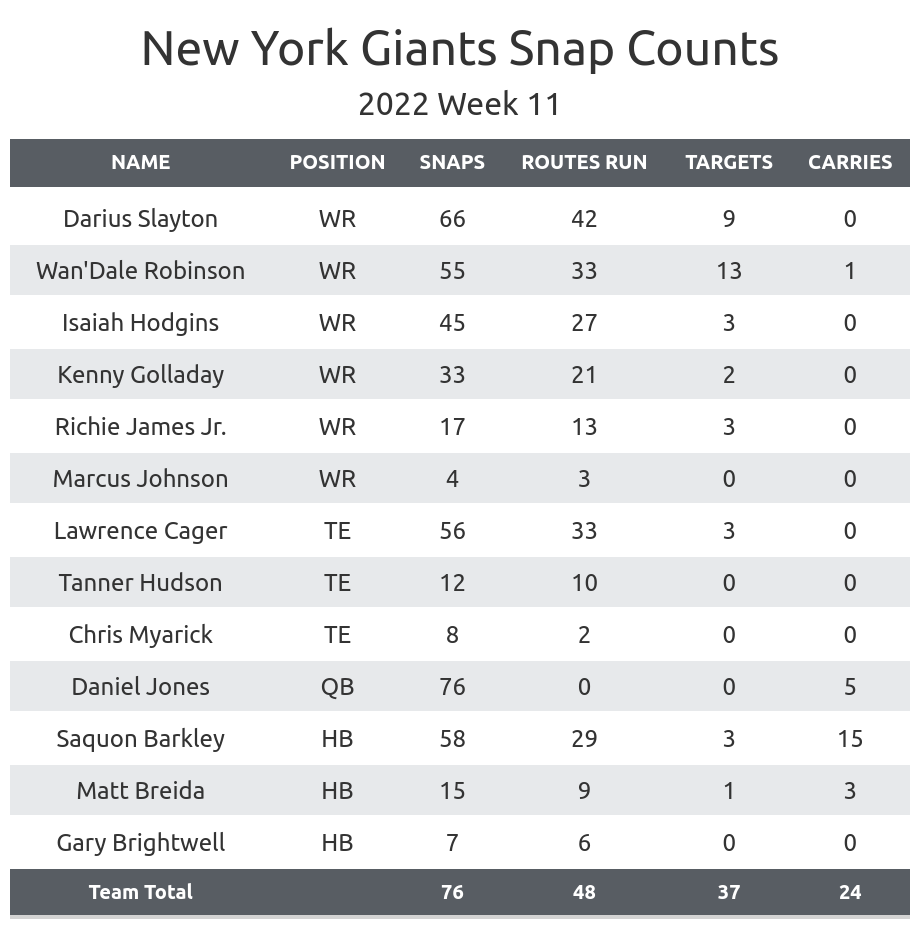 Monitor the Wan'Dale Robinson injury: Robinson suffered a knee injury early in the fourth quarter and was quickly ruled out. He was seen on crutches after the game. The injury is feared to be serious.
Robinson was having the best game of his career, catching nine passes for 100 yards, and was the primary source of offense for the Giants through three quarters.

He was rarely leaving the field, as New York was staying in three- or even four-wide receiver sets. Robinson rarely leaves the field in those situations and is almost always on the field in two-receiver sets.

He was on pace to set a career high in offensive snap rate had he not been injured.

Robinson is a waiver wire target this week if we find out the injury isn't serious.

Richie James Jr.

took over as the team's slot receiver after the injury. James had that role for most of September and the start of October when Robinson was out with a knee patella sprain.

If the injury is serious, the Giants will be even more desperate to sign

Odell Beckham Jr.

The team appears to be one of the two frontrunners for him.

The Giants used

Darius Slayton

and

Isaiah Hodgins

as their outside receivers to start the game.

Kenny Golladay

started rotating in during the second quarter and ended up with more snaps than Hodgins over the last three quarters of the game.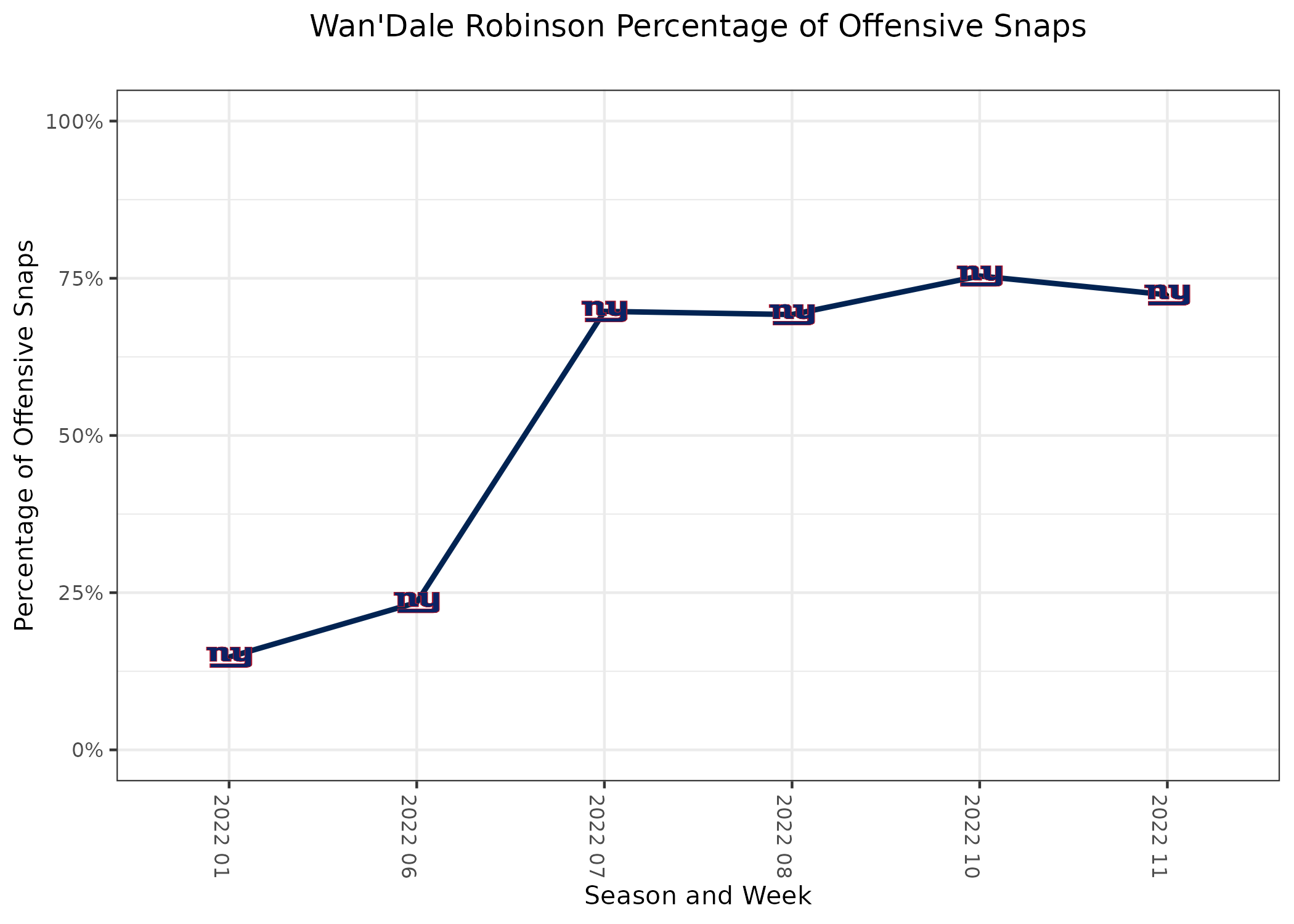 D.J. Chark Jr.'s return: Chark returned from injured reserve after missing the past six games with issues with his ankle.
The Lions eased him in very sparingly, playing two or three snaps each quarter.

Typically when a team is bringing back a starting wide receiver on a snap count, they tend to bring him in on third downs or other clear passing situations.

The Lions didn't seem to follow any kind of pattern, bringing him in for a mix of pass and run plays on a variety of downs.

Chark caught four passes for 52 yards and a touchdown in Week 1, and three passes for 46 yards in Week 3. There is a chance he could find fantasy relevancy this season if he gets closer to 100%.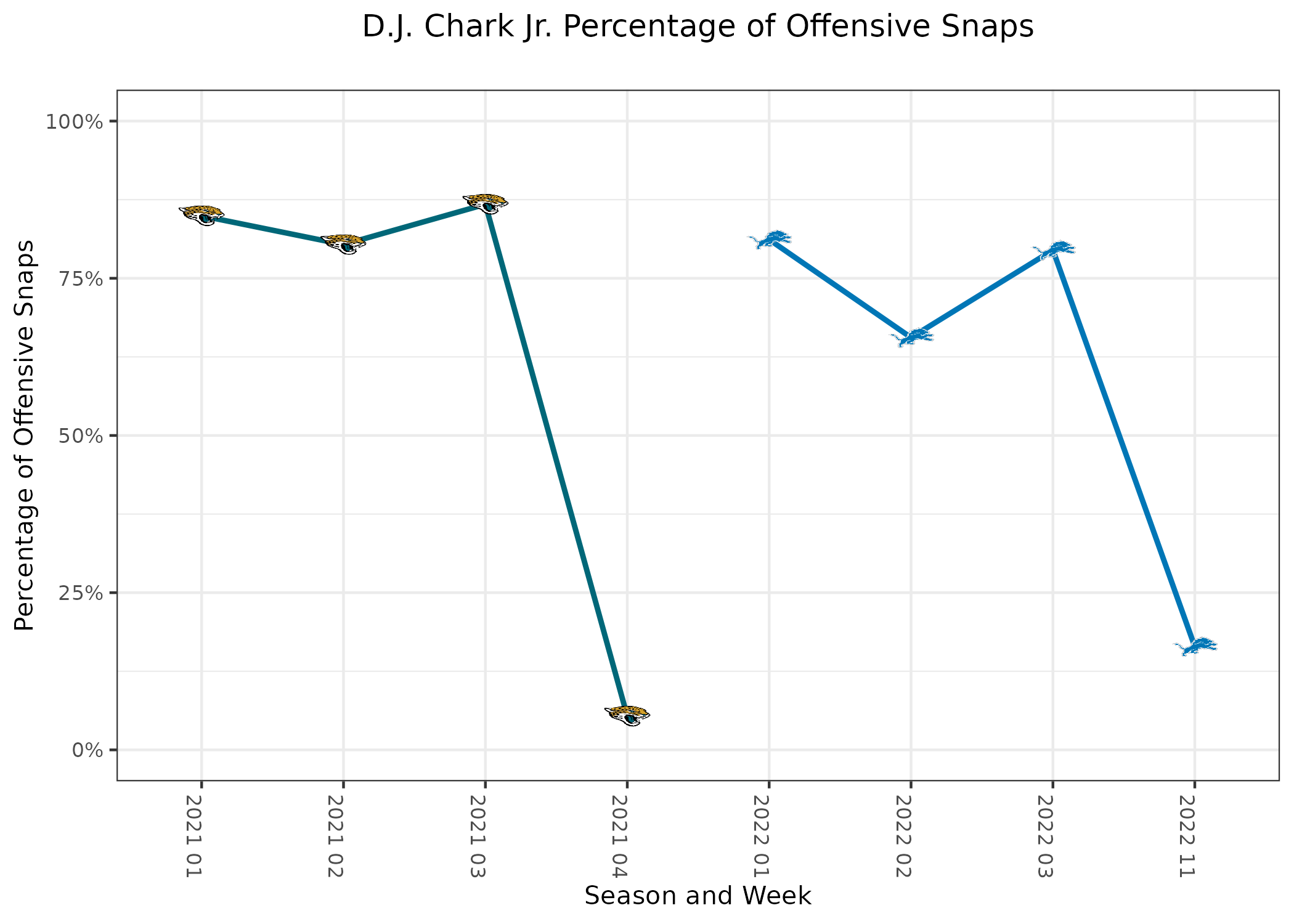 ---
• Davante Adams: 7 receptions, 141 yards, 2 touchdowns
• Josh Jacobs: 24 carries, 109 yards; 3 receptions, 51 receiving yards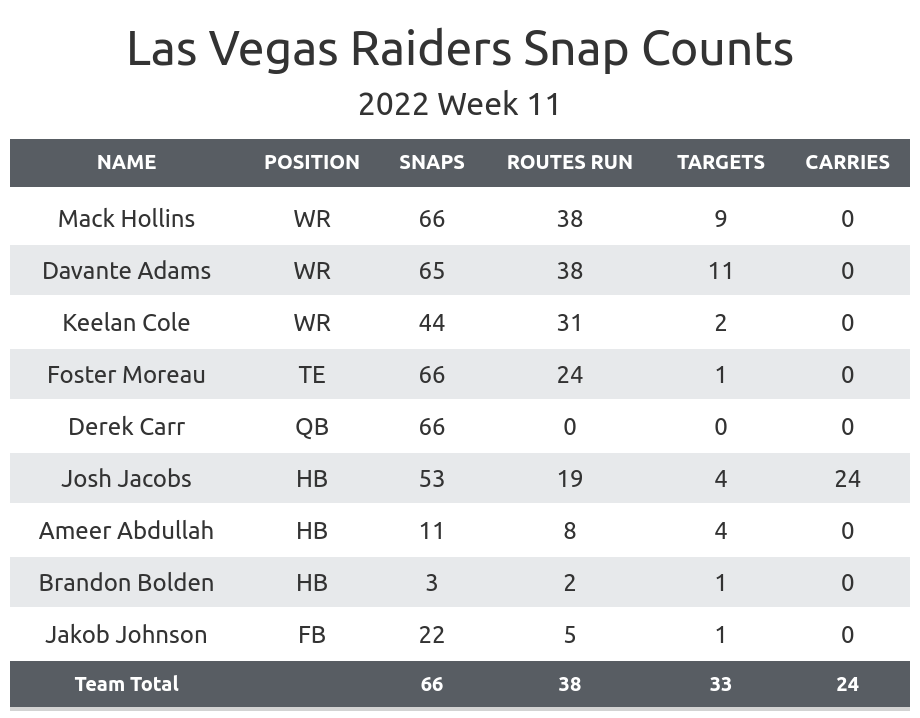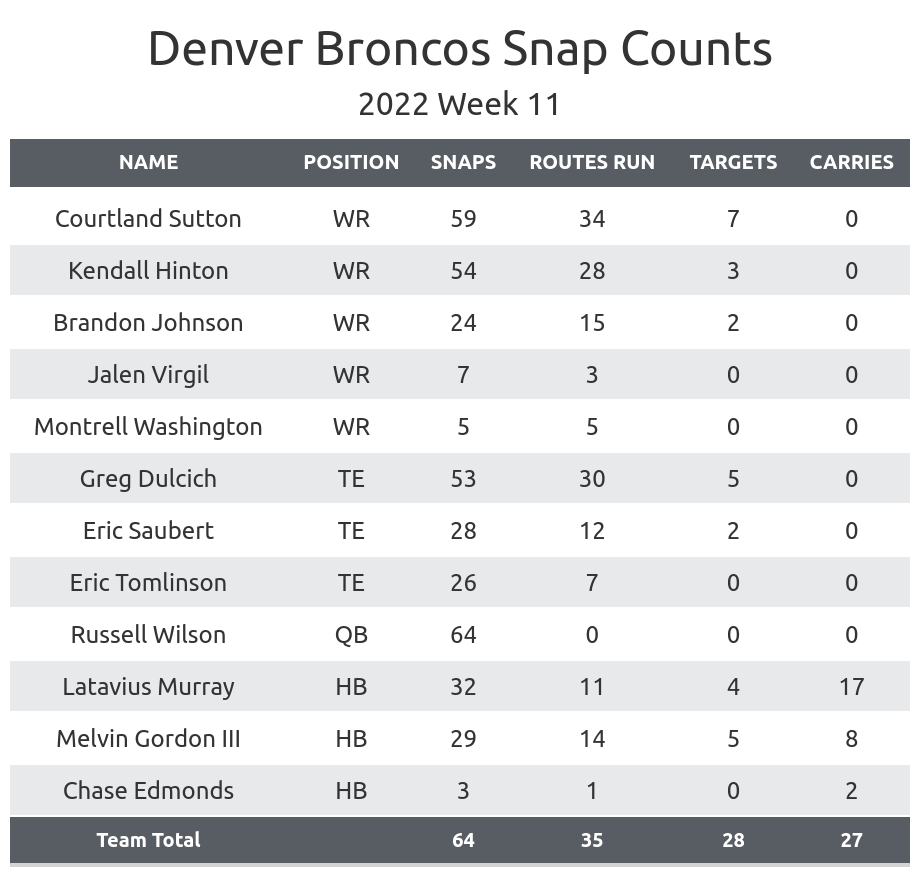 Monitor Chase Edmonds' health: Edmonds suffered an ankle injury on the first drive of the game and didn't return.
Edmonds played mainly as a third-down back in Week 10 but seemed like he was going to have a larger role in this game.

Melvin Gordon III

started for the Broncos as usual, but Edmonds replaced Gordon on a first down three plays in. He proceeded to play the following three snaps before suffering his injury.

Edmonds ran the ball twice for six yards on his three snaps.

The injury moved Gordon back to the primary third-down role, which allowed

Latavius Murray

more time on early downs.

Murray ran the ball 17 times. He averaged less than 3.0 yards per carry but did score a touchdown.

Murray would be worth a waiver wire addition if we find out the Edmonds injury is serious. If not, this is likely a backfield to avoid because it could be an even more crowded three-man committee.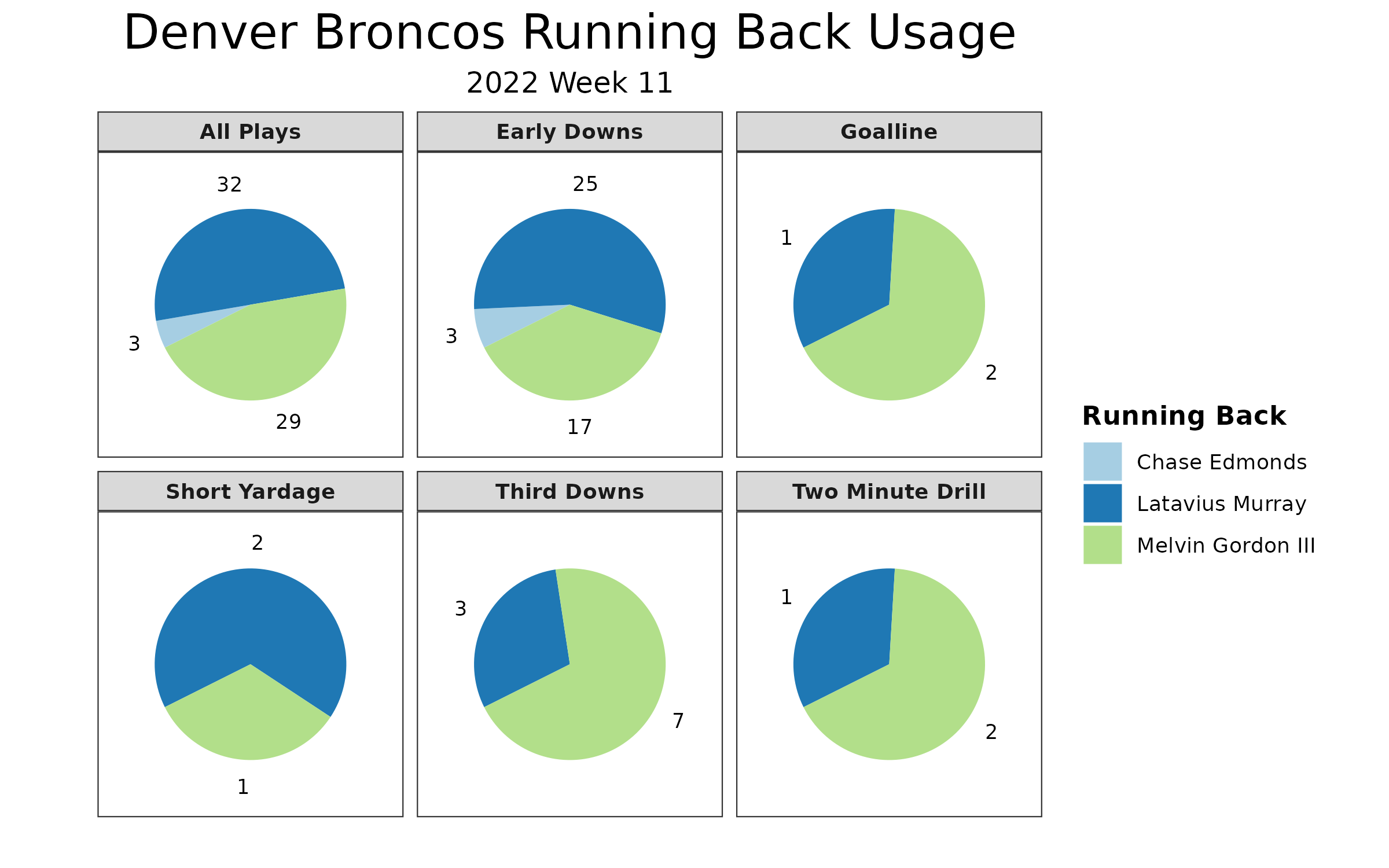 Broncos replacement receivers: Denver was down two of its top three receivers, with both Jerry Jeudy and K.J. Hamler inactive.
Kendall Hinton

was elevated to a full-time starter. He played on the outside in two-receiver sets and moved into the slot for three-receiver sets.

He put together a solid performance with three receptions for 57 yards, finishing second on the team in receiving yards.

Undrafted rookie

Brandon Johnson

was the outside receiver in three-receiver sets. This was his first NFL game.

He caught one of his two targets for two yards. 

In the next two weeks, the Broncos have favorable matchups against the Panthers and Ravens, who rank in the top 10 in allowing fantasy points to wide receivers.

Denver's No. 2 receiver in those games could provide some fantasy value despite the low-scoring offense.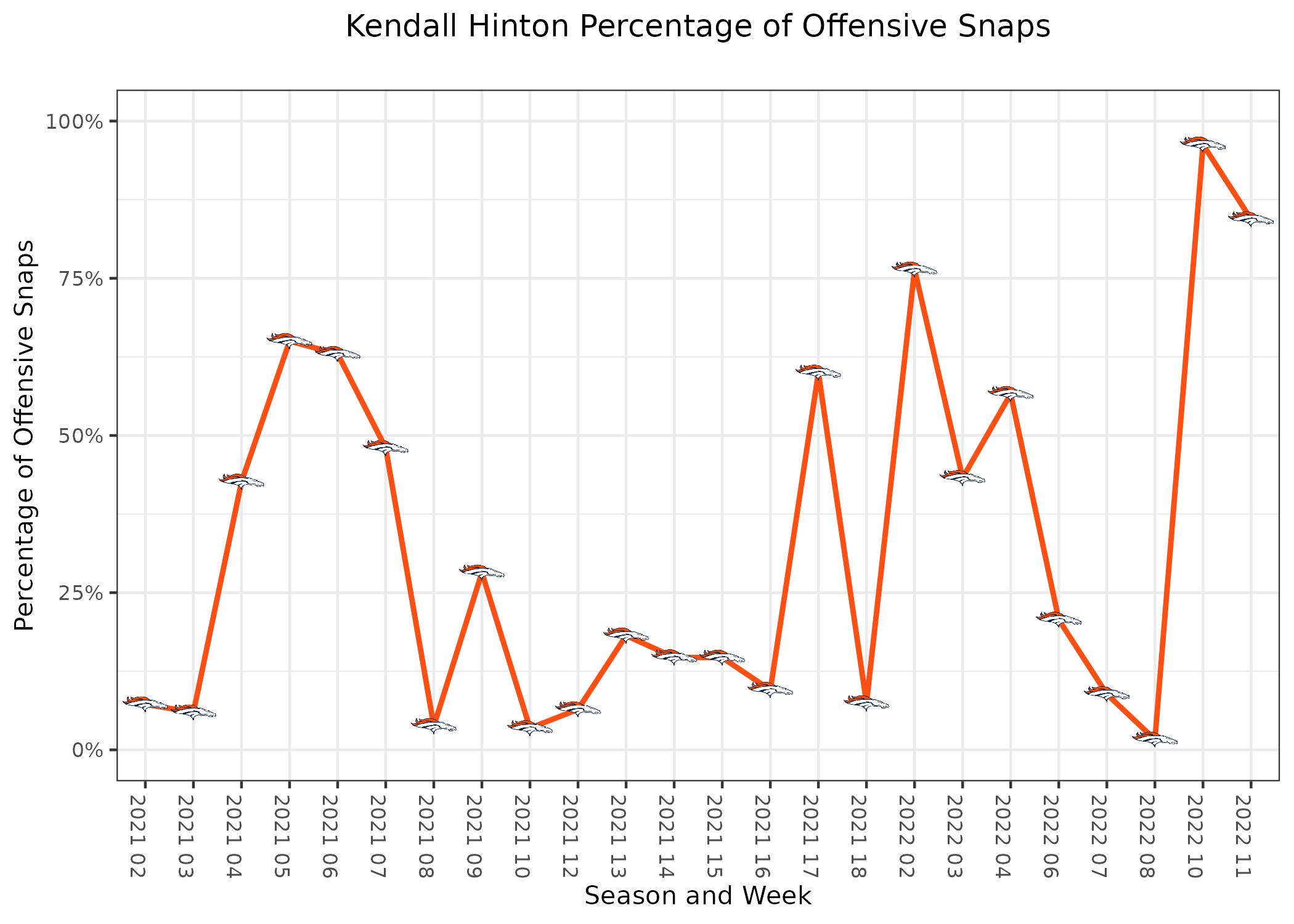 Add Mack Hollins: The Raiders receiver caught six of nine targets for 52 yards.
He's been a clear starter for Las Vegas all season.

Hollins has been up and down throughout the year but should be a more consistent contributor on offense with both

Hunter Renfrow

and

Darren Waller

on injured reserve.

He caught eight passes for 158 yards and a touchdown in his best game of the year.

The Broncos had allowed the fewest fantasy points to wide receivers this season heading into the game, so Hollins' life should only get easier from here on out.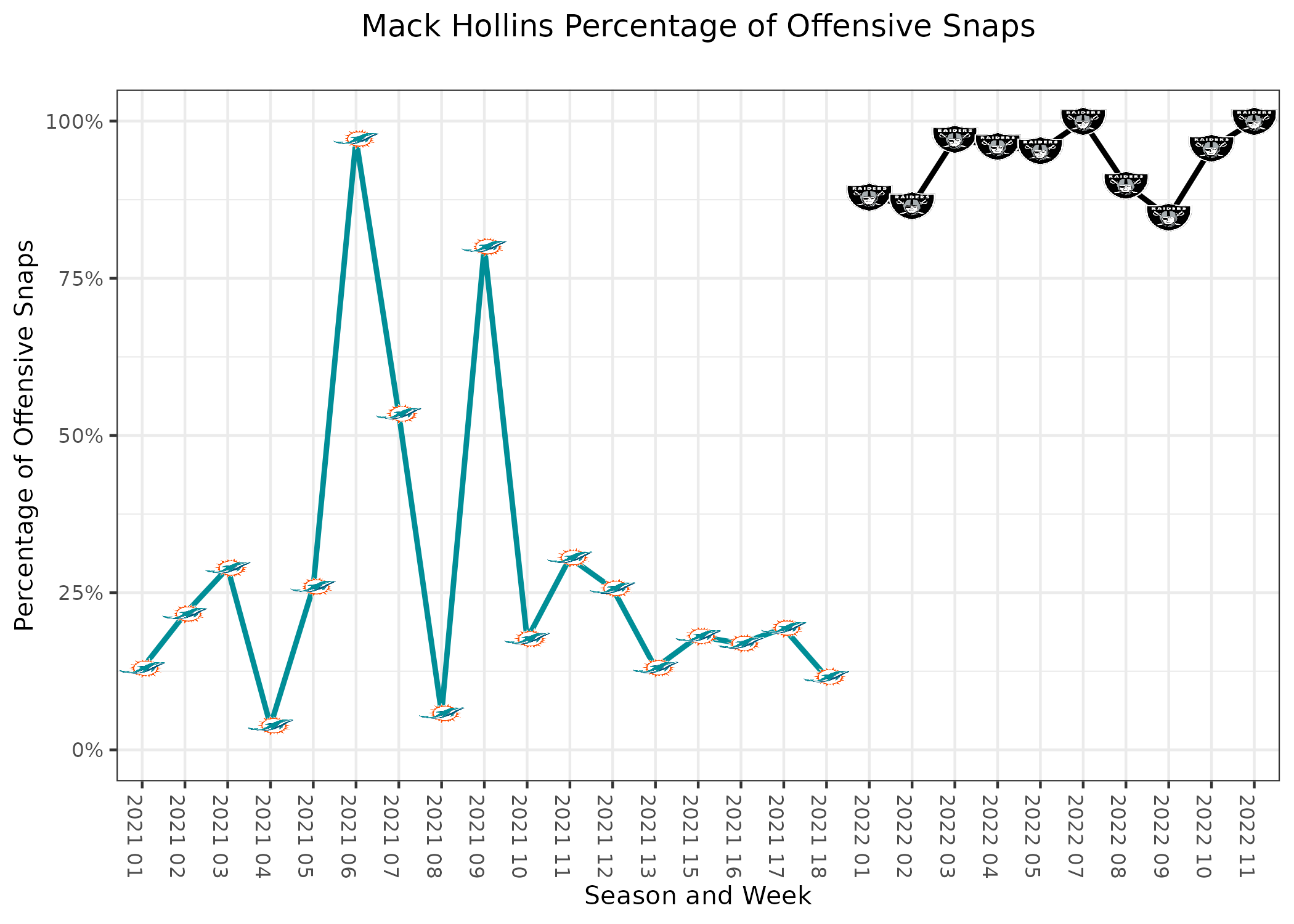 ---
• Tony Pollard: 15 carries, 80 yards, 6 receptions, 109 receiving yards, 2 receiving touchdowns
• Ezekiel Elliott: 15 carries, 42 yards, 2 touchdowns; 1 reception, 5 receiving yards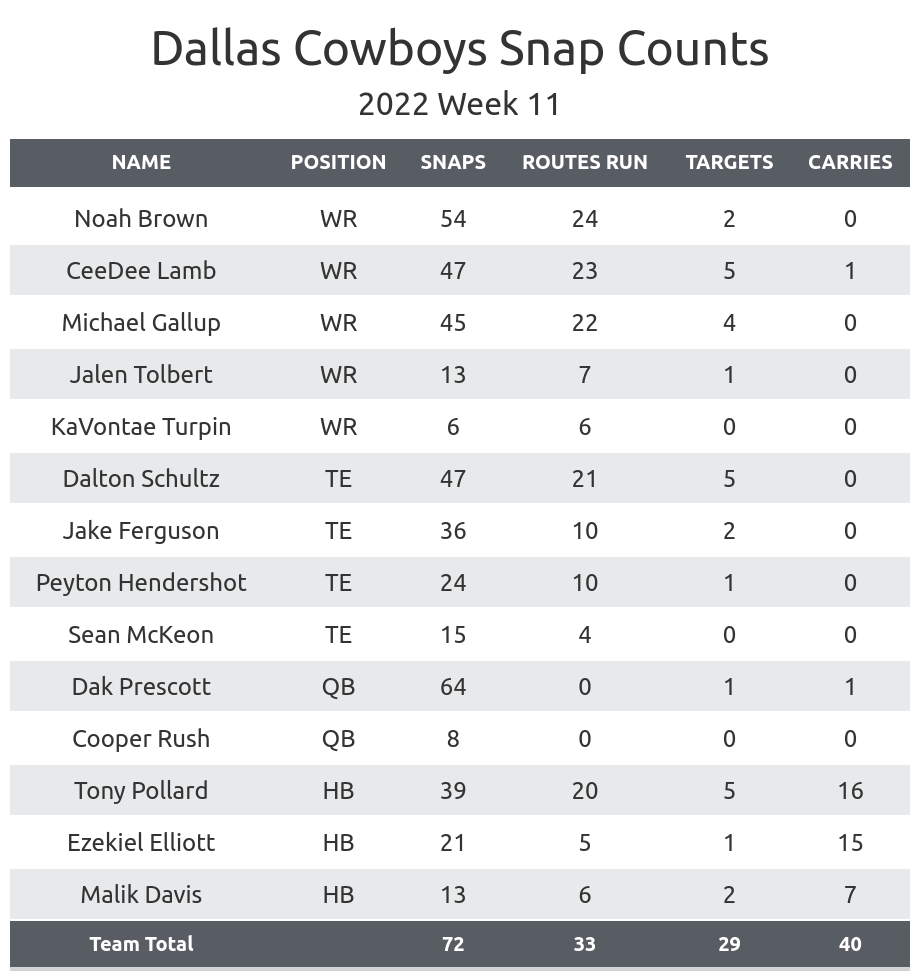 Ezekiel Elliott's return: Elliott returned to the Cowboys after missing the last three weeks with a knee injury.
There were reports before the game that Elliott would still be limited.

Tony Pollard

was the lead back on early downs, but the backfield was split in more specialized situations.

Pollard could be considered a sell-high candidate, as Elliott will likely take a higher percentage of the team's carries going forward once he's closer to 100%.

The Cowboys face the Titans during fantasy championships. Tennessee has allowed the fourth-fewest fantasy points to running backs this season.

The week before that they face the Eagles, who have been average against the run but just added two former All-Pro defensive tackles.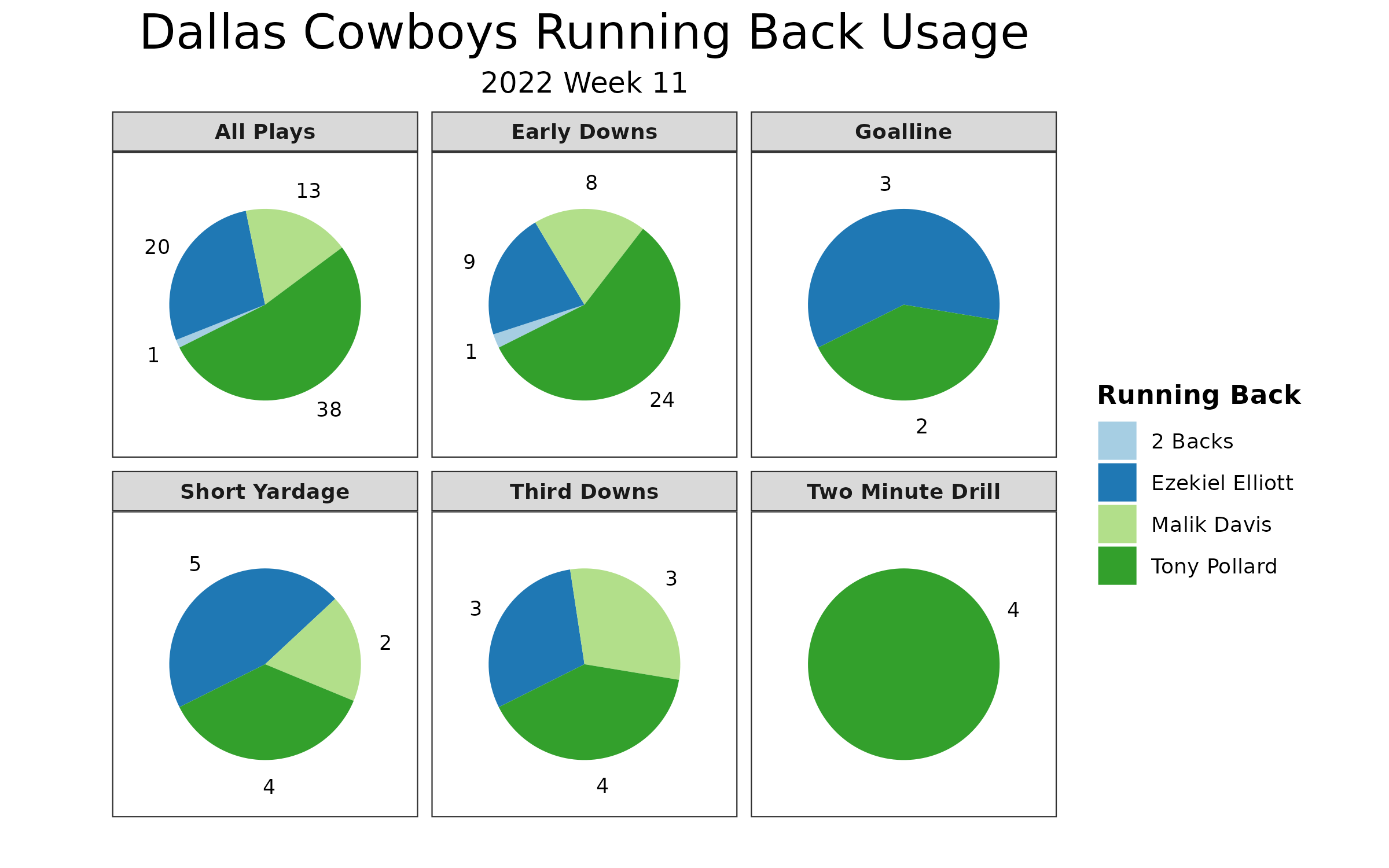 Ignore the Vikings' snap counts: The Vikings rested their starters in the fourth quarter as they were down by over 30 points.
Justin Jefferson

had played all 45 snaps over the first three quarters, while

T.J. Hockenson

and

Adam Thielen

had played all but one snap.

Dalvin Cook

played 34-of-45 snaps in the first three quarters, which was on par for him.

The Vikings players are buy-low candidates in general after this poor performance.
---
• Samaje Perine: 11 carries, 30 yards; 4 receptions, 52 receiving yards, 3 receiving touchdowns
• Najee Harris: 20 carries, 90 yards, 2 touchdowns; 4 receptions, 26 receiving yards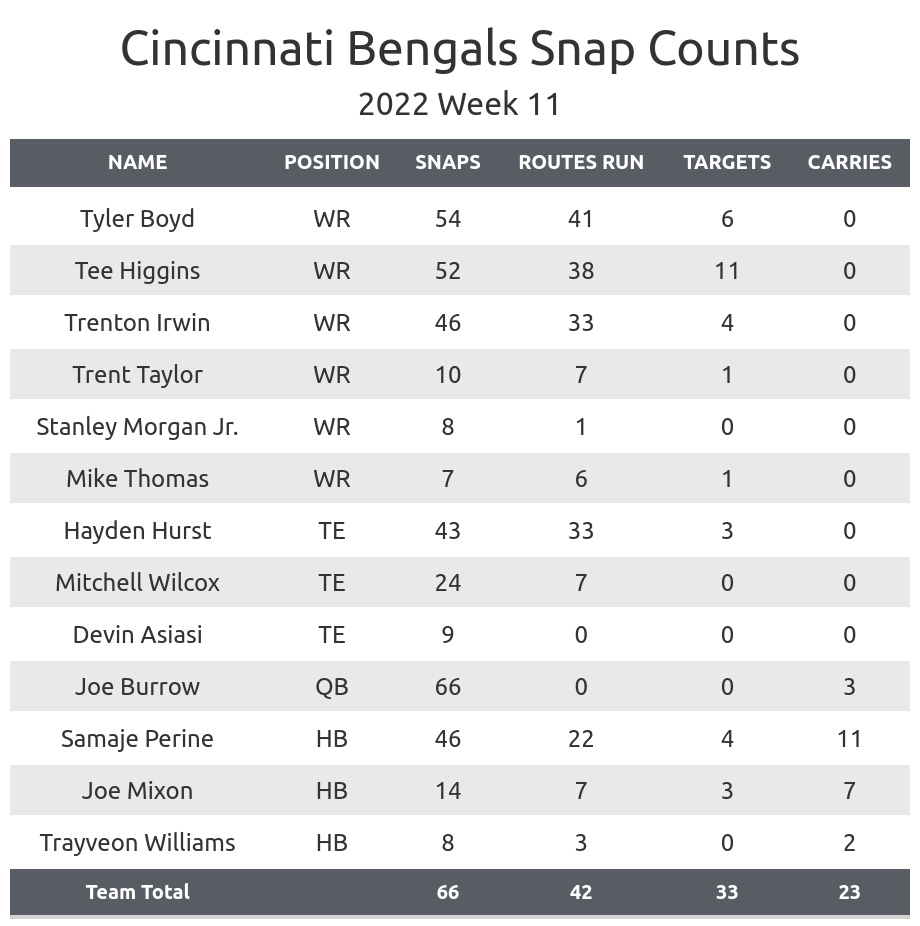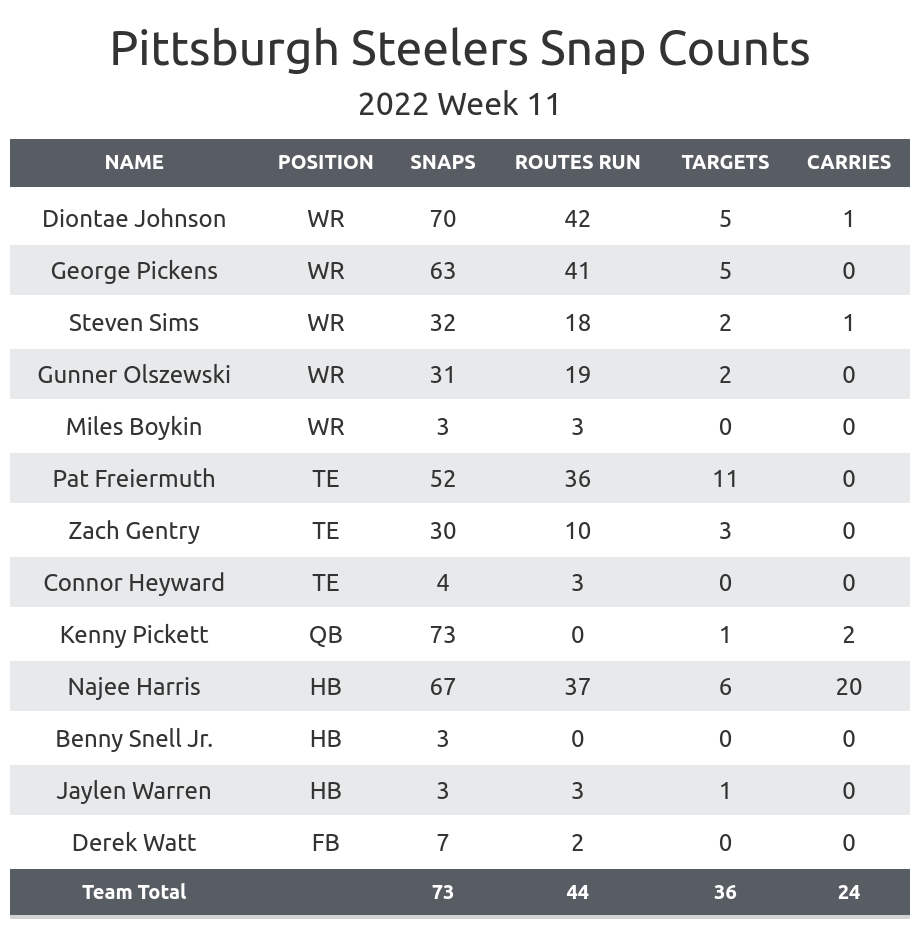 Monitor Joe Mixon's health: Mixon suffered a concussion in the middle of the second quarter and didn't return.
Samaje Perine

had assumed his usual role to start the game, playing on third downs and giving Mixon a break in other situations. This led to Perine catching a 29-yard touchdown pass to end the first quarter.

Perine took over as the every-down back after the concussion. He ran 11 times for 30 yards. He also caught another two touchdown passes after the injury.

Trayveon Williams

started the game third on the depth chart but moved up to second. He played only a few snaps.

Chris Evans

is typically the third back, but he was limited in practice all week with a knee injury.

Perine is worth a waiver target, but the Bengals have a tough matchup against the Titans next week. Tennessee has allowed the fourth-fewest fantasy points to running backs this season.

There are also no bye weeks next week, so fewer teams will be desperate for a running back.

Perine can still hover around the top 24 running backs from volume alone if Mixon misses a game.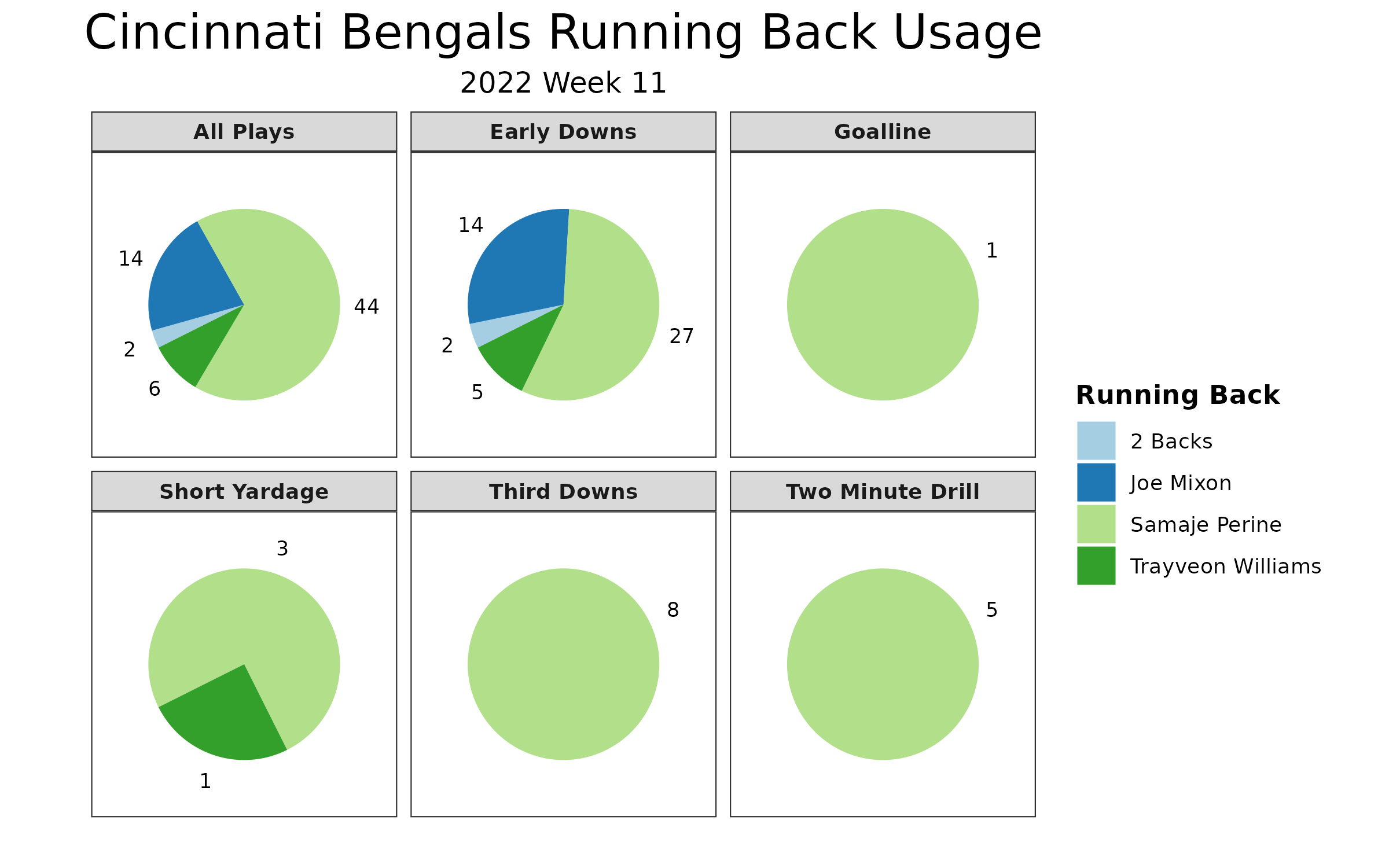 Monitor Jaylen Warren's health: Warren suffered a hamstring injury in the first quarter and didn't return.
Warren had slowly been earning more playing time. He caught his only target for 9 yards today.

Najee Harris

took the vast majority of snaps over the rest of the game, with

Benny Snell

taking a few snaps to give Harris a rest.

If the injury is serious, Harris a must-start again because few teams are willing to give a running back as much of the playing time as the Steelers are willing to give Harris without Warren.

Harris has run 20 times for 90 or more yards in back-to-back weeks. He was averaging 45 rushing yards per game prior to Week 10.

The Steelers have

one of the easier scheduled for running backs

over the rest of the season.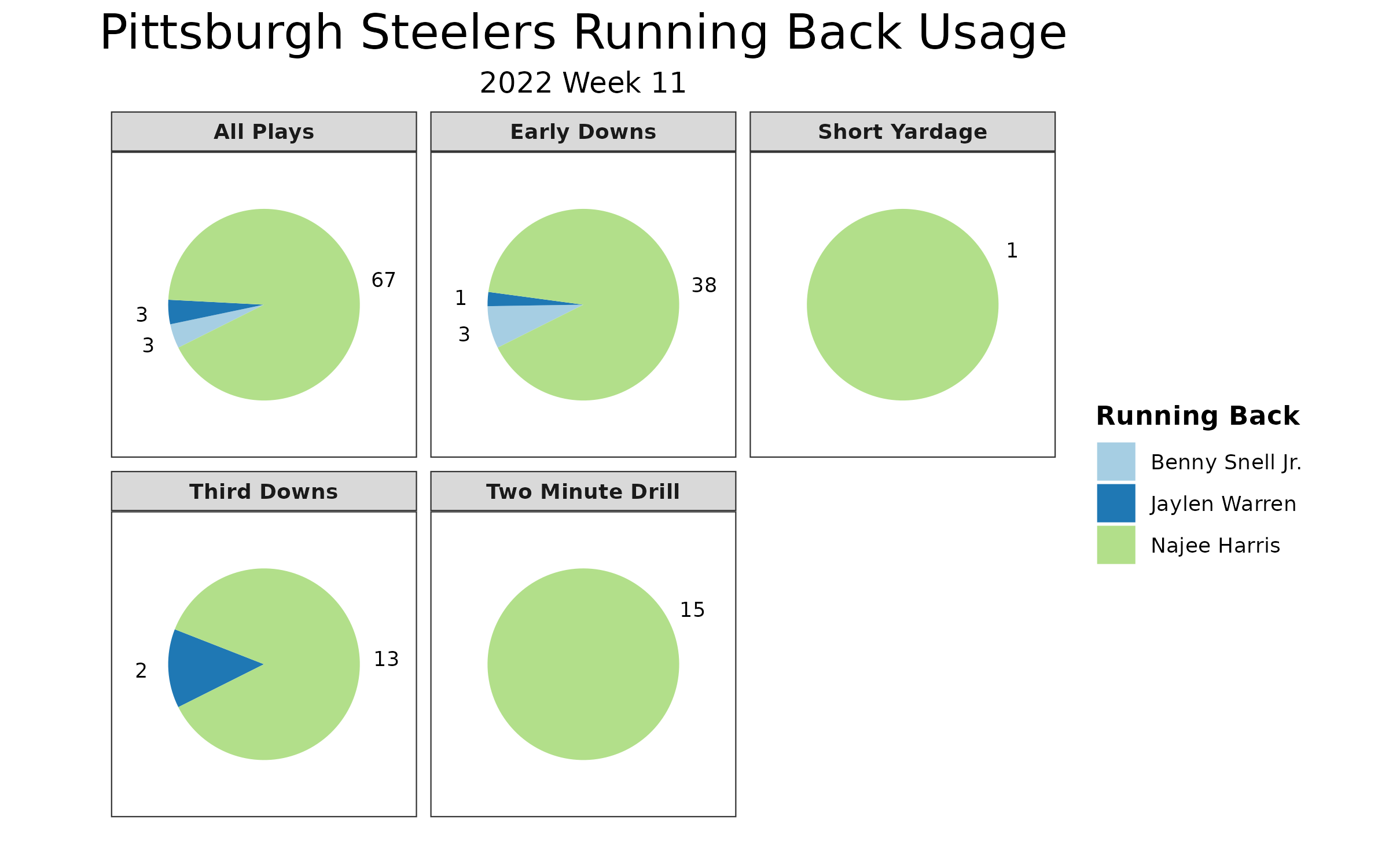 ---
• Travis Kelce: 6 receptions, 115 yards, 3 touchdowns
• Josh Palmer: 8 receptions, 106 yards, 2 touchdowns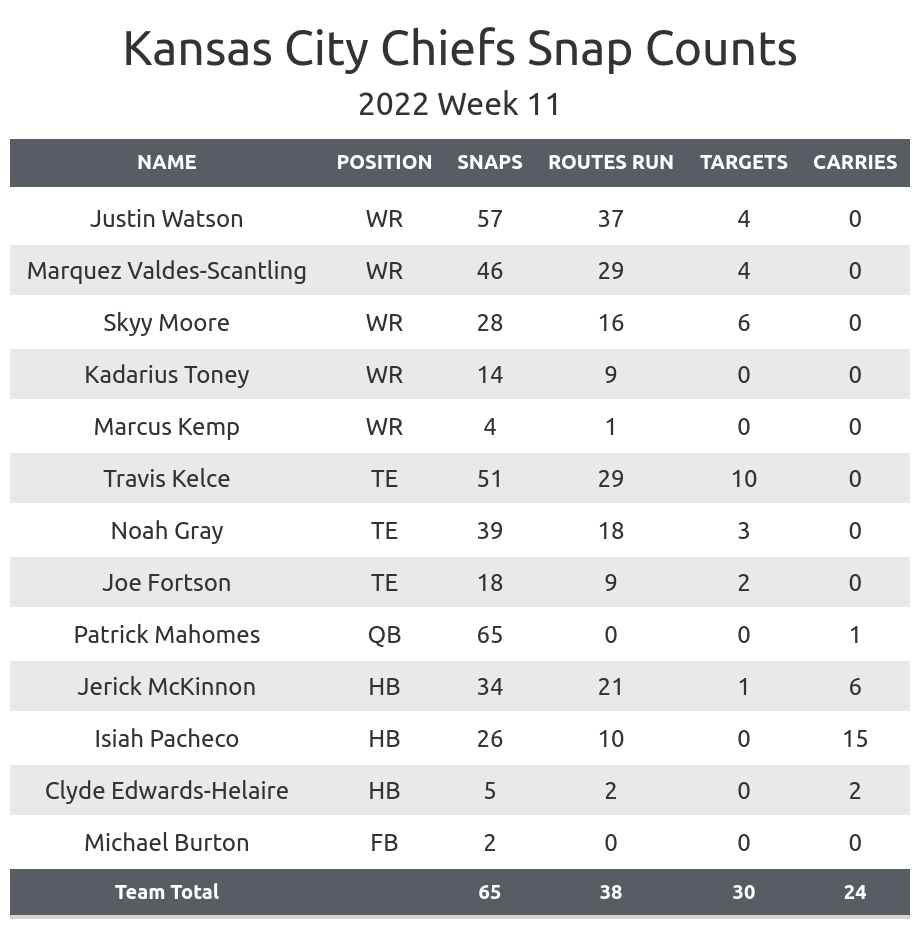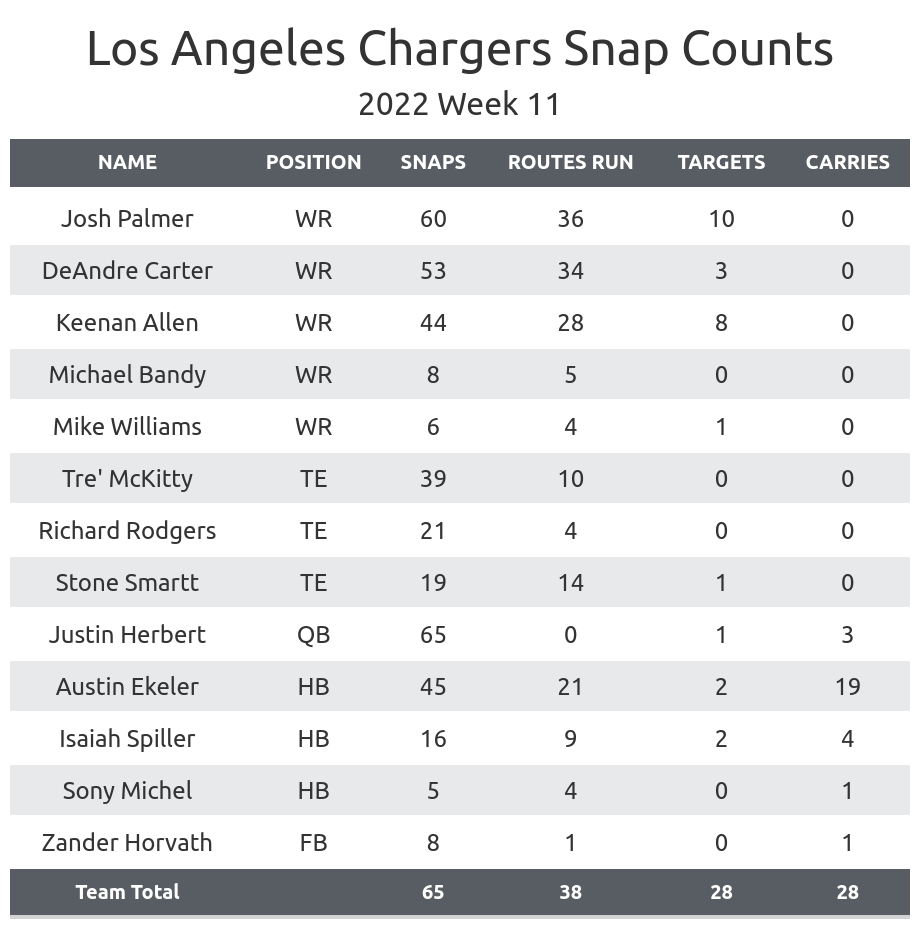 Monitor the Clyde Edwards-Helaire injury: Edwards-Helaire suffered an ankle injury in the middle of the first quarter and was later ruled out of the game.
The third-year back played only four snaps last week, but Kansas City tried getting him more involved in Week 11.

Isiah Pacheco

started the game, as he has been, but Edwards-Helaire replaced him after six snaps.

Pacheco started the second drive, but Edwards-Helaire again replaced him mid-drive. He suffered his injury later on that drive.

Like last week, Kansas City went back to its two-man backfield, with Pacheco taking most of the early down work and McKinnon playing on passing-down and goal-line snaps.

Pacheco had the best game of his career, gaining 107 yards on 15 carries.

He remains a top waiver wire target, regardless of Edwards-Helaire's health. 

The Chiefs have a

top-five schedule for running backs

during the fantasy playoffs and the

third-easiest schedule

over the rest of the season. Pacheco will get both volume and efficiency based on the schedule.

If Edwards-Helaire misses time, expect

Ronald Jones

to join the active roster and take the snaps Edwards-Helaire usually takes.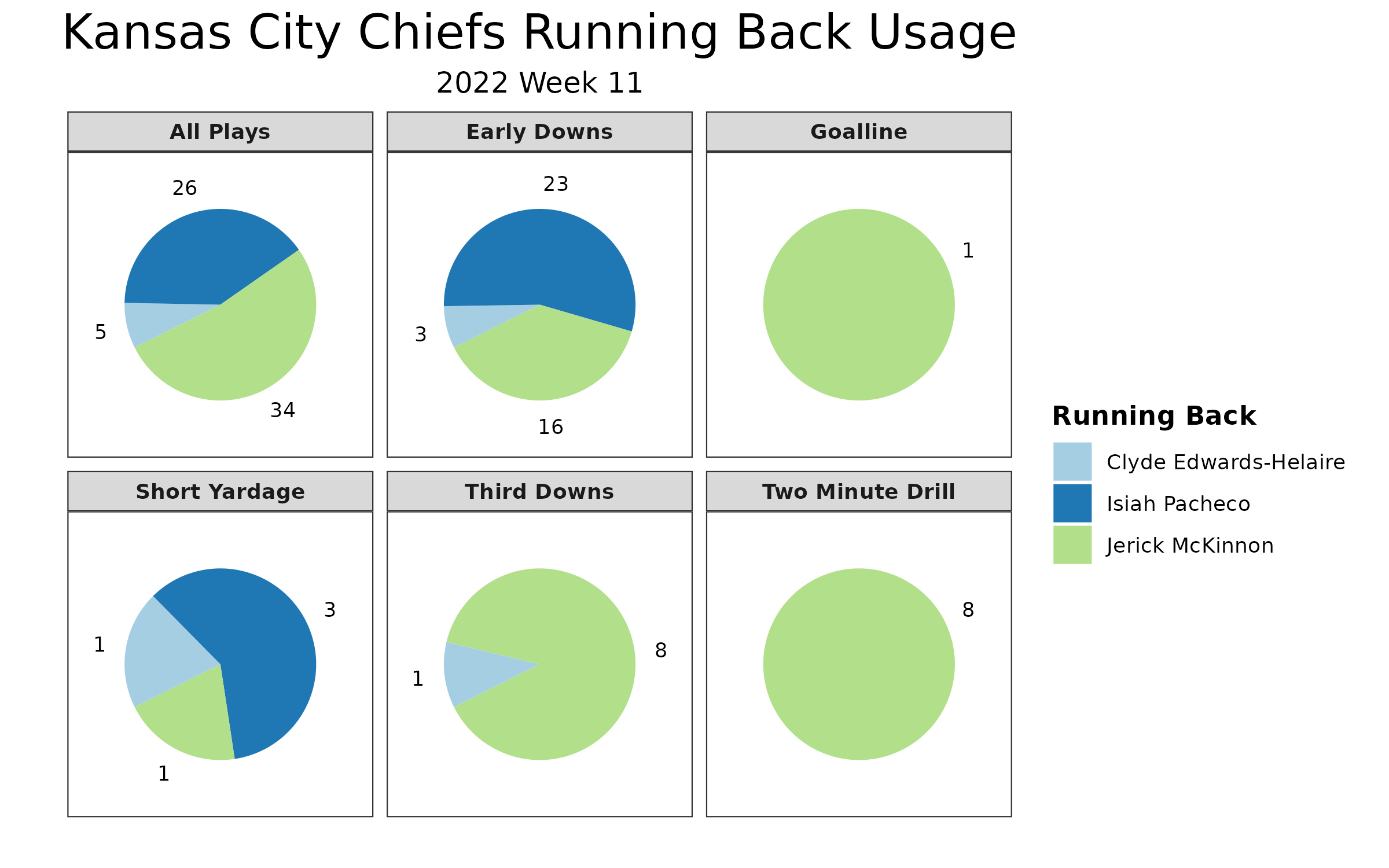 Monitor Kadarius Toney's health: Toney suffered a hamstring injury late in the second quarter and didn't return.
The Chiefs were already without

Mecole Hardman

,

who recently landed on injured reserve. 

JuJu Smith-Schuster

was also out with a concussion.

Justin Watson

took Smith-Schuster's spot in the starting lineup, while Toney was elevated to the third receiver spot.

Watson played the most snaps of everyone by being the sole wide receiver in three-tight end sets.

Toney didn't catch his only target in the first half.

Skyy Moore

took over as the team's third receiver in the second half. He was rotated in on a limited basis in the first half.

Watson led the wide receivers in receiving yards (67), while Moore wasn't far behind (63).

The Chiefs have one of the easiest schedules remaining. That means there will be more rushing and fewer targets to go around. Trusting anyone who isn't first or second on the depth chart will be hard.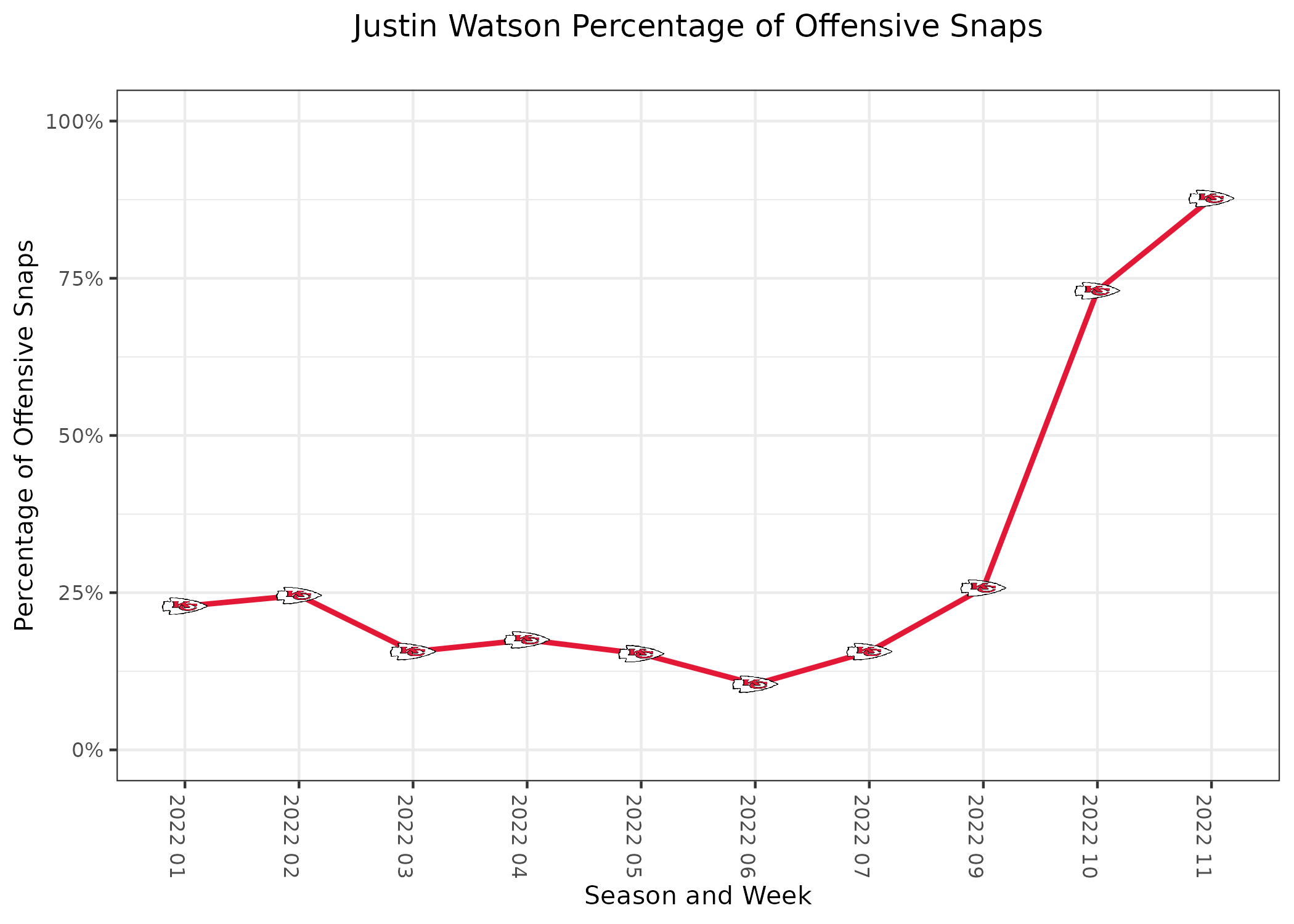 Monitor Mike Williams' health: The Chargers were supposed to have their top three receivers for the first time since Week 1,  but that latest for less than a quarter.
Williams and

Keenan Allen

were both being eased back into action. Both played 6-of-11 snaps on the first two drives.

Williams suffered an ankle injury and didn't return after those two drives.

Allen was effectively the team's third wide receiver for the rest of the game.

Josh Palmer

and

DeAndre Carter

rarely left the field after Williams left, while Allen would join the pair in three-receiver sets.

Allen can probably be put back into fantasy starting lineups after catching five passes for 94 yards. He will likely play more going forward, depending on his health.

It will probably be best to wait for Williams to play a full game before putting him back in fantasy starting lineups.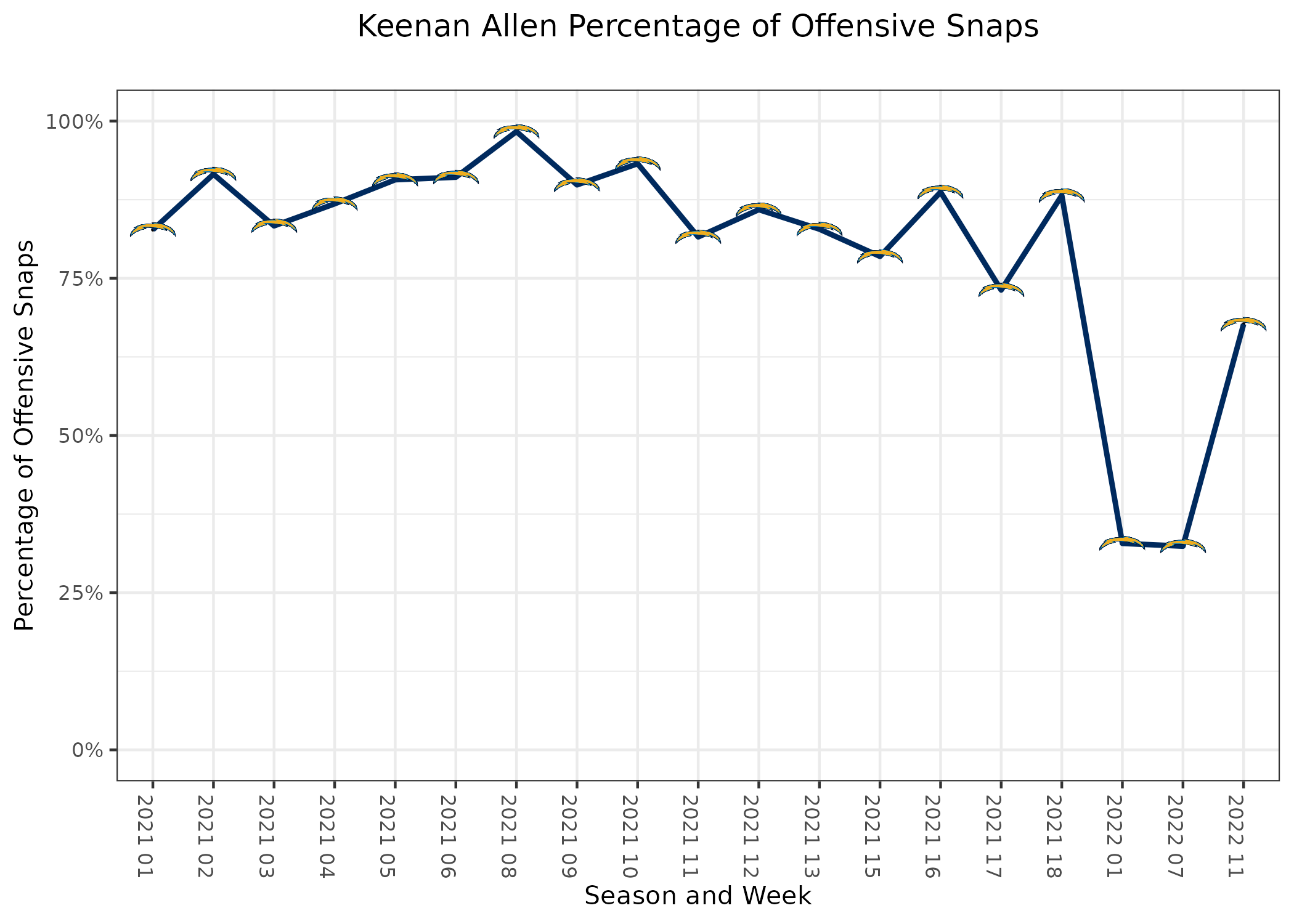 The Chargers without Gerald Everett: Everett was limited in practice with a groin injury all week. He wasn't given an injury status on Friday but was declared questionable on Saturday. He was ultimately inactive for Sunday Night Football. 
Tre' McKitty

was expected to play an every-down role. He's frequently been playing in two-tight end sets all season and has often taken snaps in 11 personnel from Everett.

McKitty took plenty of snaps in 11 personnel and two-tight end sets, but undrafted rookie

Stone Smartt

took most of the snaps on third downs. This was Smartt's first NFL game.

This makes the Chargers' tight end situation one to avoid if Everett misses more time.

In most important passing situations, the Chargers overlooked McKitty in favor of an undrafted rookie who has never played in the NFL — not great for McKitty's dynasty value. 

McKitty's 29.5 overall grade heading into Week 11 was the lowest for all tight ends.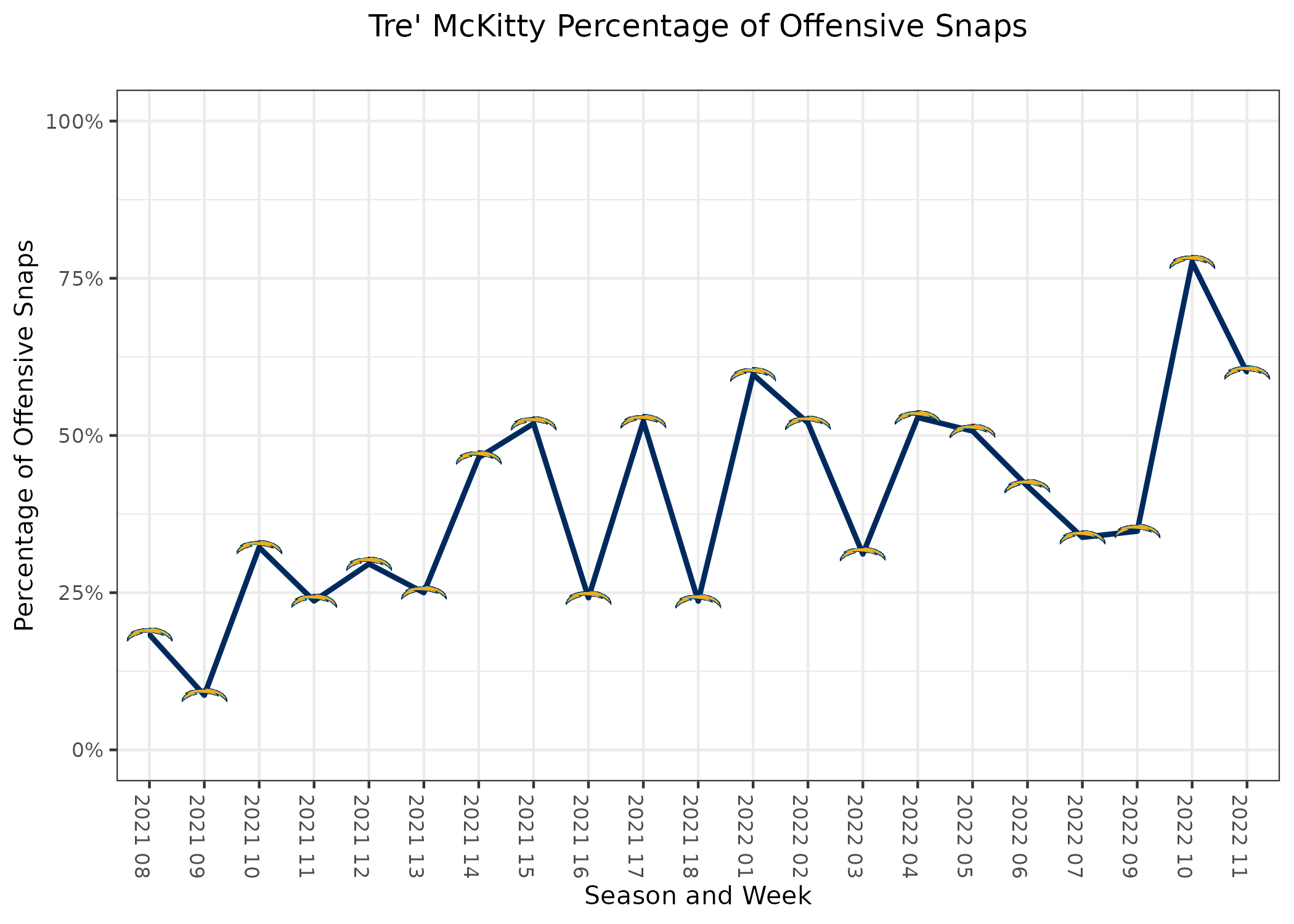 ---
Table Notes
• Snaps include plays called back due to penalties, including offensive holding or defensive pass interference. The other three stats have these plays removed.
• Targets may differ from official NFL sources. The most likely discrepancy would be from a clear thrown-away pass, where the NFL may give the target to the nearest receiver, while this data will not.
• Carries are only on designed plays. Quarterback scrambles won't count for the total number of carries in the game.