A lot can happen in two years. Don't believe me? Take a look at the fantasy football ADP from 2017.
Just two seasons ago, Devonta Freeman and LeSean McCoy were top-10 picks for fantasy. Now, Freeman ranks outside the top-30 and McCoy ranks outside of the top-90 by ADP.
Today, we're going to be attempting the impossible — trying to project what a fantasy draft might look like in 2021. We just attempted a 2020 fantasy mock draft Monday. For those of you in keeper leagues, you might want to pay especially close attention.
(Players who will be free agents before 2021 are indicated.)
Round 1
In his rookie season, Barkley led all non-quarterbacks in fantasy points. Even if New York's offense continues to decline, Barkley should remain immune for fantasy due to a robust workload (as both a runner and a receiver) and other-worldly levels of talent. He's the most valuable player in dynasty leagues and the safest bet to be the No. 1 overall pick in 2021 drafts.
Elliott is technically a free agent in 2021, but there's little chance Dallas lets him walk, or that he wouldn't be a bell cow wherever he lands. He's finished top-six in fantasy points per game over each of the past three seasons, and his volume was never better than it was last year. There are few scenarios I can envision where he wouldn't still be a top pick in 2021.
McCaffrey was a do-it-all bell cow in 2018, averaging 5.0 yards per carry and catching more passes than all but six wide receivers. He has legitimate 1,000/1,000 upside and will be a perennial top-five pick for the foreseeable future.
Kamara is already one of the most efficient running backs of all-time. Even if he's stuck in a timeshare with Latavius Murray in 2019 and 2020, he's still going to be worthy of a high-end pick in 2021. If he one day assumes bell-cow status, he might be worth the first overall pick.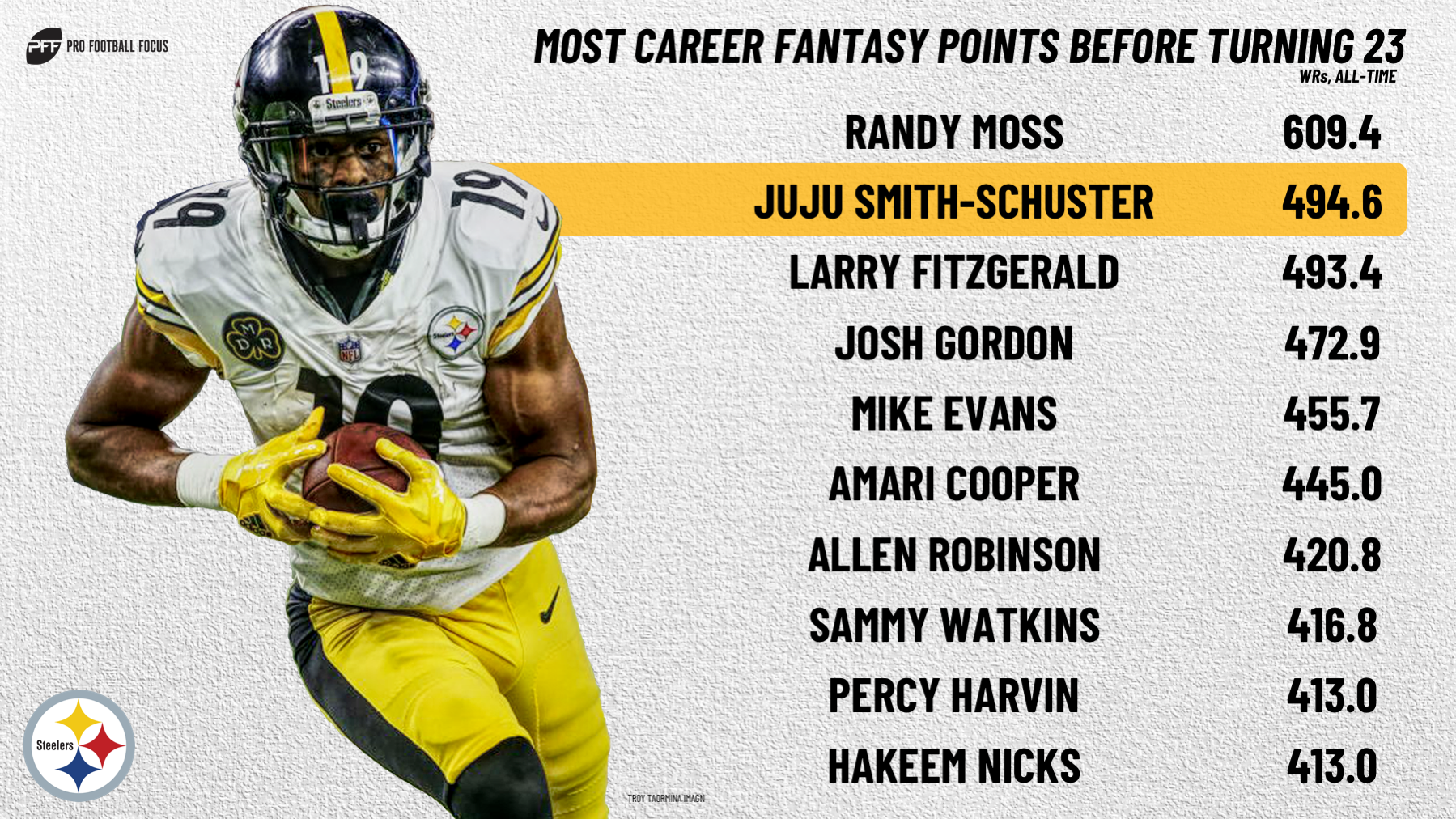 Smith-Schuster has 494.6 career fantasy points, and he's not even 23 years old. Only Randy Moss has scored more fantasy points before turning 23. I'm not sure what we can expect from Smith-Schuster over the next two seasons, but it wouldn't shock me if he replicates the best of what we've seen from Antonio Brown.
The efficiency boost Beckham is likely to receive going from Eli Manning to Baker Mayfield cannot be understated. One of the league's most efficient players is due for a massive efficiency boost in Cleveland. At 28, in the prime of his career, I have a hard time imagining he won't be a first-round pick in 2021.
Mixon is Cincinnati's workhorse but has yet to become their bell cow, ceding targets to Giovani Bernard. Hopefully, by this time, Cincinnati has realized Mixon's pass-catching ability is also one of his greatest strengths, or Bernard is no longer with the team. If that's the case, Mixon will be an easy first-round pick in 2021.
Even with atrocious quarterback play for a long stretch of his career, Hopkins has always been one of the league's most consistent and productive wide receivers. He might not be the first wide receiver taken in 2021, but he should be worth a top-12 pick.
Aaron Rodgers' WR1 has finished top-five in fantasy points per game in four of the past eight seasons, and he's had 10 wide receivers finish top-15 over that span. It's hard to imagine anyone supplanting Adams for WR1 duties in Green Bay, and, so long as he stays healthy, he should be worth a first-round pick in each of the next few seasons.
Bell is the all-time leader in fantasy points per game. Though he'll be 29 in 2021, and New York might not be as hospitable for fantasy as Pittsburgh, he should still be a fantasy RB1.
Kelce has led all tight ends in fantasy points in three consecutive seasons. In 2019, with no Rob Gronkowski and possibly no Tyreek Hill, that should happen again. He also has the best chances of repeating that feat in 2020. Given the importance of premium tight ends over premium wide receivers (as explained here), I'd bet he's worth a borderline first-round pick in 2021.
Cook has obvious injury concerns, dating all the way back to college, but if he can stay healthy for all of 2020, he'll be worthy of a first-round pick in 2021. He was one of the league's most efficient running backs in 2019 and received a bell-cow workload towards the tail-end of the season.
Round 2
13. Nick Chubb, RB, Cleveland Browns (Age: 25)
With Kareem Hunt likely on another team by 2021, Chubb should become Cleveland's every-down workhorse. On, what looks like, one of the league's most potent and youthful offenses, he seems like a good bet to be a fantasy RB1 in 2021.
Gurley's arthritic knee makes him risky, especially when projecting two years into the future, but he'll also still be making $13.2 million in 2021. While he might not ever again see 300 touches in a single season, he should still put up RB1 numbers as the lead back in one of the league's top offenses.
Head coach Jon Gruden has made it clear he envisions a robust workload for Jacobs, but blocking concerns might limit him in Year 1. I think, by 2021 he'll be a true bell cow and on what should be one of the better offenses in football.
16. Kareem Hunt, RB, Team TBD (Age: 25) [Free Agent]
Hunt will be a restricted free agent in 2020 and could easily be retained by Cleveland given the minimal cost of his salary. In 2021, he'll be a true free agent and will probably go to a team more in need of his services. Over the past two seasons, Hunt ranks second among running backs in PFF grade and seventh in fantasy points per game (19.5).
17. Antonio Brown, WR, Oakland Raiders (Age: 32)
Brown is the oldest player on this list, but he's also maybe the best wide receiver we've seen since Jerry Rice. I don't think he'll "go quietly into that good night" and will again be a top-24 pick in 2021.
The only way Chicago can justify the draft capital spent to acquire Montgomery is if they plan on using him as a three-down running back. If that doesn't happen in 2020, it should by 2021, when Tarik Cohen is a free agent.
Like with Montgomery, Sanders is a likely bell cow for Philadelphia. It should be a valuable role, as the Eagles rank top-eight in total yards and points since head coach Doug Pederson joined the team.
If there's any threat to Kelce as the obvious No. 1 tight end in 2021, it has to be Kittle, who broke numerous records in 2018.
In 2021, Julian Edelman will be 35 years old and Tom Brady will be 43. New England also lost Rob Gronkowski to retirement and has one of the weakest receiving corps (at least on paper) in the league. I think, by 2021, Harry becomes the team's top target. So long as Brady is still playing, I'd bet Harry is worth taking in this range.
22. Jerry Jeudy, WR, Team TBD (Age: 22)
In 2018, Jeudy ranked 55th in targets (101), 11th in receiving yards (1,313) and fourth in receiving touchdowns (14). He did this at just 20 years old. He'll be a rookie in 2020, and, I think, by 2021 a top-24 overall pick regardless of where he lands.
23. D.J. Moore, WR, Carolina Panthers (Age: 24)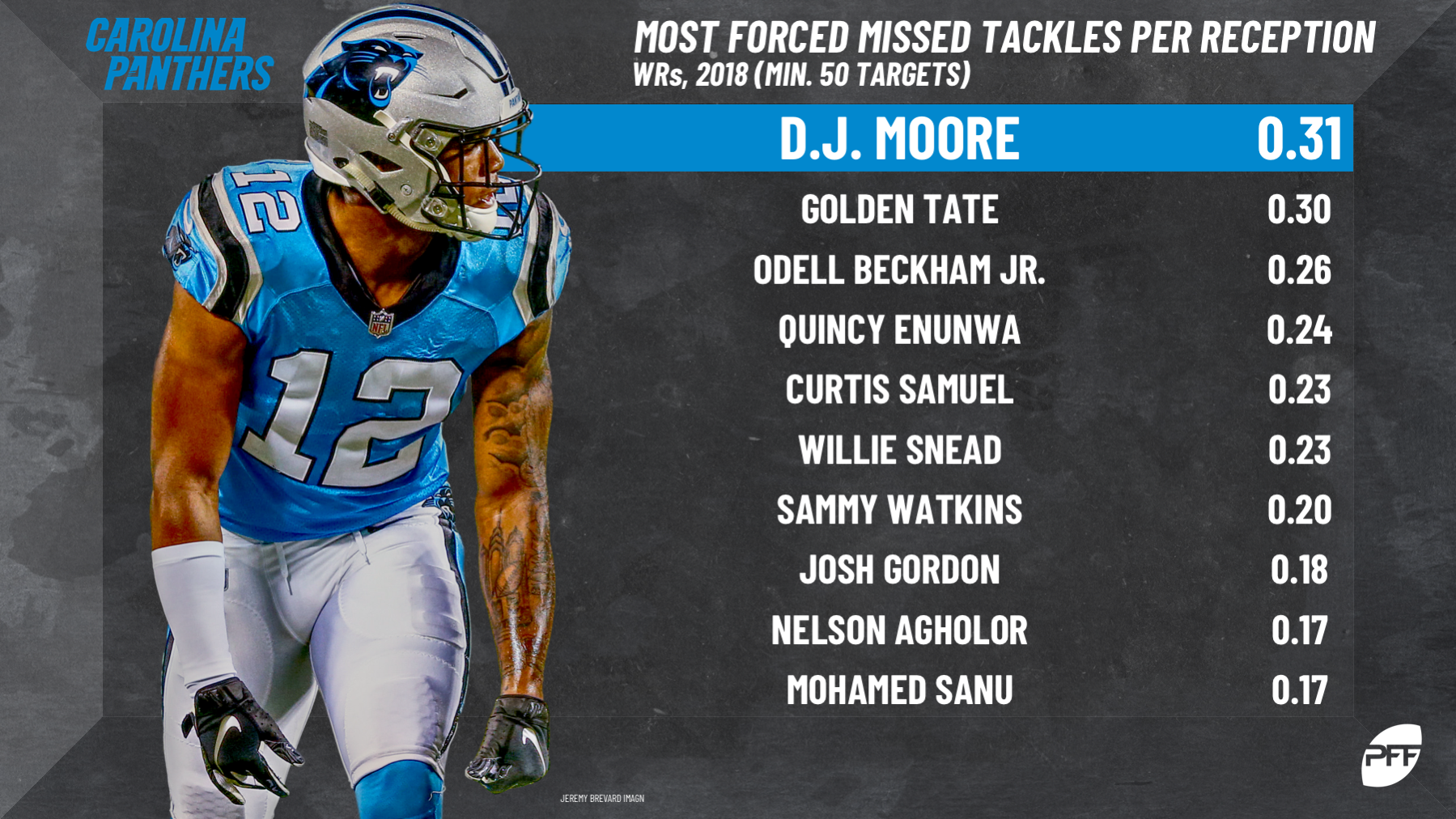 After an absurdly efficient rookie season, I'm confident Moore will one day become a fantasy WR1. Though I think that's a little too optimistic for his 2019 prospects, I could see that being the case in 2020, making him worth a top-24 pick in 2021 drafts.
24. Patrick Mahomes, QB, Kansas City Chiefs (Age: 25)
In 2018, Mahomes totaled the most fantasy points by any quarterback in any season all-time. This was just his first full season as a starter. Though those numbers will be hard to repeat, and especially if he'll have to do it without Tyreek Hill on the field, I do think he'll be a perennial top-24 pick for years to come.