Up until a few days ago George Kittle was ranked as my No. 3 tight end in dynasty leagues, behind only Travis Kelce and Zach Ertz. I felt good about this ranking — Ertz, though three years older, is the more established name and the more productive player last year, coming off of a historically great 2018 season. Here's an impressive stat on Ertz: last year, he was Philadelphia's first read on 31% of the team's passing attempts — only DeAndre Hopkins (39%), Michael Thomas (36%), and Julio Jones (32%) ranked higher.
So yes, I felt good about this ranking up until only a few days ago — when, in a dynasty startup draft of my own, I took Kittle over Ertz. Ertz has some red flags — sophomore tight end Dallas Goedert (a personal favorite) is waiting in the wings, and there's now more target competition in Philadelphia, following the arrival of DeSean Jackson, but more than anything, it was Kittle's drool-inducing, statistically great sophomore season that forced me to adjust my rankings.
Kittle was phenomenal last season, leading all tight ends in PFF grade and PFF receiving grade. He also led all tight ends in receiving yards (1,377), yards per route run (2.83), yards after the catch (873), yards after the catch per reception (9.9), and missed tackles forced (17).
Not only was he the league's best tight end in all these stats last year but, in almost every case, these numbers were historically great. Last year, Kittle set the record for most receiving yards by a tight end in NFL history. His yards per route run was the best of the PFF era (since 2007), and best by 11% over the previous record year (Rob Gronkowski, 2014 — though Kelce also broke Gronkowski's mark in 2018). His 873 yards after the catch in 2018 was also a PFF-era record and by 217 more (and 28% better) than the next-closest season (Gronkowski, 2011). His 9.9 yards after the catch per reception in 2018 also made a new record.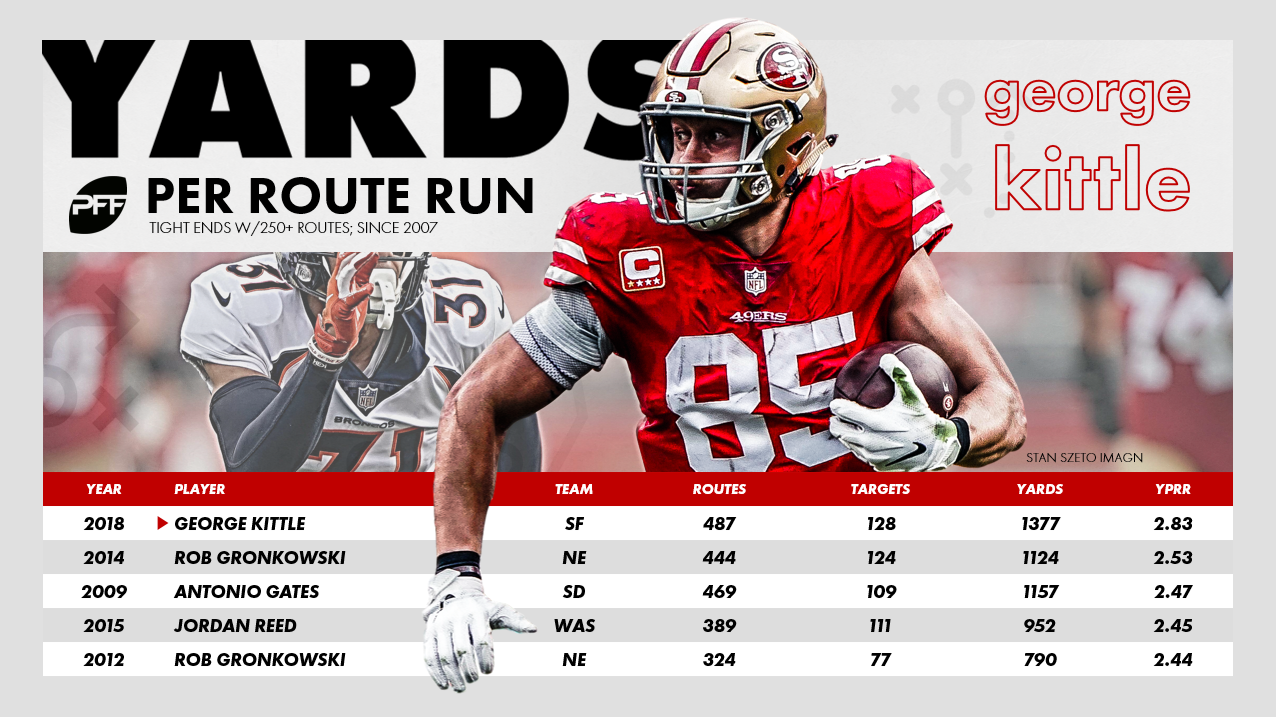 Perhaps most impressively, Kittle did this while catching passes from three different quarterbacks, all of whom graded below average and ranked below average in passer rating last year. Although Kittle was just the ninth tight end drafted in 2017, it was just as obvious to us that that was a mistake then as it is to everyone now. In 2016, PFF's Josh Liskiewitz called Kittle the best all-around tight end in college football.
Earlier this offseason, I tried to show just how top-heavy the tight end position has become for fantasy. The top-three tight ends were more productive in 2018 than ever before, while nearly everyone else (positionally) hit all-decade lows. You'd think the tight end position would be entering a period of crisis, with names like Gronkowski and Greg Olsen seriously contemplating retirement. However, I think we're going to be in good hands.
Kelce is now the unanimous No. 1, Kittle is an ascendant superstar following a sophomore-year breakout, and, clearly, I like Ertz as well. Hunter Henry – another young tight end I love – will be returning from a year-long injury absence. However, if there's a tight end most likely to breakout this year, in the same way Kittle broke out last year, I'd bet it's O.J. Howard.
Kittle was our highest-graded tight end, but Howard ranked right behind him. Kittle's 2.83 yards per route run ranked best of the PFF era, but Howard's 2.26 YPRR ranked second-best last year and 15th-best of the PFF-era. Howard averaged 12.0 yards per target last year, which ranked third-best of 429 qualifying tight end seasons in the PFF-era (behind only Gronkowski in 2016 and Antonio Gates in 2010). He also ranked tied for fifth in fantasy points per game (12.1), despite splitting time with Cameron Brate. At age 24, he should be considered a top breakout candidate for 2019, as our Daniel Kelley argued here.